Welcome to Two Can Travel!  
We're Jen and Stevo, a couple in our early 30's from southern California.  We left the USA in 2011 to teach English in China. We love life abroad and have been traveling, working and living in Asia ever since. We currently live and work in Phnom Penh, Cambodia. 
Two Can Travel was created to inspire people who want to travel or live abroad, and to show you that it is possible to live the life you want. We believe in the power of travel to change your outlook on the world and help you and your partner grow both individually and as a couple.
If you aspire to traveling, living abroad, or both, you will find useful information to help you achieve your dreams. If you're already traveling we have helpful tips on how to stretch your money, work abroad, volunteer, and stay on the road longer.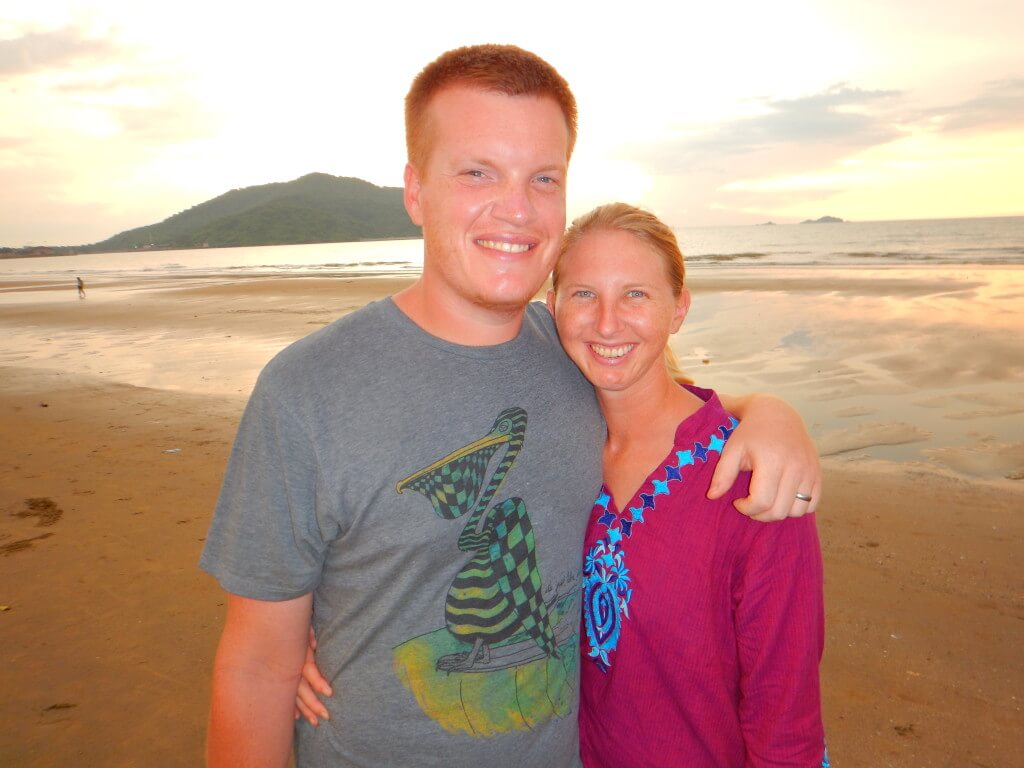 How can we afford to travel so much?
When we left the States in 2011 we knew we wanted to travel long term, but definitely didn't have the money to do it. Instead of staying in America and saving for a year or two, we decided to move abroad and teach English. That way we'd be living in a foreign country, but could still earn and save money.
So we took a TOEFL course and got certificates qualifying us to teach English abroad. Although we had no prior experience as English teachers before moving, we easily found jobs teaching English in China. We ended up working in three different cities in China over three years, living in bigger cities each time, with our pay increasing as we gained more experience. 
Teaching English in China provides an adequate salary. Jobs usually include medical benefits, flights and sometimes even housing. Compared to what we were able to afford back in California, our quality of life in Asia is much more comfortable. We don't have the stress of car payments, insurance, high rent and food prices, or the feeling that we're working for the weekend. We have been able to save money, completely pay off credit card debt and have almost paid off all students loans too. 
We choose to make saving for travel a priority, and have been able to travel throughout Asia during breaks and between teaching contracts. We've also volunteered as teachers in Cambodia. By teaching English and saving while living in China, volunteering and employing budget travel strategies on the road, we've been able to travel (aka be on vacation) for 18 months since 2011! However, even when we aren't on the road, every day abroad is an adventure. Just doing mundane things like grocery shopping is a fun challenge, because we're doing it in a different environment and communicating in a new language.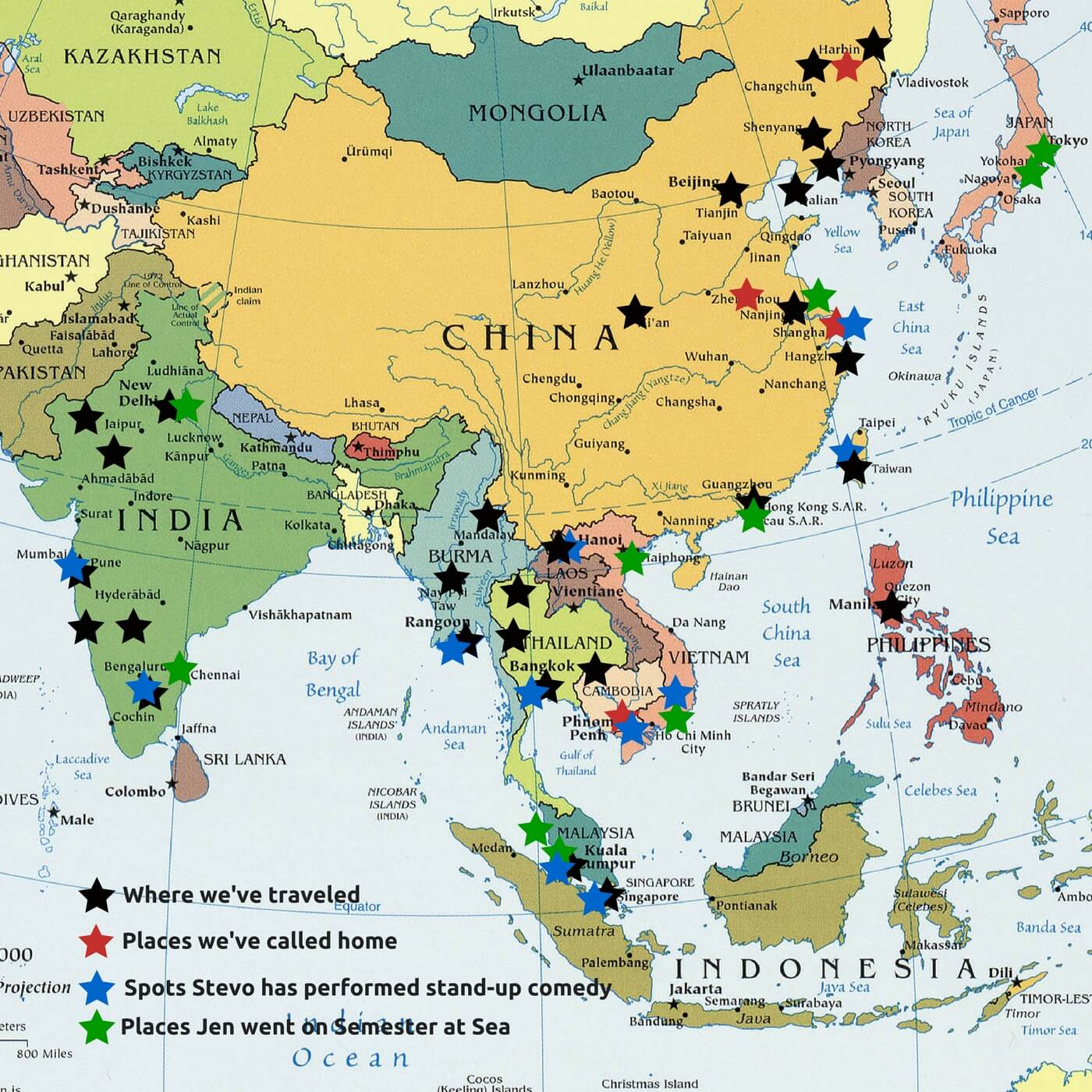 Here's where we've been and lived so far:
September 2011-September 2012 We taught English at a children's language school in Mudanjiang. China, close to Russia and North Korea. We also traveled throughout Northeastern China to Beijing, Shenyang, Harbin, Dalian, Dandong, and Sui Fen He. We went home for two weeks in June for a good friend's wedding and while we were there we got engaged!
October 2012-December 2012 After our one-year teaching contracts were complete we took a break from working and traveled in Thailand and Cambodia. We spent seven weeks volunteering as teachers at an orphanage center in the Cambodian countryside. Jen had previously taught there for five months in 2009, and this was the first time for Stevo to go back with her.
December 2012-June 2013 We moved to Yangzhou, China, the birthplace of fried rice, to teach English at an IELTS training school. This time we were teaching high school and college students who were preparing to take the IELTS and TOEFL exams to study abroad in English speaking countries. Over those six months we also traveled to Hong Kong, Wuxi, Suzhou, Nanjing, Xi'an, and Shanghai. We absolutely loved Shanghai and decided that was where we wanted to move next. During that time we were also planning our wedding. 
June 2013-August 2013 After our teaching contracts in Yangzhou were complete we went back to Cambodia for one week, then flew to New York for Jen's grandma's 80th birthday. We spent a day in NYC before flying to our hometown in California to get ready for our wedding. Our wedding was incredible, and we had a short honeymoon in the mountains where we jet skied on the lake, went on a sunset helicopter ride and enjoyed some R&R and delicious California wines. We spent a couple of weeks with our families and friends in our hometown before heading to Shanghai.
September 2013-May 2014 We moved to Shanghai to teach at an international school about an hour outside of the city. Stevo was a homeroom teacher in grade three and Jen taught homeroom in grade one.
Shanghai was amazing! There is so much to do and see there. Stevo performed stand up comedy several nights a week at Kung Fu Komedy and was improving rapidly, getting more time on bigger shows. We made wonderful friends, and our social calendars were packed, a welcome change compared with the quieter cities we'd lived in before. Unfortunately, even with all of our teaching experience, the school we were working at turned out to be a sham and was the most horrible working environment we could have imagined. While our social lives were fantastic, the 12 hours we spent every day commuting and working were emotionally and physically draining. We were in the exact scenario we wanted to avoid by living abroad: working for the weekend.
We believe life is too short to spend it being unhappy. So we left Shanghai and hit the road!
May 2014-November 2014 After leaving Shanghai we traveled slowly for six months throughout Asia. We went to Cambodia for two months , Thailand, Myanmar, Malaysia and India. Stevo performed stand-up comedy in every country we visited. Though we by no means had the savings or initial intention to travel for that long, we made it work. Where there's a will there's always a way.
November 2014-April 2015 We went home to attend our good friends' wedding events and to celebrate Thanksgiving and Christmas with our families in America for the first time in four years. It felt so great to be home, and to be there when my sister and her boyfriend from India simultaneously proposed to each other in front of our relatives and friends on Christmas day. Looks like we'll have an Indian and American wedding to attend in the next couple of years! We didn't have a definite plan on what we'd do next when we went home. We took on part time jobs, but meandered a bit aimlessly, for a while thinking we'd move to LA, then Taiwan, before deciding that our hearts were pulling us back to Cambodia. We have visited Cambodia together every year since 2012, so it seemed high time that we just move there already!
April 2015-Present After five months in America it was tough saying goodbye to our families and friends, but we were excited to get on the road again. We spent a wonderful couple of weeks in Thailand, Couchsurfing in Bangkok, celebrating Songkran in Chiang Mai, and a week in Chiang Rai, visiting the very interesting mountain town Mae Salong on the Myanmar border where 80% of the population spoke Chinese. It was fun to bone up on our Chinese again!
At the end of April 2015 we moved to Phnom Penh, Cambodia. We are settled into life in a country we've loved for years. Cambodia is a great base for us to travel, both in and out of the country. We've traveled to Vietnam, Thailand, Myanmar, India and all around Cambodia since moving here! We have worked several different jobs since moving here, including in a Montessori school, helping to set up a new primary school, teaching English, teaching swimming lessons and tutoring.
We have finally settled into year long contracts for the 2016-2017 school year, Stevo as a Manager/IT specialist for an international school, and Jen as a 1st grade teacher, her favorite grade to teach! We can't wait to see where our journey goes from here, and hope you'll follow along with us!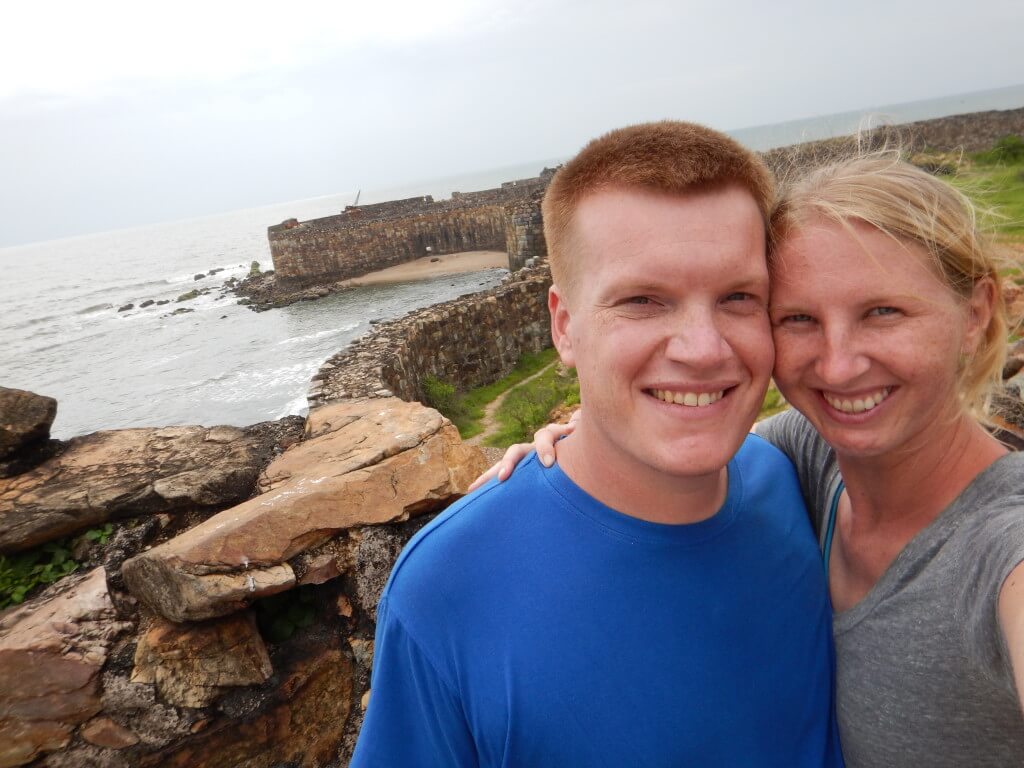 Our Love Story
We met in Spanish class during junior year of high school in southern California. We had many mutual friends in school, which brought us closer, and by senior year we were hanging out all the time. We started dating during college, keeping it a secret from our friend circle for quite a while (or so we thought).  However, we were going to schools across the country from each other, and long distance is terrible.
We each broke up with the other once during college at pivotal transitions in our lives. Jen broke up with Stevo before embarking on a journey around the world on Semester at Sea, and Stevo broke up with Jen before transferring to the University of California Santa Barbara from Illinois. This time apart was crucial to our growth as individuals, and showed us what life without one another was like. Turns out it's not as good! Though we dated other people while we were apart, we remained friends. In 2010 we both found ourselves single and back in California and we started dating again. A year later we moved to China together. In 2013 we got married!

More about Stevo
Born in Newport Beach, California, USA, Stevo has been a world traveler and expat since a young age. After moves to Pittsburgh, Pennsylvania and Orlando, Florida, when he was eight his family moved to Istanbul, Turkey for his father's job. After three years there and some bombs exploding too close to home, they headed back stateside to California. His family is extremely loving and close, undoubtedly from these traveling experiences.
Stevo's passion is making people laugh. Back in America he did stand-up comedy at the Comedy Store in Los Angeles and at a local bar in our hometown where he won a few competitions. He was also roasted by Jeff Ross at The Hollywood Improv in LA. Although his comedy career was on hiatus when we were living in smaller cities in China, he reignited his love for stand-up comedy in Shanghai with Kung Fu Komedy where he was quickly embraced by the city's growing comedy scene and performed 3-5 nights per week.
During our travels he has made connections through local comedy scenes and has now performed in 11 countries: China, Singapore, Malaysia, Cambodia, Thailand, Myanmar, Vietnam, India, Taiwan, Laos, and the USA. He loves being a part of Phnom Penh, Cambodia's rapidly growing comedy scene. His goals for this year are to have more of a presence on Twitter, Facebook and his website www.StevoJoslinComedy.com, and to perform at the Fringe Festival in Edinburgh, Scotland in 2018. 
Before we moved to Asia Stevo worked in California as a lifeguard and swimming instructor, and was the finest water aerobics teacher in all the land. He has a freakishly enviably reading ability, and an insatiable desire to learn. Stevo graduated from The University of Santa Barbara with a degree in Political Science in 2011. He is currently a manager and IT specialist for a small international school and teaches English and swimming. He brings an element of fun and laughter to any working environment.
More about Jen
Jen was born in Newport Beach, California, USA. She lived there through high school when she decided that beautiful weather year-round was for suckers, and went on to study at the University of Pittsburgh. Jen discovered her love of traveling around the world while at Pitt when she embarked on the Semester at Sea program during her sophomore year where she visited 11 countries and was duly bitten by the travel bug.
Over the past five years Jen has fallen in love with yoga. She loves the energy and clarity of mind her practice brings, and finds it has emotional benefits as well. She takes classes as much as possible when we're in one spot and practices on her own on the road. 
Jen is passionate about helping people. During her time at the University of Pittsburgh she helped found the Pitt chapter of Feelgood, an organization that works with The Hunger Project to sustainably end world hunger, one grilled cheese at a time. After graduating from college she went to Cambodia to teach English at a rural center for children from low-income families and orphans known as Assistance to Poor Children's Agency (APCA). Her dream was to bring Stevo back there one day to meet the kids, and we've been back to volunteer together as teachers.
While volunteering was an amazing experience, we recommend it with caution. Since moving to Cambodia we have learned more about the industry of voluntourism and the negative effects of taking children out of their families to live in centers such as the one where we volunteered. We now realize that supporting the whole family so kids can stay at home and still go to school is a better way to help vulnerable children for their long term development. Learn more about why on the Child Safe website. 
If there are any topics in particular you'd like us to cover or you have questions, please don't hesitate to contact us.
Stevo@twocantravel.com
Jen@twocantravel.com
If you've made it this far, thanks so much for reading! Here's a picture of us in Bangkok after a very special Couchsurfing experience as your reward. Read more…

You're welcome or we're sorry.
Traveling to Cambodia?

Sign up to receive our free guide for ten awesome places to go in the country!