Here are our top tips for things to do in Phnom Penh.
Phnom Penh often isn't given the time it deserves on many travelers' itineraries. There is plenty to do and see in the city and surrounding areas, and if you have the time we recommend spending at least three to five days exploring and getting to know this vibrant, historic and rapidly developing capital city.
Places to stay
There are several areas in town you can stay in, and each have their own quirks. We recommend:
The Russian Market (Tuol Tom Poung)
The Russian Market area is a popular spot for travelers during the day, but is much more peaceful in the evenings. There are plenty of restaurants and places of interest. It is also a hub for many NGOs in the city. This is our go-to spot to stay in Phnom Penh as we prefer the less chaotic pace of life compared with the Riverside area.
Our guesthouse recommendations:
Long Thai Ly Guest House No. 179 Street 155 (Budget $9 fan/ $12 air-con) 
White Linen Boutique Hotel  #227 Street 442 (Mid-range $45+ for double room) This hotel is run by Daughters of Cambodia, a fair trade business working with young victims of sex-trafficking in Cambodia.
The Riverside
The Riverside is the most popular area of town for travelers, which has its pros and cons. There is a wide variety of guesthouses and hotels to choose from, from budget backpacker spots to high-end luxury hotels. There is an equal variety of restaurants and you can find all types of international cuisines as well as Cambodian food. The Riverside is close to many places of interest, including the National Museum, Royal Palace, Wat Phnom, the Night Market, and the Buddhist Institute. If you stay here, know that there will be a constant barrage of tuk tuk drivers, children selling things, people asking for money, and restaurant workers coaxing you into their place, which can feel overwhelming at times. Several organizations in Cambodia have put together guides as to what you should do regarding giving money to children and beggars, which you can read here<link>.
Our guesthouse recommendation: Tonle Khmer # 323EO, Sisowath Quay. (Budget $20-30 for a private double room with air-con)
Things to do
Visit a Wat or Two
There are beautiful wats (temples) in the city that many travelers seem to miss. They are worth a visit, and you'll often have them all to yourself. Show respect at the wats by covering your knees and shoulders, take off your shoes before entering, and never point the souls of your feet at people or the Buddha.
Wat Phnom Dating back to the 13th century, Wat Phnom sits atop the only hill in town. $1 entry.
Wat Ounalom Located near the Royal Palace on Sisowath Quay, Wat Ounalom houses an eyebrow hair of the Buddha, giving it a high status in the Kingdom.
Tuol Sleng Genocide Museum and Choeung Ek Killing Fields
Though undoubtedly one of the saddest things you will experience during your time in Cambodia, we recommend that every traveler visit the Tuol Sleng Genocide Museum and Choeung Ek Killing Fields. Both places will help you to gain an understanding of Cambodia's recent tragic past and a sense of how far the country has come in less than 40 years. You can hire a tuk tuk driver to take you to both locations in one day. It will take around 4-6 hours depending how much time you choose to spend at each place.
*TCT tip: Rent an audio head set at the Choeung Ek Killing Fields and go at your own pace. This is a truly emotional and eye-opening experience as many people can attest.
National Museum
A beautiful red building located near the Royal Palace, the National Museum is worth a visit if you have an interest in learning about Cambodian history. The museum houses many interesting artifacts, some of which are just being discovered through archaeological digs going on around the country. If you are visiting Phnom Penh before heading north to Siem Reap, the museum will give you a good overview of the history, art and architecture of the temples of Angkor.
The Riverfront
If you aren't staying at the Riverside, the riverfront is still a beautiful area to visit. Stroll along the park-lined path overlooking the Mekong and Bassac rivers, which intersect in front of the Royal Palace, stop for a cold drink or a bite at one of the many restaurants and bars along Sisowath Quay, or walk down any side street and explore the neighborhoods. Don't worry about getting lost as you are never more than a few meters from a tuk tuk driver. If you enjoy art, check out 'Art Street' located on Street 178 next to the National Museum.
Shopping
There are three main areas for shopping in the city. You can find similar souvenirs, art and clothing at each place, and all three are fun to walk around in. Don't forget to bargain <link to bargaining phrase guide> and enjoy yourself. As long as both you and the seller feel happy with the agreed upon price, it's all good.
The Russian Market (Tuol Tom Poung in Khmer)  This is the biggest market in town, and the unique shops surrounding  the market are worth a visit as well. Outside the market check out Ta Prohm Silk Shop, high quality handmade silk produced by landmine victims, located at #168A Street 155. Take a break from shopping and enjoy a few scoops of locally made ice cream at The Snacker on the corner of Street 163 and Street 450-our favorite flavors are avocado and passion fruit!
Central Market Constructed in 1937 and designed by a French architect, the Central Market is an iconic building in the city. Get lost inside the maze of paths and stalls inside, and enjoy a break from the mid-day sun. There is enough trouble to get into for at least an hour.
*TCT Tip: If you're in need of A/C and a break, head to Sorya shopping mall, a five minute walk from the Central Market. The fast food restaurant on the top floor has fantastic views of the city. Sip a cold drink and enjoy the cool atmosphere.
Orussey Market You won't see many tourists at Orussey Market. That's because it's a local market selling mainly home goods and clothes. All the more reason to check it out and maybe even practice some Khmer phrases.
Night Market The Night Market is located between Street 108 and Street 106 and is only open Fridays, Saturdays and Sundays. It is a smaller than both the Russian and Central Markets, but is still a great place to shop for souvenirs, as well as enjoy a bite to eat, and even see some live pop music being performed.
 Where to Eat
You can find a wide array of international cuisines and delicious Cambodian fare in Phnom Penh. Don't be afraid to sample street food and drinks too. They are cheap and delicious, and if you are wary, pop some pepto <link> beforehand.
Our top restaurant recommendations in the city are:
Foreign Correspondent's Club (FCC) #363 Sisowath Quay at the Riverside. The FCC's three story colonial style building is a great place to unwind after a long day of sight seeing. The food is a bit pricier, but the quality and atmosphere of this historical location is worth the money. (Mid to high range prices)
Friends the Restaurant #215 Street 13 near the National Museum. Friends offers Cambodian and international cuisine in a lovely setting near the Riverside. (Low to mid-range prices)
Romdeng Restaurant #74 Street 174. Romdeng offers Cambodian fusion food in a peaceful outdoor or indoor setting. They also have one of the most interesting menu items in the city, fried tarantula! (Low to mid-range prices)
Both Friends the Restaurant and Romdeng are TREE training restaurants, which provide former street youths skills to be employable in Cambodia's thriving hospitality industry.
Cafe Yejj #170 Street 450 near the Russian Market. Cafe Yejj is a bright, lovely restaurant close to the Russian Market where you can get a tasty meal and respite from the heat in their upstairs room with air-con. The restaurant is also an employment and training place for underprivileged youth, especially women. (Low to mid-range prices)
For more suggestions on what to eat, check out our Food in Cambodia resource page.
Day Trips Outside Phnom Penh
If you only have time for one day trip outside of Phnom Penh, we highly recommend Oudong Mountain (Phnom Oudong in Khmer). Oudong Mountain dates back to the early 7th century and was the capital of Cambodia from 1618-1866 before Phnom Penh. The mountain, actually more of a hill, is home to many monkeys which you may see on the walk up. On top of the mountain are several stupas and temples, each architecturally unique. The stupas contain the remains of some of the former Kings of Cambodia and the tallest temple apparently contains some of the sacred Buddha's bones. Aside from it's historical significance, a visit to Oudong Mountain is a great chance to see the surrounding countryside and get off the beaten tourist path. Be sure to bring water and some small Cambodian money to give at the temples.
---
Did you enjoy this post? Pin it for later!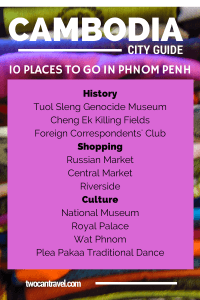 ---
For more recommendations on place to stay, things to do and places to eat in Phnom Penh, check out these resources below:
---
Do you have any other suggestions to add for things to do in Phnom Penh? Please share them in the comments!
---
Traveling to Cambodia?

Sign up to receive our free guide for ten awesome places to go in the country!