Phnom Penh can feel like a big small city and, at the same time, a small big city. But that duality means absolutely nothing in the noonday sun.
A meter feels like a mile and I'm pretty sure that math is exactly right.
Getting around Phnom Penh is never a dull experience. No matter what method of transportation in Phnom Penh you choose, you'll be swimming upstream with everybody else against a constant eddy of machines. The journey is always more interesting than the destination. Traffic can be bad in a city built for motorbikes now filled with cars, so the bigger your method of transportation, the longer you'll be sitting in traffic.
Fear not! There are plenty of options for getting around the city.
Walking
Good for a stroll through your neighborhood or down by the Riverside, but its best to keep your outings short. If the sun doesn't get you, an unexpected rainstorm probably will. Phnom Penh has many districts, and walking between destinations can be a bear. But if you really enjoy sweating, you've come to the right place!
Tuk tuk
Not hard to find anywhere in the city, but can be elusive when you're running late and have to find one right now.  Like true love, you'll always find the one when you stop looking. A typical ride will be at least $1USD (4000 Riel) per person and the most you should reasonably pay is around $5USD (20,000 Riel). Tuk tuks comfortably fit four, but if your group is bigger than that, worry not. A tuk tuk can easily deliver an entire family reunion in one trip, and should still only cost $5USD (20,000 Riel).
Moto
Moto drivers patrol the city all hours of the day. Unlike in Thailand, where the motorbike drivers are easily identified by their florescent vests, these guys are just dudes who own motorbikes and hang out on street corners. The drivers typically do not have helmets for their passengers and only sometimes for themselves. But it is cheap, so there's that. A typical moto ride in the city is $1USD (4000 Riel) and shouldn't be more than $3USD (12,000 Riel).
Watch on our Youtube channel: https://www.youtube.com/watch?v=aLoh9mdahPE 
Bicycle
For the brave. Bicycles are available to rent at Mad Monkey ($5/day) and Vicious Cycle ($4/day). If you want to buy a bike, there are dozens of  bicycle shops on Street 113 near Orussey Market where you can get a used one with all the fixins' (lock, basket, bell) for around $40-70USD. Bicycles are inexpensive to repair. There are a few mobile bicycle repair shops in every district throughout the city, but the majority of bicycle repairs can be done near Orussey Market.  Biking is a good way to save yourself a few bucks on transportation and lose a few kilos in water weight.
Riding a bicycle is also a great way to explore outside of Phnom Penh. You can take a day trip on a mountain bike to Oudong Mountain, Silk Island or Phnom Chisor. Biking is a great way to see the countryside and adventure off the beaten path.
Cyclo
This iconic Phnom Penh mode of transport first came on the scene in the 1930s. Cyclos are a great way to take it slow and soak in the sights. They can be found throughout the city, but are mainly concentrated by the Riverside or Orussey Market. The Cyclo Center also offers cyclo tours of Phnom Penh.
Your own motorbike
For the crazy brave. Many guesthouses offer motorbike rentals for the day, usually $5-$10USD (20,000-40,000 Riel). Buying a new motorbike should cost $500-$2000USD and up, but its easy to find used motorbikes online or on fliers in businesses, mainly near the Riverside. Guesthouses can also provide leads on where to buy a cheap motorbike. There are repair shops all over the city when something inevitably goes wrong.
Taxis
There are a few taxi services in the city, typically air-conditioned sedans. They are usually booked ahead of time to ferry people between their homes and the airport, and people do not typically use them as everyday transportation. Tuk tuks and motos are much cheaper and faster but lack A/C, which is rough if you're stuck in traffic, but awesome if you're cruising.
Your Own Car
If you're balling out of control and love sitting in traffic, consider getting your own car! Most people survive in Phnom Penh without a personal vehicle, but if you really need one, take note that all cars come with a 110% tax levy. Keep that in mind every time you see someone driving a Rolls-Royce. Feel free to gawk. There are also options to rent cars in Phnom Penh for days or even months. You must obtain a Cambodian Driver's license in order to drive a car. 
The Bus
Phnom Penh recently opened its first public bus that services the city with two lines. It's a good cheap option if you don't need to be anywhere quick and like toasting in a hot metal box with strangers for longer than necessary. Some of the public buses do have A/C.
Now that you know your transportation options, here are some more nuggets of wisdom from our experience to help get you where you're going.
Finding Your Destination
Its important to note that some moto and tuk tuk drivers may not be Phnom Penh locals and know the city only a little better than you. The driver will try to assure you that they know the way, but unless you are going to a major landmark, that may not be the case. Phnom Penh is not a very big city, so do some research on Google Maps about what major landmark is near your destination before you set off, and at least one of you will know where you're going.
If you do get lost (and you will) and find yourself mapless, you have a few options. Off-duty drivers tend to congregate on busy corners. Stop by one of these groups and ask them as a collective about your destination. There will usually be one driver with enough English to help you out. If that fails, stop into a hotel or guesthouse and ask the receptionist for some help.
Costs
Transportation can become expensive surprisingly quick. There are no standard fares and, in our experience, it is best not to bargain at the front-end of a tuk tuk or moto ride. Rather, have a reasonable amount that you're willing to pay based on how far you're going. A moto ride within the city typically ranges from $1-$3USD (4,000-12,000 Riel), and you can get to most places by tuk tuk for $2-$5USD (8,000-20,000 Riel). Once you arrive at your destination, hand the driver the money and walk away, stifling any chance for haggling. Be sure to have exact change.
Bumpy Roads
Although roads are slowly being repaved throughout the city, the infrastructure in Cambodia can be a bit bumpy at times, so be prepared to get a bit shook up on your ride. Its a great way to stay alert in the present moment and a chance work on your core strength without breaking a sweat! Just kidding, you'll be sweating, its Cambodia.
Safety
The whole point of finding transportation in Phnom Penh is to arrive safely at your destination in one piece. In a tuk tuk, never let go of your bags or valuables and try to keep them near the center of the tuk tuk to make them harder for any passing rapscallion to grab. Don't flaunt your gadgets, they can and will get snatched right out of your hands, so no tuk tuk selfies. If you're on the back of a motorbike, put your bag on your front and keep it between you and the driver so thieves can't snatch your bag (with you still attached!). If you plan to ride a bicycle or moto, get a helmet. You've only got one brain and it needs to keep telling you that not wearing a helmet is a bad idea. An ounce of prevention is worth a pound of cure. 
Transportation in Phnom Penh can be a bit daunting at times, but if you go with the flow every ride will be an adventure, and chances are you'll make it out just fine.
Did you like this article? Pin it for later!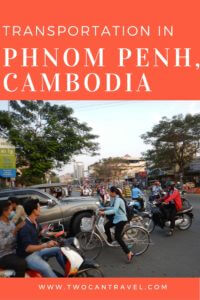 ---
Have you taken any of these methods of transportation? What's your preferred way to get around cities when traveling?
---
Traveling to Cambodia?

Sign up to receive our free guide for ten awesome places to go in the country!