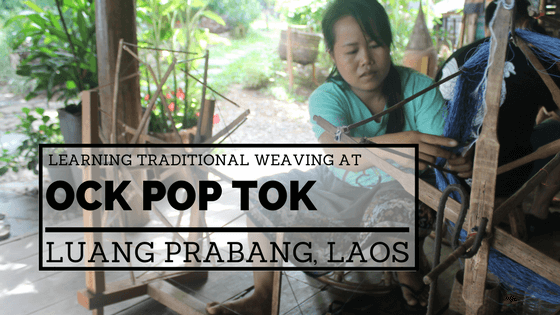 There are 49 different recognized ethic groups living throughout Laos, each with a distinct culture based on their diet, traditions and clothing. These groups live high in the mountains, in jungles, along plains and lowlands, or nearby rivers. Their ways of life have gone on for centuries, and some still do not use currency, instead trading with one another for basic living necessities and other items of beauty or desire.
Textiles are one thing many of these groups have in common. Throughout Laos, women weave with hand dyed cotton and silk threads on looms made from wood and bamboo. They create intricate patterns on scarves, blankets and skirts, through much labor and skill. The patterns incorporate parts of daily life and belief, such as plants, animals, Nagas, and ancestor spirits. This is a living art that has been passed on for centuries, some dating as far back as 800AD.
As modernity creeps into every facet of our world, Laos is no exception. Younger generations are not as interested in carrying on these traditions as their parents and grandparents were.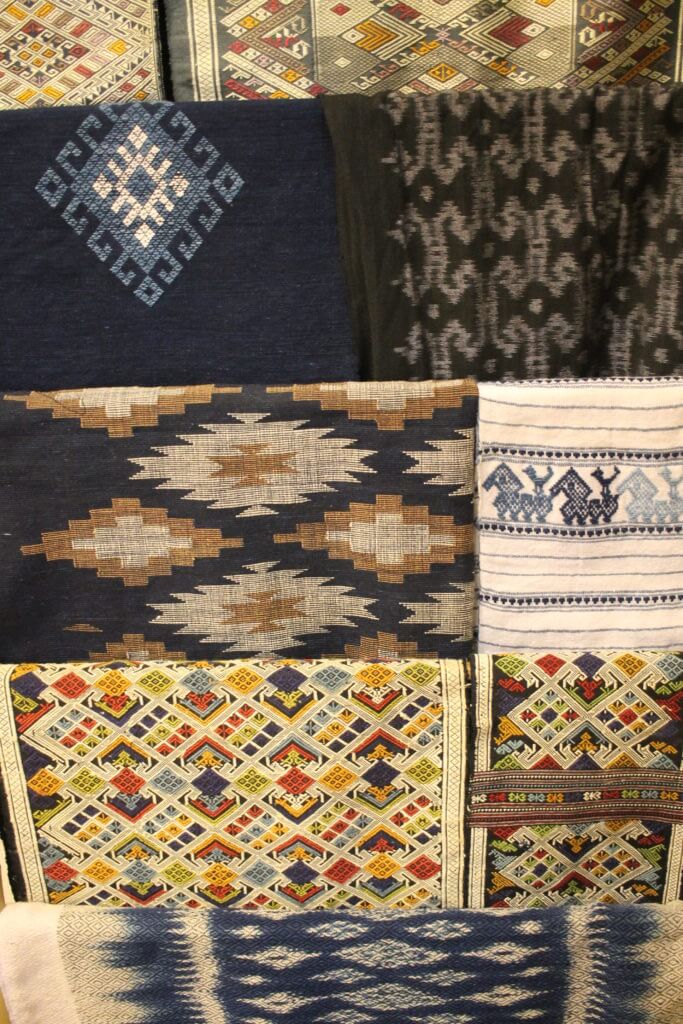 This is creating generational gaps in the traditional art forms of these ethnic groups, which are now slowly dying out. If there is no money to be made in weaving, no suitable way to make these laboriously crafted textiles while creating the desired lifestyle of modern times, how can these beautiful weaving traditions carry on?
Ock Pop Tok: "East Meets West"
Ock Pop Top, meaning 'East Meets West', is a Living Crafts Center in Luang Prabang, Laos. Their aim is to create local and international markets where Laos artisans can continue their crafts and earn money through their work to provide for their families and communities. They operate on a platform of fair trade by paying fair wages with benefits and providing safe working conditions. 
Ock Pop Tok strongly supports women's empowerment and provides economic stability and leadership opportunities. Through their Village Weavers Projects they have created relationships with weavers from all around Laos to help get their pieces to the market. Textile production is only one aspect of life for these women, and the income generation opportunities through Ock Pop Tok give them the ability to earn more while remaining in their villages. This benefits their families and reduces poverty more effectively.
Anyone can come to the Ock Pop Top Living Crafts Center in Luang Prabang to learn about the creation of traditional Laos art forms like weaving, dyeing, silk worms and batik from Laos artisans themselves.
After meeting Ock Pop Tok's Marketing Director, Hillary, during the Mekong Tourism Forum in Luang Prabang I was invited as a guest to come experience the center and join a weaving class.
The Ock Pop Tok Living Crafts Center is located about 15 minutes outside of town, set in a tropical, peaceful garden overlooking the Mekong River. When I arrived at the center I was given a tour of the grounds before beginning the class.
Hmong Batik
I had the honor to meet Maw Thao Zuzong, a highly respected 67 year old woman from the Hmong tribe, and the only living Batik artist in Luang Prabang. Many women in her tribe never received an education, and learned batik as a trade from a young age.
Maw Thao Zuzong uses beeswax to draw intricate patterns on woven hemp. When she is finished the cloth is dipped in fermented indigo up to 20 times, drying in the sun between each dip. The cloth is then boiled in hot water, leaving a negative pattern where the wax was.
Her patterns take inspiration from nature such as fern leaves, butterflies and pumpkin seeds. When I asked her what piece has been her favorite to create in her life, she said a skirt, which includes batik, appliqué and embroidery, that took her six months to complete! Her 14 year old granddaughter has taken an interest in batik and now joins her on the weekends when they can work together.
Natural Dyeing
Some women at the center are experts in dyeing. They use traditional natural ingredients such as wood, bark, leaves, flowers, insect wax, fruits and seeds. To set the vibrant colors natural mordants like alum, ash water and limestone are used.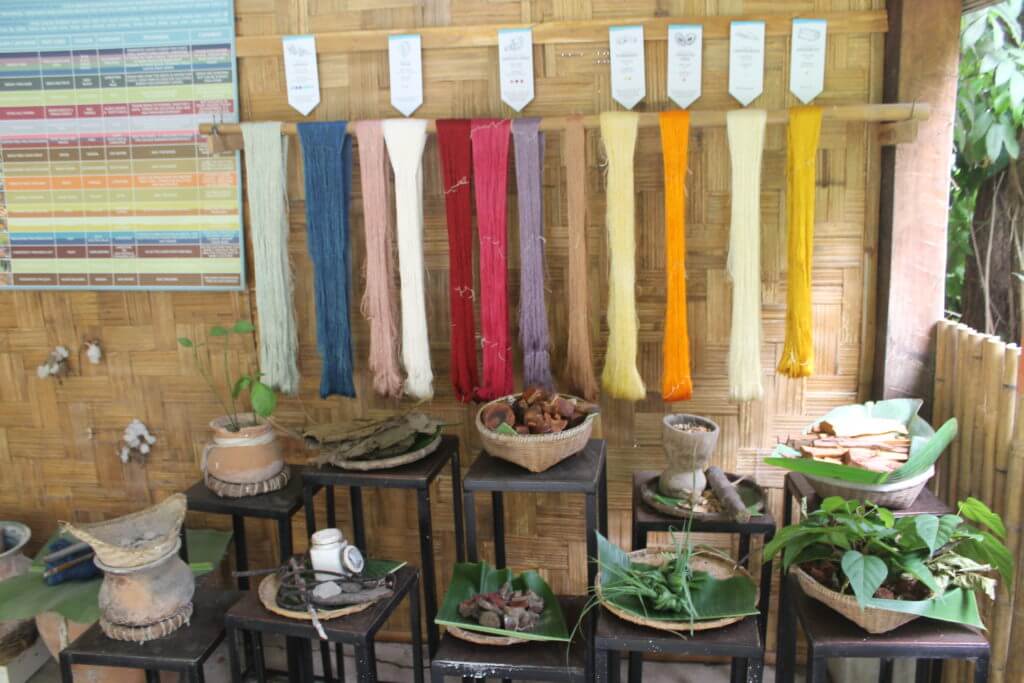 There are about 22 women who weave full time at the center, along with a few students from the local University who come to learn part time.
While observing the women weaving, I was blown away by their skills to create incredibly intricate designs. The most difficult weaving technique is called Chok, which is a double sided finger technique. It takes a full working day, about 8 hours, to complete just 10 centimeters of this design. Some pieces take weeks or months to create!
The Weaving Class
What I would be making in the weaving class was much simpler. I worked with Yai, a woman from Vientiane, the capital of Laos. She started weaving at age 14, which she said was quite late compared to other girls from her village. She finished school, but continued weaving because she loved it. Her favorite thing to make is skirts for herself and her family and friends. She also specializes in needlework, sewing and embroidery, not just weaving. Her husband is from Luang Prabang and together they have three children who she helps support through her work.
Given her high level of skill, she was extremely patient in teaching me! We started the class by choosing a pattern to make, and two colors of silk. We would be making a small wall hanging that I could take home at the end of the class.
Yai showed me how to wind the thread onto spools using a hand crank, which separates and smooths the silk threads further. It was not easy! If I took my eyes off the work for even a second the thread would tangle. Yai came to my rescue at least half a dozen times!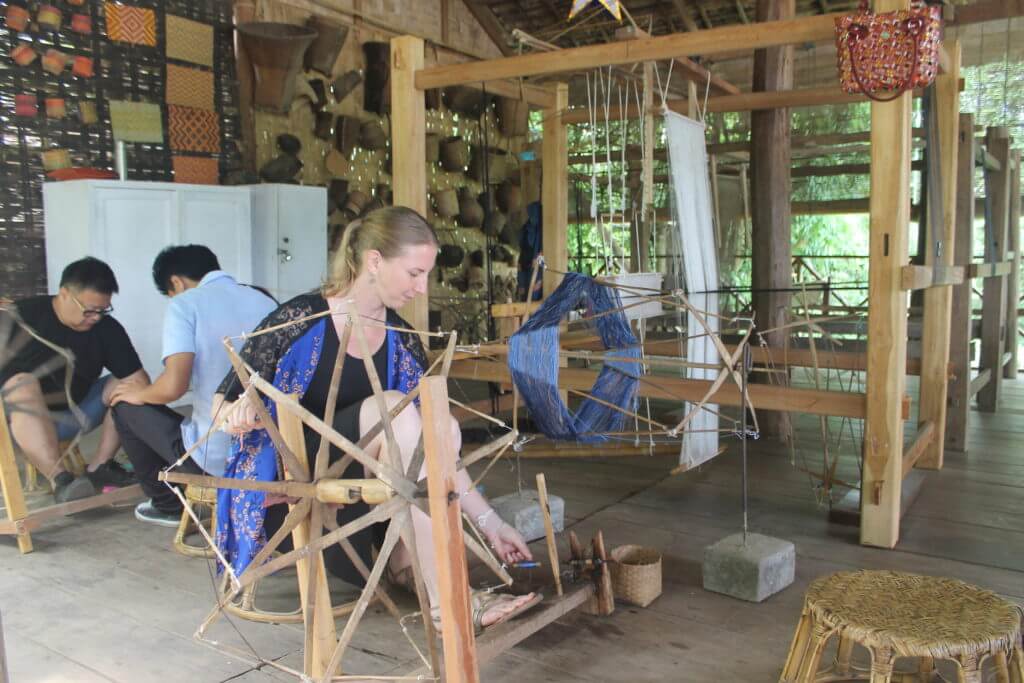 Next Yai got started with weaving the wall hanging while I observed how she worked. The loom used to weave is a large piece of equipment made from wood. Support beams hold up the pattern and foot pedals are used to control the peddles. Honestly, it is so complex, my mind was boggled at how anyone had ever conceived of such an elaborate contraption.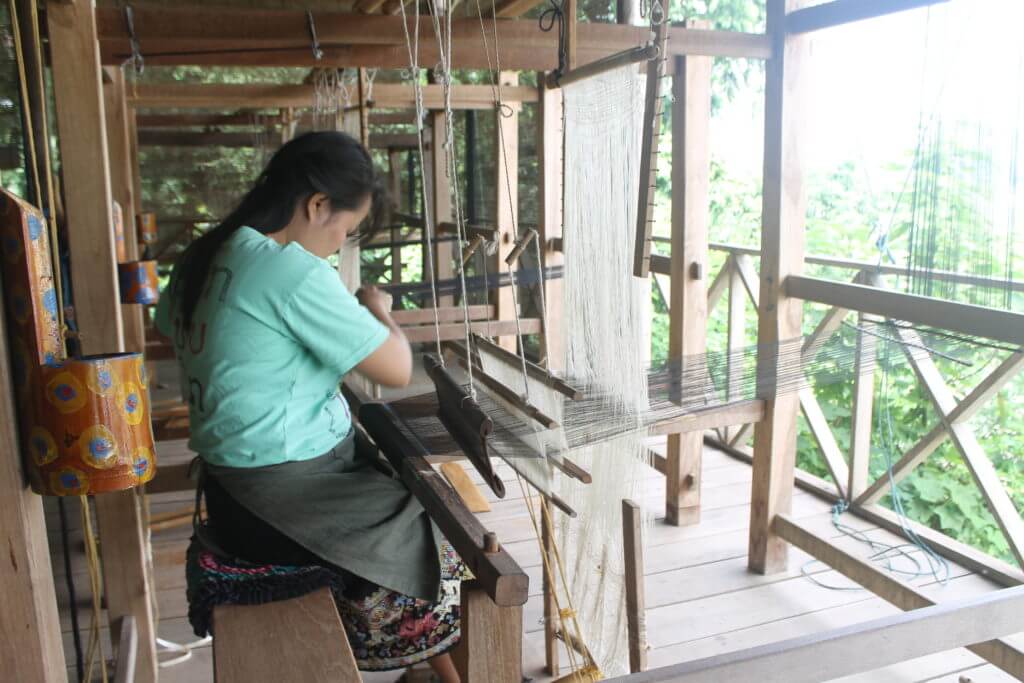 Thankfully all I needed to do was follow orders. Right foot, right hand, push the shuttle through, pull back, boom, switch feet. Left foot, left hand, push the shuttle through, pull back, boom, switch feet. Again and again I repeated this to myself, and Yai, ever patient reminded me of my missteps. We weren't even at the pattern part yet and this was a workout!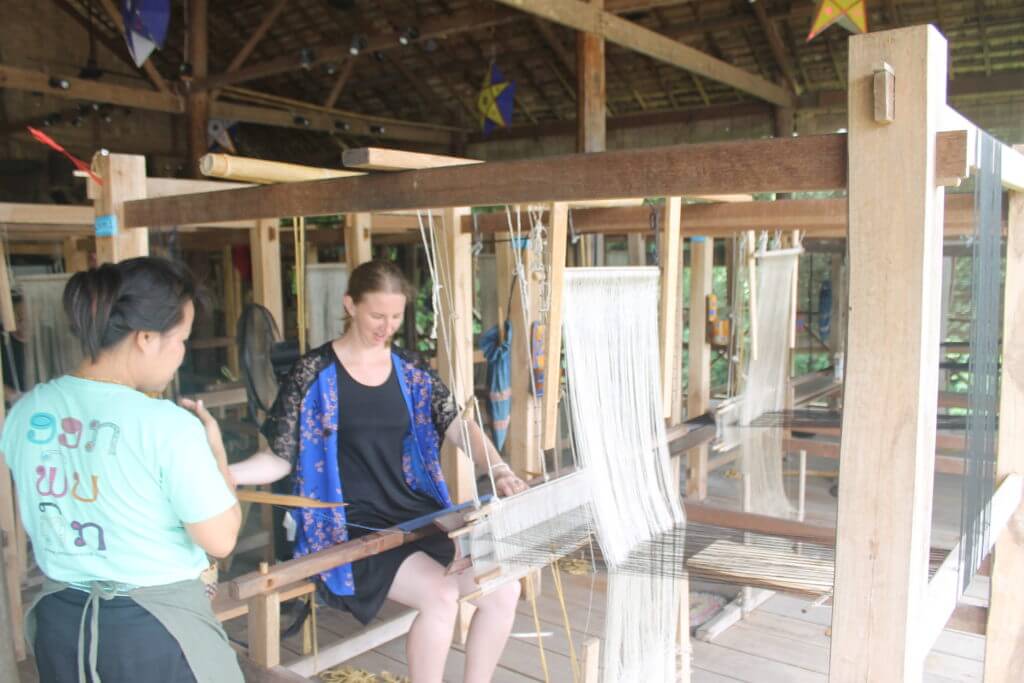 When it came time to do the pattern Yai sat with me to guide me further. After every two lines of thread the pattern needed to be switched in order to make the next part of the design. This required standing up, moving a plank of wood, lifting strings, placing the strings around nails above to maintain the pattern placement, sitting down, repeating the shuttle process twice, then getting up to switch the pattern again. Yai guided me through each step, and even then it was a struggle. I have no idea how women are able to do this on their own!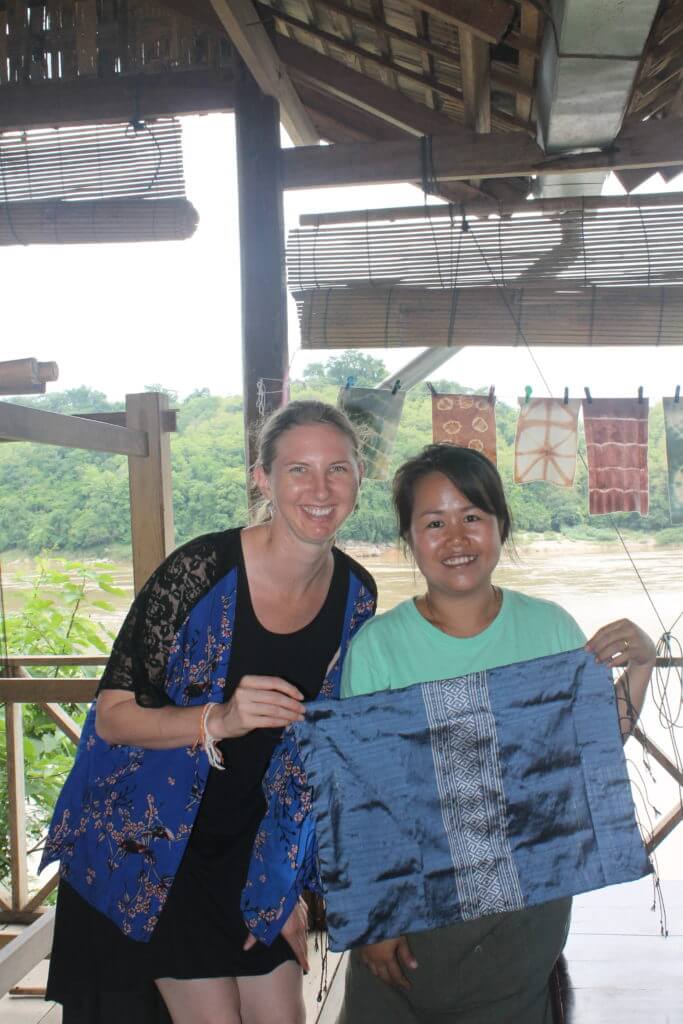 It was so humbling to learn just how much work goes into making the simplest of designs. It took me 1.5 hours of work and I still wasn't able to complete my piece. Yai stepped in and finished it up for me. I know she's been doing this for the better part of two decades, but I was mesmerized by her speed to do what had taken me at least 20 times as long.
The class gave me a deeper understanding of the work that goes into creating the incredible textiles that can be seen all over Laos. It was an amazing experience to get to learn about this living part of Laos culture that has been around for centuries. As we traveled through Laos over the next several weeks, whenever I saw a beautiful table runner at a restaurant or a wall hanging, or a bed cover at a hotel, I stopped and admired the details.
Free Tour and Classes
If you travel to Luang Prabang I highly recommend a visit to the Ock Pop Tok Living Crafts Center where you can take a free tour, or go a step further and take a weaving, dyeing or batik class.
Cafe
The Silkroad Cafe is on site where you can have a meal or a drink and relax on the deck overlooking the river. They have free wifi, so it's a great place to come and get some work done.
Shop
There is a heritage shop on site where you can purchase Ock Pop Tok products, and two more stores in Luang Prabang city center.
Accommodation
If you are looking for unique accommodation, the Mekong Villas by Ock Pop Tok are also located on the grounds. Each room is themed in the unique designs and traditions of one of Laos's ethnic groups. You will be surrounded by Laos's textile and art culture while staying in lush gardens along the Mekong river.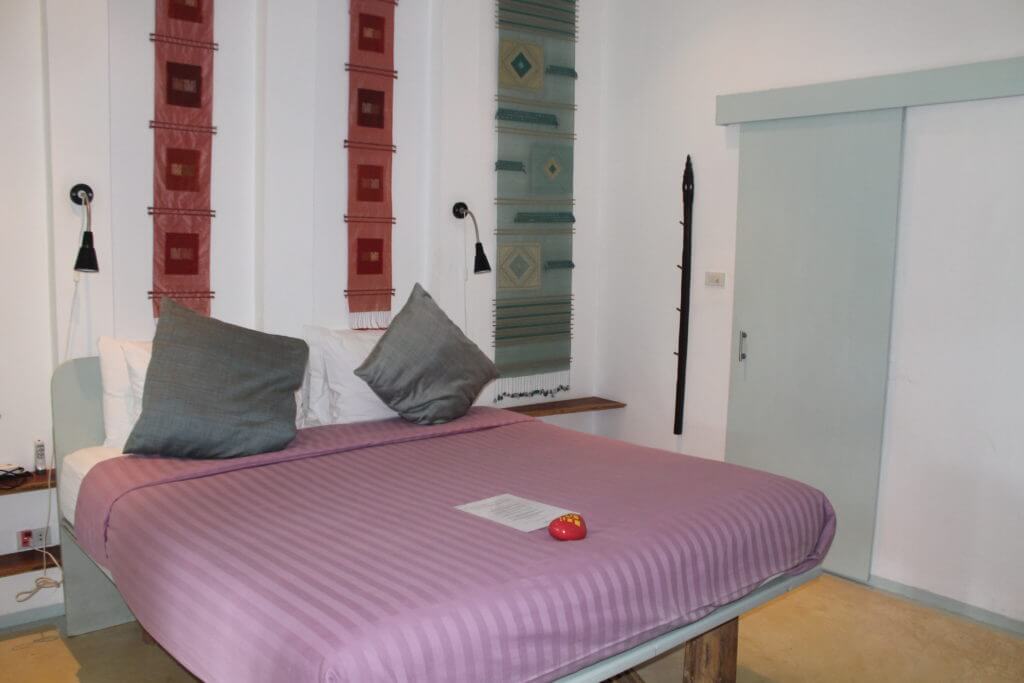 ---
Pin this post for later!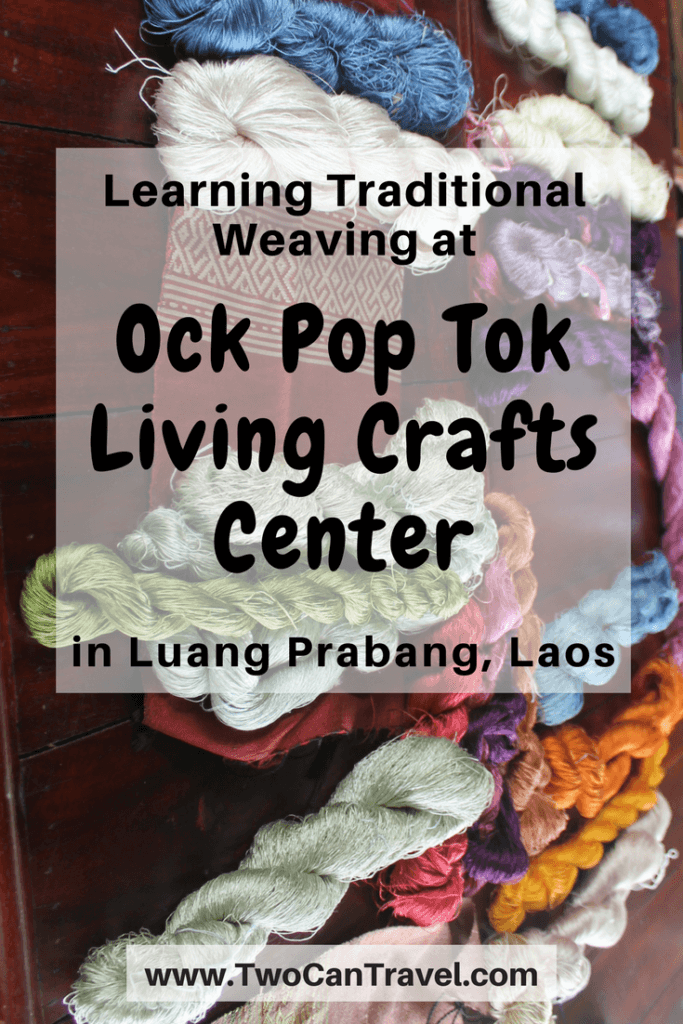 ---
Do you enjoy learning about traditional arts when you travel? Share in the comments!
---
Jen was invited as a guest of Ock Pop Tok and took the weaving class for free. All opinions are, as always, her own. 
---
Traveling to Cambodia?

Sign up to receive our free guide for ten awesome places to go in the country!