This article may contain affiliate/compensated links. For full information, please see our disclaimer here.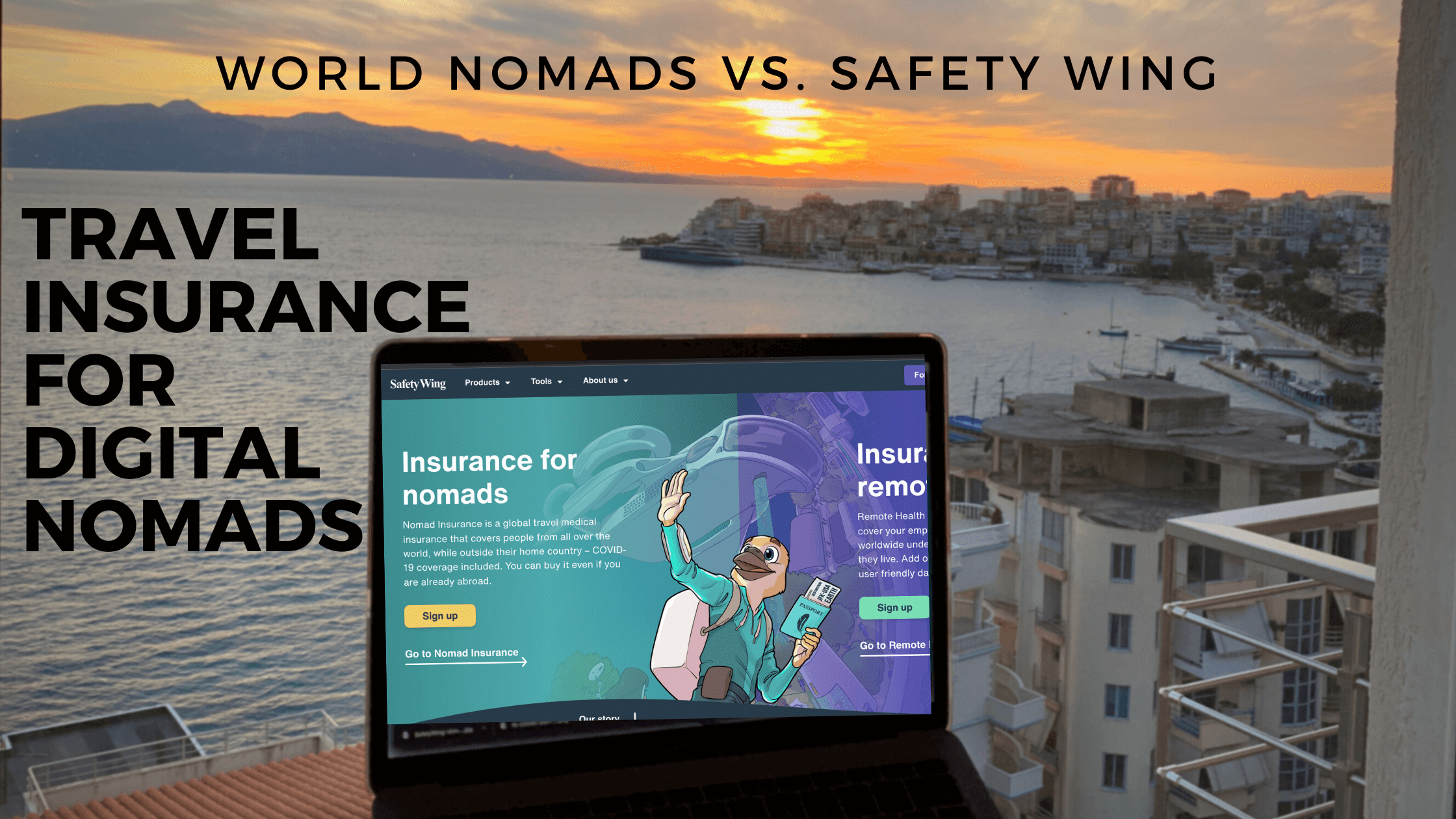 Travel Insurance for Digital Nomads:
World Nomads vs. SafetyWing
Travel insurance for digital nomads. It's not a sexy topic, and nobody likes to pay for it. Some people even wonder, is it worth it?
We're thankful we've never needed to use our travel insurance in over ten years of travel. *knocking on all the wood*
But while we've been living and traveling abroad we've known people who have had bad accidents, had expensive things stolen, or gotten very ill unexpectedly.
Some had travel insurance and some did not. All of those who didn't wish they did.
Personally, we think if you're going to travel, whether on a short trip or full-time like we do, having travel insurance is a necessity.
Which Travel Insurance Company Should You Choose?
There are two insurance companies that the majority of travelers and digital nomads use: World Nomads and SafetyWing. 
We have used each company at different times during our travels. In this article, we'll go over what each one covers and the pros and cons of using them. 
Before we start, if you're new here, hi! We're Jen and Stevo. We help aspiring travelers and people who want to start the digital nomad lifestyle figure out how to make it happen through our YouTube channel and this blog. 
We've been living outside of the US since 2011 and have been digital nomads since 2018. So we've got some helpful advice to share whether you're just starting out on your travelers, or even if you're an experienced traveler. There's always more to learn!  
Now let's talk about travel insurance for digital nomads!
* Please note that all of the information provided about travel insurance in this article is a brief summary only. It does not include all terms, conditions, limitations, exclusions, and termination provisions of the travel insurance plans described. Coverage may not be available for residents of all countries, states, or provinces. Please carefully read your policy wording from both World Nomads and SafetyWing for a full description of coverage. We are not insurance experts nor do we claim to be. These are two of the travel insurance companies we have used in our ten years of travel.
Go to the
World Nomads
and
SafetyWing
websites for detailed explanations of their policies and to get a quote.

World Nomads Travel Insurance
We'll start off with the OG of travel insurance, World Nomads. World Nomads has been around since 2002 and was started by an Australian traveler. The company has grown tremendously and now covers people from over 130 countries.  
I (Jen) started using World Nomads in 2009 when I went on my first solo trip to Southeast Asia and Stevo and I have used them for many trips over the years since then. 
There are some great reasons to choose World Nomads insurance. What we'll be sharing here is based on information for US Residents. It's important for US citizens to know that not all states are covered, so make sure you read the details of your policy. 
Right off the bat, we'll tell you some quick pros and cons of World Nomads coverage before we get into the nitty-gritty. 
Pros:
World Nomads offer some of the most important protections you need as a traveler like medical evacuation coverage, 24-hour emergency assistance, and they cover a wide range of adventure activities.
Prices are quite affordable for the amount of coverage that you get. 
You can sign up for coverage even if you're already traveling. And if you end up traveling for longer than you had expected, you can extend your policy online. You can also make a claim online while you're on the road.
World Nomads covers a HUGE range of adventure activities and sports.
All World Nomads members have access to up-to-date travel safety alerts, as well as travel safety advice and tips online through the World Nomads Travel Safety Hub.
World Nomads is backed by a suite of strong, secure, specialist travel insurers who provide you with great cover and the highest levels of support and claims management.
Cons:
World Nomads offers some coverage for items you bring with you on your travels, but it's pretty limited when it comes to covering your electronics. So if you have a lot of tech gear that you want to be covered, you'll need to purchase an additional plan from another insurer. 
World Nomads policies vary in cost based on your age, and they don't cover people over 69 years old. Nice. No, not nice. Oh.
The cost can also differ depending on where you are traveling to, and where you are from. Since they are a global company, World Nomads uses different underwriters in each country which is why the cost may vary. (This makes sense and isn't necessarily bad. It's just good to know.)
Policies become cheaper the longer you are traveling for, so a shorter trip could work out to be a bit more expensive compared with a trip that is a month or longer.
We don't want to scare you off with these cons, but we want you to know what you're getting.
All things considered, World Nomads is a great choice for a majority of travelers and digital nomads, so we'll tell you more about what they cover.

Types of Insurance Plans with World Nomads
In our opinion, all of the different activities World Nomads covers is what really sets them apart from other insurance companies.
World Nomads offers two types of plans, the Standard Plan and the Explorer Plan.
Here's a screenshot from the World Nomads website from January 31, 2022, comparing the Standard Plan and Explorer Plan coverage. 
The main difference between the two plans is the amount of coverage you are getting and the types of activities that are covered.
According to the World Nomads website:
"The Standard Plan includes a range of benefits such as overseas medical coverage, coverage for your belongings, pre-trip cancellation, and certain adventure activities." 
"The Explorer Plan has all the benefits of a Standard Plan and a few more, and is more expensive to buy." 
And of course, the Explorer Plan is more expensive because it covers you for more activities and has higher benefit limits.
You can see more of the details of what activities are covered with each plan and how much money you're covered for on the World Nomads website. 
Choose the Right Plan Up Front
It's important to know that you can't upgrade from a Standard Plan to an Explorer Plan mid-trip, so you'll need to think about the types of activities you want to do before you purchase your coverage.
For example, let's say you purchased the Standard Plan for your trip to South Africa, but then decided you wanted to go cage diving with sharks once you arrived in Cape Town. Unfortunately, you won't be able to upgrade to the Explorer Plan that covers shark cage diving at that point.
So then you'll have the choice to either not do it or just take your chances knowing you aren't covered.
For us, the Standard Plan has always been enough coverage for the types of activities we like to do, like riding motorbikes, ziplining, or riding jet skis.
If you're into more extreme activities like bouldering or spelunking, you'll need to get the Explorer Plan to make sure you're covered.
Another easy way to see the difference between the two plans is the benefit summary which you can see when you get the instant online quote. It will tell you how much each plan costs and has links to the policy wording so you can see the full details of the coverage. 
Medical Coverage with World Nomads
World Nomads insurance isn't for routine doctor visits and it won't cover pre-existing conditions.
It's for if you're injured or get sick while you're traveling.
The things you can be covered for are:
Hospitalization

Out-patient treatment for medical emergencies

Prescribed medicines, X-rays, and laboratory tests

Being brought home (repatriation), if medically necessary
World Nomads has 24-hour multi-lingual assistance teams who can guide you to the nearest hospital, set up direct payments to the medical facility, and help you navigate local customs, which can be tricky to manage on your own.
It's important to note that your coverage may depend on your past medical history, what's happened to you, and any other conditions, limits, or exclusions of cover as described in your policy.
Basically, World Nomads covers the unexpected when it comes to injuries and illness while you're traveling. In our experience, those are the most important things to have travel insurance for since unforeseen accidents and sickness can and do happen.
However, we feel comfortable paying out of pocket for routine health check-ups and doctor visits while we're abroad because it is so affordable. If you're an American, that might be hard to believe, but sadly it's very true. The US medical system is deeply broken…but that's a topic for another time…
Emergency Dental Coverage with World Nomads
Another benefit of World Nomads is their Emergency Dental Treatment coverage. This isn't coverage for things like cleanings or check-ups, but will cover you for unexpected injuries like a broken tooth, an unexpected infection, or if you hurt your jaw or mouth in an accident.
We have gotten non-emergency, routine dental work done in several countries during our travels and have found it to be high-quality work and much more affordable than in the US. You might want to consider getting dental work you need done abroad, even if you need to pay for it out of pocket.
COVID-19 Coverage with World Nomads
Of course, these days it's important to consider COVID-19 coverage. World Nomads does cover some medical costs when it comes to COVID-19, but like all aspects of an insurance policy, you'll want to read their COVID-19 terms carefully.
According to their website, benefits may include emergency medical, emergency medical evacuation, trip delay, and trip interruption coverage if you contract COVID-19 while traveling.
You may also be eligible for trip cancellation coverage for pre-paid non-refundable expenses such as flights, hotels, and excursions.
That said, you do need to read the fine print of your plan because there are exemptions to the COVID-19 coverage that are based on government regulations for the places you are traveling, where you are from, and other caveats. 
Death and Dismemberment Coverage with World Nomads
It's important to know that you're covered in extreme situations too, like death or dismemberment. It might be scary to think about, but if the worst-case scenario happens while you are traveling, World Nomads will pay a lump sum to your beneficiary, such as a spouse or a family member you have chosen, and will cover the cost of sending your body home. 
Your policy will also payout for dismemberment, like if you lose your eyesight or a body part during your trip.
We know someone who lost their leg in a motorbike accident in Cambodia. Not only was this extremely scary for them, but they didn't have insurance at the time. The hospital bills and rehab were a huge burden for them and their family and took years to pay off. 
Political Unrest and Natural Disasters with World Nomads
There are other unexpected incidents that can happen while traveling that it is helpful to be covered for. For example, if there is civil or political unrest where you are traveling, or if a natural disaster occurs, World Nomads has some coverage for that.
Coverage for Your Valuables with World Nomads
With World Nomads, your stuff is covered up to certain limits. World Nomads has coverage for your baggage and personal items if they are lost, stolen, or damaged.
As we mentioned before, the coverage for electronics isn't very high, so if you're traveling with a lot of tech gear you'll either want to have enough savings to replace it if anything happens or purchase additional coverage for your tech from another company.  

Trip Cancellation and Trip Interruption with World Nomads
There is also trip cancellation and trip interruption coverage. This covers you for many different types of situations, like if you have to cancel a trip because you get sick or injured. You could also get reimbursed for prepaid expenses if a tour operator you booked with goes out of business. 
There is even trip delay coverage so if your flight gets canceled because of bad weather or other hazards, additional expenses you have to pay because of that might be covered too. 
US Domestic Coverage for Americans with World Nomads
Another benefit to World Nomads is that they have US Domestic Coverage for Americans if you are traveling over 100 miles or more from your home. 
See more about what's covered with US Domestic Coverage.
Our Take on World Nomads
World Nomads is a well-known, trustworthy company that has been around for 20+ years. We love that the company was built by travelers, for travelers, so they understand the protection you need for things that can happen on the road.
If you're into doing adventurous activities during your travels, World Nomads might be your best option. 
It's important for you to check into all of the coverage yourself, especially since it can vary based on where you are from. 
SafetyWing Insurance for Nomads
SafetyWing is a Norwegian start-up based in Palo Alto, California established in 2017. They popped onto the scene as the answer to the need for insurance for digital nomads.
As remote work and the digital nomad lifestyle are becoming more common, SafetyWing really got started at the perfect time. They offer subscription-based travel and medical insurance for nomads, freelancers, and remote workers who are working abroad.
SafetyWing's typical customers are digital nomads and they even refer to one of their products as Nomad Insurance. In fact, their products are all built and designed by a fully remote team of nomads living on three different continents. 
On their website, SafetyWing says:
"We're here to remove the role of geographical borders as a barrier to equal opportunities and freedom for everyone."
Why We Have SafetyWing Nomad Insurance
We currently use SafetyWing Nomad Insurance and have since June 2021. Honestly, the reason we went with SafetyWing right now is that we wanted to try them out since we heard a lot of good reviews about the company from digital nomad friends of ours.
Another big reason is their COVID-19 coverage.
So far we're very happy with SafetyWing, though we haven't had to make a claim with them as of now, so there's not much to report. 
In 2022 we had an unexpected family emergency so we needed to fly to the US. Thankfully, SafetyWing gives US citizens 15 days of coverage in the US for every 90 days of your policy, so we were able to make the trip home without having to worry about our insurance coverage.
SafetyWing Travel Insurance Products
SafetyWing currently has three different products:
Nomad Insurance, Remote Insurance (for Nomads), and Remote Insurance (for companies).
Since we have Nomad Insurance, that is what we'll be talking about below. 
Again, we'll start off with some pros and cons.
Pros
SafetyWing can cover people from almost every country in the world. The exceptions are if your home country is Iran, Syria, North Korea, Russia, Belarus, select regions of Ukraine, or Cuba (or have Cuba as your citizenship). 
We love how flexible their coverage is because you can get it while you're already traveling and extend it through their subscription model.
Their coverage is worldwide to anywhere outside your home country except for Iran, Syria, North Korea, Russia, Belarus, select regions of Ukraine, or Cuba. You don't need to let them know where we're traveling ahead of time.
You even get some coverage if you are traveling in the US! For every 90 days, you are covered for up to 30 days in your home country (15 days if your home country is the US), for unforeseen eligible medical conditions.
 If you're traveling as a family, SafetyWing offers free coverage for kids. Up to two children under 10 per family (one per adult) can be included for free.
The price is lower compared to many insurance companies, including World nomads. For us, it is most important to have emergency medical coverage. SafetyWing keeps costs low by focusing on the essentials for nomads. This means they don't include some things other travel insurance companies do, like cancellation coverage, but personally, these are things we're less likely to need.
Cons
SafetyWing doesn't cover stolen baggage or electronics however, lost luggage is covered up to a certain limit. 
Unfortunately, insurance coverage with SafetyWing gets significantly more expensive the older you get. They don't cover people older than 70. You can

check the price of coverage for your age group here

. 

SafetyWing's maximum payout is $250,000 which is lower than what is offered by other insurance companies. While it's unlikely you would reach this number, it could happen if you have an accident or illness in the US, so it is worth noting. 
SafetyWing has a $250 deductible for their Medical coverage. For example, if you have a $1,000 medical bill that is covered by your SafetyWing insurance policy, you pay the first $250 and SafetyWing pays the remaining $750.
They also don't cover as many activities as World Nomads, so depending on what activities you want to do during your travels, you should look further into what will be covered.

See their list of covered activities in the FAQ

.
What is SafetyWing Nomad Insurance?
Nomad Insurance is a travel and medical incident insurance built specifically for digital nomads. It can be purchased while you're already abroad and covers home trip visits.
The Nomad Insurance plan operates as a subscription and renews every 4 weeks. You can cancel when you want to.
If your trip is shorter than 28 days, you can pay a one-off fee for the exact amount of coverage time you need instead. 
Medical Coverage with SafetyWing
SafetyWing Nomad Insurance covers unexpected illnesses and injuries sustained abroad, including expenses for hospitals, doctors, prescription drugs, ambulance, and even physical therapy and chiropractic care. There is a $250 deductible for some coverage. 
Emergency travel-related benefits such as emergency medical evacuation are also covered. 
It's important to note that SafetyWing Insurance is not primary health insurance. Exclusions include:
Cancer treatment

Routine check-ups

Pre-existing conditions (Limited coverage for acute onset of pre-existing conditions, but not chronic or congenital conditions)
These exclusions are common with most insurance companies but are worth noting. 
Emergency Dental Coverage with SafetyWing
SafetyWing Nomad Insurance covers up to $1,000 for emergency dental care. This is not subject to a deductible.
COVID-19 Coverage with SafetyWing
As we mentioned before, one of the reasons we went with SafetyWing is their Covid-19 coverage.
SafetyWing says:
"Coverage [for COVID-19] works the same as any other illness as long as it was not contracted before your coverage start date and does not fall under any other policy exclusion or limitation. Testing for COVID–19 will only be covered if deemed medically necessary by a physician. The antibody test is not covered, as it is not medically necessary."
SafetyWing also covers quarantine outside your home country ($50 a day for up to 10 days) if it is required because of a positive COVID-19 test or if you are symptomatic and are awaiting test results. 
Be sure you read the most up-to-date information for SafetyWing's COVID-19 coverage. 
Accidental Death & Dismemberment with SafetyWing
SafetyWing covers accidental death or loss of limbs. They will pay a lump sum to your beneficiary.

Political Unrest and Natural Disasters with SafetyWing
Political evacuation and a new place to stay in the event of a natural disaster are covered up to certain limits with no deductible.
Personal Liability Coverage with SafetyWing
A limited amount of personal liability coverage is also included.
Travel Delay, Trip Interruption, and Lost Luggage with SafetyWing
Trip interruption is covered up to a certain limit with no deductible.
Travel delay is covered Up to $100 a day after a 12-hour delay period requiring an unplanned overnight stay. Subject to a maximum of 2 days and there is no deductible.
Lost checked luggage is covered up to a certain limit with no deductible.
Domestic Coverage with SafetyWing
If you're a frequent traveler and still like to visit home once in a while, there is even Domestic coverage. Americans have 15 days of home country coverage for every 90 days of their policy, while everyone else gets 30 days of home country coverage for every 90 days of their policy.
Here is SafetyWing's Description of Coverage so you can read more details about Nomad Insurance coverage. 
Our Take on SafetyWing
We love the SafetyWing was started by nomads, for nomads, who understand what coverage is most important for this lifestyle. So far we've been very happy with the coverage we're getting for the price we're paying. We feel at ease while traveling full-time knowing we are covered under the Nomad Insurance policy. 
In Conclusion
Both World Nomads and SafetyWing are great travel insurance options.
As digital nomads, SafetyWing makes the most sense for us right now for the type of coverage we want, which is mainly unexpected medical issues.
That said, if you want more coverage for your belongings and need additional coverage for adventure activities, then the World Nomads Explorer Plan might be the better option for you. 
Next Steps
We highly recommend you to read more about the coverage you get from each company directly on their websites World Nomads and SafetyWing for detailed explanations of their policies. 
It's also a good idea to look at reviews on Trust Pilot so you can see what other customers are saying.
World Nomads Insurance Reviews
SafetyWing Insurance Reviews
We really hope you found this article useful. Feel free to ask any questions in the comments below or reach out to us by email Jen (at) twocantravel.com and we'll do our best to answer them. 
Pin this article for later!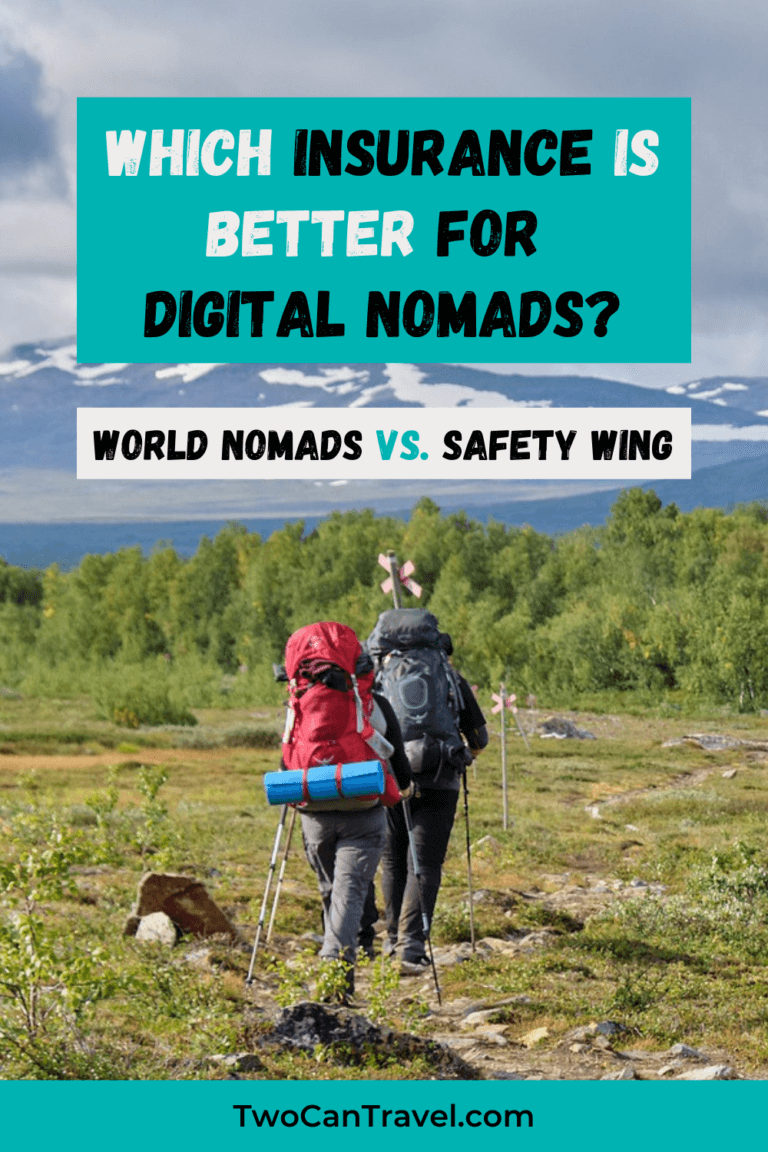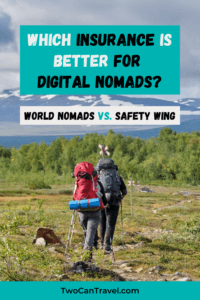 .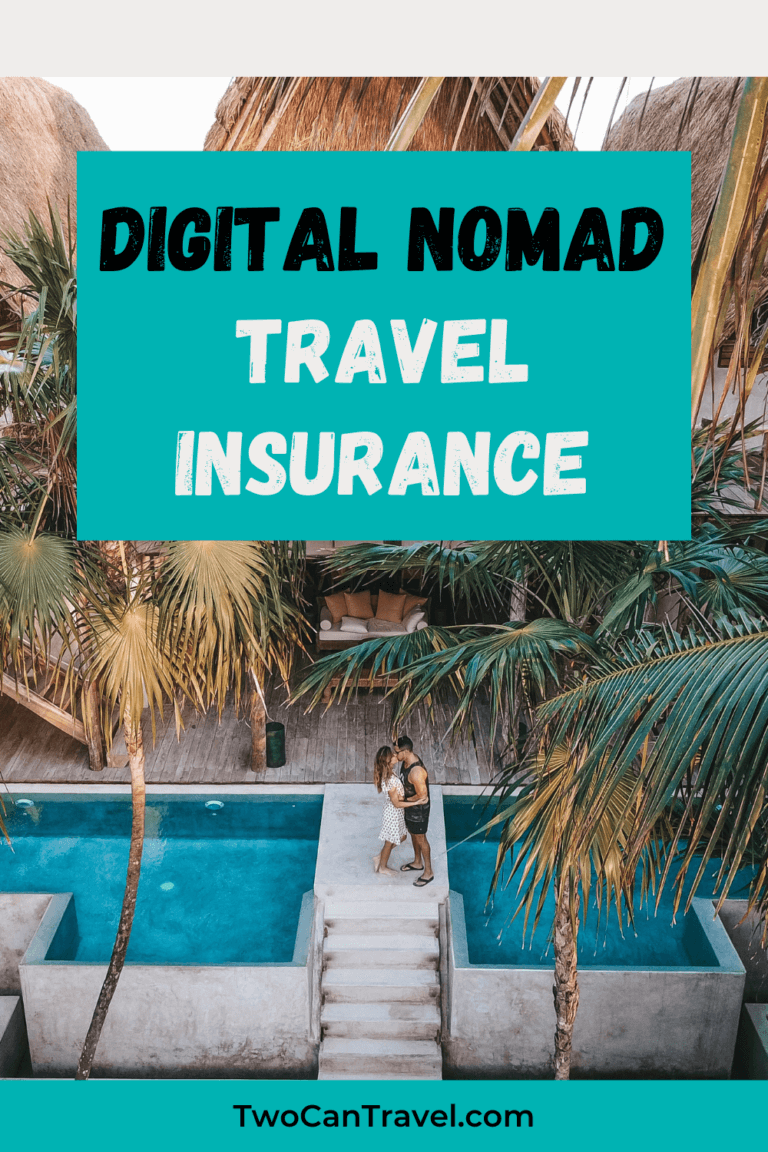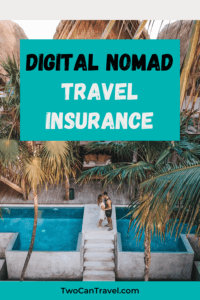 ---
Which travel insurance companies have you used during your travels, and would you recommend them? Please share in the comments!
---