---
The best way to learn about what to do and where to go in a city is from the locals and expats who live there. That's why we are so excited to share this guest post, written by Alex who was born and raised in Saigon, moved to Australia at 15, and now lives in Saigon again as an expat. In this article he shares his favorite places to eat, drink and explore in the city. Take it away, Alex!
---
Getting Off the Beaten Path in Ho Chi Minh City (Saigon), Vietnam
Even though I grew up  in Ho Chi Minh City (Saigon), it never fails to amaze me how quickly the city has changed the past 10 years. I was raised in Vietnam until the age of 15, before I moved to Australia, and back then Saigon was a very different place to live. I returned to my roots as an expat in 2016, and since then have spent time rediscovering this incredible country.
Although it is more commercialised nowadays with global food chains starting to leave their foot prints here, Saigon is still such a special city with so many different experiences to offer you, and in order to discover some of its hidden gems you will have to venture off the beaten track from time to time. It is really fun to explore the city on your own in order to find these diamonds in the rough, but if you don't have much time, here are a few to get you started!
---
Pin this article for later!
---
1. Secret Garden
This Vietnamese restaurant is a personal favourite of mine and is the epitome of authentic Vietnamese dining. As implied by the name, it isn't the easiest restaurant to reach. Hidden in the deep alley way of of a run down complex on 158 Pasteur Street, you have to walk up 5 floors to reach this cosy restaurant.
However, Secret Garden definitely lives up to its name and when you see the view from the dining area it makes it worth the effort. Its traditional Vietnamese decoration takes you on a journey to rural Vietnam, and makes you forget you are in the biggest city in Vietnam for a while.
The popular traditional foods on offer give you a taste of genuine Vietnamese cuisine, and although I have been to the Secret Garden many times, I can't leave it without trying the irresistible "Dot bi Xao Bo" (Stir fried beef and spinach).
Another special thing about restaurant is that from the dining area you can see the spot where the last American helicopter fled Saigon during Vietnam war. The photo of this event shows one of the most iconic moments of the Vietnamese war.
How to get there:  Take a taxi to 158 Pasteur Street (next to Pho 24 food store). Find the alleyway which should have a sign for the Secret Garden in the entrance. Walk all the way past the bike parking slots and look to the left where a second sign will direct you to the restaurant.
2. Pho Hoa Pasteur
Pho is arguably the most popular Vietnamese dish around, and if you are looking for a place to enjoy this traditional dish, then look no further. This restaurant specializes in pho and has served three generations of my family from my grandad to me. Standing at the same place for at least 50 years, Pho Hoa Pasteur is well known by the locals as one of the best in town.
Locals come to this restaurant often as it is renowned for its generous pho portion sizes, tender beef and soup sweetness. I normally order a large coconut to eat with the soup, to counteract the effects of the heat that comes with most food in saigon.
How to get there: Take a taxi to 158 Pasteur Street or simply ask the driver to take you to Pho Hoa Pasteur and they know exactly where to go.
3. The Cafe Apartment
You can't mention Saigon without mentioning its coffee culture. Drinking coffee and spending hours hanging out at coffees shops is in the blood of Saigonese. As there are many coffee shops opening everyday, coffee shops in Saigon compete with each other on the uniqueness of their concept and their drinks menu. However, none of them can compete the uniqueness of The Cafe Apartment on Ly Tu Trong Street.
This run down five story building is not so much of the beaten tracks due to its central location, but has lots to offer in terms of hidden gems. This apartment block boasts a number of art gallery, coffee shops and small fashion boutiques all with a unique theme. Each small shop trying to prove its individuality has resulted in some very quirky and fun shops that allow for a great time if you are browsing the 'chocolate box' of independent coffee shops.
Two coffee shops that really caught my attention were the Loft Coffee with its gothic style and Cong Cafe (Viet Cong style coffee) with the staff dressed up in guerilla outfits. Both of these can be found on the 2nd floor.
How to get there: The building is on 26 Ly Tu Trong, overlooking Dong Khoi and Ly Tu Trong Street.
4. ID coffee
ID Coffee is inconspicuously found in an apartment building behind Ben Thanh market, a very tranquil and peaceful place for a nice drink and conversation. Although it is found right at the heart of Saigon's tourist hub, the majority of the crowd here is made up of locals. You would not know you were so close to the hustle and bustle of Ben Thanh Market unless someone told you.
The display in this coffee shop is made up of artistic and vintage decor with Gramophone records, typewriters which were around in Saigon during the Vietnam war. There is a balcony facing the backstreets of the Ben Thanh district where you can watch how the local people below go about their lives. The delicious menu caters to both Vietnamese and Western tastes, with my personal favourite meal being the "Bun Thit Nuong" grilled pork vermicelli and ID Yogurt.
How to get there: 34 Thu Khoa Huan (a few minutes walk from the back of Ben Thanh market).
5. Acoustics bars
I love live music. I discovered the Acoustic Bar through word of mouth and decided to check it out, as I heard it hosted the best live music in town. Hidden in an alley way in 6E Ngo Thoi Nhiem, this is the locals favourite open mic bar. All the local talents and guest singers looking to make a name for themselves are sent on a small stage to perform in a small but cosy atmosphere.
From the blind rock stars to Americans singing in fluent Vietnamese, Acoustics Bar is the place where everyone comes together and enjoys music, no matter where you come from. It opens at 7.30pm and although the live music doesn't start until 9.30pm, if you come here on the weekends  it may be a good idea to make sure you come early, as they tend to run of of seats and you might end up standing.
How to get there: Take a taxi to 6E Ngo Thoi Nhiem and walk all the way down the alley. The bar is at the end of the alley on the right hand side.
6. Broma
You can't leave Saigon without experiencing one of its rooftop bars. There are many great rooftops, but from experience the most welcoming of them is Broma, with a great vibe and easy going ambiance, everyone is there to just relax and look over the incredible Saigon skyline.  It's a little place tucked in a corner building on Nguyen Hue Street, and doesn't require the smart dress code of other rooftop bars in Saigon. The open rooftop overlooks a busy street below, where a lot of people turn up every night, so it's a great spot if you enjoy a bit of people watching. It is the perfect spot to watch the sunset and the lights around Saigon come alive one by one. If you are looking for a nice place for a date that won't burn through your wallet then this is the place for you.
How to get there: The bar is on the top floor 41 Nguyen Hue.
---
Did you find this article useful? Pin it for later!
---
About the Author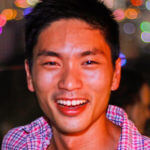 Alex is an editor at Inspitrip. During his expedition to Fansipan Mountain, Alex realised his local guide who came from a poor minority tribe in Sapa only earned 10% of what he paid to the agency. Since then, Alex has quit his corporate job and devoted his time to Inspitrip, a platform connecting travellers to locals in South East Asia. Prior to Inspitrip, Alex was an investment banker and a finance manager. You can follow Alex and Inspitrip via Facebook and Twitter.
---
Have you been to Ho Chi Minh City (Saigon)? Do you have any tips to add? Share them in the comments!
---
 Note: Two Can Travel has an affiliate partnership with Agoda, our favorite hotel booking site in Asia. If you book your hotel through the links in this post (or this link here), we receive a small commission at no extra cost to you. Thanks for your support! 
---
Traveling to Cambodia?

Sign up to receive our free guide for ten awesome places to go in the country!