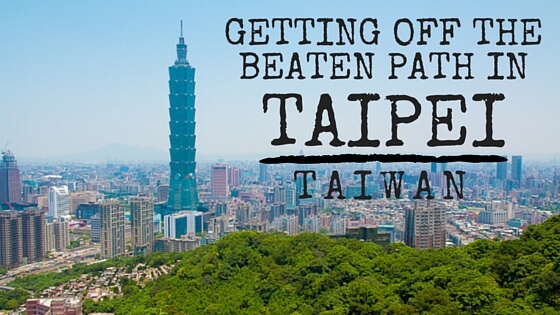 We are so excited to share this guest post from Nick Kembel, author of "Taiwan in the Eyes of a Foreigner."  Nick has been living in Taiwan for over eight years and is full of knowledge on the best eats and places to visit that many travelers never make it to. He's shared with us five of his top insider recommendations for getting off the beaten path in Taipei, Taiwan. They all sound amazing to us! Which activities do you want to do?
Getting Off the Beaten Path in Taipei, Taiwan
The standard two-day Taipei itinerary invariably includes Chiang Kai-Shek Memorial Hall, National Palace Museum, Taipei 101, and one of the big night markets such as Shilin.
I'm not saying that these sights aren't worth a visit. But museums bore me, and I've still never been up to the pricey observation deck at 101. If you have a little more time in Taipei, or you want to skip the big sights and dig a little deeper, this guide is for you.  
1. Be an MRT Explorer

Leave your guidebook behind, and hop onto Taipei's MRT, regularly voted one of the best metro systems in the world. Get off at ANY station and see what you can find! The NTD150 (6$) day pass is a great deal, giving you unlimited rides.
Every exit has a map that shows nearby sites of interest. Just be warned that north is not always at the top, which can be disorienting. Even without using the map, you can expect to stumble upon anything from riverside parks and mountain trails to atmospheric old neighborhoods and bustling markets. Veer into smaller residential lanes to get a better feel for local life.
2. Dine with Locals at a Quick Fry

One of Taiwan's best dining experiences is a kind of restaurant called quick fry. These noisy, hole-in-the-wall establishments usually include tables out on the street and can seat hundreds. The food includes all manner of stir-fried and seafood dishes, with lots of fresh basil, garlic, green onion, and chilies, all washed down with Taiwan beer.
Most quick fries don't have English menus, but I guarantee that if you ask any table of locals for help, they will be more than happy to recommend the best dishes, and don't be surprised if they invite you to sit down and ganbei (bottom's up) multiple glasses of beer with them!
A few more tips: It's better to go with a big group so you can try more dishes. Help yourself to beers from the fridge and rice from the cooker. Expect to pay around NTD300 (10$) per person, including beer.
Popular choices:
Pin Xian (品鱻) No.68 Leli Rd. (MRT Liuzhangli)
Marine Seafood (馬林漁生猛海鮮) No. 135, Chengdu Rd (MRT Ximen)
(No English name) 一代佳人海鮮碳烤 No. 28, Section 2, Xinsheng S Rd (MRT Da An Park)

3. Get Lost on the Four Beasts

A free alternative to the Taipei 101 observatory is nearby Elephant Mountain. The 30-minute hike from Elephant Mountain MRT station is understandably popular among locals and visitors alike.
To avoid crowds, don't go on weekends or just before sunset. To have it all to yourself, go at night. The trails are lit, and it's totally safe! In the daytime, you can also venture off some of the main trails down dirt paths to find secret viewpoints.
Continue past the first few viewpoints, and there is a vast network of trails, usually devoid of people, connecting Elephant Mountain with the three other "beasts": Tiger, Leopard, and Lion Mountains. It's easy and fun to get lost, but you'll never be too far from the city. 
Here is a map of the various trails and exit points.
4. Choose from Hundreds of Markets
Visiting one of Taipei's famous night markets such as Shilin, Raohe, or Tonghua is a must-do experience. Even at Shilin, you probably won't see many other Western tourists, simply because the crowds of locals are so thick.
Still, if you want to try a less famous one, there are dozens to choose from. Here is a list of night markets in Taipei and New Taipei City. Remember that many of the ones in New Taipei City (the megacity that surrounds Taipei City) are accessible by MRT, but less explored by tourists.
Alternatively, you can check out one of Taipei's countless day markets, where the focus in on fresh produce and ingredients. Most of them also have snacks and meals available, and photography opportunities abound. To find day markets, just wander into any residential neighborhood in the morning, and it won't take long before you stumble upon one.
5. Burmese Food, Hiking, and a Giant Earth God 
For a fun excursion that you won't find in guidebooks, head to Nanshijiao MRT station, the last stop on the yellow line. Take exit 4 then turn right and follow Xingnan Road to Huaxin Street, also known as "Little Burma."
Thousands of residents in the area are ethnic Chinese who fled to Taiwan from Burma. All the signs are in Burmese, everybody's drinking Burmese milk tea (similar to Indian chai), and restaurants serve delicious Burmese fare. Recommended dishes include spicy sour cold noodles, fish noodle soup, and sweet Burmese flatbreads. You can even find Burmese betel nut, a mild stimulant that is chewed, and it is prepared with more ingredients than the Taiwanese variety. 
By this point you will have probably already noticed the massive bearded statue on the mountain in the distance. That is Tudi Gong, the Daoist Earth god. To reach the statue via an excellent 2-hour hike that few people know about, continue to the end of Huaxin street and follow lane 109 to access a hiking trail that follows a mountain ridge offering panoramic views all the way to the statue.
---
About the Author
Canadian Nick Kembel has been living in Taiwan for eight years. He is the author of "Taiwan in the Eyes of a Foreigner" and writes for various travel magazines. He currently lives in New Taipei City with his wife and two kids. His website www.nickkembel.com focuses on Taiwan and spiritual aspects of travel. You can follow Nick on Facebook, Twitter and Instagram.
---
Did you enjoy this post? Pin it for later!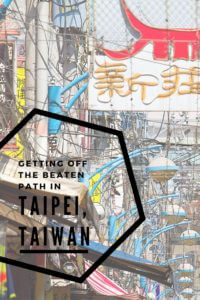 ---
Which of these off the beaten path activities would you like to do in Taipei?
Share in the comments!
---
Traveling to Cambodia?

Sign up to receive our free guide for ten awesome places to go in the country!