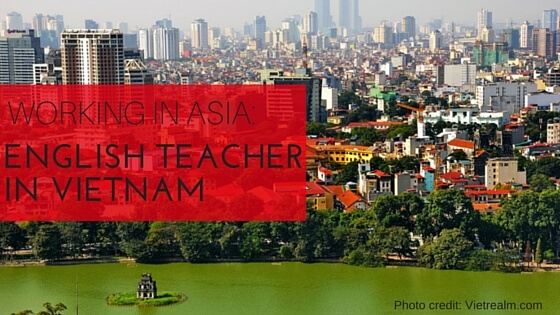 Welcome to Working in Asia, a series featuring people doing all types of interesting jobs throughout Asia. Some people work as English teachers, tour guides, masseurs, or run their own companies. The opportunities and options are endless in this part of the world! If you work in Asia and would like to be featured in this series, please contact us. 
In this interview we are so excited to hear from Jon, Co-Founder and Writer of Two Monkeys Travel Group, about his experience working as an English Teacher in Vietnam. 
Working as an English Teacher in Vietnam.
Kach, the other half of Two Monkeys Travel Group, with her students in Vietnam.
How did you end up teaching English in Vietnam? What was going on in your 

life and why did you decide to make the move?
I left my job and decided to travel, but I knew I didn't want to have to return to another job just to save up all over again, so I took a TEFL course first. I travelled for a few months by motorbike around South East Asia, which is when Kach and I first met in Laos. Vietnam was essentially an accident – The motorbike I bought had a Vietnamese plate, so I had to take it back there to avoid a big fine from the Laos immigration!
When and where do/did you teach there?
I taught in Hanoi, from May 2013 to January 2014.
What type of school (public, private, International, kindergarten, etc.) did you teach at? What were the ages of your students?
I had several jobs and private students too, just to make up the hours and money I wanted to save. I taught mostly in private English centers, with students aged from 4 to 30.
Was this your first English teaching job? If not, where did you teach before and how did Vietnam compare to that place?
Before Vietnam, I had only spent a couple of days volunteering in a little village school in Cambodia. It couldn't have been more different – from a tiny brick building crammed with 30 students, to well-equipped classrooms of no more than 15 upper-middle-class kids who arrive to class in Mercedes! But regardless of how much money they had, they were all great fun to teach!
What qualifications and experience did you need to get your job?
For all of my schools, all I needed was a minimum 120 hour TEFL certificate and preferably some teaching experience. There's no hard rules though, I had a 19 year old friend who has been teaching in Hanoi for 2 years and to this day still has no formal qualifications past high school!
How did you find the job? Do you have recommendations for how to find an English teaching job in Vietnam?
I enjoyed all of my jobs. Some required more lesson planning, some none at all. As long as the money was right and the kids got the learning they were there for, I made a point not to be too fussy. My advice would be to set your standards for salary and not to deviate from that, then look around the teacher Facebook groups and forums for reports and references about schools you're applying for. Sometimes though, it's just a case of trial and error.
What did you enjoy about teaching English in Vietnam? What did you dislike?
As an English teacher in Hanoi, I was definitely in a strong position, as the demand far outnumbered the available teachers, so I always knew I could walk out of one job and into another. I'm not sure if that's still the case or not. One thing I found hard to put up with however, was taking direction from people completely unqualified to give it. It wasn't too common, but the main problem is that anyone can rent a building, throw in some desks and call it a 'Language Center.'
What did you like and dislike about living in Vietnam? Was it hard to adjust to living there?
There's really nothing I didn't like about living in Vietnam, I loved every part of it! What I loved the most was that there was never end to the adjustment. It's one of those places that just when you think you've seen it all and figured it all out, it throws something completely random and new at you!
Did your salary allow you to live the way you want? Were you able to save money? 
Teacher salaries are very good in Hanoi, the minimum going rate is $20 USD per hour and you can live a very good life of 30 hours per week. If you're prepared to work more than that, then you can take home $2000+ a month in cash and save 60 to 70% of that.
Does/did your school provide any benefits (housing, bonus, flights, vacation days, medical insurance)?
This really depends on the school and how long your contract is, mine never did, but if you were to sign a minimum one year contract with an international school, then you would certainly get your holidays, work permits, paid vacations and bonuses. With the housing, I've seen some adverts including housing, but my advice would be to find your own that meets your own standards.
What is some advice/tips you have for someone interested in teaching English in Vietnam?
Be prepared for a challenging start, but don't be deterred at all. After a little trial and error, you'll find a good job with the hours you like and can down to enjoying the crazy and incredible experience of living in Vietnam!
---
Big thanks to Jon from Two Monkeys Travel Group for providing such an interesting and inspiring interview!
What do you think? Is Teaching English in Vietnam a job you would consider?
---
Traveling to Cambodia?

Sign up to receive our free guide for ten awesome places to go in the country!