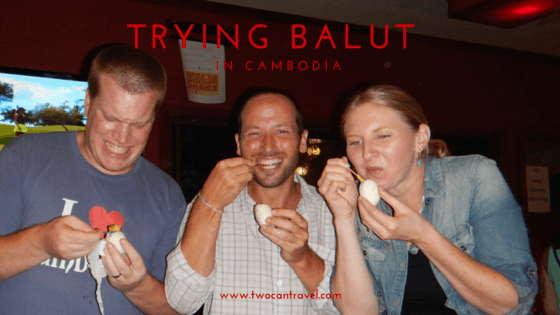 The once in a lifetime experiences (read: the crazy sh*t you look back on) created through travel can make strangers into lifelong friends in a matter of weeks, even hours.
That's definitely the case with our buddy Andy. We met in Myanmar in August 2014 and always ended up getting into wacky adventures together.
Like this time we motorbiked to the biggest reclining Buddha in the world in Mawlamyne.
Got blessed by the 94-year-old monk who designed the Buddha.
Then got invited to dinner by a group of Buddhist pilgrims. When we arrived it turned out they had already eaten, so it was just a group of about 50 people watching us eat. They were all lovely!
Or the time we rode motorbikes around Hpa-an and drove across this ridiculously long, narrow concrete bridge over a lake.
Aside from motorbike shenanigans, Andy is also a very adventurous eater. We shared some delicious meals, like this feast:
By the end of our time in Myanmar it was sad saying goodbye, but we knew we'd cross paths again someday.
Now Andy is working as a tour guide throughout Southeast Asia, so we got to meet up with him in Phnom Penh!
We were only able to hang out for one night before his group had to move on, but in those few hours he convinced us to do something we never thought we'd do: Eat a developing duck embryo, known as 'balut 'or as it's called in Cambodia, 'pong tia koon'.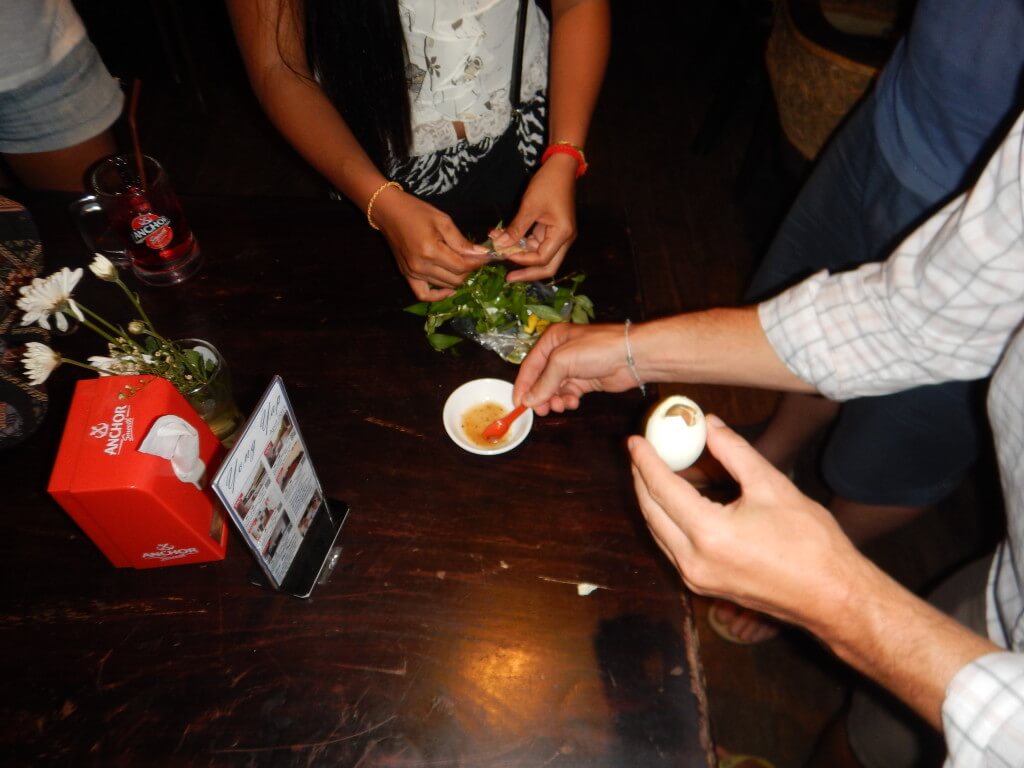 We succumbed to Andy's convincing logic that we eat duck at every other stage, fully cooked bird and egg, so this is just the stage in between. Admittedly a few Angkor beers may have been involved to ease his persuasive techniques.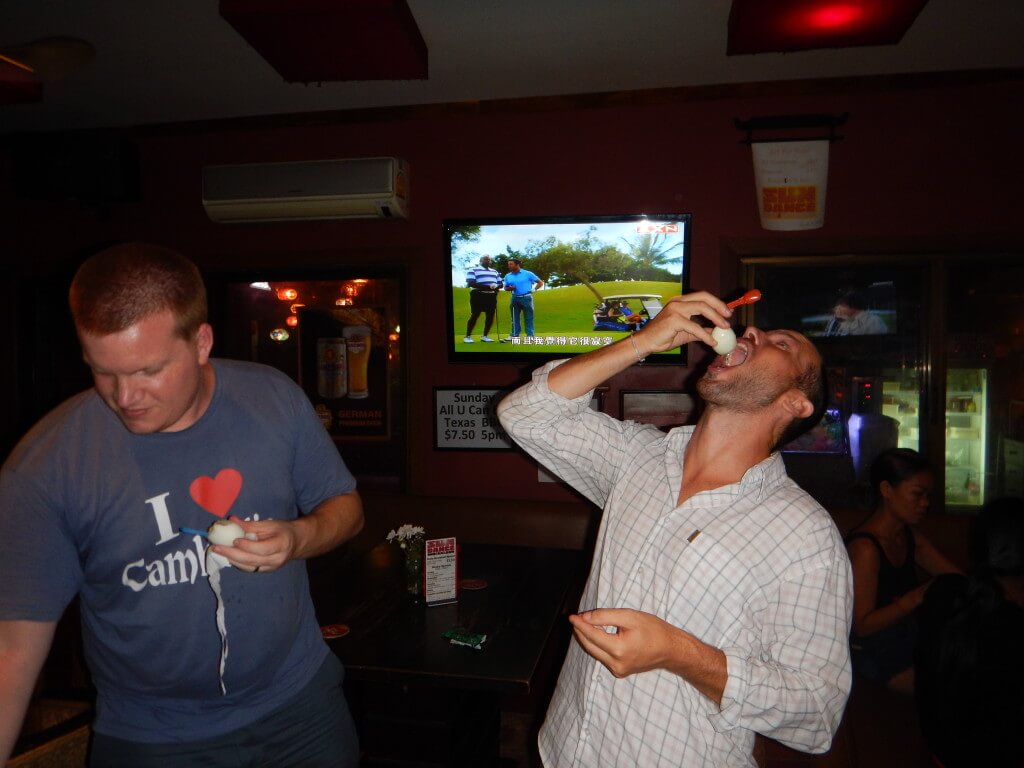 I'm going to spare you from looking at close up pictures of balut unless you really want to see it, so click at your own risk.
If balut sounds gross to you, let me explain. The egg is eaten 16-21 days after fertilization, so there are no feathers or beak and few to no bones yet. The organs are partially developed so it is high in nutrition. Each balut egg costs about 1000 riel (25 cents), and some Cambodian people eat them as snacks.
We've seen balut during our travels in Southeast Asia, but it's something we never thought we'd try. Stevo and I definitely wouldn't have dared one another to do it! I must admit it was surprisingly tasty, so long as we could push away the thought of what we were eating.
Sometimes you need a good friend to convince you to eat something weird that you know you're gonna pay for in the bathroom later.
Our recommendations if you do try balut:
Best to eat it in a slightly darkened room after a few beers.
The lime chili salt poured on top and herbs that come with make a big difference. Use them generously!
Avoid looking at it while eating at all costs.
Get other people to do it with you.
Be prepared that your stomach may not appreciate your culinary adventurousness.
We're looking forward to making more bad decisions interesting life choices with Andy the next time he comes into Phnom Penh. Until then we'll stick with the other strange foods we already know and love here.
What are some interesting foods you've tried during your travels? Would you try balut?
Traveling to Cambodia?

Sign up to receive our free guide for ten awesome places to go in the country!