This article may contain affiliate/compensated links. For full information, please see our disclaimer here.
No trip to Barcelona would be complete without seeing some of the world-famous architect Antoni Gaudí's most popular works. Gaudí's name has become synonymous with the city of Barcelona, and once you see his buildings up close, you'll quickly understand why!
Who was Antoni Gaudí?
Antoni Gaudí was an architect from Catalan, Spain who lived from 1852 to 1926. He is known as the greatest architect of the Catalan Modernism movement, which was centered in the city of Barcelona. 
His wide variety of work includes single-family homes, housing blocks, religious buildings, palaces, and special commissions.
All of Gaudí's works showcase his highly individualized style. They're unlike anything you've likely seen anywhere else in the world, which is what makes them so alluring.
Gaudí's work combined his passions for architecture, nature, religion, and Catalonian pride, which he infused into each of his creations using various mediums including stained glass, ironwork, carpentry, and ceramics.
He was a pioneer of new techniques such as 'trencadís' which breathed new life into broken tiles to create colorful mosaic designs, a style he is well-known and credited for.
Gaudí also had a unique way of planning out his designs. Rather than drawing out architectural plans for his work, he preferred to create three-dimensional scale models to envision his designs.
His work is still studied by architects and architecture students and is admired by people all around the world who come to visit his buildings and sites. Seven of Gaudí's works have been declared UNESCO World Heritage Sites, giving them even more prominence.
Gaudí's most famous works are located in Barcelona. You can visit 14 of his works in Barcelona city and there are even more outside of the city.
In this article, we'll share about six of the most important Gaudí sites you can visit in Barcelona, and how you can reach them.
Budget Tips To See Gaudí's Work:
FREE – If you are on a budget, the exteriors of many of Gaudí's works can be viewed for free, including: Sagrada Familia, Casa Milà, Casa Batllo, and Casa Vicens. Even if a visit inside these sites isn't in the cards for you right now, it's still worth going to see these buildings from the outside.
Many of Gaudí's works have official websites where you can watch virtual tours, see photos and videos of the interiors, and learn more information about the history and design.
INEXPENSIVE WALKING TOUR – Another great, inexpensive option is a Barcelona Modernism and Gaudí Walking Tour where you can discover Gaudí's most extravagant works in Barcelona with a knowledgable guide.  
GO CITY EXPLORER PASS – If you're interested in experiencing lots of things in Barcelona, check out the Go City Explorer Pass which allows you to choose up to 7 attractions, tours, and experiences from a list of 45 options, including many of Gaudí's works. Note: You'll still need to make reservations for many of the popular attractions.
Need Travel Insurance for your trip? Get quotes from World Nomads and SafetyWing.
1. Sagrada Familia
If you only visit one of Gaudi's works in Barcelona, make it this one! Sagrada Família is the most well-known building in Barcelona and stands out among all of the buildings in the city from any high vantage point. It was declared a UNESCO World Heritage Site in 1984.
Sagrada Familia is Antoni Gaudí's most famous architectural work and is now one of the most popular tourist attractions in all of Europe. And for good reason!
Sagrada Família is an absolutely magnificent work of art with incredible significance built into every part of it. Gaudí spent the last 12 years of his life completely dedicated to working on it.
Construction on Sagrada Familia began in 1882. It has been under construction for over 140 years, and it still isn't finished! The basilica was built by the people, for the people, and five generations of Barcelonians have witnessed the building's construction.
Gaudí left detailed plans for his vision of the building which are still being carried out today. Luckily for you, today the public is able to visit inside Sagrada Familia and there are several options for how to do so.
How to Visit Sagrada Familia
In order to get the full experience of visiting inside Sagrada Familia, you will need to purchase a ticket. As this is such a popular site, you will want to book your tickets ahead of time to guarantee you can get in.
We purchased a Fast Track Access Ticket which allowed us to enter Sagrada Familia at a specific time so we didn't need to wait in a long line to enter.
Our tickets also included an audio guide explaining the significance and history of the building as we walked around, allowing us to wander and take everything in at our own pace.
It is also possible to hire a private guide or to take a guided group tour, although from what we saw these groups with guides were usually pretty large.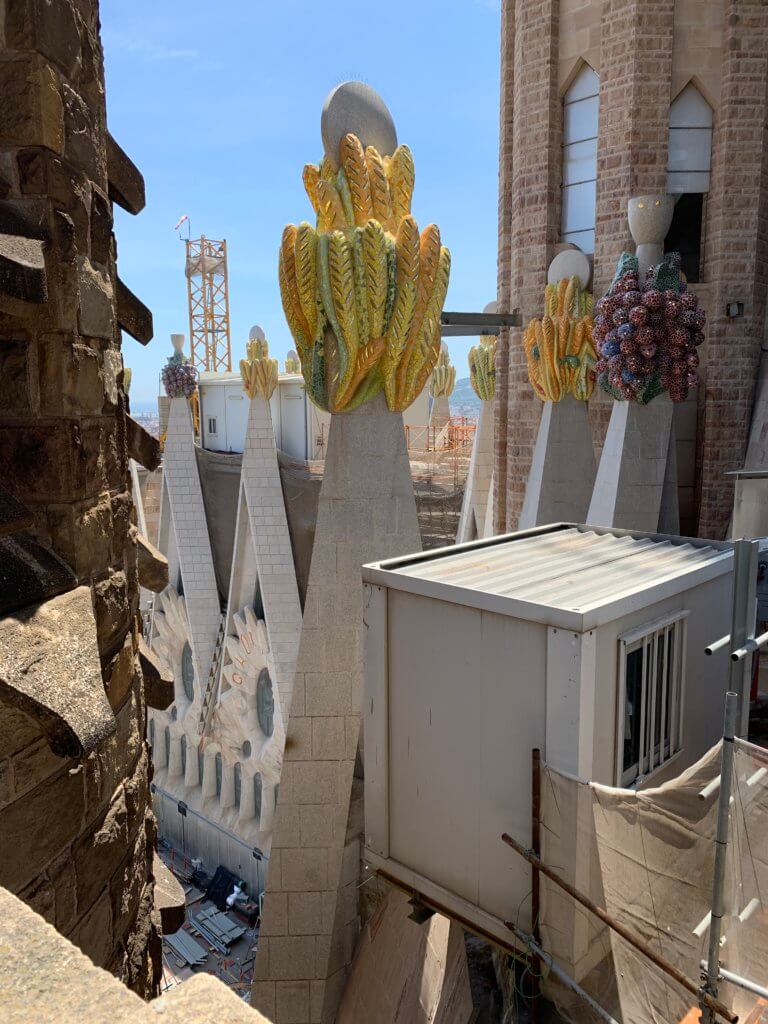 Above and Below Sagrada Familia
We chose to do an add-on with our tickets to visit one of the two towers of the temple. We chose the Nativity Tower because it overlooks the Nativity Facade which is the oldest part of the Sagrada Familia and is also the only part that Gaudí worked on himself. 
There is also a small bridge connected to this tower which you can walk on to take in views of the church and glassworks on top of the church spires, which are incredible to see up close. The sweeping views of Barcelona city, the beach, and the mountains are amazing as well. We absolutely recommend this add-on to your tour, and we felt so grateful for the experience.
Beneath Sagrada Familia, there is a small museum where you can learn even more about Antoni Gaudí and the construction of Sagrada Familia. You can even see a part of the workshop with three-dimensional models of the building that are still being used for construction today. The museum is included with your ticket.
Things to Know Before You Go
Sagrada Familia is a religious site and a dress code is enforced. Be sure your shoulders are covered and your shorts/dress reach around knee length. Hats are not allowed inside the temple.
Be sure to spend some time walking around the outside of Sagrada Familia. There are parks surrounding the building where you can see Sagrada Familia from various angles, reflected in a lake, or peeking through the trees.
There are also many places to stop for a bite or a drink nearby Sagrada Familia with nice views. We stopped for a snack at a small restaurant to enjoy churros with chocolate while we admired the temple.
Getting to Sagrada Familia
Metro
The easiest way to reach Sagrada Familia is on the L5 metro. Exit at the Sagrada Familia station and you will be right in front of the building. The metro lines in Barcelona are extensive and are one of the easiest ways to get around in the city.
*Barcelona Tip: We recommend purchasing a 10-pass card for the metro which also allows you to get on the buses. This is a much less expensive way to get around in the city than purchasing individual metro and bus cards for each journey, and it will save you time. You can purchase the 10-pass at any of the ticket machines inside the metro stations in Barcelona.
How Long to Stay at Sagrada Familia
Allow 2-4 hours for your visit to Sagrada Familia, depending on how much you want to see and do there.
We spent about 3.5 hours at Sagrada Familia between walking around each side of the building beforehand, going around the inside and outside of the temple with the audio guide, visiting the Nativity Tower, and going to the museum beneath the building to learn about the history of Sagrada Familia. This was a once-in-a-lifetime experience so we really wanted to soak it all in!
Again, we definitely recommend getting a fast track ticket and adding on a visit to the Nativity Tower if it's in your budget!
2. Park Guell
Park Güell is another famous Gaudí site in Barcelona that is well worth visiting. It was built from 1900 to 1914 and opened to the public in 1926. It was declared a UNESCO World Heritage Site in 1984. There are many Gaudí buildings and structures within the park.
Spanish entrepreneur Eusebi Güell hired Gaudí to design the park and there are elements of political and religious symbolism from both men throughout.
You'll also see lots of Gaudí's signature trencadís style of broken tile mosaics. Many design elements inside the park feel straight out of a Dr. Suess book!
Today Park Güell is one of the most popular places in the city for both locals and foreigners. It is a beautiful place to relax, have a picnic, or walk around and explore. It feels as if the trails within the park are endless, and you can meander for hours, following the signs to the various points of interest inside.
You can visit Park Güell on your own and walk around at your own pace. An audio guide is included with your general admission ticket from the Park Güell website.
If you are interested to learn more about the history and background of the buildings and sites inside the park then you can take a guided tour of Park Güell.
Either way, it is a beautiful place to spend an afternoon.
Getting to Park Güell
Late afternoon is a great time to visit Park Güell, especially for taking photos. If you visit Sagrada Familia in the morning, you can have lunch and then head to Park Güell afterward.
Walk
It is possible to walk from Sagrada Familia to Park Güell in about 30 minutes. However, much of the last part of the walk is uphill, so if it is a hot day we don't recommend doing this. Plus, you will be walking A LOT inside the park so you might want to save your energy!
Bus
Instead, walk about 8 minutes from Sagrada Familia to the Pg de Sant Joan – València bus stop and take the V19 bus to the Ana María Matute – C N Catalunya stop. The bus drops you a 3-minute walk from the entrance to Park Güell. Here are the directions from Sagrada Familia to Park Güell by bus.
If you aren't going from Sagrada Familia to Park Güell, you can easily reach Park Güell by bus from many parts of the city. There are several Park Güell entrances which makes it easy to enter, especially if you have purchased your ticket ahead of time. Check Google Maps from your current location to find the nearest bus line that will take you to Park Güell.
The Blue line of the Hop-on Hop-Off Tourist Bus also has a Park Güell stop.
Metro
Take the L3 metro to the Vallcarca station. It is about an 11-minute walk from there to Park Güell.
Ticket Options
It's recommended to get your ticket to Park Guell ahead of time to guarantee you'll get in, especially during the high tourist season. You can book your ticket for 10 Euros on the Park Güell website and choose your entrance time, then show your QR code at the entrance.
You can also book a guided tour with skip-the-line access.
If you're like us and photos are your favorite souvenirs, you can even book a Park Güell Photoshoot.
If you know you want to visit both Sagrada Familia and Park Güell in one day, you can purchase a combination Sagrada Familia and Park Güell Tour which includes a live tour guide and transportation.
3. Gaudí House Museum (Inside Park Güell)
The Gaudí House Museum is located inside Park Güell and requires an additional ticket to go inside.
The building was Gaudí's residence from 1906 to 1925. The museum contains furniture, objects, and memorabilia designed by Gaudi himself when he lived there. 
The building has a pretty wild history which you can read more about it here and here.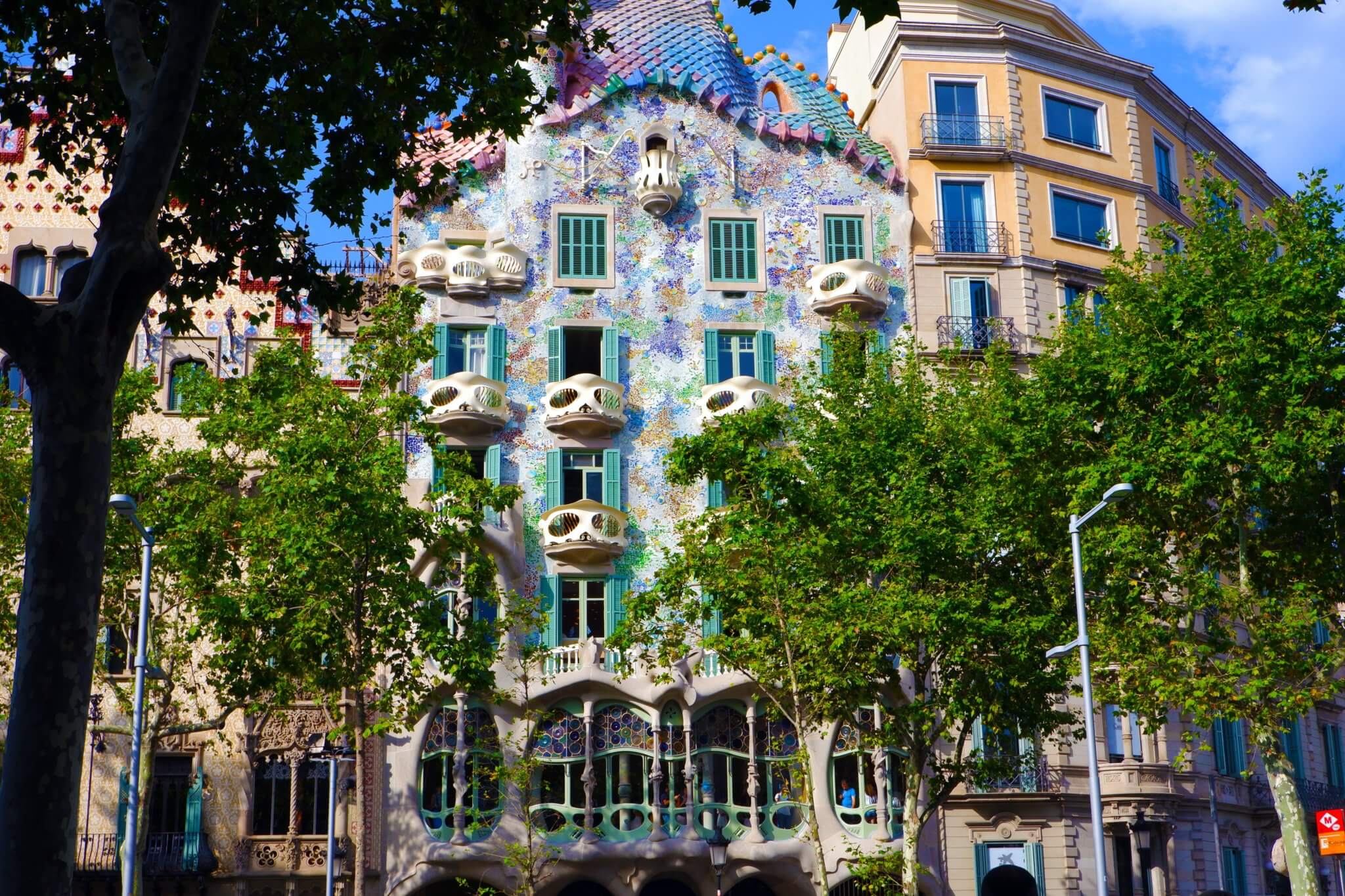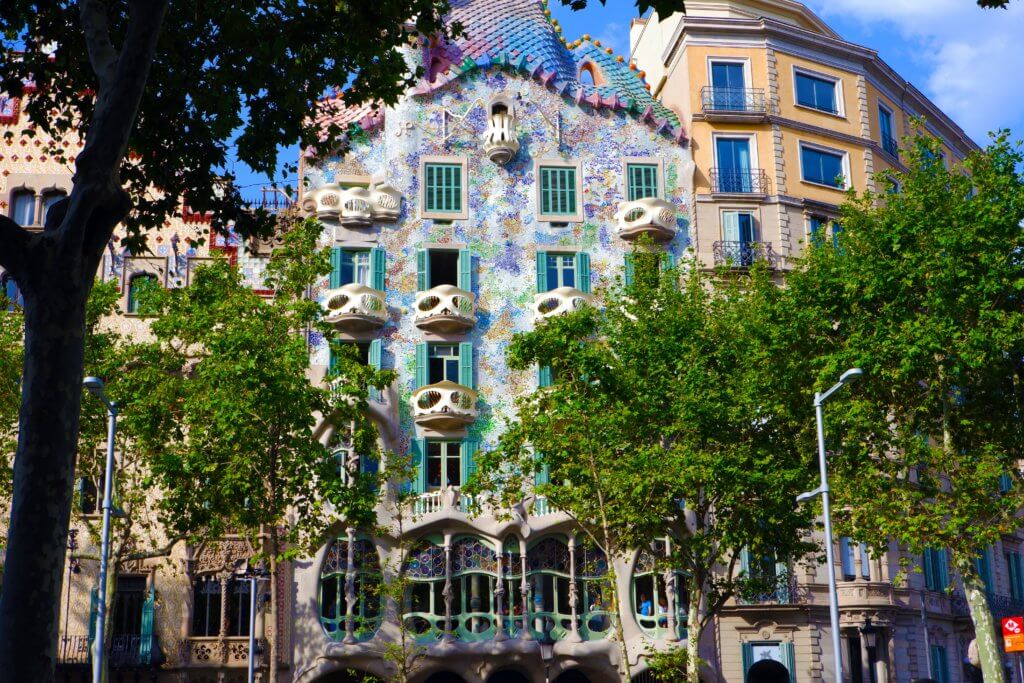 4. Casa Batlló Gaudí
Casa Batlló is another one of Gaudí's famous buildings, and is considered one of the most fun to visit!
Casa Batlló has won many awards including World's Best Landmark, Remarkable Venue Awards, and Museum + Heritage Awards. It is also a UNESCO World Heritage site.
A quick history of Casa Batlló
Casa Batlló is located on Paseo de Gracia which is the avenue where the most important families in Barcelona set up their homes in the mid-to-late 19th century.
The Casa Batlló building was originally built by one of Gaudí's architecture professors, Emilio Sala Cortés in 1877. The building was purchased by Josep Batlló, a prominent businessman in Barcelona, in 1903.
Batlló hired Gaudí and granted him full creative control to revamp the building. Instead of demolishing the building as Batlló wanted, Gaudí spent two years reforming the facade and interior between 1904-1906, turning it into a fully functional work of art where the Batlló family lived until 1954.
Today, Casa Batlló is owned by the Bernat family who fully restored the house and opened it to the public in 1995. The building is magnificent to view from the outside, but it is an absolute wonder to behold on the inside.
Getting to Casa Batlló
Metro
Take the L2, L3, or L4 metro lines to Passeig de Gràcia station. It is about a 1-minute walk from there.
Bus
Many bus lines take you to Casa Batlló including V15, 7, 20, 22, 24, and H10.
Both the Red and Blue lines of the Hop-On Hop-Off Tourist Bus also stop at Casa Batlló.
Tickets to Casa Batlló
As with Sagrada Familia and Park Güell, you'll want to book tickets in advance to visit Casa Batlló so you can avoid the lines and ensure you can get in.
Your ticket to Casa Batlló includes the immersive 10D experience combining augmented reality, artificial intelligence, and machine learning, as well as two immersive rooms, the Gaudí Dome and the Gaudí Cube, and more.
An audio guide with a soundtrack by the Berlin Orchestra created just for the tour is also included. You can select the 'Gold Option' on your ticket which gives you access to even more experiences inside the building.
Allow at least two hours for your visit to Casa Batlló.
This video from the Casa Batlló website will give you a taste of what you will experience inside.
*While you're there, don't miss seeing four more outstanding buildings of this time period that were also reformed by prominent architects, located just to the left of Casa Batlló. The buildings are Casa Amatller by the architect Josep Puig i Cadafalch, Casa Lleó Morera by Lluís Domènech i Montaner, Casa Mulleras by Enric Sagnier, and Casa Josefina Bonet by Marcel-li Coquillat.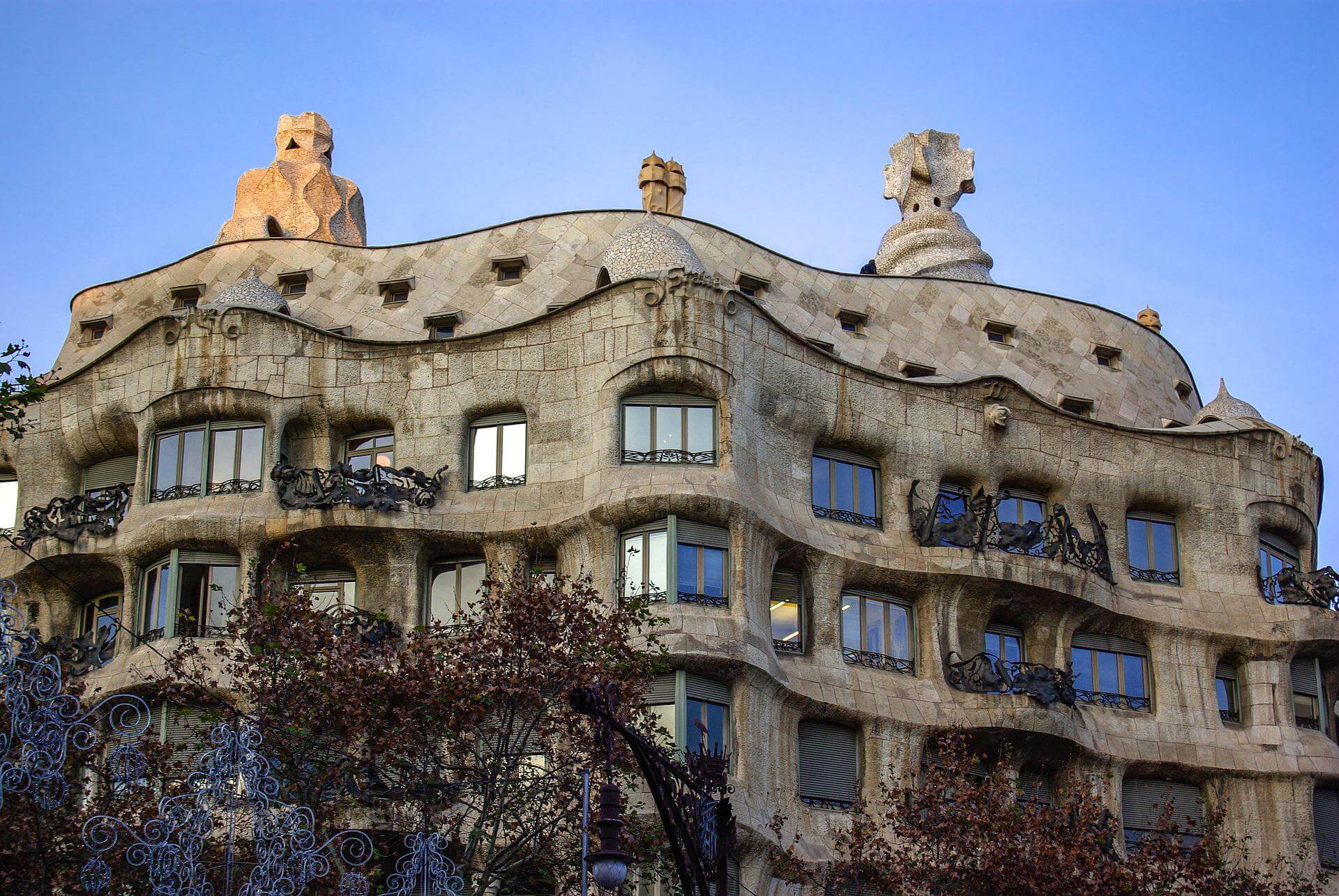 5. Casa Mila Gaudí – La Pedrera
Just a 7-minute walk down the road from Casa Battló is Casa Milà. As the name suggests, this was the home of the Milà family. They commissioned Gaudí to design the building, and it was constructed between 1906-1912. The Milà family lived on the main floor and rented out the other apartments in the building.
Casa Milà is also known as La Pedrera, Spanish for stone quarry, due to its appearance. Gaudí used many features and forms from nature in his design of the building.
Today Casa Milà is a museum and an office building with a restaurant on the ground floor. A few lucky locals do still live in the building. The building is also a UNESCO World Heritage Site.
Casa Milà is fantastical to view from the outside, but you can also take a tour inside Casa Milà and see even more of Gaudí's whimsical innovations.
There is a large interior courtyard in the center of the building, but the most impressive part of the Casa Milà is the rooftop and the chimneys. Gaudí was well ahead of his time in designing these aesthetically unique corkscrew chimneys that became symbols of his work.
Inside the attic in Casa Milà there is a small exhibition called "Espai Gaudi" which is the only exhibition dedicated to Gaudi's life and work. Inside the exhibition, you'll learn more about Gaudí's architectural designs using scale models, see his building plans, historic photographs, videos, and more.
For an even more unique experience, you can tour Casa Milà by night and view an audiovisual show on the rooftop and inside the stairwells of the building as you sip a glass of Cava.
Getting to Casa Milà
Metro
You can reach Casa Milà by metro L3 or L5 and exit at the Diagonal Station. It is about a three-minute walk from there.
Bus
Many bus lines take you to Casa Milà including V15, V17, H10, 6, 7, 22, 24, 33, and 34.
Both the Red and Blue lines of the Hop-On Hop-Off Tourist Bus also stop at Casa Milà.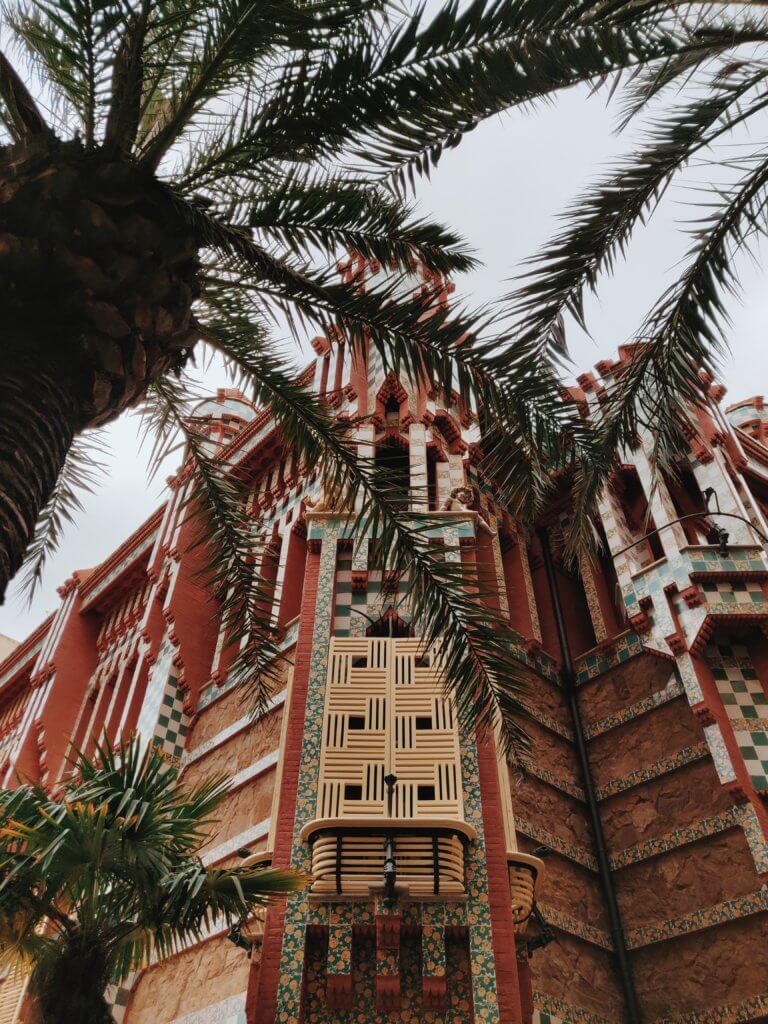 6. Casa Vicens Gaudí
About a 20-minute walk down the road from Casa Milà is Casa Vicens. This was Gaudí's first major commission in Barcelona, however it is not as well known as his other buildings. Casa Vicens became a UNESCO World Heritage Site in 2005.
The Vicens family hired Gaudí to build their summer home in Barcelona. Gaudí was just 30 years old when he started working on Casa Vicens in 1883.
Gaudí used geometric shapes, rich ornamentation, and natural elements on both the exterior and interior of the home to create continuity. Many of the elements Gaudí used at Casa Vicens can be seen in his later works.
If you want to visit inside Casa Vicens, you can get a skip-the-line ticket and tour the house freely with recommended itineraries available at the entrance, or go with a tour guide.
On the Casa Vicens website, there are several more tour options available, including a premium visit which includes a sensory experience to awaken your senses with a journey of sights and scents throughout the rooms. This sensory tour was created by the perfumer and artist Ernest Ventós/Nasevo exclusively for Casa Vicens.
Getting to Casa Vicens
Metro
Take the L3 metro to Fontana station. It is about a 5-minute walk from there to Casa Vicens.
Bus
You can take bus lines 22, 27, D40, H6, and V17 to reach Casa Vicens.
These are six of Antoni Gaudí's most famous and important works in Barcelona! They are all truly sights to behold, and whether you visit inside or just admire the exteriors on a walking tour or on your own, you are sure to be impressed.
We hope you found this article useful and interesting. Be sure to save it for later!
---
Have you been to these or any other Gaudí sites? Please share your experience in the comments!