This article may contain affiliate/compensated links. For full information, please see our disclaimer here.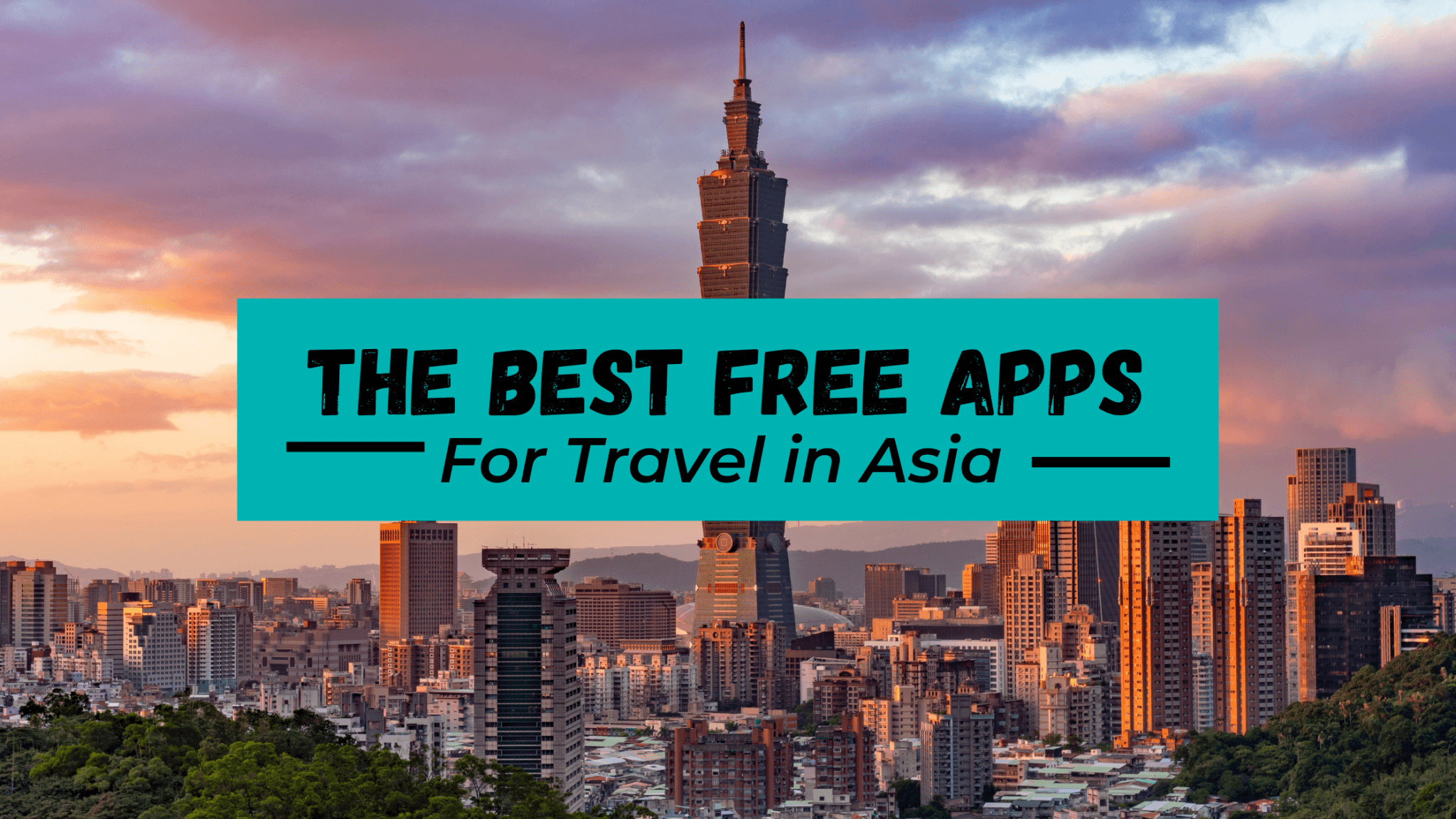 These are the best apps for travel in Asia. Even better news, almost all of these apps are FREE.
These days there's an app for just about everything! However, the apps you're familiar with in your home country might not be the same as the ones you'll need when you're traveling in Asia.
In this article, we've included the most useful and popular apps that will help you navigate traveling around Asia, along with details about each app and how it can help you.
Most of these apps are available for both iOS/Android.
If you want more information about traveling within different countries around Asia, head to Asia Destinations.
TRANSPORTATION APPS IN ASIA
MAPS & DIRECTIONS APPS IN ASIA
COMMUNICATION APPS IN ASIA
ACCOMMODATION APPS IN ASIA
LANGUAGE APPS IN ASIA
FOOD APPS IN ASIA
Save this for later!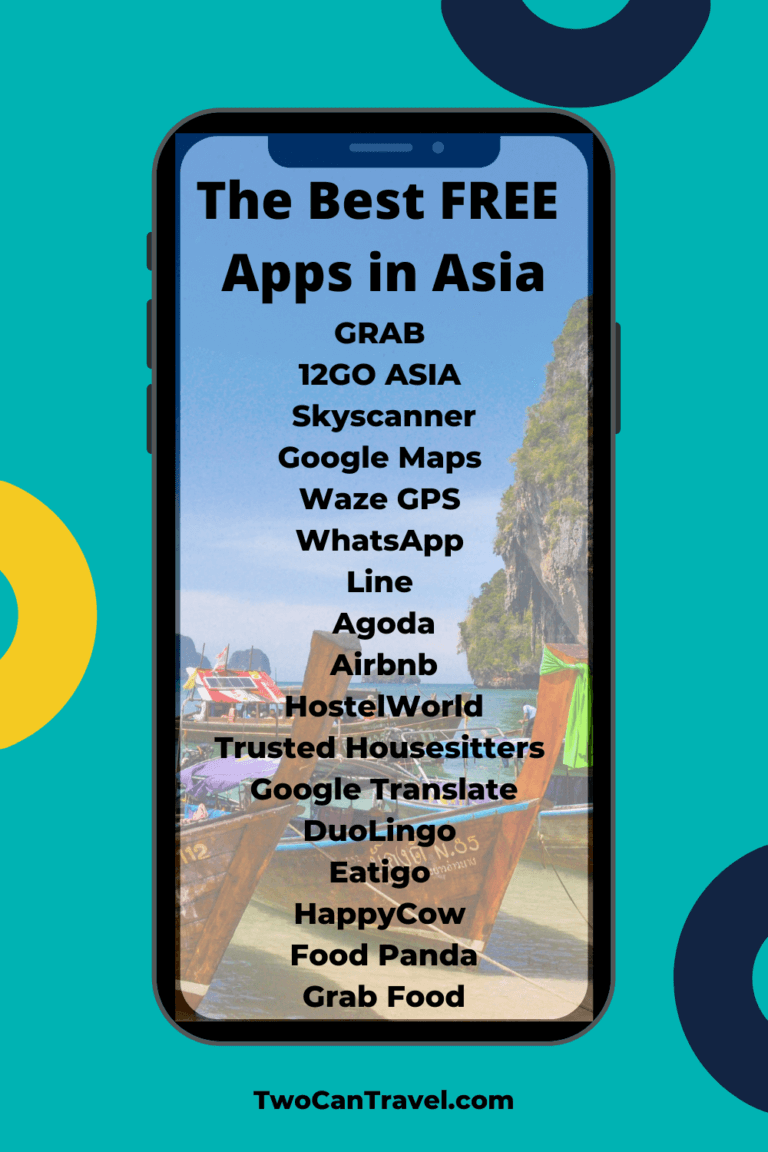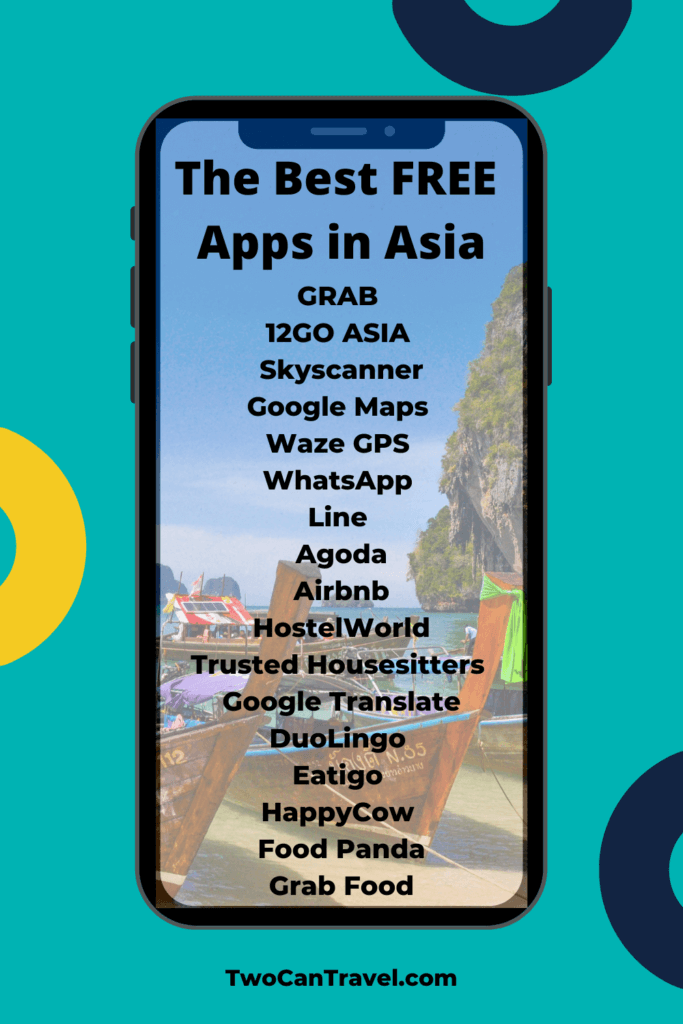 Check out the latest visa-related info for traveling in Asia.
More About Each App…
TRANSPORTATION APPS IN ASIA
GRAB
Grab is the most popular app in Asia for ride-sharing. It's similar to Uber but with more options. Depending on which country you are in, you can call for a car, a tuk-tuk, or even a motorbike to pick you up. In addition to transportation, the company also offers food delivery as well as digital payment services, all via the app. Learn More.
12GO ASIA
12Go Asia is an online travel agency based in Singapore with its main office in Bangkok, Thailand. 12Go Asia allows users to search and book various modes of transportation on various routes throughout Asia and beyond.
12Go Asia makes it easy to book buses, trains, ferries, and more. Learn More.
Skyscanner
Skyscanner lets people research and book travel options for their trips, including flights, hotels, and car hire. It is available in over 30 languages and is used by 100 million people per month.
If your itinerary is flexible, try out Skyscanner's 'Everywhere' option when searching for flights. When you put in 'Everywhere' as your destination, it will show you the lowest cost flights out of the airport of your choosing to anywhere in the world. Learn More.
MAPS & DIRECTIONS
Google Maps
Google Maps offers satellite imagery, street maps, 360° interactive panoramic views of streets, real-time traffic conditions, and route planning for traveling by foot, car, bike, air, and public transportation.
You can also download maps to use offline in case you don't have access to the internet while you're out exploring. Learn More.
Waze GPS
Waze is a free navigation app. It offers community-based traffic info, which means other Waze users share about traffic, roadblocks, and more things on the road. That helps you to take the best route to your destination. If you plan on renting a motorbike or a car in Asia, Waze will be especially useful for you. Learn More.
COMMUNICATION APPS IN ASIA
WhatsApp
WhatsApp is a messenger app widely used around Asia. WhatsApp is an internationally available American freeware with cross-platform centralized instant messaging and voice-over-IP service owned by Meta Platforms.
That means you can text or send voice messages that are all encrypted. You can also make video calls on WhatsApp.
Many people and businesses in Asia also use WhatsApp as their primary phone number, so it's useful to have to make phone calls as well. Learn More.
Line
Line is a popular communication app used in Asia. It allows you to make voice and video calls, and send messages. You can register on the app using either your phone number or Facebook log-in.
The app is especially popular in Japan, Taiwan, Thailand, and Indonesia. Interestingly, Line first started as a disaster response app during the 2011 Tohoku earthquake and tsunami. Learn More.
ACCOMMODATION APPS IN ASIA
Agoda
Agoda is a Singaporean online travel agency and metasearch engine for hotels, vacation rentals, flights, and airport transfers. Their app is a convenient way to book accommodation while you're on the go. Learn More.
Airbnb
Airbnb is an American company that operates an online marketplace for lodging, primarily homestays for vacation rentals, and tourism activities.
The app is useful for making bookings and it allows you to stay in communication with your host in case anything goes wrong.
If you are a long-term traveler, try booking stays of 29 nights or more for a big discount! Learn More.
Check out our YouTube video about booking long-term Airbnbs.
Hostelworld
HostelWorld is a great app for finding hostels all around Asia. And don't be fooled into thinking all hostels are grubby, cheap places to stay. In our experience, there are some very comfortable, beautiful hostels in Asia at various price points. There are even private rooms at most hostels, so you can get all the benefits of enjoying the common spaces and meeting fellow travelers while having your own space to go back to. Learn More.
Trusted Housesitters
Trusted Housesitters is a global marketplace that connects a community of home and pet owners with sitters. The company solves a common two-sided problem – pet care and cost-effective travel.
Pet owners have peace of mind leaving their pets and home in good hands while they travel. Pet sitters enjoy caring for pets in exchange for free accommodation.
We've used Trusted Housesitters to find pet sits all over the world, including in Asia! Learn More.
Watch our YouTube video about using Trusted Housesitters.
LANGUAGE APPS IN ASIA
Google Translate
You can translate text, handwriting, photos, and speech in over 100 languages with the Google Translate app!
One of the most useful features of the app has got to be the camera feature. Click the camera icon in the app and hold it up to text. It will translate the text for you in real-time!
This is very useful for reading menus at restaurants, reading labels in grocery stores, or anytime you need to read something in the local language. The translations aren't always perfect, which is also great for a laugh. Learn More.
DuoLingo
Duolingo is a pretty fun language-learning app, and research shows that it works! The app has quick, bite-sized lessons so you can practice on the go. There are many different Asian languages offered on Duolingo.
When you complete lessons, you can earn points and unlock new levels which incentivize you to keep learning.
You'll also be gaining real-world communication skills that you can use as you travel. Learn More.
FOOD APPS IN ASIA
Eatigo
Eatigo is a restaurant reservation app in Asia that offers time-based discounts of up to 50% off, every day, at over 4500 restaurants.
The way it works is restaurants will offer discounts to diners who come at different times of the day, usually with bigger discounts for dining at off-peak times. The app is a fun way to discover new restaurants while saving money.
It's easy to use: search, reserve, eat, save! Learn More.
Food Panda
Food Panda is a food delivery app where you can order from over 115,000 restaurants in over 400 cities around Asia. It's very easy to use! Learn More.
Grab Food
Within the same Grab app that you use for transportation (listed above), you can also order food delivery! It's simple to use and works all over Asia. Learn More.
HappyCow
HappyCow is a great way to discover healthy food options when you travel in Asia, including restaurants catering to vegetarian and vegan diets. Learn More.
Do you need Travel Insurance for your trip? Get quotes from SafetyWing, Genki, and World Nomads .
Pin this article for later!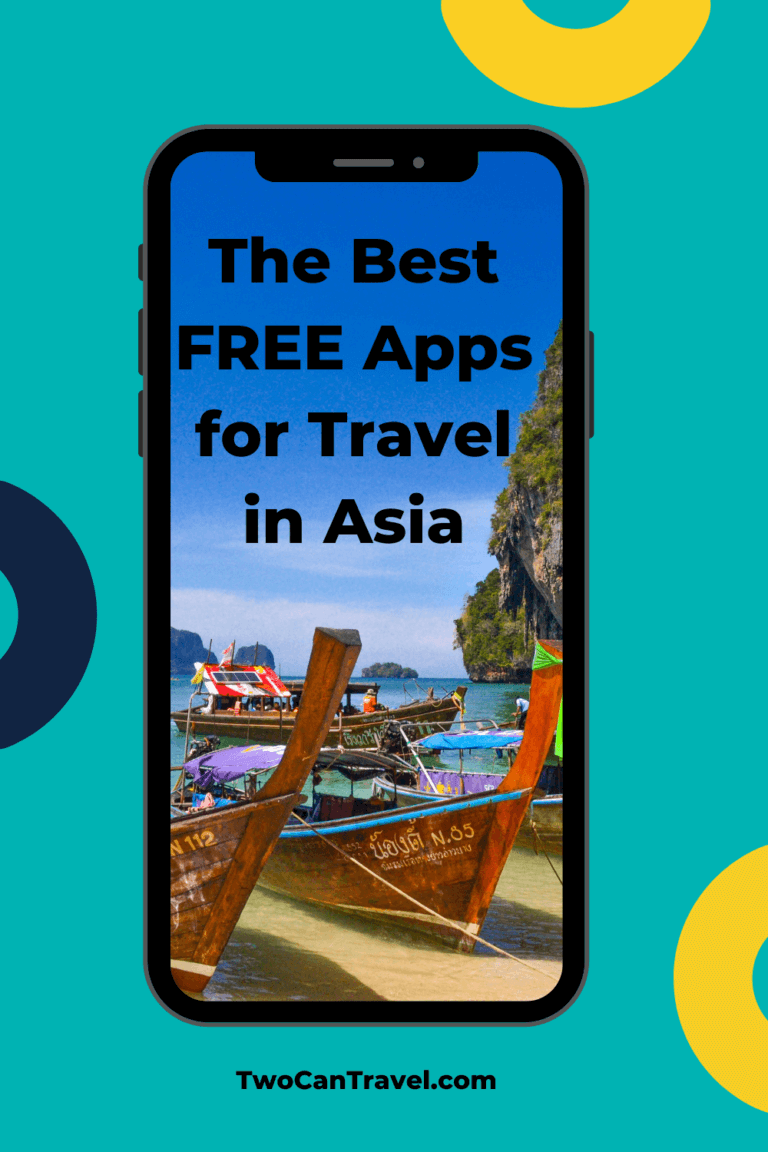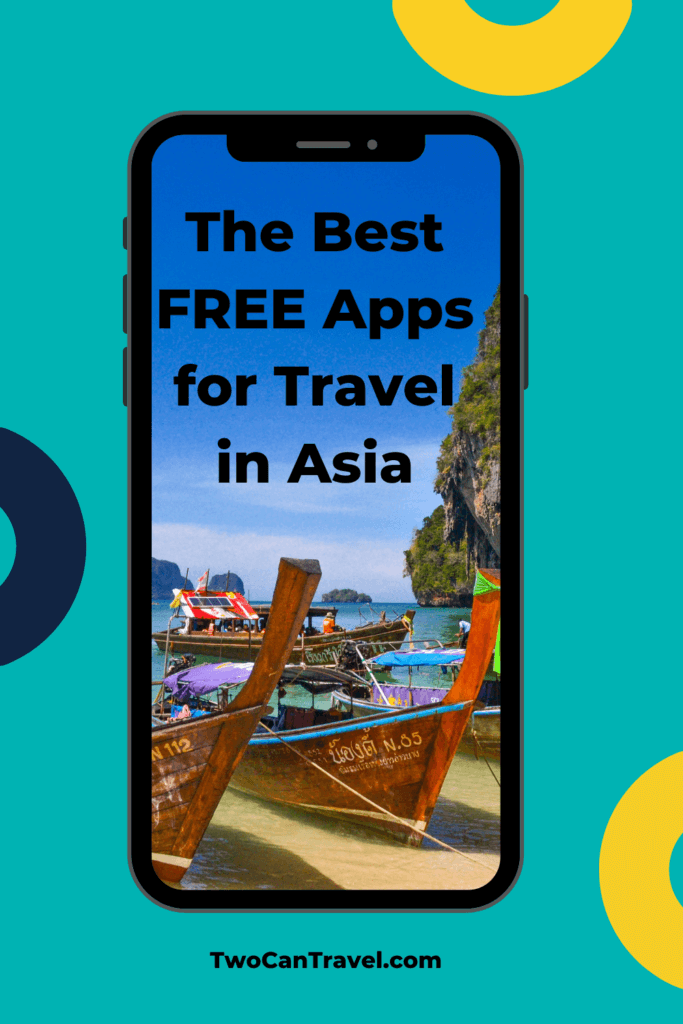 What apps in Asia did we miss? Anything else you would add to this list? Comment below!