This article may contain affiliate/compensated links. For full information, please see our disclaimer here.

Taking the Giant Ibis bus from Bangkok to Siem Reap. 
---
Are you planning to do the Thai-Cambodia border crossing at Poipet?
Pin this article for later!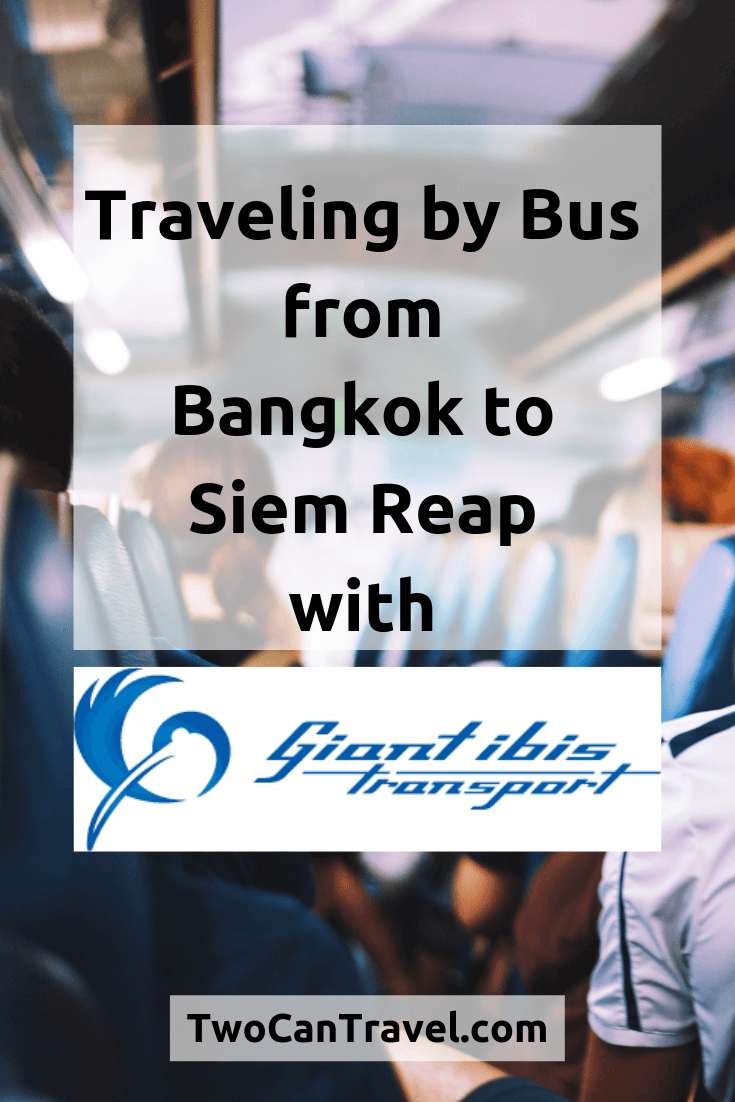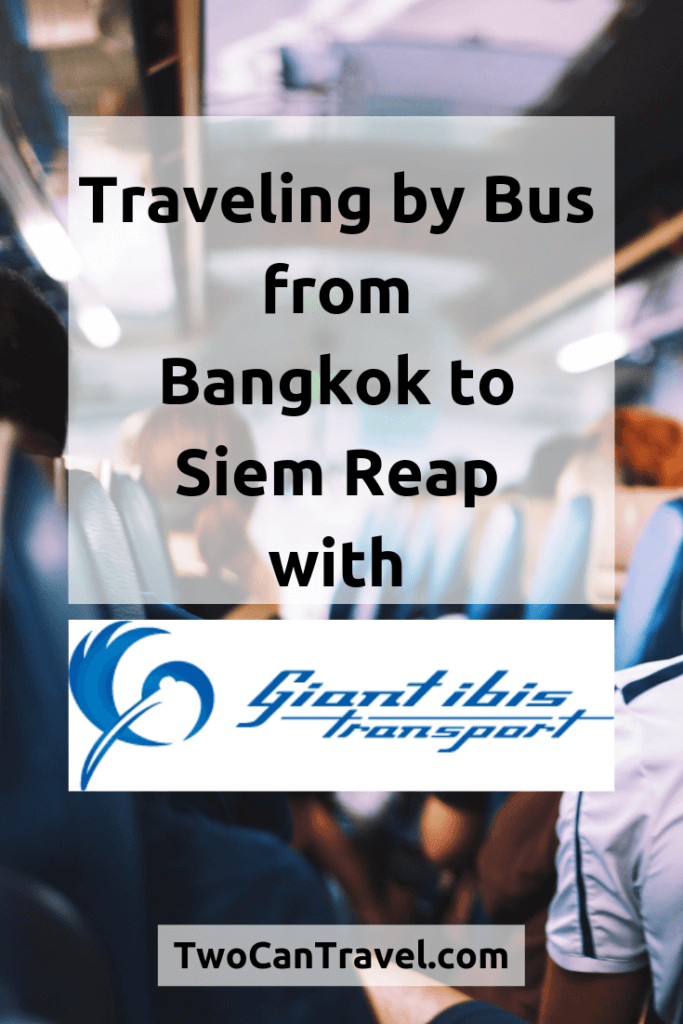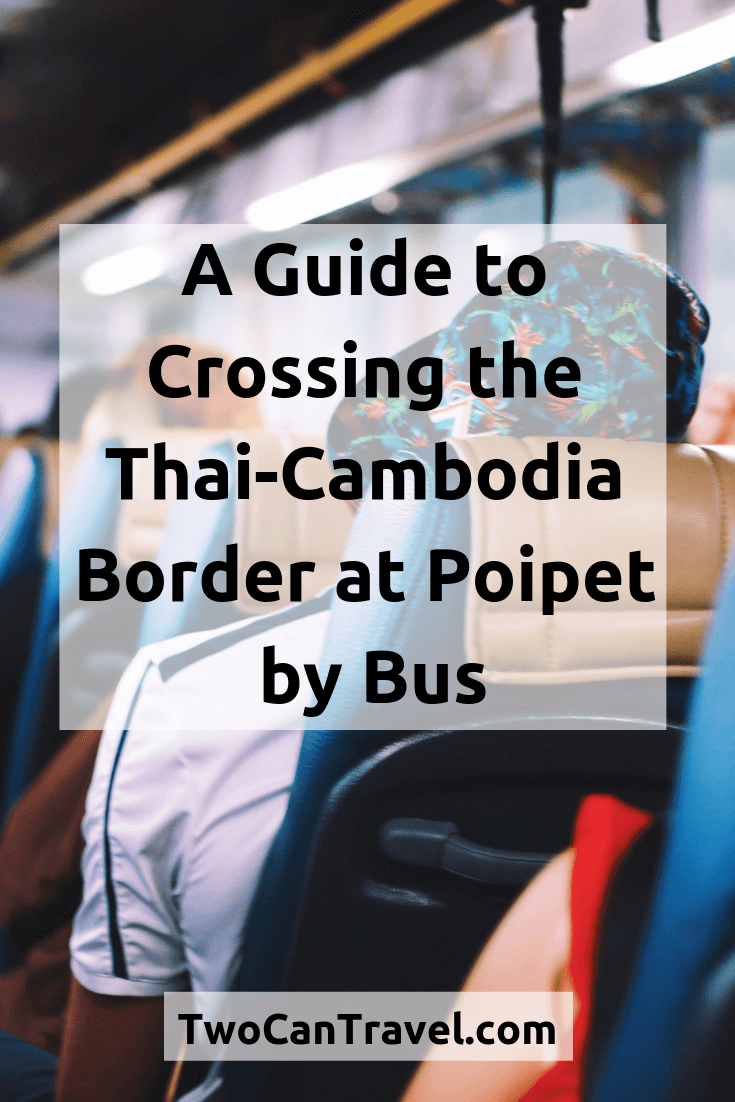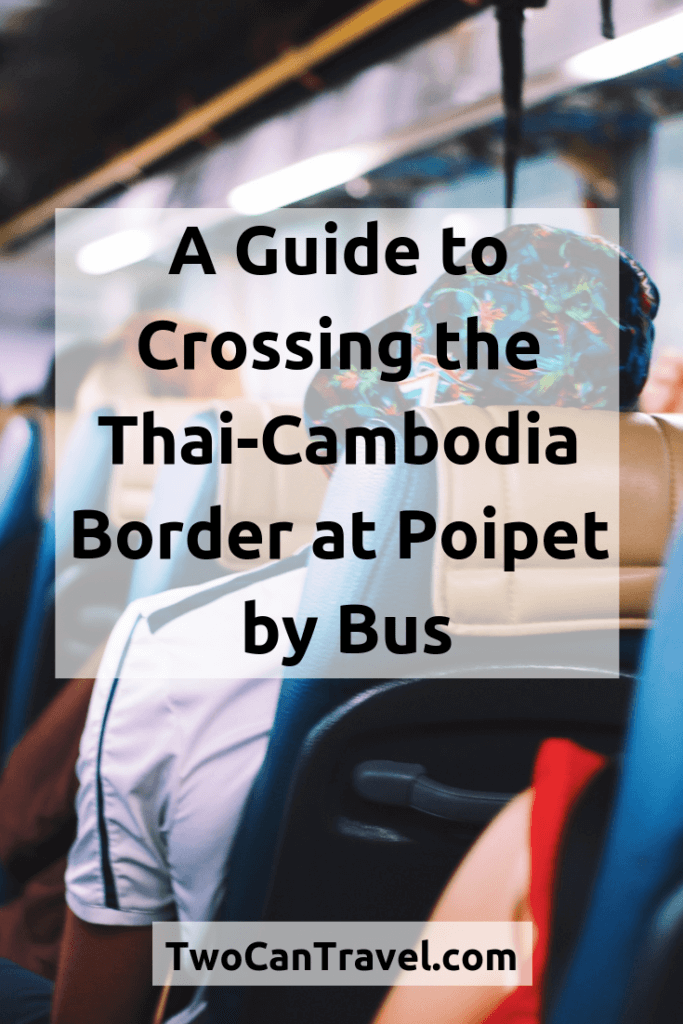 ---
Crossing the Poipet border from Bangkok to Siem Reap, 2012
The first time Jen and I went across the Poipet land border from Thailand into Cambodia together, we got scammed.
We had booked bus tickets at our guest house with the cheapest bus company on offer. Our journey began on Khao San road, the cultural highlight of any Bangkok trip. The bus left early and we watched the sun rise on a new day as a ladyboy with impressive shoulders dragged a young drunk backpacker down the road. It was magical.
We got into a mini-bus full of hungover backpackers, some still drunk from the night before, whining that they couldn't sit next to their friends on the way to the border. Less magical.
Several hours later, our mini-bus stopped at a coffee shop near the Poipet border. We were met with urgent news from the employee who had been on the bus with us: we were the only travelers from our group going on to Phnom Penh, and our connecting bus was early! We needed to act quick or we'd miss it!
If we would entrust our passports to our bus driver, he would be able to get us an expedited visa for only twenty dollars more each! We paid the nice man and he came back with two perfectly normal Tourist (T) Visas that got us into Cambodia.
The bus attendant told us to collect our luggage and pointed us in the direction we needed to go. We crossed the border on foot, which is normal at Poipet, and arrived in Cambodia completely flustered. Where was this bus? Did we miss it? Oh no.
It turned out there was no bus to take us to Phnom Penh, there's no such thing as an expedited visa, and there wouldn't be any buses coming for a long, long time. The former king of Cambodia, King Norodom Sihanouk, had passed away in Beijing a few days before and the people of Cambodia were all on their way to Phnom Penh to pay their respects at the Royal Palace, meaning buses were all booked up.
That meant sitting in a bus terminal near the border for nine hours before a bus on its way to Phnom Penh came by with open seats. We learned a lot about patience, border crossings, and the stinging irony of paying forty extra dollars to get an expedited visa (still not a thing) only to have to wait an extra nine hours to get on a bus.
My Bangkok to Siem Reap Bus Journey, 2019
So when I booked my ticket with Giant Ibis to go from Bangkok to Siem Reap, there was some baggage. And also I had my luggage.
The bus was scheduled to leave at 8:45 AM. I arrived a bit later than that. My moto driver was certain he knew where to go and tried to deposit me in front of the Ibis Hotel. Close, but no cigar.
We found the office but the bus was long gone. I was a bit perturbed and may have thrown my yoga mat down in frustration. I am nothing if not basic.
The Giant Ibis office manager saw me outside throwing a very polite and very adult temper tantrum and tried to help. I told him my sorrowful tale and he called the bus back to pick me up. And when I say the bus, I mean a 40 plus seater touring bus.
The bus took about 15 minutes to return to pick up my tardy self. I was ready for a tongue lashing from the other passengers. But when I got on, the only other people on the bus were a middle-aged French woman and a Khmer couple. I consider myself very lucky and would not recommend running late for your bus. 
---
Book your ticket from Bangkok to Siem Reap with Giant Ibis online through CamboTicket or 12GoAsia. 
---
A Bit About Giant Ibis
Giant Ibis is the #1 bus company for travelers in Cambodia. They are a sponsor for Comedy in Cambodia, and Jen and I have taken their buses all over Cambodia, and to Ho Chi Minh, Vietnam.
Giant Ibis maintains a high standard with all of their buses. They give you a snack, water, and a cool towel. There is WiFi on the bus, electrical outlets, and strong A/C. There are no stinky toilets on board the bus, and they stop at nicer rest spots with western toilets. The places they stop for meals have both local and western options at reasonable prices. 
They also take safety seriously. Giant Ibis buses all have GPS to monitor driver performance and keep track of the bus location. They also have seatbelts which the bus attendants will remind you to buckle. And you should!
A Much Improved Poipet Border Crossing
We reached the Poipet border after a few hours and one rest stop. All of my fears from years prior came bubbling back up. 
And here is where Giant Ibis stands above the rest. The Poipet border crossing is notoriously scammy and can be quite confusing. Giant Ibis gives you the option of handling all of the visa processing grunt work for you for five bucks, saving you a lot of hassle and wandering around trying to collect and hand in all the proper paperwork to get into Cambodia and get your visa.
Not only that, the bus attendant will cross with you, taking you to all of the necessary paperwork checkpoints, making sure that everything is in order. 
You can opt for their $5 service or get your Cambodia visa-on-arrival on your own. I've done quite a few border crossings in my time since that first terrible experience in 2012, so I opted to take care of the paperwork myself.
To get a Cambodia visa-on-arrival you'll need these 5 things:
1. Your passport must be valid for at least 6 months from the arrival date.
2. Two free pages in your passport (visa takes up a whole page).
3. An application form (provided at the border crossing)
4. One recent passport photograph (4 x 6). You can have a photo taken there for an additional fee.
5. Visa Fee: A cash payment of $30 USD for a TOURIST (T) VISA or $35 USD for Ordinary (E) VISA.
I entered the visa-on-arrival office at the border, filled out the paperwork, and was given my visa in less than ten minutes. I had forgotten to change money into US dollars while in Bangkok and forgot my 4X6 passport-sized photo.
I had to pay a premium for using Thai Baht and what I'm assuming was a tax on stupid people for forgetting a passport photo. Don't be like me!
The French woman on the bus paid the $5 to the Giant Ibis attendant for their service so she had a personal guide through the whole border crossing experience. If it's your first time making this border crossing the service is definitely helpful. 
Another nice thing about going across the border with Giant Ibis is that you take the same bus on both legs of the journey. No taking your luggage out of the bottom of the bus and walking across the border with all your worldly possessions to do the same on the other side.
It alleviates a lot of stress on both your mind and your back. There is a no-man's land area between Thailand and Cambodia that's full of casinos, so it's actually a fairly long distance to get across the Poipet border and not a lot of fun to walk through in the heat with a heavy backpack. 
The ride after the Poipet border crossing to Siem Reap was smooth as silk. We were dropped off at Giant Ibis's Siem Reap bus depot, not far from the center of town. The whole journey from start to finish took about 7.5 hours.
Jen was flying into Siem Reap from Chiang Mai that afternoon. We arrived at our hotel within five minutes of each other! The timing couldn't have been better!
Timing is Everything
The Giant Ibis Bangkok to Siem Reap bus leaves twice a day at 7:45 AM and 8:45 AM. The Giant Ibis Siem Reap to Bangkok bus has the same schedule, 7:45 AM, and 8:45 Am.
The 7:45 AM bus from Bangkok to Siem Reap is quite popular but the 8:45 AM bus I took had only been running for a couple of weeks, which was why I found my bus so empty, and why they came back to get me. Make sure to be on time for your bus!
Some travelers may want to take a bus from Phnom Penh to Bangkok. Having taken that route in the past, I would not recommend it! 
In 2015, I made the overnight bus journey from Phnom Penh to Bangkok with another bus company. I spent 12 hours sharing a too-small sleeping bunk with an Australian backpacker who took three sleeping pills as our journey began then flopped around all night. It was not a pleasant trip, but at least that guy was a good cuddler.
Giant Ibis does not currently offer a Phnom Penh to Bangkok route and the bus companies that do are not nearly as comfortable. You are better off looking for a cheap flight from Phnom Penh to Bangkok or breaking the journey up with a stop in Battambang or Siem Reap. 
Jen and I have taken Giant Ibis buses all over Cambodia and to Ho Chi Minh City. It has always been a pleasant experience. The infrastructure in Cambodia is poor and we have used many different bus companies to travel across the country to visit the cities and provinces in the Kingdom of Wonder.
Other bus companies use mini-vans that have seen better days. Drivers are usually on a tight schedule and weave in and out of traffic. Road accidents are all too common in Cambodia. 
For safety, comfort, and peace of mind, if you're traveling from Bangkok to Siem Reap, go with Giant Ibis, where the A/C is cold, there's help at the border, and the seat belts work. 
Book your ticket from Bangkok to Siem Reap with Giant Ibis online with CamboTicket or 12GoAsia. 
---
Was this article helpful? Pin it to reference later!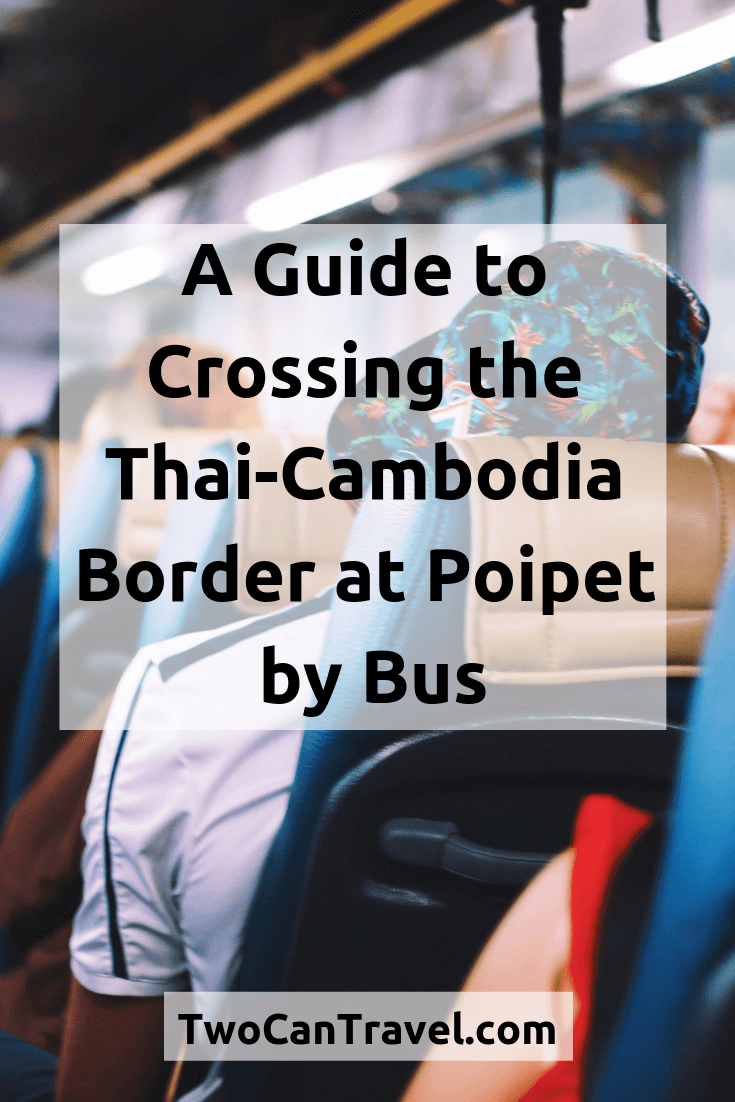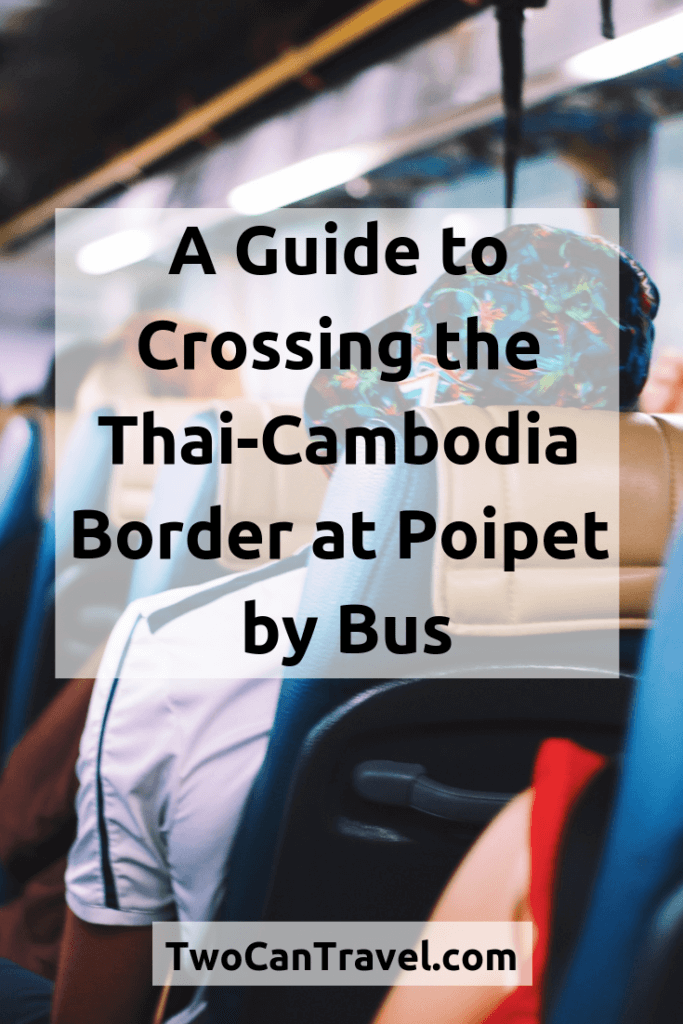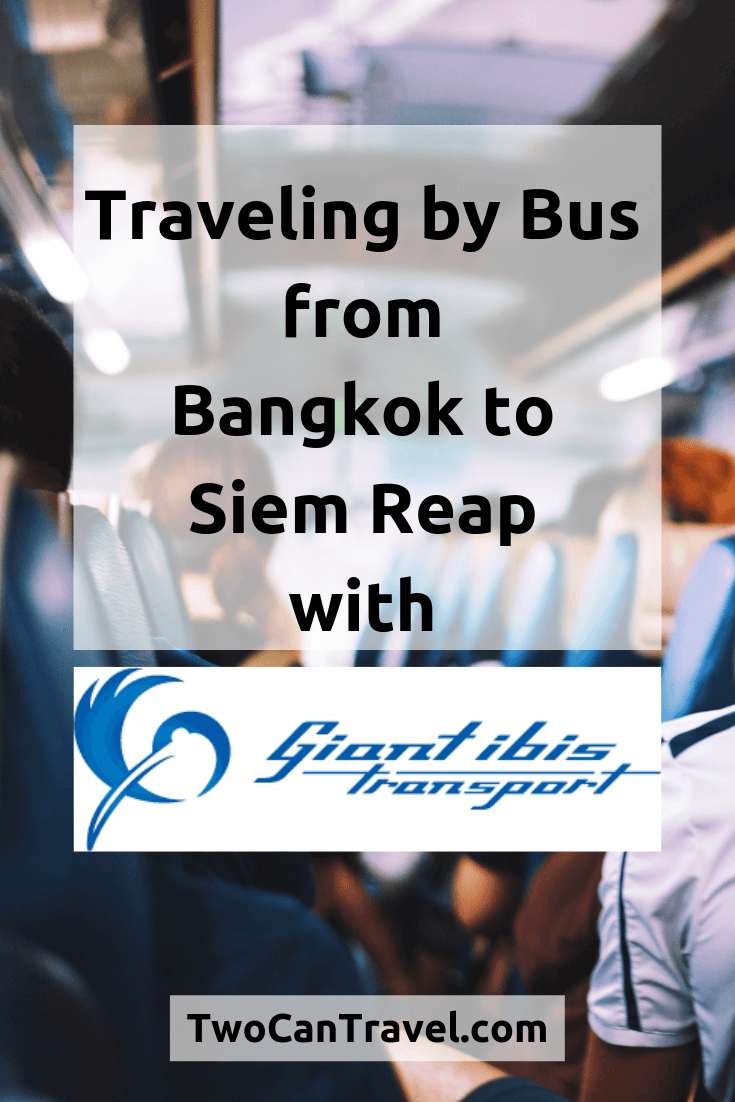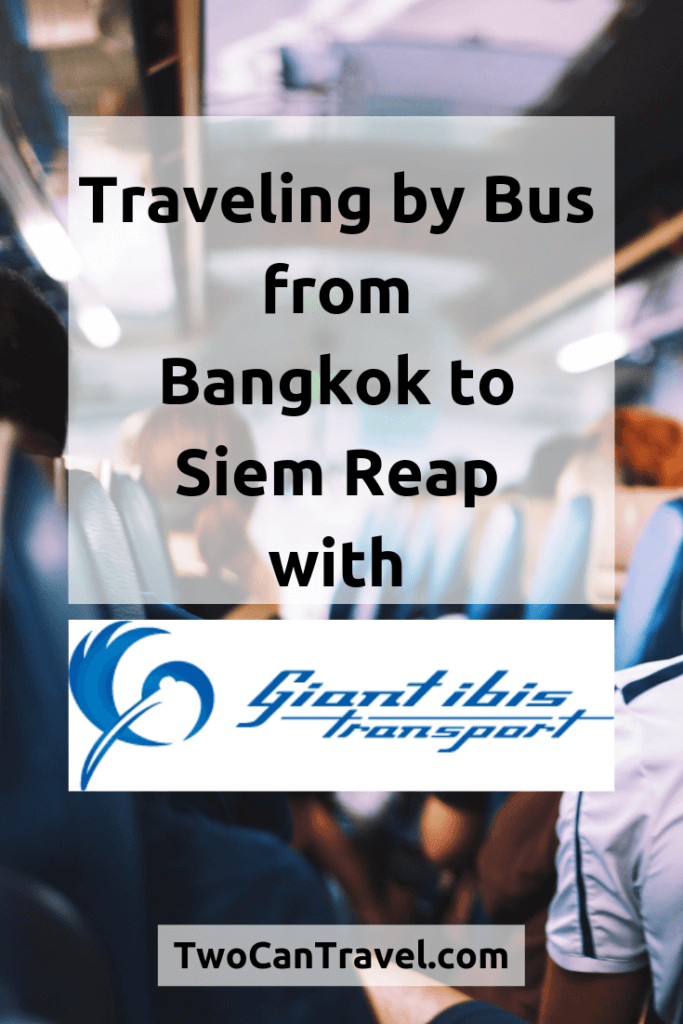 ---
Disclaimer: We have ridden with Giant Ibis since 2015 when we first moved to Phnom Penh. They are our favorite bus company in Cambodia and we have since partnered with them to share about their services. My ride from Bangkok to Siem Reap was sponsored by Giant Ibis through Comedy in Cambodia since I was on my way to do a  comedy show there.  
This article may contain affiliate links to our partners. We only work with companies we use and trust that we would recommend to our own friends and family. Booking through these links won't cost you anything extra, and sometimes our partnerships will even save you money! 
---
Have you made the bus journey from Bangkok to Siem Reap? How was your experience? Share in the comments!
---