This article may contain affiliate/compensated links. For full information, please see our disclaimer here.
You CAN find cheap Myanmar Hotels!
Note: This post is based on our trip to Myanmar in August 2014. As far as we know, the prices for these Myanmar hotels are still accurate. However, if anyone has stayed in these places recently and has other information, please inform us at Jen (at) twocantravel (dot) com so we can update the article for other travelers. If you've stayed in another awesome place in Myanmar, please share where in the comments!
---
Pin this article for later!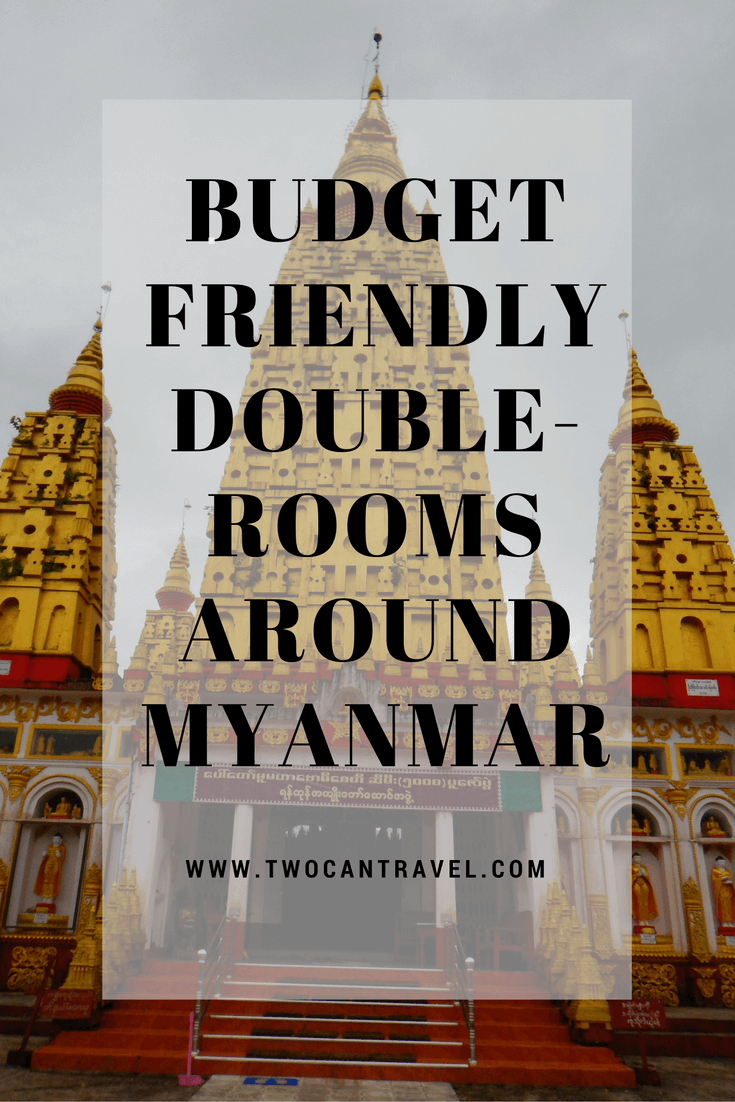 ---
Want to pay less for Myanmar Hotels? Read on for our top recommendations for cheap guest houses:
---
Note: We were traveling in August during the rainy season, meaning that costs were cheaper and more Myanmar hotel rooms were available. Always try to bargain for a lower price. The worst they can say is no. We never made a reservation, just showed up when we arrived in each city. If you are traveling during peak season (October to February) you may need to book ahead. Prices may also be higher during peak season.
---
Below are the budget guest houses we stayed at and the rates we paid. All the rooms were $20 or less! 
Mandalay Hotels
Sabai Phyu Hotel $20 for a double with A/C. En-suite bathroom. Cold Shower. Breakfast included. Family run, very helpful staff, great location.
Hspiaw Hotels
Mr. Kid $8 for a double fan room with shared bathroom. Lovely owner, convenient location. Ask her about the best noodle shop in town.
Pyin Oo Lwin Hotels
Grace 2 $17 for a double fan room. En-suite bathroom. Hot shower. Breakfast included. Center of town, very convenient location.
Bagan (Nyaung U) Hotels
Pyinsa Rupa-$15 for a double with A/C. En-suite bathroom. Cold Shower. Breakfast included. Great location.
Kalaw Hotels
Golden Lily Guest House-$7 for a double, no A/C or fan needed as it's in the mountains. Shared bathroom. Cold showers. Breakfast included. Family owned, very helpful. Can organize treks. Comfiest bed we slept on our whole trip.
Inle Lake Hotels
Joy Guest House-$15 for a double with A/C. En-suite bathroom. Hot water. Breakfast included. Convenient and quiet location.
Yangon (Rangoon) Hotels
Garden Village (near Sule Paya)-$18 for a double with A/C. En-suite bathroom. Cold shower. Okay breakfast included, but a great view overlooking Sule Pagoda next door. Great location for a guest house in Yangon
Mawlamyine Hotels
Breeze Guest House-$16 for a double room with A/C. Shared bathroom. Hot showers. Breakfast included. Excellent location and friendly, helpful staff. Can rent a motorbike from there as well.
Hpa-An Hotels
Soe Brothers Guest House-$18 for a double with A/C. En-suite bathroom. Hot water. Helpful friendly staff and convenient location.
Kyaiktiyo (Golden Rock) Hotels
Sea Sar-$7.50 for a double room. We did not stay here personally, but a French couple we met in Chiang Mai recommended it. They had just left Myanmar right before we went and were very kind to answer all of our questions. They made traveling in Myanmar seem a lot a less daunting!
Mae sot (border town in Thailand) Hotels
Green Guesthouse. We did not stay here, but the helpful French couple recommended to stay here overnight before making the border crossing overland from Mae Sot, Thailand into Myanmar in the early morning.
---
Note: After having this post up for over four years we just added in affiliate links to the Myanmar hotels we could find on Agoda. We were surprised to see that some of the prices for the hotels have remained the same or are even cheaper than when we were there! If you book through our links we receive a small commission at no extra cost to you. We hope you found this post helpful in your planning and appreciate your support 🙂 
---
Our overall accommodation costs in Myanmar were $311 for 24 nights in guesthouses. We also spent one night on a train, one on a bus, one at a hill tribe village homestay and one at a monastery during our trek between Kalaw and Inle Lake.
We hope you find these guest house suggestions useful as you prepare for your stay in Myanmar hotels. It is one of the most incredible places we have traveled so far, and you CAN travel there on a budget.
---
Traveling to Myanmar? Pin this post for later!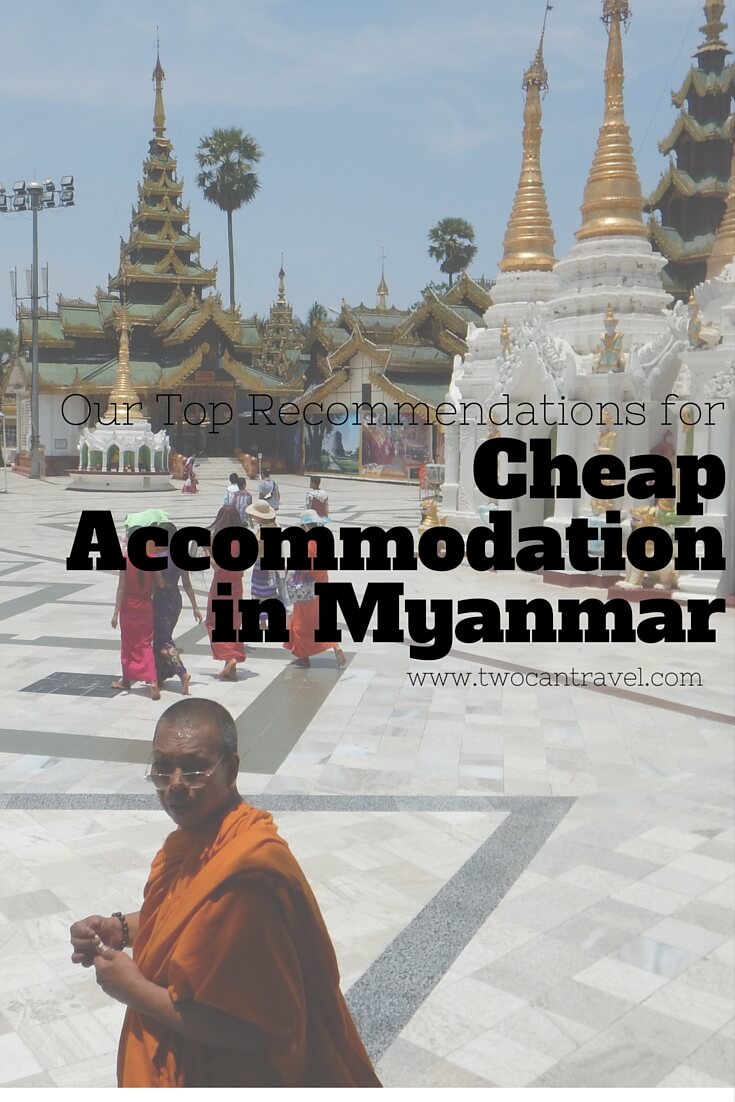 ---
If you have more recent pricing information for any of these place, please inform Jen(at)twocantravel(dot)com so she can update the article for other travelers. Thank you! 
---
Leave a comment if you have any suggestions for cheap in Myanmar hotels! Let's all help each other 🙂
---