This article may contain affiliate/compensated links. For full information, please see our disclaimer here.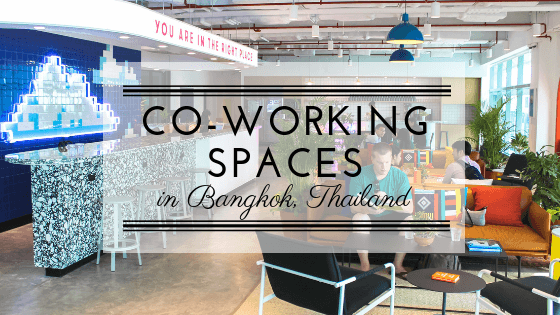 If you're looking for a co-working space, Bangkok has plenty to choose from.
Whether you're working online as a digital nomad in Bangkok, working on a project with a team, or just looking for a place where you can get your creative juices flowing, these Bangkok co-working spaces might be your answer. 
We've been living in Bangkok for the past several months and working from our laptops. We love working from home in our pajamas, but sometimes we need a change of scenery. Luckily, Bangkok has some excellent co-working spaces that get us out and about to explore different areas of the city and meet new people.
In this article, we've listed the best Bangkok co-working spaces we've been to so far. At the end of the article, there is a Google My Map to help you see where they are in the city. 
---
Pin this article for later!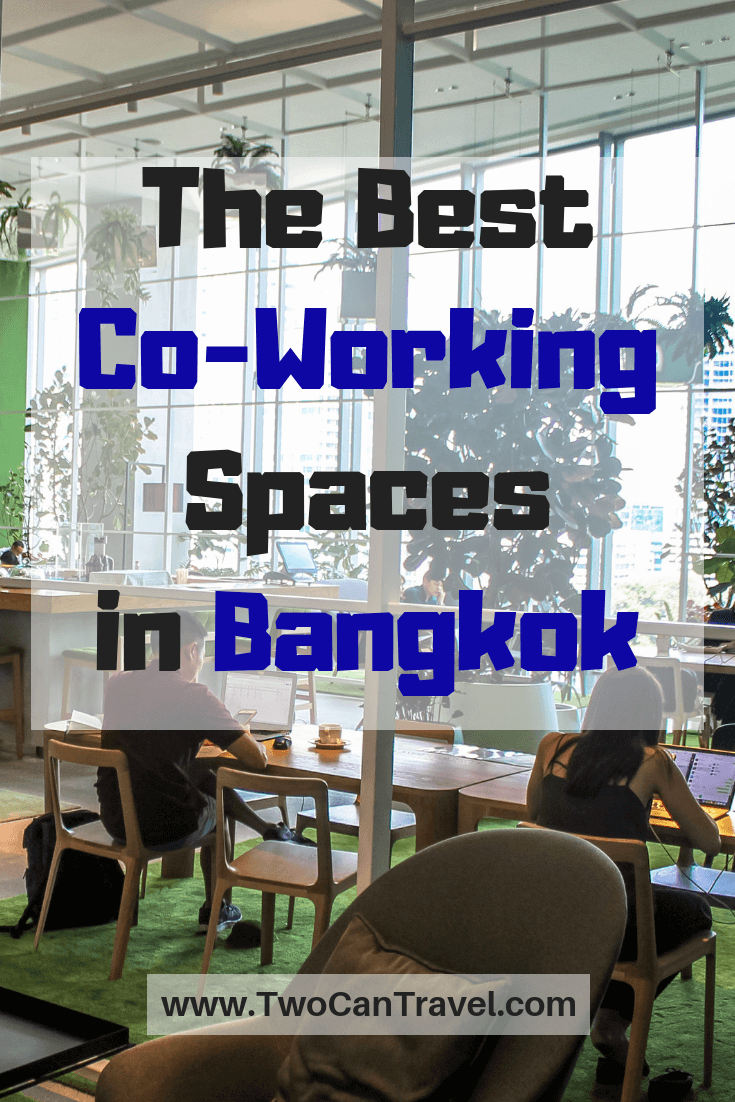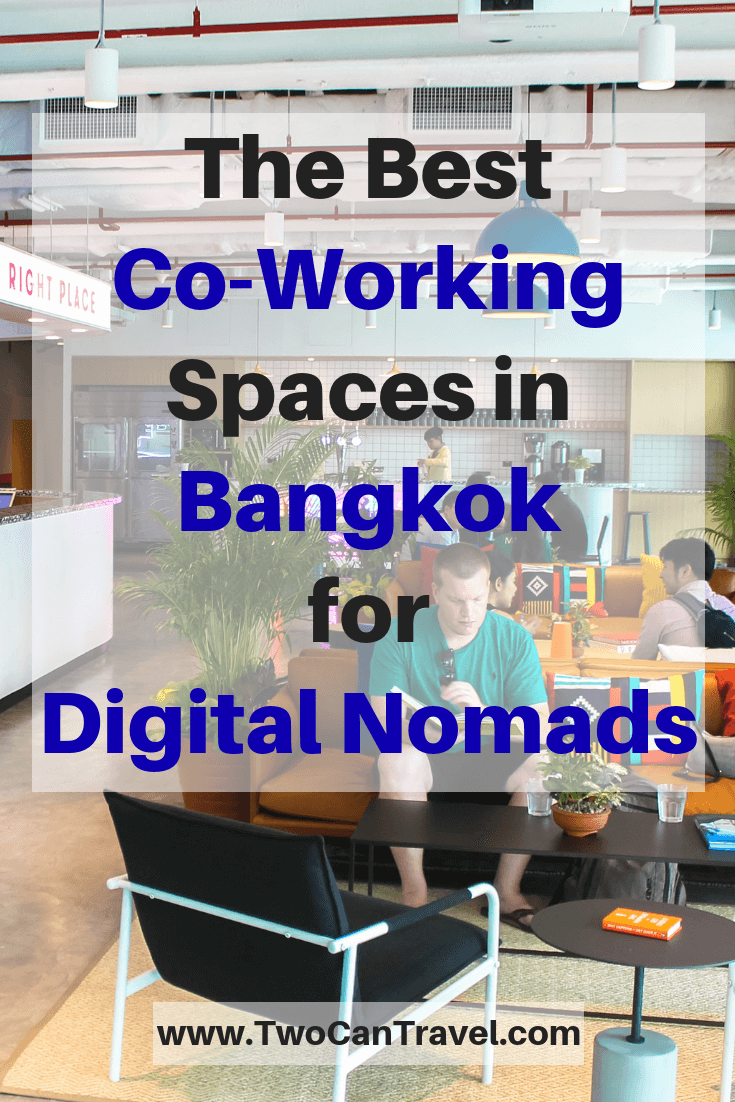 ---
Quick Guide
Scroll down to read more about each co-working space in Bangkok. Check out the Google MyMap of Bangkok Co-Working Spaces at the end of the article for locations.
---
The Work Loft Silom is conveniently located by the Sala Daeng BTS station or just a short walk from the Silom MRT station. Its central location in town makes it an ideal place to work from, especially if you want to go out for dinner or to events in the city at the end of the day.
The Work Loft Silom has four levels. The reception desk is on the 5th floor. They offer two floors of co-working spaces with tall and normal desk stations, comfortable swivel and straight back chairs, desk lamps, plenty of conveniently places plugs, and "phone booth" rooms that can be used for making calls. There is high-speed internet on every floor. Tea, instant coffee and water are provided for free on the co-working floors.
There is a cafe and bar on the 6th floor serving coffee, tea, juices and more. The cafe has tall windows with natural light, large funky artwork on the walls, and comfortable spaces to work or relax in. There is also an outdoor balcony area.
The Work Loft Silom has private meeting rooms for large and small groups and a conference room that can be rented by the hour or day. There are also private office spaces for individuals or companies, which are available on a monthly rental basis.
We found The Work Loft Silom to be comfortable to work from. It was quite busy when we went. People working there were friendly and it seems like a good place to go if you are looking to make friends and meet people.
Many people seemed to work there on a regular basis. Daily, weekly, and monthly contracts are available for whatever type of space you need.
Pros: Convenient location. Comfortable workstations. Easy to meet people. Water, tea, and coffee included. Free 1-day trial.
Cons: A bit busy, but great if you are looking to meet people. 
Cost: From 345 Baht per day or 2,450 Baht per month. They offer a One Day free trial.
Opening Hours: Open every day 8 am – 8 pm. Members have 24-hour access.
Getting there: Take the BTS to Sala Daeng Station (Exit 2) or the MRT to Silom Station (Exit 2).
Address: 281/19-23 Silom Soi 1, Silom, Bangrak, Bangkok, Thailand 10500
Contact:  Call +66 (0) 2 631 1669 or send a message through their website 
---
The Thailand Creative Design Center (TCDC) Bangkok is one of the most impressive and beautiful co-working spaces we have worked in. The TCDC is supported by the Thai government, the Thai Royal family, and private sponsors. In 2017 TCDC moved from their original location at Emporium mall to the historic Grand Postal Building in Bangrak district. They occupy five floors of the building and every space inside is designed to inspire creativity.
There is a Creative Space for group collaboration and a large Resource Room for individual work. All areas have free Wifi and access to power outlets. The Resource Room has views of the Chao Praya River, which are especially beautiful in the late afternoon.
TCDC Members have access to over 75,000 resources inside the building including international design magazines, books, journals, and online publications. Over 70% of these materials are in English. A majority of the resources are difficult to find in Thailand or would cost several hundred or thousands of Baht each to purchase. Some of the fashion design materials were even donated by one of the Thai Princesses! Materials cannot be taken out of TCDC, but members are welcome to make photocopies or take pictures of them.
Two of the most impressive floors inside TCDC are the Material & Design Innovation Center and the Maker Center. In the Material & Design Innovation Center, members have access to over 7,000 design materials across different industries in eight categories such as polymers, glasses, and natural materials from Thailand and around the world. This center was created in partnership with the Material Connexion in New York City, USA.
The Material & Design Innovation Center gives members access to a library of thousands of materials from all over the world, including a Thai material section.
In the Maker Center members have access to 3D printing machines, screen printing machines, and the newly added recycled plastics machines to reimagine plastics into innovative designs. The Maker Center gives creatives access to these machines, with help from a staff member, to create business prototypes or items for individual use, starting at only a few hundred Baht. We aren't designers, but knowing this is available got our brains turning with possibilities!
There are displays throughout the TCDC showcasing products created by local and international designers, ranging from skin care to fashion apparel, and home decor to utility products.
Consulting services (both free and fee-based), workshops, events, exhibitions, and other activities are also available inside TCDC. Check out the TCDC Facebook page for updated information.
There is a cafe area on the 4th floor with tables and couches and an outdoor rooftop space that are free to use for both members and non-members. All levels have high-speed internet access. Honestly, it is well worth the small membership fee to join TCDC, or even the daily fee to use the space. 
Pros: Bright, big spaces to work. Good wifi connection. Cafe with reasonably priced food. Access to thousands of materials, interesting events, and networking opportunities. Considering everything available inside, the annual membership price is unbelievably low!
Cons: A bit far from the center of town. Worth it once you are there!
Cost: Annual membership is 600 Baht for students and 1,200 Baht for non-students. A one-day pass is 100 Baht. The cafe space is free for non-members. Members have access to all TCDC spaces in Thailand, including TCDC Chiang Mai.
Opening Hours: 10:30 am to 9:00 pm. Closed on Mondays. 
Getting There: Take the BTS to Saphan Taksin Station. From there it is a 13-minute walk or 5-minute motorbike taxi ride. From Saphan Taksin BTS Station you can also take a riverboat taxi on the orange line from nearby Sathon Pier to Si Pha Ya Pier, then walk 5-minutes to TCDC. Alternately you can take the MRT to Hua Lamphong Station. From there is a 17-minute walk or 8-minute motorbike taxi ride.
Address: The Grand Postal Building 1160 Charoenkrung Road, Bangrak, Bangkok 10501
Contact: TCDC Office : (66) 2 105 7441, Email: info@tcdc.or.th
**TCDC has several branches around Bangkok including TCDC Commons in the W District, TCDC Commons IDEO Q Chula, and AIS Design Center at the Emporium, which are all free to use for members. 
---
The Foreign Correspondents Club of Thailand, though not technically considered a co-working space, is an excellent place to go to get work done and meet people.
There are rarely many people inside the FCCT during the day, so if you are looking for a quiet space to be productive, the FCCT might be your answer. There are plenty of plugs and tables to work at, as well as couches where small groups can gather. Food and drinks are reasonably priced, and members receive a 25% discount on food and beverages.
The FCCT hosts events every week. There are documentary showings, panels, and talks led by knowledgeable people from different fields, quiz nights, jazz nights, and more. For over 50 years the FCCT has served as a place for exchanging information and promoting the free press.
Events at the FCCT are well attended and are a big perk of being a member. Non-members pay 450 Baht for events and 150 Baht for movie nights.
Pros: Convenient location. Inexpensive food and drinks. Excellent range of events and networking opportunities.
Cons: A bit pricey for non-members to attend events. If you are looking for networking opportunities then membership is worthwhile. 
Cost: Membership ranges from 1,000 to 5,500 Baht annually, depending on membership category.
Opening Hours: Monday-Friday from 10 am-11 pm.
Getting there: Take the BTS Chit Lom Station. When exiting the BTS walk toward exits 1, 2 and 6. Take the first left at the skywalk and enter the Maneeya center. Turn left and follow the stairs down one floor. Turn left and walk down the ramp. Take your immediate left and take the elevators to the penthouse floor.
Address: 518/5 Ploenchit Road (connected to the BTS Skytrain Chitlom station) Patumwan, Bangkok 10330
Contact:  Call 02-652-0580 or Email info@fccthai.com
---
WeWork was founded in 2010 in New York City. They now have over 280 locations in 33 countries worldwide. WeWork recently expanded to Southeast Asia, with locations in Singapore, Indonesia, Malaysia, the Philippines, Vietnam, and now Thailand.
WeWork Asia Centre is the first location in Bangkok and will open December 1, 2018. Eight more Bangkok locations are set to open in 2019.
The WeWork Asia Centre is located in the Asia Centre building in Sathorn. They occupy the penthouse floor and the floor below (28th and 27th floor), with sweeping 360 views of Bangkok.
The vibe inside WeWork Asia Centre is bright, open, and cheerful. Each WeWork location has their own designer who creates a space that fits with the character of the location. WeWork Asia Centre has a clean colorful look with pops of color. Neon decor on the bar shows 55555, which represents laughter in Thai. '5' in Thai is pronounced 'ha', so writing 555 is the Thai way of writing hahaha online. Artwork of laughing mouths on the walls fits with the joyful vibe of the place.
There are only monthly or annual memberships available at WeWork. Members can use the Hot Desk seats in the common areas. There are private office spaces to rent for 1-45 people. Members with office spaces also have access to meeting rooms. All members have access to private phone booths, pantry, and common areas. There are fully stocked printing stations on both floors.
The WeWork bar will have a rotating local craft beer selection and a fully stocked pantry with drinks including coffee and fruit water available for members. There will also be a ping-pong table on the 28th floor. There is even a New Mothers Room for moms who need a private space.
WeWork is known for their focus on sustainability. The WeWork Asia Center location has a no-plastic policy, only serves meat-free food, and air-conditioning is turned off at 6 pm daily to save electricity. Fans are provided after 6 pm.
WeWork Asia Centre will host events from Monday to Friday including networking meetups, speakers, informational sessions about various topics like Muay Thai and wellness, and Friday happy hours.
WeWork members have access to all WeWork locations around the world through a credit system. Meeting rooms can be booked through the WeWork App.
Cost: Monthly Membership for the Hot Desks starts at 8,000 Baht. Private office spaces start at 12,000 Baht per month. Members have access to work WeWork spaces worldwide. 
Opening Hours: Open 24 hours 7 days a week for members. Members have keycard access. Staff is on site from 9am-6pm.
Getting there: We Work is located 5-minutes from the Chong Nonsi BTS Station.
Address: No. 173, Asia Center Building, South Sathorn Road Thung Maha Mek Sub-District, Sathorn District Bangkok 10 10120
Contact: Contact WeWork online or by phone 66-99-335-4120
---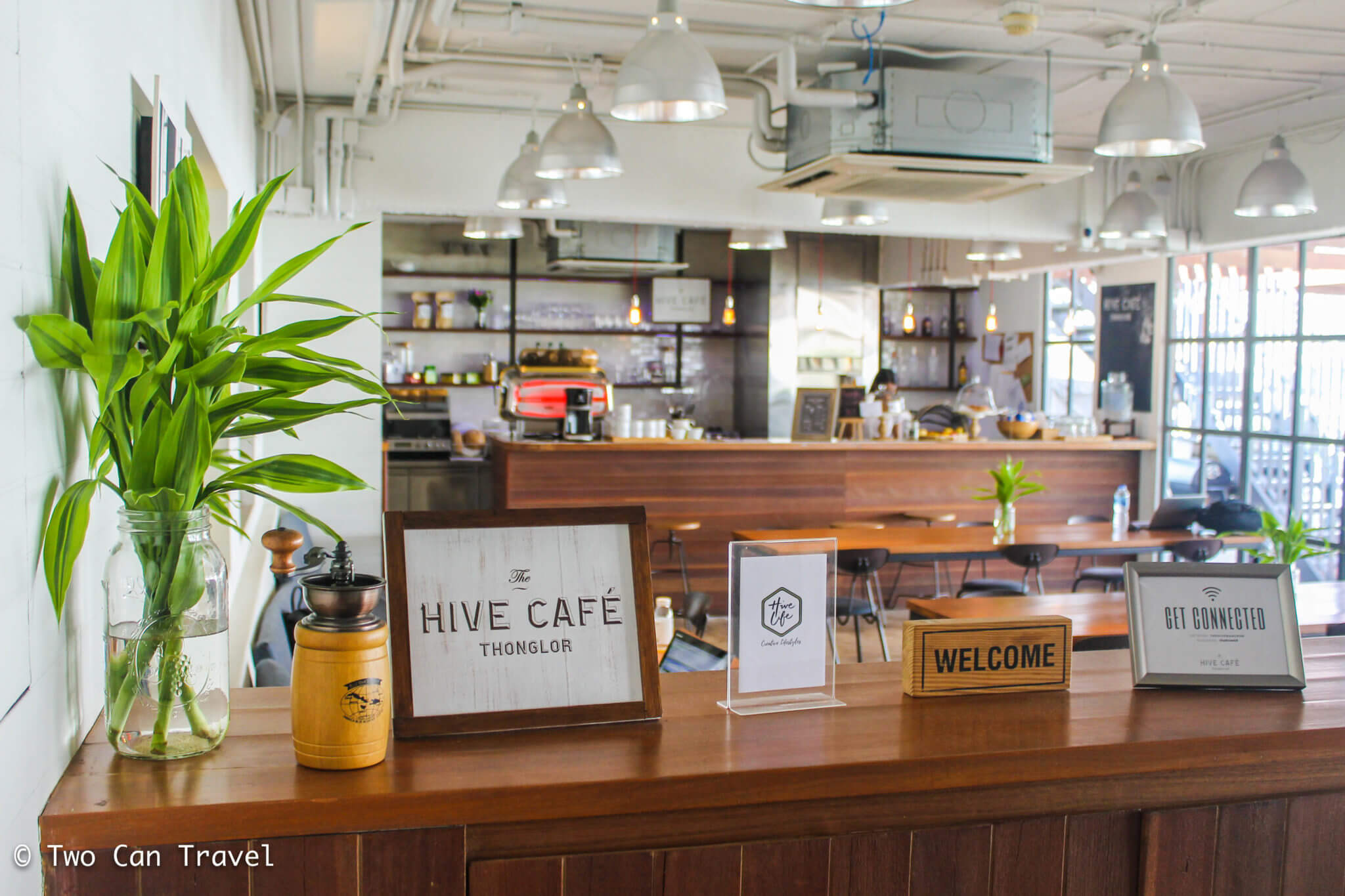 The Hive Thonglor is in a six-story building located in trendy Thonglor, a charming Bangkok neighborhood with residences, restaurants, and businesses. There are four levels of co-working spaces and private offices. On the top level is a rooftop cafe and outdoor rooftop space overlooking the city.
On the first floor of the building is The Hive Spa offering massages, facials, manicures and pedicures, and more. Members receive discounts and spa vouchers.
The Hive hosts weekly events such as BBQs, movie screenings, sunset yoga, skills exchanges, and wellness talks, which are free for members to attend. You can check out the weekly events on The Hive Community Facebook Page. The friendly staff strives to build a community where people can create and share at The Hive.
The Hive also gets involved in the Bangkok community by partnering with local businesses to share ideas and services with their members and bring them discounts.
The Hive Thonglor offers several different co-working packages depending on your needs. They have day passes, weekly passes, and Voyager Packages for digital nomads. There are also monthly options for part-time and full-time desks, dedicated desks, and private offices. There are private meeting rooms, a 20 person conference room, sound-proof telephone booths, printing services, and mailboxes for businesses needing a mailing address.
The Hive also has locations in Hong Kong, Singapore, and Vietnam, which members can go to.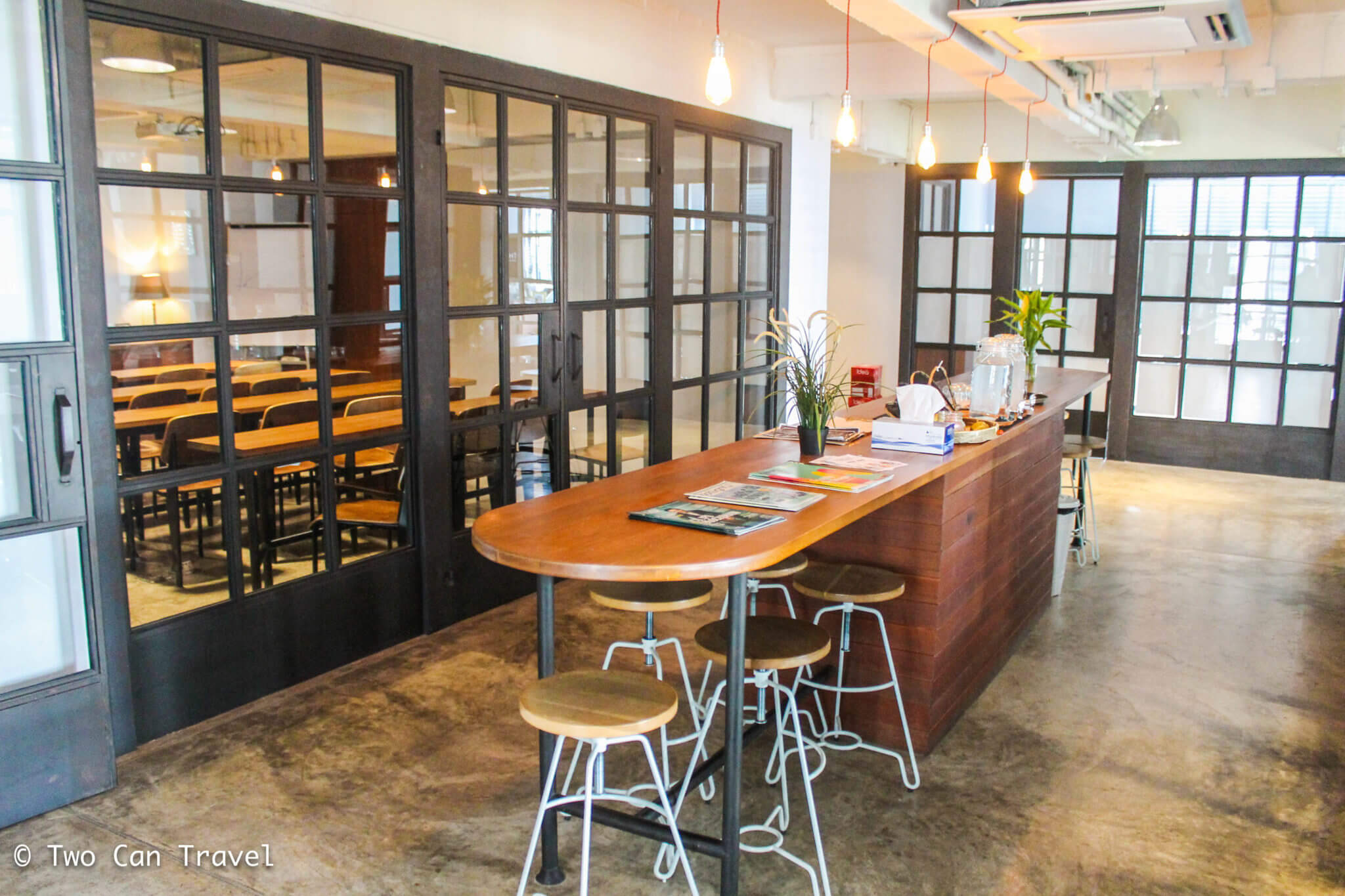 The working spaces at The Hive are comfortable with minimalistic decoration, plenty of natural light, and comfortable couches when you need a break. The cafe serves up a rich, locally sourced coffee from Chiang Rai, teas, and snacks. Every floor has water, fruit, and soft drinks as well as access to refrigerator space.
The Hive also has a second Bangkok location at The Hive Phrakanong.
Pros: Packages for digital nomads, super friendly, helpful staff, located in a hip neighborhood, community feel, weekly events, great coffee, natural light, awesome rooftop with great views of Bangkok, spa on site with discounts for members. Tuesday Trial Day for people thinking about joining to try out The Hive for free.
Cons: No large private office spaces. Max is 6 desks in a private office. 
Cost: Day Pass 350Baht. Weekly Pass 1,500Baht. Part-time Hotdesk 3,000Baht/month. Full-time Hotdesk 5,500Baht per month. Dedicated Desk 6,300Baht/month. Workstation Membership 6,600Baht/month. Private Office 8,000Baht/person/month. Voyager Packages (specially created for digital nomads): Package A-6,000Baht for 3 months. Package B-3,000Baht/month. See The Hive Thonglor website for membership options. 
Opening Hours: 24/7 access for full-time members. Staff is on site from 8am-8pm Monday-Friday. The Hive Spa is open from 10am-8pm. 
Getting There: Take the BTS to Thonglor Station. From there it is a 6-8 minute walk. 
Address: The Hive Thonglor Soi 49, 46/9 Soi Sukhumvit 49, Khwaeng Khlong Tan Nuea, Khet Watthana, Krung Thep Maha Nakhon 10110. 
Contact: Call +66 026626062 or send a message via their online contact form. 
---
Opened in December of 2017, ZAZZ Urban Bangkok is an eco-hotel with a co-working space and rooftop bar. The touches of greenery, bright colors, and floor to ceiling windows provide natural light and fresh air, making it feel like you're not in the middle of Bangkok's concrete jungle.
The co-working space on the second floor doubles as a meeting room and has a dropdown projector screen and large paper easel. It is perfect for a business meeting, team project, or a quiet work session. There is also a room on the rooftop with comfortable seating and a projector screen to work from or hold a meeting. The hotel and co-working space are popular with young professionals. Booking is required to rent the Zpace for private meetings.
There is a cafe and restaurant with seating on the first and second floor that serves coffee, tea and juices, and a variety of Thai and international food for when you need to refuel.
Pros: ZAZZ Urban Bangkok is a great place to base yourself if you will be working a lot and want to focus.
Cons: Not the easiest to get to/from during rush hour times.
Cost: Outside guests can use the Zpace Co-working space so long as you order something from the on-site cafe and restaurant. Drinks start at 60 Baht, food starts at 90 Baht. The Zpace Co-working space is free to use if you are staying at ZAZZ Urban Hotel.
Opening Hours: 6:00 AM – 10:00 PM
Getting There: Take the MRT to Phra Ram 9 Station. From there it is a 15-minute walk to ZAZZ Urban Hotel, or a 5-minute motorcycle or taxi ride. You can also take a Grab car or motorbike. There is a shuttle available to go from ZAZZ Urban Hotel to the Phra Ram 9 MRT Station for 15 Baht for outside guests.
Address: ZAZZ Urban Hotel, TC Green Condominium (Building O) 308/1 Rama 9 Road, Huai Khwang
Bangkok, Thailand 10310
Contact: Email res.bkk@zazz-hotels.com
---
Open House on the 6th floor of Central Embassy is an inspiring place to work from. The unique open concept provides a space for everyone, from workers to book lovers, creators to foodies, adults, and kids. The entire 6th floor is open and airy, with high ceilings, natural light, and lots of green. There are about ten restaurants and an open seating plan so patrons can sit anywhere they like. Free Wifi is available on the entire floor.
I posted up by the restaurant Broccoli Revolution, where I had a delicious, healthy lunch and worked for a couple of hours on my laptop. I saw several people doing the same thing. There was live music playing nearby, which created a nice ambiance.  When I arrived at 11 am there were few people, but around 12 pm the seating area filled up with lunch-goers. About an hour later it was fairly quiet again.
There are several shops at Open House selling gifts, books, homewares, children's toys, and more. There is also a play place for kids. On the other side of the floor, there is a large bookstore. Customers are invited to sit on the couches within the bookstore area to read and enjoy the space.
If you are looking for a dedicated work area, head to the Open House Co-Thinking space, located in the back corner by the bookstore. This bright area has floor to ceiling windows with lovely views and a bar serving drinks and food starting at 40 Baht. The Co-Thinking Space is great for individual work or groups. There are also meeting rooms with whiteboards that can be rented by the hour. A4 printing, scanning, fax machine, and lockers are also available for a fee. 
Pros: Open House is a beautiful space with great restaurants and free wifi. There are beautiful views and high-speed internet in the Co-Thinking Space.
Cons: The Co-Thinking Space is a bit expensive for a day-pass considering it does not include food or drink.
Cost: Work at any table on the Open House floor, just order food and drinks from a restaurant there. Inside the co-thinking space spend 200 Baht on food and drinks and stay for 3 hours. An all-day pass for the co-thinking space is 350 Baht, not including food or drinks. A 1-month pass for the co-thinking space is 8,500 Baht. Private meeting rooms are available for rent by the hour.
Opening Hours: Daily 10:00 am – 10:00 pm
Getting There: Take the BTS to Ploen Chit Station. Follow signs to Central Embassy. Open House is located on the 6th floor of Central Embassy. The co-thinking space is in the back corner by the bookstore.
Address: Level 6, Central Embassy, 1031 Ploenchit Road, Pathumwan, Bangkok, Thailand 10330
 Contact: Call +66 2119 7777 or Email: contact@centralembassy.com
---
Mint Worklounge in Thonglor is a serviced office and co-working space. It is open 24 hours a day, 7 days a week for members.
Small businesses and companies have private offices on the 2nd and 3rd floor. The 1st floor is a co-working space with hot desks and open desk seating. The 4th floor is a rooftop space with comfortable chairs and a small bar where free Tiger beer is always available on tap. Self serve coffee, tea and water are available on the 1st floor, and there is refrigerator space to bring your own food and drinks.
There is 200 megabit fiber internet on every floor. Members have access to free meeting room usage, printing, lockers, use of an exclusive address on Thonglor main street, and a full range of business and start-up services. The friendly bi-lingual (English and Thai) staff are available to assist members during business hours. Mint Worklounge also offers a virtual office and address service for businesses requiring a physical address in Thailand.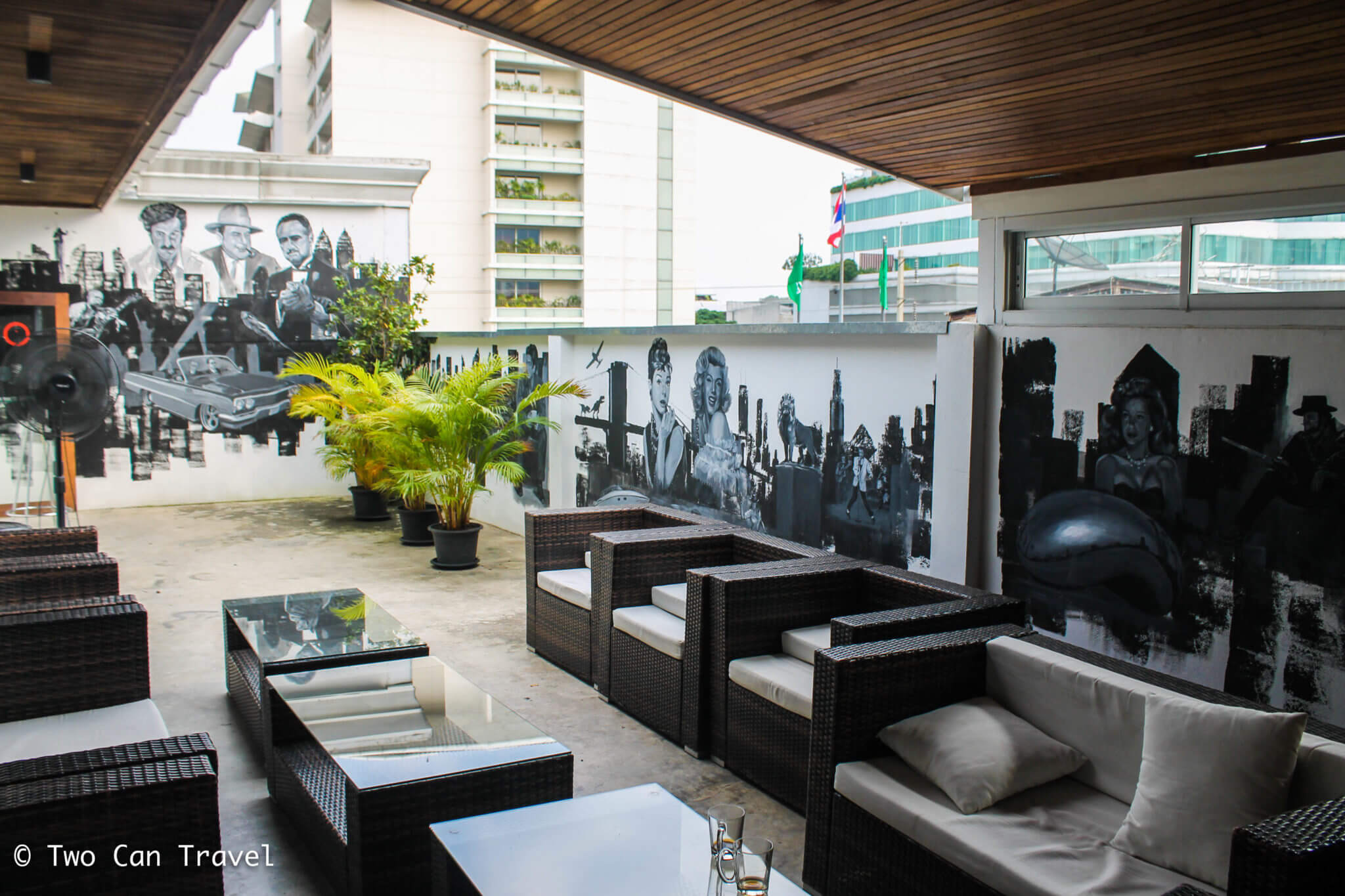 Mint Worklounge frequently hosts networking events on the rooftop. They partner with restaurants to bring members great deals on food and drinks. 
Pros: Big open co-working space, 24/7 access, natural light, Danish designer desks and comfortable ergonomic chairs, plenty of plugs, super fast internet, friendly community, funky artwork, coffee and tea included, rooftop space with free beer.
Cons: Can be a bit noisy in the co-working space when people are chatting. No phone booths, but there is a balcony to go outside and make calls from. 
Cost: Hotseat 390Baht/day. Co-working space starts from 4,900Baht/month. Serviced offices start at 19,000Baht/month.
Opening Hours: Open 24/7 for members. Staff on site from 9:00am-5:30pm Monday-Friday.
Getting There: Take the BTS to Thonglor Station. From there it is a 13 minute walk or 5 minute motorbike taxi or Grab taxi ride.  
Address: Mint Worklounge 205/21 Thong Lo, Sukhumvit 55, Klong Tan Nuea 10110, Bangkok
 Contact: Call +66 (0)95-497-8806. Email info@mintbangkok.com. 
---
Where are these Bangkok Co-working Spaces Located?
Check out our Google My Map below!
---
Like this article? Pin it!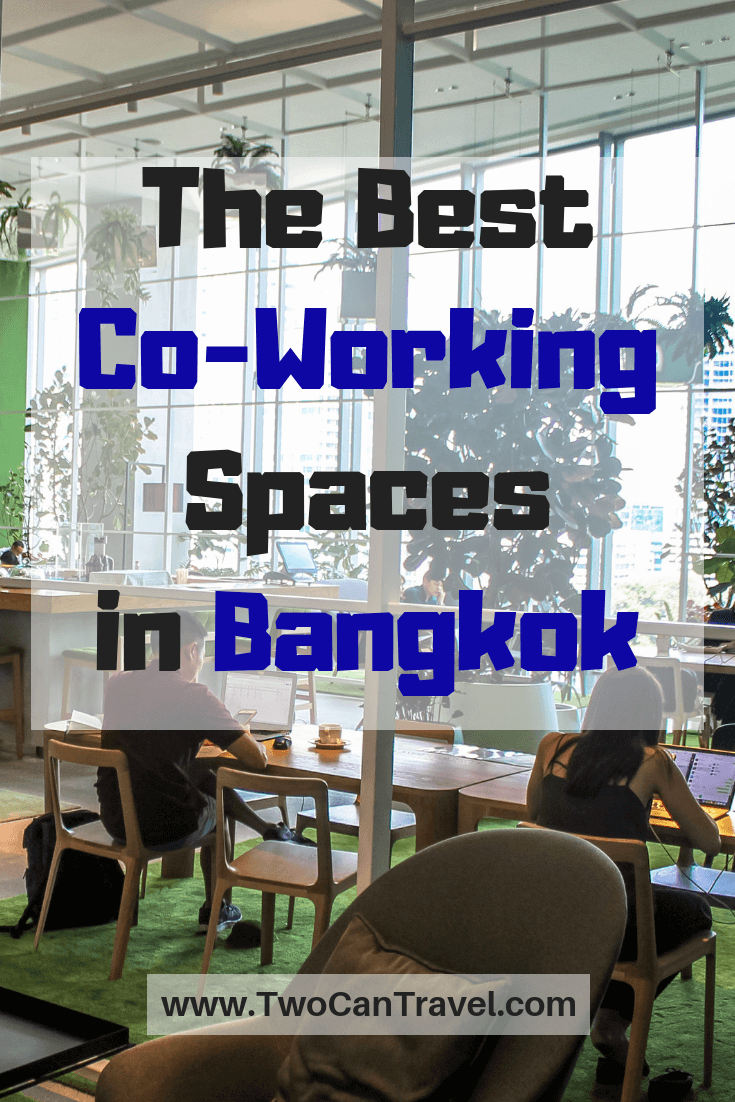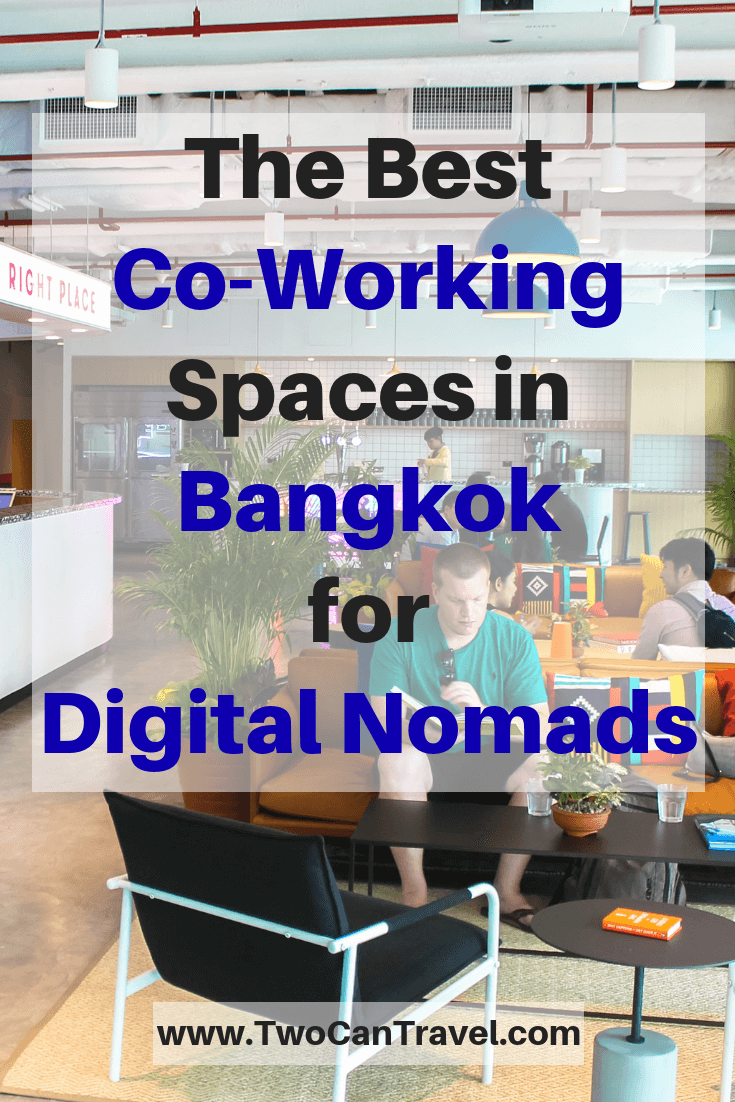 ---
 We will add to this list as we continue to explore Bangkok co-working spaces around the city.
Note: We were invited as guests to several co-working spaces in this article. All opinions about these Bangkok co-working spaces are our own.  
---
Do you have a Bangkok co-working space you like working from? Share in the comments!
---