This article may contain affiliate/compensated links. For full information, please see our disclaimer here.
Some of our favorite food to try in Northeastern China, the region known as "Dong Bei".
China is an adventurous food lover's paradise! Each region of this massive country boasts unique cuisine made with different ingredients and traditions.
We spent one year from 2011-2012 teaching English in Mudanjiang, China. Mudanjiang is a small city of about one million people, located two and a half hours from the Russian border and nine hours from North Korea.
Here's a map of where we lived:
With six months of subzero temperatures in this part of the world, the food in is hearty, filling and flavorful, and is renowned throughout China.
These are the top ten foods we recommend to try in northeastern China (Dong Bei).
1. Guō bāo ròu 锅包肉 
When we lived in north eastern China, Guō bāo ròu was our nirvana, our holy grail of dinner, our happy place to get us through the six months of sub-zero winter weather there. It's fried pork, often very fatty, drenched in a sweet, vinegary sauce, with a few chopped green onions, parsley and garlic for color. It's by far the least healthy thing we found to consume, so naturally it's our top recommendation.
2. Gōng bǎo jī dīng 宫宝鸡丁
This chicken dish can be found all over China, but is made differently in each region. In Dong Bei it usually has peppers, carrots, peanuts, and Sichuan peppercorns, known as the numbing spice.
3. Yú xiāng ròu sī 鱼香肉丝 
Literally translated as "fish flavored pork slivers," this dish is not at all seafood related. It's actually a sweet and spicy pork dish. 'Sī' refers to the way the meat is cut into small, thin pieces. I have no idea where the "fish flavored" part comes into play. This was one of our favorite dishes.
4. Bá sī de guā 拔丝地瓜 
Eaten as a dessert or mid-meal, you can't go wrong with sweet potatoes coated in sugar. The dish is served with a small bowl of water because when you lift up each piece of sweet potato, long candy strings follow behind it. You quickly dip your sugary treat in the water too cool off the hot melting sugar, then enjoy.
Warning: Must be eaten quickly before the sugar gets too hard! Of all the problems to have…
6. Huǒ guō "Hot Pot"  火锅 
Originating in Sichuan province, hot pot is popular virtually all over China, and every region has their own spin on it. Basically, there is a boiling vat of oily broth in the center of the table. Often there will be a spicy and not spicy option available. Your group orders plate upon plate of different veggies, meats, seafood and tofu, and then puts them into the hot liquid to cook to their desired consistency. It's a very hands on meal and lots of fun, especially with a big group. We even made our own at home sometimes!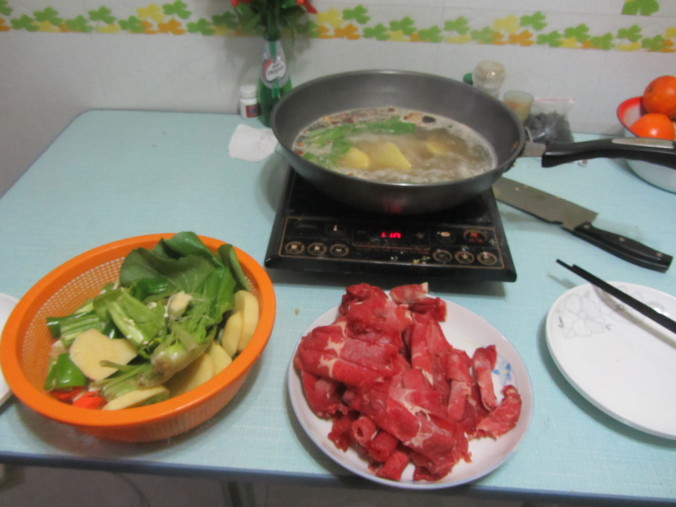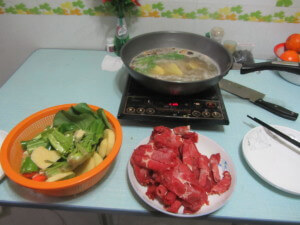 7. Shuǐ zhǔ ròu piàn 水煮肉片 
This fiery dish is pieces of pork and cabbage swimming in a bowl of burn your face off peppery oil made from Sichuan peppercorns. Despite the inherit dangers of consuming spicy liquid magma, this is a meal we kept going back to.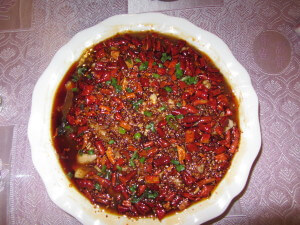 8. Jiǎo zi 饺子
One of the most popular and versatile dishes in all of China, jiǎo zi, or dumplings, can be filled with just about anything imaginable. Most common, however, is meat and vegetables. You can create your own dipping sauce of vinegar, soy sauce, spicy peppers, oils, etc. from the array of condiments at the restaurant.   
9. Bāo zi 包子 
Essentially jiǎo zi's bread-ier, heftier cousin, these steamed buns are full of all kinds of tasty goodness. Pork and beef are quite common, as well as egg and leek. They are an inexpensive and filling meal for breakfast, lunch or dinner.
10. Rì běn dòu fu 日本豆腐 
While regular tofu is very common in many Chinese dishes, this Japanese tofu has a unique flavor and texture. It is egg based, so the consistency is a bit softer, almost like a custard. Many restaurants make it in different ways. Pictured below it is fried and covered with a spicy, salty sauce and paired with crunchy celery.
11. Táng cù pái gǔ 糖醋排骨
 For ribs lovers, this dish is heaven sent. These are tender, fall off the bone pork ribs smothered in a sweet and sour sauce. Enough said.
Tǔ dòu shāo niú ròu 土豆烧牛肉
Similar to good ol' American beef and taters, with some crunchy green peppers thrown in the mix. The sauce is almost like gravy, but tastes even better, undoubtedly due to the MSG.
You can find these dishes all over the northeastern region of China, or at Dong Bei restaurants in cities around the country and even internationally. We even found this great Dong Bei restaurant in Phnom Penh, Cambodia.  Just ask a staff member at your hostel or hotel where to find a Dong Bei restaurant, download our free infographic, Food to Try in Northeastern China, and get to eating! Check out our article on more adventurous foods to try in China here.
---
Which Dong Bei dishes do you want to try?
---