This article may contain affiliate/compensated links. For full information, please see our disclaimer here.
How to Apply for a Myanmar eVisa
Myanmar is one of our favorite countries in Asia. The first time Stevo and I went to Myanmar was in July 2014. We stayed for the full 28 days allowed on our Tourist Visas and didn't want to leave! The people in Myanmar are so kind and love to share about their lives. The scenery all around the country is stunning, and the food is delicious and diverse from region to region. We went back to Myanmar for a week in 2016 during Thingyan Festival, the Burmese New Year, and definitely plan to visit the country again in the future. There is so much to do and learn in Myanmar!
One question we get asked by readers is how to get a Visa to visit Myanmar. The first two times we went to Myanmar we applied for a Tourist Visa in person at the Embassy of Myanmar in Phnom Penh, Cambodia. It isn't a terribly difficult process to apply in person, except that we didn't have all the right size pictures when we arrived. Since there was only a short window to apply at the Embassy during the day, we had to leave to take the pictures and come back the next day. It was a bit time consuming in the end, but we got our Tourist Visas after a few days. Of course, then we had to go and pick them up when they were ready!
Nowadays there are several options available to get a Myanmar Tourist Visa or a Business Visa. You don't even have to go in person, you can apply online for an eVisa!
What is an eVisa?
An eVisa is an official document that grants you permission to travel to Myanmar and within the country. It is an electronic alternative to a regular Visa and is issued by the government. Since an eVisa is applied for completely digitally, you don't have to go to an Embassy or Consulate to apply. After it is issued, you receive the eVisa by email. Travelers are required to print out the eVisa Approval Letter and present it to the Immigration Officer upon arrival in Myanmar.
How to Apply for a Myanmar eVisa
One of the most convenient ways to get a Myanmar eVisa is to apply through E-VISUMS. It takes 5 minutes to apply, and you can pay with PayPal, a debit card or a credit card. The cost is £69.95 for a Tourist eVisa and £89.95 for a Business eVisa. Your Myanmar eVisa will arrive within three working days. You can apply for a Myanmar eVisa here before you travel.
Another option is to go to the official Ministry of Immigration eVisa website. Payment is by credit card only. The cost is $50 for a Tourist eVisa and $70 for a Business eVisa. They also offer a 24 hour Tourist eVisa Express Service for $56 if you are in a rush. Citizens of 100 countries are eligible for a Myanmar eVisa.
Don't Apply Too Early, or Too late!
After you apply for your eVisa there is window for when you need to use it. Be sure to plan accordingly based on the dates of your trip.
The Myanmar Tourist eVisa is valid for 90 days after the issue date. Within this period, you can travel to Myanmar for 28 days maximum.
The Myanmar Business eVisa is valid for 90 days after the issue date. Within this period, you can travel to Myanmar for for 70 days maximum.
Some Important Myanmar eVisa Rules and Requirements
These are some of the important eVisa rules and requirements to remember. The most up to date rules and regulations can be found on the Myanmar Ministry of Labour, Immigration and Population website.
Your passport must be valid for another six months upon your arrival in Myanmar.
When you arrive in Myanmar, proceed straight to the Immigration counter. An eVisa is not the same as a Visa on Arrival so there is no need to line up to get a Visa sticker.
You must bring along a print out of the eVisa Approval Letter to give to the Immigration Officer. If you do not have a printed copy your entry may be delayed.
Entry and exit via land borders is restricted because of sensitive ongoing political issues. Entry into Myanmar is only allowed at three International Airports: Nay Pyi Taw, Mandalay, and Yangon or at three International Land Border Checkpoints: Myawaddy, Tachileik and Kawthaung.
When you exit Myanmar you can use any of the International Airport or International Land Border Checkpoints states above, as well as the Htikee Land Border Checkpoint.
eVisas are for single-entry only. If you want to leave Myanmar and return you will need to apply for a new Visa.
Apply for a Myanmar Visa in Person
If you want to go to a Myanmar Embassy or Consulate in person instead, you can find out where they are located around the world here.
Be sure to check with the Myanmar Embassy or Consulate ahead of time to find out exactly what you need to bring in so you can avoid making multiple trips like we did!
---
Did you find this article useful? Pin it for later!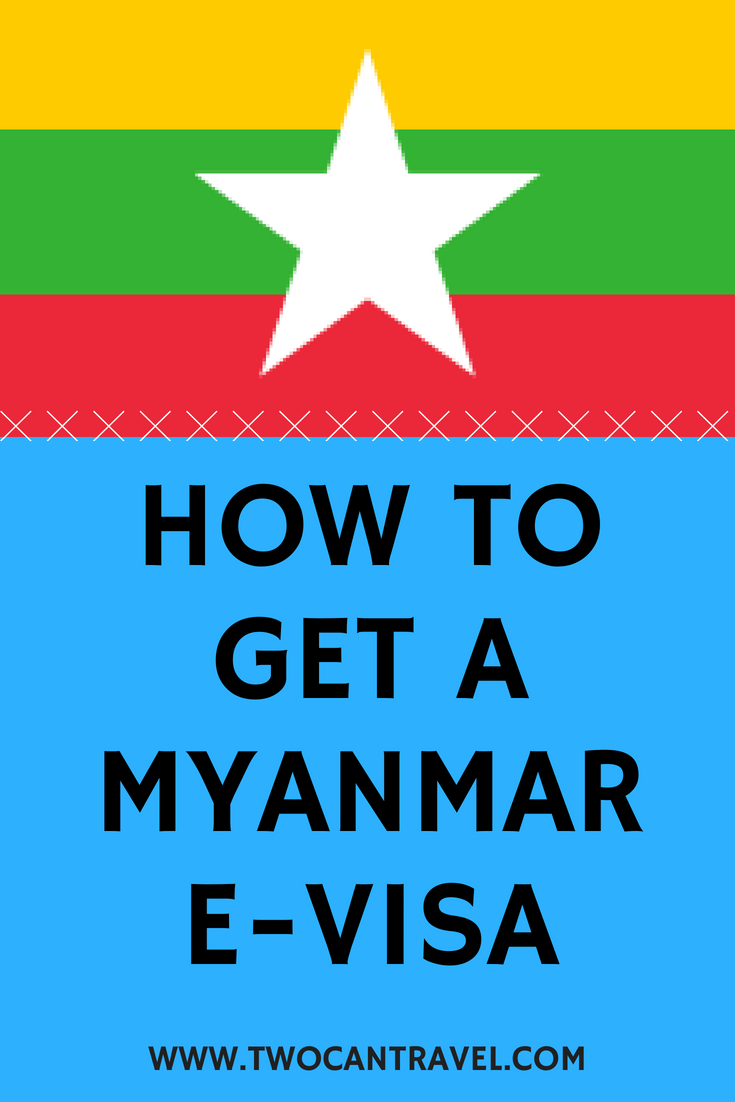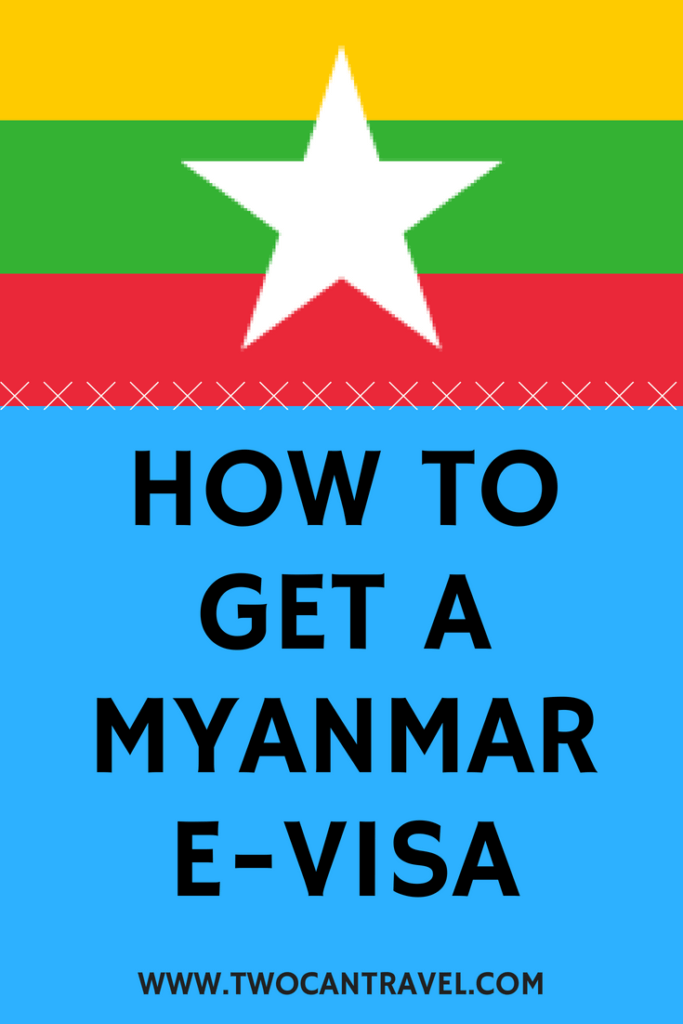 ---
We hope you found this article helpful for learning how to get a Myanmar eVisa before your trip. If you have any questions about traveling in Myanmar leave a comment or email us directly at Jen (at) twocantravel (dot) com. 
---