This article may contain affiliate/compensated links. For full information, please see our disclaimer here.

Getting Off the Beaten Path in Seoul, South Korea
Wondering what you will do on your next trip to Seoul, South Korea? As the capital and largest city in all of South Korea, there can be so much to see, do and eat that it can be a little overwhelming! This compiled list of the best things you will see, do and eat in Seoul, created by Arliss from Trekbible, will be your perfect guide for getting off the beaten path in Seoul, South Korea.
1. Setting Foot at the Gyeongbokgung Palace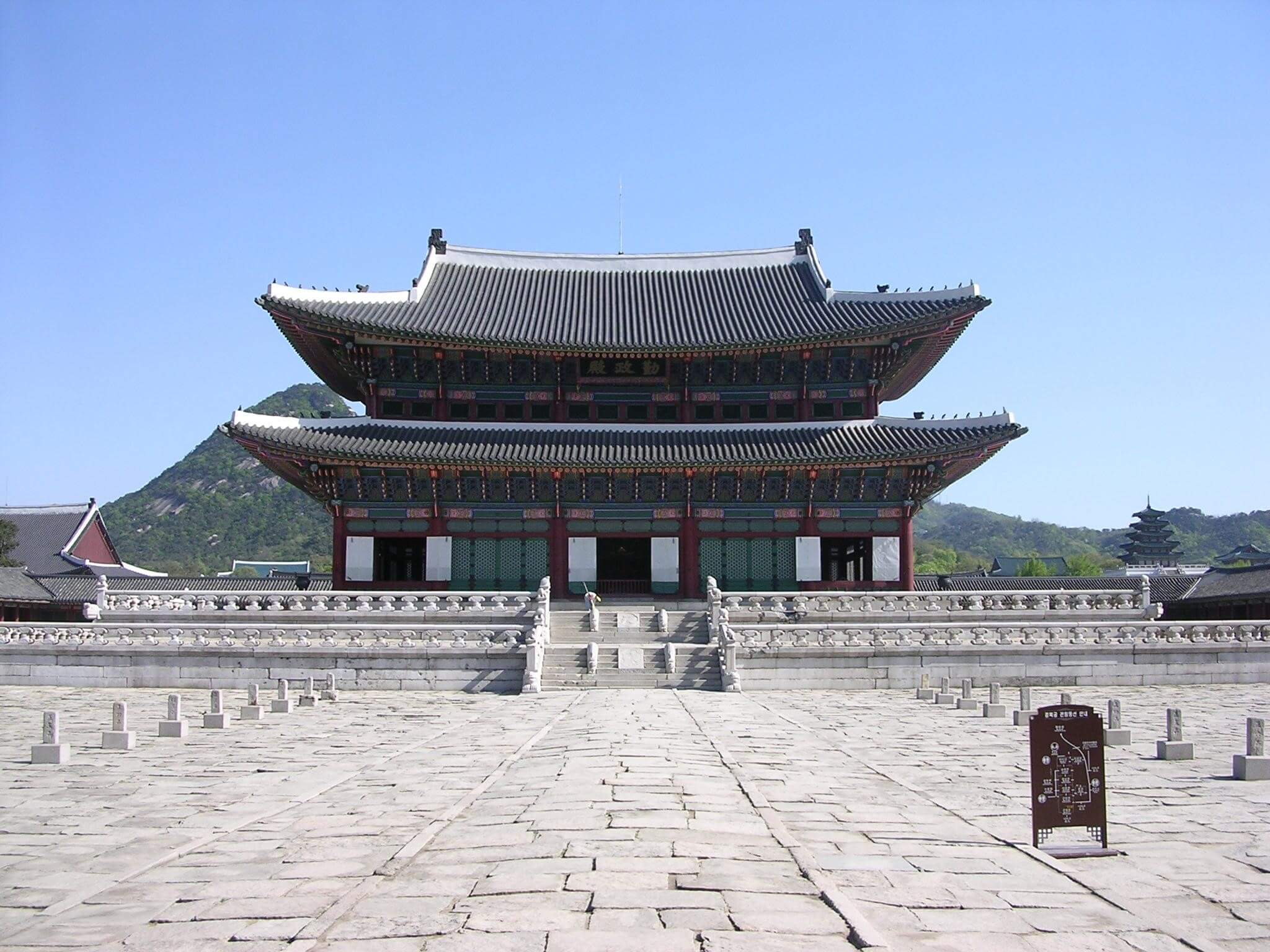 Dating back to 1395, this extraordinary palace is a focal point of history, culture and life in Seoul. Built as the largest of the five grand palaces created during the Joseon dynasty, the Gyeongbokgung Palace housed royalty and government officials from the Joseon dynasty. After being demolished by a fire during the Imjin War, the palace was later restored during the 19th century. The restoration of the palace included styles of ancient South Korea in an attempt to restore the original style of the palace. Once again during the 20th century parts of the palace was destroyed by Imperial Japan. The palace is slowly being rebuilt, but will take some time to completely restore. The Gyeongbokgung Palace holds a significant amount of history of Seoul within its remaining walls. This palace is one of the most spectacular and one of the largest attractions for travelers in Seoul. If you do not visit the Gyeongbokgung Palace, did you really visit Seoul, South Korea?
2. Exploring the Myeongdong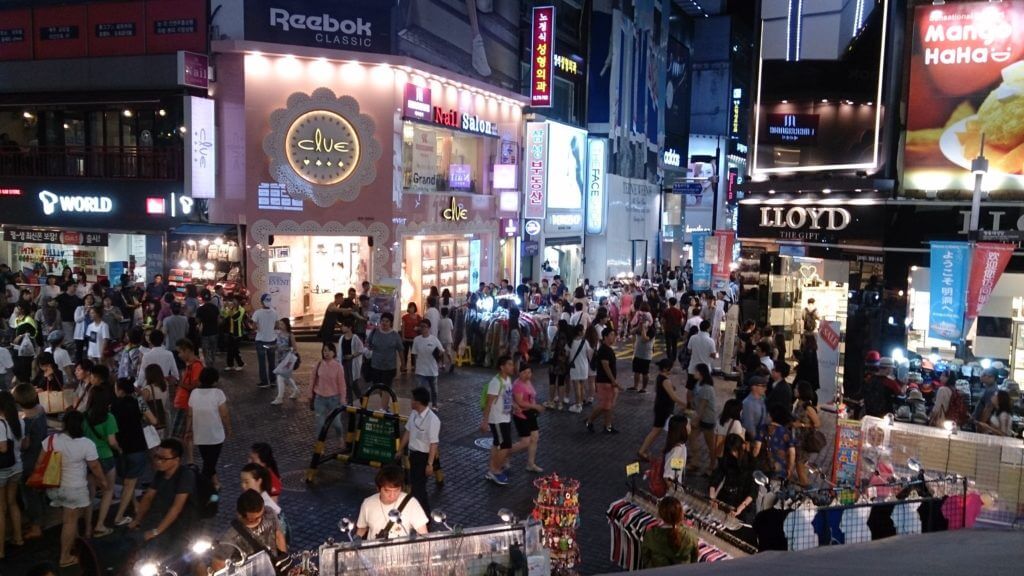 If you are looking for a day where you do not have to wait in long lines, listen through a tour guide gabbering in your ear or walk up steep stairs of an ancient building, then spend the day exploring the shops of Myeongdong. This shopping center has blocks of shops that you could spend hours delving into. The commercial area is the largest shopping and tourist districts. Myeongdong is a little on the pricier end, being the ninth most expensive shopping districts in the world, but playing dress up at the shop can still make for a fun filled day. You can people watch the 3,400 locals that live in the area or try and bargain your way into buying something nice. If you are not one for spending lots of cash, the Myeongdong Cathedral and the Myeongdong Nanta Theatre reside in the shopping center and are open for visitation.
3. Spend the Afternoon in Cheonggyecheon
Cheonggyecheon is a public recreational park in the downtown area of Seoul. The park opened in 2005 after $900 million was spent on the park's creation and received loads of criticism for the cost of the project. The area is now a popular spot for locals and tourists to congregate and have a picnic, play a sport or just sit-back and relax. A large stream flows through the park that allows for a fresh breeze to flow over you if you stand on the bridge that climbs across the stream.
4. Trying a Ddeokbokki (Translation: Korean Spicy Rice Cakes)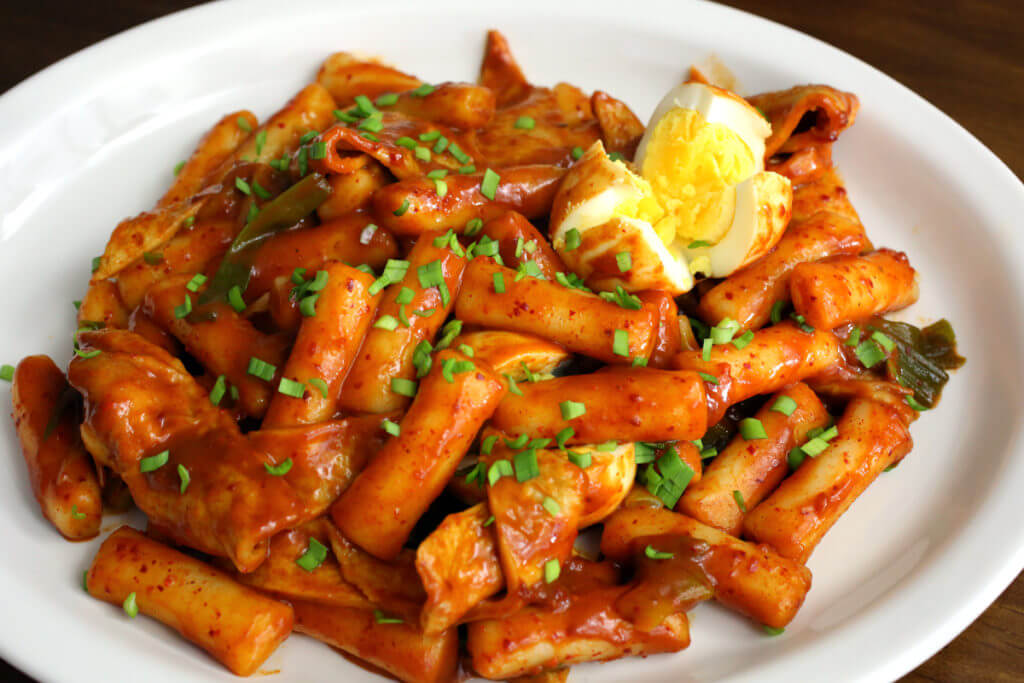 One of the most popular street foods served in Seoul is a Ddeokbokki, or better known as a Korean Spicy Rice Cake. So what is a Korean Spicy Rice Cake? Well for starters, it's a rice cake combined with fish cake and a red chili sauce that is a little on the sweeter side. You can find this sweet snack on the road side from street food vendors or in a restaurant. Wherever you decide to try your first ever Ddeokbokki, you'll become addicted.
5. Sharing a Gogigui (Translation: Korean BBQ)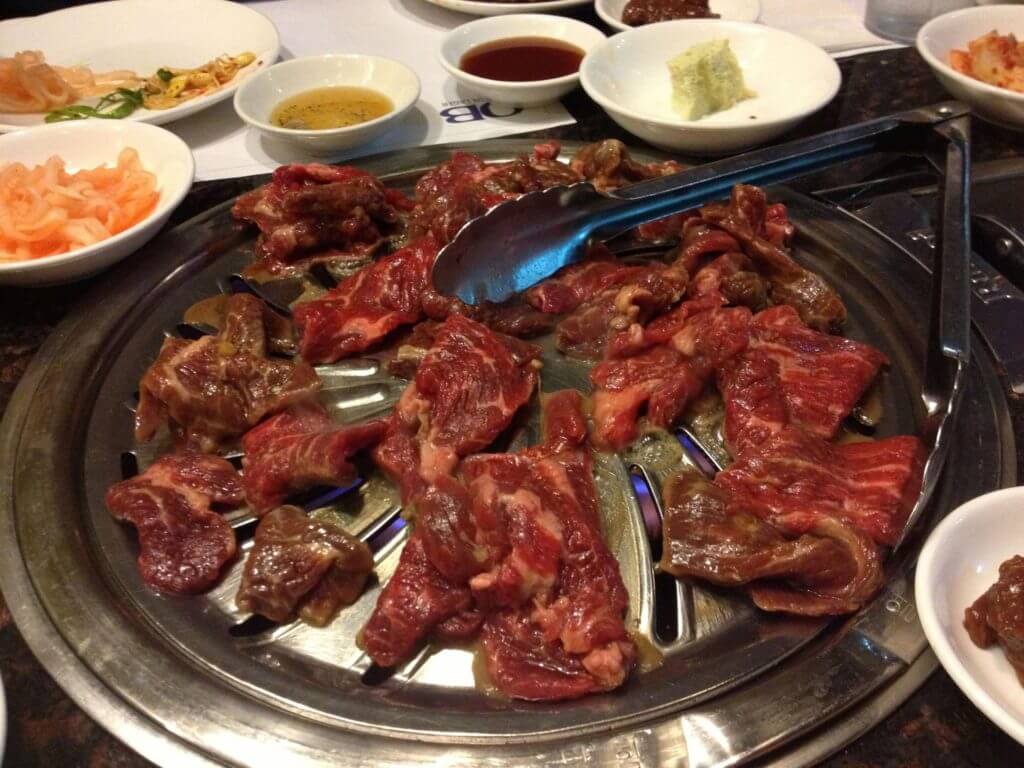 Ever had a Korean BBQ with your friends? If you have, your whole world is about to change after you have your first Gogigui, Korean BBQ, in Seoul, South Korea. A hands on experience at most restaurants in Seoul, you can bring your fellow travelers, drink soju and feast upon either beef or pork. This will end up being one your favorite, if not the best, experiences out of your whole trip to South Korea. Who knows, maybe you could even learn some cooking skills to bring back to your home country.
Make sure you don't leave Seoul without checking at least one of these things off your list!
---
Author Bio
Arliss is the Managing Editor of Trekbible as well a social media editor at IncomeStore. She is also a writer and aspiring novelist. Arliss has family all over the world including the Ivory Coast, Denmark, Germany, and the Dominican Republic—a fact that greatly contributes to her passion for travel and culture. You can follow Trekbible on Facebook, Instagram and Pinterest. 
---
Did you like this article? Pin it for later! 
---
What are you most excited to do in Seoul? 

Share in the comments!
---