This article may contain affiliate/compensated links. For full information, please see our disclaimer here.
We are so excited to share this guest post from Oliver Hyde, a traveler/business consultant who has made Mandalay, Myanmar his home away from home in Asia. We love getting recommendations about a place from people who know it well. Read on for Oliver's insider tips for getting off the beaten path in Mandalay. 
Getting off the beaten path in Mandalay, Myanmar.
During my explorations of South and East Asia, I spent three weeks in Myanmar and instantly fell in love with this incredible country. Despite its turbulent past and slow economic development, the country fascinated me in many ways: from impressive biodiversity and vibrant culture to delicious cuisine, warm climate and pristine beaches, Myanmar has pretty much everything I seek in a holiday destination. Mandalay has become a home away from home for me by now, and here is why.
Mandalay's oldest gold manufacturer
Myanmar is renowned for its centuries-long mining history: from gold and silver to some of the world's rarest gemstones, various precious ores and minerals rest underground here. Decorative elements made from locally sourced gold are displayed in local temples, as well as lavish homes of wealthy families, and gold is also used to make ritual offerings to the gods.
During my first stay in Myanmar, I visited King Galon, Mandalay's oldest gold factory. There, I had a chance to see how gold is made and pound a raw gold bar with a hammer. Work with gold leafs is tough, but the workers do not seem to mind. I guess their positive attitude is due to either religion or the fact that they are actually handling one of the world's most precious metals every day.
A walk across U Bein Bridge
A perfect place to take pictures of scenic sunsets, U Bein Bridge, stretching across the Taungthaman Lake, is the world's longest teak bridge. Do not be surprised if you see monks passing by. This is one of their favorite promenades when they need to give in to contemplation outside temple walls.
Since Mandalay is characterized by tropical climate, U Bein is a great spot to capture amazing shots of rain across the lake. I managed to capture a few rainbow images here, and I carry one of them in my wallet to remind me of the peace I felt during my first visit to Mandalay.
Mahamuni, where human meets divine
Another Mandalay landmark that inspires awe at first glance, Mahamuni Pagoda is a remarkable structure with elaborate woodwork and decorations. Venturing indoors, you are drawn into a labyrinth of intersecting corridors running between chambers decked with gold statues.
The central chamber is a shrine framed by a lawn, with the ceiling covered by an ornate mosaic, and the arcades are supported by gilded columns embellished with fine frescoes. The shrine holds the legendary Mahamuni statue executed in bronze and inlaid with gold. According to legend, Buddha himself breathed onto the cast, perfectly capturing the king's image.
Street food, a treat for all the senses
Based on my travel experience, street vendors in Asia sell the most scrumptious local delicacies. From Thailand and Bangladesh to India and Myanmar, authentic aromas and spice-streaked dishes taste finest straight off street stalls. In Mandalay at Tet Nay Win, on 68th street, I ate the most delicious lemon fish ever. They also serve great chicken and BBQ fish, so make sure you try their snacks if you chance to visit the neighborhood.
If you prefer vegetarian food, head over to 26th Street to Tea Salad. Here you can buy the mouth-watering Lahpet, a traditional Burmese salad with pickled tea leaves, sesame, roasted peanuts, garlic and local spices. My palate still tingles at the thought of the unique combination of flavors!
Board a boat to Mingun
First-time Mandalay visitors should definitely board a boat to Mingun. After an exciting hour-long ride up the Ayeyarwady River, you arrive at the ancient village that takes pride in one of Mandalay's most interesting attractions, the dilapidating Mingun Pahtodawgyi temple.
The works on the temple began back in 1790, but the monumental structure was never finished. According to folk tales, the project was abandoned after an astrologer foretold that the day of its completion would be the day of King Bodawpaya's death. The huge stupa, which holds the world's largest ringing bell (the giant weighs a whooping 90 tons!) cracked during an earthquake in 1839, and has been slowly crumbling ever since.
A place where myths and reality collide, Myanmar is a perfect destination for lovers of exotic travel adventures. If you ask me, Mandalay deserves a top place on everyone's bucket list: once you experience its splendor and charms, you will soon be coming back to relish more of its secret scents and observe another crimson sunset from U Bein.
---
About the Author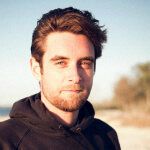 Oliver Hyde is an experienced business consultant from the UK. His job allows him to travel and   discover new places. He can't stay put at the same place for a long time, but Africa was an exception; it stole his heart and made him travel through the continent for more than a year. Connect with Oliver on Twitter and Google+.
---
Did you enjoy this article? Pin it for later!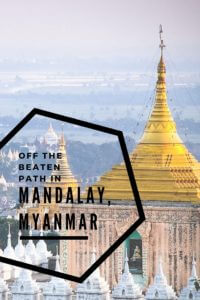 ---
Have you been to Mandalay? Would you like to go? Share your experiences in the comments!
---