This article may contain affiliate/compensated links. For full information, please see our disclaimer here.

Mumbai is one of the most exciting and vibrant cities in India. We've visited twice now, but have barely scratched the surface of all there is to do! We're so excited to feature this article by local Mumbaikar, Palak Gupta, as she shares her insider knowledge for getting off the beaten path in Mumbai, India. 
Getting off the Beaten Path in Mumbai, India
The commercial capital of India, Mumbai, is a land of daydreamers and hard-workers. But the city doesn't just attract hustlers. Every day, Mumbai greets hundreds of travelers that flock to the city to explore the travel grandeurs it encompasses. While the usual tourist spots have been suggested countless times by tourism websites, the city offers several offbeat locations that seldom make it into any article. From breezy coastlines to fine architectural marvels and rustic countryside, Mumbai is filled with places that are beyond the usual.
Below are my suggestions for getting off the beaten path in Mumbai. Don't just stick to the basics. Once you're out there to explore, make sure you don't forget to bag these hidden jewels of the city.
1. Dhule Drop Zone
Relish the drop from the bright blue sky to the soft sand of Dhule as you take the thrill of skydiving in the precincts. All necessary equipment and a professional instructor are provided to make sure you have a safe jump. Feel the adrenaline rush as you take a jump from 10,000 feet above the Earth.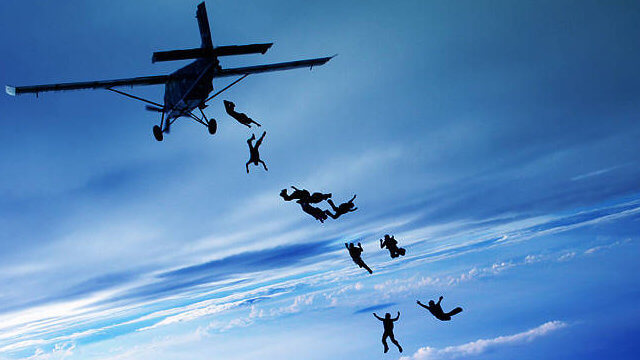 2. Sewri Jetty
Escape the pollution for a while and visit this ecological treasure of the city. Sewri Jetty inhabits a huge stretch of swamps that turn into a vision during the months of October to March when Lesser Flamingoes migrate the area to breed. You can spot numerous other exotic bird species and learn more about them as well.
3. Parsi Snack Trail
Walk the Parsi Snack Trail to devour the scrumptious Parsi delicacies and know more about the culture. The walk starts from Bhatia Hotel, Grant Road at 11:00 am sharp and the tour leader takes the travelers through various ancient streets that still cater traditional food items not available in many Parsi restaurants.
4. Uttan
Visit Uttan, a small coastal village next to Gorai Beach, to hike, eat seafood and witness the pristine coast shimmering under the light of thousand stars. Spend a night camping under the star-studded sky. I bet the place will leave an imprint on your heart and soul.
5. Go Karting at Powai
Get behind the wheels and feel the rush as you race your way through Powai's go karting track. The instructors provide necessary gear to the drivers and make sure cars are in their best state. You can also indulge in rock climbing, paintball, and zorbing while you're in Powai.
6. Alibaug
Keep the stress at bay by visiting the tantalizing coastal town of Alibaug. Serving as a perfect weekend escape, Alibaug promises to reinvigorate the senses. Its slushy beaches, beguiling coconut groves, and a mesmerizing weather are enough to lure anyone. Oh yes, do not miss taking a stroll in the woods as well.
7. Mahalaxmi Racecourse
Be a part of the annual derby race and gamble legally on the best horses. Mahalaxmi Racecourse is a 2,400 meters racing track and is a home to five Indian classic races. The minimum bid starts from INR10 and races take place from November to April.
8. Mini Seashore
A site that is frequented by the Mumbaikars extensively, Mini Seashore is the picture perfect destination to chum around with your loved ones, enjoy a morning walk or do whatever you feel like. This 2-kilometer-long stretch is a great hang-out spot for all ages. Slip into your sneakers and make your way to this astounding place. 
9. Vasai Fort
This intriguing Citadel is a must-see destination and shouldn't be missed. Narrating the compelling tales of foregone eras, the valiant rulers, lavish lifestyle, and wars, Vasai Fort has an enchanting grandeur that never ceases to draw the attention of the onlookers. A visit to the intriguing Vasai Fort is a unique weekend getaway from Mumbai.
10. Pandavkada Falls
Located amidst tranquil surroundings, the waters of the exquisite Pandavkada Falls gush down from a colossal height of 351 feet by paving their way through boulders. Visit this alluring spot and succumb to nature's beauty. Do not miss your chance to take a chilling shower under the pristine white water of this waterfall.
11. Kharghar Hills
Wake up at the Kharghar Hills to see the hillocks shrouded under a blanket of mist. The Kharghar Hills are like a painting by Mother Nature that is simply a delight to the eyes of onlookers. You can venture into the hills to trek, or admire them from below.
12. Kanheri Caves
Closely observe the architectural grandeur of Mumbai in one of the airiest places in the city. Located in the Sanjay Gandhi National Park, the caves are one of the oldest creations in the country. There are rock cut monuments and nearly 34 incomplete paintings of Buddha inside the Kanheri Caves.
 13. Warli Village
Witness intriguing Warli art by visiting Warli Village. Reflecting respect towards Mother Nature, the village of Warli is an arresting place where you can learn about Warli art. The Sun, Moon, and geometrical shapes are usually depicted in the paintings. Try your hand at learning this art form during your visit!
The list does not end here! There is still a long list of places that deserve much more attention in and around Mumbai. Remember one thing: don't try to add all of these places in your itinerary. Give time to each place and enjoy them thoroughly.
---
Title image source. Pin image source. 
---
Author Bio
Palak Gupta, works at TourTravelWorld.Com. She is a globetrotter who loves to explore places, cultures, cuisines and the unexpected. Through her write-ups, she shares her travel experiences, gripping stories of travel destinations, and subjects that travel junkies show a keen interest in.
---
Have you been to Mumbai, India? Which of these places would you like to visit?