This article may contain affiliate/compensated links. For full information, please see our disclaimer here.

Does Goa live up to it's reputation as a hippie mecca?
We think so.
When we stepped off the bus at Anjuna Beach in Goa, the first foreigner we spotted had dreadlocks and she was riding a scooter. The next foreigners we spoke to introduced themselves as Neihamiah and Sarahkhy. Really. They were high as kites and full of information on the trance party of the evening and where to score some hash. As we walked toward the stunning, palm tree lined beach we saw yoga studios, signs for gurus, reiki, massage, art, and music. Goa beautifully boasts all of the stereotypes we'd heard about it. I knew I was in love, even before my first bite of chicken Xacuti.
Goa is a haven for free spirits and a home to many expats. You can find people here who are lost, people trying to figure things out, and people who are living out their dreams. It's a place where people are happy because they are doing what they want to be doing in a natural, gorgeous environment. Whether they are just passing through, living off savings, running businesses online, or earning through their art and other projects, they are making their desired lifestyle happen.
I can imagine living in Goa. It would be an amazing life. Slow, contemplative, full days surrounded by beauty and positive energy. There are so many things about Goa that I love. The way the palm trees swaying in the breeze sound like soft, pattering rain. The way the morning sun pours its golden glow over the already too perfect beach scene. Witnessing how so much life manages to exist in such a small area: animals, people, nature, the ocean, closely connected and thriving together.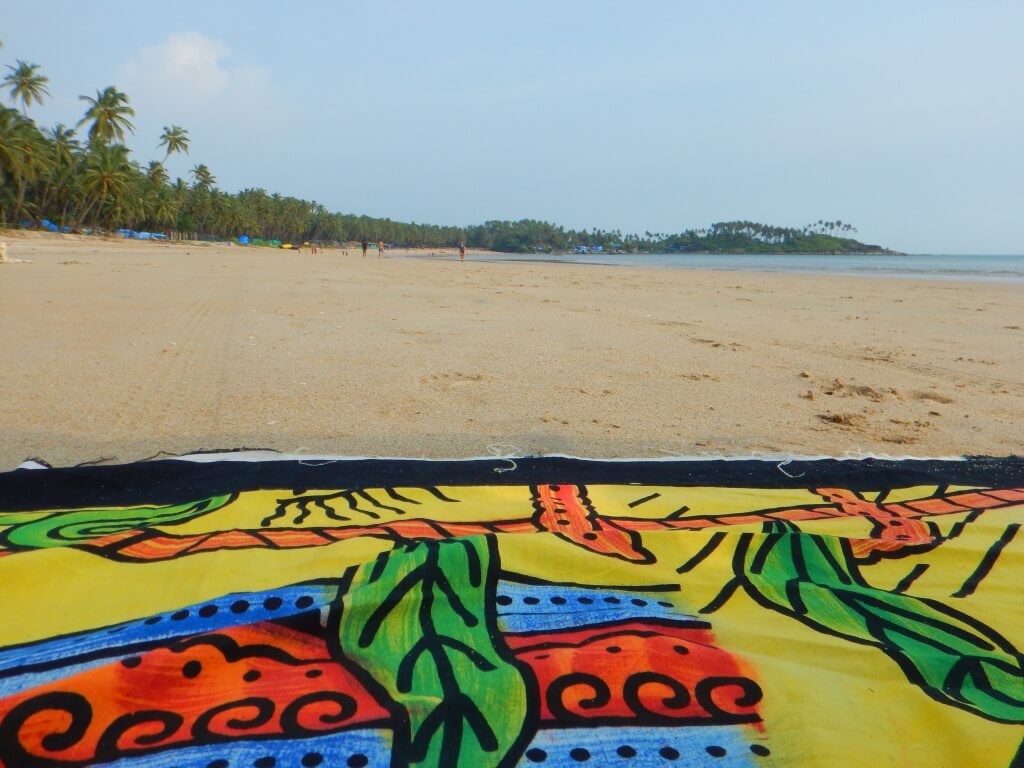 Palolem beach in southern Goa was always teeming with activity: People walking up and down the sand. Fishermen hauling in their heavy boats full of sea creatures. Women in vibrant saris crouching to pluck out small fish caught in the nets.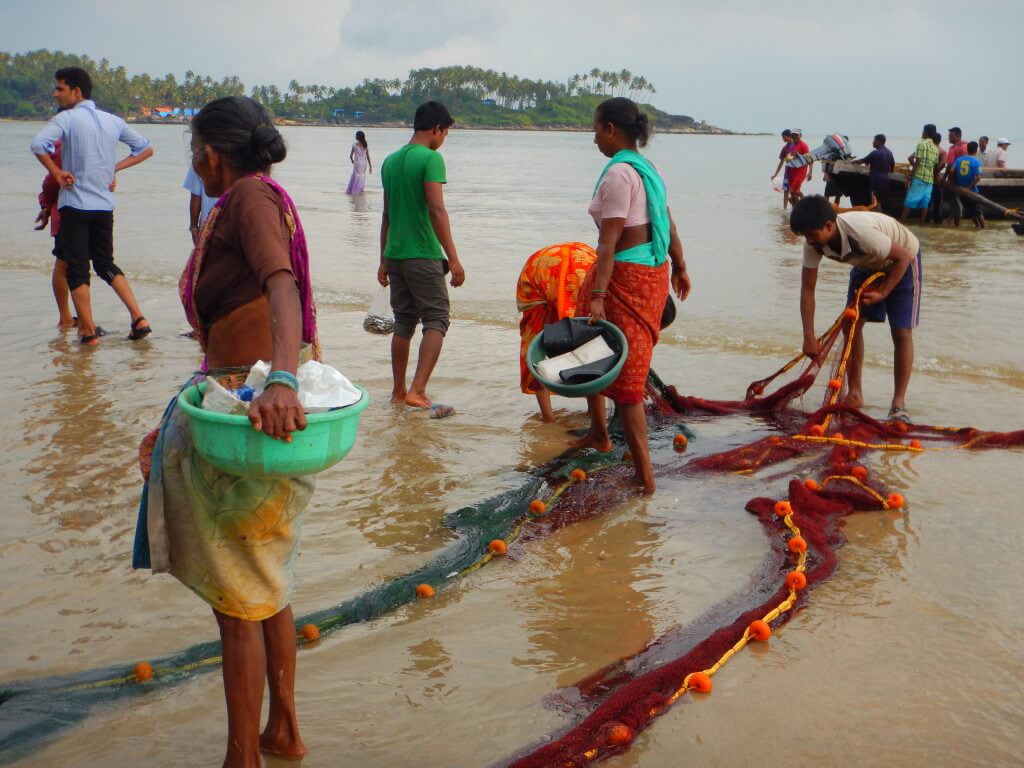 I watched a young boy and his father ripping the heads off of squid they caught, squirting black ink all over the sand and themselves. They quickly pulled out the squid meat before the animal stiffened and became inedible, it's too late defense mechanism.
Like in the rest of India, cows roam freely, sitting, mooing and making cow pies wherever they please. People swim in the calm, shallow waters. Local kids play football after school, sticking their flip flops upside down in the sand as goal markers. Stray dogs guard their territories and the humans within them, barking menacingly with bared teeth when any other dogs threaten their space.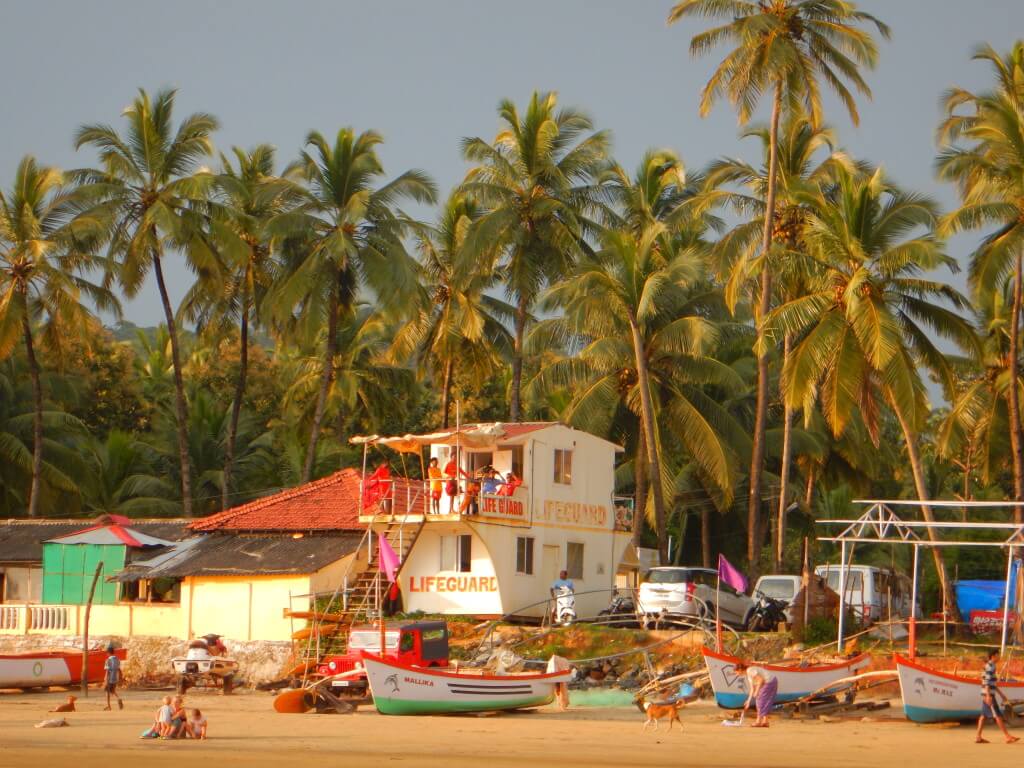 There is no need to rush in Goa, no hustle or bustle. There is seemingly nothing to worry about at all. It would be amazing to get wrapped up in Goa's sun-kissed embrace and flow in the relaxed pace of life.
But we were just travelers, there for a limited time with the goal to relax.
We dedicated our time to chilling out as hard as possible. We adopted hippie names for our week of mind cleansing relaxation: Moon Flower and Sun Tree. Even we didn't know who was who. Because, what is identity, man? We filled our mornings with sleep, beach walks, journaling and yoga. Mid-days were spent in cafes, restaurants or the safety of the shade at our guest house. Afternoons we lounged on the beach, read, wrote, slept.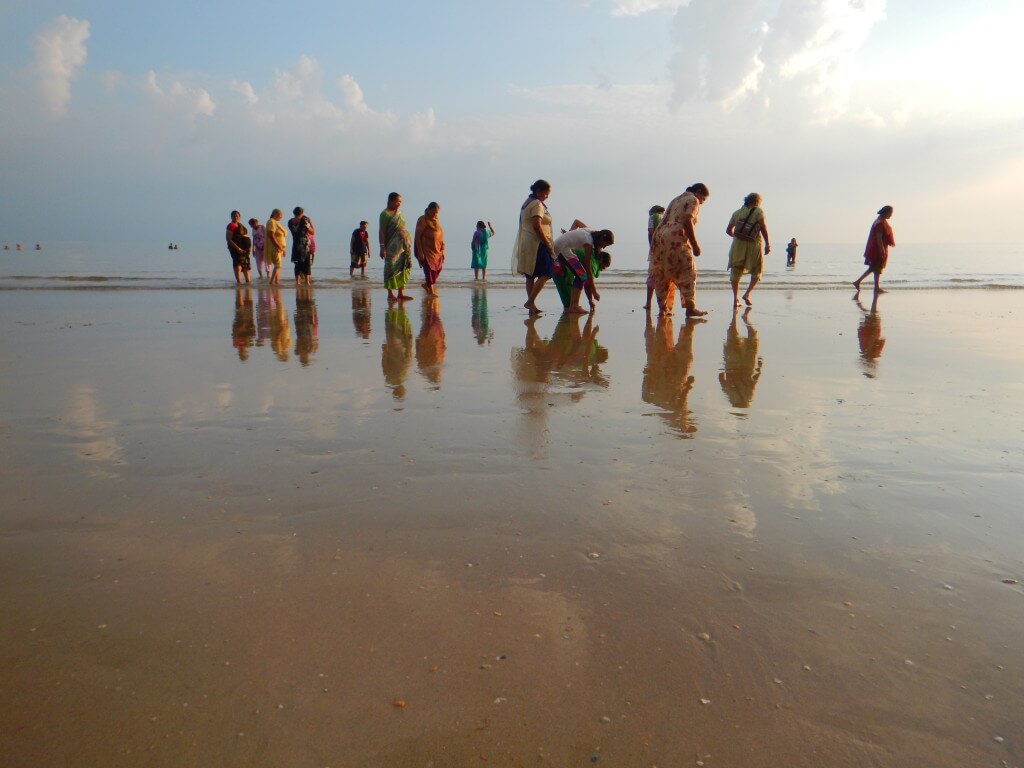 Every evening we marveled at the sunset. Every meal we ate had us singing praises to the gods, the food always outstanding and full of tropical Goan flavors and spices unlike anywhere else in India. An added bonus was having a few beef and pork meals, hard to find in the rest of the country, but available because Goa is a primarily Christian state. It was a glorious time.
There are too many places we travel to where we just know in our hearts we'll go back. It's safe to say that Goa is one of them.
Are you traveling to Goa? Get Rachel Jones', the Hippie in Heels, Insider Guide to Goa! Want more info about backpacking in Goa? Check out this ultimate guide to exploring Goa's beaches, parties, and markets. 
---
Did you enjoy this post? Pin it for later!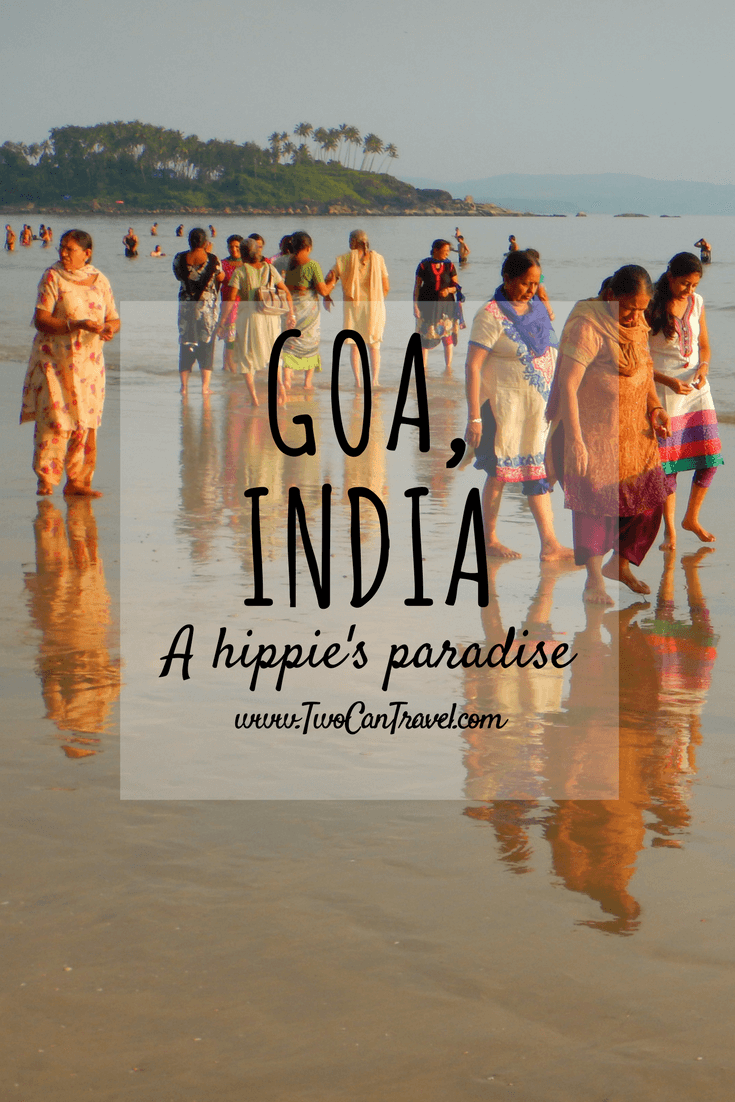 ---
Have you been to Goa? What was your impression?
Share in the comments!
---