This article may contain affiliate/compensated links. For full information, please see our disclaimer here.

Useful Tips for How to Take Great Travel Portraits
This is a Guest Post from Max Therry. 
Travel portraits can be evocative. Capturing the places you've been and the local people you meet can seem daunting to a beginner. Armed with the hints and tips in this article and a bit of practice, you'll soon be taking travel portraits like a pro.
How to Find a Good Subject
Traveling gives you a great opportunity to photograph festivals and celebrations. The people and entertainers who are part of them often enjoy having their photo taken. That makes your job a bit easier, especially if you are anxious about approaching people! There, you can capture the unique atmosphere of the celebrations.
Local markets and shops are also good places to find people for travel portraits. If you are staying in a hotel, you can strike up a rapport with the staff and they may be willing to pose for you. Or they may know local people who would be happy to have their photo taken.
How to Approach Someone to Take Their Photo
This often seems like a thorny problem for beginner photographers, but it really is better to ask for permission before taking someone's photograph.
Put yourself in their position. Would you like someone to walk up to you without a word and start taking photos? How would that make you feel?
Asking permission doesn't mean you have to give a long explanation about why you want to take their photo, especially if there is a language barrier!
To get around the language barrier, asking permission can be as simple as catching the person's eye, smiling and gesturing to your camera and then to them. All you need is a nod, a shake of the head, or some hand gestures and you have your answer.
"But what if they say 'no'?" you may be wondering. Well, it's not the end of the world if they do, and try not to take it personally.
Not everyone likes having their photo taken. Or maybe they're having a bad hair day! There are many reasons people will say no. But for every 'no', you'll probably get four or five people who say 'yes'. Once you have heard 'no' a few times, it actually gets easier instead of harder. It just takes practice.
Once you've taken your picture, show your subject the results. You don't have to show them your misfires or 'bad' images, pick the best ones and let them have a look. If they like them and have internet access, ask for their email address so you can send them a copy when you've edited the shots.
Natural vs. Posed Images
There's often a debate on which is better, and it really comes down to personal taste. Candid shots are natural pictures of people who are unaware of you taking their photo. You can also ask permission and still get candid shots.
To do this, find someone who's doing something interesting, such as cooking street food or making something. Ask their permission, and if they agree, ask them to go back to what they were doing while you take the shots.
Purists will argue that the images won't be as good if the subject is aware of you photographing them, but it's best to err on the side of caution if you're a beginner.
If you want posed shots you should ask permission and then ask the person to pose. Often it helps if they hold something interesting or an item that means something to them. It helps to make the images a little less stiff and awkward and can add interest to the image.
If you are photographing street performers or those involved in a carnival, you can't really stop them to ask permission, so in this situation simply take the photos and enjoy the show. If you photograph street performers, it's only right to put a little money in their hat or tin in return.
General Camera Settings
When it comes to the gear, you can use any camera for travel portraits. Even a smartphone! If you have a DSLR you will have more control over things like depth of field in your images, but it isn't necessary for capturing great shots.
The type of camera settings you need to use will depend on the lighting conditions and whether you are using manual, auto or one of the semi-auto modes like Aperture or Shutter Priority. If you are used to using fully auto mode, why not try moving to Aperture Priority mode instead? This mode will take care of the shutter speed and ISO for correct exposure depending on what aperture you choose.
For portraits with a blurry background and a sharp subject, pick an aperture from f/2.8 to around f/6.4. The results you get will also depend on how close you are to your subject and what lens you are using.
Having a tripod will help if you are using Aperture Priority in low lighting conditions. The camera will probably drop the shutter speed below the level where you can hand-hold it without getting blurry images.
If you are photographing someone indoors, try to position them next to a window that doesn't get direct sunlight, but not with their back to the window as that would just give a silhouette. Get them to stand sideways to the window so that light is falling over one side of their face as you stand directly in front of them.
If you want to lighten the shadows on the unlit side of their face, use anything white or silver to reflect light back on to the subject's face. A simple fold-up 5-in-1 circular reflector is inexpensive to buy, lightweight to carry, and is one of the most useful tools you can have for portrait photography.
Post-Processing
Once you get back from your trip, upload all your images to your computer and choose the best ones to edit in photo editing software.
All photos will benefit from a bit of cropping and straightening, color, contrast, and exposure adjustments. If you don't have an editing program, think about getting one. Your images will look so much better.
If you're not sure about purchasing a photo editor, there are free editors like GIMP or RawTherapee that have all the basic features.
Some editors, like Luminar and Lightroom have one-click presets that you can add to your images to give them a different "look". And you can add the same presets to all the images from that series to give them a continuous style. Editing programs often have presets made especially to suit portraits, which is a great starting point for beginners.
Final Thoughts
Travel portraits can be such a rewarding genre of photography, and I hope the tips in this article will come in useful on your journeys.
---
Pin it!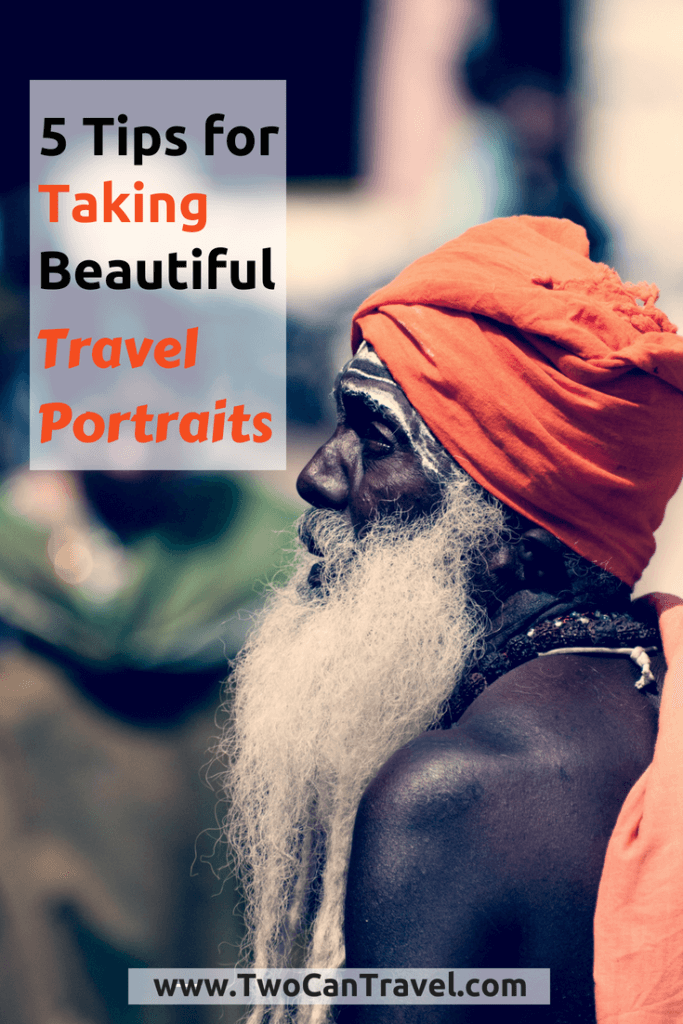 ---
Author Bio
Max Therry is an architecture student who is fond of photography and wants to become a professional photographer. He is also working on his own photography blog about photo editing, modern photo trends, and inspiration. Feel free to reach him by email.
---
Do you enjoy travel portrait photography? We'd love to hear from you! Join the conversation and share in the comments.
---