This article may contain affiliate/compensated links. For full information, please see our disclaimer here.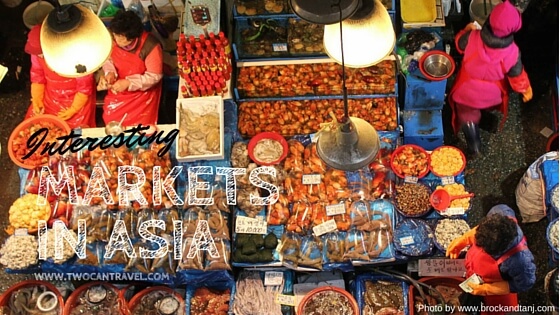 Have you been to any of these markets in Asia?
Stalls piled high with every good imaginable. Sense-assaulting colors and smells. Fresh produce and squirming seafood. Vendors haggling with customers. The smell of street food wafting down the road.
Markets, big and small, are undoubtedly some of the most fun, photogenic and chaotic places to go to when traveling in Asia. These travel bloggers share their favorite markets in Asia that you should be sure to check out!
1) Russian Market in Phnom Penh, Cambodia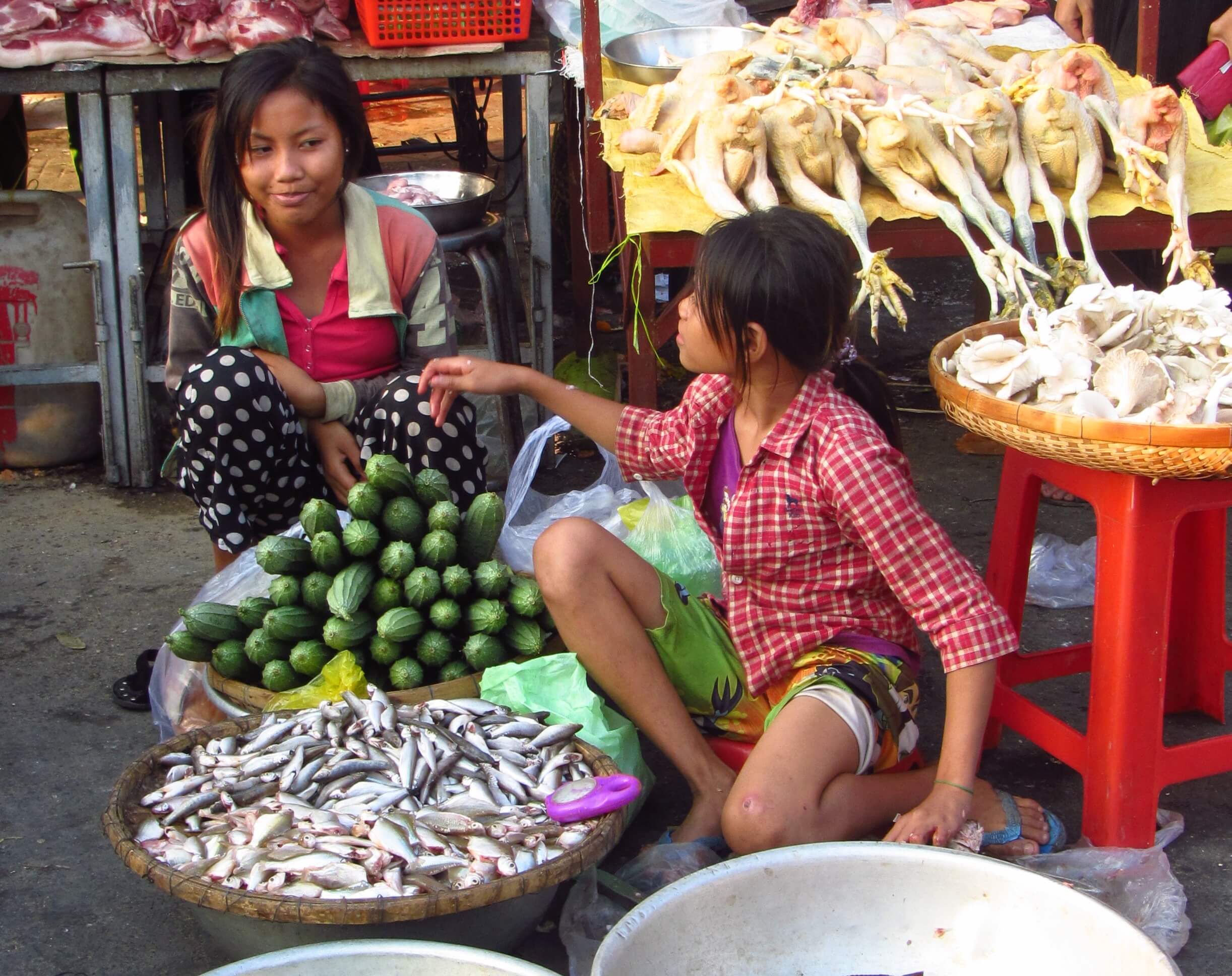 By Jen from Two Can Travel.
The Russian Market is a labyrinth of local wares and souvenir kitsch that can provide hours of entertainment. You can find just about anything your heart desires inside, and plenty of things you never knew you always wanted as well.
There are DVDs of the latest films, faux antique opium pipes, and beautiful old looking teapots. There are also lots of clothes made in Cambodia with undetectable mistakes from brands like H&M and Mango at 1/10 the cost of mall prices. You can find shoes too like Nikes, and Adidas. Cambodia has many factories making all types of products.
You can also find sunglasses, jewelry, and recycled rice bags made into fashion accessories. There are some stalls with unique home decor and art, plenty of not-at-all-unique souvenirs, and more scarves than you thought humanly possible.
As you wander deeper into the market you'll discover a side just for locals, including butcher shops, produce, spices and dry goods. In another area, you'll find a mechanic's mecca, with every conceivable nut, bolt and engine part a person could ever need. There's also a section with food stalls selling Cambodian snacks and meals, smoothies and Khmer coffee if you need to refuel. In the same area, you'll find small salons that do hair and nails. You'll discover something weird or interesting down every narrow path and around every corner as you explore.
The market is open from 8AM-5PM. Once the Russian Market gates have been locked, an outdoor food market is in full swing on Street 440, just outside. This is where many people who live in the area do their shopping, and is a great place to sample seasonal fruits and get a glimpse of daily life. We also recommend going up to the Sundown Social Club bar on Street 440 to get a great view of the Russian Market from above.
Follow Jen and Stevo on Facebook for more about travel and life in Cambodia.
2) The Train Market in Bangkok, Thailand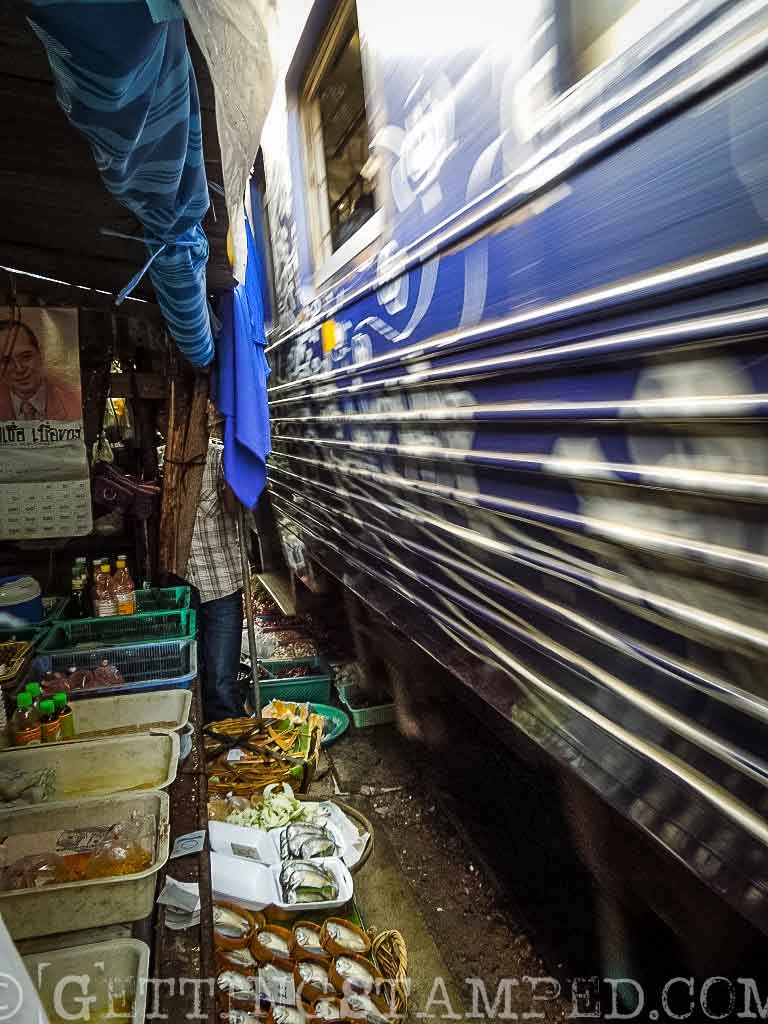 By Hannah from Getting Stamped.
The craziest and most interesting market I've been in Asia is the Maeklong train market Bangkok, in Thai ตลาดร่มหุบ. The Maeklong train market translates to "umbrella pulldown market," and that is exactly what it is. The market is literally on an operating railway and several times a day trains run right through the market, and all the vendors pull down their umbrellas and move their items from the railway as the trains pass. The train market is 80 km outside of Bangkok and makes for a good day trip.
The items for sale are just like most Asian markets lots of meat, seafood, vegetables, fruits etc. The market did have a great selection of dried fruit to try and ready to eat dishes. The market is a great place to try a bunch of different things for a cheap price. Next time you're spending a week or 3 days in Bangkok head take a trip out to the train market.
Follow Hannah and Adam on Twitter @GettingStamped.
3) Artbox in Bangkok, Thailand
By Shayan & Kanika from Dose of Life.
If you're looking for a different type of market in Bangkok, away from the tourists and the tacky souvenirs you find on Sukhumvit, Silom, and even Chatuchak, then the Artbox is where you should go.
It's a hipster-style, pop-up market where most of the stalls are housed in steel containers, much like the ones they use for shipping. Already caught your attention did I?
What you will find here are products from local designers and vendors featuring vintage fashion items, handmade accessories, funky décor items and so much more. I would say it is one of Bangkok's hottest night markets. Only thing is that it started very trendy and unique but is slowly becoming quite commercial so definitely go there before it transforms completely.
Apart from shopping, there are dozens of food vendors serving up anything between hand-held bites to full on meals. You can also sit around to drink and listen to live music.
This place is a hipster and Instagram heaven.
Currently, Artbox is located in the EM district, next to Emporium in Bangkok (Phrong Phong BTS Station).
Connect with Shayan & Kanika on Youtube, Instagram, and Facebook.
4) Chinatown Market in Ho Chi Minh (Saigon), Vietnam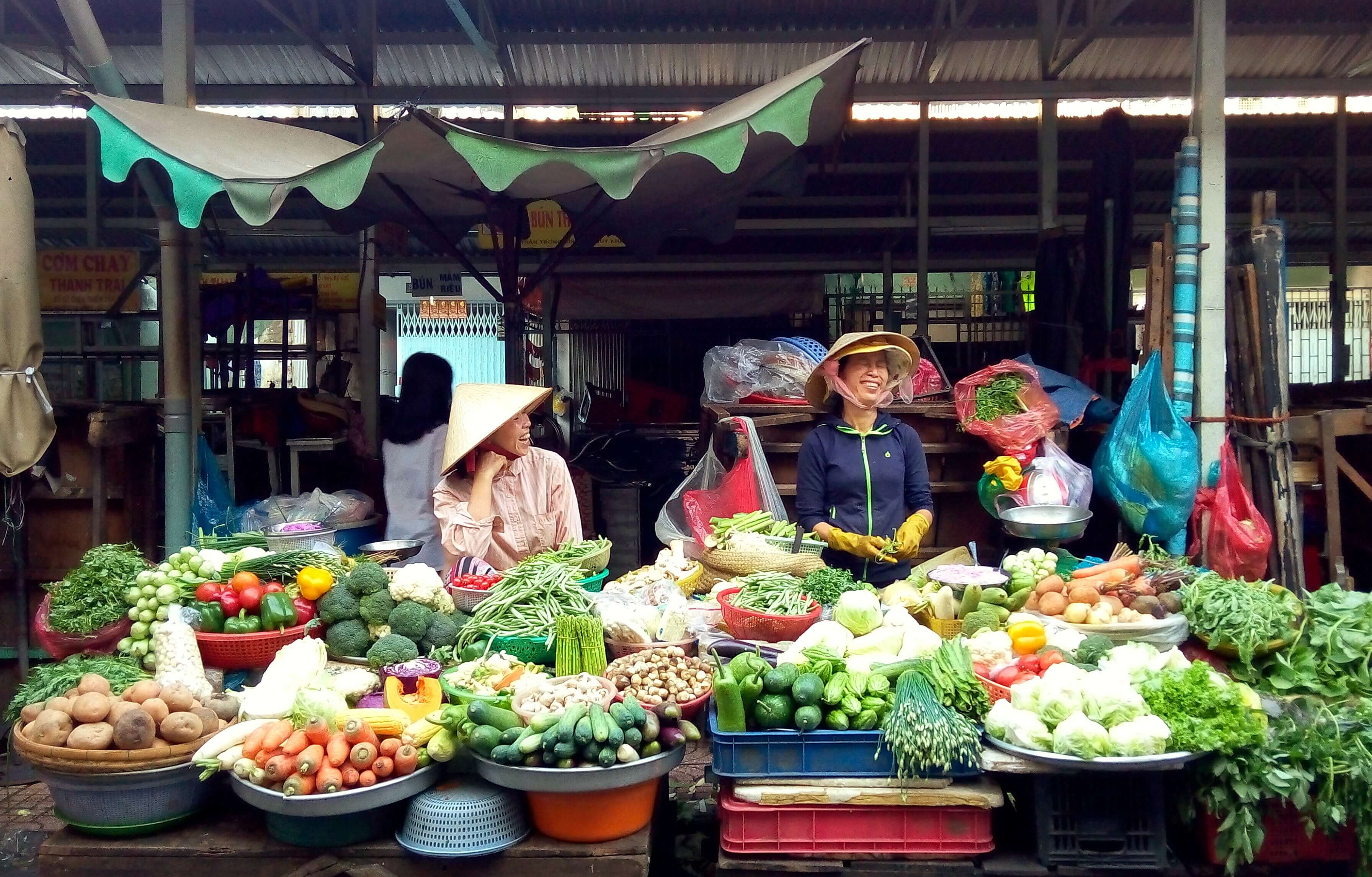 By Claudia Tavani from My Adventures Across the World.
I had planned to stay in Saigon for only two days during my trip across South East Asia. The moment I arrived, I knew I would regret this decision. I instantly fell in love with the city: so full of life, so packed with colors, and with such a friendly atmosphere. Wherever I turned, I was welcomed with a huge smile. Not only people allowed me to take pictures of them whenever I asked for permission, but if they realized I was carrying a camera, they'd stop me and ask to pose for me. Yet, the best photos are the random ones I took around the market in Chinatown.
This small market that goes around the tiny alleys of Chinatown mostly sells daily goods – fresh produce, household stuff, and the likes. I arrived there quite late in the day when the bulk of shoppers had gone already and most vendors where getting ready to call it a day and go home. Not these two ladies though. They were deep in conversation, and by the look of it, they must have been saying something really funny!  
Follow Claudia on Instagram.
5) Bac Ha Markets in Bac Ha, Vietnam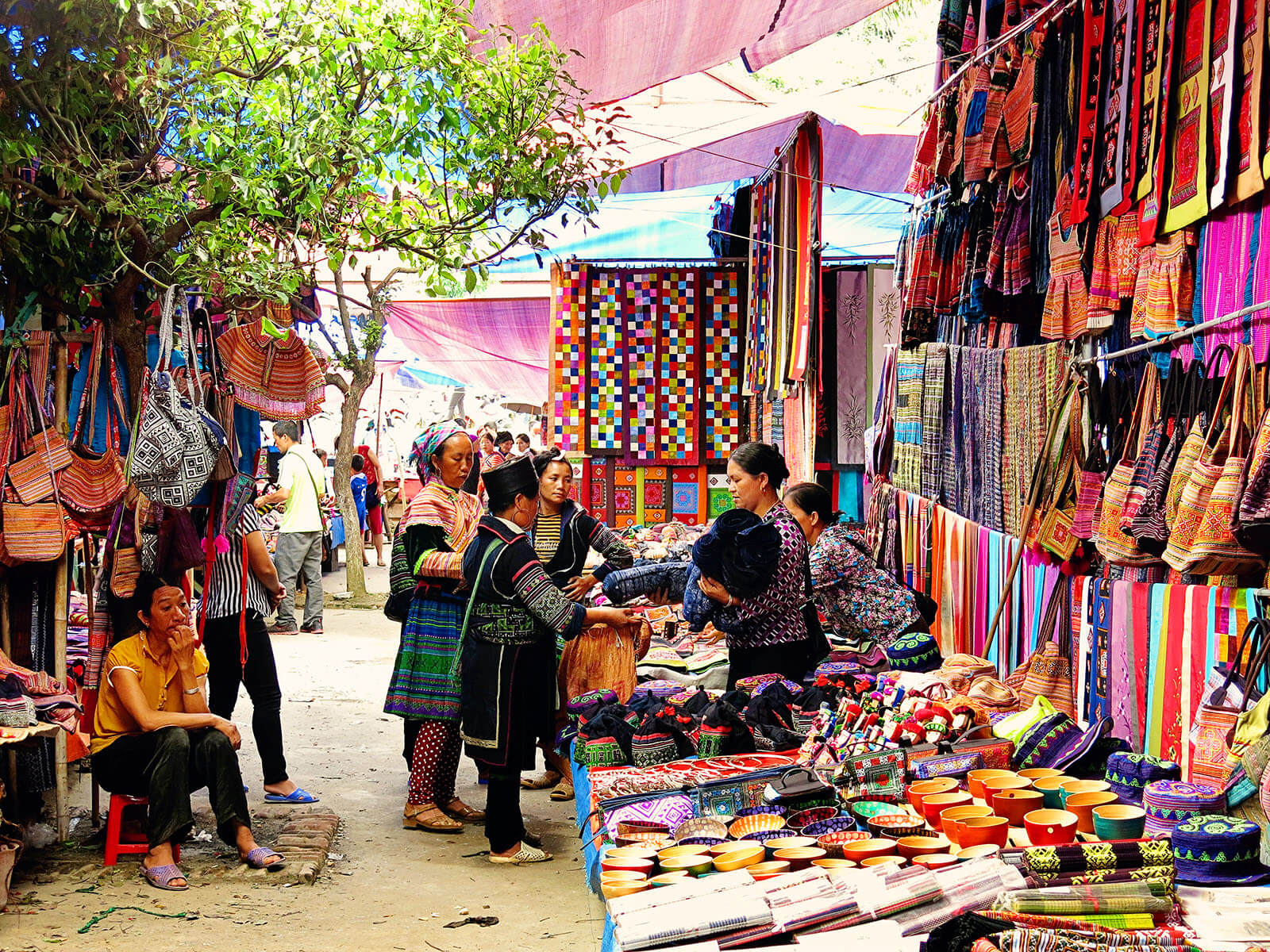 By Jolene Ejmont from Wanderlust Storytellers.
Once a week, from sunrise till 2 pm on Sundays, an explosion of color and local trading takes place at the town of Bac Ha in Vietnam.  This market is unlike any other. You will see locals walking from great distances, heading towards the markets by foot, some pulling a water buffalo behind them to trade for something else.  The markets are so important, that the local minority groups still dress up in their traditional dress gear, creating a visual explosion of color!
At these markets, you will find a variety of handicrafts for sale from pottery, to clothes and more!  You will also find essentials such as incense, tobacco, fruit, veggies, and spices!  A special section for the meat markets, a different section to trade puppies, chooks, fighting hens and horses.  Right on top of the hill lives the prized possession of the markets, the incredibly expensive water buffalo (who only the wealthy can afford), who is used to work in the rice paddies fields. Whilst the markets are becoming more and more touristy every year, if you go at the right time, before the tourist buses arrive, you can still get great insight into the local way of life!
Follow Jolene and Andrzej on Facebook, Instagram, Twitter, Pinterest, and Youtube.
6) Luang Prabang Night Market in Laos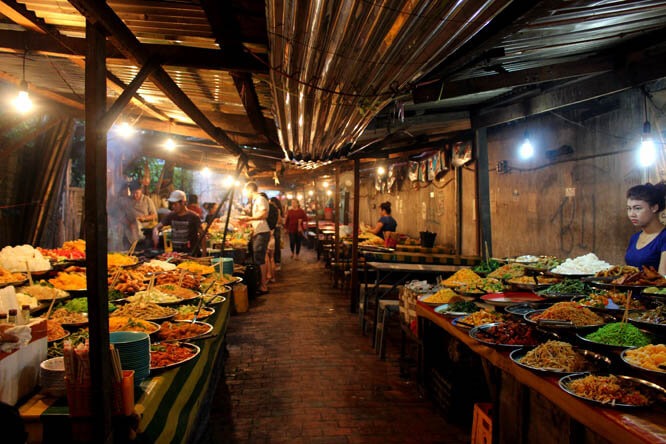 By Sarah from www.journeytodesign.com.
After a few months of traveling and trying to say yes to new experiences, I had eaten some weird stuff: I accidentally had a happy pizza in Cambodia, which didn't make me very happy. I tried to eat snakes and spiders in Siem Reap (tried as in didn't succeed). I was offered balut in the Philippines, which is an egg with a whole baby chicken in it, and I still feel traumatized.
The result: I didn't really like food anymore. I lived on fruit shakes, vegetables, and rice, which wasn't very satisfying, but at least I didn't have to worry about surprising animal parts being hidden in my food.
Arriving in Luang Prabang, I strolled through the night market looking for my usual banana shake dinner and turned into a little alley.
I could not have been happier: An entire street of vegetarian food stalls. You simply grab a bowl and fill it with whatever you want to eat: vegetables, noodles, and rice for about a quarter of what I'd pay for my milkshake. This became my home in Luang Prabang. Every night, I headed over to the stalls, trying something new. I brought friends, who also fell in love with the alley and soon I simply had to walk in to find someone I knew already eating there.
When I had to leave Laos, I knew I'd miss this street the most. But my "say yes" attitude had slowly come back, so I was ready for new adventures, thanks to this little market.
Address: Sisavangvong Road, Luang Prabang, Laos
Follow Sarah's adventures on Twitter, Facebook, Instagram, and Pinterest
7) Miaokou Night Market in Keelung, Taiwan
By Nick from www.nickkembel.com.
Taiwan is famous for its night markets, and of the dozens I've been to while living in Taiwan for the last eight years, Miaokou Night Market in Keelung is my personal fave. Miaokou means "temple entrance" in Mandarin, referring to the beautifully ornate temple smack in the middle of the market. Keelung is Northern Taiwan's largest port, so the market features insanely fresh seafood among various other local delicacies. To make life easier for visitors, every single stall's specialty is labeled in English; a rarity in Taiwan! Finally, the market is just a pretty place to photograph.
Check out Nick's book about life in Taiwan.
8) Shilin Night Market in Taipei, Taiwan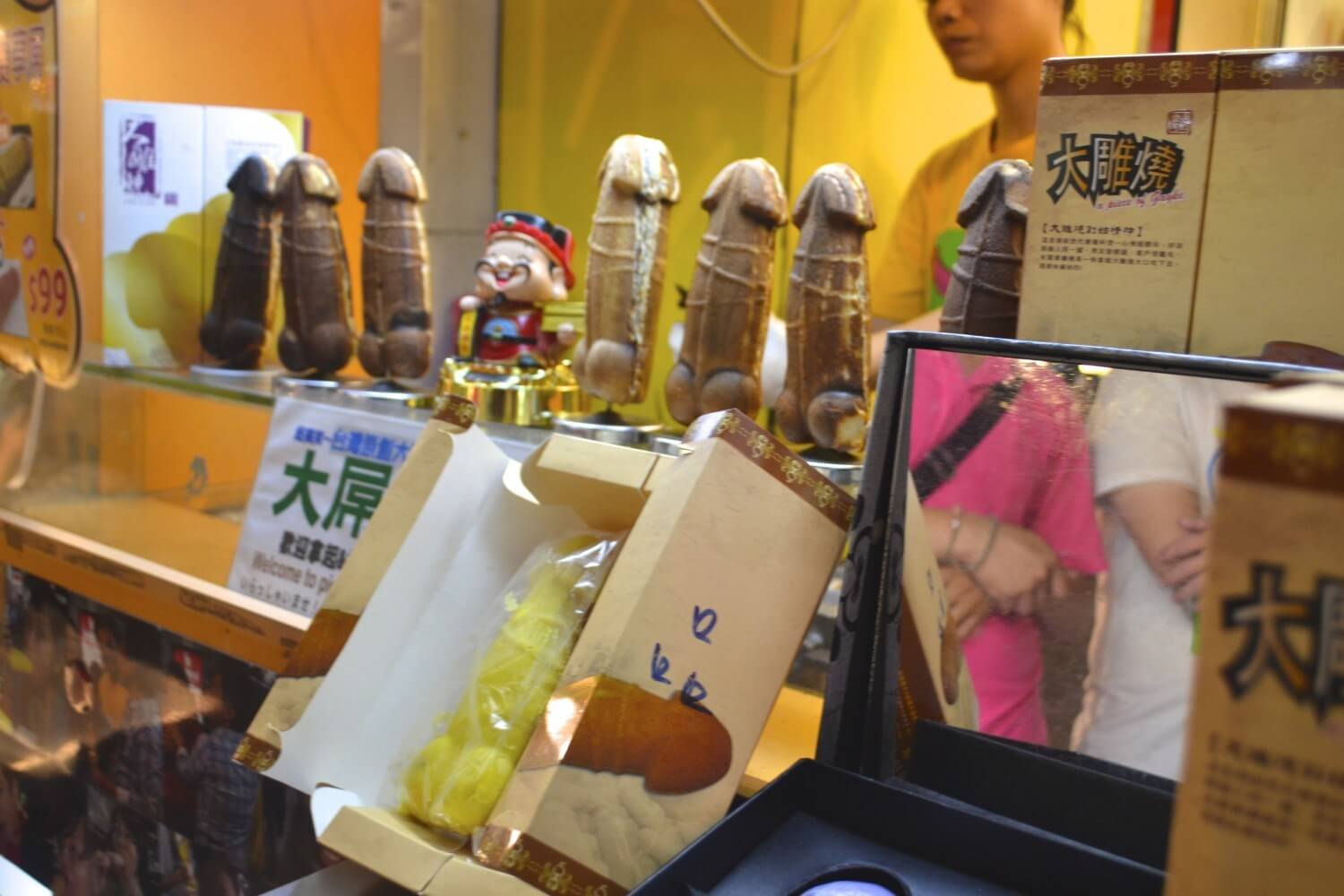 By Richelle from Adventures Around Asia.
If you're looking for a bit of "hustle and bustle," Shilin is the place to go. Bring an empty stomach and a full wallet because this place has everything. This market is full of cool clothing, shoes, bags, luggage, souvenirs and novelty shops. Good thing I don't live in Taipei or I would be broke from constant shopping! There are also multiple streets catering to food and sit down restaurants are scattered throughout the market.
I enjoyed this market so much, I went twice! There's so much to see (and buy, and eat) that you can wander around for hours just looking in shops and trying the food. Be prepared for the crowds though, Shilin is one of the most popular night markets and it is packed with locals and tourists.
One of the more entertaining things I ran into while wandering the market is a stand selling "penis waffles." Seriously, they sell waffles, cakes, ice cream, and corn dogs all made to look like penises. Surrounding the stall was a gaggle of local Taiwanese girls taking selfies with their inappropriate snacks. It pretty much made my night.
Need to know Info: Hours: 5pm-midnight. MRT Jiantan Station, approximately 5 minutes walking (you can see it from the station)
Follow Richelle's life in China on Facebook, Twitter, Instagram, and Pinterest.
9) Noryangjin Fish Market in Seoul, South Korea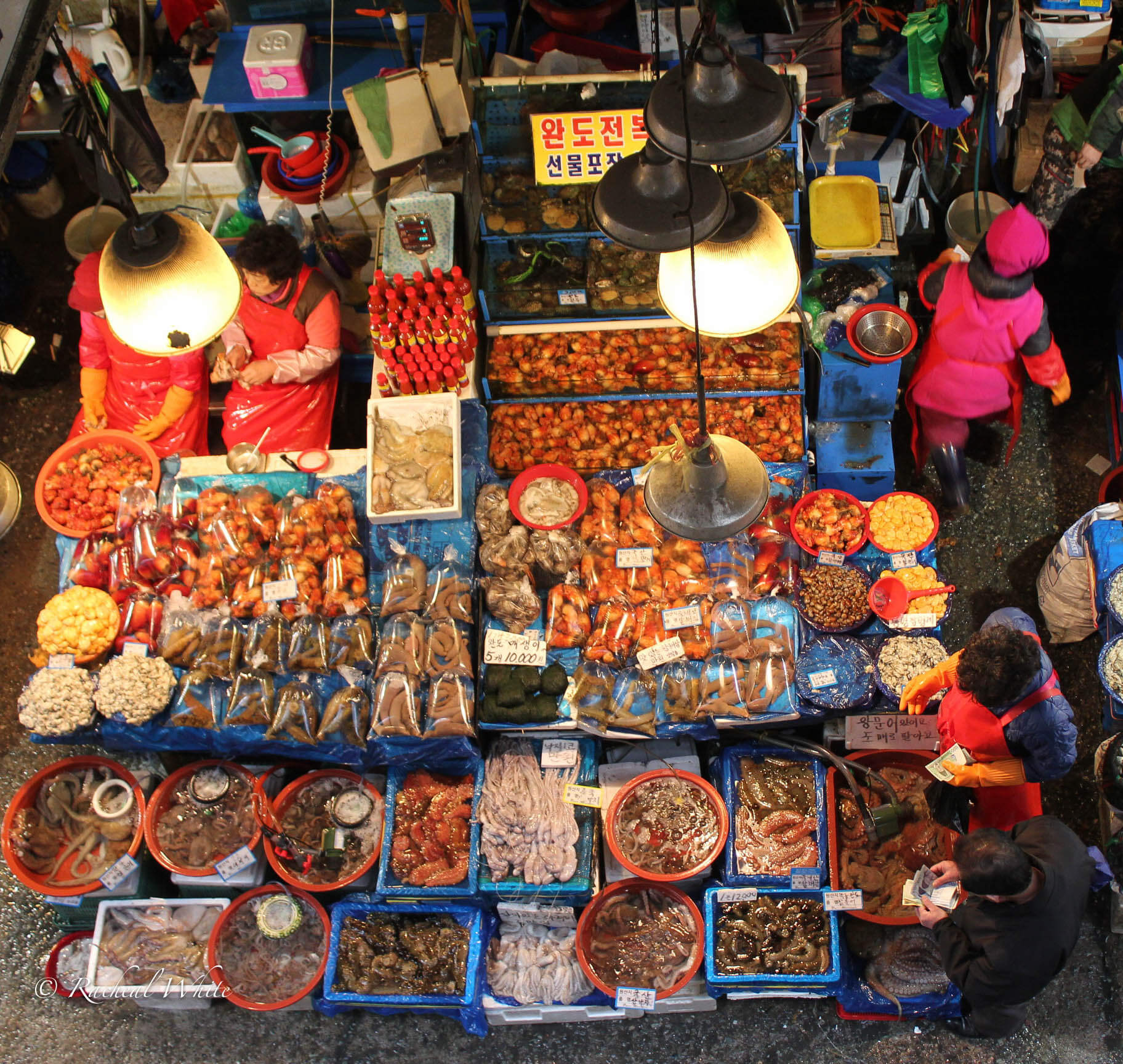 By Racheal from Roam With Racheal.
The Noryangjin Fish Market in Seoul is a happening place. The vibrant colors, the hustle and bustle, even the pushing as people squeeze by all adds to the charm. You've got to watch your step as little trucks hauling ice zip through the narrow lanes.
The largest fish market in Seoul opens in the wee hours of the morning as people come to get the freshest seafood at wholesale prices. Women all dolled up with their hair and makeup done to try to convince you to buy at their stand. You can literally point to a tank and get any live type of fish that your heart desires and then take it to one of the restaurants upstairs to have it cooked up.  You can see more about this market here.  If you find yourself in Seoul definitely check it out.
Follow along with Racheal's journey on www.roamwithracheal.com.
10) Gwangjang Market in Seoul, South Korea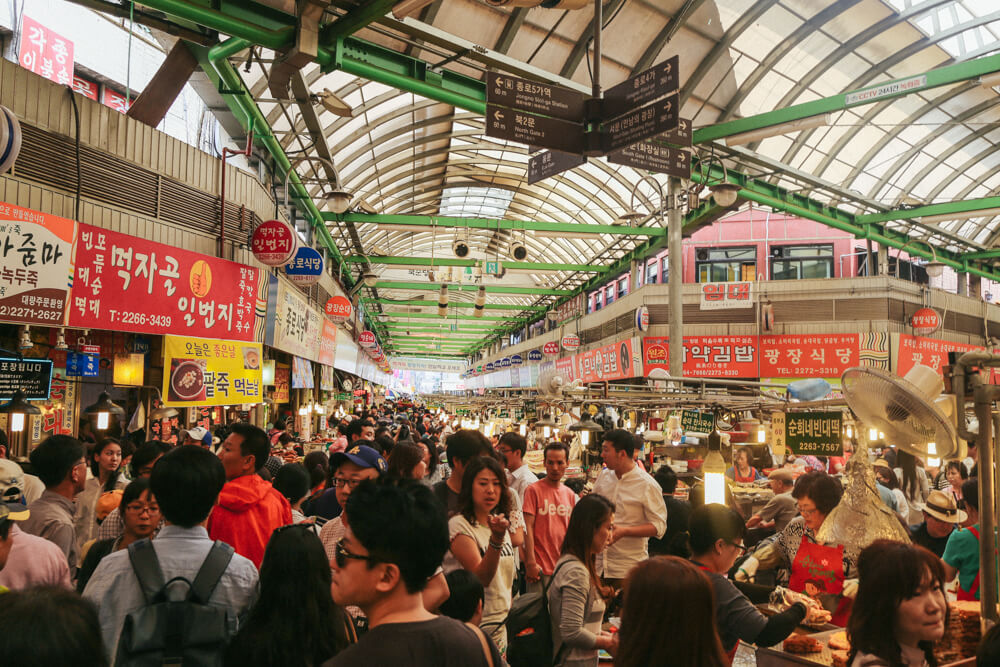 By Brock and Tanj from www.brockandtanj.com.
This market definitely has the atmosphere of what we are looking for – where the locals eat, a traditional market, and tasty food, therefore, an authentic immersion of Korean culture and cuisine. At the ground level, you can find snack stalls selling a wide variety of delicacies from pig's feet, blood sausage, porridge, boiled intestines, sushi, etc. It is best-known for its delicious Korean pancakes called Bindaetteok. If you are not into food adventures, the markets also offer silk goods, quilts, and other handmade goods. They also sell Korean souvenirs here.
Follow Brock and Tanj on Facebook, Twitter, Instagram, Pinterest.
11) Divisoria Market in Manila, Philippines
By Sara Osio from travelosio.com. 
Shopping in Divisoria is not for the faint of heart, but it's definitely one of the best shopping experiences one can ever have. If you are looking for cheap knock-offs to first class imitations to discounted original products, you can find it here. It is considered one of the National Capital Region's premiere economic centers, as street shops, tiangge-style bazaars, and shopping malls are all found here. Definitely not the safest looking place but if you want a place that's filled with every sight, sound, and smell imaginable, this is the place for you. Dress down, don't take anything valuable, and keep your wallet/cash in your front pocket. If you plan well, you'll have an absolute blast at Divisoria!
12) Chandni Chowk Market in Delhi, India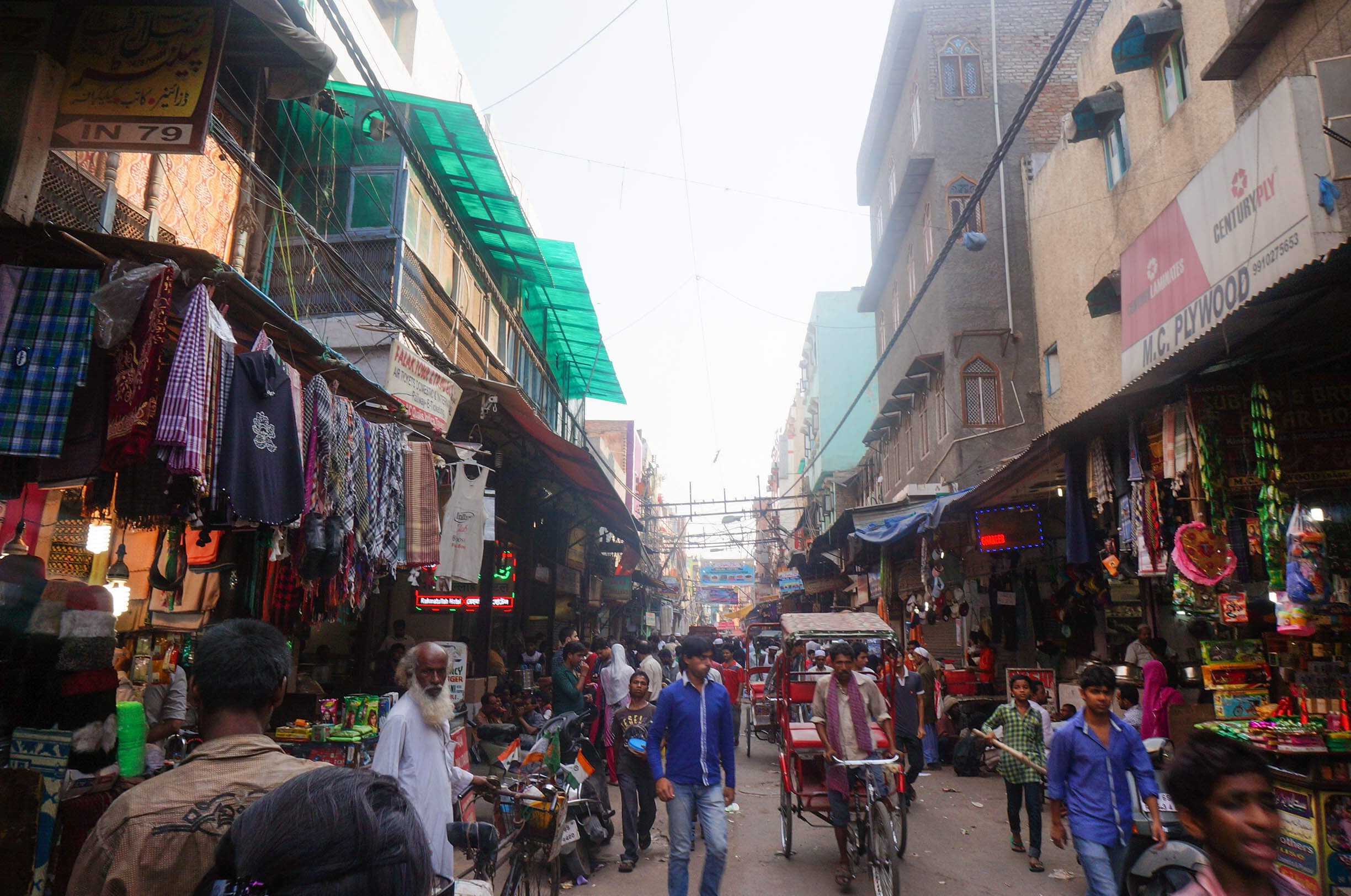 By Natalia from mytriphack.
Chandni Chowk is one of the most famous wholesale markets in India. It is a labyrinth of lanes where you can find everything: from spices to clothes, from finest restaurants to street food dhabas, from high-quality jewelry to cheap accessories less than 20 INR ($0.30 US cents). I've heard a saying among Delhiites: "If you can't find something in Chandni Chowk, it doesn't exist in the city."
The market was built in the 17th century by Mughal Emperor Shah Jahan (his most famous monument is Taj Mahal). Chandni Chowk is situated in the Old Part of Delhi which you will most probably visit for historical sites. Due to the fact that it is huge and overcrowded, I would advise being cautious about your belongings.
Follow Natalia on Twitter and Facebook.
13) Beringharjo Market in Yogyakarta, Java island, Indonesia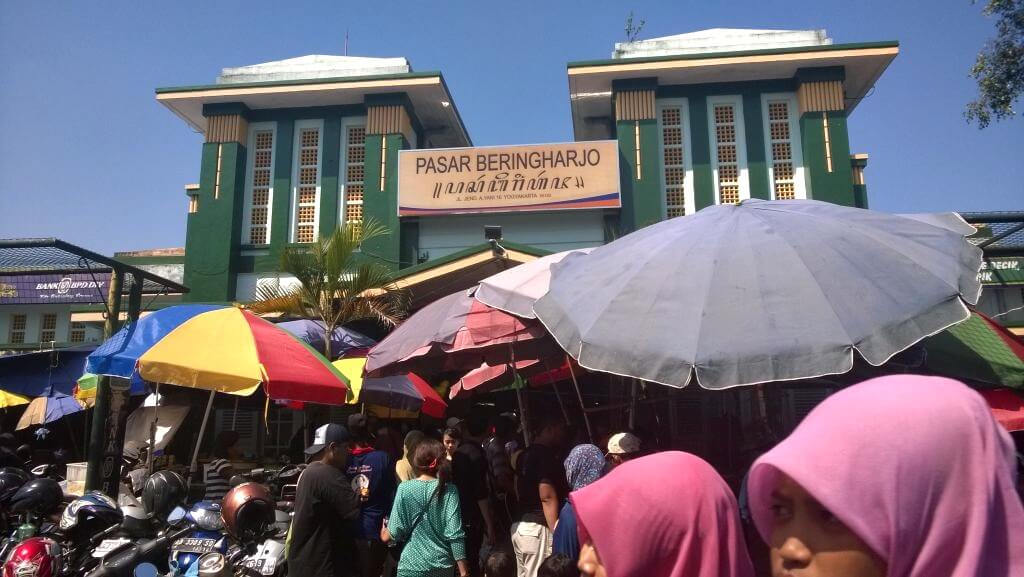 By Ria from lifeinbigtent.com.
Beringharjo Market (Pasar Beringharjo) is the biggest traditional market in Yogyakarta city, which is known as a trading place since 1758. It is located on the main Yogyakarta tourist street, Jl. Malioboro. If you are staying or will be around this street, don't miss a visit to this market.
I love this market because you can find anything you need (even things that maybe you didn't think about) in one place. You can try traditional food and drinks, and see what Indonesian daily life looks like.
The market has two separate buildings: the west (3 floors) and east (2 floors). In the front and western entrance parts, you can buy many traditional snacks and sweets. Inside, on the ground floor, you will find thousands of cotton or silk batik products. On the 2nd floor, you will smell many different types of spices and herbs. It will be a journey not only for your nose but for your eyes as well. On the 3rd floor, you can find antique things, tools, and materials for handicrafts.
In Beringharjo Market you can also buy crafts, souvenirs, accessories, exotic fruits, vegetables, electronics, and many other things. Visit this market in the early morning and you will feel the real Beringharjo Market spirit.
If you are planning to visit Yogyakarta, here are some tips on how to save money and enjoy sightseeing in the city.
For practical information, adventures, daily life in Indonesia and Asia follow Ria on Facebook.
---
Follow Two Can Travel on Facebook for more awesome posts like this one! 
---
Did you enjoy this post? Pin it for later! 
---
Do you have a favorite market in Asia?
Share in the comments below!
---