This article may contain affiliate/compensated links. For full information, please see our disclaimer here.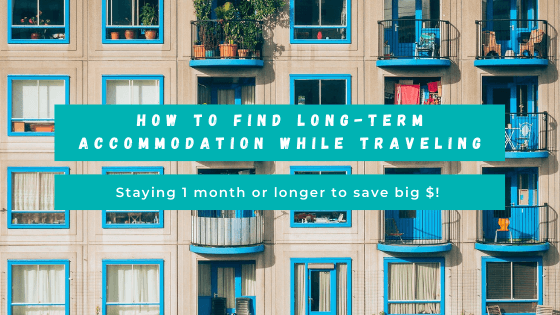 How to find less expensive (or even free) accommodation while slow traveling around the world.
WATCH Digital Nomad Accommodation ~ 6 Ways to Travel for Cheaper or Free! ON YOUTUBE
When it comes to the cost of living while traveling long-term, one of the most expensive parts is accommodation. That's one of the reasons why we love slow travel! The longer you stay in a place, the more you can cut down on your overall expenses.
Just as importantly, when you travel slowly you can get to know a place better. You can form deeper connections with the people there, try more of the local food, create routines for yourself, and immerse yourself in the community. When long-term travel is your lifestyle, these things become very valuable for your overall health and happiness. They are for us!
We like to stay at least one to three months in most of the locations we travel to. Then we use it as our base for further exploration in the region and just enjoy life.
The two main ways we find long-term accommodation while traveling are through Airbnb and house sitting/pet sitting. And there are several other ways we've found accommodation that we'd also like to share with you.
The Best Ways to Find Long-Term Accommodation While Traveling (Staying 1 month or longer)
In this article, we'll go through six of the best ways you can find long-term housing while traveling slowly.
Airbnb Monthly Rental
When you book a monthly rental on Airbnb, staying for 1 month or longer, many hosts offer a big discount. Sometimes up to 50% off!
Here are some examples with screenshots from Airbnb comparing the cost to stay at the same place for different lengths of time.
Let's say you want to find an Airbnb in Berlin, Germany.
When you book for a 1-week stay (7 nights) at this beautiful 1-bedroom apartment in Berlin, the total cost is $454 ($64.86/night). Not too bad.
If you book a three-week stay (21 nights) at the same apartment, the total cost is $1,271 ($60.52/night). Getting cheaper. But wait…
This is where things get really good! When you book a 1-month stay (30 nights) at this same property the total cost is $1,342 ($44.73/night). That's because the Airbnb Monthly Discount has kicked in!
If you compare the overall cost of the 21-night stay with the 30-night stay (1,342-1,271=71), the difference is $71. That means if you were to book the additional 9 nights (30-21=9), you're only paying $7.88 per night for each of the last 9 nights!
It's worth checking the price of places on Airbnb with a monthly discount because even if you don't need to stay for the full 30 nights, it could still work out to be cheaper.
In this Berlin example, even if you only wanted to stay at this apartment for 23 nights, you're still better off booking it for 30 nights because it is cheaper overall. Sometimes the monthly discount kicks in after 29 nights, so you can play around with the dates too.
This works all over the world!
Check out the long-term Airbnbs we stayed at in Bucharest, Romania and Bangkok, Thailand.
House Sitting and Pet Sitting
Living out of Airbnbs and having the comforts of a home or apartment is great. But the biggest game-changer for us in terms of our lifestyle and saving money on accommodation has been long-term house sitting and pet sitting. This way of travel is ideal if you are responsible, like pets, and are willing to be flexible with your travel dates.
How do you find house sits and pet sits?
We usually find house sits and pet sits through the website Trusted Housesitters. We have also done house and pet sits through friends and friends of friends.
There are lots of different house-sitting websites out there. We'll put together another article sharing about those. In this article, we'll focus on Trusted Housesitters because that's the website we use and have had great success with.
How does it work?
Trusted Housesitters works as an exchange. You stay in a place and take care of the home, pets, and plants/gardens. The owner has peace of mind while they are away knowing their home and animals are being looked after, plus they save money not having to board their animals.
The benefit for you is getting to stay in their homes without having to pay rent. We love the chance to have temporary pets since it's not easy to have pets of our own with our full-time travel lifestyle. Not only do we save money by not paying for Airbnbs or other accommodation, but we've also had the chance to stay in some incredible properties in amazing locations that we wouldn't typically be able to!
House sitting is a win-win for both the housesitters and the homeowners. We are very grateful for the opportunities we've had through house sitting and the lovely people and pets we've met along the way.
Our experiences house sitting
Since April of 2019, we have done seven house sits, five of them through Trusted Housesitters and two through friends and friends of friends. We've taken care of dogs, cats, and sometimes just the home and gardens. In total, we've had 13 months of free accommodation through house sitting (so far)!
We usually try to find long-term house sits that are for at least one month. But we've done house sits ranging from one week to six months.
We've been fortunate to get house sits all over the world including in Thailand, Hong Kong, Malaysia, Romania, the USA, and France.
Trusted Housesitters has memberships for sitters, owners, or you can have a combined membership as both a sitter and an owner. Trusted Housesitters is one of the most expensive housesitting websites out there, however, we believe it's completely worth it. There is a huge database of housesits all over the world. Members are verified and there are reviews from both owners and sitters so you can feel secure with the sits you choose. Just getting one house sit will more than cover the cost of your membership. We've saved thousands of dollars on accommodation over the past three years since we joined. We have the Basic Membership and that works great for us! Use our affiliate link to get 20% off your membership. 

Facebook Groups and Facebook Marketplace
Finding accommodation through Facebook groups and Facebook Marketplace is becoming more common all around the world. Facebook can be a great place to find long-term accommodation while traveling.
Something to keep in mind when booking accommodation through Facebook is that you need to be diligent in checking out the person making the listing and ask lots of questions to ensure that where you are booking is safe.
One way to find accommodation through Facebook is to search for expat groups in cities all around the world. These groups are a great way to learn more about living in that place and you can often find info about housing options too. Some of these groups are private, so you'll need to answer questions and let them know you are planning to relocate or travel there soon in order to get in. Search "expats X city" to find these groups. Be sure to follow all of the group's rules once you are in!
Real-life examples
In Cambodia, especially Phnom Penh where we used to live, going through Facebook groups is a very common way of finding housing. There are over a dozen Facebook groups that pop up when you search "Phnom Penh Housing" on Facebook. Here are two Facebook groups you can check out as examples: Phnom Penh Housing and Phnom Penh Shared Housing. The second group is to find a room in a house if you would prefer to have roommates and lower your accommodation costs even more.
You can do similar searches for countries and cities all around the world. Type in combinations such as: 'X city name Apartments', 'housing X city name', or 'short term rental furnished X city name' in the search bar on Facebook.
Our experience using Facebook to find housing
Personally, we've only used Facebook Groups once to find long-term accommodation while traveling. In our experience, it worked out really well! We were in Chiang Mai, Thailand and our next stop was Bangkok. We knew we wanted to get a place for one month, but we weren't finding anything that looked good within our budget on Airbnb (which doesn't happen often!).
I started looking around in Facebook groups and Facebook Marketplace in Bangkok and found a listing for an apartment in an excellent location just slightly higher than our budget. I sent a private message to the person who posted the listing. We spent time looking over his profile to ensure he was a real person and that he seemed safe and trustworthy.
After several conversations back and forth and asking lots of questions, we felt comfortable and decided to book with him. We were even able to negotiate with him to get the price down to what we wanted to pay!
He drew up a contract which he emailed to us and sent us check-in instructions. He wasn't actually there when we checked in but the process went smoothly with getting the key and getting in. We signed the contract in person once we arrived then took pictures of the contract and emailed them to him.
We paid him by going to a bank in Bangkok and paying directly into his bank account. It was much different than anything we'd done before, but it worked out well and wasn't too much of a hassle. (As an aside, the apartment was amazing! Especially for the price!
We wouldn't default to using Facebook for finding apartments, but if you aren't finding what you want on Airbnb, Facebook groups and Facebook Marketplace are good places to look for more housing options.
Have you ever used Facebook to find housing? Share your experience in the comments!
Scouting Out Places On the Ground
"For Rent" Signs
If you're already traveling in a place and decide you want to stay there longer, one option is to walk around town and look for 'For Rent' signs in the areas you'd like to live in. Then you can call directly and go see the place in person before you book!
I know it seems strange that people might still post 'For Rent' signs these days, but some owners aren't tech-savvy enough to know how to post their place online. It's also quite expensive to advertise your home or apartment online, so some homeowners choose not to do it.
It can get a little tricky if you don't speak the local language, but it's certainly worth trying as many homeowners speak English or have family members who do and can help.
Local Real Estate Websites
Another good trick is to look at local real estate websites and find places for rent in the areas you want to stay in. A quick Google search with your VPN off will help you find these.
This is something we did when we were already traveling in Bangkok back in 2018. We knew we wanted to stay there longer so we started Googling "short-term apartment rentals in Bangkok."
We found a place listed on a local rental website in an amazing location in downtown Bangkok. The price was great, but the pictures were terrible. They were super grainy and it was hard to tell what it really looked like.
I called and asked if we could come by to see the place in person. When we arrived it was so much better than it had looked online and we couldn't believe how low the price was for that location. We signed a one-month contract and moved in! We ended up staying at that place on three different occasions when we traveled to Bangkok, contacting the owner via email each time before we arrived.
Long-term Stays in Guest Houses
A guest house is another name for a hotel in many parts of the world. Many guesthouses welcome guests to stay long-term! You can even negotiate the rate down when you book a longer stay upfront.
Staying long-term in a guest house is a good option if you don't require all of the amenities of an apartment or house and are okay with just having a room and bathroom. In some cases, you may have access to a kitchen on the property where you can cook some of your meals.
Oftentimes, guest houses are smaller and more simple than hotels, but they can still be very comfortable. In many cases, guest houses are family-run businesses and the family may even live on-site.
We stayed in a lovely family-run guest house in Goa, India for almost four weeks in 2019. Our room and bathroom were very simple but comfortable enough. The owner rented us a motorbike so we could get around more easily. She also helped us organize transportation when we needed to get to the train station. She was available to answer any of our questions during our stay and we felt a nice homey vibe staying there.
Since there wasn't a kitchen we could use, we ate all of our meals out and also did our work from different cafes and restaurants. This worked out well because the accommodation was quite inexpensive and we preferred to get out and about to explore every day.
Depending on where you are traveling, staying in a guest house long-term may be your best and most affordable option for accommodation.
Bonus Tip: Friends and Digital Nomad or Expat Communities Online
Friends you meet along the way during your travels can be some of your greatest inspirations and resources for places to go and where to stay. You'll meet a lot of people once you've been living the digital nomad lifestyle for a while. Stay in touch with them!
Don't hesitate to ask questions or for advice from people. Most travelers are generous and will be happy to share information with you, just as you would for them. Plus, this can be a really great way to find accommodation options that are vetted by people you know and trust!
You can also get involved in different digital nomad and expat communities online. You'll find people from all over the world in digital nomad and expat Facebook groups who are openly sharing information to help one another.
These groups can be great resources for figuring things out, including housing! Search for "expats in X city name" or "digital nomad X city name" on Facebook.
We hope this information is helpful as you figure out designing your own travel lifestyle. We have found a lot of balance and enjoyment in slow traveling, and the savings from long-term accommodation has made this lifestyle more sustainable for us as well. Plus, we have more money available for food and activities!
If you have any questions or want to chat, email Jen@twocantravel (dot) com
You can find all of the info from this article on our Youtube channel too!
---
Pin This for Later
---
Which of these tips have you tried or would you like to try? Have any questions?
Let us know in the comments!
---
Disclaimer: Two Can Travel is an affiliate for some retailers. This means we earn commissions if you click links on our blog and purchase from those retailers. We recommend services and products we trust and use ourselves.