This article may contain affiliate/compensated links. For full information, please see our disclaimer here.
For a sense of freedom, and the chance to do something arguably stupid and dangerous, there's nothing like renting a motorbike and riding around a country with few to no traffic laws.
It's one of our favorite things to do!
We spent a glorious day and a half motorbiking in Chiang Rai, Thailand between sites. Unfortunately we went about things the opposite way than we should have, turning up just as the White Temple was closing for lunch from 12-1pm, and arriving at the wrong time of day so both the White Temple and the Black House were backlit in our pictures. I wrote this so you can learn from our mistakes, maximize on natural sunlight for your pictures, and enjoy a day of motorbiking adventures in Chiang Rai.
Be warned: This journey is not for the faint hearted as you will be riding on busy Highway 1 for much of the trip. Many local people do this, so follow their lead by sticking to the left side of the road and use caution at all times. Remember, on a motorbike you are the little guy on the road, so take heed!
Here are the things you will see and experience on this one-day motorbike journey around Chiang Rai, and the best order to visit them based on the sunlight for photos:
1 The White Temple (Wat Rong Khun)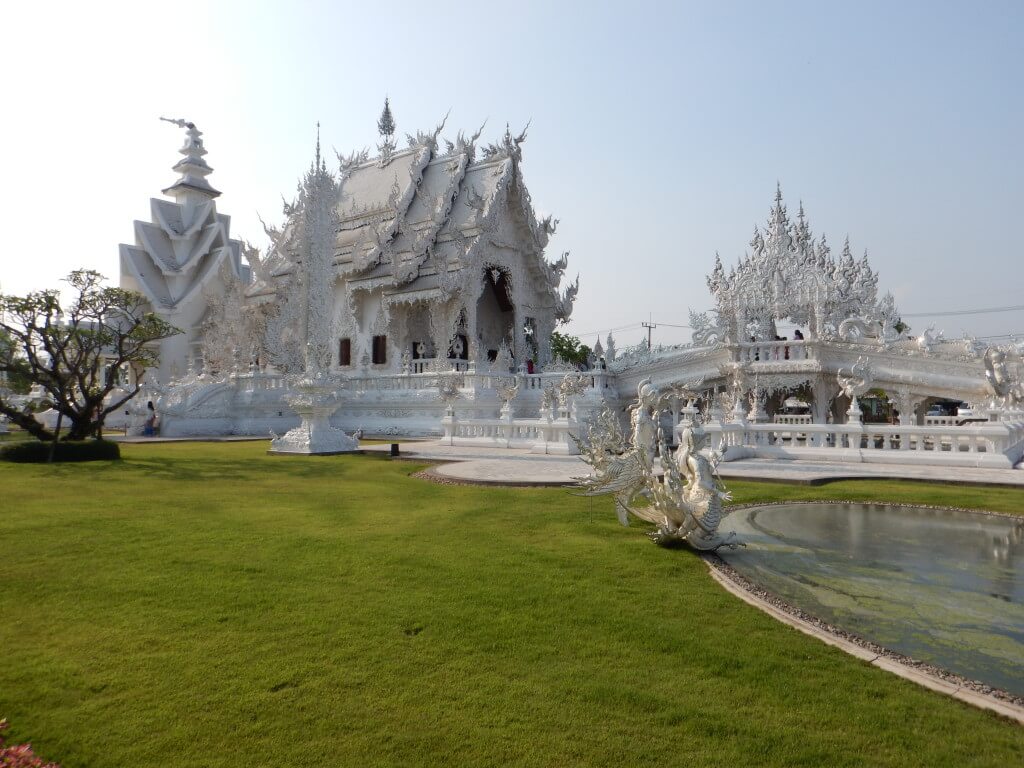 2 Khun Kon Waterfall (Hike 2.8 kilometers round trip to this 70 meter high waterfall)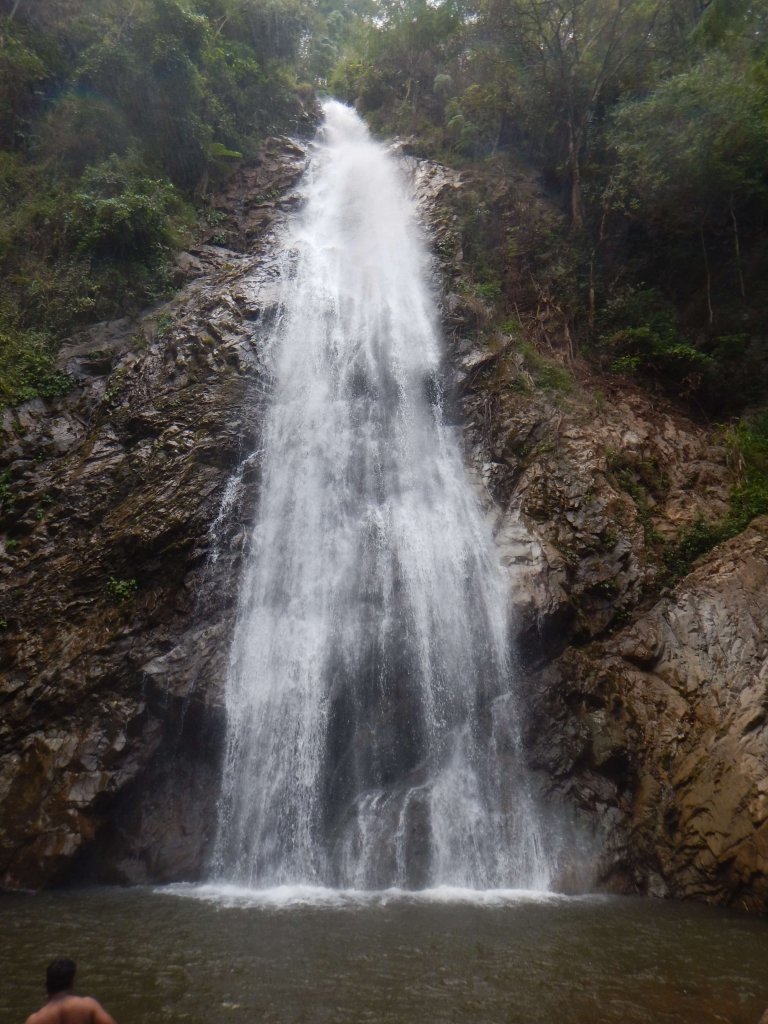 3 Muslim Food at Rosprasert (If you're hankering for an alternative to Thai and Western food)
4 Black House (Baan Dam)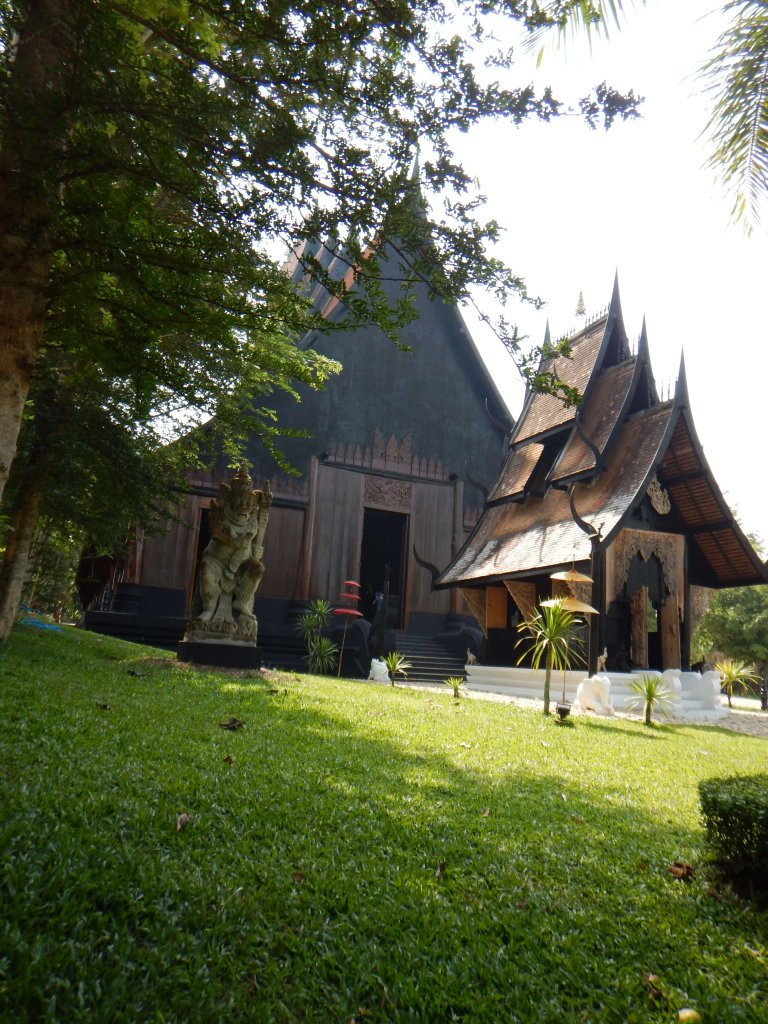 Recommended to bring on your trip:
1 liter of water per person
Sunscreen
Snacks
A map of Chiang Rai
Something to cover knees and shoulders for the White Temple
Camera
Money for lunch/snacks
Step One: Rent a motorbike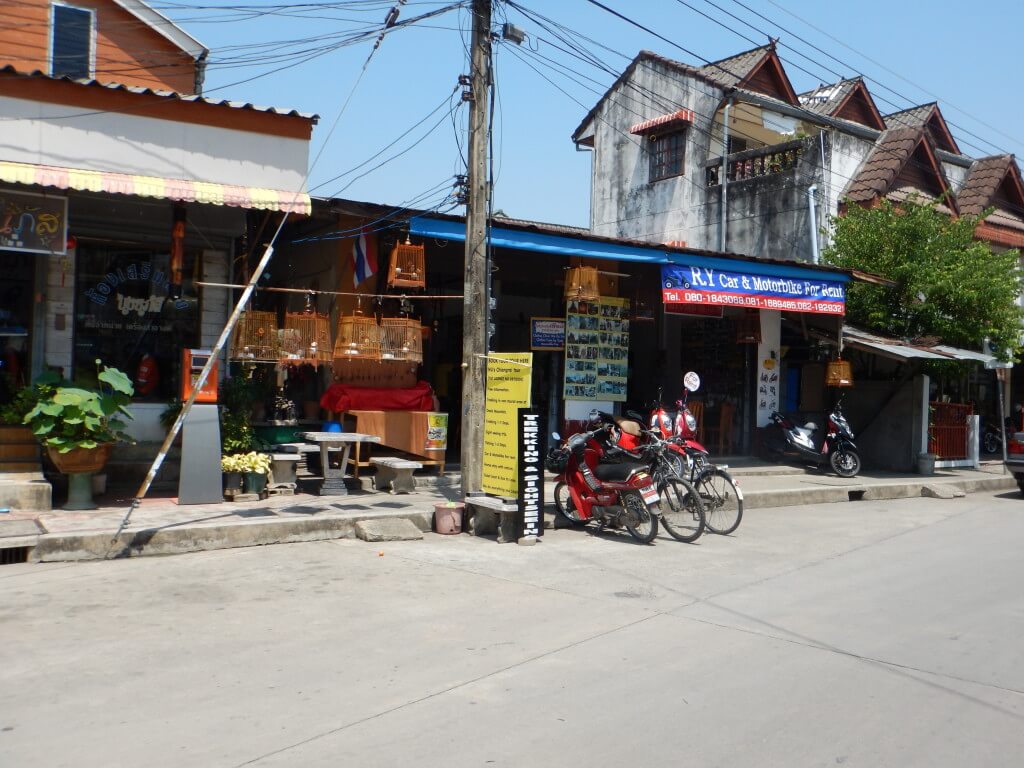 To begin your journey, rent a motorbike from one of the numerous motorbike rental shops in town. Many are located around Jed Yod Temple. We rented an automatic 125cc bike from the shop pictured below on Jed Yod Road for 200 Baht/24 hours. We gave one passport as collateral, which they locked safely in a drawer until we returned. 60 Baht (about $2) filled our gas tank and should be enough for the entire journey, and then some. 
We recommend beginning your journey much earlier in the morning than we did. Aim to hit the road by 8am, earlier if possible.
1st Destination: The White Temple (50 Baht for foreigners)
Getting there: The White Temple is located 12km south of Chiang Rai city center. Depending on where you rent your motorbike from, ask for directions to get to Highway 1. Drive south on Highway 1 for about 12km. You will see the White Temple from a distance. Be prepared to move into the right lane in order to make a right turn to reach it. Try not to miss the turn, like we did!
The White Temple opens at 6:30am, and since it faces east the golden glow of sunrise will make for some gorgeous pictures. Plus you'll beat the throngs of tourists arriving by bus later in the morning and afternoon.
2nd Destination: Khun Kon Waterfall (Free)
Getting there: Khun Kon Waterfall is located 19km northwest of the White Temple. Continuing on the small road where the White Temple is located, follow the signs to Khun Kon Waterfall. There is a point when you have to turn right onto a smaller road leading up a mountain toward the falls. A sign directing you there will still say Khun Kon Waterfall, but is easy to miss (at least it was for us!), so keep your eyes peeled. You may see a sign for Canary Resort, which will also lead you to the correct road. Should you need to stop and ask for directions, there are many friendly locals willing to help you out. Trust us on that…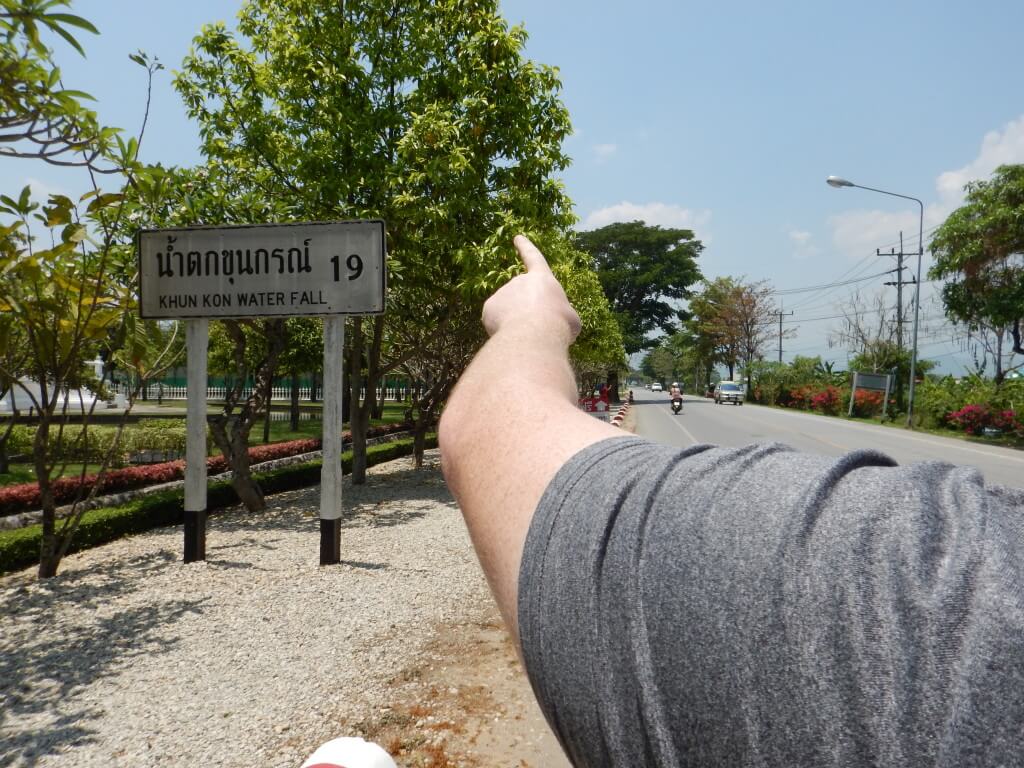 Once you arrive at the falls you can park your motorbike and begin the 1.4km hike to the falls. The path is shaded the whole way by a jungle canopy with tall bamboo stalks and beautiful flora. A dip in the pool at the base of the falls is the perfect way to cool down during the hottest part of the day.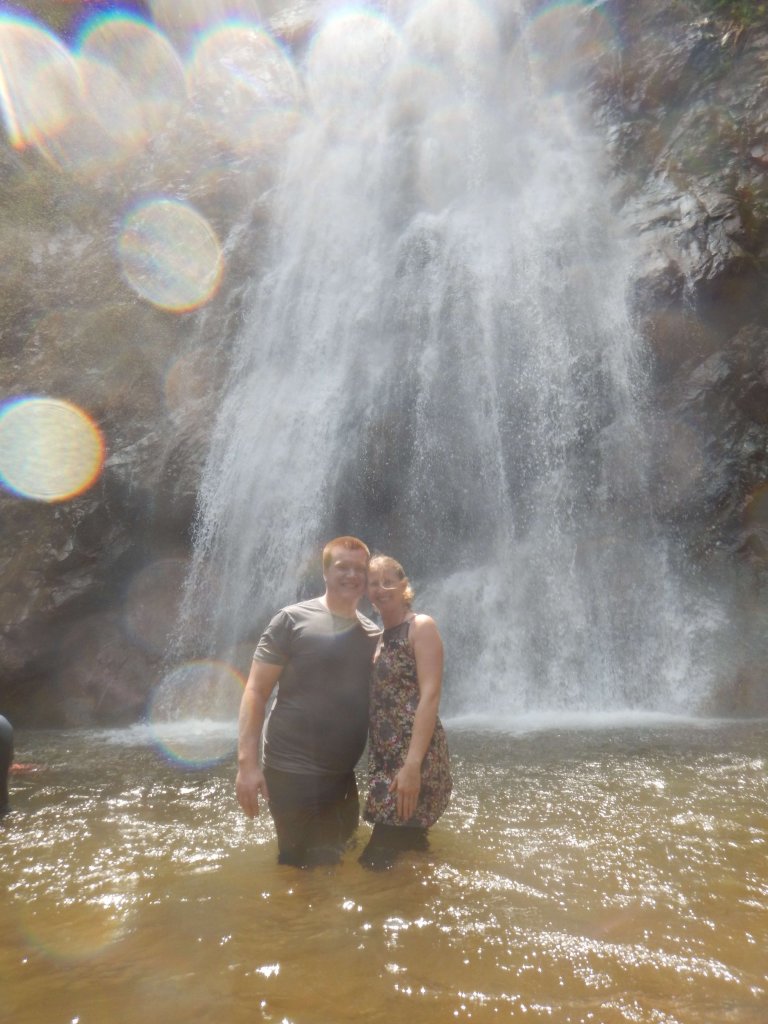 In an effort to remain modest like the locals do, and having not planned ahead, we went swimming in all of our clothes. It actually worked quite well to beat the heat and we were dry again in no time!
If you get hungry there are many vendors in the area before the hike begins where you can stop to enjoy lunch or snacks.
3rd Destination: Rosprasert Muslim Restaurant
To get to the Black House will be a bit of a drive from the waterfall, about 30km, so you can alternatively stop back in Chiang Rai city center for a break and some lunch. If you do we highly recommend eating at Rosprasert. We stumbled upon this restaurant after making a wrong turn, and had one of the best meals we've ever had in Thailand-seriously! If you don't make it there for lunch, try them for dinner. Note: The restaurant closes at 7:30pm.
Try the beef biriyani or Khao Soi noodles with chicken.
Getting there: To get to Rosprasert Muslim restaurant go back to Chiang Rai the way you came. From Highway 1 turn left onto Phaholyothin Road, the road in Chiang Rai lined with ornate golden pillars. Just past the Golden Clock Tower you'll turn right onto Isaraphab Road. The restaurant is on the left-hand side, immediately past the mosque. If you have trouble finding it, ask anyone near the clock tower where to find the mosque.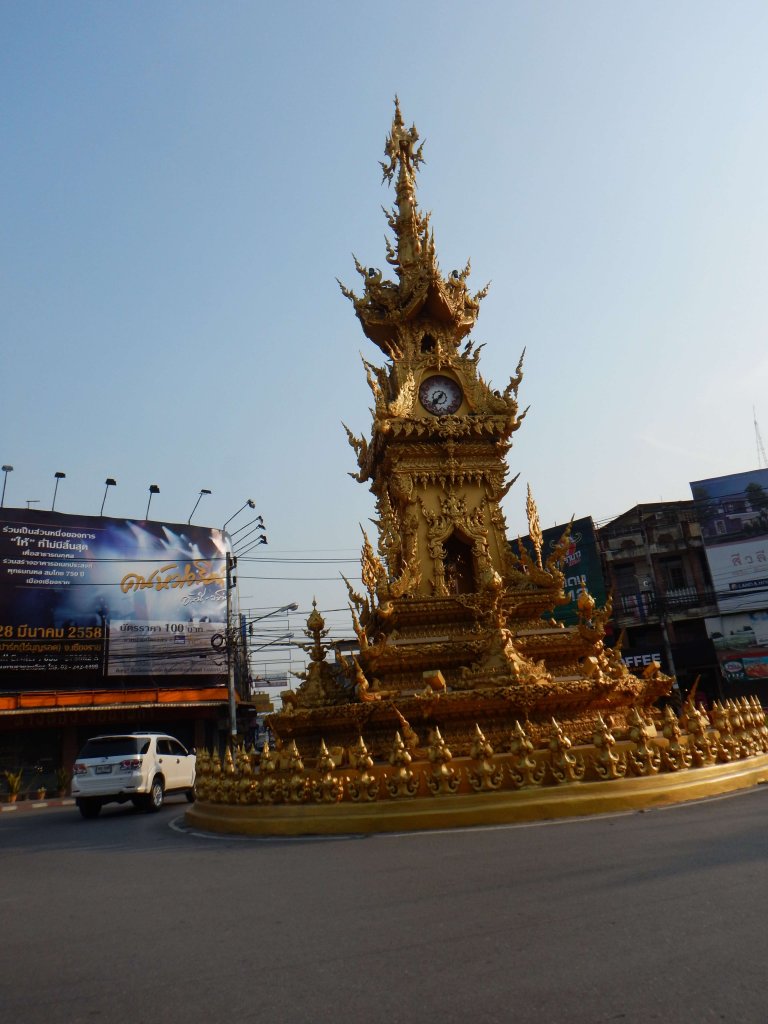 4th Destination: The Black House (80 Baht for Thais and non-Thais)
The Black House is about 10km north of Chiang Rai city center on Highway 1. It is not clearly marked along the way, so follow these directions for an easier time finding it.
Getting there: Going north on Highway 1 you'll cross a river and pass the airport. Once you pass the airport begin to look out for Rajabaht University. Once you pass Rajabaht University keep your eyes peeled for a wooden sign in Thai with the number 13 about 1.5km ahead and turn left. The number 13, meaning Street 13, is the important part! In about half a kilometer you'll come across a blue sign in Thai where you'll make another left. The Black House is just a few minutes ahead. We haven't been back to the Black House since 2016, but hopefully there is better signage now to help you get there!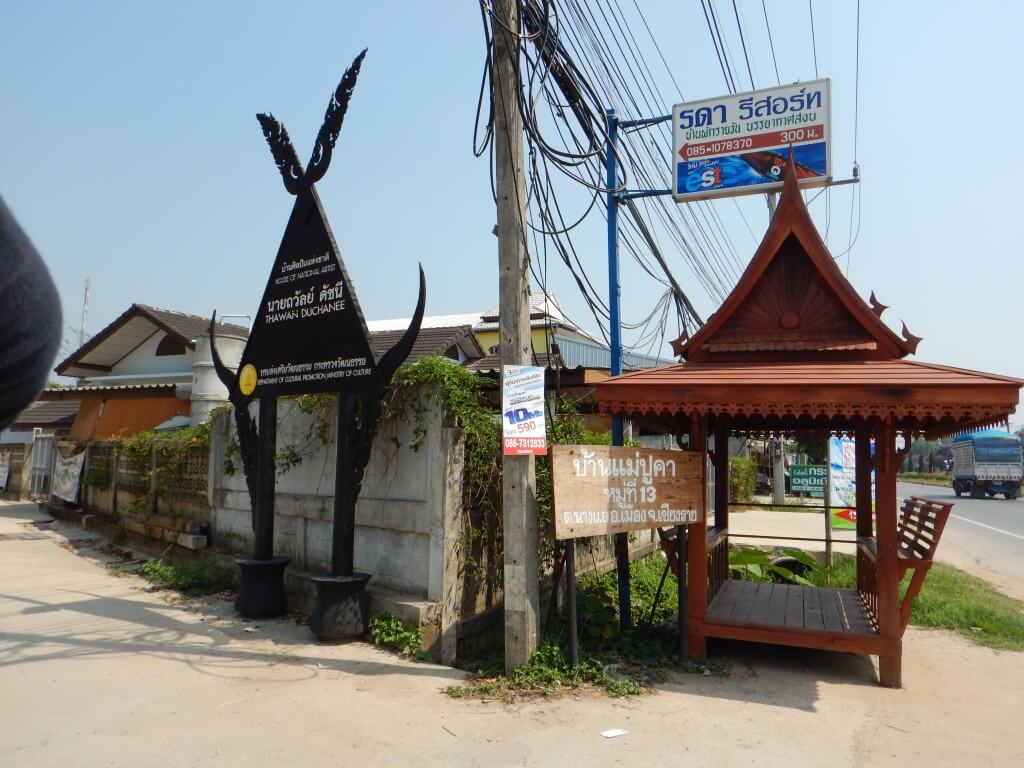 Although we had a wonderful day motorbiking in Chiang Rai, this would have been a better order to see the sites. If you decide to do this one-day trip or have any questions, please email us or leave them in the comments.
---
Like this post? Pin it for later!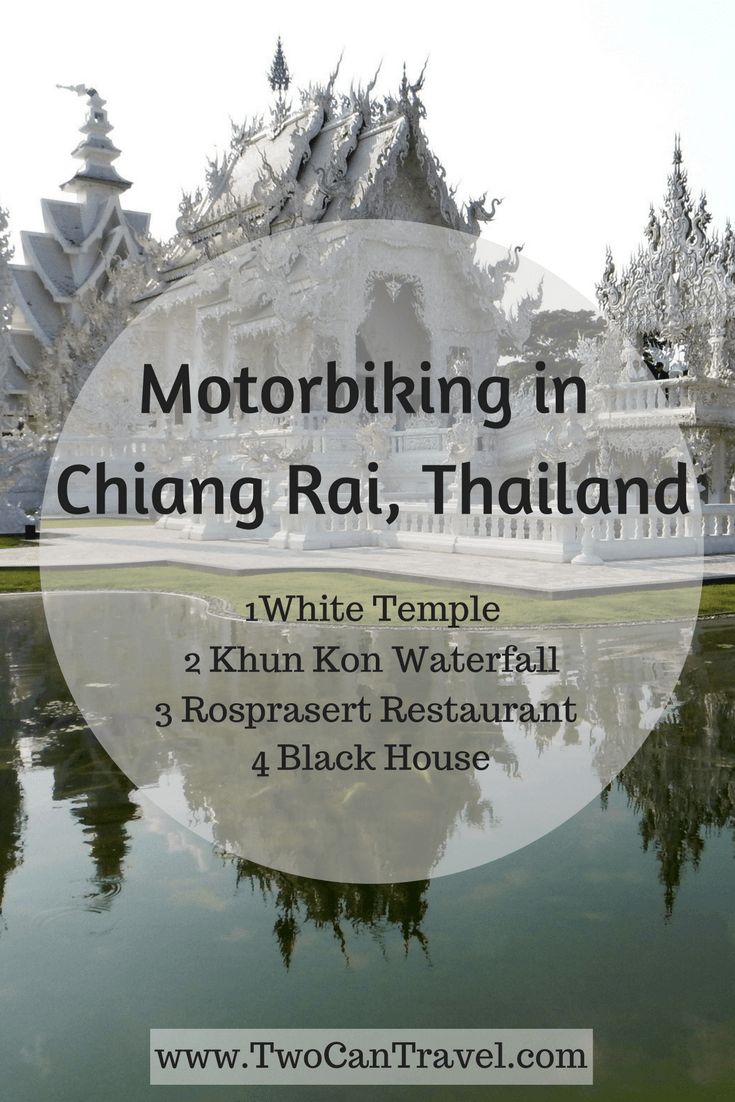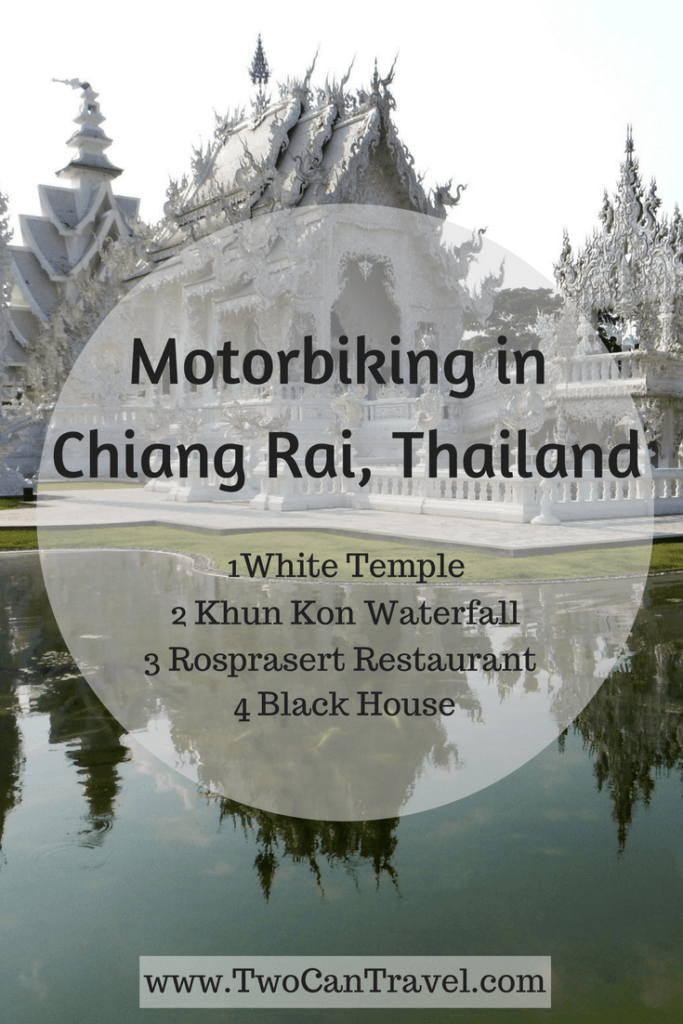 ---
Have you ever rented a motorbike during your travels? How was your experience?
---