This article may contain affiliate/compensated links. For full information, please see our disclaimer here.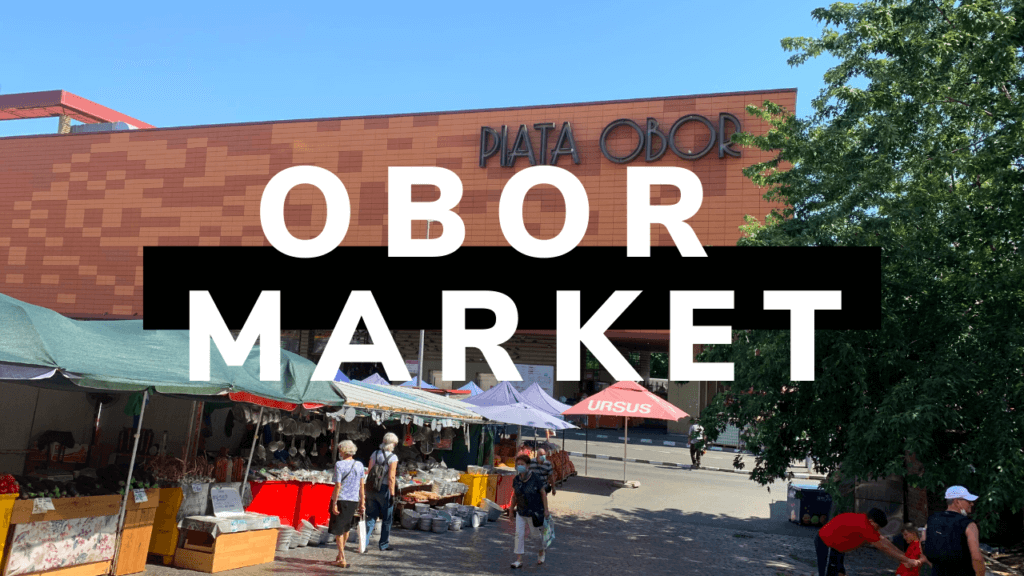 Take a trip with us to Obor Market, one of the largest and oldest markets in Bucharest!
When we spent two months in Bucharest, Romania, we were told that we should visit one of the largest markets in the city, Obor Market, to check out what the locals were buying and to learn more about Romanian culture. And maybe find some Hot Tamales! (Stevo's favorite candy. In ten years of traveling, it's only happened once. But hope springs eternal.) 
One of our favorite ways to get to know a new place is to visit the markets. What are people buying? What's for sale? Does anyone here sell Hot Tamales? (Spoiler: they didn't)
How to get to Obor Market
Bucharest is an easy city to navigate by public transportation. Obor Market is located in Sector Two of Bucharest, about 15 minutes from the city center. There are many ways to get to Obor Market.
Light Rail Tram
You can take the light rail tram #21 that runs throughout the city. Get off at the Bucur Obor stop and then it's just a short walk from there to Obor Market. We definitely recommend doing this in at least one direction as it's an interesting experience!
Metro
Alternatively, you can take the metro to the Obor station which is right by, you guessed it, Obor Market. From there, it's a quick walk right into the market.
Ride-hailing Apps
Public transportation is usually a good way to get around in Bucharest. There are taxis and ride-hailing apps in Bucharest like Uber and Bolt car, but traffic can be very heavy even in the middle of the day. Sometimes it's easiest to take the metro or light rail to the closest station then take a car from there to your destination. And it can be cheaper.
Obor Market Hall #1
Obor Market is split into two large halls. The first hall has a high ceiling that makes the room feel like an aircraft hangar. But instead of aircraft, the hall is filled primarily with household goods like washing detergents, cookware, and an unbelievable amount of cookies. Some of the stalls have literal mountains of products that look on the verge of collapse but stay up due to some marvel of soap bottle engineering. 
There is a balcony near the entrance to the main hall that gives a bird's eye view of the entire hall and can help you find the products you're looking for without walking the aisles. You can also find some of my favorite things to look for in local markets: off-brand misprinted t-shirts where all your beloved childhood characters are the wrong color. Purple Minions, anyone? 
There are some shops and stalls around the perimeter of the first hall selling dairy products. Milk, cheese, and yogurt, all under one roof. There are a few stalls selling fresh fish as well as premade marinated cook-at-home meals. And of course, no market would be complete without a well-stocked bakery full of all sorts of sweet chocolatey goodness.
Obor Market Hall #2
Ground Floor
The Piata Obor hall is a mall unto itself. The ground floor is a produce market. Take a walk around to take a look at what all the stalls have to offer. It's easy to find staples like tomatoes, potatoes, and carrots. But do yourself a favor and take a lap around the rest of the market to find some of the less common gems like locally produced honey, small sachets of fragrant lavender, and long ropes of braided garlic. Really all the things you'll need to make yourself a nice bowl of ciorba.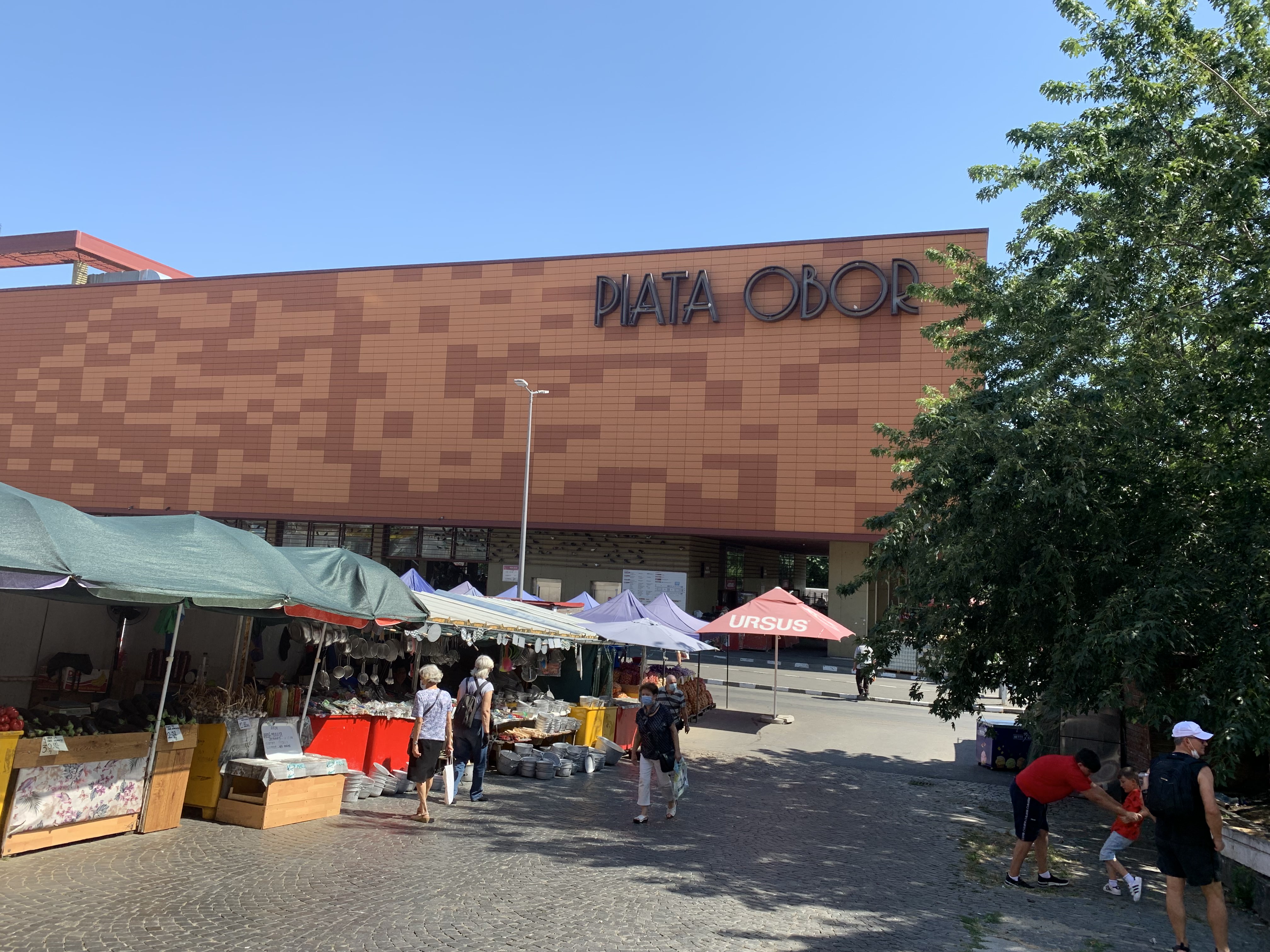 Second Floor
Upstairs you will find many glass-front stalls and shops offering a wide assortment of meats, dried and otherwise. If you like pork in every preparation imaginable, Obor market is the place for you. There are sampler plates in front of some of the meat shops so you can try their meaty offerings to your heart's content. Though do be warned: if you eat too much from the meat shop samplers, your heart will not be content. 
There are more cheese shops than you can count, refrigerated rows stacked with cheeses you've never heard of but absolutely need to try. Try the telemea, a traditional Romanian cheese typically made of sheep's milk, but it can also be made from cow or goat's milk. It has a similar taste to feta cheese, but a more watery texture and not as crumbly. Make sure to try some of the different varieties of cheese at the counter. Telemea is typically prepared in brine so it can be very salty!
There are even shops with rows and rows of different kinds of olives. Apparently, there are an astonishing variety of different kinds of olives! Who knew there were so many different kinds of olives? What else don't I know?
The Top Floor
The top floor of the mall has a large home improvement section. Anything that you can't find on the first two floors you're sure to find in the aisles of the top floor. Do you need a walk-in shower with a seat and more water jets than you can count? Check! A pool raft that can double as a floating beer cooler with space for over 100 beers? Check! Dog statues that can be given as gifts to people you don't like? Check!
Outside
Outside the two halls, there is a larger outdoor market where you can find products similar to those found inside the halls except now you're outside. Take home a nice houseplant that you can kill at your leisure or a bag of chicken that someone else has already graciously killed for you.
History of Obor Market
Obor Market has been serving Bucharest for many years. Hundreds of years before it was an official market, the area was a meeting place outside of Bucharest proper for local farmers to come together and sell their wares. 
As the city expanded, so too did the market until it came to cover over 16 city blocks of different indoor and outdoor areas. 
During a communist-era urban renewal campaign in the 1970s, much of the market was torn down and replaced with the two halls, a small park, and public housing. Though the market is smaller than before, it still serves all the same functions and, thankfully, you can still buy potatoes. 
What to Try
All that shopping for groceries can build up an appetite. Luckily, there are two barbecue joints right outside the market between the two buildings slinging one of the staples of Romanian snacks: mici. 
Mici, or mititei, is a caseless sausage made of beef, lamb, and a bunch of spices. They're good. Really good. Imagine a cross between a breakfast sausage and a hot dog that tastes better than both.
And not only are they good, they're also dirt cheap. The typical human being probably doesn't need more than two or three mici at a time. These sausages are packed with greasy flavor and are very filling. 
Mici is usually served with a mini-loaf of bread and a healthy splash of mustard on the side. There are no rules when it comes to eating mici. You can enjoy all of the parts separately or, if you like to live dangerously, you can put the mici in the bread, spread on the mustard, and have yourself a Romanian hot dog. (Side note: definitely do this. The bread soaks up the mici grease and the mustard beautifully.)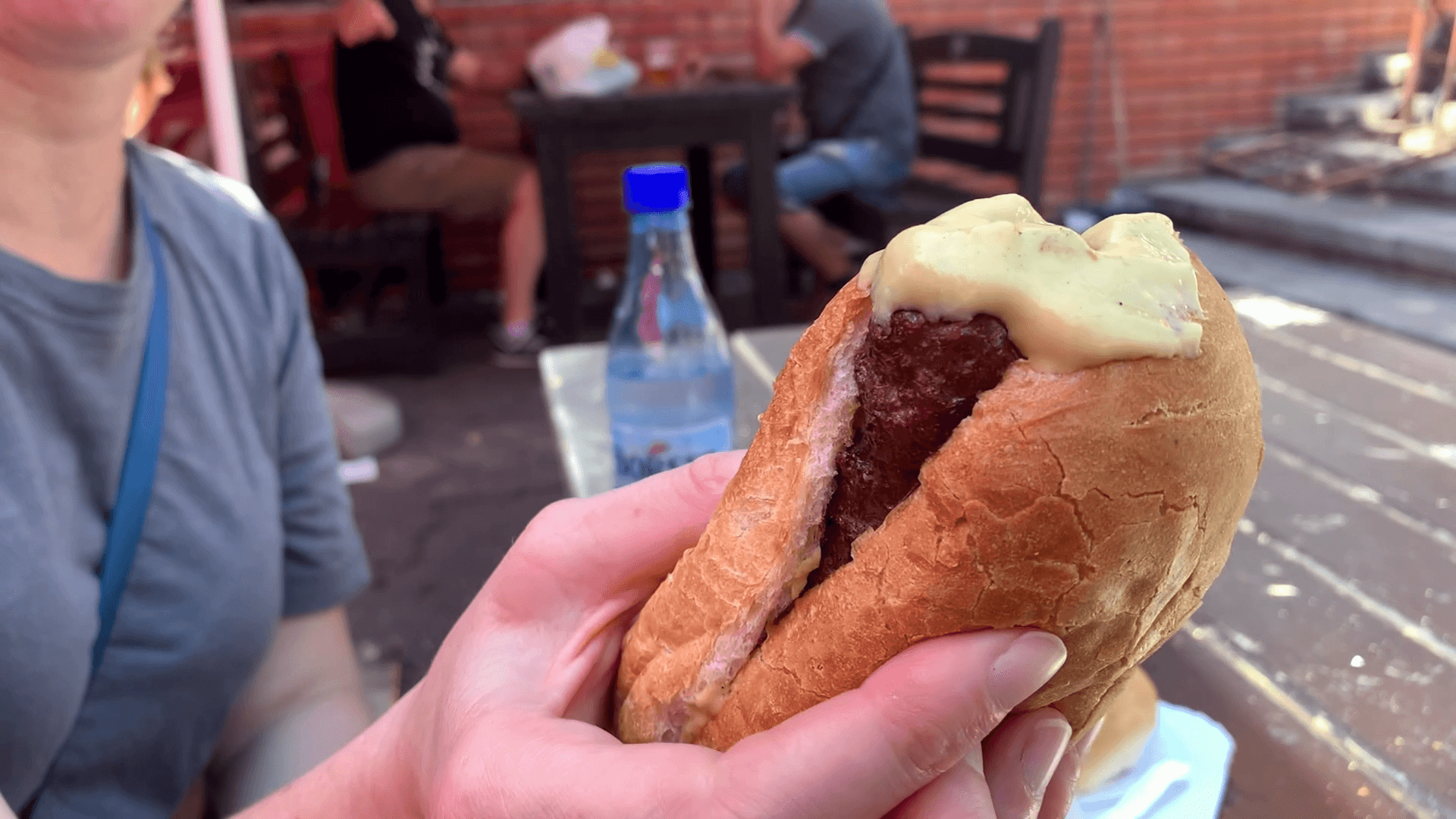 The best thing to try at Obor Market is everything. The folks running the stalls are more than happy to let you try their products to help you pick the right meat, cheese, honey, or olive for the occasion. Make sure to show up hungry! 
There are some stalls outside the market selling slushies. Be warned, the yellow flavor isn't just lemonade, it's lemonade and mint. Not a bad combination, but it is surprising if you're not expecting it. 
There are bakeries that have delicious bread and pizza to fuel your shopping adventure. And don't forget to buy some coffee at one of the cafes to get properly caffeinated for shopping!
Nearby Obor Market
Near the market is Parcul Obor. Built in the 1970s as part of the aforementioned urban renewal effort, the park is a nice spot to relax before or after shopping. There are plenty of shaded benches to sit on and watch the world go by and sort out your shopping list. 
There is a statue in the park honoring "Stephen the Great and Holy" (Ștefan cel Mare și Sfânt) prince of Moldovia from 1457 to 1504. The history of Bucharest, and Romania as a whole, is a fascinating tale that dates back to the Roman Empire. The feeling of sitting in a park designed and built during the communist regime of the 1970s, looking at a statue of a ruler from the 15th century, in a country where the written history stretches all the way back to the 1st century and the Roman Empire is a surreal experience. Luckily, there's a stall in the park that sells ice cream to help your brain cool down.
In Conclusion
Obor Market is a great snapshot of Romania. It's a place where you can interact with people you might not normally have a chance to interact with during your trip to Bucharest. It's a chance to see how local people shop and what they eat. If you're in Bucharest, do yourself a favor and visit Obor Market. Try the mici.
---
Did you like this post? Pin it for later!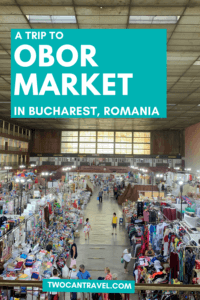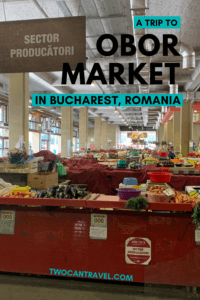 ---
Do you enjoy visiting local markets during your travels?
Tell us about some of the most interesting markets you've been to in the comments!
---