This article may contain affiliate/compensated links. For full information, please see our disclaimer here.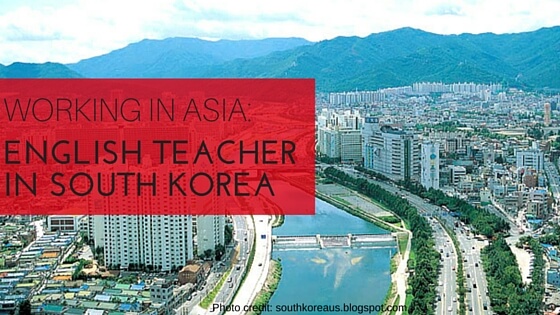 Welcome to Working in Asia, a series featuring people doing all types of interesting jobs throughout Asia. Some people work as English teachers, tour guides, masseurs, or run their own companies. The opportunities and options are endless in this part of the world! If you work in Asia and would like to be featured in this series, please contact us.
In this interview we are so excited to hear from Katrina from The Two Week Traveler about her experience working as an English Teacher in South Korea.
Working as an English Teacher in South Korea.
How did you end up teaching English in South Korea? What was going on in your life and why did you decide to make the move?
I was just out of college and was struggling to find work and nursing a broken heart. It seemed like a good idea to go overseas to work and have an adventure at the same time. I had a friend who was over there and her pictures looked amazing. I love to travel so it was a no-brainer really.
When and where did you teach there?
I taught in Daegu, South Korea from 2009-2010.
What type of school did you teach at? What were the ages of your students?
I taught English at a public elementary school. My students were in grades 3-6.
Was this your first English teaching job? 
This was my first teaching job, so I felt a little bit in over my head at first! I had no idea what I was doing.
What qualifications and experience did you need to get your job?
At the time, all you needed was a bachelor's degree in anything and be from a native English speaking country. I also got extra TEFL certification because you made more money if you had it (plus I thought it couldn't hurt to learn a little bit about teaching English before I got there!) Now, if you want to teach in public school, having a certificate in TEFL is required.

How did you find the job? Do you have recommendations for how to find an English teaching job in South Korea?
I used a recruiter to get my job, but for public school positions you can just apply straight to the program (EPIK, GEPIK, SMOE). If you want to get a private school job you must use a recruiter. Apply to any and all of them, don't be loyal to just one. They will all have different jobs available and if you don't apply to all of them, you won't know about all of the jobs!
What did you enjoy about teaching English in South Korea? What did you dislike?
I loved that every day was different and I really enjoyed seeing my students progress over the year. It could get very frustrating because some of the classes were better behaved than others. The bad classes could really ruin your day if you let them. I also really disliked the summer and winter English camps that we had to do when school was out. It was stressful to come up with content for kids you weren't familiar with and having to find the different schools you had to travel to.
What did you like and dislike about living in South Korea? Was it hard to adjust to living there?
It was hard to adjust at first, if only because everything was so different to what I was used to. Once I learned to read Korean, life became much easier. I loved the food and meeting new people and exploring the country on the weekends with my friends. I also just loved how weird Korea could be. It was certainly never boring!
Did your salary allow you to live comfortably? Were you able to save money? 
Saving money was so easy in Korea. I was making about $2,000 US per month and I was able to pay off $6,000 of credit card debt, traveled to Australia, Hong Kong and Taiwan during my year there, and still left the country with over $10,000 in the bank. I used that money to fund my round-the-world trip home and my working holiday in Australia the following year.
Did your school provide any benefits? 
The benefits were great. We had free housing, free flights to and from Korea, excellent medical insurance that cost about $50 per month, 18 days of vacation and 1 month's pay as a bonus for completing your contract.
What advice do you have for someone interested in teaching English in South Korea?
If you're interested in teaching in Korea, do your research about schools and the pros and cons of public and private school. If you're going to go the private school route, make sure you research the particular school, demand to talk to current teachers there, make sure the contract has everything you want before you sign it. Also, remember that this is (probably) not what you're going to be doing for the rest of your life. Most people go for 1-2 years. Enjoy it, go with the flow, and make sure you really appreciate the experience. It will go faster than you can even imagine!
---
About the Author
Katrina Houston blogs at www.thetwoweektraveler.com and wrote a book for first time teachers in Korea called 'The ESL Teacher's Guide to South Korea', which is on sale on Amazon.com. While in Korea, she enjoyed traveling, hiking, and drinking rice wine. She now lives in the US and travels as often as possible.
Connect with Katrina on Facebook, Instagram and Twitter.
---
Have you thought about teaching English in South Korea or another country?