This article may contain affiliate/compensated links. For full information, please see our disclaimer here.

Plantation Urban Resort and Spa Review
Plantation Urban Resort and Spa is 1/2 a hectare of paradise dropped, improbably, right into the heart of Phnom Penh, Cambodia. The location could not be more convenient, within walking distance or a short tuk-tuk ride from the capital's most important cultural sites, restaurants and entertainment venues.
Once you enter the property you may not want to leave at all! We spent a weekend at the Plantation Urban Resort and Spa during the Khmer New Year holiday in 2017, and it could not have been a more perfect staycation. For two days and nights, we didn't leave the grounds and we felt absolutely no reason to. With two gorgeous pools, a relaxing spa, lush green gardens, delicious food at two restaurants on site, and a beautiful room with the comfiest bed, we were completely smitten.
Whether you are traveling through Cambodia or an expat in Phnom Penh, Plantation Urban Resort and Spa is a relaxed, luxurious and green environment to retreat to, away from the chaos of the city.
Check out the room rates at Plantation Urban Resort and Spa. 
History of the Plantation Urban Resort and Spa
Plantation Urban Resort and Spa was built in 2011. Adi Jaya, the General Manager, has been there since the beginning. Adi has decades of experience working at luxury properties around Asia from Bali to India, Bhutan to Thailand. His expertise has taken Plantation above and beyond when it comes to service, aesthetics, and quality.
One of the goals when building the property was to preserve urban space and greenery in Phnom Penh, and they have done that beautifully. Every path you walk is lined with green. There are tall palm trees, coconut trees and beautiful tropical flowers everywhere you look, making you feel like you've stepped into a jungle oasis.
Since it opened the Plantation Urban Resort and Spa has become the ultimate destination for visitors to Phnom Penh. About 20% of guests are repeat customers, and some have stayed at the Plantation over 50 times. We can definitely see why!
The Location
Plantation Urban Resort and Spa is located behind the Royal Palace and the National Museum, two of the most important cultural sites in Phnom Penh. It is within walking distance to popular areas like the Riverside, the Night Market, Wat Botum (the Royal temple), the Fine Arts University, outstanding restaurants, entertainment venues, and great shopping.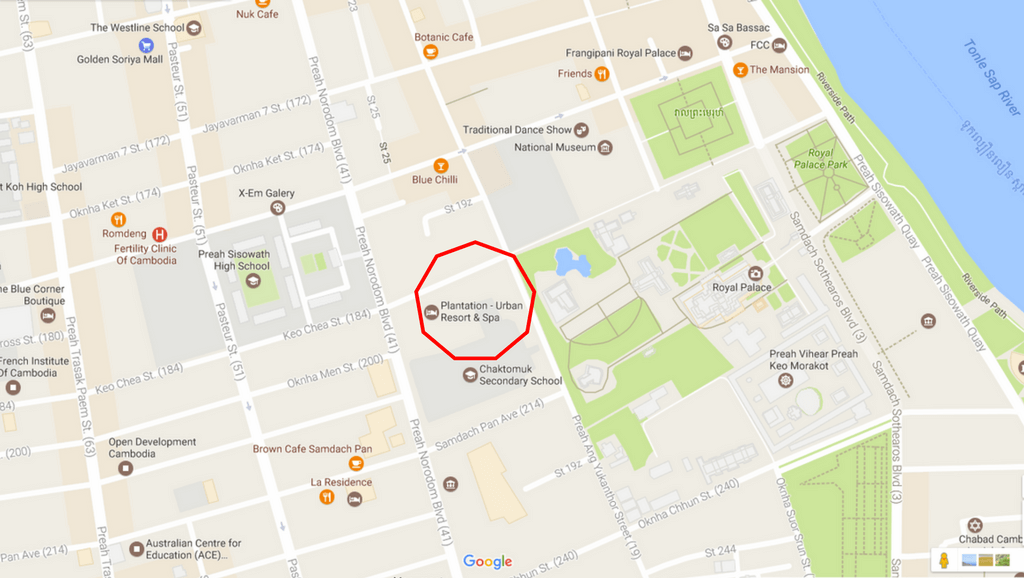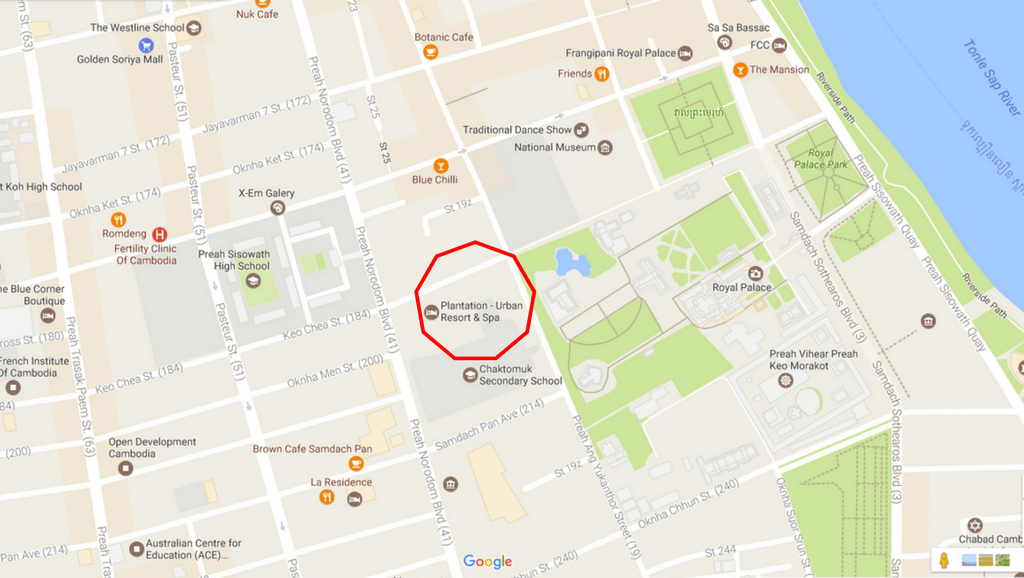 Getting to and from Phnom Penh
Arrival and Check-in
From the outside, the Plantation Urban Resort and Spa is unassuming, located on a small street between the Royal Palace and Norodom Boulevard, one of the main thoroughfares in the city. When you step inside the property lion statues greet you, flanking the beautiful Lotus Pond in the center of a spacious courtyard. The greenery and artwork in the Lotus Pond Gallery transport you into a haven of calm and beauty.
We were warmly welcomed at check in by Sayon, the Senior Front Office Supervisor, who took great care of us during the entirety of our stay. We sat down to fill out some quick paperwork at the check-in desk. Cold scented towels were brought over along with champagne glasses filled with chilled passion fruit and mango juice, delicious and refreshing in the 30°C/86°F April heat. In a few short minutes, our bags were scooped up by a staff member and we were escorted to our room.
The Rooms
There are 84 rooms at the Plantation, with five different styles and sizes to choose from. All rooms include free WiFi, which in our experience was extremely fast, the daily breakfast buffet by the pool, and access to the gym and all of the facilities on the beautiful hotel grounds. You can view the different room options at the Plantation here.
We stayed in a Deluxe Pool View Double Room on the third floor. Our first impression was that the room was a large, well lit and intimate.
The decoration was stylish and simple, with bright pops of color, a king size canopy bed, and pretty upholstery on the desk chair and day bed. The daybed could also be turned into a sleeping bed for a third adult or child. There was a huge flat screen TV, a long wooden desk, a kettle with coffee and tea, and drinking water. Comfy bathrobes, slippers, plenty of hangers and a safe were provided in the closet.
The bathroom sink was open to the rest of the room, and the large, double-sided mirror facing both the bathroom area and the bedroom on the other side was a fun addition. All the toiletries we could possibly need were provided, and then some. There was locally produced hand-crafted soap, and luxurious shampoo, conditioner, body wash and lotion in large containers, a great alternative to tiny one-use bottles. There was also a blow dryer and a vanity mirror. The bath towels were thick and soft, perfect to wrap up in after enjoying the rain shower.
Our balcony had two comfortable chairs and a table and was lined with palms, providing plenty of privacy. We could view glimpses of the main pool through the greenery.
The Restaurants and Food
The food at Plantation Urban Resort and Spa is reason enough to stay there in itself. Chef Olivier Guillon from Bordeaux France and his team of Cambodian Chefs prepare delicious food for every meal, from the over-the-top breakfast buffet to the extensive Poolside Restaurant and Bar menu, the Saturday night poolside barbecue, to fine dining at La Pergola, the Plantation's signature restaurant.
Breakfast Buffet (included daily)
The breakfast buffet had such a huge variety of food, and some of the offerings changed daily, which we loved! From fluffy pancakes and perfectly cooked bacon and sausages, fresh seasonal fruits, decadent bread and pastries made on site paired with locally made fruit jams, an omelet station, fruit juices, cereal and porridge with nuts, dry fruit and honey, and Asian options like congee.
La Pergola
La Pergola is the signature restaurant at Plantation Urban Resort and Spa, and one of the most excellent Cambodian-French fusion restaurants in Phnom Penh. Chef Olivier Guillon marries bold flavors of Cambodian herbs and spices and local ingredients with traditional French techniques to create unique and stunningly presented dishes from start to finish.
La Pergola has both an air-conditioned veranda and an open-air terrace, overlooking the Lotus Pond Gallery. The restaurant is popular among both hotel guests and food lovers in Phnom Penh.
We were so impressed with the innovation and techniques used in Chef Olivier's cooking. The flavors and colors were a feast for both our eyes and stomachs!
Saturday Night Barbecue Buffet by the Pool
Every Saturday night there is a barbecue buffet by the pool, open to both hotel guests and outside visitors with a reservation. The meal also includes a glass of wine or a soft drink.
We were blown away by how many different food options were offered, from Cambodian salads, soups, prepared meats and other side dishes like grains and freshly baked bread. For the barbecue selection, there were prawns, fish, squid, pork ribs, chicken wings, beef steak and frog legs, which you could choose from and bring over to the grill. After the Chef cooked up your meat it was brought right over to your table. There was also a large variety of Cambodian desserts and fresh fruit. It was an unforgettable meal in a beautiful setting.
Poolside Bar and Restaurant
This was some of the best poolside food we've ever encountered! The menu has a large variety of Asian and western dishes, all excellently prepared and so delicious. There is also a fantastic drink selection with artisan teas, creative cocktails, local and imported beers, and fresh juices and smoothies.
The Spa
The Spa at Plantation is a mecca of relaxation and comfort. The decor is simply beautiful, and the vibes are peaceful and luxurious. There are many different services on offer including relaxing oil massages, energizing Cambodian massage, and nail treatments.
We enjoyed couples massages during both days of our stay. The first day we had hour-long aromatherapy massages. The masseurs were fantastic about ensuring the pressure was what we each wanted, and soon we were slipping off into dreamy spa heaven, while the scents of herbs and oils filled the room and smooth spa music intermixed with class rock covers filled our ears.
On our second day, we went for traditional Cambodian massages, which are similar to Thai massage, but less painful and much more relaxing. Cambodian massage is one of my favorites, and I go very frequently to spas around Phnom Penh. The Cambodian massage at the Plantation was the best I've had in the city. I would highly recommend trying it!
The Activities and Facilities
Pools
There are two pools at the Plantation Urban Resort and Spa. The smaller Red Pool Lounge is also open to outside guests who come to enjoy drinks and food.
The main pool is only open to hotel guests and is surrounded by tranquil canopies and sun beds. The pool was built with stone slate and is a Pura Pool, which uses salt chlorinators and mineral oxygenation. It is one of the most gorgeous and relaxing pools in the city.
Gym
The gym is located above the spa. There are free weights, machines, and space for yoga or pilates.
Gardens and Nature
Although we've mentioned it throughout this review, the greenery around the property is one of the best features of Plantation Urban Resort and Spa. Green space is a rarity in the city, and stepping inside the property is like being transported to the jungle. There is just something so cathartic about being surrounded by nature.
Kid-friendly
The Plantation Urban Resort and Spa is a great place for families. Kids love the pools, and the menus have plenty of kid-friendly options. The hotel staff is happy to recommend kid-friendly activities around the city and assist in booking transport or anything your family may need during your stay.
The Service
Adi hires his staff based on their attitude and willingness to learn. Many of the staff members have worked at the Plantation since the beginning, moving up in their roles and expanding their skills year after year. There is a sense of community, and staff members commented to us that they are like a big family.
Above and Beyond
We struck up a conversation with a staff member on our floor while waiting for the elevator. She told us she has been working at the Plantation for over four years and even met her husband while working there! He is a server in the Poolside Restaurant and Bar and she works in housekeeping. They now have two children together. Stories like this made us feel that Plantation Urban Resort and Spa is more than just another hotel in the city. It really is a special and unique environment, loved not only by guests but by the people who work there day in and day out, which speaks volumes.
The Verdict
Plantation Urban Resort and Spa is a heavenly reprieve from the concrete jungle that is Phnom Penh. Inside you escape from the dust, the traffic, the incessant beeping of motorbikes and tuk-tuks and car horns, and enter a world of green and calm.
It is a relaxing and beautiful place to return to after a long day out sightseeing and exploring Cambodia's capital, or the perfect weekend staycation if you are looking to get away from the chaos of the city without going too far.
We would highly recommend staying at Plantation Urban Resort and Spa when you come to Phnom Penh!
Book a Room
You can book a room at Plantation Urban Resort and Spa through their website. You can also check out the rates on Agoda and Hotels Combined, which sometimes offer special discounts.
---
Traveling to Cambodia? Pin this post for later!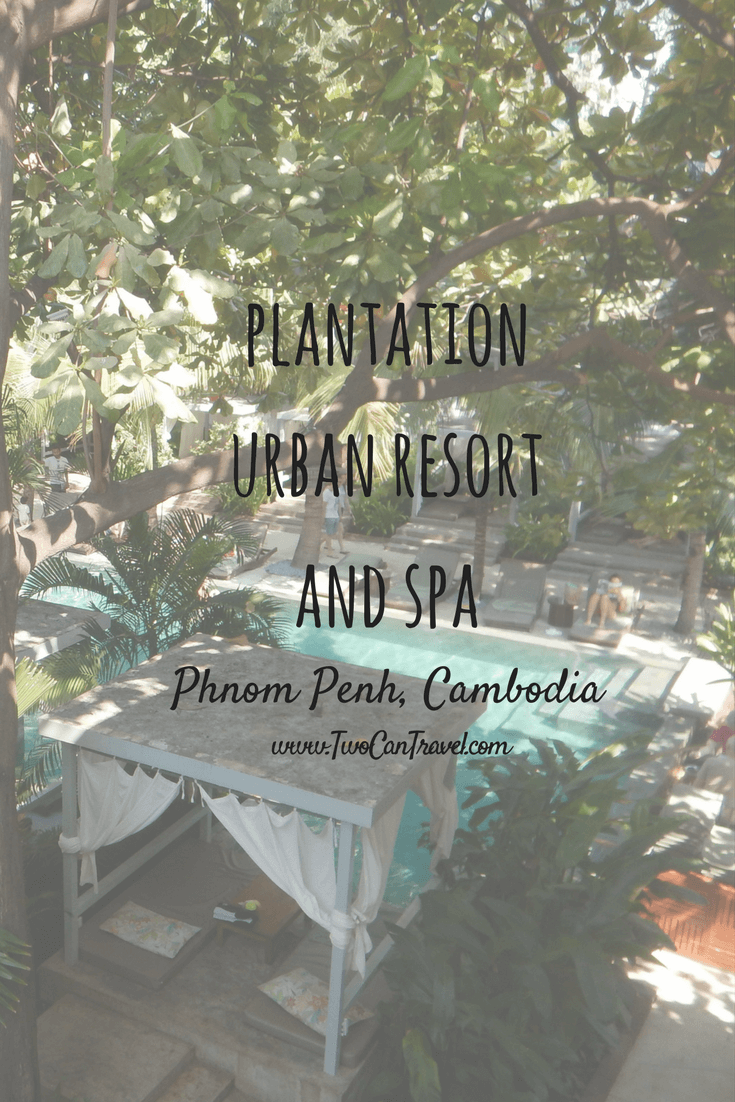 ---
We were invited as guests of The Plantation Urban Resort and Spa and our stay was complimentary. As always, we do not recommend anything we do not truly love and all opinions and photos are our own.
---
Note: This article contains affiliate links to Agoda and HotelsCombined, companies we personally use that we feel provide value to our readers. We receive a commission if you book through these links, at no extra cost to you. Thank you for your support!
---
 Have you traveled to Cambodia yet? What do you think of this property?