This article may contain affiliate/compensated links. For full information, please see our disclaimer here.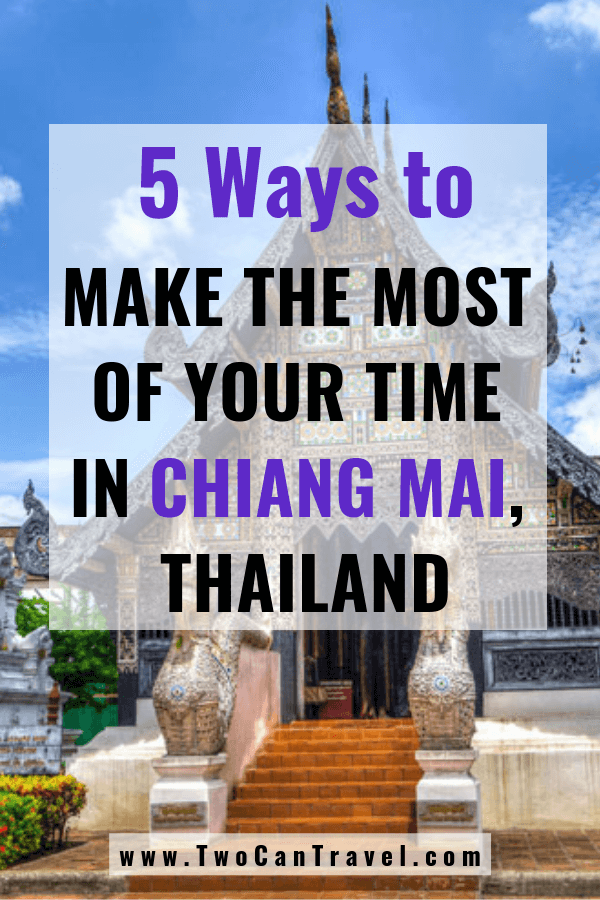 This is a guest post by Brennan Valeski. 
Thailand is one of the most popular tourist destinations in Southeast Asia. One often overlooked destination is Chiang Mai, probably because there's no beach, and that's a shame.
Despite its lack of a beach, Chiang Mai is a beautiful, safe, fun, and established city located in heart of northern Thailand. It's where tourists, locals, and expats live in harmony and blend together. Whether you're just traveling through, a digital nomad, or looking for a long-term stay, here are 5 amazing ways to make the most of your time in Chiang Mai.

Getting to Chiang Mai
There are several routes to get to Chiang Mai from cities within Thailand and nearby countries like Cambodia, Laos, and Myanmar. You can get to Chiang Mai by bus, train, or flight.
Check prices for these popular routes to get to Chiang Mai:
Bangkok – Chiang Mai
Phuket – Chiang Mai
Ayutthaya – Chiang Mai

Check more routes to Chiang Mai
---
5 Ways to Make the Most of Your Time in Chiang Mai, Thailand
1. Visit an Ethical Elephant Sanctuary in Chiang Mai
The number one thing to do in Chiang Mai is to visit an elephant sanctuary. If you're considering a visit to Thailand, please DO NOT ride the elephants. You can do your own research, but the fact remains that it is really not good for them. Instead, visit an ethical elephant sanctuary in Chiang Mai.
The elephants in the sanctuaries were rescued from the tourism industry or purchased when they were in poor health. They're taken to the sanctuary where there are no rides or exploitation and they're looked after with love and care. That means you get to see the elephants in happier spirits and enjoying themselves.
You can opt to do a full day or half-day tour of a sanctuary. Generally, lunch is also provided. While you're there, you get to play with the elephants, feed them, and take as many selfies as you could ever want. Then you can get down and dirty with them in the water and mud which helps exfoliate their skin. It also gives you a chance to cool down if it's a hot day outside.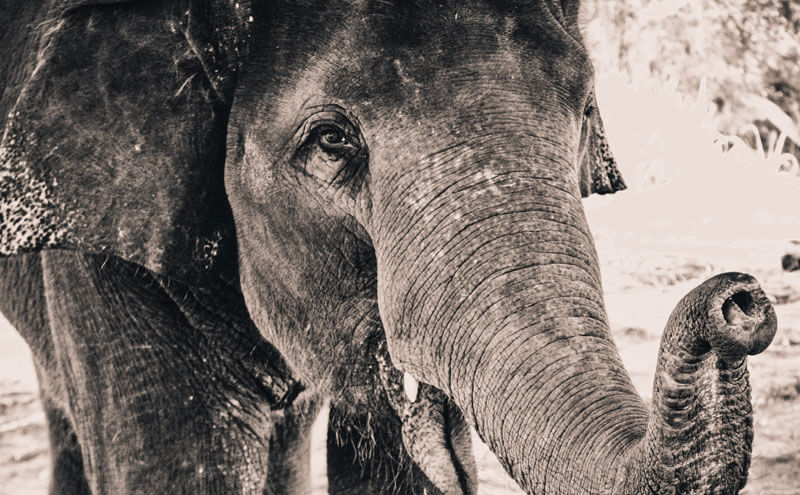 Elephants are big gentle giants and they all have a little bit of character and personality. Many you'll find to be very friendly and playful. Overall, you have to decide if it's something you want to experience yourself. 
2. Fly on a Jungle Zipline in Chiang Mai
One of the coolest and most extreme things that you can do in Chiang Mai is ziplining in the jungle. There are quite a few different companies offering ziplining. We went with Flight of the Gibbon Chiang Mai because they have one of the longest ziplines. They may be a little more expensive than the other zipline services in town but Flight of the Gibbon sets themselves apart with the monkeys you'll see hanging in the trees around the ziplines.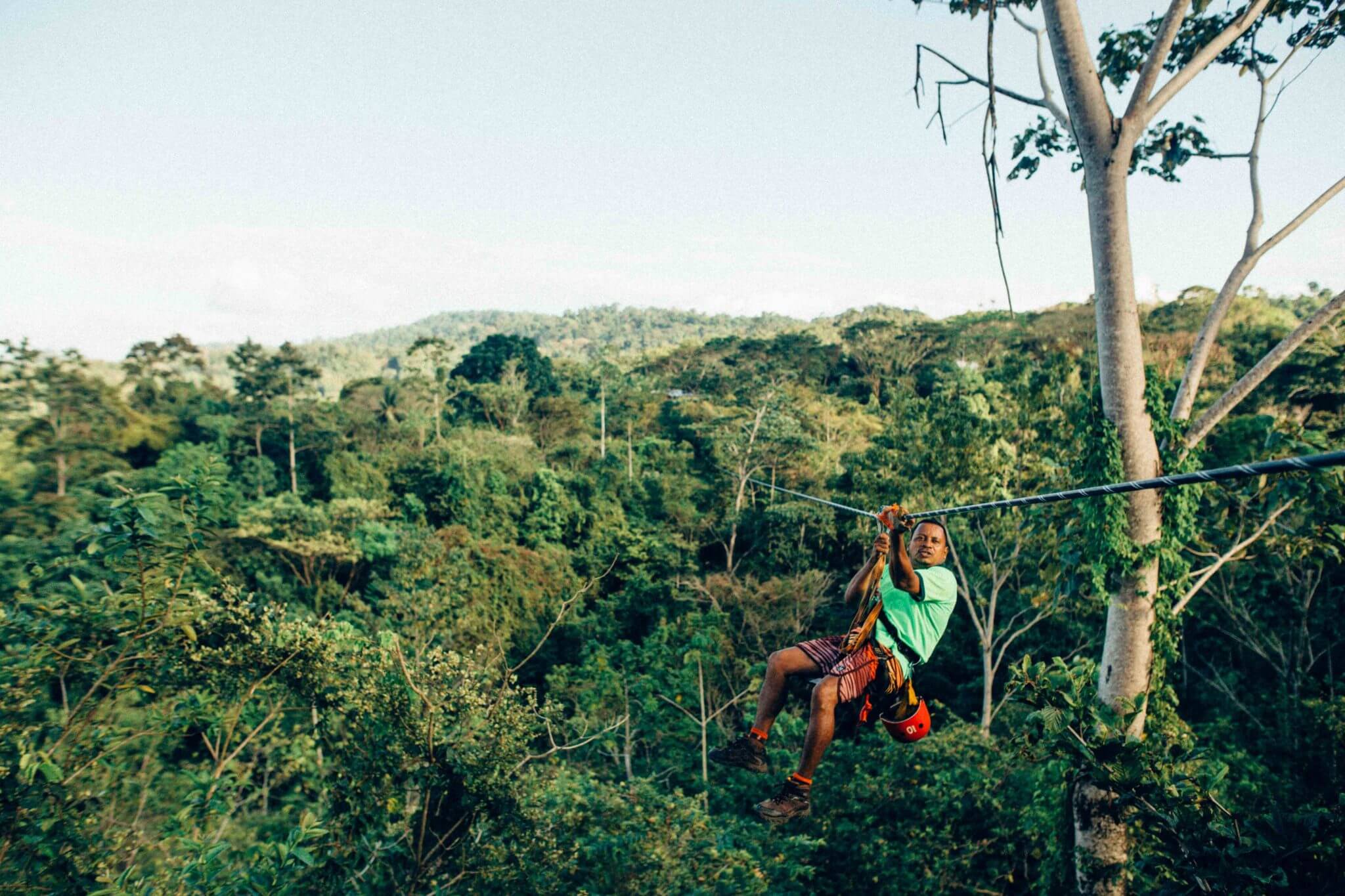 These guys are awesome for a day-long trip and they really take safety seriously. The zips feature a mix of abseiling, rope bridges, and long tree lines. You also get some food, and the chance to see a lot of natural landscapes within the jungle. If you're an adventurous person you've got to zipline in Chaing Mai.
3. Take a Chiang Mai Cooking Class
When talking about Chaing Mai, you have to mention the food. It's some of the best in Thailand. But you don't have to say goodbye to Chiang Mai's food after you leave. You can learn how to make it yourself at a traditional Thai cooking class. One of the best companies to go with is the "Thai Secret Cooking School". But don't tell anyone, it's a secret. 😊
They're a little bit smaller than some of the other Chiang Mai cooking classes you might find on Trip Advisor. We loved that their class was very personal. The owner and operator, May, was quite possibly the nicest and sweetest person we met during our time in Thailand. And you walk away with a certificate from the class which is a nice little touch.
For most cooking classes in Chiang Mai, you start the day off going to a wet market to learn about different ingredients used in Thai cooking and gather food for your recipes. At the end of the day, you end up with several dishes and so much delicious food to try. Lots of ingredients in the cooking classes are made from scratch, like curry pastes. You'll even get to shave coconuts for some recipes.
Check out Cookly to see prices for the best cooking schools in Chiang Mai.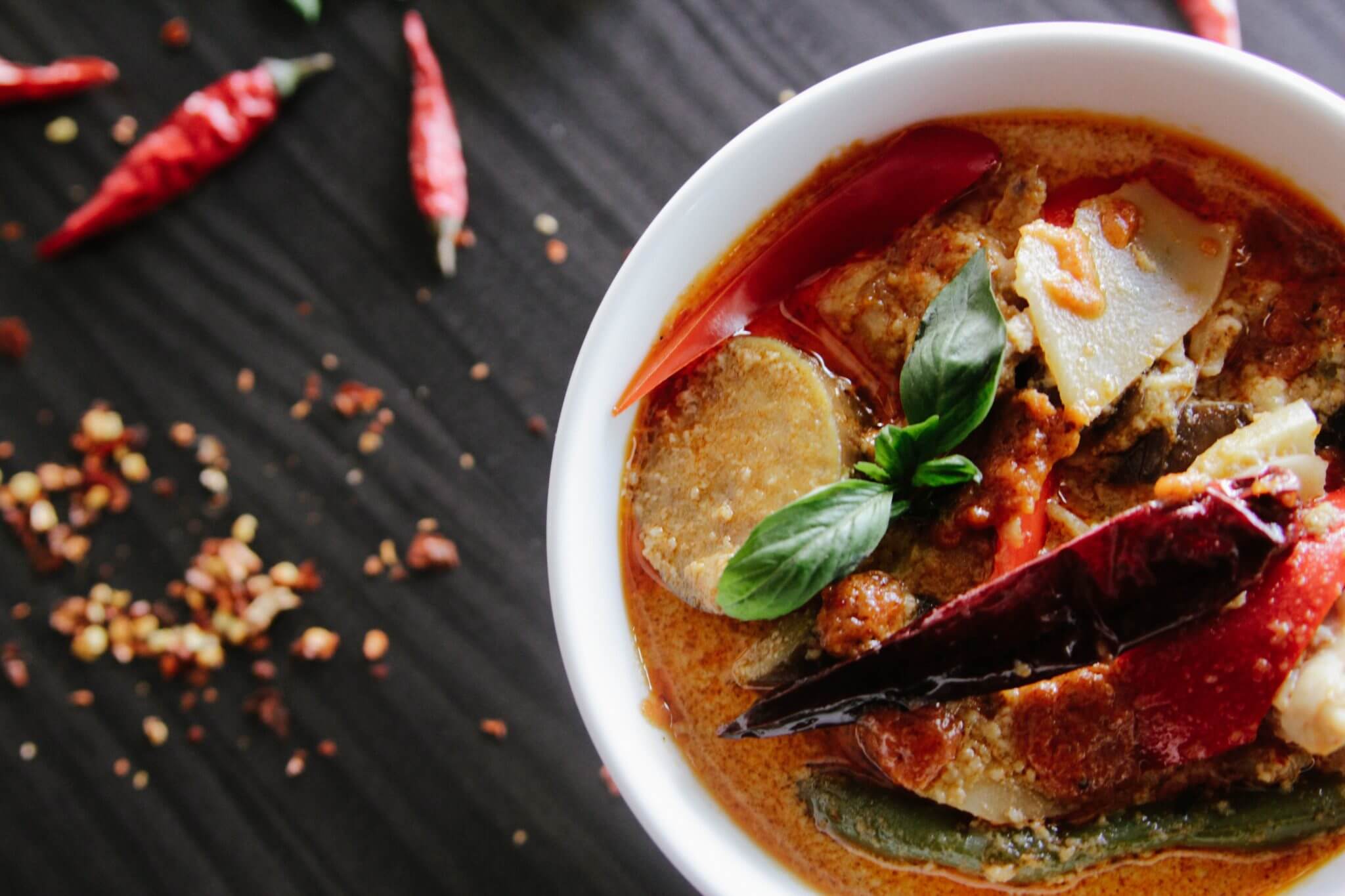 4. Shop at Local Markets in Chiang Mai
Chaing Mai has quite a few markets. One of the most popular is the Sunday Walking Market, also known as the Tha Pae Walking Market, in Chiang Mai old town. To give you an idea of the size, they actually shut down a couple of the main streets for the market. It's absolutely enormous with so much stuff to see.
You can buy all sorts of things here, from decorative items to handmade goods, even soaps. When you're hungry, there's also plenty of food and delicious ice cream, plus things like juices and coffees as well.
5. Ride the Mae Sae / Samoeng Loop
The biggest and best adventure you can take in Chiang Mai is to do the Mae Sae / Samoeng Loop. It's a five to eight-hour scooter mission up through the mountains and around local villages. This is only recommended if you are an experienced rider and preferably if you have a legal motorcycle license! 
There are some cool places to stop along the way to get some really good local food. There's also the Mae Sae waterfall and caves to visit and many temples to see. When you get to the top of the mountain about halfway through you get to overlook long rice patties. The views are simply breathtaking.
If it does rain, I would highly recommend you check out some backpack rain covers. These can be very useful out on the scooters all day. You don't want all your stuff getting wet in case of bad weather.
Bamboo Bikes in Chiang Mai is a good place to rent scooters. There are many spots you can get them, so check on Trip Advisor for reviews. You can ask the scooter rental shop which scooter will be good for you to do the Mae Sae / Samoeng Loop. 
Top 5 Things to Do in Chiang Mai
Here's a quick recap:
1. Visit an Ethical Elephant Sanctuary in Chiang Mai

2. Fly on a Jungle Zipline in Chiang Mai

3. Take a Chiang Mai Cooking Class

4. Shop at Local Markets in Chiang Mai

5. Ride the Mae Sae / Samoeng Loop
These are the top 5 things to do in Chaing Mai to make the most of your time. Hopefully, there's something in there that you thought looked epic and want to have a crack at yourself.
---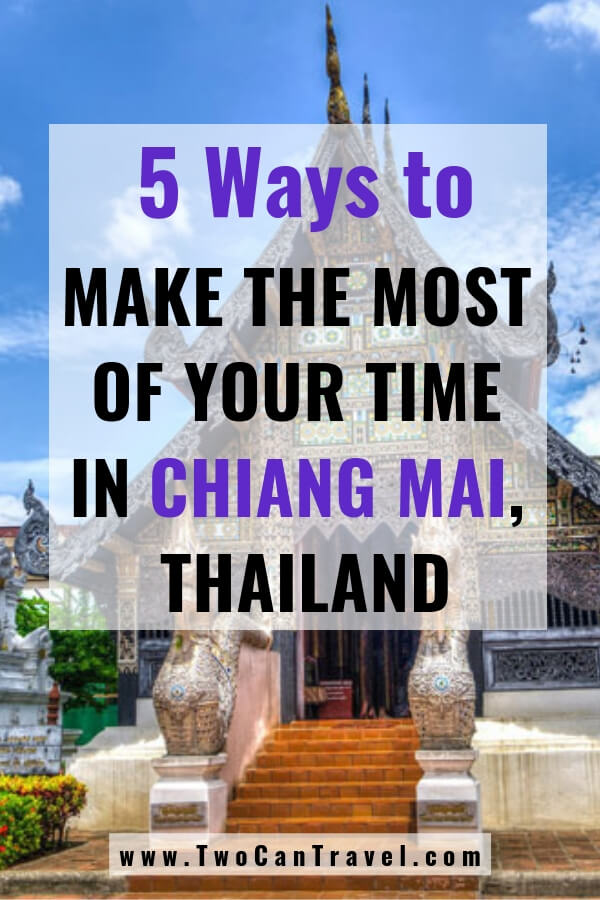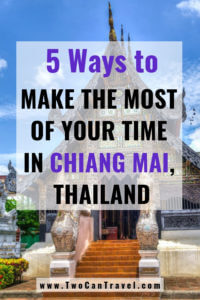 Pin this article for later! 
---
Disclaimer: This article may contain affiliate links. If you purchase through these links we receive a commission at no extra cost to you. Sometimes these links will even save you money! We only recommend companies and products that we use ourselves and would recommend to our families and friends. Thanks for your support! 
---
Author Bi
o
Brennan Valeski is a camping, outdoor enthusiast who loves gear and technology that allows him to be ready for any situation that arises. He shares his personal experiences and recommendations to help you be prepared for your next adventure. You can read more on his blog at Survival Tech Shop.
Instagram: @brennan_valeski
---
Do you have any suggestions for things to do in Chiang Mai? Have you done any of these activities in Chiang Mai before? Share your experiences in the comments!
---