This article may contain affiliate/compensated links. For full information, please see our disclaimer here.

How one woman is making plastic-free meal delivery possible in Phnom Penh, Cambodia.
In May 2019 I (Jen) started doing Facebook marketing and PR for the organization Plastic Free Southeast Asia. One day, I asked our community on the PFSEA Facebook page "How are you working to reduce single-use plastic in your daily life?" That's how I met Addie May Swarbrick.
Addie shared that she runs a vegan meal delivery business in Phnom Penh, Cambodia that is plastic-free. Cambodia has a ton of plastic pollution, so going plastic-free there is no easy feat, especially for business owners. I had to know more.
We scheduled a time to chat on the phone and instantly connected. The topic of reducing plastic waste is something I've been passionate about for a while, and it's not every day you meet someone willing to chat about it for more than a couple of minutes. We geeked out for 45 minutes, talking about obstacles and solutions to running a business that is focused on sustainability. I left our conversation feeling totally inspired.
Addie is a one-woman show, and I am blown away by her initiative and drive to run her business the way she does. Below, I've outlined what she told me about how she manages to avoid single-use plastics in her business, generates little to no waste that ends up in landfills, and delivers 90% of her vegan meals by bicycle.
The best part is that her systems are replicable. My hope is that you read this and feel motivated to implement some of these ideas in your own business or take the time to share them with businesses you think could do these things too. Thank you for your interest and for reading!
---
Addie May's Catering and Meal Delivery is bringing vegan meals to the people of Phnom Penh. Addie delivers healthy, delicious vegan food for lunch and dinner Monday through Thursday for a very reasonable set price. She runs her whole business through her Facebook page.
A bit about Addie May
Addie May is from Halifax, England. She worked as a chef for many years in Devon, UK and helped to run several food businesses.
She started working with an NGO in London in March 2018 and her work brought her to Cambodia from January to March 2019.
Addie had planned to go back to London after her NGO work was completed to start a vegan food delivery business there. After seeing the huge amount of plastic waste being generated in Cambodia every day she felt that her business would have a bigger impact there.
Why Vegan Food?
Being vegan is one of the most effective ways any human can reduce their environmental impact.
Surprisingly, a majority of Addie's customers aren't vegans, but they are trying to reduce their meat consumption. Addie's delivery system makes it easy for people to eat healthy, delicious vegan food by bringing it right to their doorstep.
Reusable Containers
Addie's goal is to make her business as environmentally friendly as possible. All of her deliveries are done in reusable containers.
Rather than purchasing new containers, Addie has taken advantage of the high turnover of reusable containers in Phnom Penh's transient expat community. She is a part of the Facebook groups Phnom Penh Buy and Sell, Cambodia Parent Network, and Expats and Locals Living in Phnom Penh. When people move out of Cambodia and are selling their belongings, she is quick to snatch up their reusable containers so they can continue their life in her business.
How is this waste-free delivery system possible?
On their first order, Addie makes her customers aware of her food delivery system in a Facebook message. Her entire business runs through Facebook, making communication quick and clear.
When she drops off lunch and dinner meals each day, she picks up the containers from the previous day which the customers have already washed. Many customers have opted to provide their own containers, and Addie is more than happy to use those instead.
Clean Delivery
90% of Addie's deliveries and all of her produce shopping trips are made by bicycle. Deliveries to further out destinations, like Tuol Kork, are made by motorbike.
Food Scraps and Composting
Addie's kitchen generates at least four kilos of vegetable scraps each day. She has started a composting system in a wasteland area near her home where there are dead leaves and trees so the food waste can break down naturally.
When food scraps such as peels from fruits and vegetables get mixed with other garbage in plastic bags, they end up in landfills where they are trapped without oxygen and cannot break down. Less than 1% of the food waste Addie's business produces ends up in landfills.
Let's Recap Addie's Plastic-Free Business Process
Reusable containers for delivery
Deliveries by bicycle
Food scraps used for composting
These are the basic steps Addie takes in her business to avoid single-use plastics and reduce the amount of waste her business sends to landfills. Her efforts are not going unnoticed. Addie's business is flourishing through word of mouth and her Facebook page. People are eager to support businesses that are making sustainable choices.
Curious to see what other people are doing in Asia to make a living? Check out our Working in Asia series. 
---
Share this post with anyone you think might find it useful!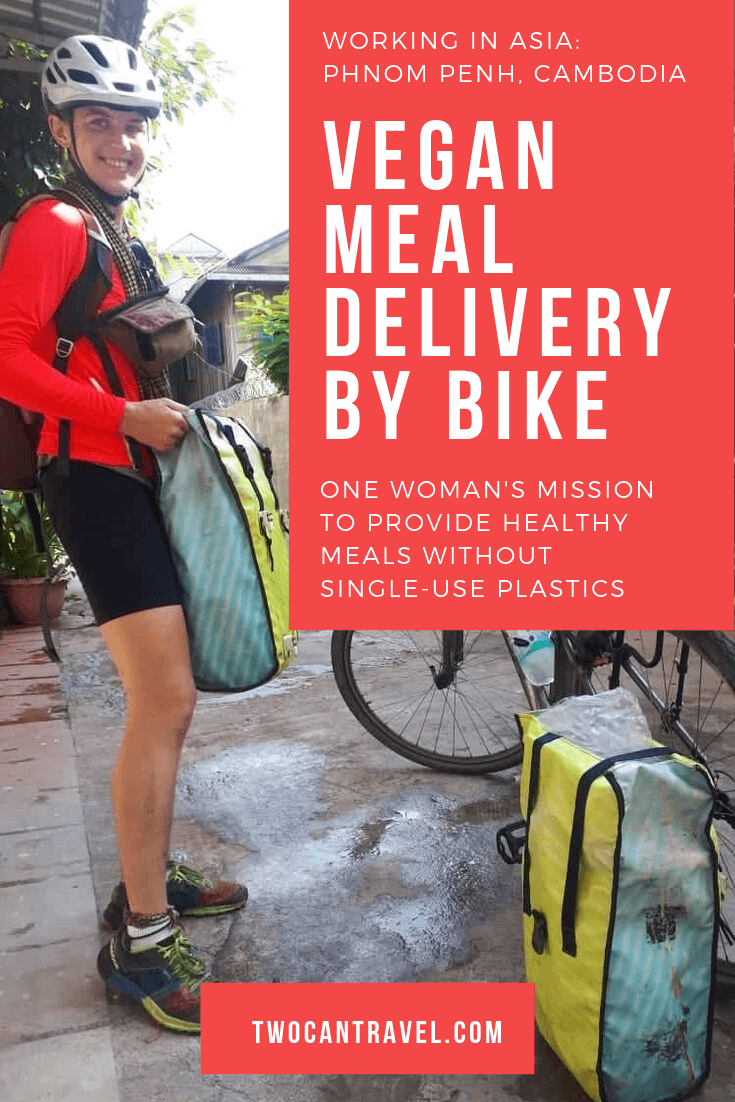 ---
What do you think about these steps Addie's May's Catering and Meal Delivery takes to be plastic-free? Would any of her systems make sense for your business or a business you know?
Share your ideas in the comments!
---