This article may contain affiliate/compensated links. For full information, please see our disclaimer here.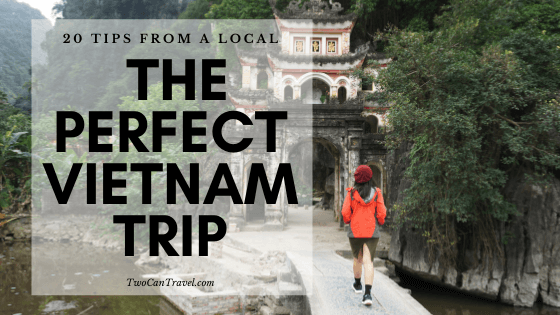 This is a guest post by Nhung from Local Vietnam. Jen first met Nhung at the TBEX travel blogging conference in Bangkok, Thailand in 2015. Back then, Nhung was running a Vietnam travel blog only in Vietnamese, but she has recently started her English language blog about Vietnam. We are happy to share her advice for planning a trip to Vietnam with her local insider tips. Enjoy! 
---
20 Vietnam Tips for Planning the Perfect Trip to Vietnam
Are you planning a trip to Vietnam? Make sure you are prepared. We covered 20 of the most useful Vietnam travel tips below.
1. How long do you have to go?
As long as possible! Unfortunately, you are often tied to a vacation period, which means you can only go for a certain amount of time. In three weeks you can see most of the highlights in Vietnam. But if you want to go off the beaten track you need more time, it's important that you make the right planning and determine well in advance what you want to see.
A useful Vietnam travel tip is if you only have two weeks or less, choose a specific region to travel to and not the entire country. You will find the most impressive nature and culture in North Vietnam.
2. Travel inspiration
Once you know how long you want to go, it's time to explore what you can see and do in Vietnam. Vietnam is probably a very unknown country for you, so it's hard to get started. But there are countless websites with Vietnam inspiration.
3. What not to miss
There are always a number of things and destinations that you really wouldn't want to skip on your Vietnam travel itinerary. But because Vietnam has so many special places you, unfortunately, have to choose.
Ha Giang province is the most beautiful region of the country, with towering mountains and local minority culture. Hoi An is perhaps the most beautiful and atmospheric city in Southeast Asia. A boat trip through Halong Bay is also a must. Don't forget to take a walk through the rice fields of Sapa, cycle through the valley of Mai Chau, visit the floating markets of the Mekong Delta, ride the Hai Van Pass, and relax on the beach of Bai Xep.
4. Don't forget your Vietnam visa!
Planning a trip to Vietnam needs the necessary preparations. Important: arrange your visa on time! When you travel to Vietnam, you need a visa and you must arrange this in advance. Nowadays, for citizens from most countries, you can easily apply for an e-visa for 1 month. If you want longer, you can arrange a Vietnam visa on arrival for 3 months. A less popular alternative is to arrange a visa through any Vietnamese embassy.
5. The correct route
Start in Ho Chi Minh City or in Hanoi; you travel from south to north or from north to south. The most popular route is from south to north for several reasons. North Vietnam is the most beautiful part, which you would like to save for the last. North is also more conservative and rougher, whereas South Vietnam is more Western. This gives you a softer landing to get used to the culture.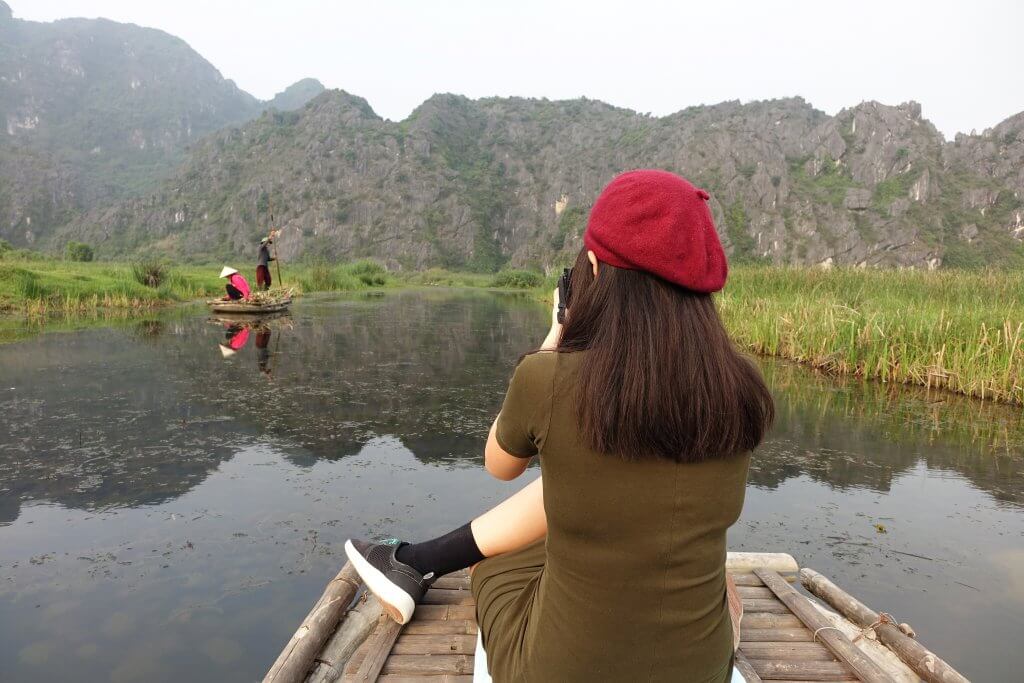 6. Booking the best flight
Once you have determined the route, you can book the flight. There are a number of things to look out for. Here are a few handy Vietnam tips to book your flight:
Flying from the US to Vietnam means you will have a stopover in another country on the way because there are currently no direct flights.

Are you looking for a cheap flight ticket? Try to be flexible in the departure dates and use multiple search engines.

Book your flight on time.

Are you flying from Asia? You can use cheap regional airlines such as Jetstar, Tiger Airways and Air Asia. Please note that a standard ticket does not include check-in baggage.
Read: 10 tips for finding cheap international flights
7. Getting from A to B
Make no mistake, Vietnam is big. Distances between destinations can be very far and the roads and traffic make your travel much longer than comparable distances in western countries. Fortunately, it is not difficult to travel between cities because Vietnam has an extensive transport network. There are no less than 6 budget airlines in Vietnam. You can travel from Ho Chi Minh City to Dalat from just $25 depending on the season!
There is a train connection between northern Hanoi and southern Ho Chi Minh City. The quality of the train is pretty good, but the train does not ride very fast. The extensive network of buses in Vietnam takes you to all corners of the country and is also very cheap. The night buses can be a good option too because this way you travel at night to your next destination, which saves you a day's travel. But be aware, night buses don't all have the best reputation for safety.
8. Your travel budget for Vietnam
The amount of money you spend has to do with your standard of living. Are you staying in a nice hotel or a cheap hostel? Will you take a domestic flight or take the bus? Do you prefer to eat at a street stall or in a nice restaurant? Whatever type of traveler you are, expect the costs to be much lower than in most western countries. Below is a small estimate for your daily budget.
| | | | |
| --- | --- | --- | --- |
|   | Low budget | Average budget | High budget |
| Daily total from | $18 | $45 | $120 |
| Accommodation | $7 | $25 | $70 |
| Food & Drinks | $6 | $15 | $25 |
| Local transportation | $3 | $7 | $25 |
| Transportation between cities | $7 | $20 | $40 |
| Activities | $7 | $30 | $60 |
9. Stay accessible with a Vietnamese SIM card
These days it is nice and normal to remain accessible during your trip. If you do not want to depend on a WiFi signal, you can buy a Vietnamese SIM card.
With a SIM card, you are online everywhere you go. This is handy if you want to translate something, use navigation, book your hotel or make your friends and family jealous of your beautiful photos on social media.
A SIM card in Vietnam is very cheap, with prices starting from $5. Make sure you buy it at an official phone store.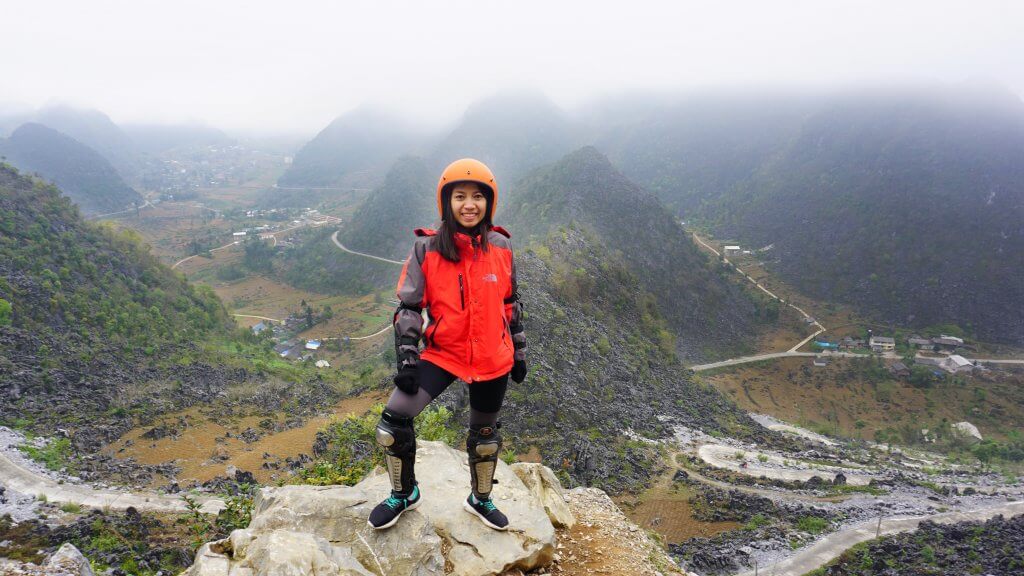 10. Safety during your trip
Vietnam is a relatively safe country. You don't have to worry about violence and robberies in Vietnam. Only in the big cities it sometimes happens that a driver on a scooter tries to get something out of your hand quickly. But crime towards tourists is very minimal.
However, what you have to pay attention to is the chaotic traffic. Cars, motorbikes, scooters, trucks, buses, cyclists and pedestrians are all mixed up and it seems that there are no traffic rules.
Other things you need to look out for are: You cannot drink the water from the tap. Take insect repellent with you, especially against mosquitoes.
11. Best time to travel to Vietnam
It is important to take the weather into account when planning your trip.
Vietnam has only two seasons. The dry season and the rainy season. As the name says, during the dry season there is no or almost no rain and during the rainy season, there is a lot of rain.
The dry and wet season are not the same throughout the country. In the center of Vietnam in particular, the rainy season starts much later. Check out the best travel time in Vietnam, to see per region when you need to visit. Also keep in mind that despite the country being in a tropical climate, it can get cold in the winter up north.
13. Money in Vietnam
The currency used in Vietnam is the Vietnam Dong; 1 USD is around 23,000 VND. It is best to put a conversion app on your phone so that you can get a better picture of how much everything costs by quickly converting.
Keep in mind that paying with cash is the standard at many restaurants and shops. In large restaurants, travel agencies, and hotels you can often use your card. It's also good to know is that many local banks will only allow you to withdraw a up to 2,000,000 VND (86 USD) at a time. 
14. The best souvenirs
If you planning to buy souvenirs in Vietnam, you have plenty of options. The colonial hat is a popular choice. Vietnam is also one of the largest exporters of robusta coffee. If you go to Hoi An, you can have tailor made clothing made there. In the north of Vietnam you can buy souvenirs from ethnic minorities (hill tribes). It is not only fun to take it with you, but you also support the locals.
14. Useful Apps for Vietnam
When you travel through Vietnam, there are several apps you can download on your phone that are useful. Make sure you have a navigation app like Google Maps or Maps.me. Use Google translate for communicating with the locals. You can even translate things in realtime, like a food menu. Get Tripadvisor for finding a nice restaurant. Grab, similar to Uber, is a taxi riding app. Besides a car, you can also use the motorbike taxi, useful for solo travelers.
15. Try the best food in Vietnam
Vietnam has some of the best food in the world. You will automatically experience some of it when traveling through his country, but to really get the most out of it, it is useful to be prepared. Use the internet to make a list for yourself of the best Vietnamese food you should try. Ask locals what is the best place to try out that food. Good restaurants with a lot of choices serve the most popular dishes, but for the best taste you often have to go to the side of a road to a street food vendor. If you aren't daring enough to try street food on your own, you can book a street food experience where a local guide brings you to the best places in town.

16. Prepare to negotiate
Negotiating the price in the west is rare. However, in Southeast Asia, it is the most normal thing in the world. Foreigners are generally offered a higher price. If you do not negotiate, you always pay much more than you should and in the end, this even creates a culture of overpaying.
17. Learn the language
You cannot, of course, learn the Vietnamese language by heart. But it is still useful to know some basic words that make communication easier. After all, assume that the majority of the population does not speak English. 
18. Accommodations in Vietnam
The accommodations that you can find in Vietnam vary from luxury resorts and beautiful hotels to hostels and local hotels. Especially in the largest cities such as Hanoi, Ho Chi Minh City, and Da Nang there is a lot on offer. Of course, the more remote you go, the less is available, but also the quality gets a lot lower. You will find more typical Vietnamese hotels with stones floors, bare walls, and hard beds.
There is one term that you hear a lot in Vietnam and those are the homestays. These are often mountain tribal houses in northern Vietnam (ethnic minority groups) that provide a room for tourists. Do not expect too much of this type of accommodation. It is usually very basic, often built from wooden palates. But it's a very unique experience!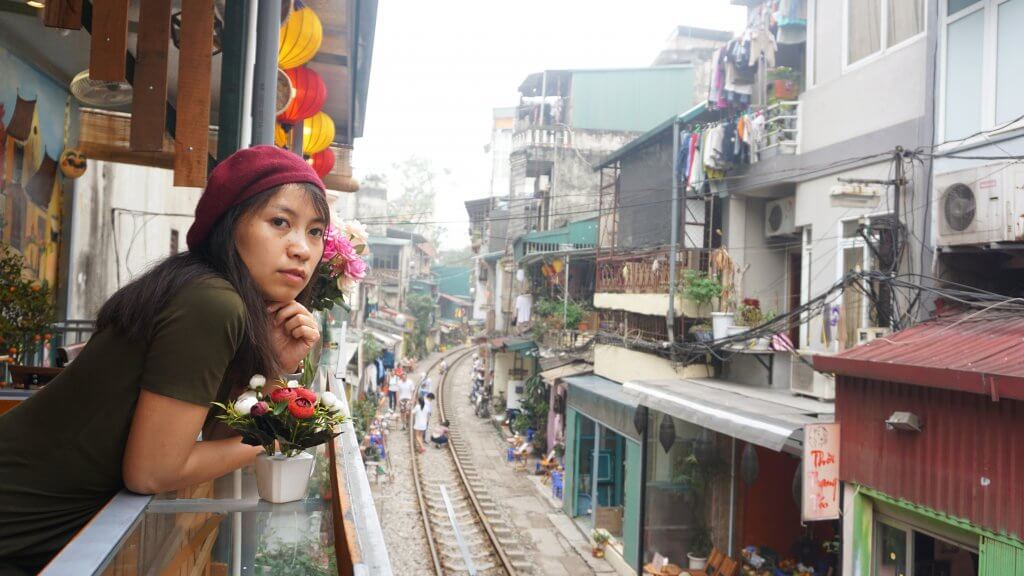 19. What to bring for your Vietnam trip
Vietnam has a tropical climate. This means a season with a lot of rain and a season that it is very dry. Make sure to bring enough clothing against the rain. Make no mistake about the temperatures either. In the far south in the Mekong Delta and Ho Chi Minh City it is hot all year round. But in the north and in the central highlands, around Dalat, it can certainly cool down considerably in the winter, to temperatures below 10 degrees. Make sure you bring warm clothing during this time. It is best not to bring thick coats and sweaters, but to wear clothing in layers.
Other things you should take with you are anti-mosquito and insect spray, sunscreen, good walking shoes, and flip flops.
20. Malaria and vaccinations
It is useful to know if you need malaria tablets or vaccinations during your trip in Vietnam. Malaria is very rare in Vietnam and therefore it is only advisable to take an emergency cure if you go into remote areas.
There are no mandatory vaccinations for Vietnam, but there are recommended vaccinations such as DTP vaccination and protection against hepatitis A.
Important: Always check this with your personal doctor.
---
Like this article? Pin it for later!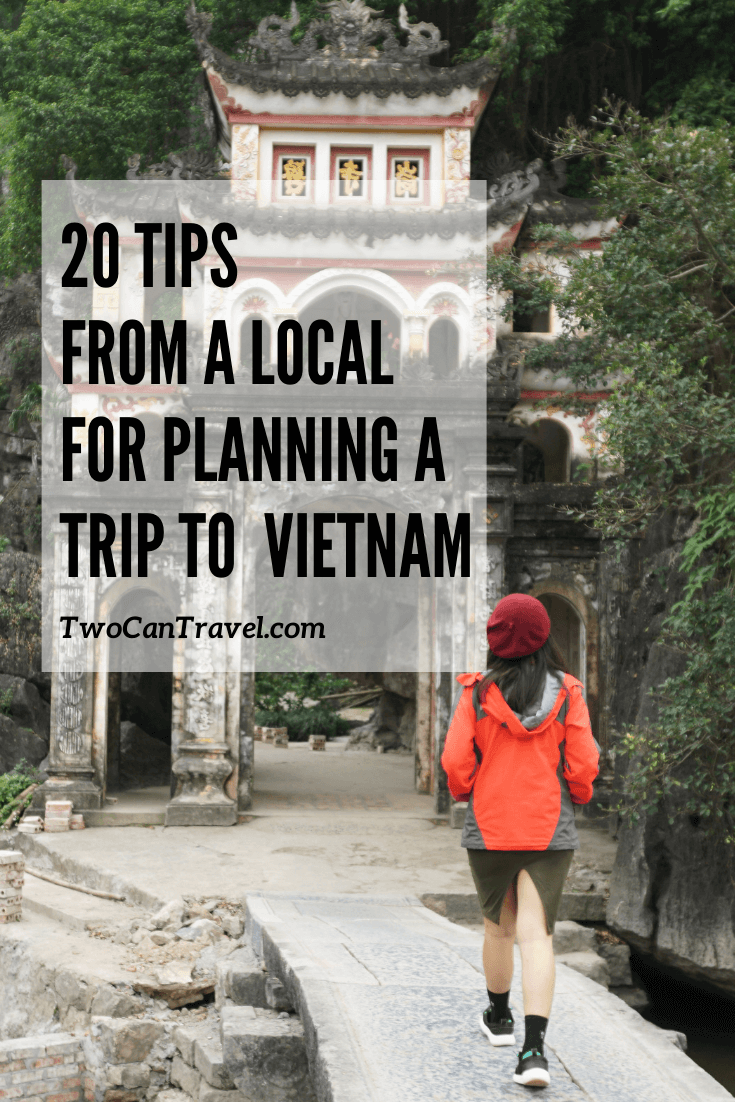 ---
Author Bio
Nhung started a Vietnamese travel blog after her first solo trip around 6 years ago. Because traveling gave her so much happiness, she used her blog to inspire other young Vietnamese to go explore by themselves, with a low budget and being sustainable. Recently, she also started the website Local Vietnam, to share her knowledge about Vietnam and to offer local experiences. You can also follow Local Vietnam on Facebook.