This article may contain affiliate/compensated links. For full information, please see our disclaimer here.

There is something SO exhilarating about buying plane tickets. It's the purchase that screams, "I am really doing this!" and puts trip planning into motion.
When you find a cheap flight deal, that amps up the excitement even more. Plus, you can spend all the money you save on your flights having even more fun once you reach your destination!
To be honest, there is no secret formula to finding a cheap flight. Scoring a great flight deal involves a combination of strategy, planning, and patience. And a little bit of luck never hurt.
We've taken countless flights over the last ten years. We've traveled all over Asia, Europe, and have gone back and forth to the US, and we've scored some amazing deals! But we've also made some mistakes (even this many years in) that ended up costing us big time (and not just our pride).
We'll teach you the best tricks we know, and how to avoid our mistakes, so you can find the cheapest flights for your next trip. 
---
Pin this article for later!
 
---


1. Be flexible with your destination
If you are open to traveling to any destination, you'll be more likely to score an awesome flight deal.
Check out Skyscanner's 'Everywhere' option. They show you the cheapest options for where you can fly based on your departure airport and your dates.  We've booked many cheap flights with Skyscanner over the years.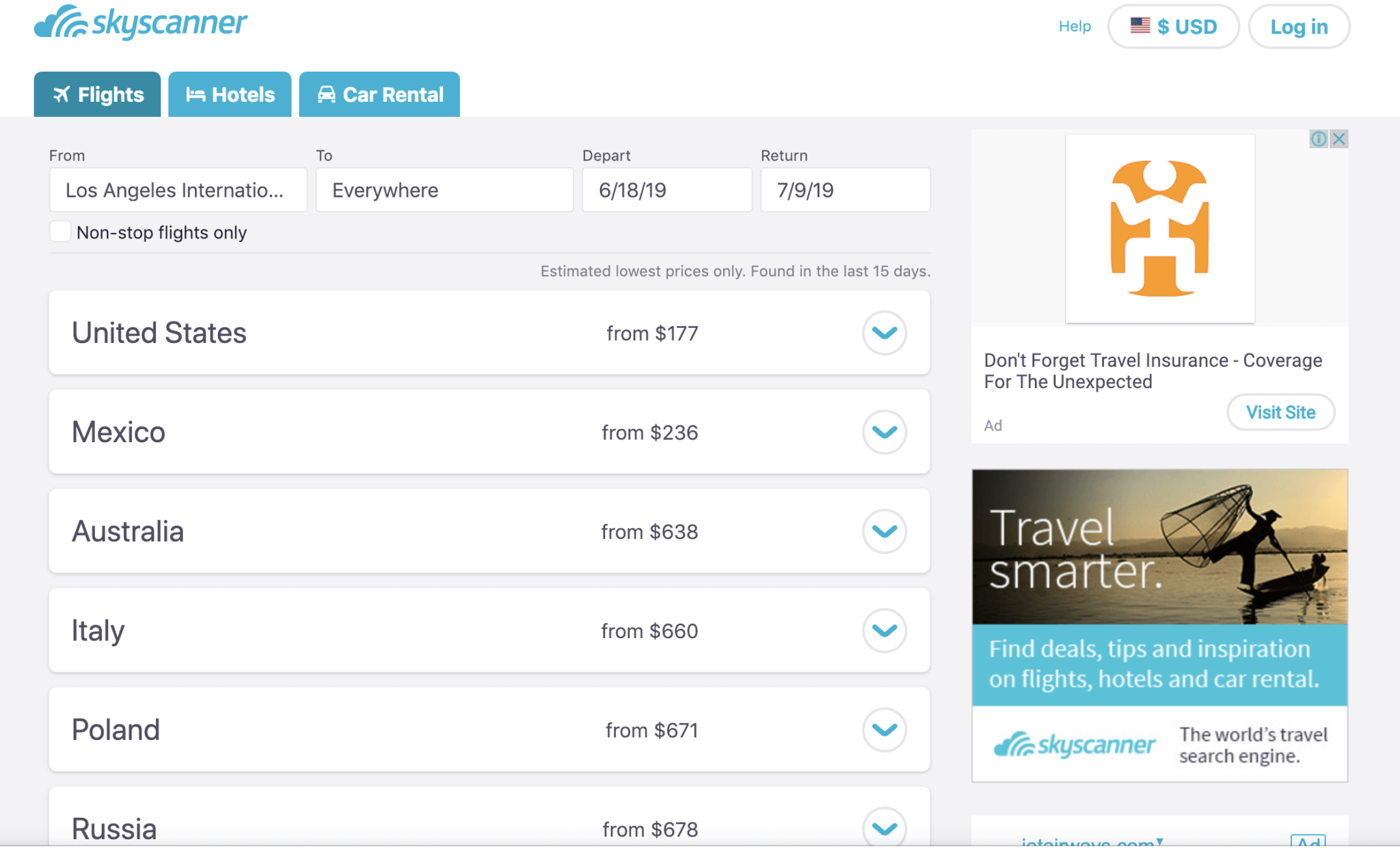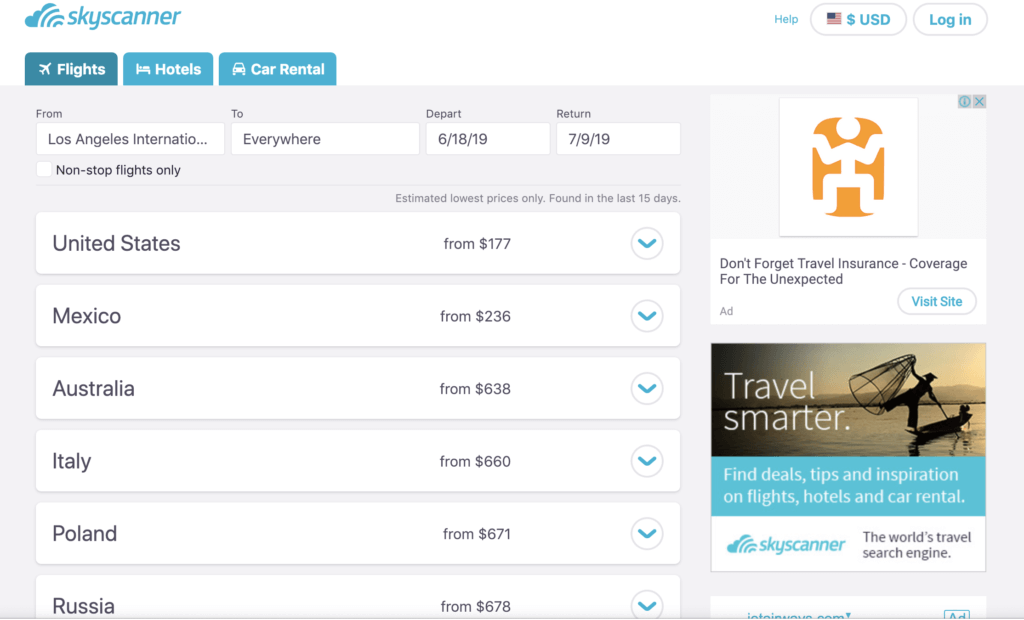 Score Extremely Cheap Flight Deals with Mistake Fares
Often the cheapest flight deals happen through mistake fares. This is when an airline makes an error and a flight is much cheaper than normal.
This could be due to human error, accidentally omitting things like fuel charges, or a mistake when converting currencies. Mistake fares usually last until the error is discovered which could take just a few hours or several days. These low-cost flights could be going to anywhere, from anywhere, so be sure to check up on them regularly.
Secret Flying is a great website for finding mistake fares. It's completely free and there is no sign-up required. Here are some examples of flights they've found.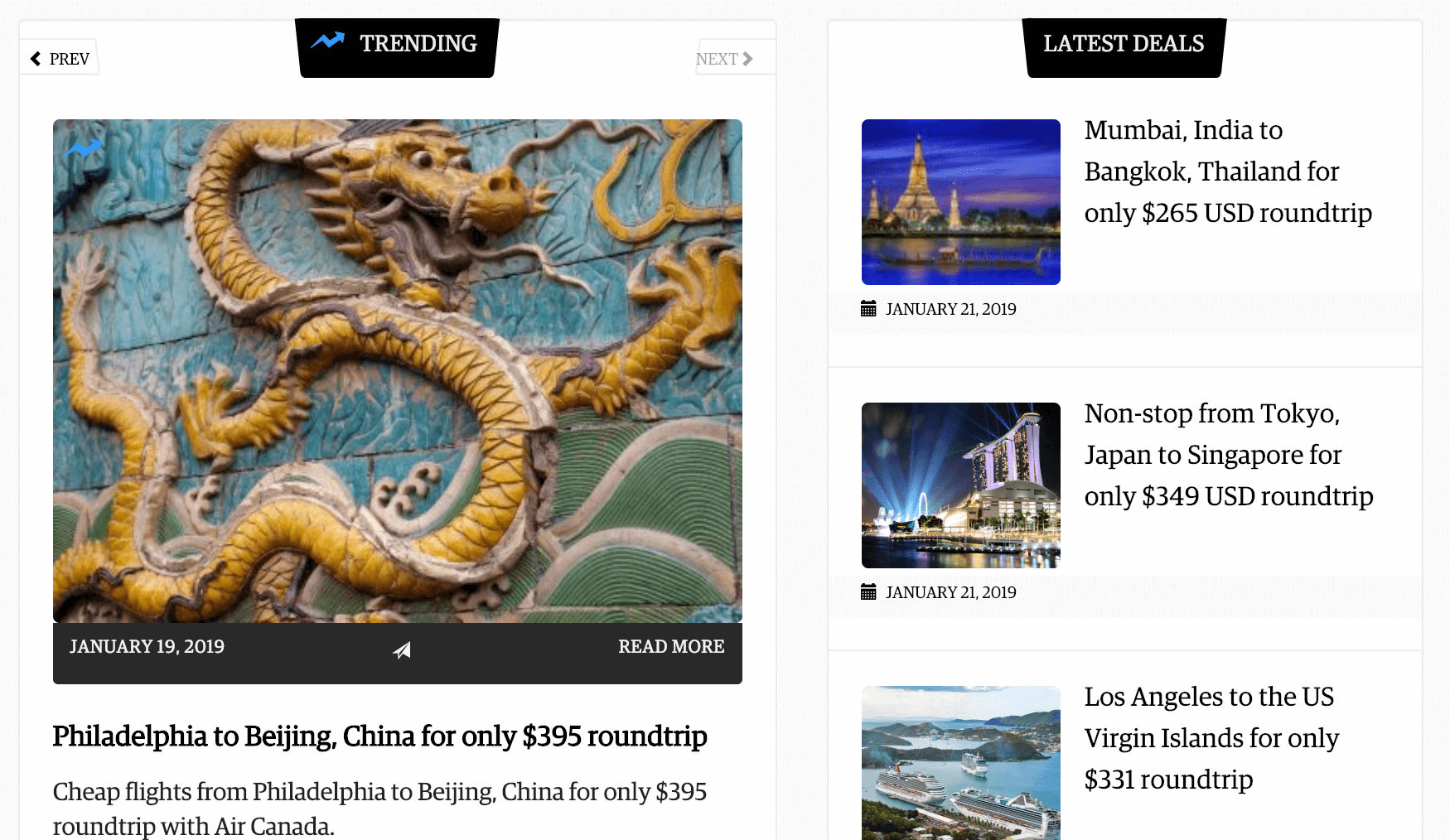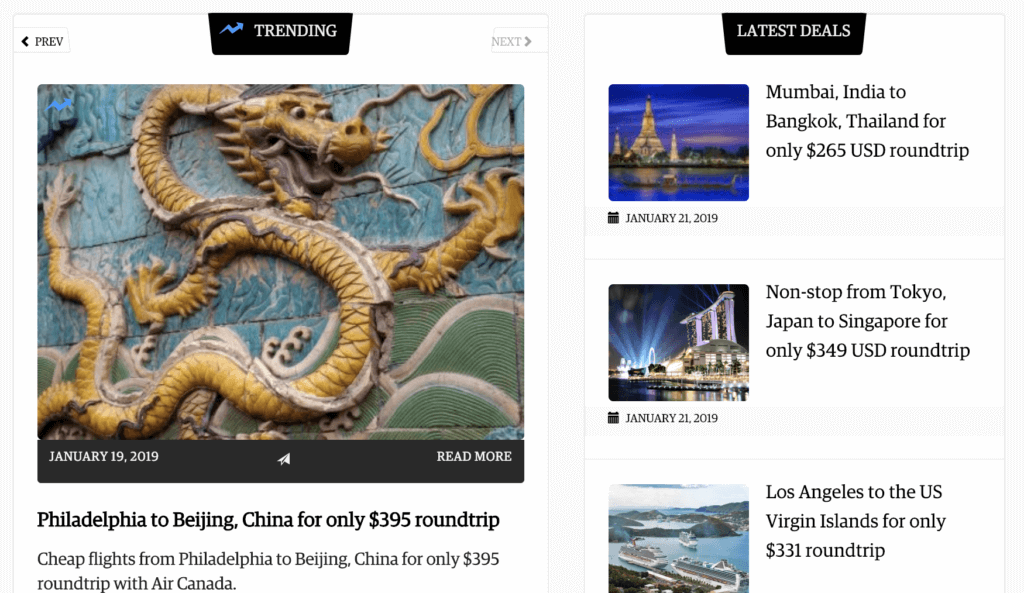 Scott's Cheap Flights is another great website for finding extremely cheap flights and mistake fares.
My brother and brother-in-law scored an amazing deal on a roundtrip flight from Minneapolis to Amsterdam in 2018 through a mistake fare. They found the deal through an email from Scott's Cheap Flights.
If you're flexible with your destinations, then subscribe to Scott's Cheap Flights FREE email list. You'll receive email alerts when Scott and his team of experts find cheap flights departing from your selected airports. 
Since the deals are time sensitive, be sure you are getting emails from Scott's Cheap Flights in your Primary inbox so you don't miss out. You can also upgrade to Premium Scott's Cheap Flights membership for $39/anually, which will give you access to mistake fares that can result in up to 90% savings on flights, among other things. If you're flexible about where you want to travel then it's a small price to pay considering how much you could save! We aren't affiliated with Scott's Cheap Flights, we just think they are a great company!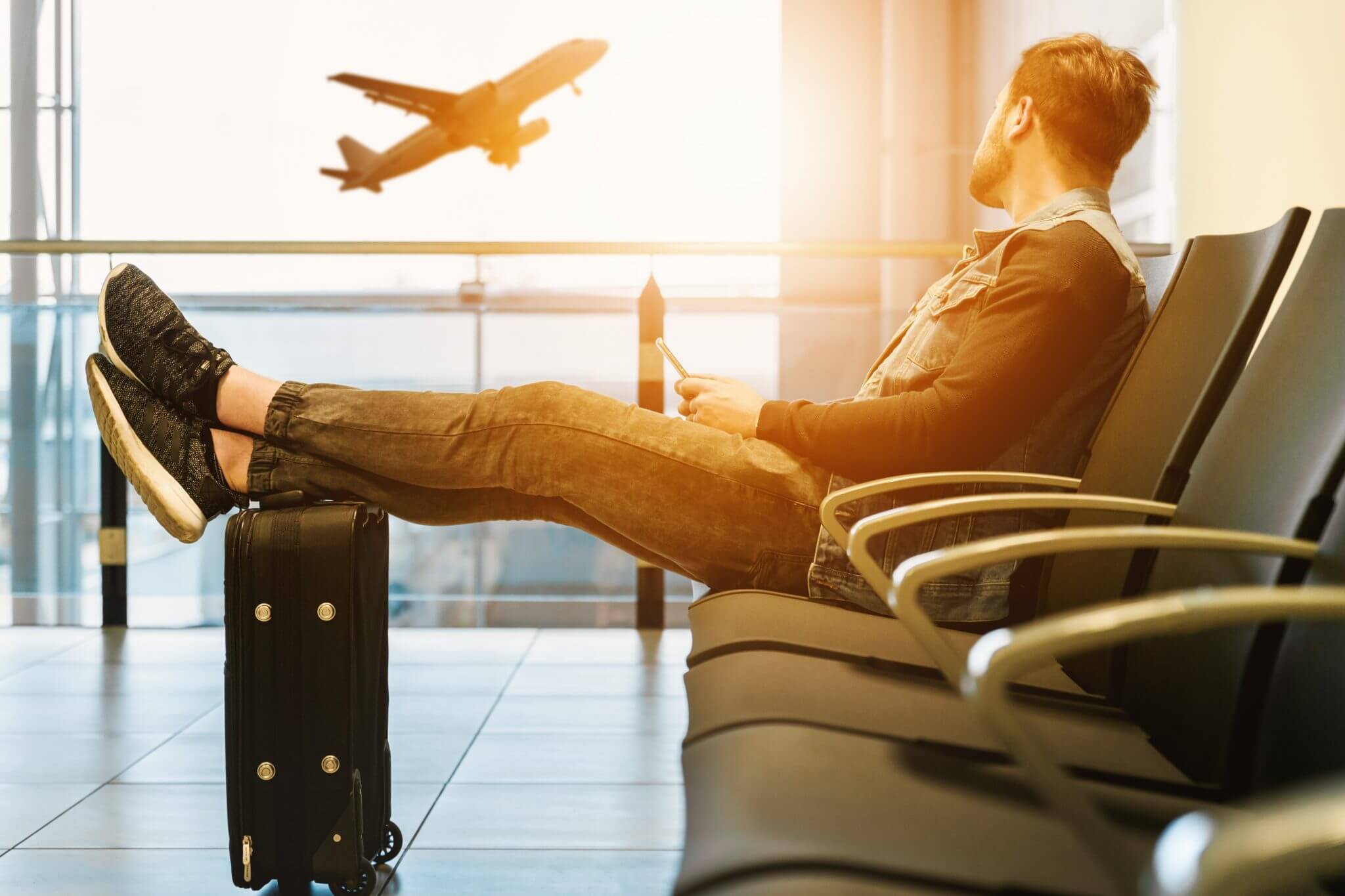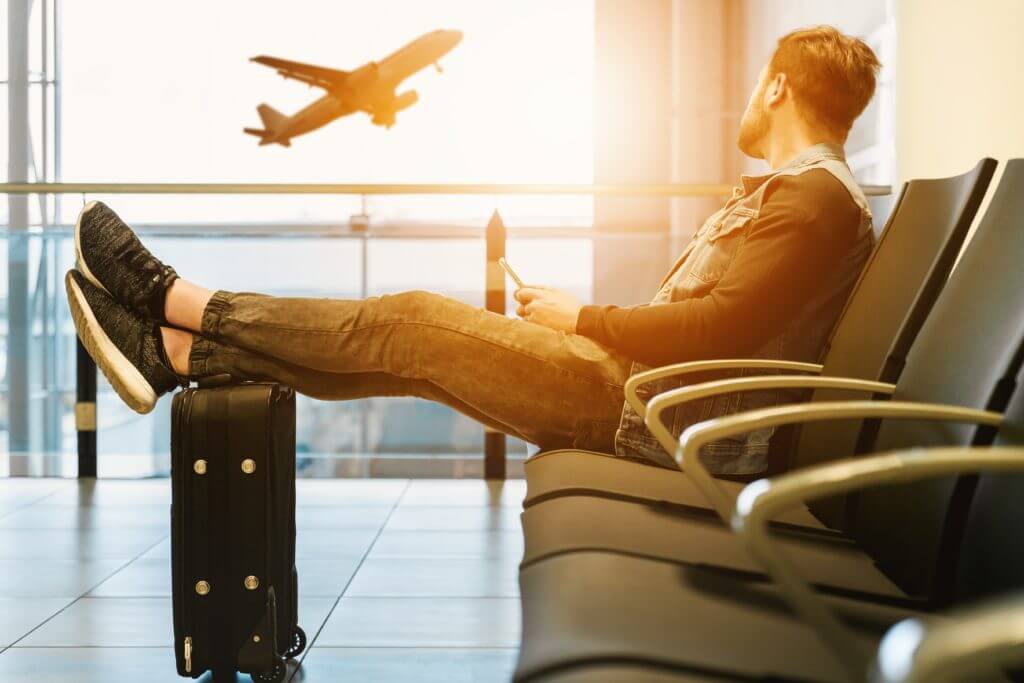 2. Be Flexible with your Dates
If your travel dates are flexible you can play around with them during your search to figure out which date is cheapest to fly.
Flights that are on weekdays, usually Tuesday-Thursday, are often the cheapest. This isn't always the case, but it's what we've found to be true most of the time. Note, this doesn't mean that you need to book your flight on a weekday but rather that the flight itself is on a weekday. 
Momondo is a great flight search engine for playing around with your dates to find the cheapest fare. They offer lots of filter options and have a great visual platform to see when it is cheapest to fly around your desired dates.
Fly during shoulder season
It's cheaper to fly at certain times of the year depending on the destination. For example, the peak season for travel in Southeast Asia is between November and February when the weather is cooler and dryer. Flights within this window will typically be more expensive due to demand.
If you are willing to travel during the shoulder season, also known as the low season, you can save big on flights. Flying in the shoulder season has a lot of perks, and not just saving on flights. Cheaper accommodations abound and there are fewer crowds.
Watch out for holidays
Be sure to research holidays in your destination around the time you plan to travel. Flights may be more expensive during certain holiday periods such as Lunar New Year, often called Chinese New Year. It's likely that accommodation will be more expensive during the big holidays too.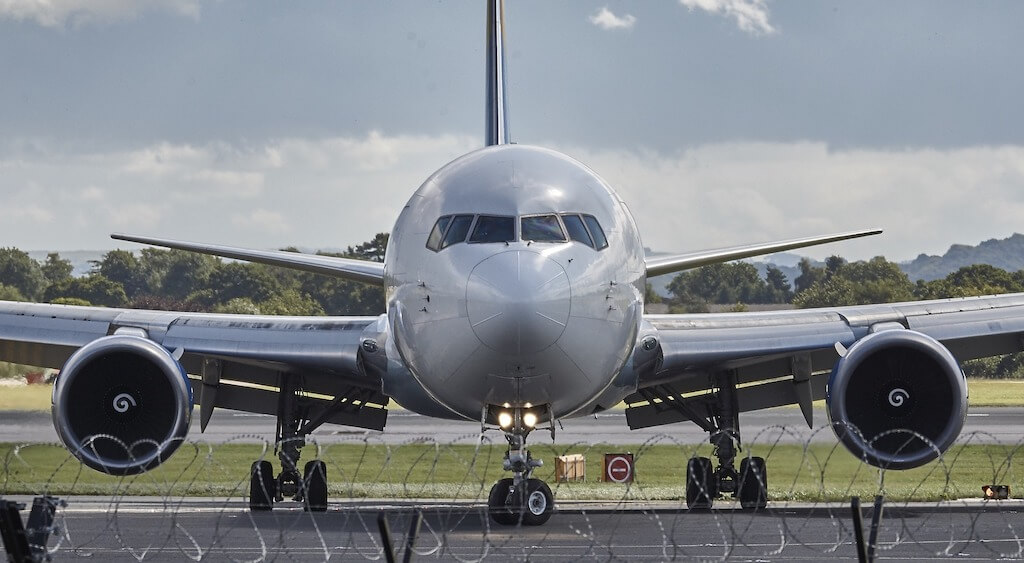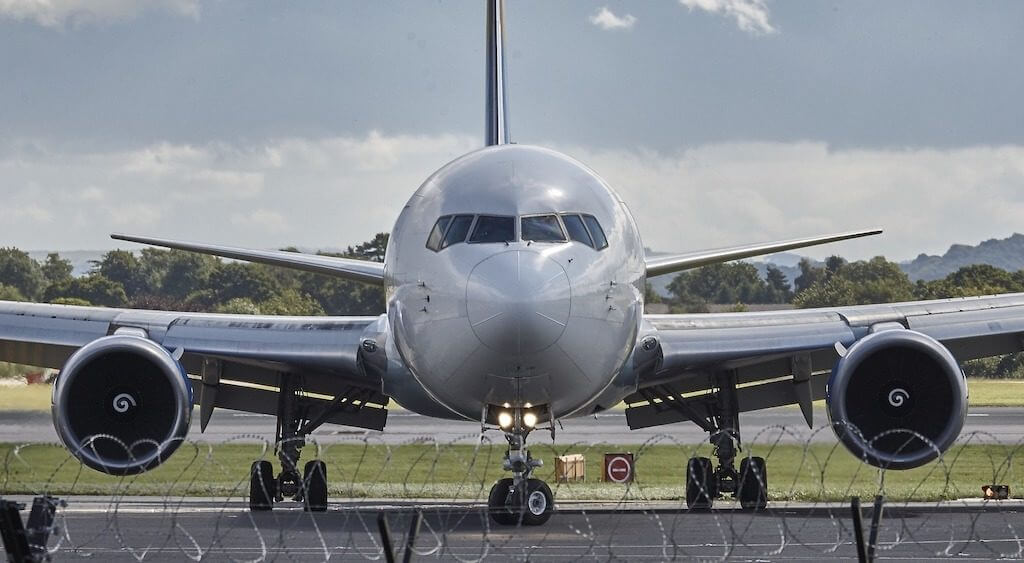 Double-check the dates before you book
When you're playing around with dates be sure not to confuse yourself and open too many tabs and accidentally book your tickets for a month before you want to fly. Basically, don't do this.
3. Fly at odd hours or with a longer layover
You may also score a cheaper flight if you're willing to fly at inconvenient hours or with long layovers.
A long layover can even be an advantage if it's long enough that you can leave the airport to explore the city a bit. For example, Seoul International Airport in South Korea offers free city tours if your layover is longer than 8 hours and during certain hours of the day.

4. Fly to a nearby airport
This tip could potentially save you hundreds of dollars!
If you're finding that international flights are too expensive, check out other airports nearby your destination.
For example, if you're planning a trip to Siem Reap, Cambodia you can look for flights into Bangkok, Thailand or Kuala Lumpur, Malaysia. Both of these are major hubs for international airlines and budget airlines in Asia.
From Bangkok or Kuala Lumpur, you can book a flight on a local budget airline like Air Asia to Siem Reap. Note that this is not always cheaper, but it is worth looking into. 
Real life example
In 2018 my sister and her husband needed to buy round trip flights from San Francisco to Mumbai, India. They started checking for flights six months in advance and every week after that. Prices never went to under $1,600 per ticket! At one point prices jumped to over $2,000!
Their final destination was Pune, about a 3-hour taxi ride from Mumbai, which would have cost $50 each way. They were looking at spending over $4,100 just on transportation, which was way beyond their budget for this two-week trip. They were going to a family wedding, so they really had to make the trip on specific dates!
On a whim, they checked the cost to fly into Delhi instead. Flights from San Francisco to Delhi were only $1000! They immediately booked the flights. Then they bought flights on the budget Indian airline, Spice Jet, from Delhi directly to Pune. Those flights were only $60 each way, and they avoided having to take taxis from Mumbai to Pune.
In the end, they spent around $2,240 in total to fly roundtrip from San Francisco to Delhi to Pune. Although their overall transit time was a bit longer, saving nearly $2,000 on flights was well worth it!
When looking at flights, check out which other airports are accessible to where you want to go. Can you take a train, bus, or short flight from another airport to get to your destination? Doing this could save you big money!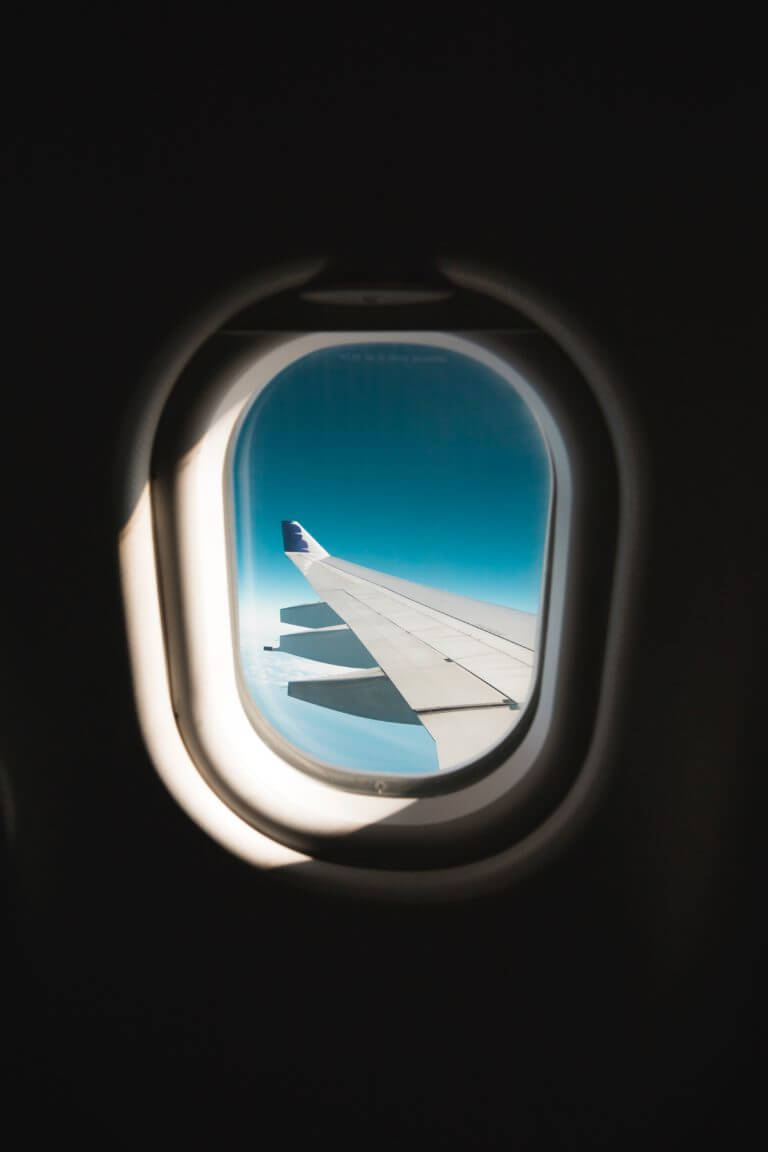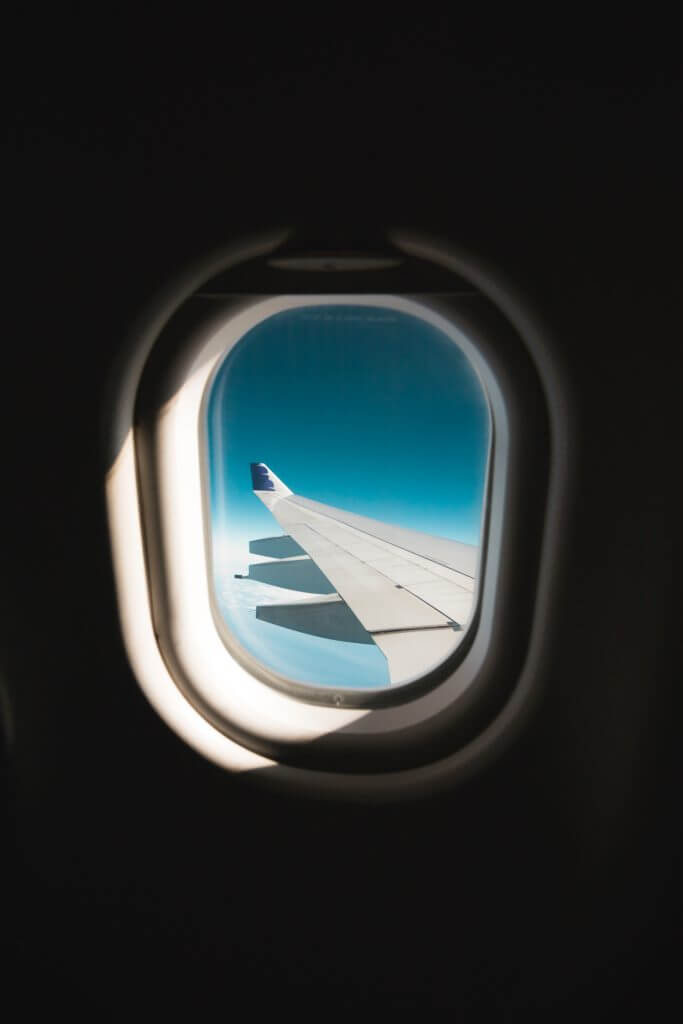 5. Book at least 3-6 months out
If your travels aren't flexible and you have somewhere you need to go on specific dates, try to book your flight anywhere from 3 to 6 months ahead of time.
Prices usually increase within three months of your travel date and go up as that date approaches.
Sometimes you can get lucky and find cheap tickets at the last minute. But don't count on it. We've lucked out and found very cheap last-minute deals, and other times we've also paid 50% extra for not booking at the right time.
Do yourself a favor and start checking early. You can even set up price alerts on websites like Airfarewatchdog, which will let you know when fares drop for your dates.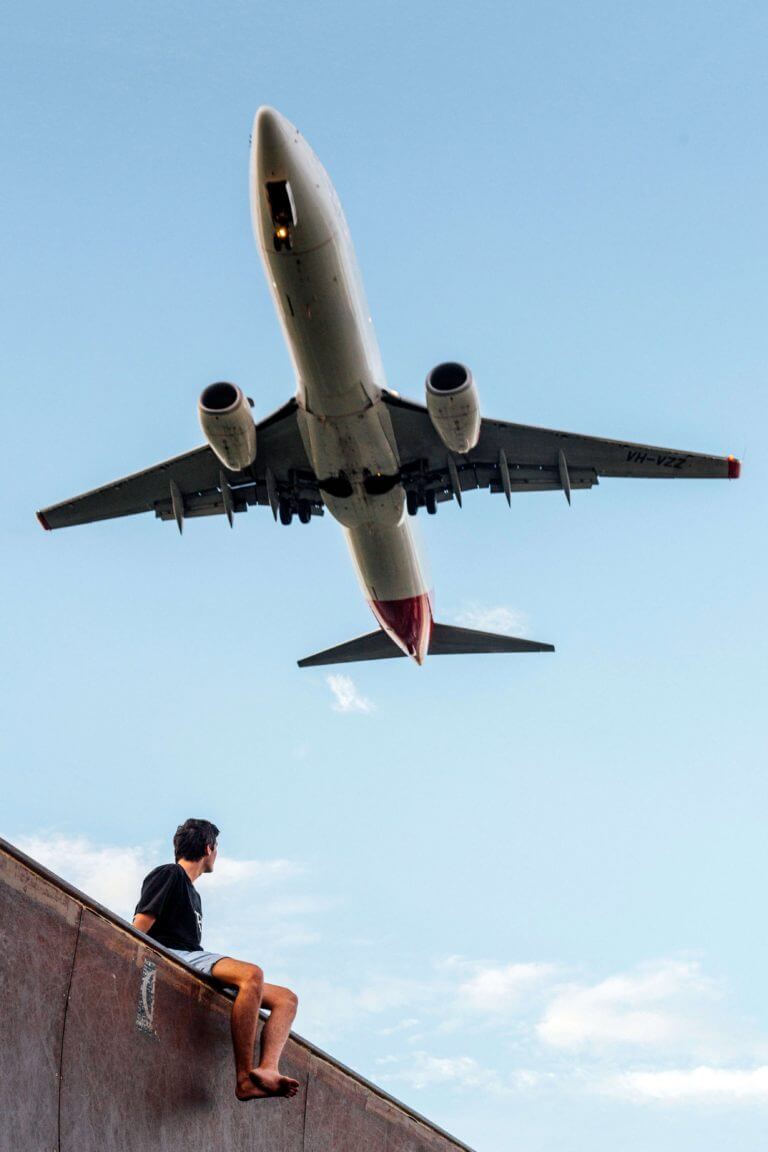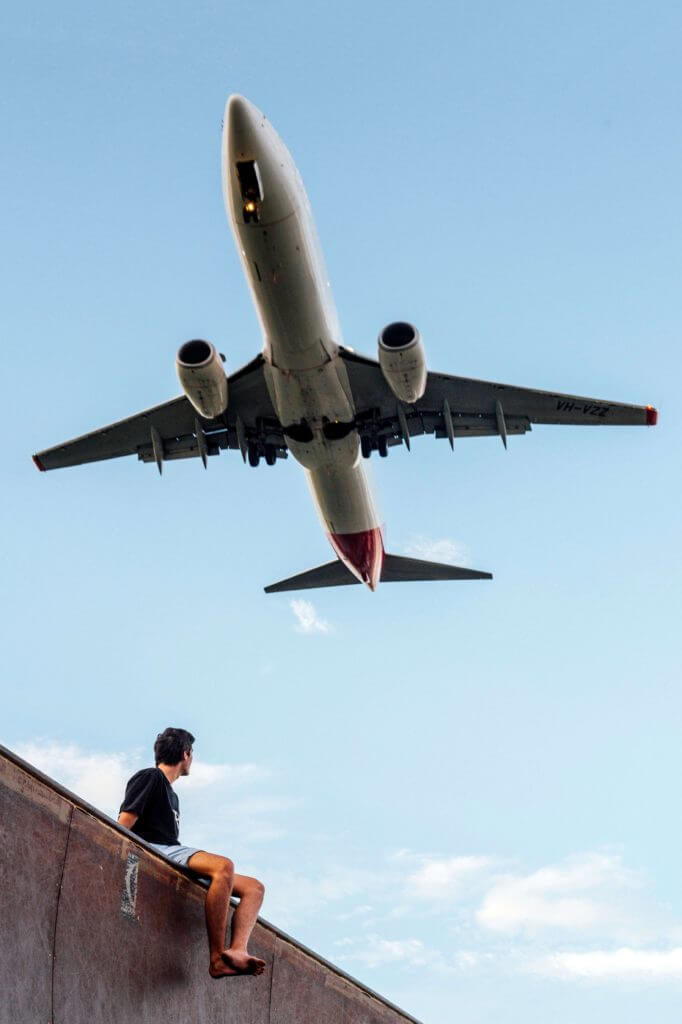 6. Search on multiple flight search platforms and the airline's website
We recommend searching for your flight on multiple flight search platforms.
Here are a few of our go-to flight search engines when looking for cheap flights:
Once you find a flight you are happy with, we recommend that you also check for that flight directly on the airline's website. Sometimes flights are less expensive when you book directly with the airline.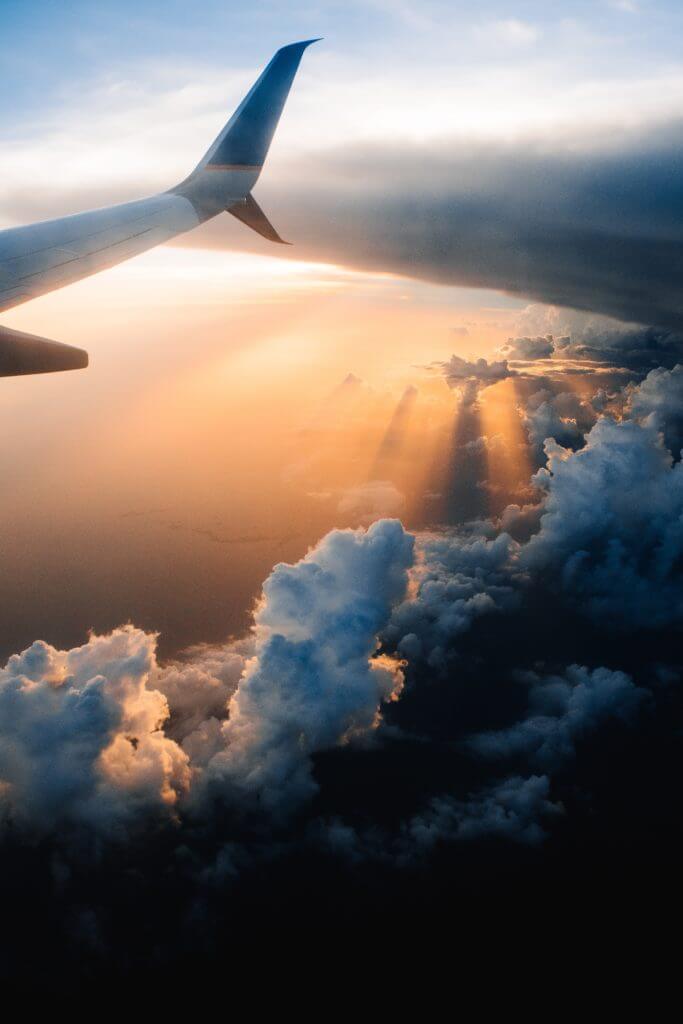 7. Book Multiple Legs
If you're noticing that getting to your destination requires one or more layovers or stopovers, it may save you money to book the legs of your journey separately.
For example, if you are flying from Los Angeles to Bangkok, you will likely have a layover somewhere in China, Taiwan, or Hong Kong. Check your options for a flight from Los Angeles to Hong Kong, then a flight from Hong Kong to Bangkok. Sometimes booking individual flights can save you a good amount of money.
If you go this route, be sure to check the visa requirements of the country you are flying to first. Some airports may require you to go through immigration and get your bags before you can check in for your next flight.
You will need to leave yourself ample time to go through the immigration process and check in for your next flight. Leave yourself at least 4 hours between flights if you are traveling internationally. 
You might also consider starting your journey in one city and flying out of another city. It is sometimes cheaper to book two one-way flights than round-trip flights.

8. Search Secretly in an Incognito Window
When you are ready to book your flight, be sure you start your search in an Incognito window. This is a privacy window to disable any history or cookies from your previous searches.
Some flight search engines use cookies to remember which flights you have been searching, then increase the price of the flight you want when you search later. Using an Incognito window is like starting fresh each time you search for flights.
9. Check what's covered before you buy
Taking the cheapest flight may be tempting, but it's important to do a bit more research on the airline.
Luggage Allowance
Some airlines like Air Asia, the top budget airline in Asia, have very strict baggage allowances. They only allow 7kg for all carry on luggage and any checked luggage is an additional fee.
We made the mistake of adding a checked bag once we arrived at the airport for an Air Asia flight from Phnom Penh to Bangkok in 2018. It ended up costing us $200 USD for the bag because they charged per kilogram. Had we added the checked bag online up to 4 hours before our flight it would have only cost around $30 USD.  
To avoid an expensive error like ours, Google "luggage allowance X airline" to make sure you don't end up spending more on baggage or other extra fees. If you do need to add a checked bag, make sure you do it online ahead of time. 
Food and Drinks
It's also important to check whether the airline serves any food or beverages. Of course, if they don't you can always bring your own food and an empty water bottle to fill up at the airport.
We love traveling with our wide mouth 32-ounce Nalgene water bottles. They are BPA free and we end up drinking a lot more water throughout the day when we carry them. 
In-flight Entertainment
You can check out what the airlines offer on their websites. Most long flights are on newer planes that have individual screens at each seat. Sit back, relax, and watch some of the best movies from 5 months ago on a tiny screen.
We find that we can keep ourselves sufficiently busy reading our Kindles or watching downloaded Netflix shows, writing, editing photos and videos, or playing video games. Remember to stay hydrated and walk around at least every 2-3 hours on long-haul flights.
Is there an option to add insurance (and do you need it?)
If you are traveling abroad, you probably already know that you need to get travel insurance that covers emergency medical and evacuation coverage, plus inconveniences like trip delay and theft.
Most airlines will give you the option to add insurance when you are booking your flight. Note that this is NOT a replacement for your travel insurance. The cost of airline insurance is usually minimal, but is it worth getting?
If you've already got travel insurance then you probably don't need to spend the money on the additional insurance offered through the airline. That said, there are extreme cases where the airline's travel insurance can protect you beyond what your travel insurance covers.
Recently a blogger we follow had tickets to travel to Europe. On the day of her flight, the airline went bankrupt! She and her husband had to shell out thousands of dollars for last minute tickets on a different airline to go ahead with their trip.
Of course, this is a very uncommon scenario, but it could happen! It's up to you to decide if you'd like to purchase the airline's insurance in addition to your travel insurance.
Be sure you know exactly what is covered by your travel insurance policy and what is covered by the airline insurance if you choose to purchase it.

10. Credit Card Miles
We take one or two free flights every year using our credit card miles. 
Bonus Sign-Ups
There are so many credit cards out there that offer perks for travelers. The best credit cards for travel that we have used are American Express Gold, Chase Sapphire, and Capital One.
These credit cards offer sign-up bonuses at least once a year that can help you rack up miles quickly. 
To get the bonus sign-up miles you usually need to charge a specific amount to your new card within a certain period of time. For example, charge $3,000 within three months and get 40,000 bonus miles. 
The number of airline miles you get during these sign-up bonus periods varies between cards but is usually enough to cover at least one leg of a long haul flight or one or two shorter flights.
Some credit cards companies offer bonus miles if your friends sign up for a credit card through your referral link. If you share these credit card offers with people you think might benefit from them you can get even more bonus miles! It's a win-win for everyone.
Use your credit cards as much as you can, but ALWAYS pay them off completely
Unfortunately, and fortunately, living in Asia means we use cash for almost all of our daily transactions. Unless we are buying something online such as flights or hotels we rarely use our credit cards.
If you are able to use your credit card more frequently than we are then you can rack up credit card miles very quickly from your regular day-to-day spending. Some credit card companies even offer double points on specific purchases like restaurants or gas. You'll need to check the benefits of the cards you choose. 
No matter how much you use your credit cards, be sure you can pay off every purchase you make in full each month. If you are accumulating debt then the money you pay in interest will negate any of the bonus miles you gain anyway.
We often cancel or downgrade credit cards within the first year if they have an annual fee. This is because we find that the perks beyond the initial sign-up bonus aren't usually worth it for us. If you are a frequent flier then card benefits like lounge access and priority boarding might make the annual fee worth it for you. 
Learn more about travel hacking
We are by no means experts on travel hacking with credit cards, but we are learning. To dive deeper into making your credit card points work for you, check out these articles from our friends LeAnne and Andy, the Economical Excursionists, who are pro travel hackers.
The Points Guy is another great resource to learn how to maximize your credit card rewards.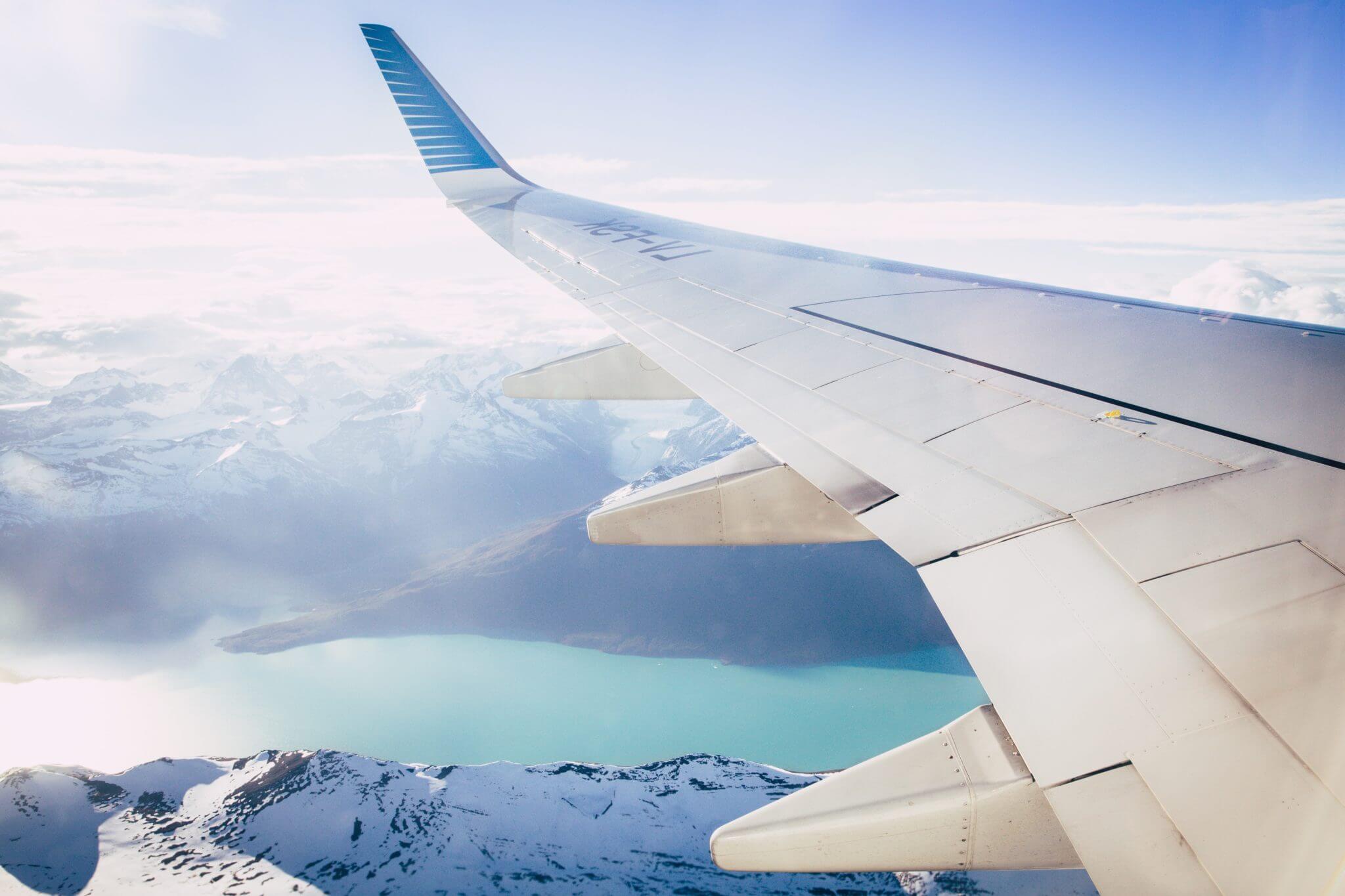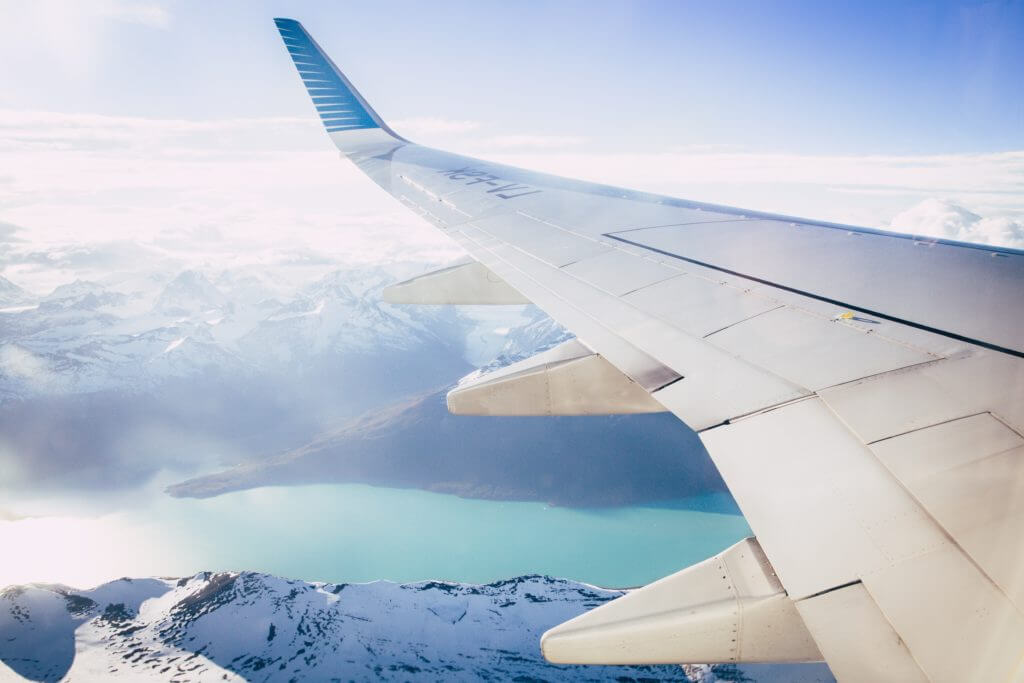 Ready to Plan Your Next Trip?
We hope these tips gave you some useful insights on how to find and book cheaper flights for your next trip.
Here's a quick recap of what we covered:
1. Be flexible with your destination
2. Be flexible with your dates
3. Fly at odd hours or with a longer layover
4. Fly to a nearby airport
5. Book at least 3-6 months out
6. Search on multiple search platforms and the airline's website
7. Book multiple legs
8. Search secretly
9. Check the perks before you buy
10. Use credit card miles.
As always, if you have any questions about living or traveling in Asia feel free to reach out to us in the comments section or by email to Jen (at) twocantravel (dot) com.
---
 Was this article useful? Pin it to reference later! 
---
Did you find these tips and tricks for finding cheap flights helpful? Do you have any other advice for finding cheap flights to share?
Help out our fellow travelers and leave your tips in the comments!
---