This article may contain affiliate/compensated links. For full information, please see our disclaimer here.
Dara Independence Beach Resort and Spa is one of the most unique hotels we've stayed at in Cambodia.
The story behind the hotel is fascinating. A crowning architectural icon of Cambodia, closed and forgotten for decades, now restored to its original glory and more beautiful and luxurious than ever.
Click here to check the latest rates for Independence Beach Resort and Spa. 
---
The Extraordinary History of Dara Independence Beach Resort and Spa
Then
The Independence Hotel, as it was originally named, was built in 1963 during the height of Cambodia's 'Golden Era'. King Norodom Sihanouk, along with renowned French architects Leroy and Mondet, designed and built the Independence Hotel as a symbol of Cambodia's freedom from French colonial rule.
It was the country's first luxury hotel and the tallest, standing seven stories high overlooking the lush Cambodian jungle and the Gulf of Thailand.
The Independence Hotel was popular among Cambodia's elite social class, famous actors, musicians, and the Royal family. Jacqueline Kennedy even visited the hotel during her visit to Cambodia in 1967!
Check out this rare footage of Cambodia in 1965 showing Sihanoukville and the Independence Hotel:
Sadly, the good times didn't last long. When the Khmer Rouge, Cambodia's Communist party led by Pol Pot, took over Cambodia in the 1970s the hotel was closed and taken over as a regional base for the Khmer Rouge regime.
The Independence Hotel remained closed and empty after the Khmer Rouge genocide ended in 1979. It was used briefly in 1992 to house UNTAC forces working to rebuild the country, then closed again. The hotel remained an empty shell, left vacant and vulnerable to the elements.
Now
In 2007, with King Norodom Sihanouk's support, renovations began to restore the Independence Hotel to its original glory. Modern conveniences like a new elevator and air-conditioning were added, but the bones of the structure and style were kept as close to the original design as possible. After so many years of decay, it is once again the most beautiful hotel in Sihanoukville near the beach.
Since it's reopening, the hotel has expanded little by little each year. Many of the huge, ancient trees have been preserved, some even growing through the buildings through cut outs in the foundations and ceilings.
Dara Independence Beach Resort and Spa now has three restaurants, a spa, a nature path running through the property, an elevator down to the beach, conference rooms, a reception building, a large pool, and a beautiful new infinity pool and bar, set to open in May 2017.
The new construction blends seamlessly into the scenery, keeping the natural beauty of the property at the forefront of design.
The Location
Dara Independence Beach Resort and Spa is situated on 35 hectares of lush jungle along the southern coast of Cambodia, 5km outside the center of Sihanoukville city. It is on top of a small hill, among beautiful ancient trees, just above the soft white sand and clear blue waters of Independence Beach.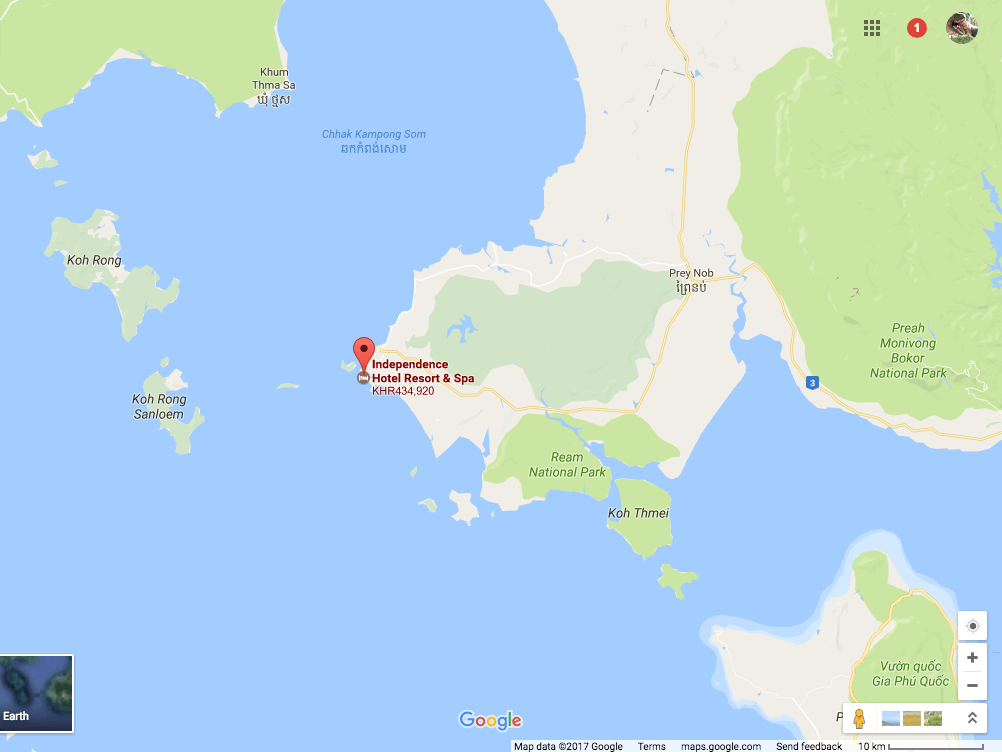 Getting to Sihanoukville
You can reach Sihanoukville by bus from both Siem Reap (about 12 hours) or Phnom Penh (about 5 hours). We recommend booking with the bus companies Giant Ibis or Mekong Express.
Another option is traveling by private taxi, which is reasonably priced in Cambodia and usually more comfortable than traveling by bus.
You can also take a flight from Siem Reap or Phnom Penh to Sihanoukville. The airport is about 40 minutes from the Dara Independence Beach Resort and Spa.
The hotel can arrange your pick up from the airport or bus station.
Arrival and Check-in
When we arrived at Dara Independence Beach Resort and Spa we were greeted by friendly staff members who took our bags and led us to reception. A woman brought over cold towels and refreshing juice for us while we waited. After a few minutes, we were led up to our room on the 7th floor!
The Rooms
We shared excited giggles when we walked into our Deluxe Room. A huge panorama window facing the ocean provided sea and coastal views as far as the eye could see. It was amazing to be so high up and look out at the islands in the distance. We watched sunrise and sunset paint the ocean and coast vivid colors every morning and evening.
All 52 rooms in the main building are spacious with a king size bed or twin beds, a desk, sitting chairs, small table and mini fridge. There was a safe to secure our valuables inside the closet, along with bathrobes, slippers and an umbrella, just in case.
The bathroom was well equipped with toiletries, fluffy towels and a blow-dryer. My favorite part was the bathtub next to a large window so you could look out at the ocean while soaking, which of course I did! You could even look out at the view from the toilet through the reflection in the mirror. Truly classy!
Over the past several years Dara Independence has added 76 rooms to the property, providing a range of accommodation choices to suite the whole family. There are studios, suites and private villas, some with their own pools. All rooms on the property have ocean views. Have a look at more of the beautiful room offerings at Dara Independence here.
The Restaurants and Food
Dara Independence Beach Resort and Spa has a wide selection of delicious food for breakfast, lunch and dinner.
Breakfast is included with your room, and we looked forward to it every morning! Breakfast is served in The Coral Restaurant, a round room at the base of the main building, renovated to it's original 1960s style.
There are global food offerings at breakfast, catering to guests who visit from around the world. We sampled just about everything from the local fruits, imported cheeses, pancakes, breakfast meats, pastries, Asian porridge with pickled veggies, beef noodle soup, and excellent made to order omelets. The coffee, tea and juice selection were bottomless, which we always appreciate. 🙂
Dara Independence Beach Resort and Spa has three restaurants. Our favorite is the Sunset Terrace Restaurant and Bar, built in 2007. The location could not be more perfect, hidden among the trees below the spa, right along the coast. The windows all open to the sea so you can enjoy the fresh ocean breeze and gaze out at the turquoise blue waters.
We ate both lunch and dinner at the Sunset Terrace Restaurant and were blown away by the ambiance and food, especially the seafood! Chef Touch Nouch uses fresh, locally caught seafood and local vegetables when possible to prepare unique, mouthwatering dishes each day.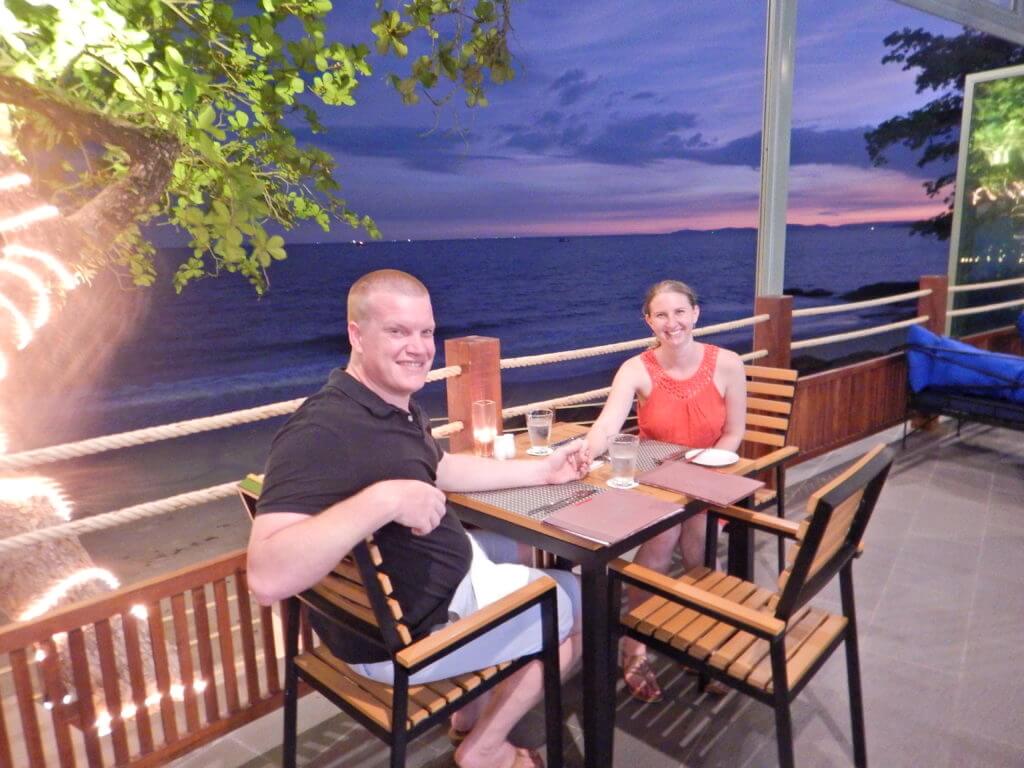 We chose from the a la carte menu for lunch. Stevo had the Loc Lac, one of his favorite Cambodian dishes made with tender beef, savory gravy-like sauce, sliced tomato and onion, and rice topped with an over easy egg, with Kampot pepper and lime sauce on the side. I opted for the Cambodian Samlor Seafood Soup, which has a blend of Cambodian herbs and spices, and Mango Salad with Fish. Both were fantastic!
There are also lots of kid-friendly items on the menus, like chicken fingers and breakfast cereal, which of course adults can eat as well. 😉
For dinner each night we had the Chef's set menu, which changes daily. You can choose from two, three or four courses, and of course we went for four both nights. The second night I devoured my food before snapping any photos, but here are a few pictures from dinner our first night.
The Jouvence Spa
Jouvence means 'rejuvenating experience' or 'youth' in French, and is the perfect name for this tranquil spa, offering a range of treatments to relax and revitalize guests. All of the treatment rooms have floor to ceiling windows, looking out at the jungle and beach below. The windows open up to let the gentle breeze flow into the room, or can be kept closed for the air-conditioning.
Spa treatments include a variety of massages, facials, body wraps, exfoliation, and Asian herbal remedies to restore balance and clarity of mind. There is even a French Vichy bath for a unique exfoliating and cleansing experience. Dara Independence Beach Resort and Spa has brought in an expert from Thailand who specializes in high-end treatments to ensure everything in the spa is of the highest quality. You can also purchase locally made products in the spa, like Coco Khmer coconut oil. 
There are separate women's and men's steam rooms, saunas, plunge jacuzzis with hot and cold water, and rain showers, available for guests to use from the early morning to late night, free of charge.
Stevo and I both used the jacuzzis and sauna rooms several times during our stay. I also got a 90 minute aromatherapy massage, which was 50% off for the annual Khmer New Year promotion. Lucky me! Cambodia has the most public holidays in the world, and there are holiday promotions happening year-round at the spa. You can view the latest offerings here.
The Activities and Facilities
The grounds at the Dara Independence Beach Resort and Spa are huge! 35 hectares of jungle and coastline, with the buildings occupying only a small portion of that space. When we stayed there the hotel was about 90% full, but we never felt like it was crowded. There are so many places for guests to go and things to do on the property.
Pools
There is a large pool just off the reception building, with a shallow section built just for children. There are comfortable lounge chairs under shady canopies, and well manicured gardens all around.
A new pool is being built near the Private Villas, with an infinity pool on the ocean, a large jacuzzi, a smaller pool with a slide and a bar. It will be finished in May 2017 and we can't wait to go back and see it!
Gym
Below the Jouvence Spa is the two-level gym, overlooking the trees and ocean. The gym is well equipped with state of the art machines for strength training and cardio, and free weights.
The lower level of the gym is a large room for yoga and aerobics, with mats and plenty of equipment. There are free exercise classes offered every evening that alternate between yoga, step aerobics and aerobics.
Dara Independence Beach Resort and Spa offers Gym and Spa Memberships to the public, with special monthly membership pricing. You can view their latest Gym and Spa offerings here.
Nature
Guests are free to roam the expansive property among the ancient trees and down along the coastline. There is a nature path, built by the hotel, that takes you through the jungle on the grounds. The Concierge can set up a Nature Walk with a guide, or you can make the walk on your own, ending along the main road to the hotel entrance. Many monkeys call this area home, and you can also spot exotic birds, lizards, and other creatures along the way.
There is also a boardwalk running along the coast all along the property. This is a beautiful path to walk early morning and at sunset.
Beach
Independence Beach is a long stretch of coastline in front of the hotel. Staff rake the beach in front of the hotel property every morning to ensure the sand is soft and clean for guests. The sea was crystal clear, the water a deep blue, melting into turquoise, changing throughout the day. It was the perfect temperature for swimming. We avoid the sun like the plague at mid-day since our pale complexions just can't handle it, but there were plenty of large canopy umbrellas and tall trees along the beach to shade us from the strong, equatorial sun.
There is also a pier running out into the water, with a covered seating area that can be rented for special occasions or meals. Dara Independence Beach Resort and Spa is a popular place for weddings and events, and the pier is a perfect setting to exchanging "I do's" among a small group of friends and family.
Just For Kids
Dara Independence Beach Resort and Spa is popular for families. The hotel has built a huge playground above the beach, and there is plenty of space for little ones to run around there.
The pools also have shallow areas designed just for kids.
The Service
From arrival to check-out the service at Dara Independence Beach Resort and Spa was excellent. The staff was smiling and friendly, ready to help with anything we needed. The hotel owners and managers have a passion for the Independence Hotel property, and for maintaining it's history and beauty as it grows.
There is a Concierge service available in the reception building to help guests with information about Sihanoukville and beyond. They can help book bus, train and airline tickets, private cars, as well as ferry boats to the islands along the coast.
Above and Beyond
The hotel offers a free shuttle service to and from downtown Sihanoukville for guests. We were continuing on to another beach after our stay at Dara Independence Beach Resort and Spa and since we were the only passengers in the van, the very friendly driver took us all the way to our final destination, several kilometers out of his way. Although he spoke perfect English, he told us he has been studying Chinese, so we were able to chat with him a bit in Mandarin, which only made us realize how rusty we are! We loved how the staff were all so friendly and seemed genuinely happy with their work.
The Verdict
Dara Independence Beach Resort and Spa is without a doubt one of the most beautiful and unique properties we've had the pleasure of staying at in Cambodia. The history of the property is fascinating, and the grounds, amenities and food are all fantastic. We would highly recommend staying here if you are traveling in Cambodia or for expats on a weekend away from Phnom Penh or Siem Reap.
Book a Room
Book a room directly with Dara Independence Beach Resort and Spa, or check out rates offered through Agoda and HotelsCombined.
---
Pin this post for later!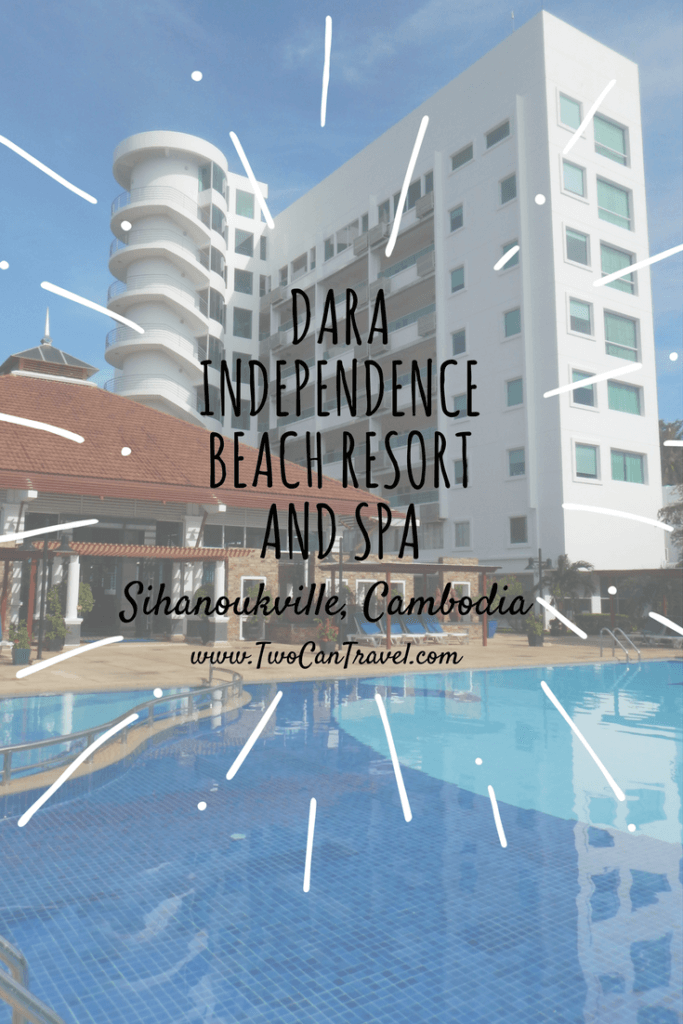 ---
We were invited as guests of the Dara Independence Beach Resort and Spa and our stay was complimentary. As always, we do not recommend anything we do not truly love and all opinions are our own. 
---
Note: This article contains affiliate links to companies we personally use that we feel provide value to our readers. We receive a commission if you book through these links, at no extra cost to you. Sometimes our partnerships can even save you money. Thank you for your support! 
---
Do you like staying in properties with history when you travel? Have you traveled to Cambodia yet?
---