This article may contain affiliate/compensated links. For full information, please see our disclaimer here.
Sok San Beach Resort, on the far side of Koh Rong Island facing the sea, is one of the best beach resorts in Cambodia. The resort has its own private beach, delicious food, and relaxing bungalows that bring all the comforts of resort living to a small island getaway.
Sihanoukville, Cambodia is, sadly, not what it once was just a couple of years ago. The coastal town in the southeast of Cambodia is now completely overrun with construction, mostly from Chinese developers, with skyscrapers and casinos going up all over the place. Although Sihanoukville, and especially Otres Beach, used to be one of our favorite places in Cambodia, we now don't recommend either at all!
As soon as you get to Sihanoukville from Phnom Penh, immediately make your way to Koh Rong Island where the beaches are still pristine and the island still maintains its natural beauty.
The Location
Sok San Beach Resort is on the far side of Koh Rong Island, facing the sea. When you look out from the private beach in front of the resort, all you can see is the horizon. And some fishing boats if you time it right. Koh Rong Island is the size of Hong Kong Island. But unlike Hong Kong, Koh Rong is still 80% jungle.
Things we love about Sok San Beach Resort
One of the best things about staying at fancy places like Sok San Beach Resort is the breakfast buffet. And this one did not disappoint. The food was delicious of course, especially the omelets, tropical fruits, and unlimited bacon. But the nicest thing about the breakfast was the environs.
Sok San's La Terrasse restaurant is right on the water so you can watch the sun reflect off the breaking waves as you eat breakfast. If there's a better way to start your day, please let me know.
Sok San Beach Resort is also dedicated to eliminating plastic waste by providing free water to guests at water coolers throughout the grounds as well as selling reusable metal bottles at check-in. Each room comes with a note asking guests to do their best to conserve water and energy while they are staying at the resort, and towels are only washed when requested.
We also loved that the resort was about a ten-minute walk from a small fishing village where you can walk around, have a local meal, and even rent a motorbike to go off and explore the island. We did this one day and had such a fun time!
Check here for Sok San Beach Resort rates and availability: Agoda
Getting to and from Koh Rong Island
Getting to Koh Rong Island is a breeze when you're staying at Sok San Beach Resort. While there are other ferries that go to Koh Rong from Sihanoukville, Sok San Beach resort has their own private dock north of town, The Drop-Off.
There you can start your vacation in style as you wait with a cold drink for one of the resort's three private speedboats to take you and other guests directly to Sok San Beach Resort. Boat schedules are dependent on the weather and depending on the time of year the waves can be a bit choppy, but the boat captains are well versed in making the trek to and from the resort to ensure you arrive safely.
After an hour of riding the waves, you'll be dropped off right at the doorstep of Sok San Beach Resort.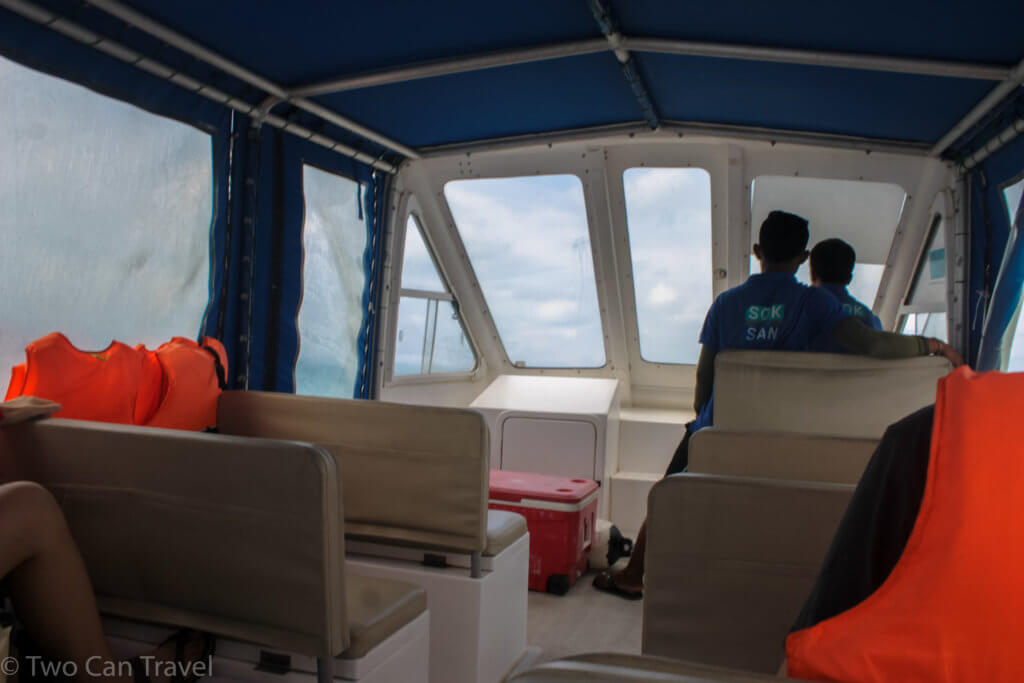 Arrival and Check-in
After your boat trip, you'll be greeted by smiling staff and a nice cold welcome drink. The open-air lobby and reception are right next to the beach so you can hear waves break as you check-in.
The staff are very friendly and helpful and can arrange an array of activities for you to do during your stay on Koh Rong. Or help you find the best way to relax!
Check out: Dara Independence Beach Resort and Spa Review
The Rooms
Sok San Beach Resort offers all sort of different rooms for solo travelers, couples, all the way up to an entire beach house!
Pavilion Rooms
The Garden View Pavilion rooms are perfect for couples on a romantic getaway. Each room has its own private bathroom, powerful AC, comfy beds, and a cute little porch where you can enjoy the peace and quiet of the resort as the sun goes down. The ocean is never far from any of the rooms at Sok San Beach Resort and there are plenty of wooden walkways to help you find your way there.
Sea View Pavilion Rooms
Sea View Pavilion rooms are identical to the garden view rooms but, you guessed it, with a view of the sea. The rooms are similarly appointed as the garden view rooms but come with the added bonus of private beach chairs on the beach. But don't worry if you don't have a private beach chair to call your own, there are plenty to go around.
Pavilion Famly Rooms
The Pavilion Family rooms have two roomy double beds and are perfect for families with small children. Family rooms also have private terraces and a small garden to relax in during the day.
Chalets
Sok San Beach Resort boasts a variety of chalet rooms that are reminiscent of traditional Cambodian cottages. With two sea view chalets, six garden view chalets and twelve family chalets available, Sok San Beach Resort has a chalet that's right for you.
Each room has its own private entrance that opens up onto a long terrace that circles the building, providing sweeping views of the property and the sea. The chalets are equipped with massive king beds and a comfy living room area that are both just steps away from the beautiful white sands of Koh Rong.
The family chalet has two bathrooms and two bedrooms. One has a king sized bed and the other with two spacious doubles, perfect for a family vacation.
Lofts
If you're planning on spending a little extra time in paradise, consider the lofts. These rooms are located above the pavilion rooms and provide a stunning view of the grounds and the ocean. Each loft has a sitting area, king-sized bed, and kitchenette.
Beach House
This three bedroom house is the perfect getaway for the whole family. Staying in the beach house is like having your own private home on Koh Rong. Secluded from the rest of the grounds, the doors open directly onto the beach, with a balcony circling the beach house that provides stunning views of the sea.
The Grounds
Sok San Beach Resort sits right on the white sands of Koh Rong. As soon as you step out of your room you can feel the sand between your toes and hear the waves. Koh Rong is a lush tropical paradise, there is no city noise and mostly dirt roads with very little traffic.
All you'll be able to hear is the sound of the waves breaking and your spirit unwinding. The grounds get very dark at night which makes for great star-viewing. And at certain times of the year, you can swim with bioluminescent plankton right off the shore! Just wade into the waves and splash about for a natural blue light show you'll never forget.
Check out: a review of Siem Reap's Templation Angkor 
Immersed in Nature
Koh Rong is still relatively untouched, and you can really feel how serene the island is at night. With no traffic sounds and few adjacent properties, nights at Sok San Beach Resort are quiet and peaceful.
The grounds are green and well maintained. You'll feel like you're in a luxurious jungle during your time walking the grounds. The sand is perfectly white and the sea is an unimaginable blue.
The Food
The food at Sok San Beach Resort is not to be missed. The rotating seasonal menus and fresh seafood will keep you coming back for more. Whether it's snacks and cocktails, fine dining, or a generous breakfast buffet, Sok San Beach Resort does not disappoint.
The Coconut Beach Bar
The Coconut Beach Bar sits right on the white sands of Koh Rong and is the perfect spot to relax for an afternoon respite. The bar offers snacks, drinks, and there is a barbeque that can grill up meats and veggies to order. Listen to the ocean and watch the waves roll in while you enjoy the serenity with a cocktail.
La Terrasse Restaurant
La Terrasse serves a variety of delicious Khmer and western dishes. The chefs definitely know what they're doing, the food is exquisite. With a rotating seasonal menu, La Terrasse serves only the finest and freshest seafood. From steaks to pizzas to Khmer favorites, La Terrasse has something for everyone, and it is all delicious.
This is also where you can enjoy Sok San's breakfast buffet, a delicious spread of local fruits and western staples, plus an omelet bar!
Sundeck Beach Bar
The Sundeck Beach bar offers delicious drinks with even better surroundings. Relax with a cocktail and enjoy the sea breeze as the sun dips below the horizon. Try the margaritas!
Read: Review of The Plantation Urban Resort and Spa
Sok San Beach Resort
Sok San Beach Resort isn't just one of the best hotels on Koh Rong, it is one of the best hotels in Cambodia. The proximity to nature, the helpful staff, their commitment to being reducing plastic waste, and the delicious food make for an unbelievable stay in an island paradise. Koh Rong Island is already a natural wonder and Sok San Beach Resort is the best place to stay for a relaxing trip to the island.
---
Disclaimer: This article may contain affiliate links. If you make a purchase through these links we earn a small commission at no extra cost to you. Sometimes you'll even save money through our links. We only partner with companies we have personally used and would recommend to our own friends and families.
---
Like this article? Pin it for later!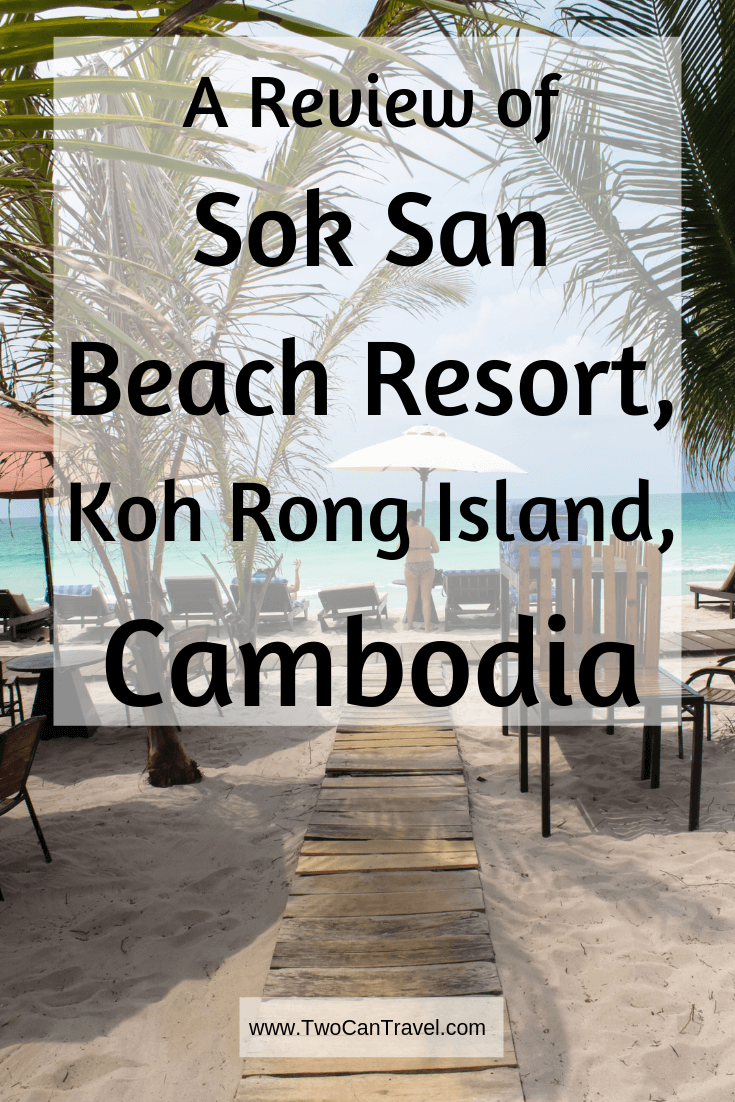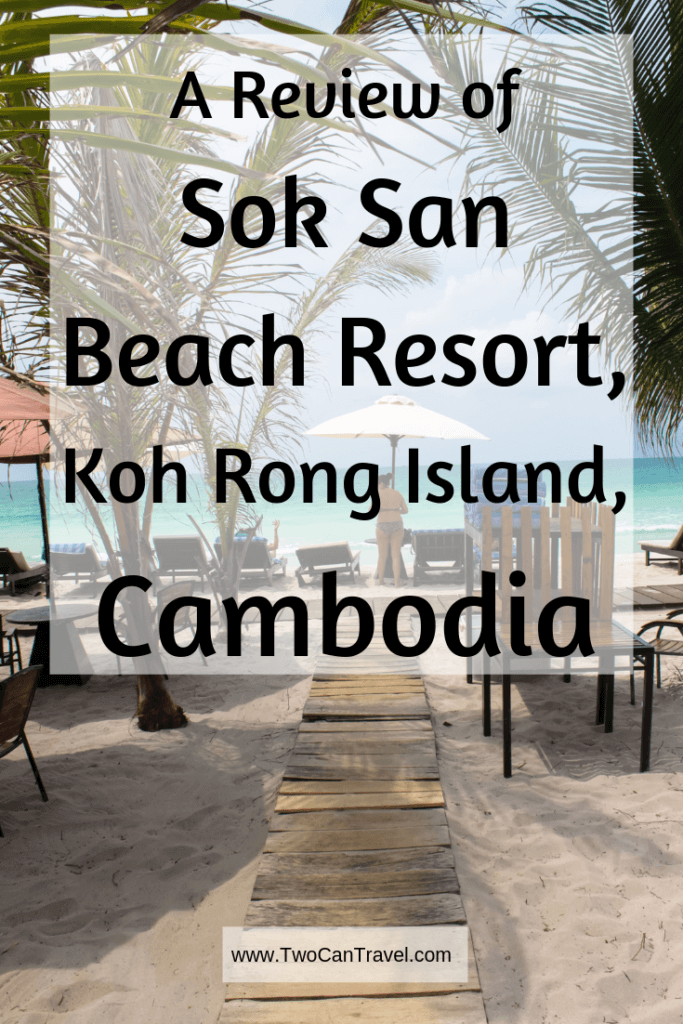 ---
Have you been to Koh Rong Island in Cambodia? Would you like to stay at Sok San Beach Resort?

---