This article may contain affiliate/compensated links. For full information, please see our disclaimer here.

These are our top tips to make your money go further in any country.
When you're on the road long term you begin to see patterns in your spending. Daily costs like food, transport and lodging add up, but there are always ways to cut back.
---
Pin this post to read later!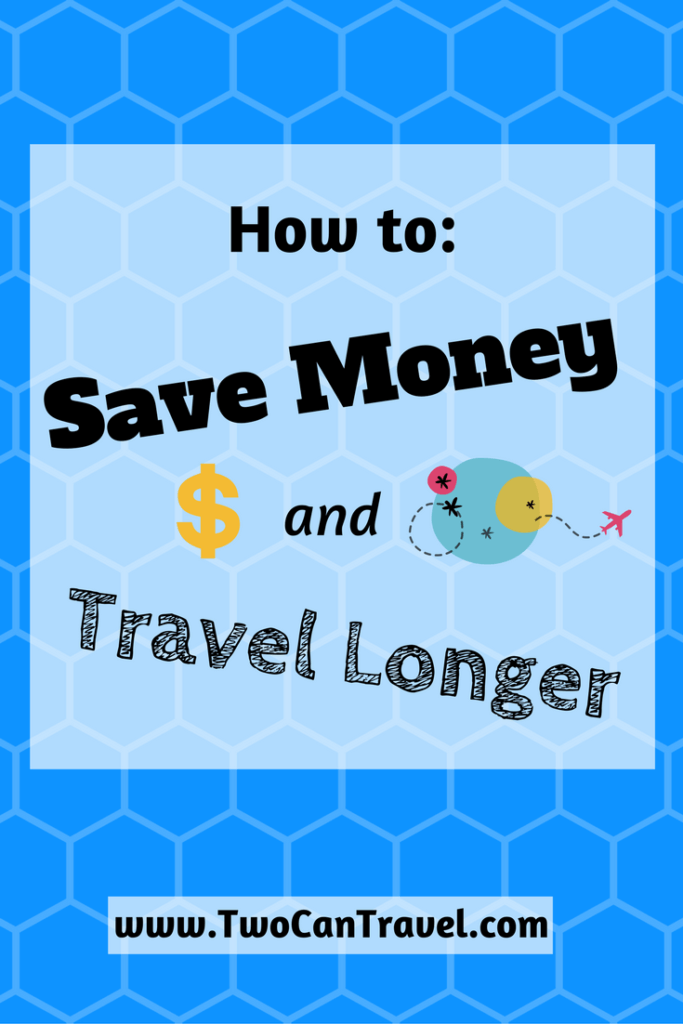 ---
Here are some tricks we've learned along the way to help you stretch your hard-earned money while you're on the road.  
1) Buy a Jug or Boil Tap Water
In many countries around the world tap water is unsafe to drink. The easiest and safest thing to do is to buy bottled water, but the cost can really add up when you're buying several bottles a day, not to mention that all of those bottles will likely end up in landfills.
If you plan to be in one place for two days or longer, we recommend buying a big jug of water and refilling water bottles or your Nalgene
from it. If you don't see them on display at local convenience stores, ask a staff member where you are staying for help buying one. Another option is to boil tap water if your room comes with a kettle. These tactics have saved us hundreds of dollars during our travels, and are a great way to reduce your impact on the environment as well.
 2) Eat local (try to avoid western food!)
Sometimes we get uncontrollable cravings for a taste of home. Especially when we're in big cities with lots of international food we get lured in by things like candy, pizza and Mexican food. All too often we give into these temptations and end up spending a lot more than we'd planned on the day's food budget. Eating local food is a great way to cut down on your food budget, try new cuisines, and meet local people. Not to mention it's usually more delicious!
3) Happy Hours
We don't drink too often, but when we do we make sure it's happy hour. 
TCT Tip: In some places it's happy hour all day!
4) Take local transportation whenever possible
Buses, minibuses, subways, metros, sky trains, bamboo trains, taxis, tuk tuks, motorbikes, rickshaws, junk boats, fishing boats, ferries, horses, camels. Do as the locals do for an unforgettable experience that will save you money too.
TCT Tip: Watch a few local people get on before you to see what the price should be.
5) Take the slow boat (or bus, or train)
One of the things we love about slow travel is that we don't have to rush. We very rarely have any place we have to be at a specific time. Instead of taking the quickest route someplace, we often just choose the cheapest option. Sometimes that means a few extra hours in a bus, or being crammed into a van with 13 other people and 20 sacks of sweet potatoes. Hey, that's just part of the adventure! Don't forget to bring water, snacks and your Kindle
.
6) Go for the fan room
Sometimes we find ourselves in cities or countries where the accommodation options don't align with our budget and we have to compromise. Very rarely will we choose to stay in dorms. If anyone is going to fart in our room we want it to be us, not some 19 year old dude from England! Instead we'll opt for fan rooms which are usually 3/4 the price of an air-con room. Then when we do spring for an air-con room it feels luxuriant.
7) Set a spending limit  (and mostly stick to it)
It's easy to get carried away with your spending as you're traveling around town in local transport, trying new foods, and buying tickets to see amazing sights. Somehow money seems to fly right out of our wallets! To remedy this we create a daily budget for each place we go based on average food, lodging and activity prices. For example, our daily spending limit in Cambodia is $40. Then we only take that amount of money with us for the day, plus a little extra cash stuffed in another place (a bag or separate section of a wallet), in case of emergencies. We also bring our Schwab Bank Cards so if something unmissable comes up we can withdraw money with no bank fee.
Don't sacrifice amazing experiences to stay within you daily budget. Just make up for the splurge another day!
---
Did you find this post useful? Pin it for later!
---
Note: This article contains affiliate links to products and services we personally use and recommend. If you purchase anything through these links Two Can Travel receives a small commission at no extra cost to you.  Thanks for your support!
---
What money saving tricks do you use on the road? Help out fellow travelers and share your tips in the comments!
---