This article may contain affiliate/compensated links. For full information, please see our disclaimer here.

Traveling the world with a companion is easy. All you need is a passport, sometimes a visa, and you're good to go. Unless, of course, your traveling companion happens to be one of your furry friends.
If you're planning on being away for a long time, you need to consider plans for your pets. Are they staying at home or going on a new adventure with you to Asia?
This article was written by Miranda LaSala. 
---
Pin this article for later!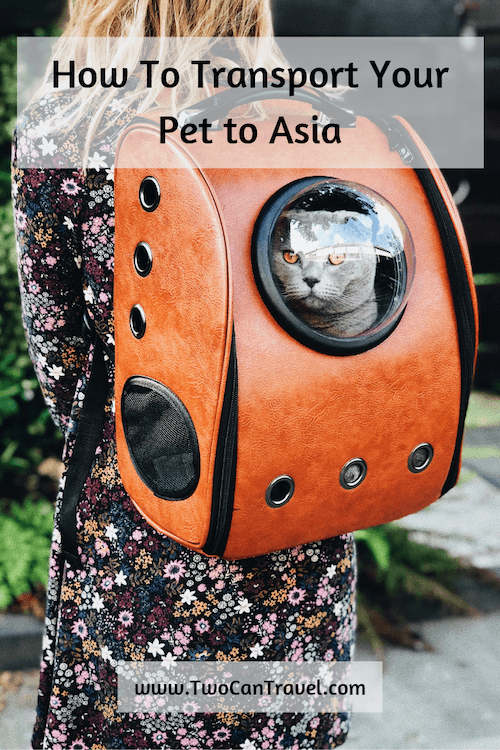 ---
Overseas animal transport can be a complicated process and should not be done on a whim. There are a lot of things to consider in moving with pets. Different countries in Asia have different rules and regulations related to animal transport. Some pet owners opt to hire a pet relocation service or pet courier to make the necessary arrangements.
But even if you do choose to use a relocation service, it pays to know what you're getting yourself into. To be more prepared for the impending move, read on to find out what you need to remember and consider when making the big jump with your beloved pets.
Pet Movers and Shakers
The best option for transporting pets overseas is the same as it is for humans: by plane. You can choose a pet-friendly airline that would accommodate you and your companion at the cheapest cost. PurringPal provides a list of airlines that have the best accommodations for animals.
Policies differ slightly from airline to airline. A general requirement among most air carriers is to have the necessary health certificates and vaccination records. You'll also need to make sure your airline pet carrier has measurements that adhere to the airline's rules.
Some airlines allow animals to travel in the cabin with you while others require animals to be kept in the cargo hold. Check with your airline before trying to bring your St. Bernard into coach.
Make sure to visit the vet before you fly. They are an essential part of preparing to travel with pets. Veterinarians are the ones who can release documents such as vaccination records and health certificates. Some vets are also quite knowledgeable about door to door pet transportation policies in different countries.
Moving Within or Moving Back to the U.S.
Transporting pets is much easier if you're only moving within the US. As long as your pet is healthy and has no signs of disease, all you need is a Fit to Fly Health Certificate, also known as the APHIS 7001 form. Note that the certificate is only good for 30 days after issue. Make sure to account for timing when making your pet's travel plans.
Proof of a rabies shot is also recommended at least 30 days before the target departure.
If your pet doesn't have a rabies shot or if you have no proof of vaccination, your pet must be vaccinated within four days after arrival at the target destination. And no more than 10 days after arrival at the port of entry. After that, your pet should remain in quarantine for at least 30 days.
Bring Your Pet to Countries in Asia
If you're planning to bring your pet to a country in Asia, there are a lot more factors and laws to take into consideration. Each country has its own international pet transport policies and requirements. Preparation time varies from country to country, from 30 days all the way up to 6 months.
Here are a few general policies for some Asian countries when it comes to transporting pets. Make sure to check with the country's consulate as well as any international pet relocation services for any recent official requirements or changes.
Cambodia
You'll need an original copy of the Rabies Certificate and a Veterinarian Health Certificate if you want to bring your pet into the country. If your pet has a microchip the microchip number, date of vaccination, and its validity should be seen on the Rabies Certificate.
Having an import permit is also required for pets entering Cambodia unaccompanied as air cargo.
Thailand
Thai authorities require all pets entering the country to have a microchip that is implanted before the rabies vaccine. You also need to have an import permit from the Bangkok Animal Quarantine Station before you can enter Thailand. This permit is valid for 45 days.
Your pet should be at least four months old. Cats and dogs aren't vaccinated for rabies until they reach 3 months.
China
China is a bit stricter when it comes to transporting pets in and out of the country. It largely depends on your point of origin and your target destination within China.
Only one pet is allowed per person entering China. In general, China does not ban the import of any dog breeds. However, if ever you are entering Shanghai and Beijing.you may want to check the list of banned breeds
There is a minimum seven-day government quarantine followed by twenty-three days of in-home quarantine if you are entering through Shanghai.
Beijing requires either a seven or 30-day quarantine depending on your point of origin.
Hong Kong
Hongkong is a bit stricter than most, being a rabies-free country. Your pet should be equipped with a 9 or 15 digit microchip to enter Hongkong. You'll also need a special Import Permit.
Quarantine is not required for countries in Groups 1 and 2. If you're coming from a Group 3 country, there is a four-month quarantine period. You can check out Hong Kong's AFCD site to check out the country grouping.
Certain dog breeds, specifically those that could be used in dogfighting, are banned from Hong Kong. Crossbreeds are also prohibited. The banned breeds are the Pit Bull Terrier, the Japanese Tosa, the Dogo Argentino, and the Fila Braziliero. Staffordshire Bull Terriers require a statutory declaration at the time of application to be accepted.
Singapore
Singapore is another rabies-free country that requires pet microchips. For this one, you need a non-encrypted, ISO-compliant pet microchip.
The requirements also vary depending on where your pet has lived in the last six months.
Category 1 (vaccination is not required): Australia, New Zealand, Republic of Ireland, United Kingdom
Category 2 (vaccination is not less than 30 days and not more than 12 months before entry): Cayman Islands, Denmark, Hong Kong, Iceland, Japan, Jersey, Liechtenstein, Luxembourg, Norway, Portugal, Sweden, Switzerland, United States of America (Guam & Hawaii only)
Category 3 (vaccination should be more than 3 months prior to import): Austria, Belgium, Canada, Chinese Taipei, Cyprus, Estonia, Finland, France, Germany, Italy, Malaysia, Netherlands, Slovakia, Spain, United States of America (except Guam & Hawaii)
Category 4 (vaccinated for rabies at least 6 months prior): All other countries that aren't mentioned
Take note that if you and your pet came from categories 2-4, you need to have a blood test. If you came from a Category 1 country and has completed the requirements needed, quarantine is not necessary. A pet coming from a Category 3 country is subjected to a 10-day quarantine while Category 4 countries need to have a 30-day quarantine.
If you want to export your pet from Singapore, you need an export permit from Singapore's Agri-Food and Veterinarian Authority
Philippines
The Philipines is a bit less strict than others when it comes to pets. Your pet will need to have an ISO microchip and a Veterinary Quarantine Clearance to Import from the Bureau of Animal Industry in advance of your pet's arrival, as well as an import permit and Rabies and Health Certificate that are endorsed by the USDA.
Flying the Friendly Furry Skies
Pets are an important member of the family. Taking them along on your new adventure in Asia is a great way to keep your family together and experience a new part of the world.
The paperwork may be a hassle and the fees may be painful but nothing can replace a good pet. Don't let your pets stop you from exploring the world, bring them with you and experience the world together!
---
Note: This article may contain affiliate links. If you make a purchase through these links we will receive a small commission at no extra cost to you. Sometimes our affiliate partnerships can even save you money. Thanks for your support!
---
Disclaimer
Please note that animal transport rules can change at any time for any country. This article was written in February 2019. Be sure to check the government websites of countries you are going to with your pet for the most up to date information.
---
Like this post? Pin it for later!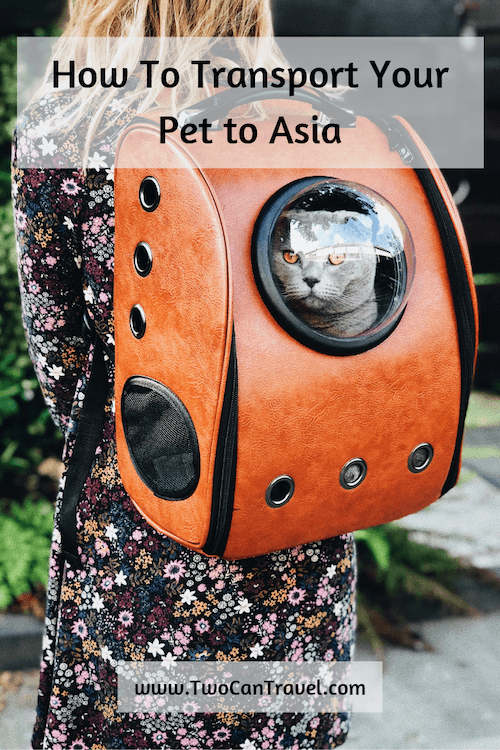 ---
Have you ever traveled with your pet? Have you thought about it? Share about your experience in the comments!
---