This article may contain affiliate/compensated links. For full information, please see our disclaimer here.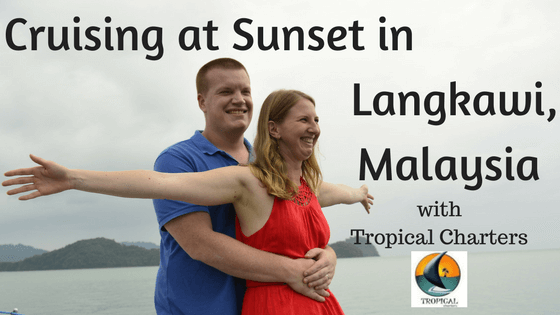 Going on a sunset cruise in Langkawi, Malaysia with Tropical Charters.
Jen loves sunsets. No matter where we are, if the sun is setting, she wants to see it. And usually we're lucky enough to have the time to go and find it. It's probably her number three favorite thing after food and sleep. Oh, and me, I'm in there somewhere.
So when we had the opportunity to go on a cruise with Tropical Charters in Langkawi, Malaysia, dedicated entirely to seeing the sunset, and learned that there would be food and me there too, we had to go.
Tropical Charters offers a variety of services, but they are best known for their two cruises, the Day Cruise and the Sunset Cruise. We were lucky enough to experience the Sunset Cruise and it definitely delivered.
Check out our video, and read on for more info about our experience.
We arrived early to the docks by Resort World Langkawi in Pantai Tengah and milled around, doing our best to pick out which docked boat would be ours for the sunset cruise. All of our guessing came to nothing, alas, as the day cruise ship pulled into dock and after a quick clean up, the boat was ready for us.
We boarded the boat and gave up our shoes as we wouldn't be needing them on our new floating paradise. The crew gave us a short safety briefing that included where the free flow drinks could be found and how long we would have to wait until dinner.
The catamaran sat high on the water as we quietly made our way through the still blue. The front of the boat (or the bow, if you're boat fancy) had two net-hammocks suspended over the sea, low enough to see the waves below but high enough so your butt won't get wet.
There was a professional photographer aboard the ship plying his trade and we couldn't not get vanity photos taken of our time on a fancy boat! And before you ask, after some cajoling yes, we did do the Titanic pose.
There were two well stocked coolers at the front of the boat and an extensive bar in the boat's cabin. The crew can mix up whatever poison you'd like, and they pour with a heavy hand. We even got a chance to bartend, for ourselves at least, and made some jury-rigged John Dalys out of ice lemon tea and vodka. A great drink to sip while we looked out at the clear blue Ataman Sea and sailed by some of Langkawi's stunning 99 islands.
About an hour after we left the dock, the crew set up what they called the "salt water jacuzzi." I was perplexed when I first saw the boat, there was no jacuzzi here! We've been had! The salt-water jacuzzi, it turns out, is a long rope net that trails behind the boat as it glides through the water. The crew unfurled the net behind the boat and gave us life jackets, always a good thing to have with free flow booze, and we flung ourselves off of a perfectly good boat.
Floating in the Andaman sea behind the boat was very relaxing, watching the clouds go by. We bobbed in the waves for a while and chatted with our fellow travelers, speculating on what would happen if we just let go of the net. There was a small dingy boat trailing behind the actual ship, probably there to save any wayward adventurers. Before anyone actually found out, we got out of the quickly cooling ocean just in time for dinner.
The buffet spread was unbelievable. Chicken satay with peanut sauce, salad, fried rice, BBQ chicken, and shrimp two different ways. There was more than enough to go around and we had our fill as we waited for the sunset.
The weather that day didn't cooperate the way we wanted and the sunset was a bit lackluster, but that can happen when you travel during rainy season. The scenery was still amazing, and the fun we had and the friends we made vastly outshone any sunset we could've seen.
We cruised for a while after the sun went down back toward the docking point. It was an eerie feeling floating on what seemed to be the only thing in existence in the middle of an endless black sea. The vodka helped tamp that down, though. We had a lovely time chatting with the other folks on the cruise, exchanging tips on what to see next on Langkawi. We finally entered the harbor and took a short jaunt on a speedboat back to terra firma.
This was a relaxing and beautiful way to end an active day exploring Langkawi. We thoroughly enjoyed our time on the Tropical Charters sunset cruise and can't wait for the next cruise and the next sunset, whichever comes first.
Check out all of Tropical Charters Langkawi cruise offerings on their website.
---
Disclaimer: We were invited as guests to join the Tropical Charters Sunset Cruise. As always, all opinions are our own. 
---
Like this article? Pin it for later! 
---
Have you ever been on a sunset cruise? Is Langkawi, Malaysia on your radar? Share in the comments!
---