This article may contain affiliate/compensated links. For full information, please see our disclaimer here.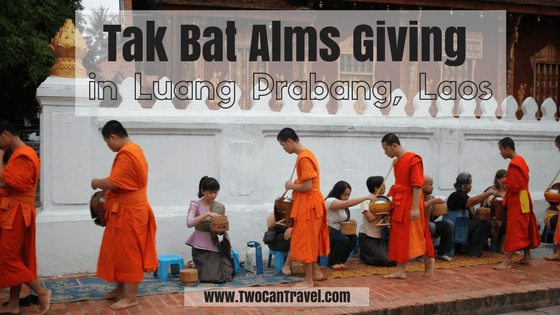 At 5:30 am each morning, hundreds of monks leave their respective temples. Bare feet padding softly on the sidewalks, they are in a walking meditation. Traversing the streets of Luang Prabang in long, straight lines, carrying their heavy alms bowls over one shoulder, it is time for the daily almsgiving. 
Local Buddhists wait in front of their homes and shops to offer them sticky rice. These local people wake up in the wee hours of the morning to prepare the rice and ensure it is fresh and clean from impurities, both physical and spiritual.
With shoulders and knees covered, scarves wrapped around their waists and one shoulder in the traditional style, the local people kneel or sit on low stools. They make sure to stay below the monks at all times as a sign of respect. Pinching a golfball sized amount of warm sticky rice from their bamboo baskets and rolling it in their fingers to form a ball, the supplicants drop one into each monk's bowl. They repeat this over and over as long lines of monks walk past, bowing their heads and lowering their eyes respectfully each time.
This daily religious ceremony has gone on for centuries. This is how local people pay respect to the monks and make merit for their families. It is an important and meaningful part of Luang Prabang's Buddhist cultural.
For decades travelers coming to Luang Prabang have woken up before the sunrise and admired this daily tradition.
It is hard not to be wowed by the sight of hundreds of monks in bright saffron robes walking past centuries old temples. an image from National Geographic popping straight off the page.
In 1995 Luang Prabang was declared a UNESCO World Heritage Site, giving it protected status to preserve its beautiful culture, architecture, and history. This put it on the map for millions of people around the world who have since visited to experience all that the city has to offer. One of those experiences, of course, is witnessing the Tak Bat ceremony.
Capitalizing on this tourism boom, enterprising locals now set up low stools along the main road in town. Each morning local women stand at tables in the middle of the road selling baskets of sticky rice and packages of snack foods to tourists who want to partake in the ceremony.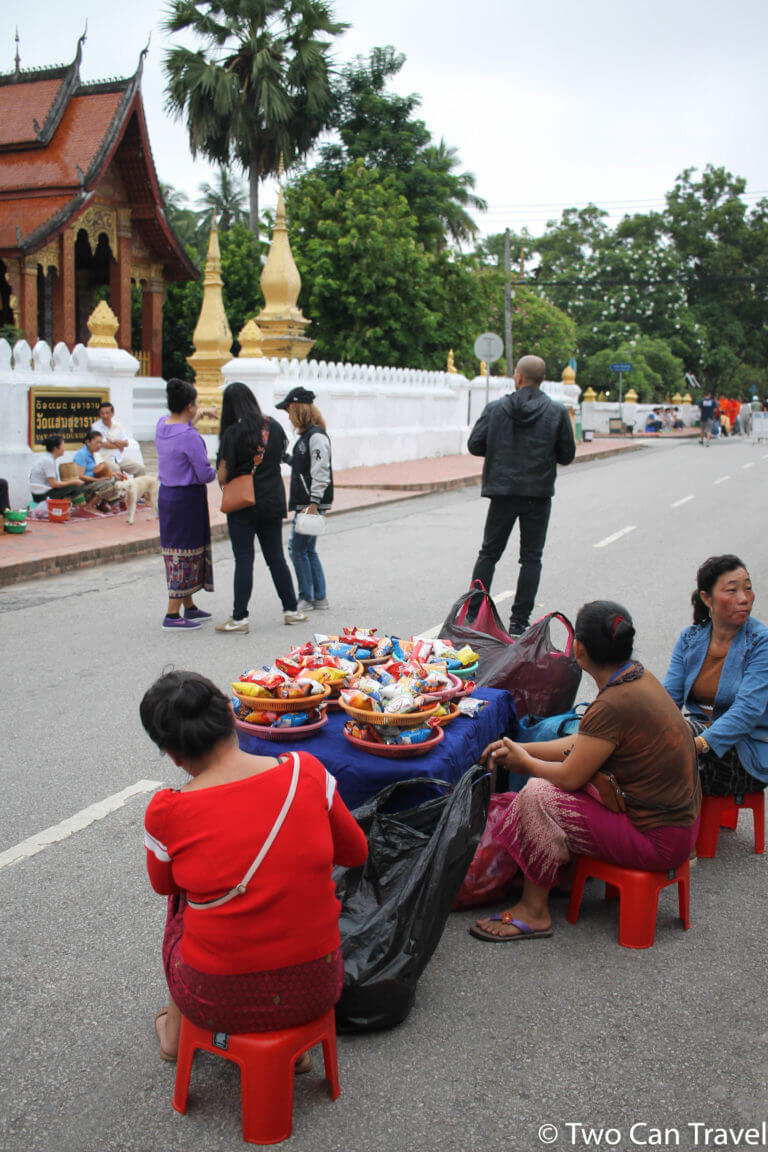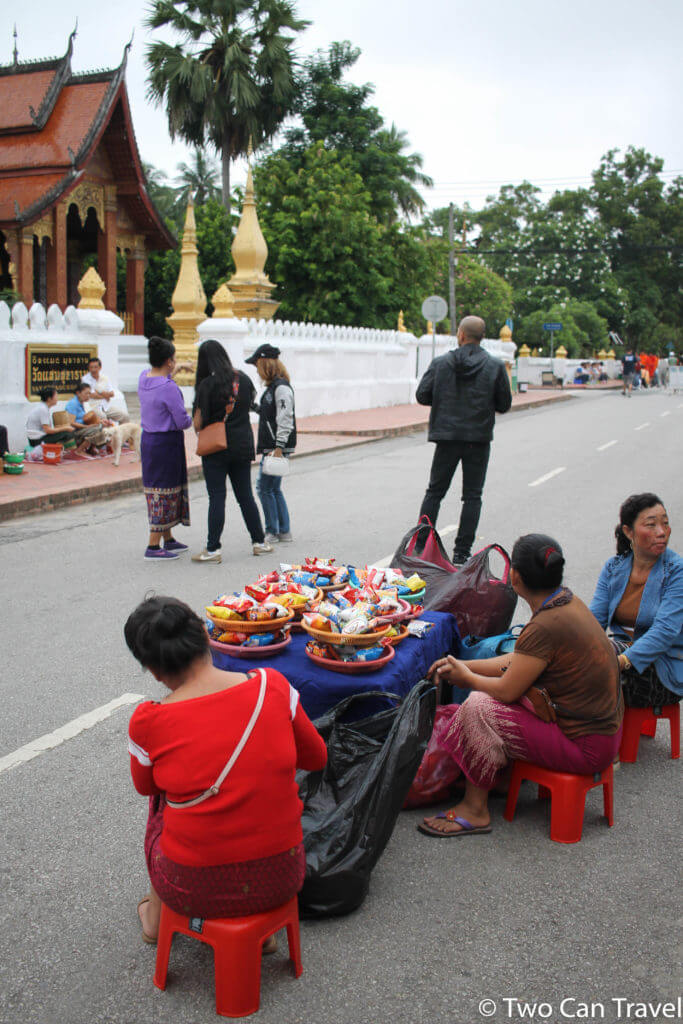 The rice they sell is often old and crunchy. And of course, the cakes and instant noodles are a far cry from the purpose of offering nourishing, thoughtfully prepared food that will power the monks through their day, as they stop eating at noon.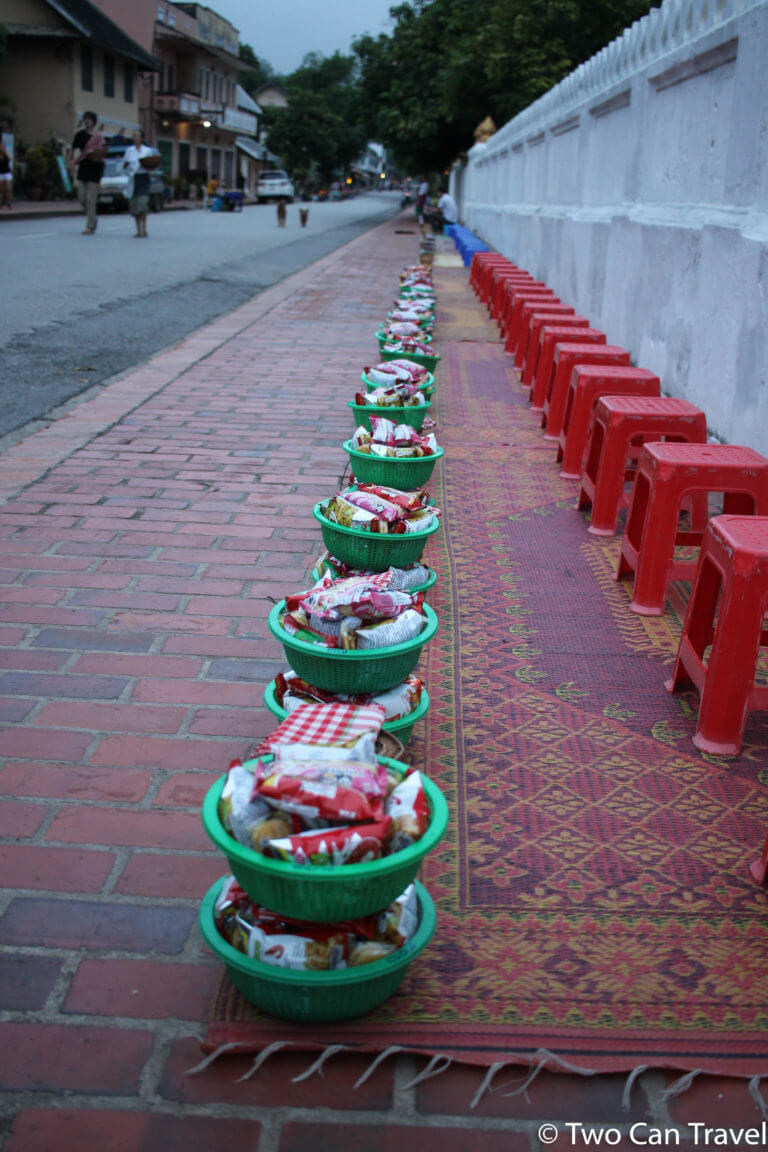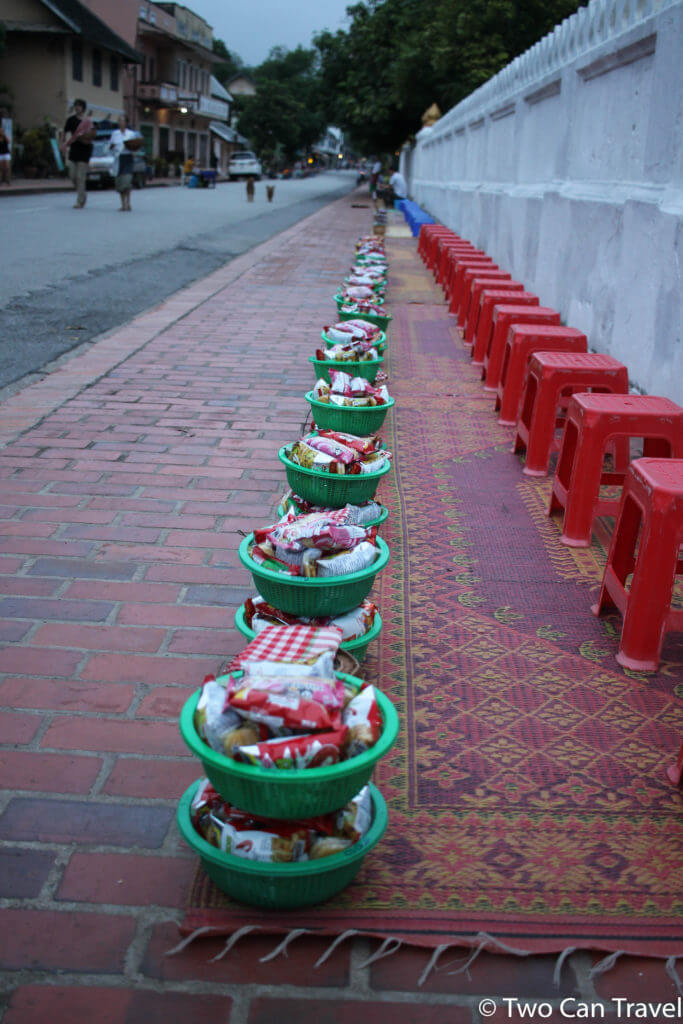 What I witnessed when I attended the ceremony was in all honesty shocking. June is considered part of the "low season" in Laos. However, there were still hundreds of tourists along the main road. A majority were from Thailand and China, but there were people from all over the world. Many took part in the ceremony, but clearly at varying levels of understanding.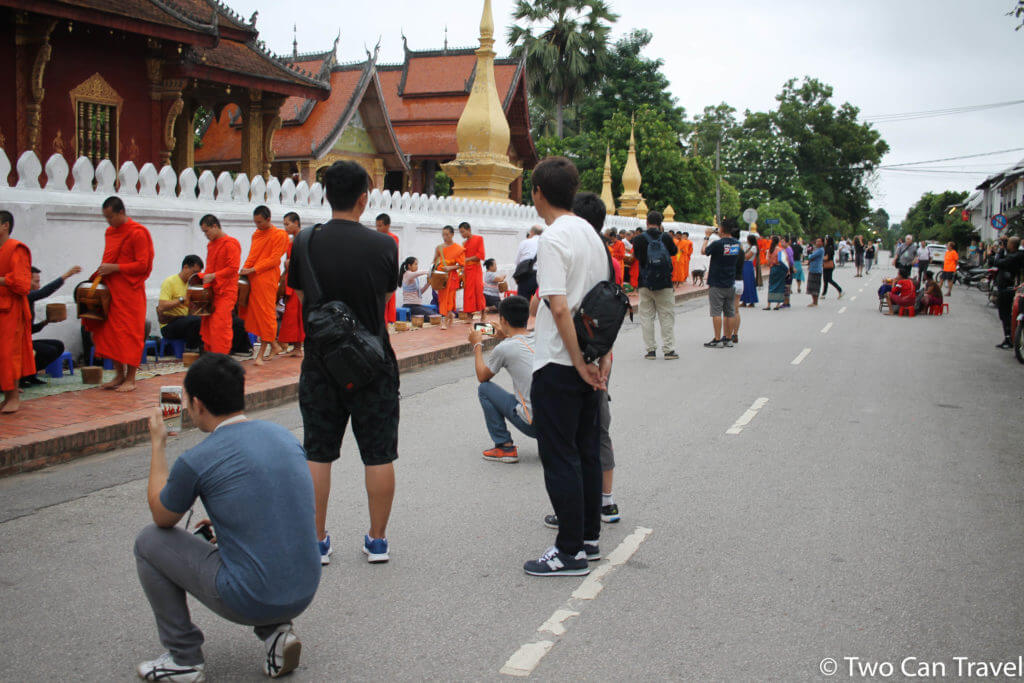 A group of men sat waiting on stools along the road with baskets of sticky rice, then stood up as the monks approached, towering over them as they dropped gobs of rice into the alms bowls.
The monks pass by quickly, and I saw one person drop a bit of rice on the ground then quickly pick it up and put it into a monk's alms bowl. Another person put in loose money which is not traditionally done. Not to mention it's not clean to mix money with food!
It is believed that what you give now to the monks is what you will receive in the afterlife. And nobody wants to eat food that has been dropped on the floor or touched money!
So much food is given to the monks on this busy road that they end up donating a lot of it. You can see the monks pass by the tourists, then moments later drop some of the packaged foods into baskets which will be taken to nearby villages. A lot of the food sold to tourists comes via women from those same villages, and thus it is a daily cycle of buying and selling the same packaged foods.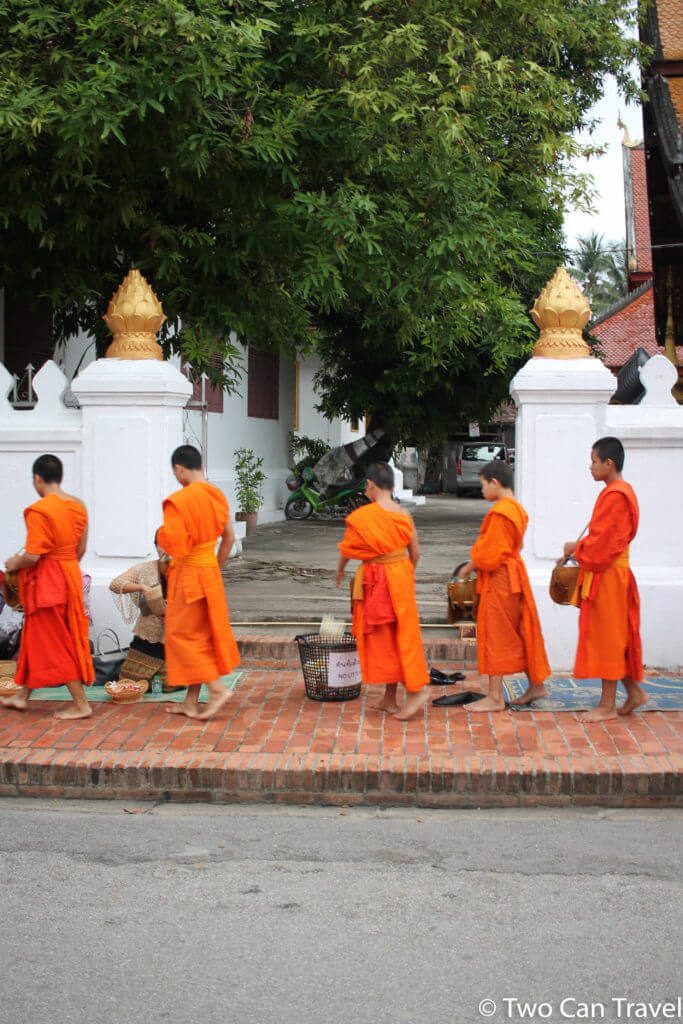 I visited Luang Prabang in June 2017 for the Mekong Tourism Forum as part of the Media. We were invited to join the Tak Bat ceremony. Afterwards, we had breakfast with a Senior and Novice Monk to discuss the experience and ask questions.
The Senior monk said that he does not mind tourists taking part in the ceremony. However, there are some things people need to keep in mind before they observe the ceremony or join in. I have summarized his points below.
Observing the Tak Bat Ceremony
If you want to take photos, keep a good distance of at least a few meters while doing so. Most cameras have zoom features, so please use them.
Do not use flash photography. Especially in the cold season when the morning is dark and misty, the flash is disturbing for the monks.
Do not stand in the path of the monks. Many people taking photos these days stand directly in front of the monks, blocking their path and forcing them to walk down on to the street to go around.
Talk quietly or not at all.
If you see others being disrespectful in these ways, gently and kindly ask them to stop.
Joining the Tak Bat Ceremony
Only choose to take part in the ceremony if it has meaning to you. Even non-Buddhist can take part in Buddhist ceremonies, that is part of the beauty and openness of Buddhism. BUT don't just do it for the pictures.
Dress respectfully. Cover your shoulders and knees. Take off your shoes. Wear a scarf around your waist and shoulders the way the locals do.
Purchase rice from your hotel or guest house. NOT on the street to ensure that is it fresh. You can request this the night before. 
If you do give money, put it in a clean plastic bag so it will not contaminate the food.
Do not give heavy things like water bottles. The monks have to carry their alms bowls for a long time and this will make them tired.
Stay seated or kneeling below the monks. Bow your head and lower your eyes slightly as you drop the rice into the bowl.
Women should take care not to touch the monks.
Educate yourself about the ceremony before going. The German Federal Enterprise for International Cooperation (GIZ) has put together this fantastic video following a Novice Monk through his day and to the Tak Bat ceremony.
Watch this video to learn more about the Tak Bat alms-giving ceremony.
---
Thank you for reading!
If you found this article useful, please share it. Help spread the word about responsibly attending the Tak Bat ceremony in Luang Prabang. It is important to educate ourselves on how we can properly respect the cultures we are welcomed into when we travel. 
---
Pin and share this article!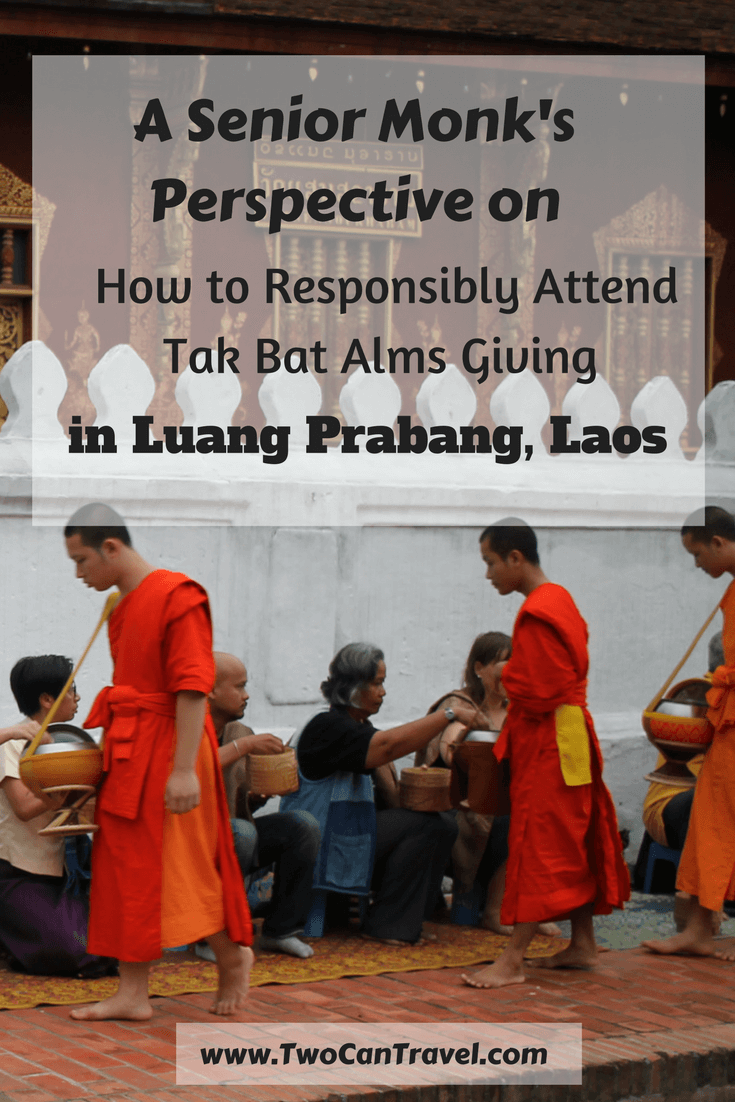 ---
Have you attended Tak Bat in Luang Prabang?
---