This article may contain affiliate/compensated links. For full information, please see our disclaimer here.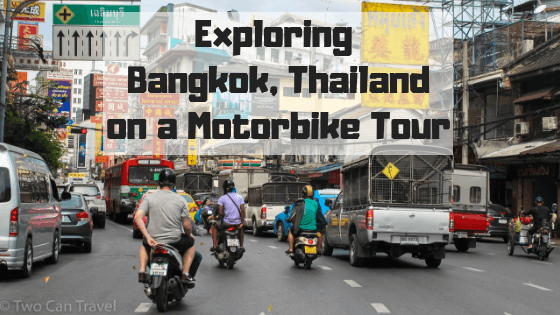 Many travelers know the broad strokes of Thailand's capital city: the culture, the food, the temples. Getting below the surface of Bangkok can be hard in a city that moves so fast.
Best Bangkok tours, aside from having the best name in the business, is a great way to see the city the way the locals do: moving through traffic on the back of a motorbike. Their motorbike tour moves fast (but not too fast) so you can keep up with the pace of Bangkok and dive deep into the Big Mango.
---
Pin it for later!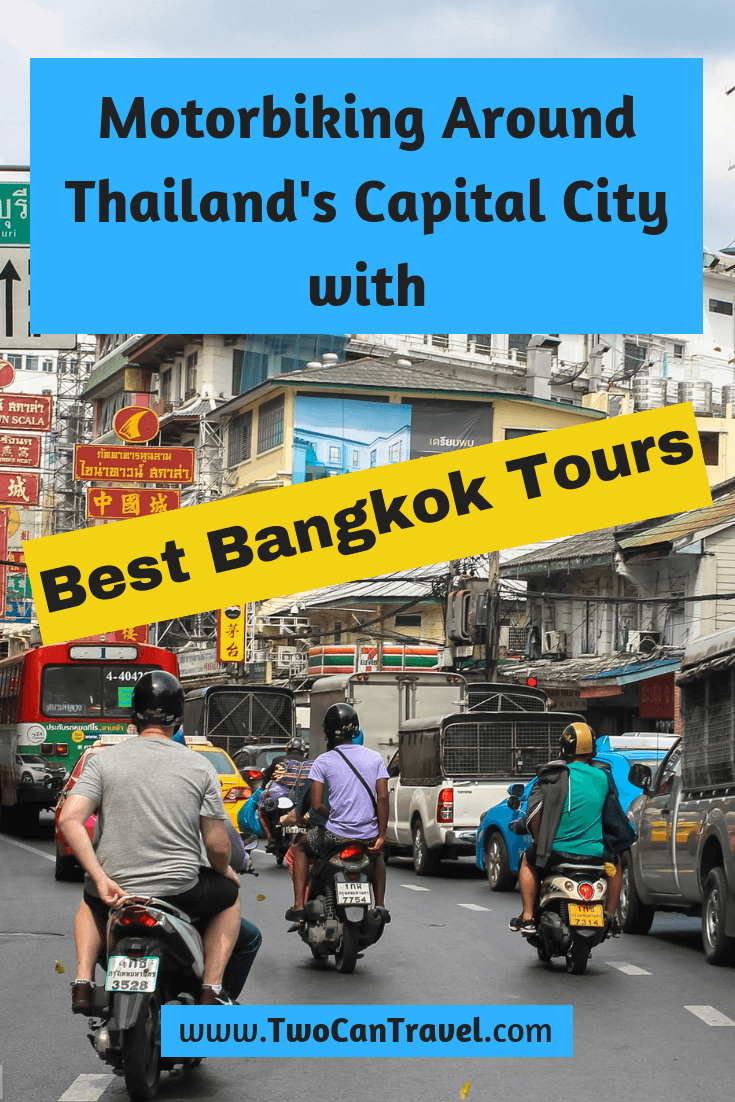 ---
Bangkok Tours: A Beginning
Riding on the back of a motorbike is one of those quintessential Thailand experiences. I was dead set against ever having to do it. Then one fateful day, Jen and I went to see a Muay Thai fight on our first Bangkok tour together in 2012.
We sat in the cheap seats of the bleachers and started placing bets. Jen bet that if she won, we would take motorbike taxis back to our hotel. And I bet that if I won, we would not do that. Jen knows how to pick a winner. That's why she married me. And that's how I learned that riding on the back of a motorbike is an experience not to be missed. Now, we motorbike all over Thailand!
Many travelers venture on a motorbike taxi once or twice for the novelty of it all. And most swear it off forever soon after because of the speed and abject terror of swerving through traffic.
The motorbike drivers for Best Bangkok Tours are local professionals and always drive at a reasonable speed. They make you feel safe so you can enjoy the ride and take pictures of all the beauty Bangkok has to offer. It's amazing how much there is to see in Bangkok from the back of a motorbike when you can think about more than just holding on and surviving.
Our Bangkok Tour Guide and Stops Along the Way
Best Bangkok Tours offers three tour options including the Real Deal Tour, Eat and Ride Tour, and Drink and Ride Tour.
We were lucky to join the Real Deal Tour, which begins at your hotel or a nearby landmark. Austin, our friendly guide and the owner of Best Bangkok Tours, greeted us in front of our apartment building with two of his trusted motorbike drivers. The best motorbike drivers are always the older guys. They've been driving long enough and well enough to make it this far.
Austin is a veritable font of knowledge about all the inner workings of Bangkok. Names, dates, bridges, buildings, you name it, Austin knows the answer. And if he doesn't, he knows where to find it. He would give us detailed explanations of landmarks and Thai culture as we waited for the traffic lights to change. We were learning something new about the city before we even reached our next destination. Austin is also a volunteer tour leader at the Bangkok National Museum, so he knows his stuff!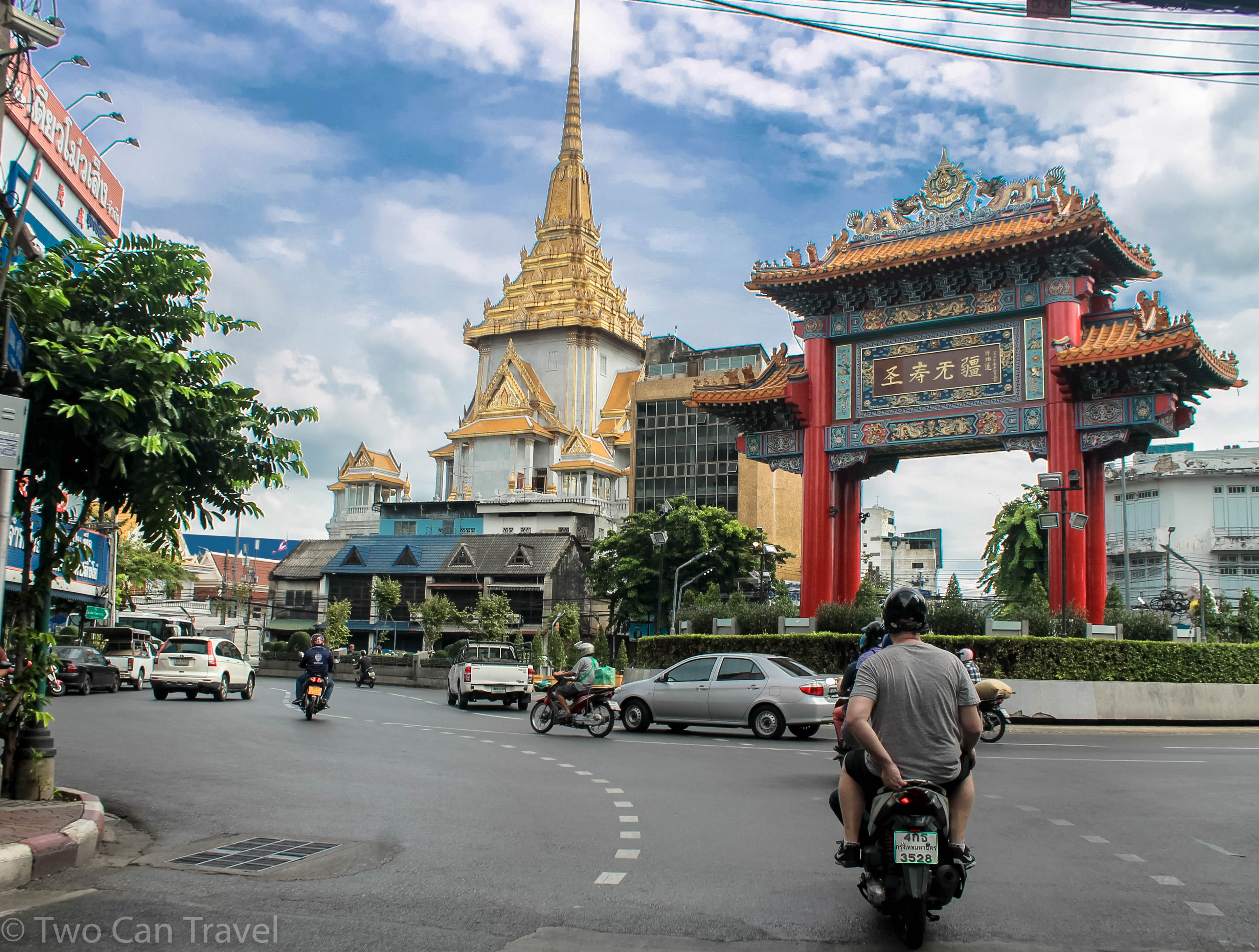 This was no slouch of a Bangkok tour. We got to see a whole new side of the city that most tourists and even expats miss. 
Most of the tour is done on the back of the motorbike, driving slowly (by Bangkok standards) through neighborhoods and seeing the hidden gems of Bangkok. There are plenty of stops during the tour to get off the motorbike and walk around to get a closer look at some of the city's most interesting places.
Every tour may be different depending on what you want. If it's your first time in the city you can request to visit some of the major landmarks in Bangkok. If you want something a bit different or off-the-beaten-path, Austin can arrange that too!
We are Bangkok veterans. We've been visiting the city together since 2012 and living here for a few months, so we've gotten lost in the sois many times. Luckily, we got to tour the city with our friend, South African comedian TsiTsi Chiumya. It was his first time in Bangkok, so Austin arranged a tour that was a mix of more well-known places and hidden gems.
It was also TsiTsi's his first time on the back of a motorbike, which was pretty fun to watch. He was loving it by the end and it was great to have him on the tour with us! He had so many questions about the city that we should have known by now. Thank goodness we had him there to ask them for us! 
During the tour, we covered a lot of ground. We took a short walking tour of Lumpini Park and gawked at the prehistoric-looking monitor lizards. Don't worry, they're more afraid of you than you are of them. I hope.
We stopped at the shrine at the entrance to Chinatown and wished for good luck. We took a slow drive through the heart of Chinatown to gaze at the neon signs and old architecture.
We also toured Bangkok's largest flower market that sells a majority of the flowers that decorate the city's hotels, businesses, and shrines.
Austin told us that the flowers come directly from Chiang Mai and northern Thailand in the wee hours of the morning and that the market is at its busiest at 3 AM. When we arrived around 11 AM vendors were still wheeling and dealing in bags of flowers for temples, hotels, and offerings. Some vendors, though, had passed out at their stalls, taking a well deserved, very fresh smelling nap.
Austin gave us some insight into the inner workings of the offerings given to monks. The small offerings usually include a pinch of tobacco. Monks can smoke cigarettes? That's one way to make the wheel of karma spin faster, I guess. The rest of the offerings, bananas, fruit, flowers, are usually shared with the community. But the smokes? The monks keep the smokes.
We rode down the first paved road in Thailand and stopped at a beautiful historic bank along the Chao Praya River. We went through Little India, the metalworking district, residential neighborhoods, and the business district.
Later we drove down an alley with old shophouses and stopped by one in particular stuffed with boxes of goods piled from floor to ceiling. The older man inside has been selling bulk items inside his shop for over 30 years and still does all his bookkeeping by hand. Austin speaks Thai and has been riding and exploring Bangkok for years. He can tell you people's stories, introduce you to locals, and ask questions in Thai if there's anything you want to know.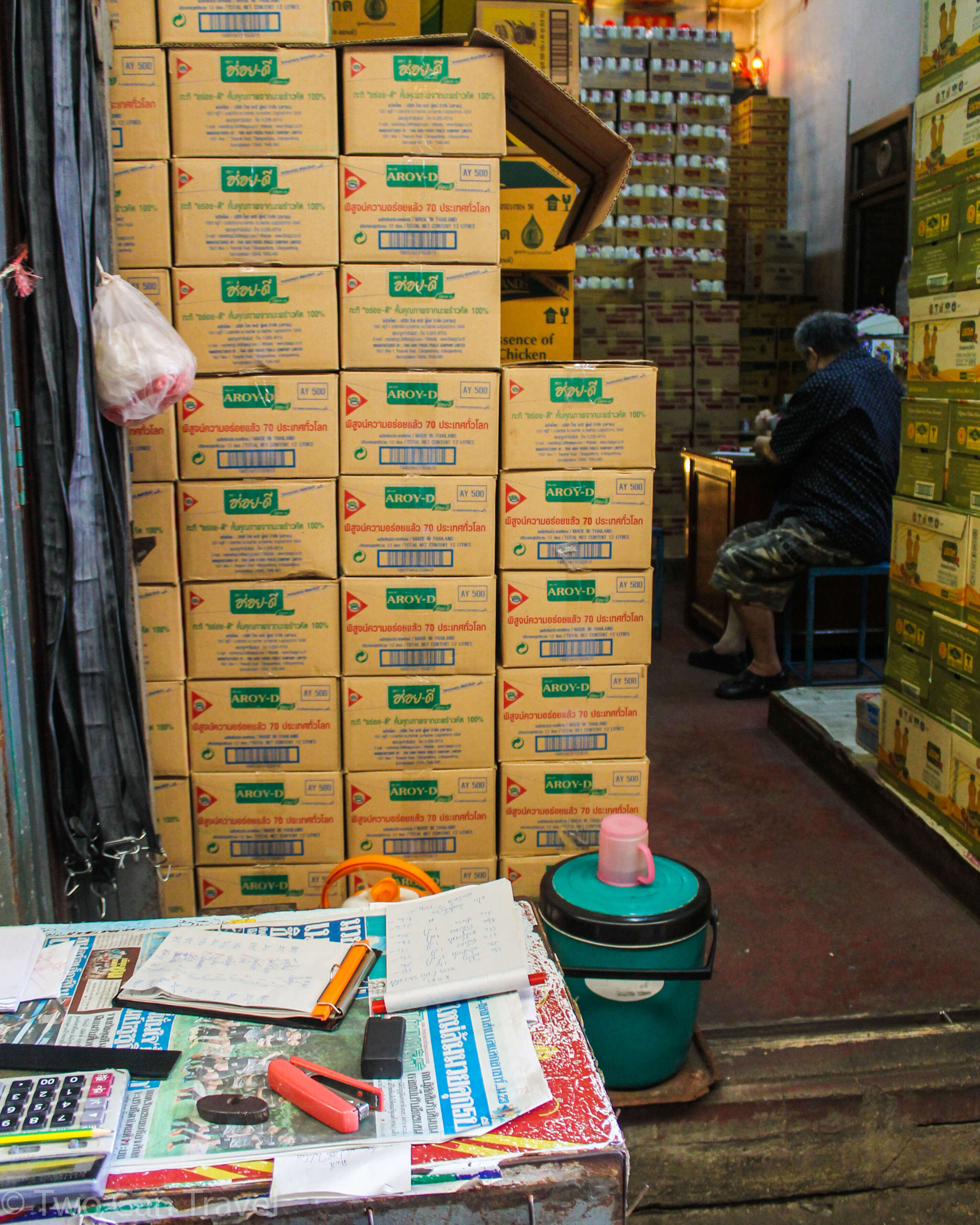 At the end of the alley, Austin showed us an incredible and unexpected view of Wat Arun, Thailand's infamous Temple of the Dawn.
Our final stop was at the reclining Buddha statue at Wat Pho, an important destination for Thai people who visit from all around the country, as well as tourists of all walks of life. There were some pretty obnoxious tourists inside taking Snapchat videos while local people were trying to pray. Not that you would do that, but remember to act with respect whenever entering a temple in Thailand. 
You Gotta Stay Loose!
The beauty of Best Bangkok Tours is its flexibility. The tour is fungible for its audience. Do you want to go to more temples? You'll go to more temples. Do you want to try some of the local cuisines? Food tour it is. Being able to go where you want and learn what you're interested in makes the tour more enjoyable. And it also means you can go on the tour more than once and learn more about Bangkok every time.
To celebrate the end of our Bangkok day tour, we went to Polo Fried Chicken, one of our favorite chicken joints in the city. We talked about life in the big city and adventures we had had. 
The goal of the excursion is to show Bangkok for all of its worth and history. The main question that Best Bangkok Tours wants you to ask yourself by the end of the journey is "could I picture myself living here in Bangkok?"
After exploring different neighborhoods of the city, into the alleyways and small sois, peeling back the layers of mystery, you'll find that each neighborhood in Bangkok is a city unto itself which means Bangkok is infinitely explorable.
Best Bangkok Tours gave us a new respect and adoration for a city that we have loved for many years. If you want to learn more about Bangkok and see the parts of the city less traveled, hop on the back of a motorbike with Best Bangkok Tours and prepare to be amazed. 
---
Note: We were invited as guests on this tour. These are our honest opinions about the tour, and we're happy to answer any questions you might have. 
---
Like this article? Pin it for later!
---
Have you ever been on a motorbike in Bangkok? Have you taken a motorbike tour anywhere else in the world? Share in the comments!
---