This article may contain affiliate/compensated links. For full information, please see our disclaimer here.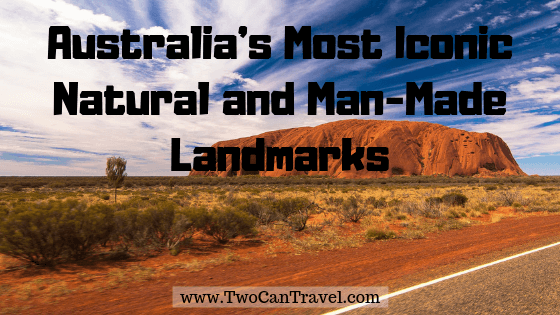 When it comes to holiday destinations, Australia has so much to offer. Whether you are interested in visiting iconic Australian landmarks, getting into nature to see Australia's famous wildlife, exploring the country's vibrant arts scenes, or relaxing along the stunning coasts, there are things to do in Australia that everyone will love!
Australia has been a dream destination of ours for years. When we finally visit, one of our goals is to do a big road trip around the country! We've been checking out Gumtree to get an idea of prices for used cars and camper vans. Gumtree is essentially the Craigslist of Australia, but with a more legitimate looking website!
We've put together this list of Australian landmarks that we are so excited to visit. Some of these are iconic must-see Australia favorites, while others are natural wonders that look too magical to be real. If a trip to Australia is on your radar we think you'll love this list too!
We added each place on this list to a Google MyMap to help you plan your route:
Check out these amazing Australian landmarks and start planning your trip!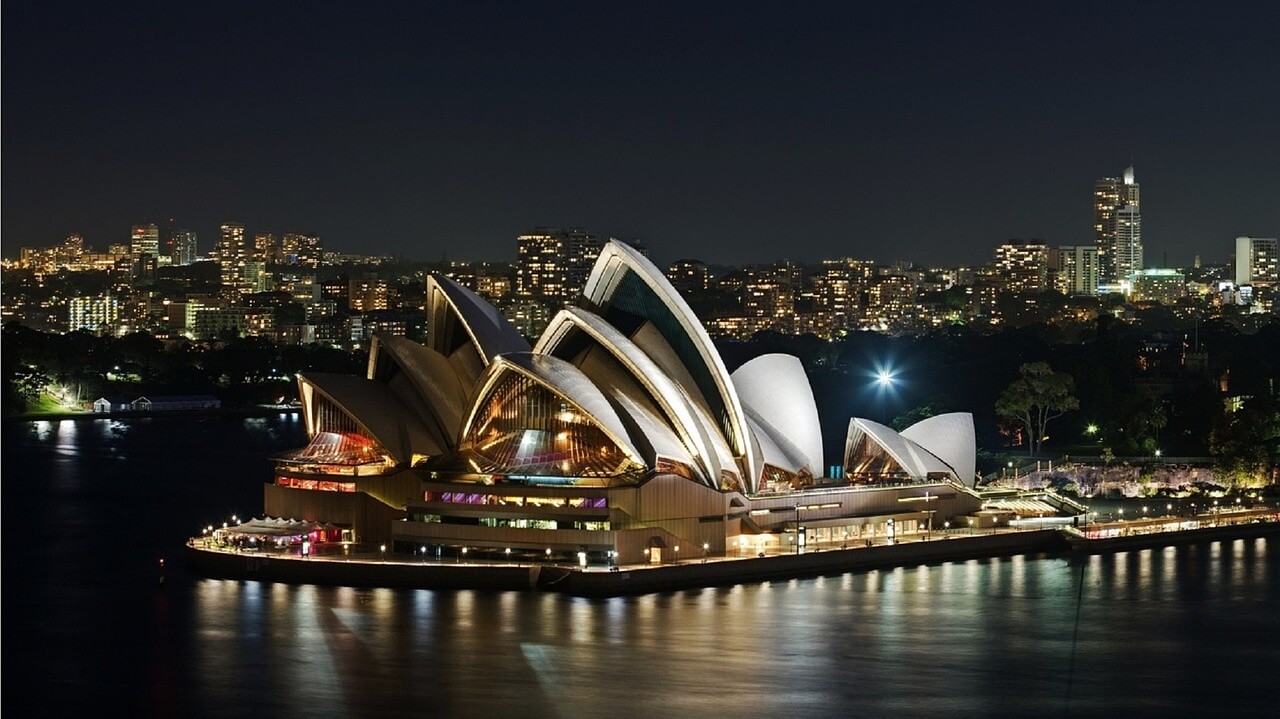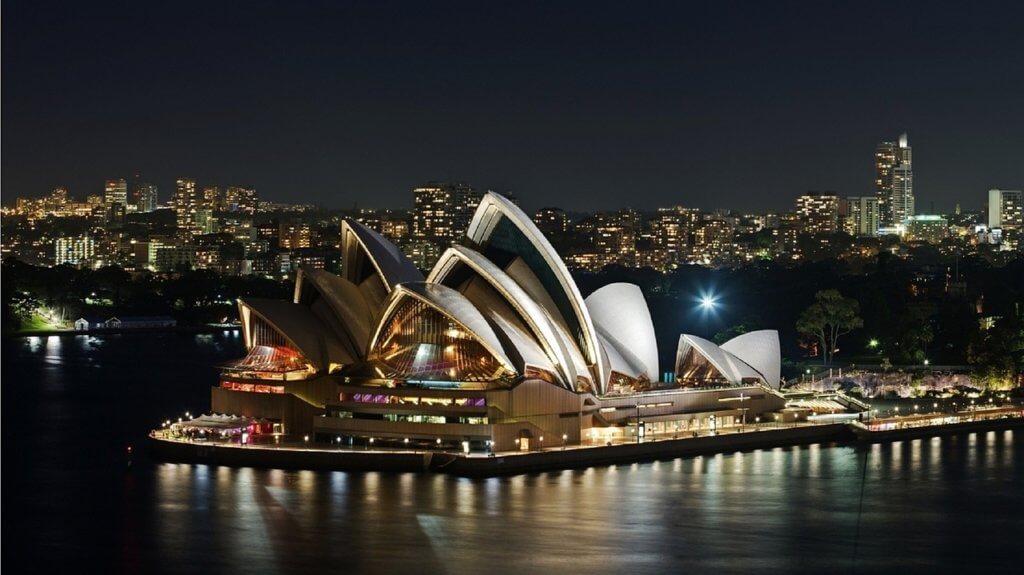 1. Visit the Sydney Opera House
The first iconic Australian landmark that comes to mind is the Sydney Opera House. The building was designed by the Danish architect Jørn Utzon in the 1950s and was completed in 1973. In 2007 the Sydney Opera House became a UNESCO World Heritage Site!
Despite its name, it actually has multiple performance venues inside. Shows at the Sydney Opera House are attended by over 1 million people every year! There are regular performances at the Sydney Opera House by the Sydney Theater Company, the Sydney Symphony Orchestra, and the Opera Sydney. There are also performances throughout the year by artists from all around the world.
You can take a tour of the Sydney Opera House during the day or look at their online schedule to attend a performance. Be sure to book tickets well in advance!
Another fun way to take in views of the building is on a sunset dinner cruise in the Sydney Harbour. Without a doubt, the Sydney Opera House is one of the best places to visit in Australia. No trip to Australia would be complete without a visit!
Check out: The top 4 Attractions in Sydney, Australia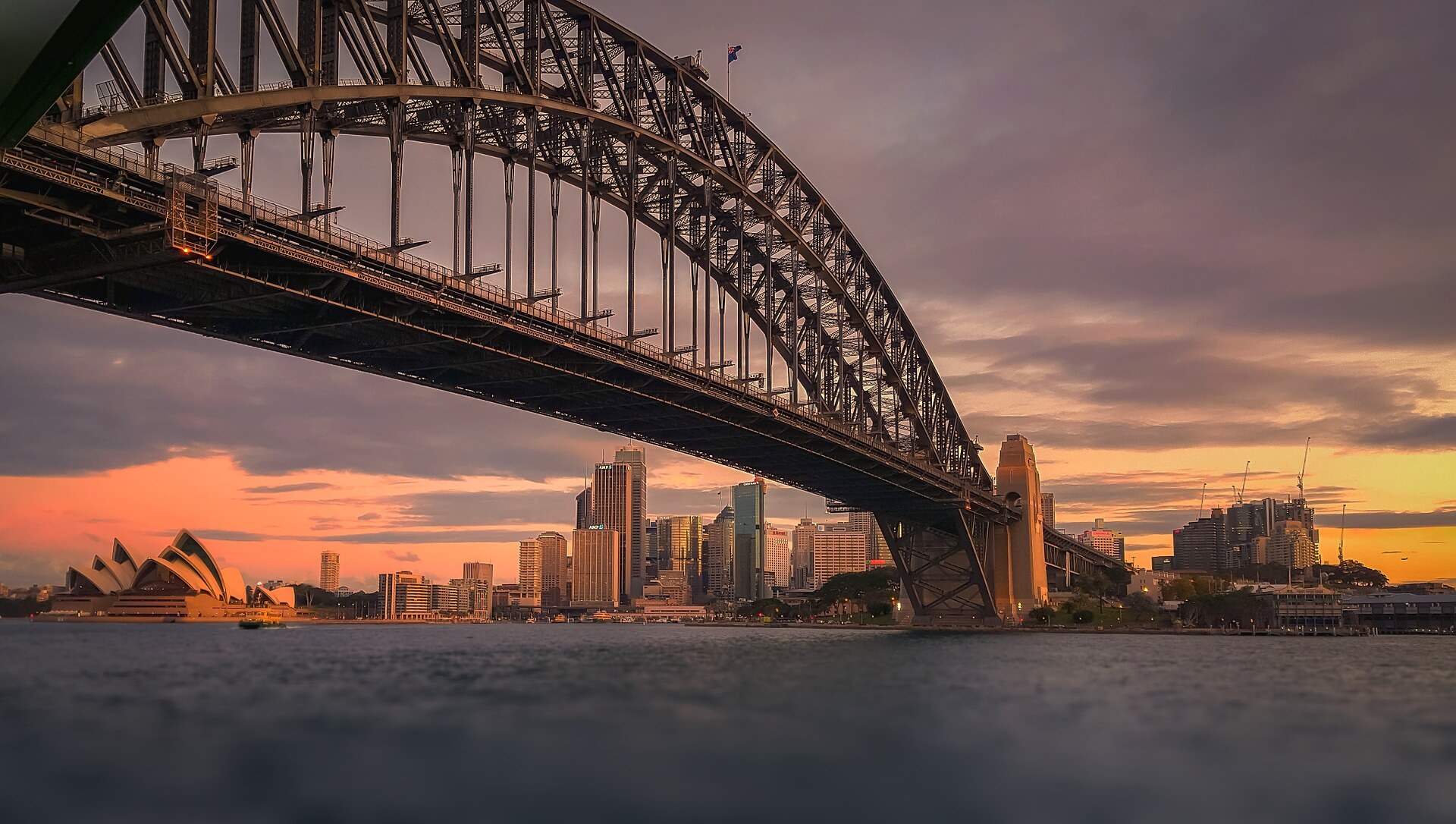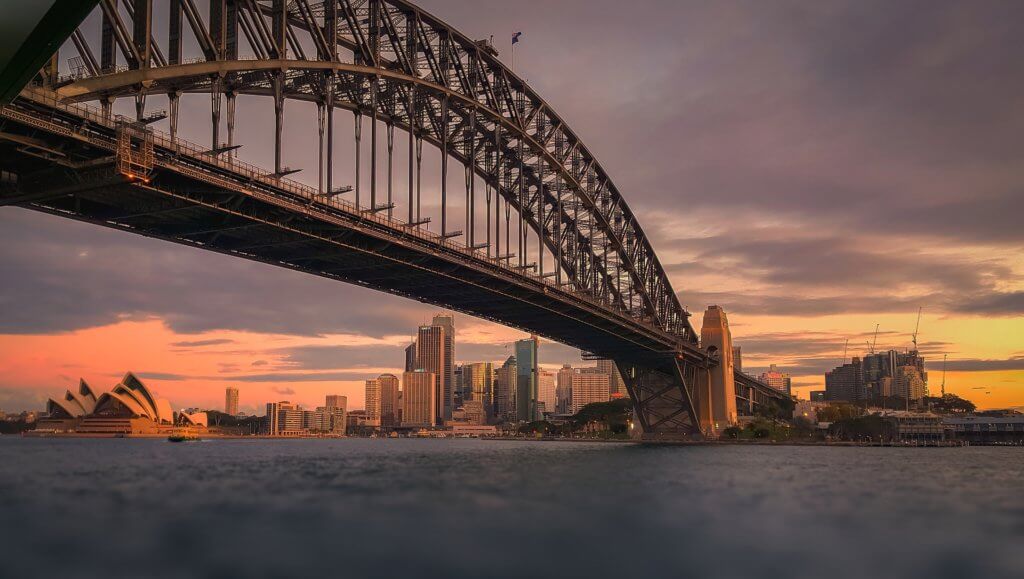 2. Climb the Sydney Harbour Bridge
The Sydney Harbour Bridge is another famous landmark in Sydney. One of the most adventurous ways to take in the views of the iconic Sydney Opera House and the Syndey Harbour is by climbing to the top of the Sydney Harbour Bridge! You can even book a tour to climb the Sydney Harbor Bridge that includes professional photographers. There are also some fantastic and Instagrammable cafes near the Sydney Harbor you can check out after your climb!
I am not a big fan of heights, but I've been working to overcome this, so I'd definitely like to push myself and do this tour!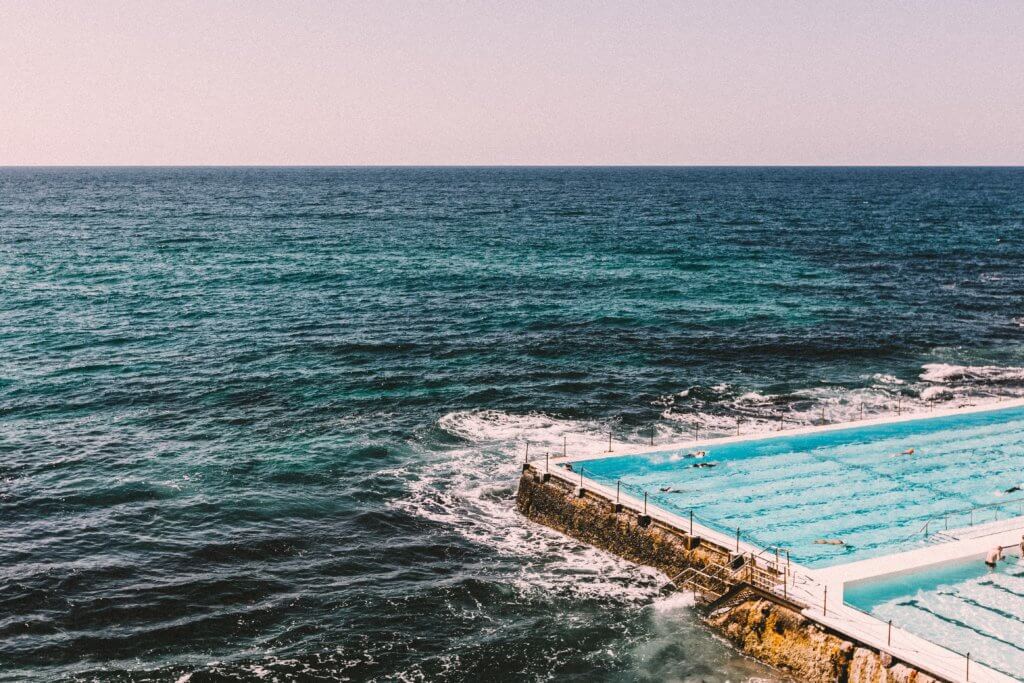 3. Bondi Beach, Icebergs, and the Bondi to Coogee Walk
If you've been researching a trip to Australia, then you've surely come across photos of the famous pool located right on the ocean at Bondi Beach. The pool is at a clubhouse called Icebergs that has been open since 1929.
I was pleasantly surprised to learn that anyone is welcome to visit the clubhouse to eat and drink and take in the gorgeous views over the pool and beach. Unfortunately, you have to be a member of the club to swim. But the clubhouse looks like a beautiful place to have lunch! There is a dress code to get inside, so change out of your wet bathing suit, sarong, and thongs (Australian for flip flops) into something a bit nicer.
If you want even more stunning views of Bondi Beach, the cliff top 5.5-kilometer coastal walk from Bondi to Coogee looks amazing! There are lots of places along the way to take in the views. And if you're lucky, you might even spot whales and dolphins! During the walk, you can pop down to the beach for a swim, stop in at restaurants and cafes, or even picnic at one of the rest areas with free electric barbeques. The Bondi to Coogee walk takes 2-3 hours depending on your pace.
Western Australia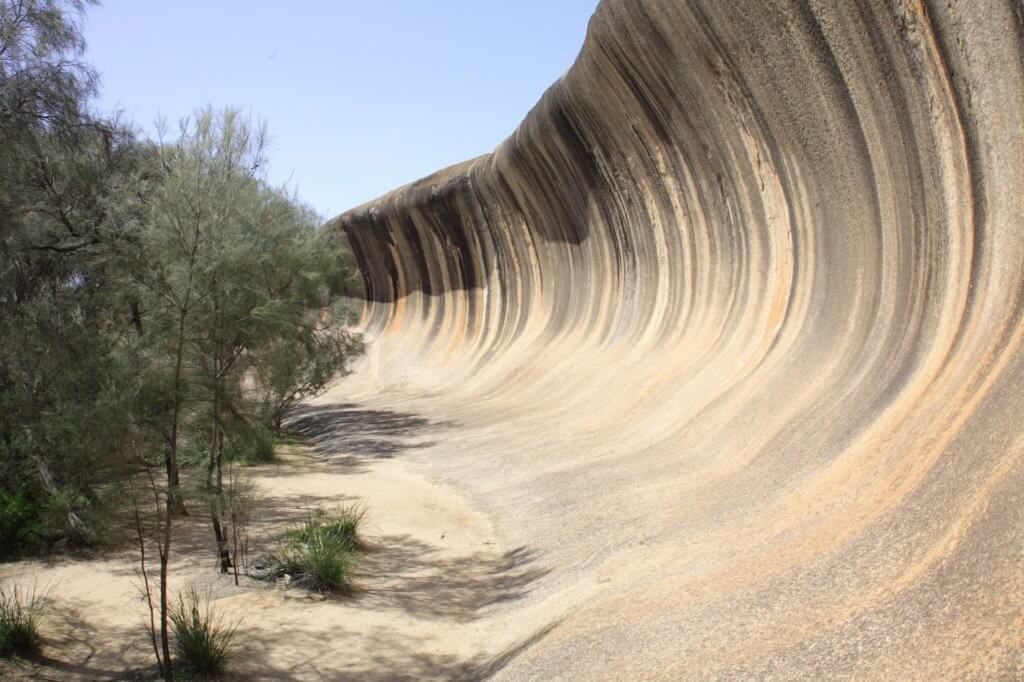 4. Surf the Wave Rock
The Wave Rock is a 15-meter high natural rock formation that looks like a giant breaking wave frozen in time. The rock has been shaped and eroded by the weather over millions of years.
Tens of thousands of travelers visit the Wave Rock every year, but it also has cultural significance to the Ballardong people and is considered a cultural site. You can read more about the history of the area and the story behind the Wave Rock here.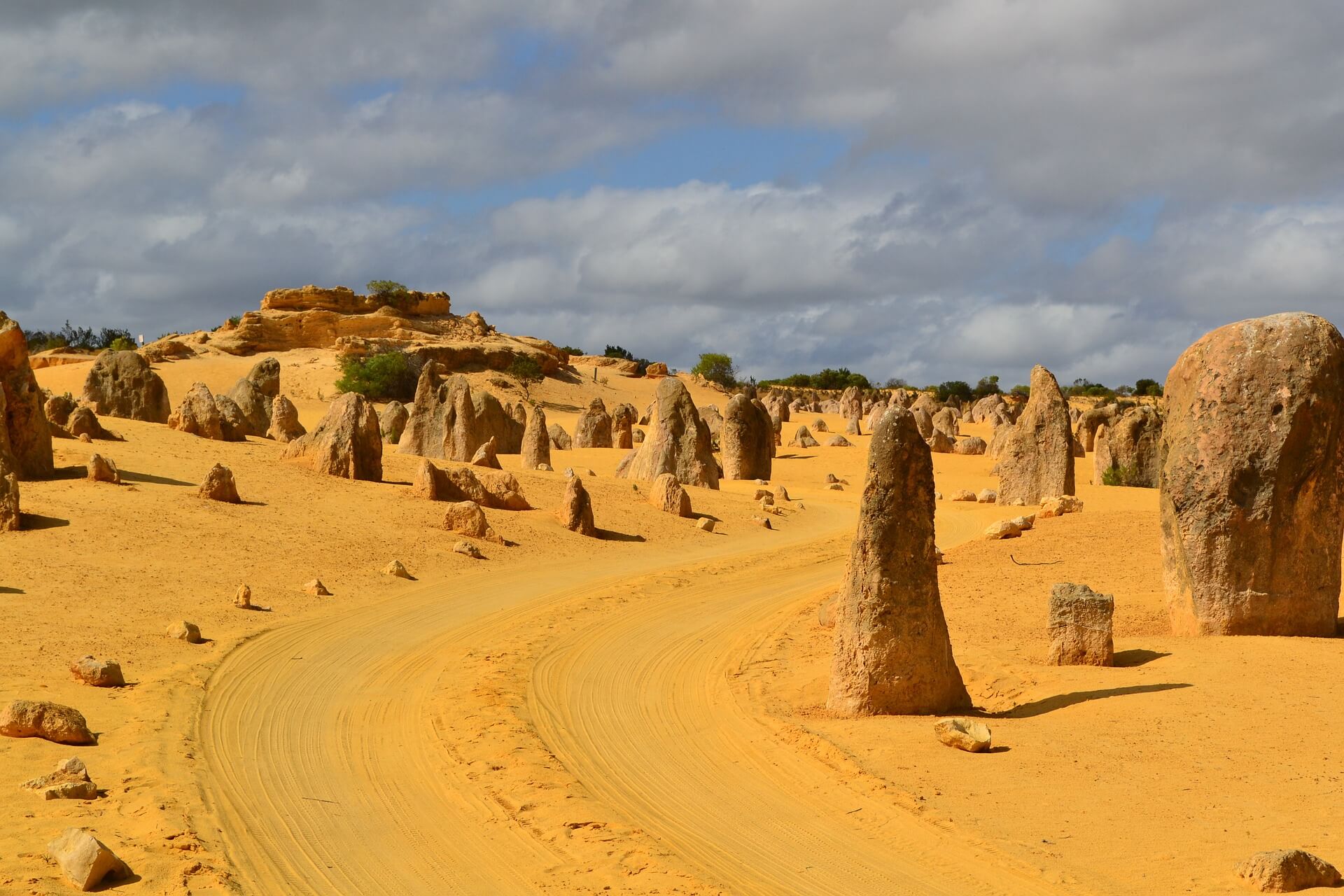 5. The Pinnacles of Nambung
Australia has so many stunning natural landmarks that are worth visiting. The Pinnacles of Nambung look otherworldly! They are thousands of limestone pillars the rise up out of the desert formed by wind and weather over millions of years. They are located close to the town of Cervantes, a few hours from Perth.
Read: 10 Tricks for Finding Cheap International Flights 
Victoria


6. Drive the Great Ocean Road
We know our road trip will definitely include driving the Great Ocean Road in Melbourne. The Great Ocean Road stretches along 243 kilometers of Australia's southeast coast. It starts in Torquay, a surf town, all the way to Allansford, in the state of Victoria.
The spectacular two-lane roadway was built between 1919 and 1932 by soldiers who returned to Australia after WW1. Today, the road is still considered the world's largest war memorial.
There is so much to see and plenty of things do along the Great Ocean Road. Some of the more popular highlights are the London Bridge, the Arch, Bells Beach (an iconic Australia surf spot), Port Campbell National Park, Loch Ard Gorge, and one of Australia's most famous landmarks, the 12 Apostles.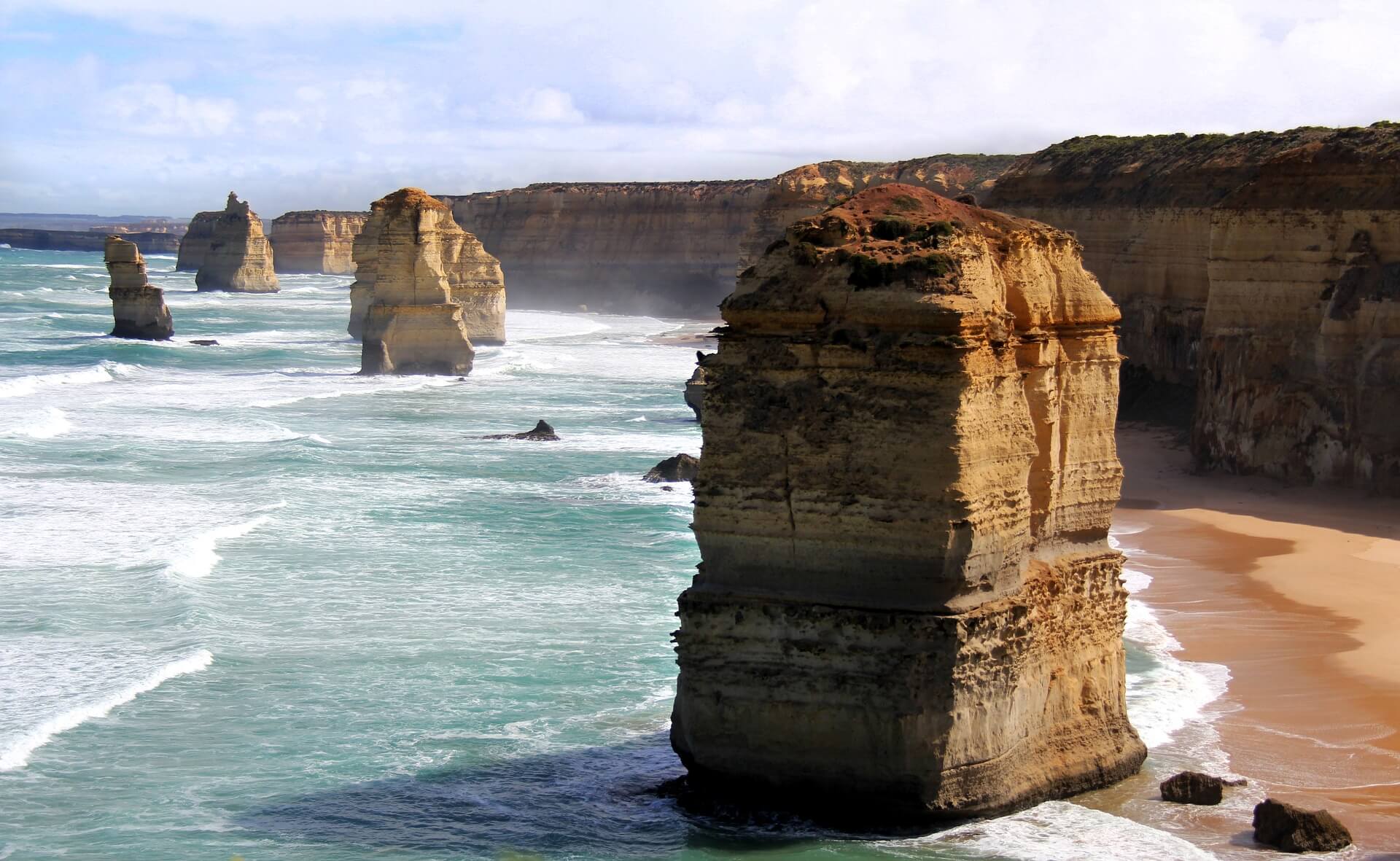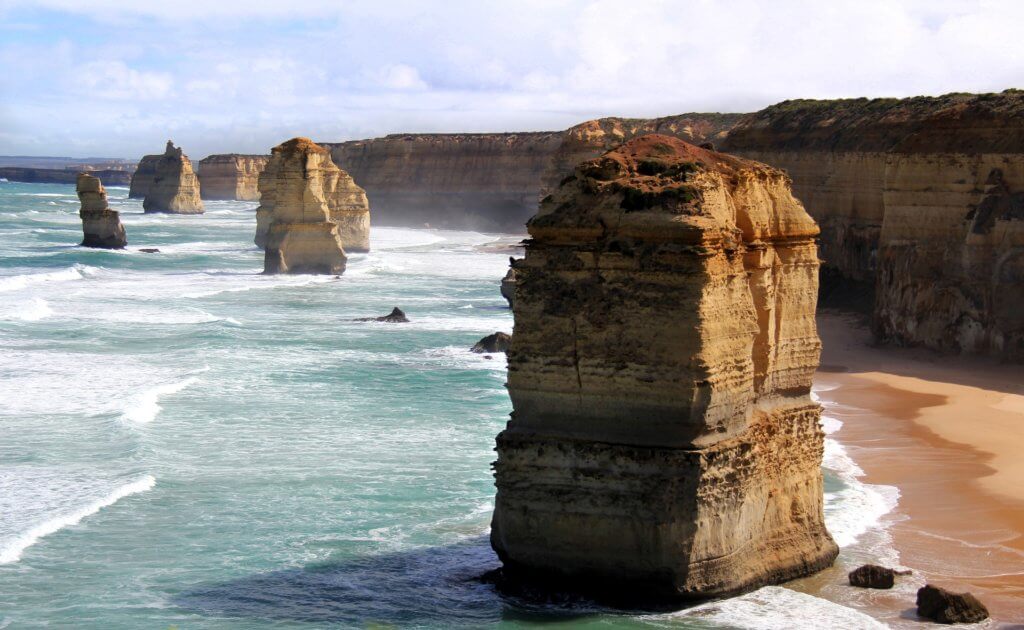 7. The 12 Apostles
The 12 Apostles, located along the Great Ocean Road in Victoria, are towering limestone rocks off the coastline that were formed by erosion. Only 8 of the 12 Apostles are left today as several have collapsed and naturally deteriorated over the years.
The best time of time to view the 12 Apostles, especially for photography, is early morning or late afternoon in the summer. You can stay in a hotel or hostel close to the 12 Apostles or park your campervan in one of the many campgrounds in the area at Port Campbell National Park.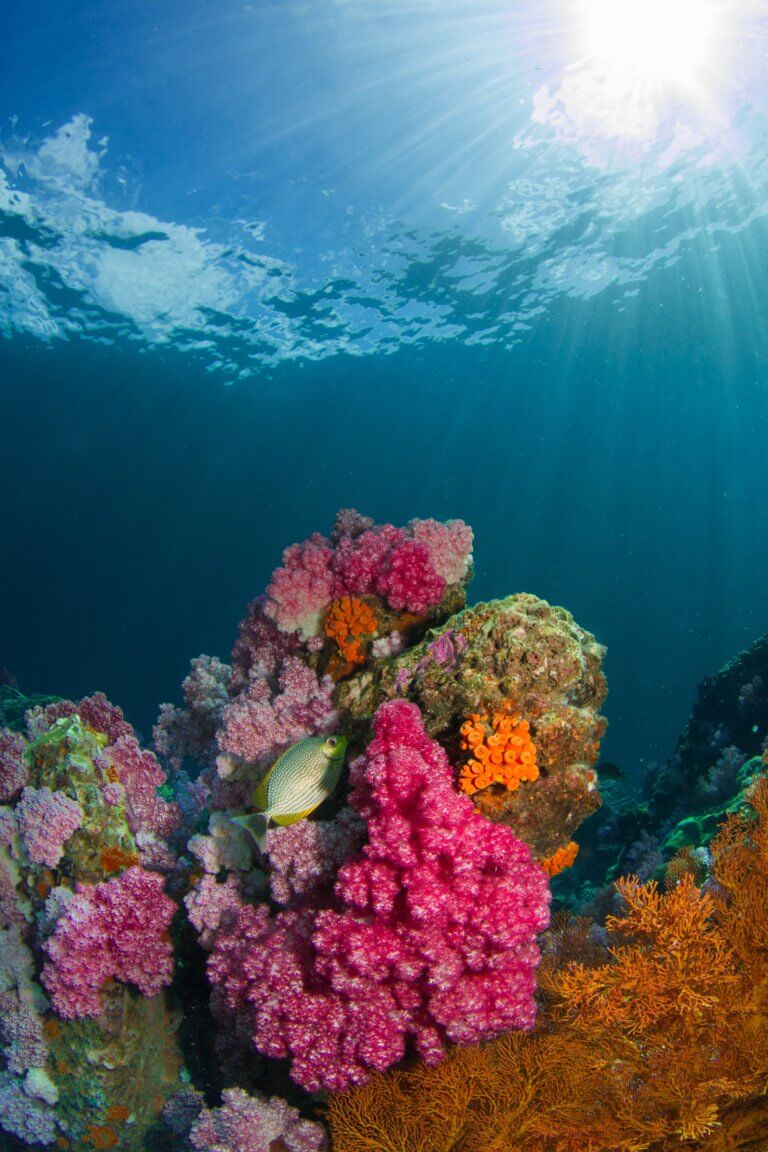 8. Dive (or Snorkel) at the Great Barrier Reef
The Great Barrier Reef is one of the most incredible and famous places in Australia. It is the greatest known living structure in the world and can even be seen from space! It stretches for over 2,300 kilometers along Australia's east coast in the Coral Sea. There are over 1,600 species of fish, dolphins, sharks, turtles, giant clams, rays, and various types of hard and soft corals that call the Great Barrier Reef home.
Sadly, the Great Barrier Reef is already feeling the effects of climate change from coral bleaching and an outbreak of crown-of-thorns starfish, among other serious problems. The Australian Government Great Barrier Reef Marine Park Authority frequently publishes up to date information about the status of the reef's health. There are several documentaries about the Great Barrier Reef and its condition. There is one documentary called Chasing Coral on Netflix that we recommend if you are interested in learning more.
Although the reef is endangered, there are still many areas where people can dive and snorkel at the Great Barrier Reef. There is a wide range of dive sites that are suitable for both new and experienced divers. We would love to do a liveaboard at the Great Barrier Reef where you get to snorkel or dive multiple times over 2-3 days. There are snorkeling and diving day trips as well. You can also view the Great Barrier Reef by helicopter or glass bottom boat.
New South Wales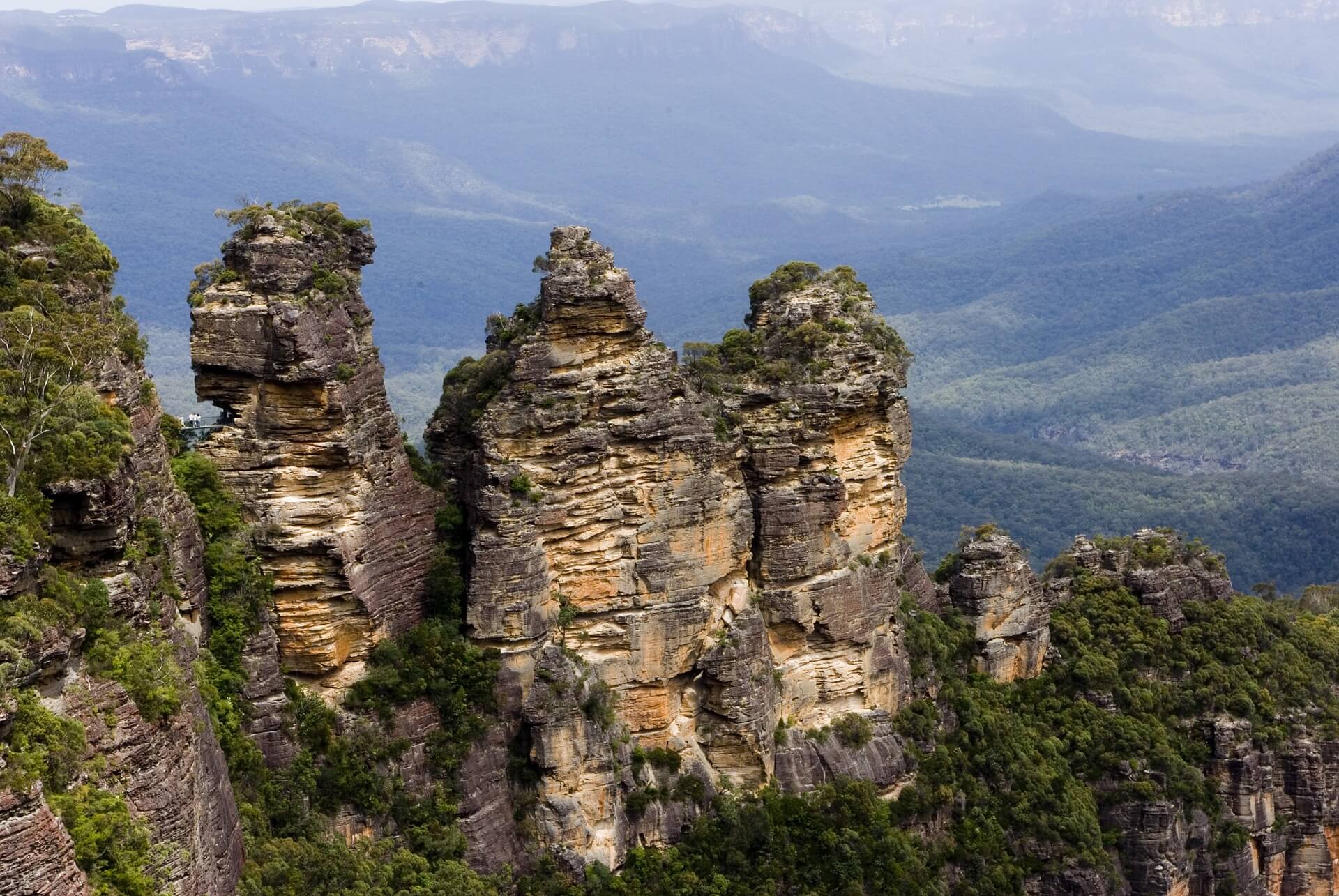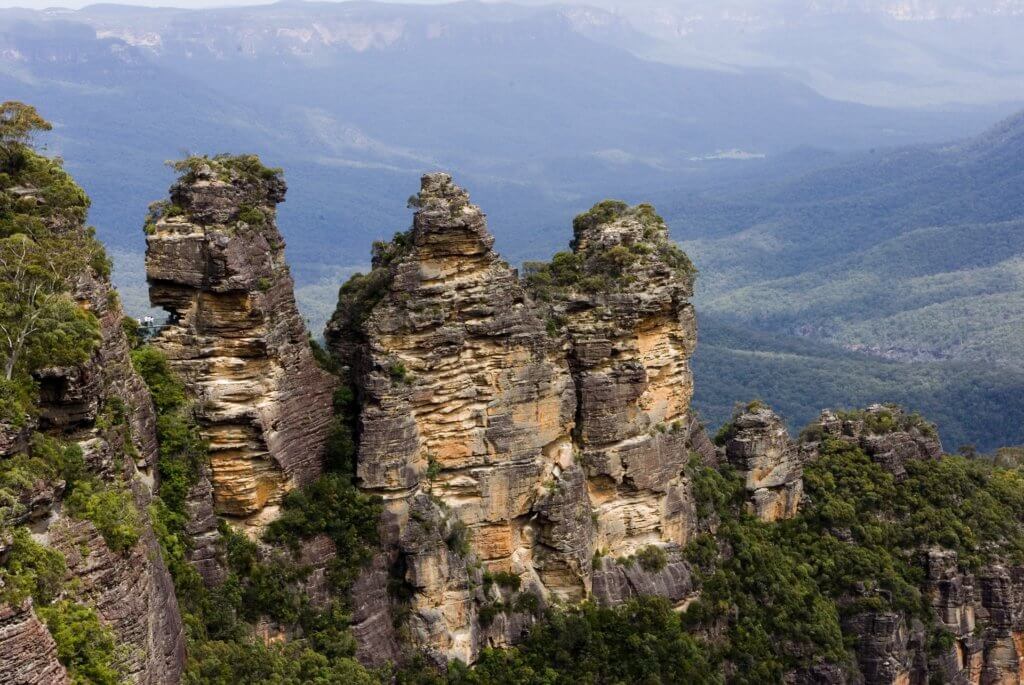 9. The Blue Mountains and the Three Sisters
The Blue Mountains National Park is a UNESCO World Heritage Site. It is one of the best places to visit near Sydney only about 80 kilometers west of the city.
The most well-known landmark inside Blue Mountains National Park is the Three Sisters. These three sandstone rock formations are each over 900 meters high and were named from an Aboriginal legend. They can be viewed from Echo Point.
There is lots more to do inside the Blue Mountains National Park besides view the Three Sisters. You could easily spend several days exploring the vast 664,000 acres of forest, hiking the over 140 kilometers of hiking trails, bird watching, and viewing the waterfalls and deep gorges inside the park. The Blue Mountains National Park also has the world's steepest railway, Katoomba Scenic Railway.
Northern Territory

10. Uluru-Ayers Rock
Uluru is another one of Australia's most famous landmarks. It is a huge red-orange sandstone rock formation plopped right in the middle of the Australian outback. Uluru is a sacred site for the Aboriginal people, many of whom still live in the area. The name Uluru means 'shadowy place'. Uluru is also a UNESCO World Heritage Site.
Since Uluru is sacred to the Aboriginal people, it is disrespectful to climb it. A better way to see it and learn about it is to take a walking tour led by an Aboriginal guide to learn more about the history of this impressive site. You can also stay nearby Uluru. Some hotels even offer views of Uluru from your room!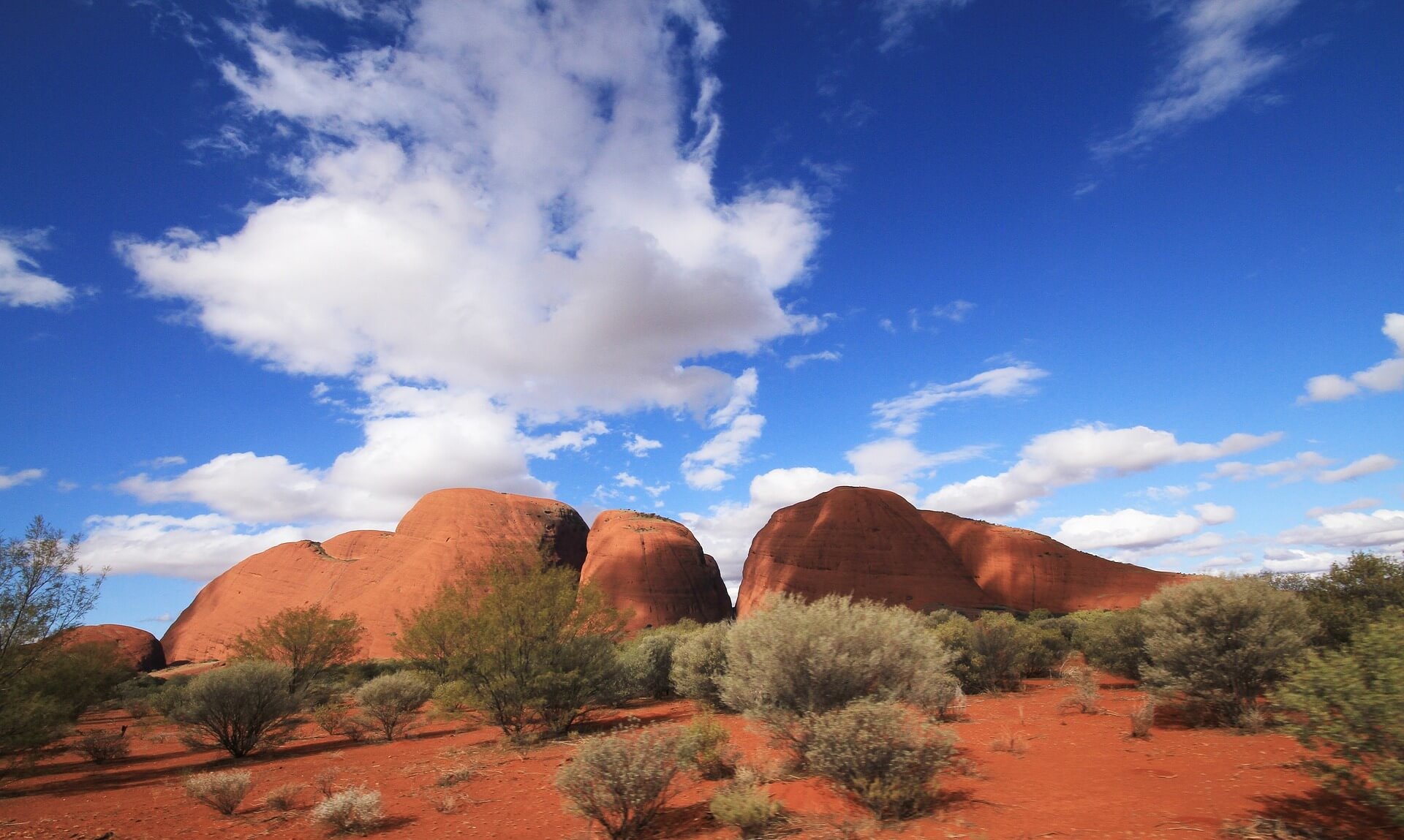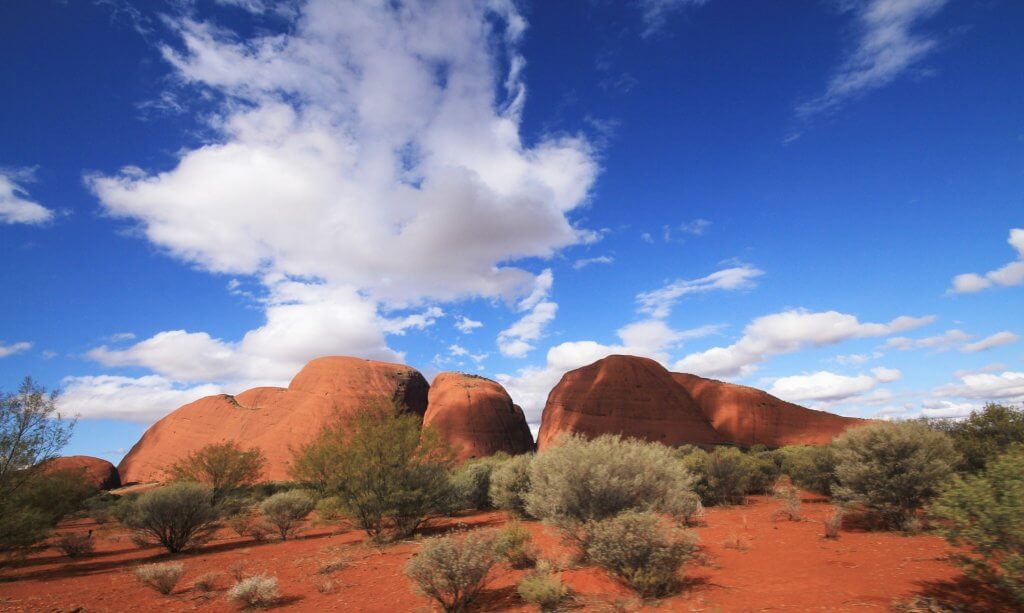 11. Kata Tjuta-The Olgas
Just 40 kilometers to the west of Uluru you'll find Kata Tjuta. Both Uluru and Kata Tjuta are inside the Uluru-Kata Tjuta National Park. The indigenous Anangu people have resided on the land there for over 20,000 years.
Kata Tjuta is made up of 36 dome-like rock formations, the highest of which is Mount Olga which is about 540 meters tall (roughly 104 stories!). The name Kata Tjuta is an Aboriginal word that means 'many heads'.
There are walking tracks that take you past the rocks to view them from different perspectives. The rock formations appear to change color as the sun sets, and sunrise or sunset are the best times to visit.
Tasmania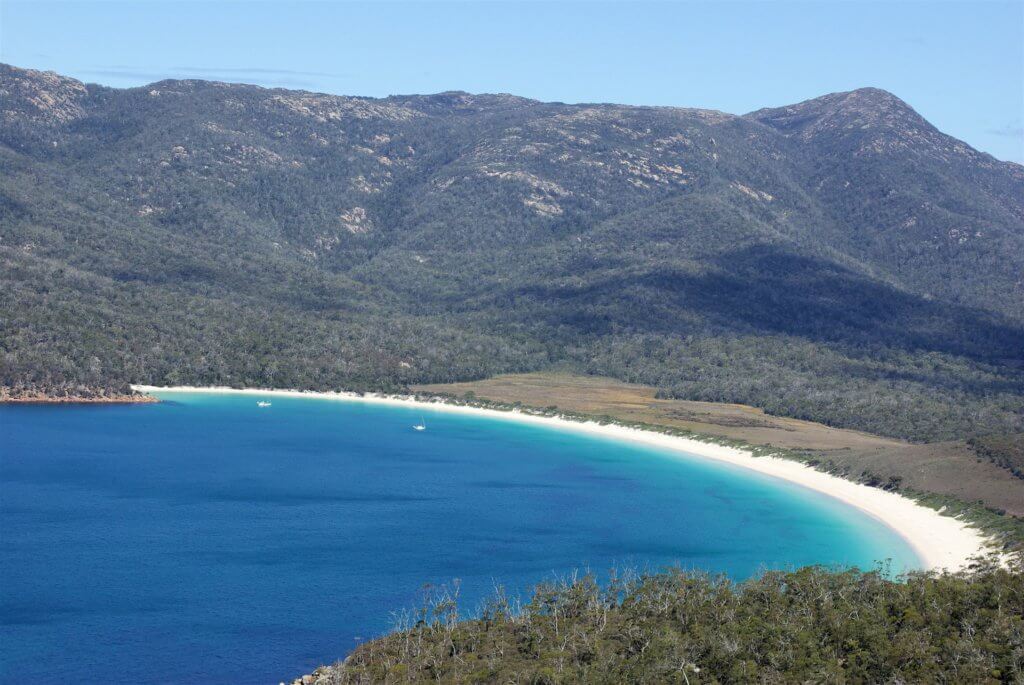 12. Wineglass Bay
Wineglass Bay, located in Freycinet National Park in Tasmania, is considered one of the most beautiful beaches in the world. In our opinion, that makes it a landmark destination in Australia!
You can climb to the top of Mount Amos to take in the views of the clear blue water and pure white sand, surrounded by lush greenery.

Port Arthur
We love to learn about history when we travel, and Australia's population sure has an interesting, and difficult, one. There are 11 Australian Convict sites that are World Heritage properties, including Port Arthur.
Port Arthur was a convict prison where some of the hardest convicted criminals were sent in the 1800s. The buildings that housed the prisoners were converted from an old granary and flour mill. There are also a Church, Guard Tower, Law Courts, and other restored buildings on site that give you a glimpse into life at Port Arthur during that time.
There are free walking tours, other guided tours, and even ghost tours that run at night.
Northern Territory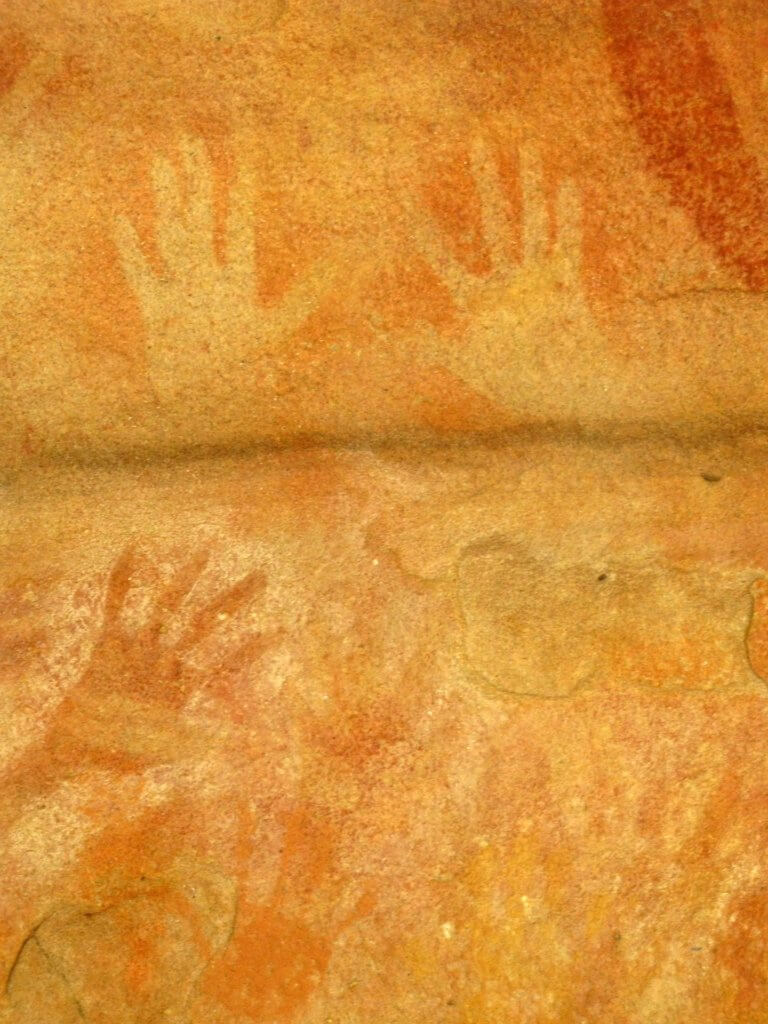 14. Ubirr Rock Art
Inside Kakadu National Park in Australia's Northern Territory you'll find over 5,000 drawings of Ubirr rock art. This is one of the largest collections of rock art in the world, dating back 2,000-40,000 years!
The Ubirr rock art drawings were made by the aboriginal people who lived there. The paintings show their daily lives with detailed depictions of animals, plants, and people. You can make out the different animals in the drawings such as pig-nosed turtles and wallabies. There are National Park Rangers and locals indigenous to the area who lead tours of the site to explain more about the Ubirr rock art.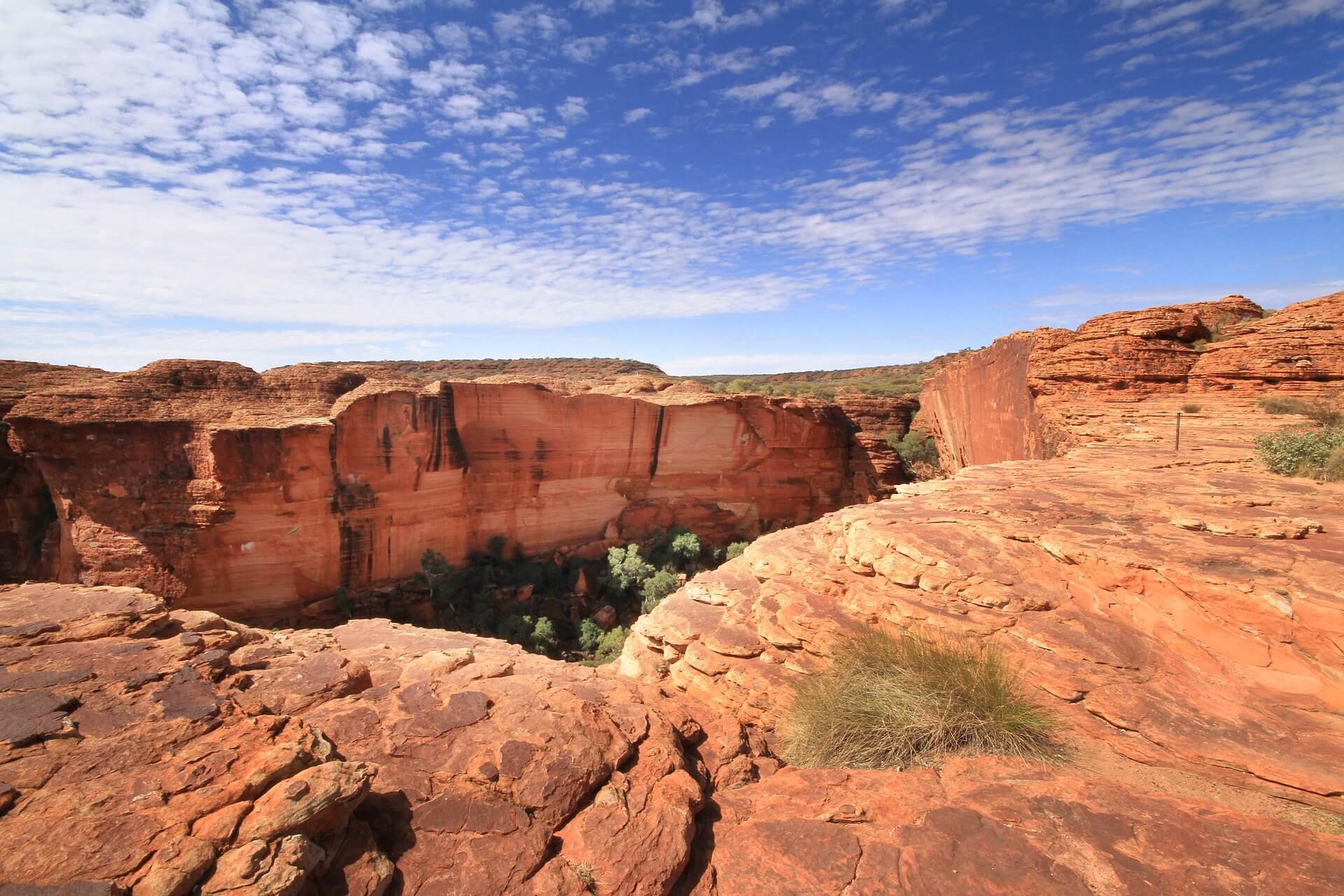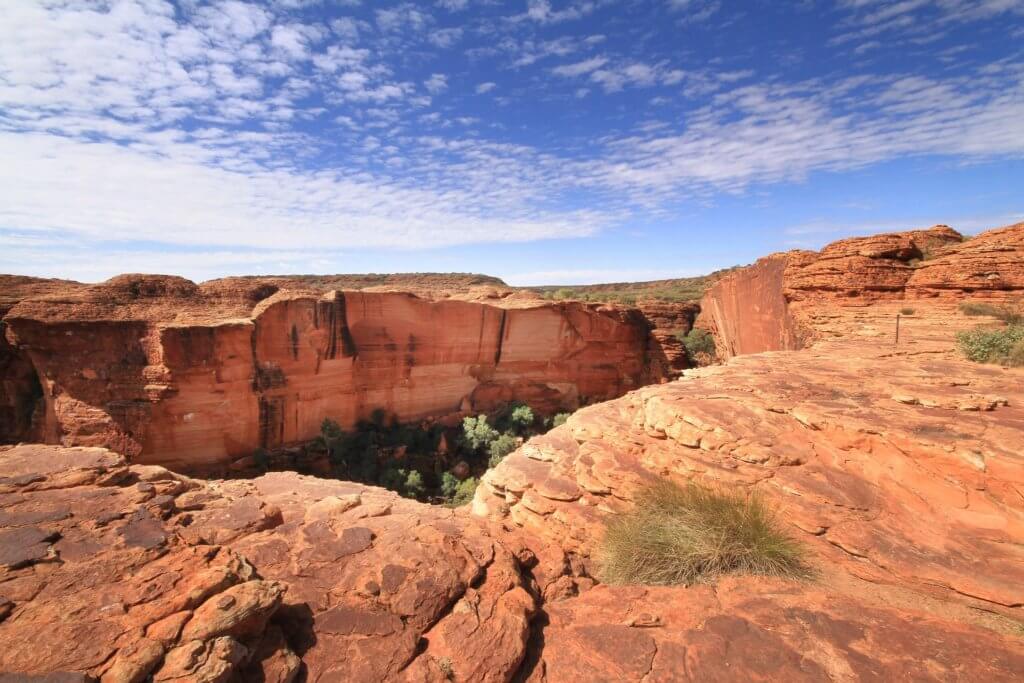 15. Kings Canyon
Another incredible landmark in the Northern Territory is Kings Canyon, located in Watarrka National Park. It is a sacred site to the aboriginal people and is one of the most beautiful canyons on our planet. Though not as large or as deep as the Grand Canyon in the United States, it is still huge and well worth exploring.
The Kings Canyon walls are over 100 meters high. You can hike on several different trails, including one that takes you to the bottom of the canyon to Kings Creek. From there you can get a different perspective of the canyon, looking up at the canyon walls that are over 100 meters high! Be mindful during your hike, as certain areas are especially sacred and people are asked to tread lightly and not to leave walking tracks.
There are some viewing platforms to look out over the canyon. You can also go bird watching and may even spot a peregrine falcon or black-breasted buzzard.
We hope you enjoyed this list of incredible Australian landmarks. Researching for a trip is half the fun, and we can't wait to make this dream to road trip in Australia a reality.
---
Disclaimer: This article may contain affiliate links. If you purchase something through one of these links we receive a small commission at no extra cost to you. 
---
Inspired? Pin this article for later!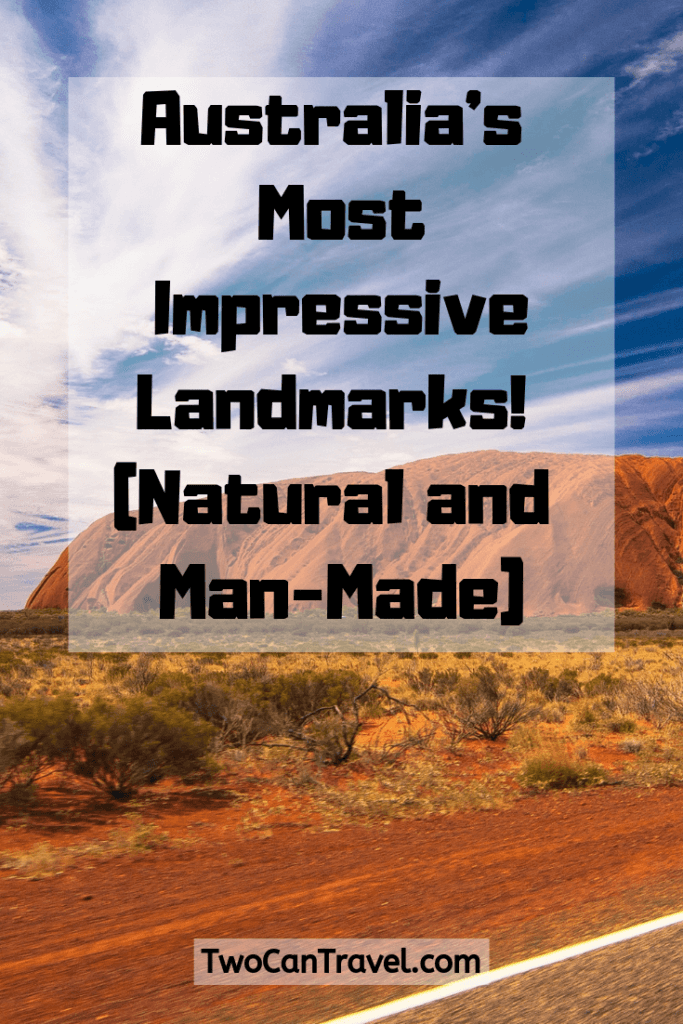 ---
Which of these stunning Australia landmarks do you want to visit? Have you been to any of these places before? Share in the comments!
---