This article may contain affiliate/compensated links. For full information, please see our disclaimer here.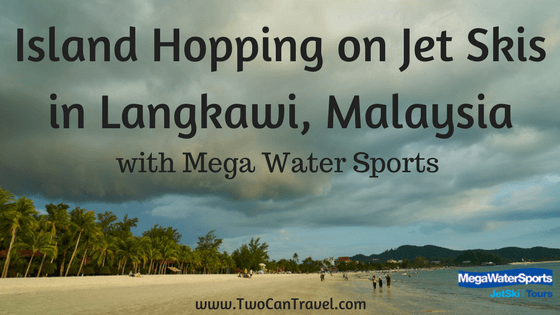 Island hopping on Jet Skis in Langkawi, Malaysia
When we were planning our trip to Langkawi, Malaysia one of the activities we were most excited about doing was island hopping on jet skis! We hadn't seen this type of tour offered anywhere else on our travels in Asia. We watched lots of videos and compared companies. Without a doubt, Mega Water Sports had the best reviews, and their tours looked amazing! We also loved their commitment to being eco-conscious by using only the top of the line jet skis with low emissions. We reached out to partner with them, and were invited on their Dayang Bunting Island Tour, Tour 2. This is their most popular tour, and we can see why!
Check out our video of the tour, and read more below!
Mega Water Sports jet ski tours were one of the best parts of our visit to Langkawi! Jet skis are a lot of fun in a crazy manic way. Some may be frightened of driving such a big machine, but it actually gets easier the faster you go. The speed stabilizes the jet ski and you can fly across the waves, catching sea spray as you jump swells. We each took turns at the helm and the state-of-the-art craft that Mega Water Sports uses are a dream to operate. Simply pull a small trigger with your right hand and you're off to the races. We got up to over 30 miles per hour before realizing how fast we were going. We knew it was time to slow down when our laughter got a little too crazy.
There were several families on our tour with children as young as five riding with parents, so this is definitely an adventurous activity for the whole family! Tours are limited to six jet skis, so guides can ensure everyone is happy and safe. google maps driving directions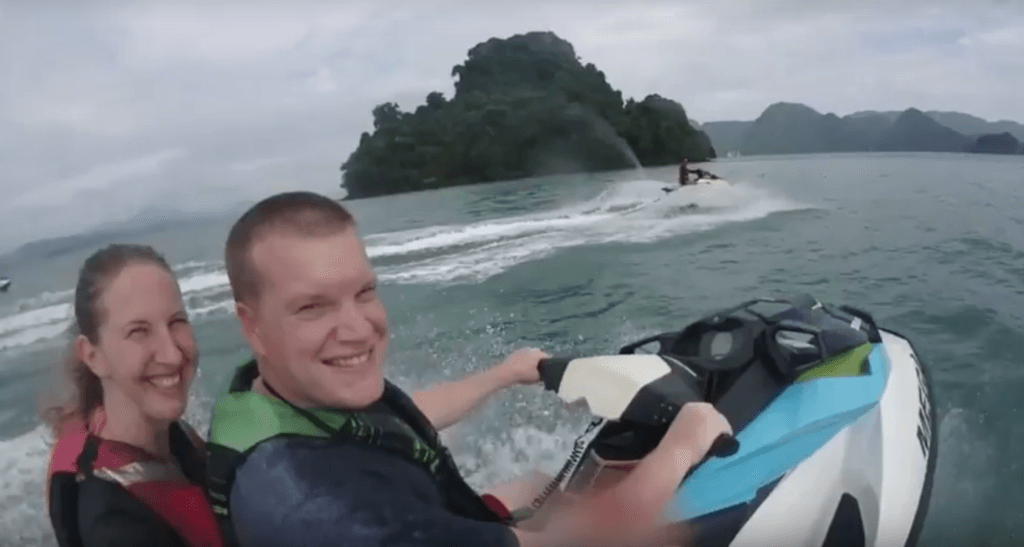 Our guide, Faud, was very professional and knowledgeable about the tour. The Dayang Bunting Island Tour is a four hour trip to eight of the most beautiful islands surrounding Langkawi. The first stop was the eponymous Dayang Bunting Island, also known as the Island of the Pregnant Maiden. According to legend, if a woman drinks from the freshwater lake on the island, she will get pregnant. This website is called TWO Can Travel, so Jen and I made sure to use proper protection when getting into the lake and we wore our life jackets.
The island is crowded with monkeys that love to steal plastic bags from unsuspecting tourists. We spotted a few bandits lying in the crook of a tree eating some freshly pilfered cake, straight from the bag. We brought our blindingly neon drybag and the monkeys left us alone. The monkeys are not scared of you and are wild animals.
As we were leaving, a guy from another tour group bought a burger from the small shop. As soon as he was down the gangplank, a large monkey charged him and the guy threw the burger at the monkey to scare it off. That was all part of the monkey's ingenious monkey plan. We spent our time getting ready to leave the island watching monkeys fight over a soggy burger that was only getting soggier. So watch your back, your bags and your burgers, the Island of the Pregnant Maiden monkeys are not to be trifled with.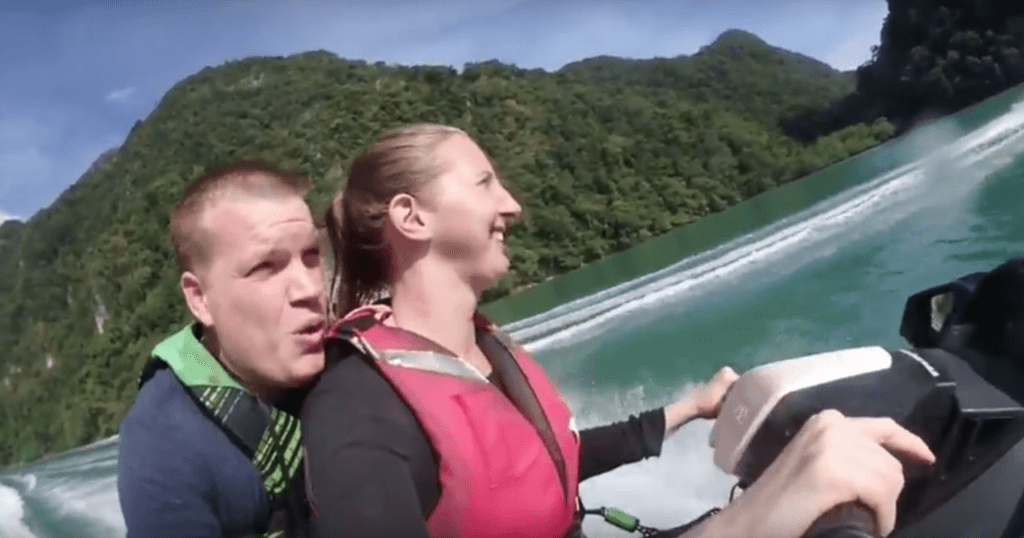 After leaving the island, Jen took over the controls and we were led to a beautiful pool of ocean surrounded on all sides by limestone karsts bursting with green life. The water was perfectly calm and clear. Fuad showed us a fun trick of the limestone walls surrounding us by screaming at the top of his lungs. The booming echo filled the basin with sound and our ears with laughter.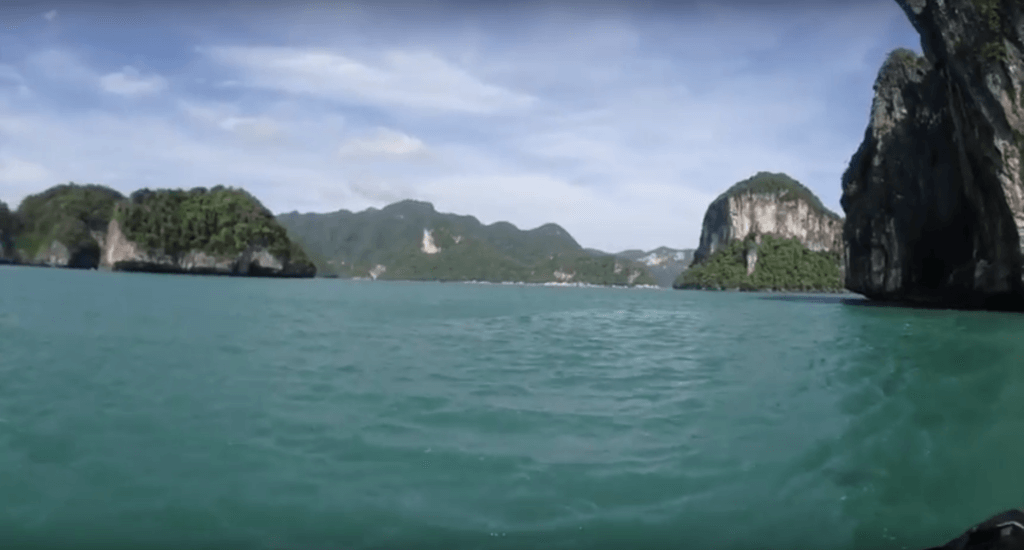 We each took turns screaming and hearing our voices bounce off into infinity under the bright blue sky. After shouting and laughing ourselves hoarse, we rode on and approached a sheer cliff of rock covered in jungle in the middle of the ocean. We inched along the slowly eroding feet of massive rock plinths, getting close enough to run our hands along the barnacled wet stone.
Langkawi means eagle brown rock according to our guide, Fuad. It got its name from the beautiful birds flying around overhead. We spent some time watching eagles feed, floating lazily, coasting around the island updrafts until suddenly, one would swoop out of the sky, hit the water and come back up clutching a wriggling fish.
Fuad told us that there used to be fewer eagles on the islands, but the influx of tourists going on eagle feeding tours has caused the eagle numbers to skyrocket. In fact, there used to be only one mating pair of birds per island, but the abundance of food, especially from eagle feeding tours, has caused problems of overpopulation. Mega Water Sports has started educating local tour groups of the danger this poses for the eagles, and the feeding excursions have been curtailed. Mega Water Sports cares about the environment we all get to enjoy and makes sure that it stays that way.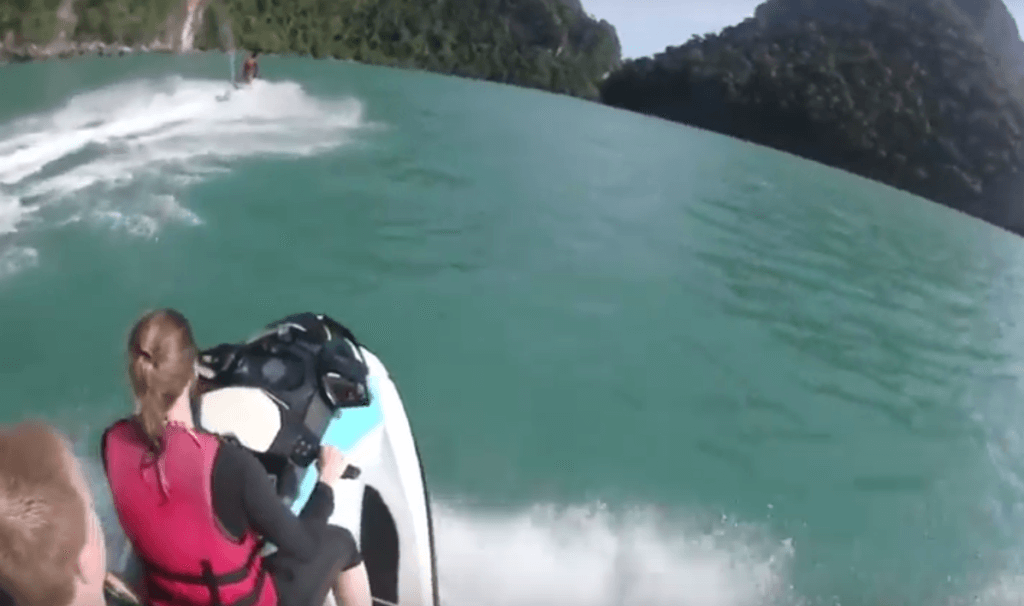 Our final stop on the trip was a small secluded beach that faced Langkawi's main beach. The island provided some great locales for a few last snaps and a group photo to remember our trip.
What to pack:
WATERPROOF SUNSCREEN. You will be out in the elements and getting wet for a long time. Apply sunscreen whenever it feels right, which should be always. Another good option is wearing a long sleeve rash guard or shirt, if you burn easily, like Jen.
1 LITER OF DRINKING WATER Make sure to pack drinking water. There is a small shop on Dayang Bunting island that sells burgers and drinks, but they had run out of water by the time we got back from the lake, so don't depend on buying water during the tour.
WATER PROOF CAMERA. If you have one, bring it along. If you don't, Mega Water Sports offers Go Pro rentals and you get a 16GB memory card to take home with you to show your friends how cool you are. After you edit out the manic laugh-screaming. The video we made was shot on our new waterproof Olympus TG Tracker camera.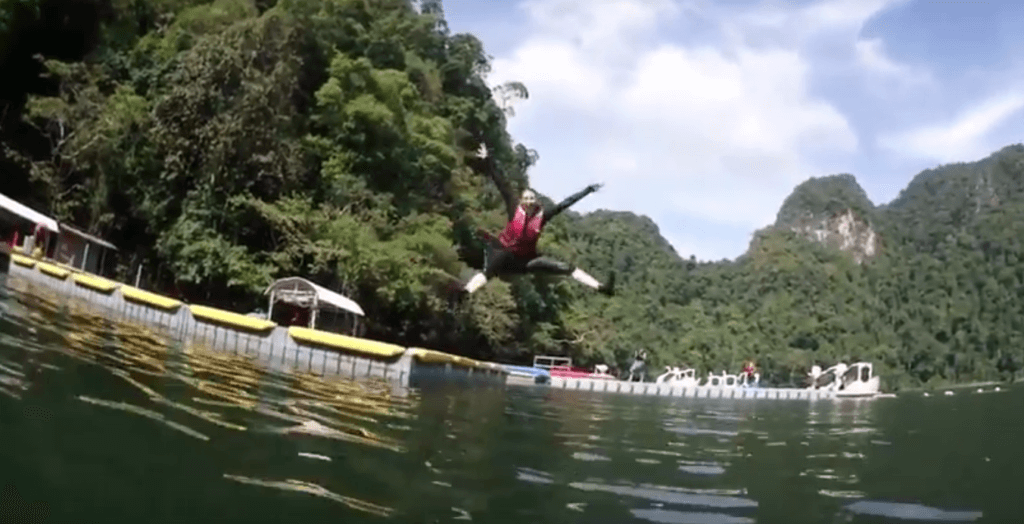 Mega Water Sports prides themselves on having the most expensive activity on the beach, and it is worth every penny. To see the islands up close gives them a certain majesty that pictures can't contain. The turquoise blue ocean, the black rocks and the green jungle islands blend together to create gorgeous art, a feast for your eyes and senses. Don't miss this opportunity to enjoy the ocean and nature in beautiful Langkawi, Malaysia. And to go, like, really fast.
For more information about Mega Water Sports tours, click here.
Interested in other adventurous, outdoor activities in Langkawi? Check our experiences ziplining in the rainforest and cruising on a catamaran at sunset.
---
Disclaimer: Mega Water Sports provided us the tour for this review. All opinions are our own.
This article contains affiliate links to our partners, companies we use and trust. 
---
Want to Jet Ski in Langkawi? Pin this post for later!
---
Have you been to Langkawi, Malaysia? Have you ever ridden a jet ski? Share your experience in the comments!
---