This article may contain affiliate/compensated links. For full information, please see our disclaimer here.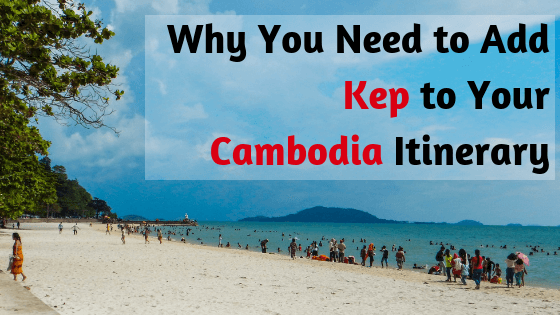 Cambodia is developing rapidly. If you're looking for a beach in Southeast Asia that is off-the-beaten-path with fewer tourists and interesting history, we definitely recommend adding the coastal town of Kep to your travel itinerary. And do it soon!
Check out more amazing places to visit in Cambodia.
---
Pin this article for later!
---
Kep's Fascinating History
In the 1950s and 1960s, Kep was a popular weekend retreat for Cambodia's elite. Wealthy Cambodians, foreigners, and even the Royal family had mansions in Kep where they would go to relax by the seaside.
Many of these mansions were built with a unique blend of 1960s European architectural design using angular elements, mixed with traditional Cambodian design such as staircases going up into the center of the home.
When the Khmer Rouge took over Cambodia from 1975-1979, Kep was a stronghold and at times a battleground. All of the mansions were abandoned and some were used as outposts for the Khmer Rouge army. You can even spot bullet pockmarks on the outsides of a few mansions along the coast.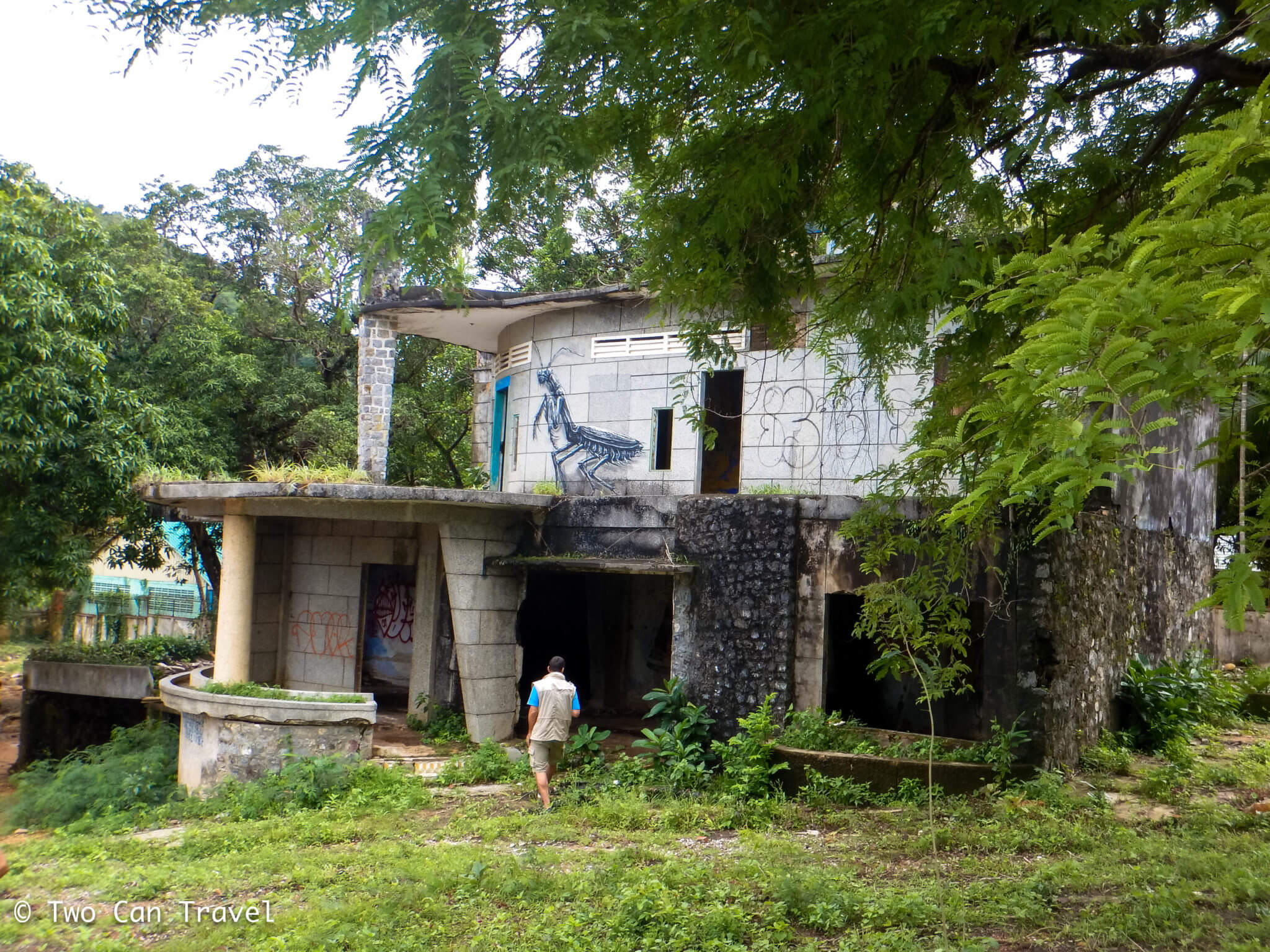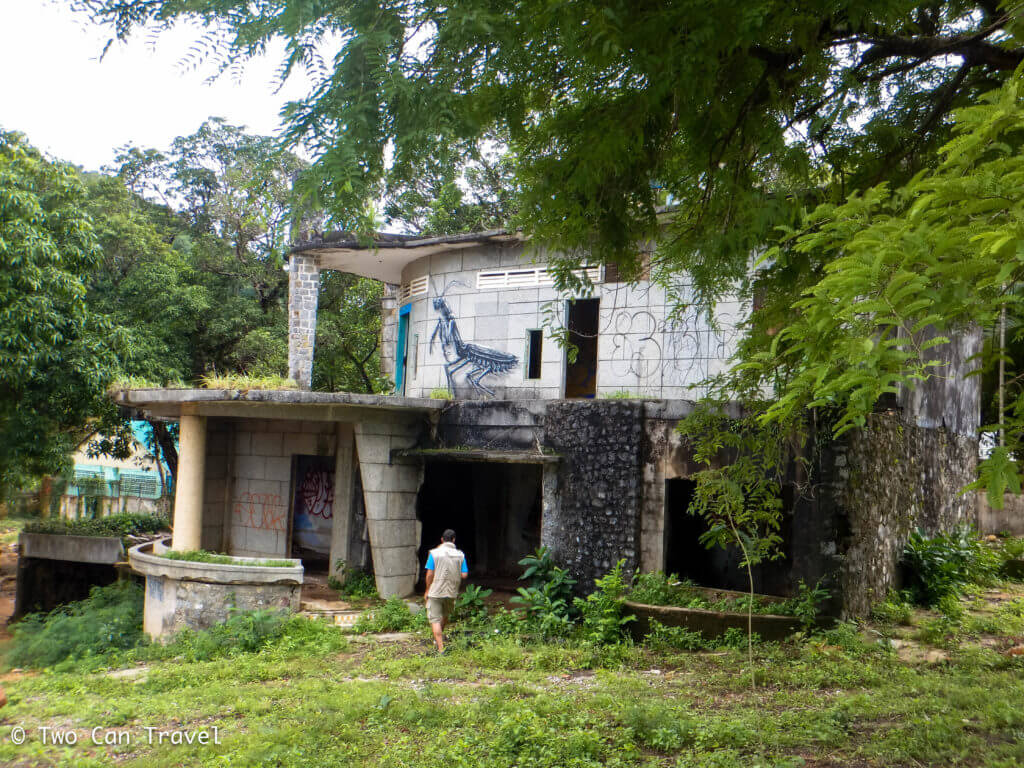 The Abandoned Mansions of Kep, Cambodia
To this day the vast majority of the mansions in Kep remain abandoned due to a strong belief in ghosts in Khmer culture. There are plans in the works to make the Kep mansions a UNESCO heritage site in the future. For now, you can go and explore some of them on your own.
One of the most beautiful Kep mansions is located just across the street from Kep Beach. For years I wanted to go inside, but neither Stevo or my friends would ever indulge me in some harmless trespassing. In 2017 my Mom came to visit us in Cambodia and I took her to Kep while Stevo, unfortunately, had to work.
Not one to shy away from some minor breaking and entering adventures, my Mom gladly walked up the path with me to the mansion. Clearly, we weren't the first people with this idea as there was a Cambodia film crew in the front yard shooting a movie. Even the security guard on site just waved hello to us!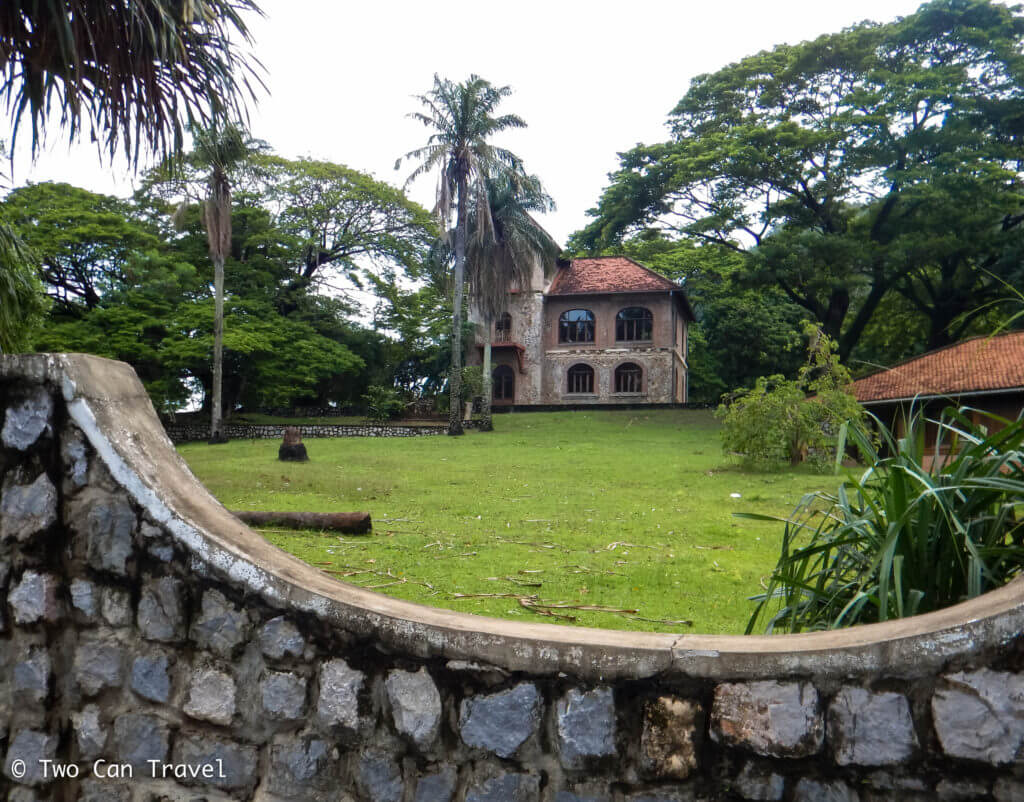 We went inside the mansion and were blown away. Trees have crawled up the sides of the building, their branches creeping into windows and snaking along walls inside, making many windows impossible to close.
The floor tiles are mostly intact, still beautiful, but worn. It is filthy inside because there has clearly been no upkeep. We even found empty food containers and beer cans from a recent party.
We walked all around the house exploring. The grounds the mansion is on are huge, and there are other buildings like a chef's quarters and several bungalows around the property that are also empty or full of rubbish.
I'm not sure about the history of the property or who owns it but have heard that it may belong to the King of Cambodia. We were amazed that somewhere so beautiful, right along the coast of Cambodia, has been left abandoned after all these decades.
Read: 10 Awesome Places to go in Cambodia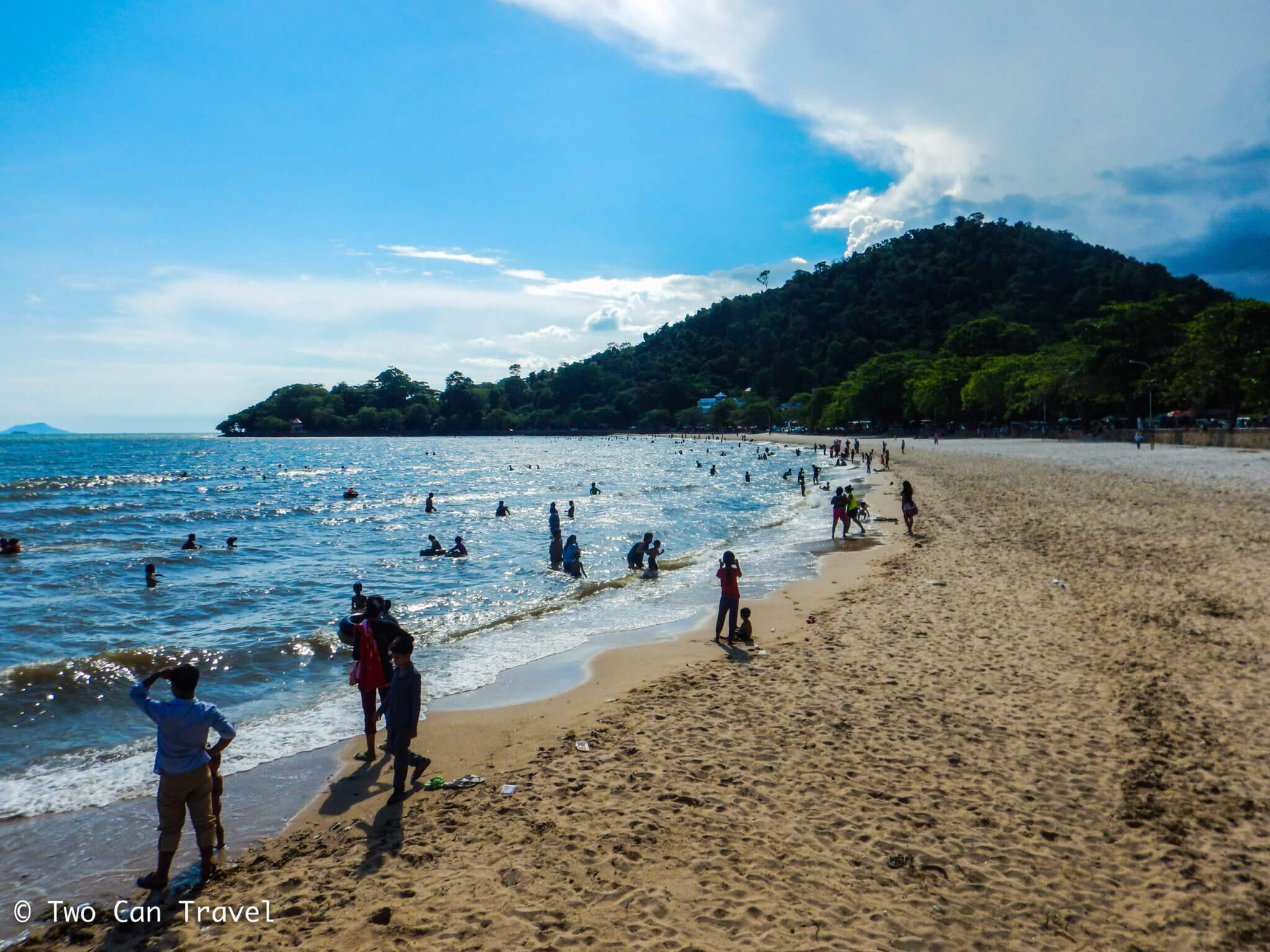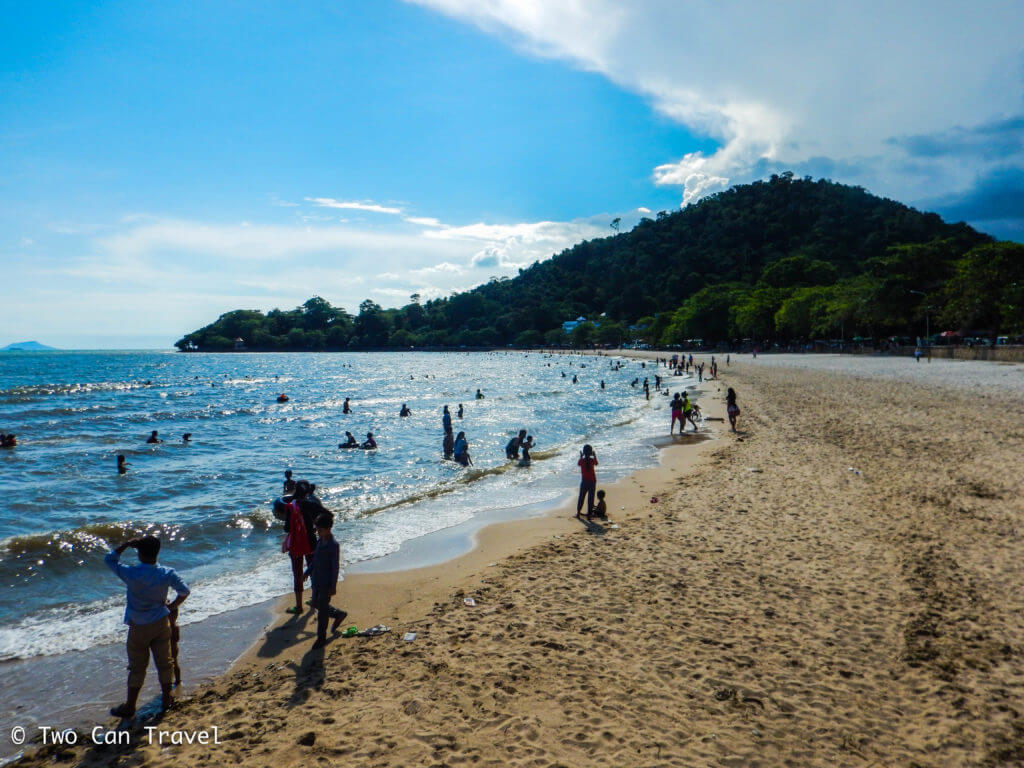 Kep Beach, Cambodia
Directly across from that mansion there is a short stretch of coastline called Kep Beach, bookended by a viewing tower on one side and the White Lady statue on the other. The story behind the White Lady statue is that she is waiting for her husband to return from the sea.
She is nude because the statue reflected European popular design at the time it was made. People cover up her body in scarves and cloth, but the wind often carries them away.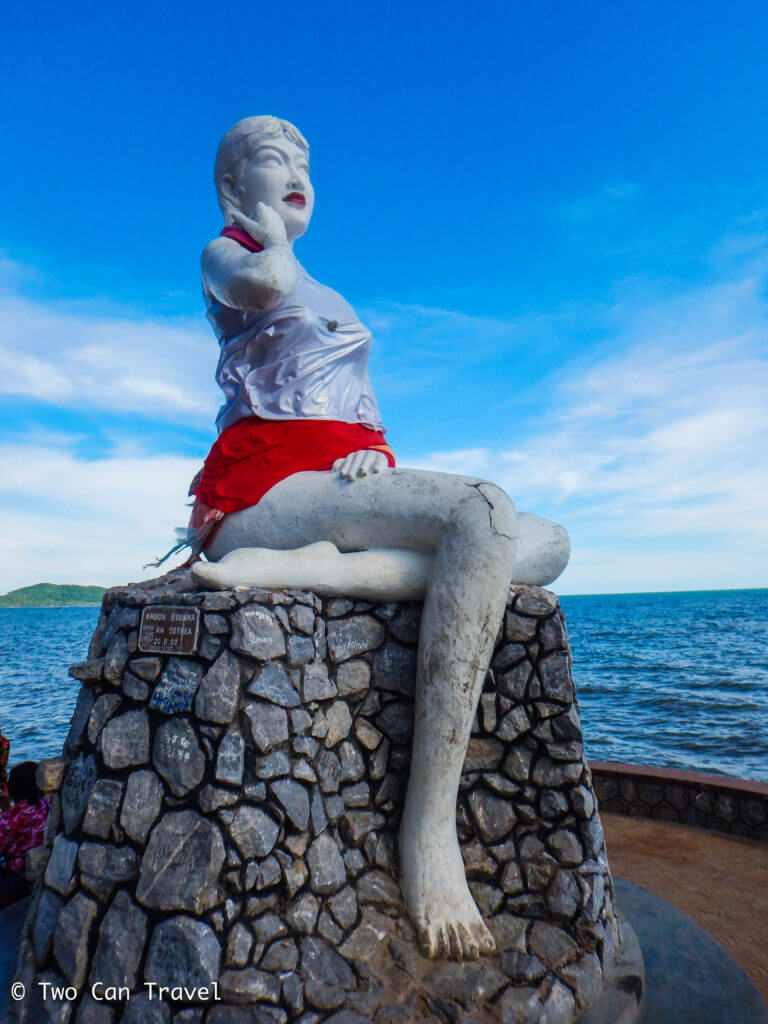 The white sand along Kep Beach is soft and the water is warm. There is plenty of space to lay out a towel and enjoy the warm breezes and salty ocean air. Vendors are set up all along the street by Kep Beach selling coconuts, sugarcane juice, seasonal fruits and Cambodian foods like grilled chicken, nom pang sandwiches, and fresh seafood.
There are also a few hotels and restaurants just across the street, as well as public showers where people can rinse off after a day of swimming.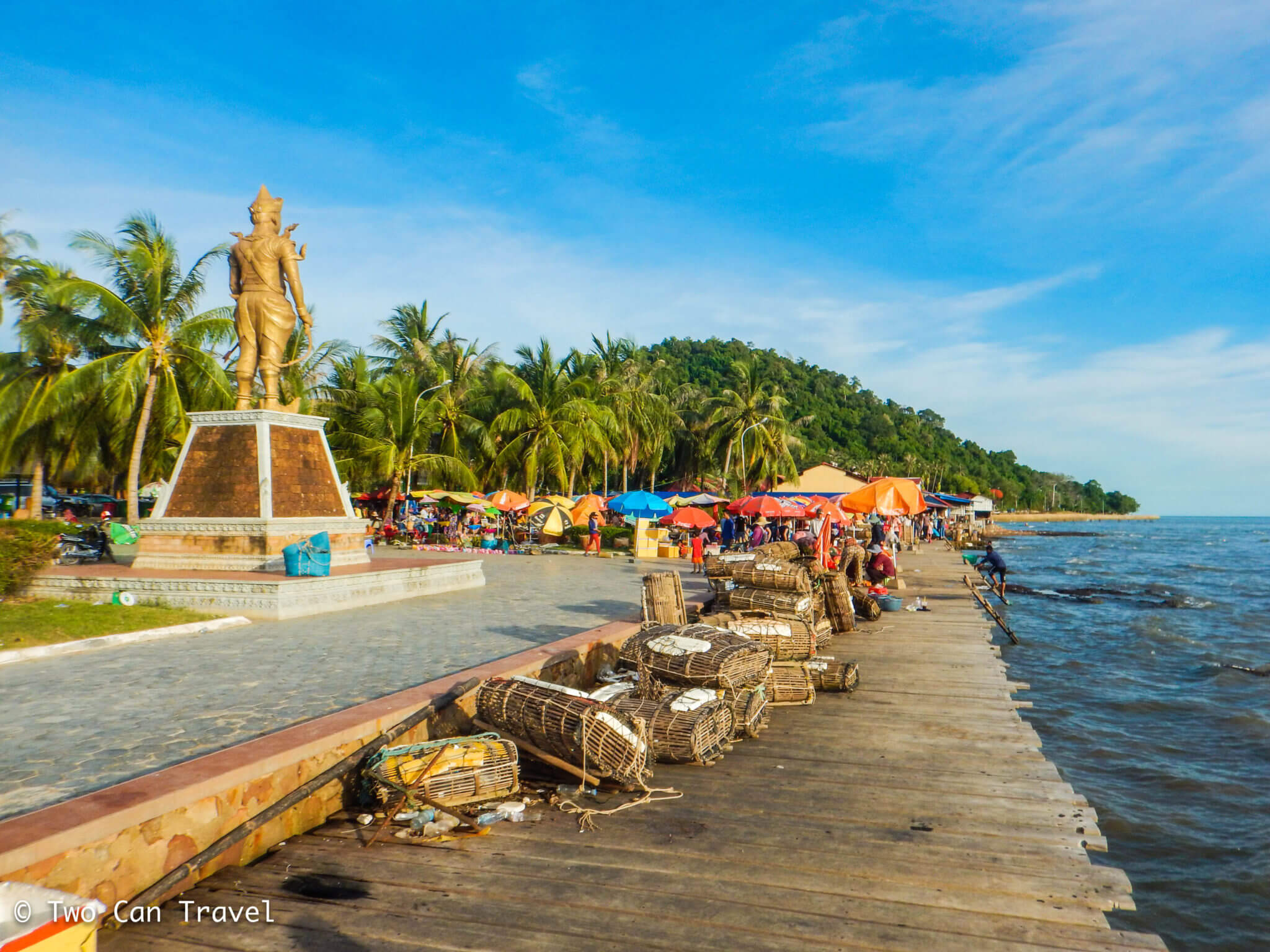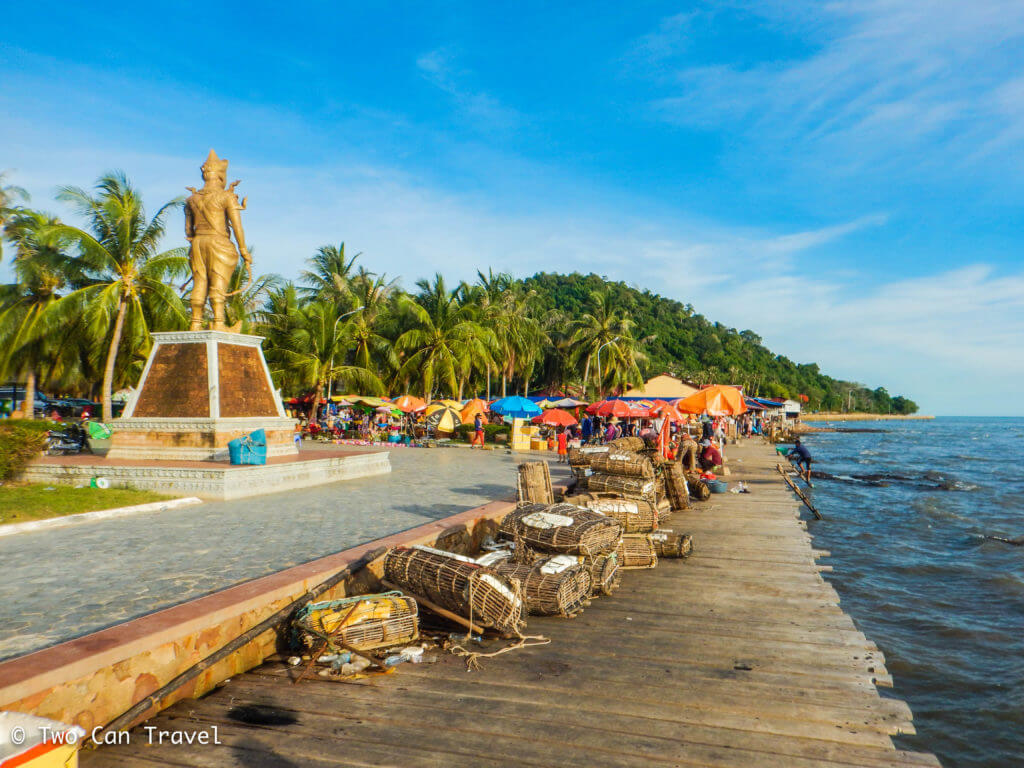 Check out: Best Bus Companies in Cambodia
The Kep Crab Market
Kep is most famous for crab. There is even a giant crab statue down the coast, about a 10-minute walk from the beach past the White Lady statue.
In the other direction along the coast, you'll find Kep's famous Crab Market about a 20-minute walk, or 5-minute tuk-tuk ride from Kep Beach.
If you choose to walk there you may encounter wild monkeys, lizards, and other small animals along the way. The views of the Gulf of Thailand along the path are stunning.
At the Kep Crab Market, you can watch people pull crab traps out of the ocean and then immediately sell the crabs right there on the wooden boardwalk.
You can also find squid, shrimp, fish, stingray, and many other varieties of freshly caught seafood for sale at the market. Some vendors will even cook your selections right there for you!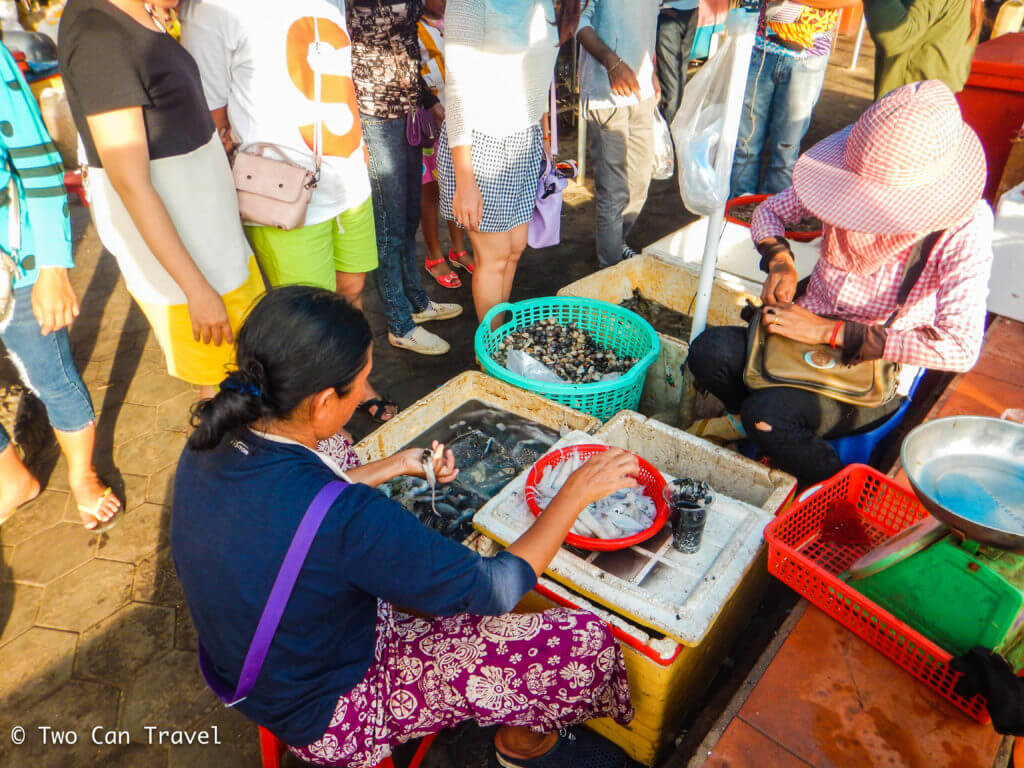 If you want to enjoy your seafood in a more relaxed setting, there are over a dozen restaurants by the Kep Crab Market. Many of these restaurants offer Happy Hours to drum up business.
You can enjoy freshly caught seafood and cold beers or cocktails while catching a gorgeous sunset over the ocean.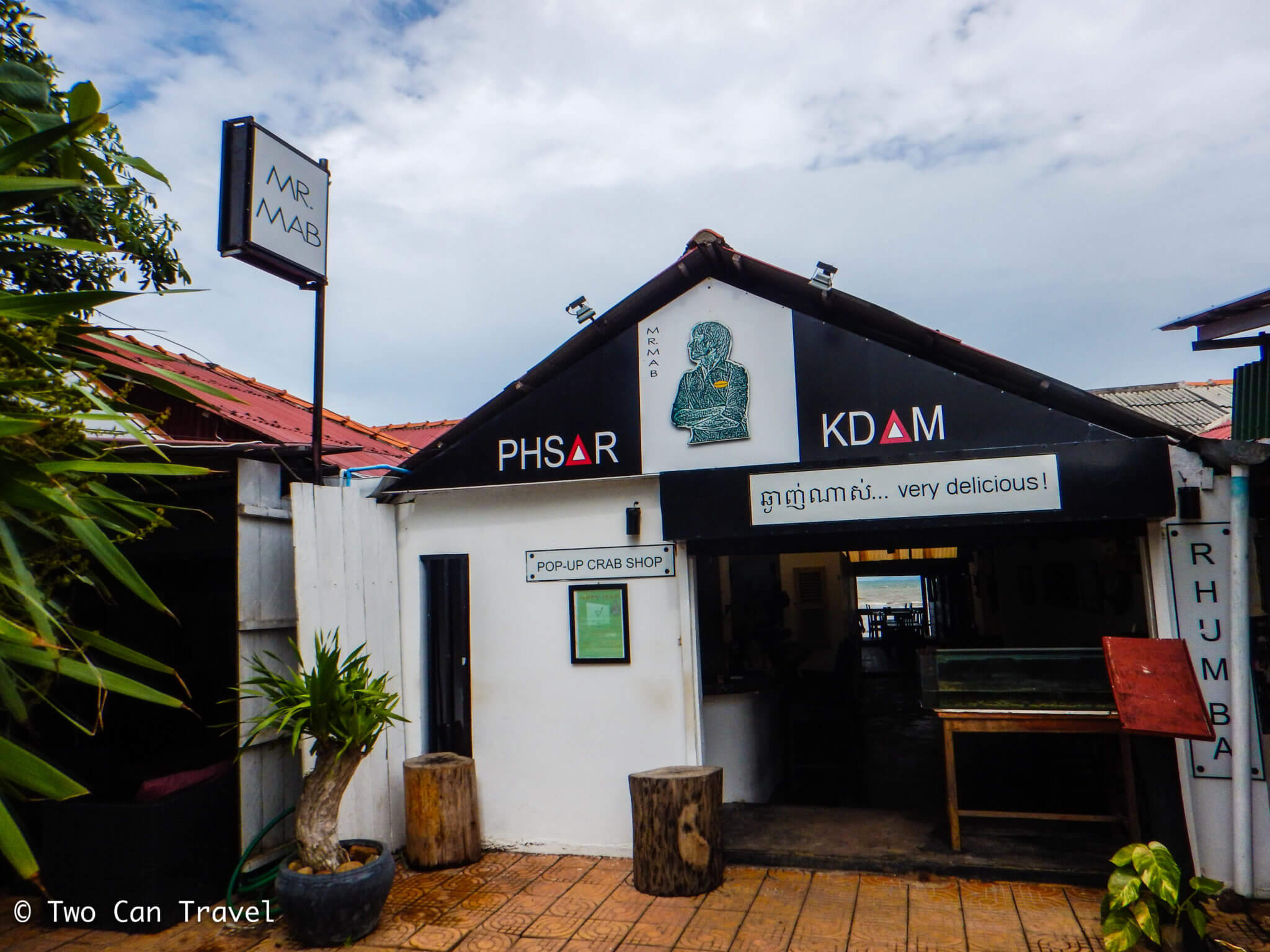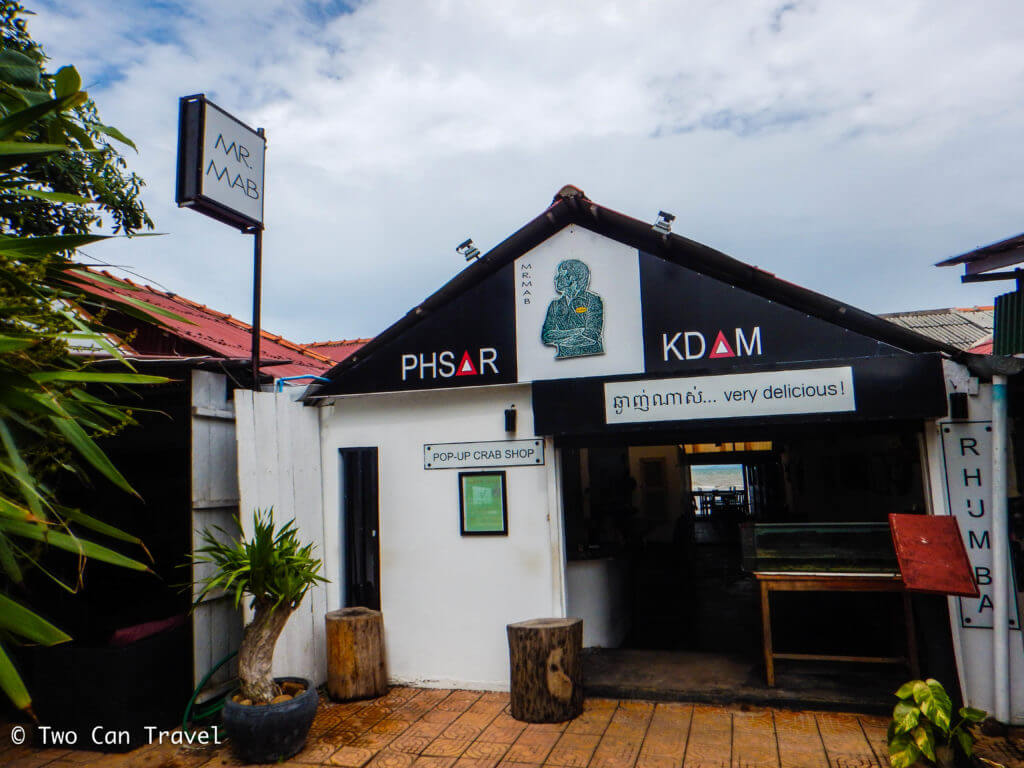 From the Kep Crab Market and restaurants, there are views of Phú Quốc island, which is technically a Vietnamese island.
If you're looking for a more romantic evening, one of our favorite places to enjoy the sunset is Knai Bang Chatt resort, about a 5-minute tuk-tuk ride or 15-minute walk from the Kep Crab Market.
This stunning Kep resort has an open-air restaurant, lounging spaces, and a long pier. The food is excellent and they also offer Happy Hour specials. The restaurant and bar are open to anyone, even if you aren't staying there.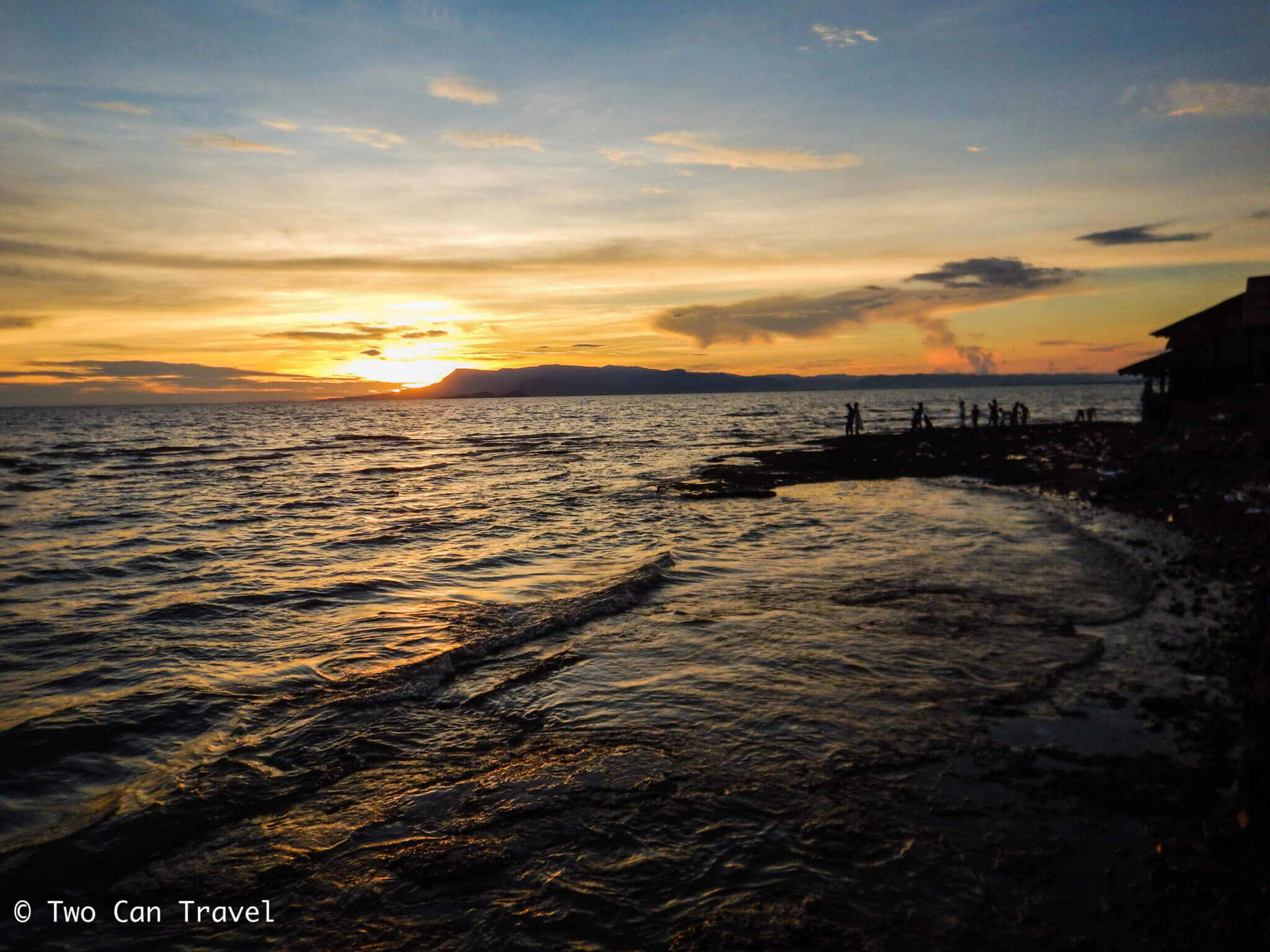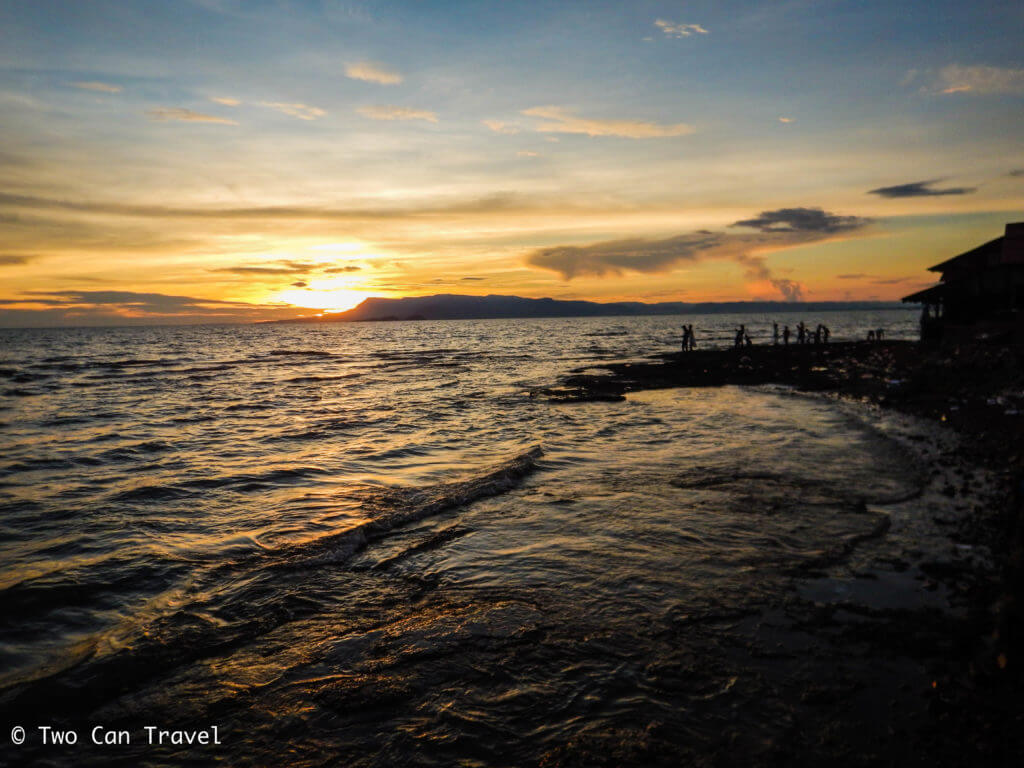 Getting To and Around in Kep, Cambodia
If you want to go directly to Kep from Phnom Penh, the easiest way is to hire a taxi, which takes 3 to 3.5 hours. Hiring private taxis is often very reasonably priced in Cambodia, especially when split between three or four people.
Another way travelers often reach Kep is from Kampot, a beautiful riverside town about a 3-4 hour minivan ride from Phnom Penh. From Kampot, you will need to hire a taxi or tuk-tuk driver to bring you to Kep, which takes 30-45 minutes respectively.
You can also reach Kampot by railway, which takes about 5 to 6 hours, but is a great way to see more of Cambodia's beautiful countryside. Find out more information about Cambodia's trains in Trains and Railways Cambodia Facebook group.
There are buses leaving from the bus station by the Central Market in Phnom Penh that go to Kep, but they can take 5-6+ hours and aren't the most comfortable journeys.
Check out: The Best Bus Companies in Cambodia
Kep isn't very big, but it is hilly. You may want to hire a tuk-tuk to take you around in Kep if you don't feel like walking. Be sure to negotiate a price with your driver before you head out. Drivers may also suggest some other sites nearby to Kep, such as visits to pepper plantations or caves. These sites are also easily accessible from Kampot.
Staying Overnight in Beautiful Kep, Cambodia Hotels and Villas
Today Kep is regaining its status as a popular weekend getaway for Cambodians, expats, and travelers. With more high-quality accommodations available in Kep in recent years, it is becoming more popular to stay there for at least a night or two.
A friend and I even celebrated our 30th birthdays in Kep and rented out a villa for the weekend. It sounds super fancy but was actually quite inexpensive when split between a big group. There are several villas in Kep for rent. Look for the Holiday Home option.
Where to Stay in Kep
If you're looking for a hotel in Kep, check out some of our top Kep hotel recommendations:
Knai Bang Chatt– A stunning luxury resort in Kep, and a bargain in low season!
Kep Lodge –Midrange in a great location overlooking the beach.
Saravoan Kep –Budget, but still gorgeous!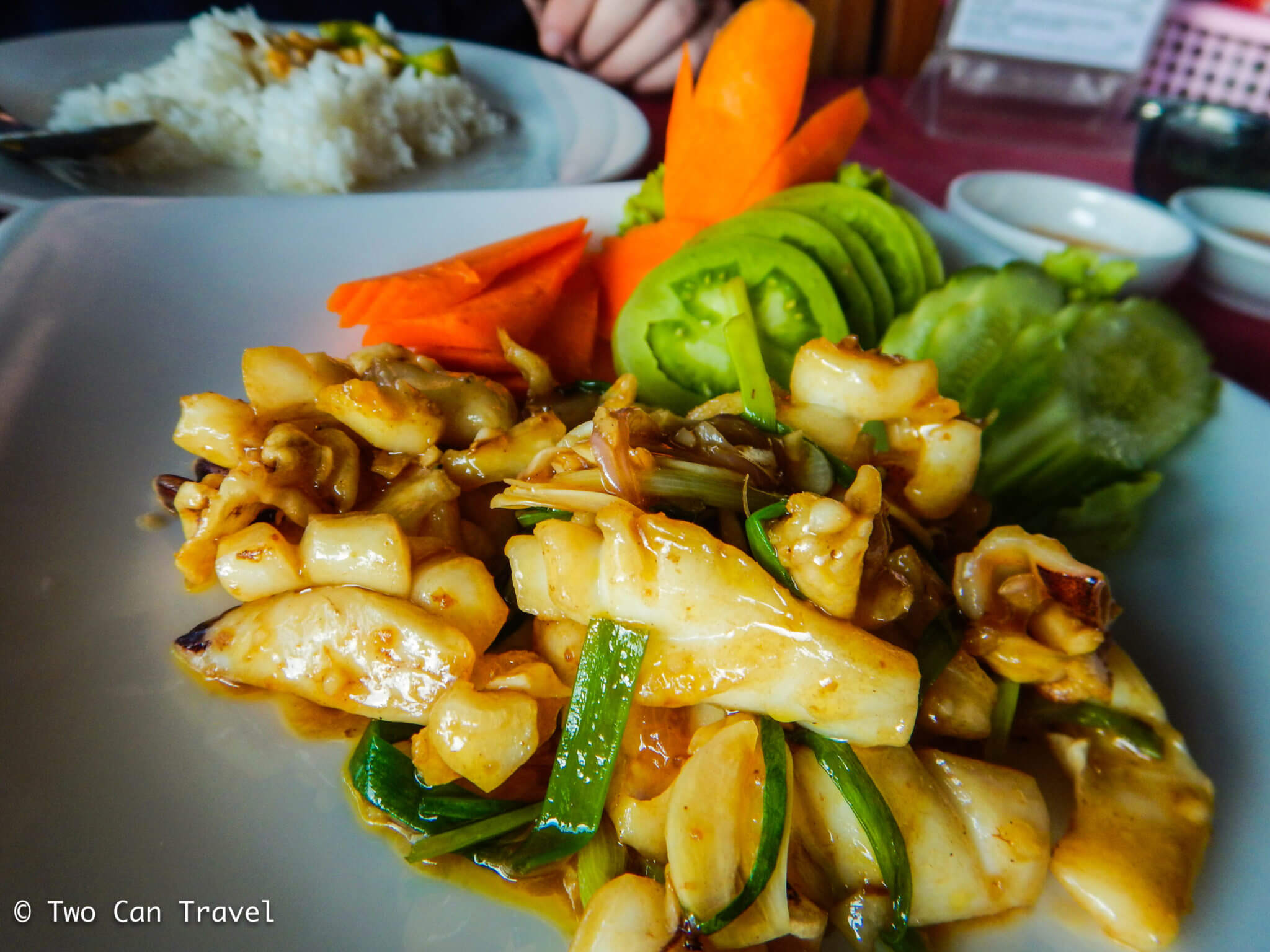 Things to Do in Kep, Cambodia
I've already mentioned eating freshly caught seafood, enjoying Happy Hours, exploring abandoned mansions, and relaxing on the beach, but there are still more things to do in Kep, Cambodia!
Kep National Park, Cambodia
Kep National Park has beautiful, well-marked hiking trails taking you into the jungle, with great views of the Gulf of Thailand. The main trail inside Kep National Park is about 8 kilometers long (5 miles). You can access the trails in Kep National Park behind Kep Lodge or at the main entrance behind Veranda Natural Resort.
We have heard rumors that part of Kep National Park has been sold to Chinese developers, but hopefully, this isn't true! All the more reason to get there soon.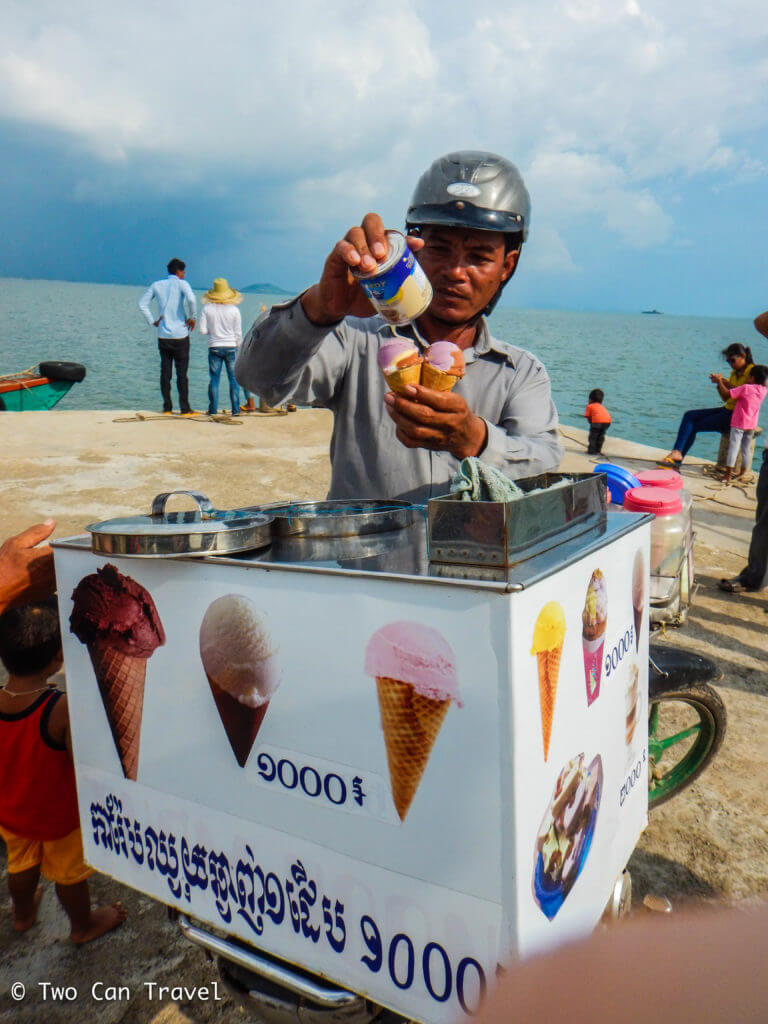 Rabbit Island, Cambodia
Koh Tonsay, known as Rabbit Island, Cambodia is another popular day trip from Kep, only about 30 minutes away by boat. It is famous for black sand beaches and is a quiet and laid back place to relax. You can stay overnight on Rabbit Island. Accommodation is very basic and inexpensive. Bring a flashlight because electricity can be limited at night.
Kampot, Cambodia
Take a trip to Kampot, only a 30-45 minute taxi or tuk-tuk ride from Kep. We have also taken a motorbike between Kampot and Kep, but note that you will be driving on major roads so it is certainly not a relaxing option.
Kampot is one of our favorite places in Cambodia. It has a thriving food scene, beautiful nature, and is a great place to adventure or just relax. Going on a day trip to Kampot is great, but we definitely recommend spending several days there if you have time.
Check out: Where to stay in Kampot
If you want to visit Kampot and Kep but are short on time, check out this 2-day 1-night trip to Kep & Kampot that departs from Phnom Penh.
Don't leave on your trip without travel insurance. For the past seven years, we've used World Nomads Insurance when we travel. You can even purchase their insurance while you're already traveling, and extend it from the road. Get your free World Nomads Travel Insurance quote here. 
---
Disclaimer: This article may contain affiliate links. If you book through these links we receive a small commission at no extra cost to you. We try our best to provide useful information and we only recommend services and companies we have used and trust. If you found this article useful and are traveling soon, please consider booking through our affiliate partners! 
---
Inspired? Pin this article for later!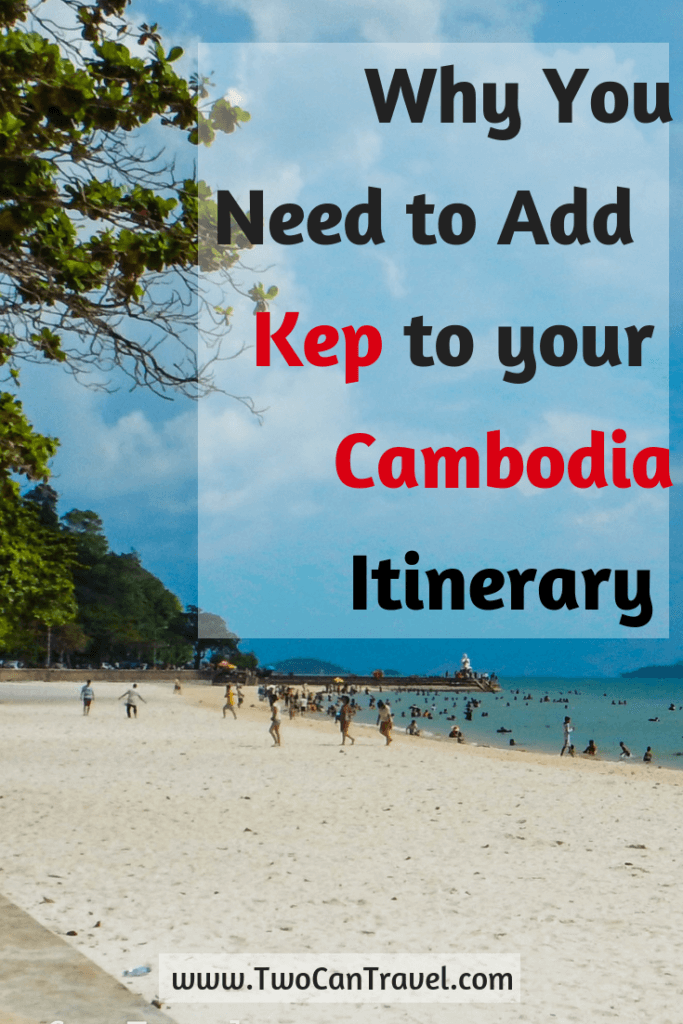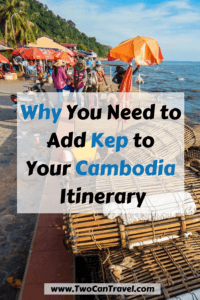 ---
Are you going to add Kep to your Cambodia Itinerary? Have you been to Kep, Cambodia? Share in the comments!
---