This article may contain affiliate/compensated links. For full information, please see our disclaimer here.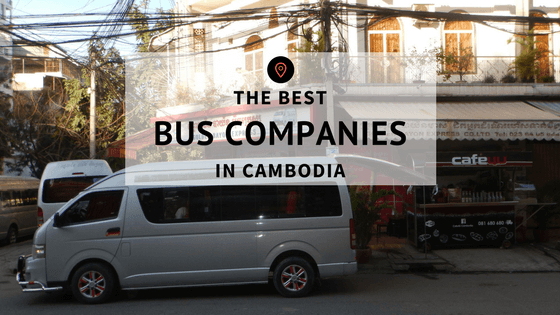 Wondering which bus company in Cambodia to book with?
When traveling around the Kingdom of Wonder, taking a bus is usually the easiest way to get between destinations.
Stevo and I have spent a lot of time in Cambodia! We first traveled in Cambodia together in 2012 and we lived in Phnom Penh from 2015-2018. We spent one month traveling all around Cambodia by bus in 2019. And we're heading back to Cambodia in 2023!
I've been researching what's changed with transportation since we were last there, so I wanted to update this article. Unfortunately, quite a few bus companies we used to recommend have shut down.
In all our years of living and traveling in Cambodia, it's safe to say we've had our fair share of great and terrible bus experiences.
That's why we want to share our advice with you on which bus companies are still worth recommending when traveling around Cambodia in 2023.
These are the bus companies that we have had the best experiences with over the years. We recommend these companies to our own friends and families too. Hopefully, we'll be able to recommend more companies after our next trip!
We have based our bus recommendations on safety, comfort, speed, and price. Just because you're visiting ancient ruins doesn't mean the bus from Phnom Penh to Siem Reap should feel like the Indiana Jones Adventure at Disneyland!
Taking a Private Taxi in Cambodia Instead of Buses (Cheaper than you might think!)
If you have a group of 4 or more people, it is sometimes cheaper, and definitely faster and more convenient to book a private taxi or minivan to your destination. When we lived in Phnom Penh we often did this for weekend trips to Kampot, Kep, or Sihanoukville.
If you only have 1 or 2 people you can also look for shared taxis in the Facebook group Taxi Share Cambodia. We've done this many times and even made friends this way!
Where to Book Bus Tickets
We book buses and private taxis with the online companies CamboTicket or 12Go.Asia. These booking sites are the easiest, cheapest, and most convenient way to book transportation online in Cambodia.
Both companies also sell ferry tickets if you are going to one of Cambodia's islands.
Pin this article for later!
 
These are the best bus companies to use when traveling in Cambodia:
Giant Ibis (our top recommendation)
Mekong Express
Virak Buntham
Check ticket prices with these bus companies.
We will add to this list if we try any other bus companies worth recommending. 
---
Giant Ibis

(our top recommendation)

Where they go: Phnom Penh, Siem Reap, Kampot, Kep, Sihanoukville, Ho Chi Minh City (Vietnam), Bangkok (Thailand)

Giant Ibis was established in 2015 and is the leading bus company for travelers and expats in Cambodia. Their buses have upped the game in terms of service, safety, and amenities. Giant Ibis buses have WiFi, snacks, air-conditioning, and electrical outlets.

They use rest stops with clean bathrooms and restaurants offering both local and international foods. They also have more legroom than most buses.

Giant Ibis is a bit more expensive than most other bus companies, however, they are also notably nicer than most other companies. If you're taking a long bus journey like a night bus from Sihanoukville to Siem Reap or a bus from Phnom Penh to Siem Reap then in our opinion, the extra cost is well worth it.

Giant Ibis is also our top choice when traveling overland from Phnom Penh to Ho Chi Minh City or from Bangkok to Siem Reap. The bus attendants are very helpful throughout the whole border crossing process.

A portion of Giant Ibis ticket sales goes to BirdLife International toward the preservation of the national bird of Cambodia, the Giant Ibis.

Check ticket prices for Giant Ibis with CamboTicket | 12Go.Asia
---
Where they go: Siem Reap, Phnom Penh, Ho Chi Minh City (Vietnam)
Mekong Express started operating in Cambodia in 2002 and has long been regarded as one of the leading private bus operators in Cambodia.
Mekong Express has air-conditioned buses and minivans, mostly taken by locals. They give you water, a cold towel, and a complimentary Blue Pumpkin pastry on long-haul trips. Free WiFi is available on every bus.
The drivers are safe and the buses are clean. They only have onboard toilets on their night buses, which we appreciate because those tend to smell!
There is minimal luggage space, enough for one bag and a carry-on. We recommend booking a seat toward the front of the bus for more comfort and space on Mekong Express. Siem Reap to Phnom Penh is a popular route with many bus times available.
Check ticket prices for Mekong Express with CamboTicket | 12Go.Asia
---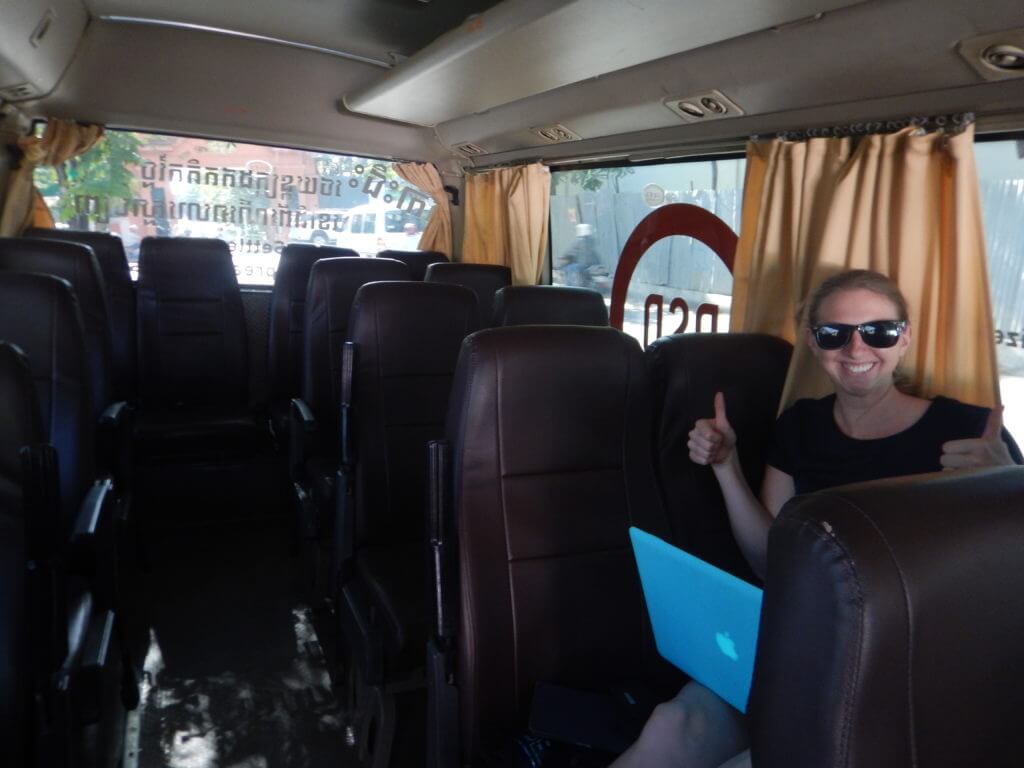 ---
Read: 10 Awesome Places to Go in Cambodia
Virak Buntham
Where they go: Siem Reap, Phnom Penh, Battambang, Sihanoukville, Mondulkiri, Kampot, and 15+ more cities around Cambodia, Ho Chi Minh City (Vietnam), Bangkok (Thailand) + Speedboat
Virak Buntham was founded in 2004. They have a variety of vehicles including minivans and sleeping buses.
Their routes cover many destinations around Cambodia and they also offer cross-border journeys to Vietnam and Thailand. Unfortunately, there are many negative reviews regarding sleeping buses. We haven't personally used them so we can't form an opinion.
Virak Buntham's vehicles are equipped with air conditioning, Wi-Fi, and an onboard toilet. Passengers are served complimentary drinking water.
They also offer speedboat service with Buva Sea Cambodia between Sihanoukville, Koh Rong, and Koh Rong Samloem.
Check ticket prices for Virak Buntham with CamboTicket | 12Go.Asia
---
Read: Unusual Accommodation in Cambodia
Where they go: Anywhere you want to go in Cambodia!
CamboTicket also offers services to Laos and Vietnam.
12Go.Asia offers private chartered vehicles all throughout Asia.
Although we realize it sounds fancy, it's not much more expensive to take a private taxi or minivan around Cambodia instead of a bus. We often take private taxis or minivans when traveling around Cambodia with friends.
If you have a group of 4 people or more, a private taxi or minivan can even be cheaper than taking the bus. For example, a group of 15 friends went down to Kep for Jen's 30th birthday and we each only paid $9 one way.
Another advantage to taking a private taxi is that you can leave any time you want. Drivers are knowledgeable about the quickest routes to take, they pick you up from anywhere in the city, and they can drop you off directly at your accommodation when you arrive. The pickup and drop-off service alone makes up for several dollars in tuk-tuk expenses on either end of your journey!
Check prices for private taxis or minivans with CamboTicket | 12Go.Asia 
Read: Where to Stay in Kampot, Cambodia
Renting a Car in Cambodia
Some readers have asked us if it's possible to rent a car during their trip to Cambodia. The short answer is yes, but we personally would not drive a car in Cambodia for several reasons.
The main reason is safety. Though there are technically laws in Cambodia, rules of the road are rarely followed. If it's your first visit to the Kingdom of Wonder, you'd be much better off hiring a private taxi, as mentioned above, or taking a bus between destinations.
That said, if you do want to drive your own car in Cambodia, car rental in Phnom Penh is available near the Phnom Penh International Airport and near the Riverside. You can also rent a car in Siem Reap near the Siem Reap International Airport. The most popular car rental companies in Cambodia are AVIS and Europcar. There are several smaller local car rental shops in Phnom Penh as well.
Although you are legally allowed to drive in Cambodia with a driver's license from your home country or an International Driver's Licence, this usually won't be accepted if you get pulled over. Bribes are very common in Cambodia and you can expect to pay a police officer anywhere from $2-$10 if you are stopped.
You can apply for a Cambodian Driver's License at most car rental shops by presenting your driver's license from your home country and paying a fee of $60 however, it takes about three weeks to receive the Cambodian license.
Again, if you are just traveling through Cambodia then the hassle of renting and driving a car yourself isn't really worth it in our opinion.
---
Pin this article for later! 
 
---
Have you traveled by bus or minivan in Cambodia? What was your experience like? Share in the comments!