This article may contain affiliate/compensated links. For full information, please see our disclaimer here.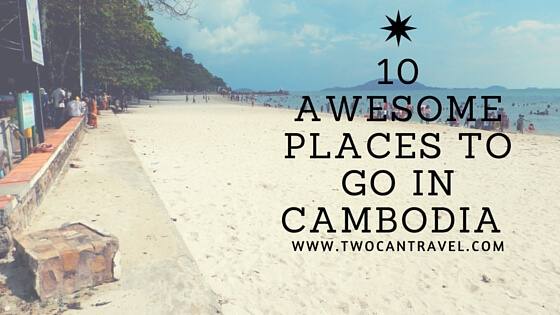 There are so many amazing things to do and places to go in Cambodia!
(Updated May 2019)
Are you planning a trip to Cambodia and wondering where you should visit? If it's your first time in the Kingdom of Wonder you're probably going to see Angkor Wat and the hundreds of ancient temples inside the Angkor complex. But there is so much more to see and do in Cambodia than that, and we don't want you to miss out!
Stevo and I have been traveling in Cambodia since 2009 and lived in Phnom Penh, Cambodia's capital city, from 2015-2018. We just spent 1 month traveling all around the country in 2019 in order to update this guide! We are lucky that we've had the chance to visit many different areas of this incredible country, and we want to share about them with you.
We created a Google MyMap of Cambodia to help you plan out your trip.
We've also included accommodation recommendations to suit any budget. Even the "Luxury" options are usually under $100 USD per night. Some of the "Budget" rooms go as low as $6 USD per night!
As always, if you have any questions about traveling or living in Cambodia feel free to email Jen@twocantravel (dot) com.
Check out: Unique Accommodation Around Cambodia
---
Before we tell you about the places to go in Cambodia, here's some quick info about the country:
Currency used in Cambodia: Cambodian Riel and USD. 4000 Riel = $1 USD (approximately)
ATMs dispense USD. Most prices at restaurants and shops are displayed in USD but they take both currencies. You will be given small change in Riel.
Language: Khmer
Population: 16 million
Religion: Predominantly Buddhist (95%)
Capital City: Phnom Penh
Best time to visit: Cool season (November-February), Hot season (March-June) Rainy season (July-October)
Read: How to get a Cambodia Visa
---
---
Inspired? Pin it!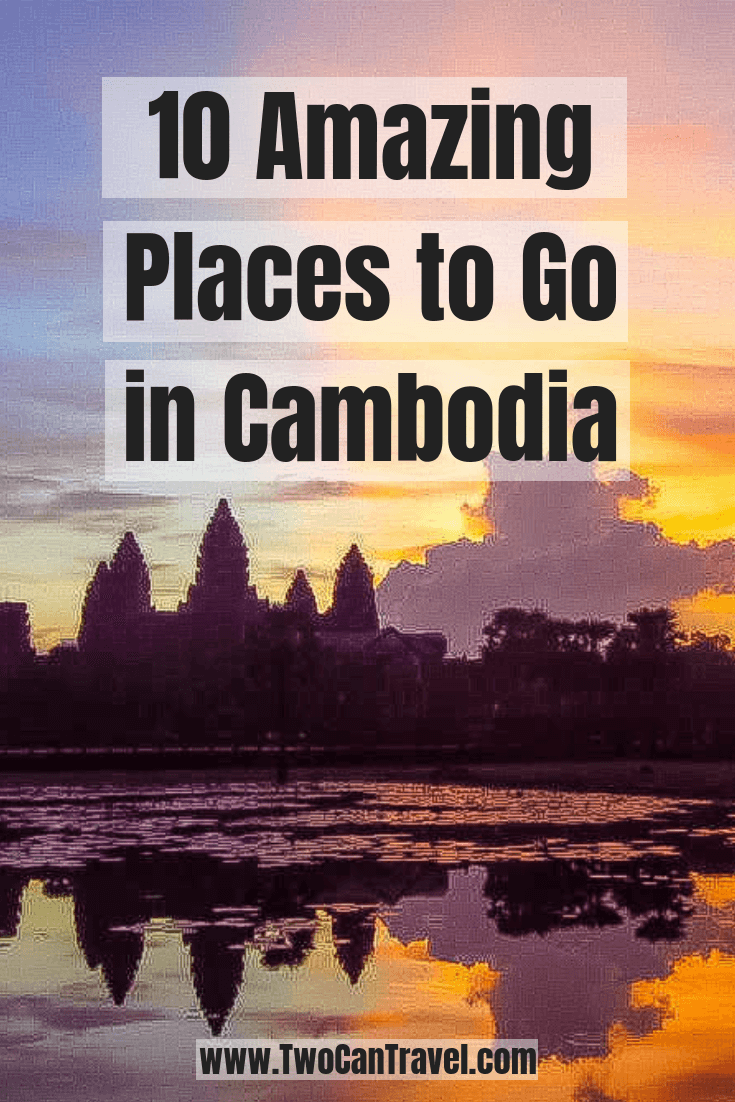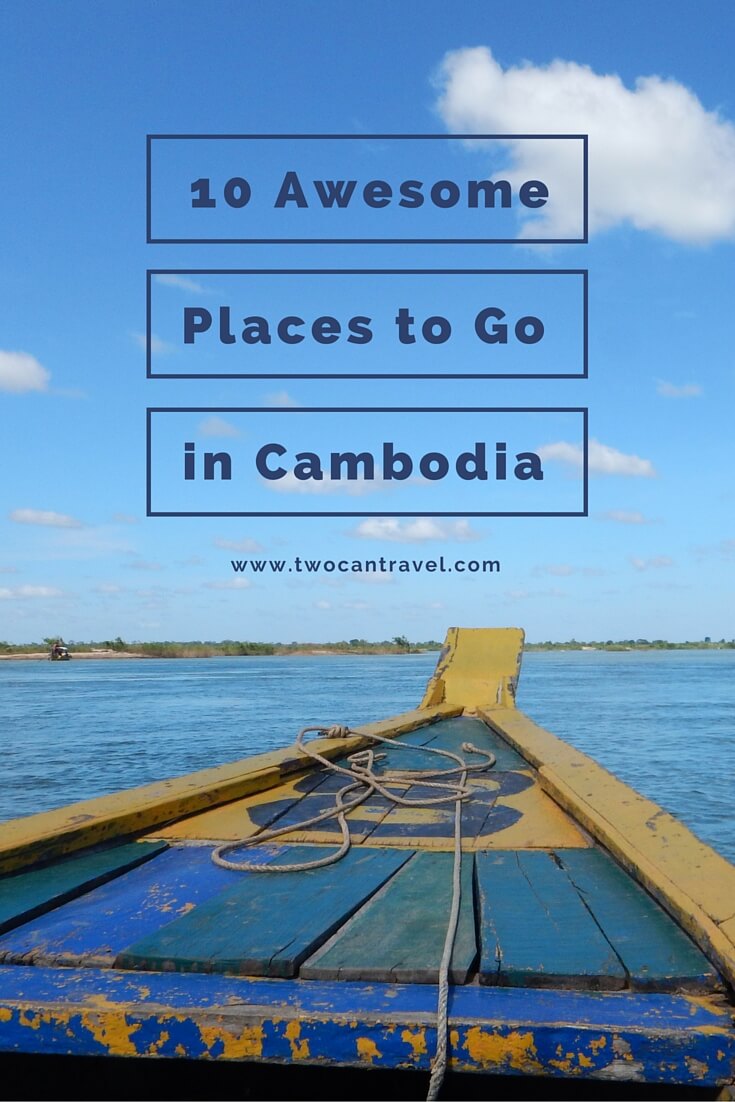 ---
Quick Guide to 10 Awesome Places to go in Cambodia:
1. Siem Reap
2. Battambang
3. Phnom Penh
4. Oudong Mountain
5. Otres Beach in Sihanoukville
6. Koh Rong Samloem
7. Kampot
8. Kep
9. Kratie
10. Mondulkiri
---
Read: The Best Bus Companies to Get Around Cambodia (And to Surrounding Countries)
1. Siem Reap, Cambodia
The temples of Angkor are the most important cultural and religious site in Cambodia and the most popular reason to visit Siem Reap. In fact, Angkor Wat is the largest religious monument in the world! Seeing Angkor Wat at sunrise is an incredible experience that should not be missed. 
We recommend getting a 3-day pass ($62 USD) to see the Angkor temples. With over 400 temples in the vast Angkor complex, it's easy to get templed-out! The good news is that you have one week to use the 3-day pass, so you can break up your trip with other Siem Reap activities as well.
You'll need to book a tuk-tuk or hire a car with a driver to take you around the temples. We suggest hiring a licensed guide too, at least on your first day, as there is so much history to learn! Without a guide, it can start to feel like you're just looking at a bunch of beautiful old rocks and bass reliefs with no context. Trust us, there are lots of amazing stories about the history of the temples that you'll want to hear! You can book a tour of the temples when you get to your hotel or book a temple tour ahead of time.
If you're looking for a truly once-in-a-lifetime experience, you can even ride in a helicopter over the temples! You can also go on a bicycle tour through the temples with a private guide, or rent a bicycle in Siem Reap and ride around the temples by yourself. Bicycle rentals are $1-$5USD depending on what type of bicycle you rent. 
There is lots more to do in Siem Reap city and province beyond seeing the Angkor temples. One of our top recommendations is to see a performance at Phare the Cambodian Circus (no animals!). Their shows are a blend of storytelling and arts, unlike anything we've ever seen! See the amazing story of how Phare got started.
More ideas for things to do in Siem Reap beyond the temples:
Bike trips around the countryside and villages
Visit the Cambodia Landmine Museum

Z

ip-lining courses through the jungle

Cooking classes

Food tours

Pottery classes

Luxurious yet affordable spas

Shop at social enterprises (put your money back into the local community)
Check out CamboTicket, an online experience booking platform in Cambodia, to book these activities and more. 
These popular Cambodia attractions and off-the-beaten path adventures make Siem Reap one of the best places to visit in Cambodia!
Related: Where to Eat in Siem Reap
---
Siem Reap hotel recommendations: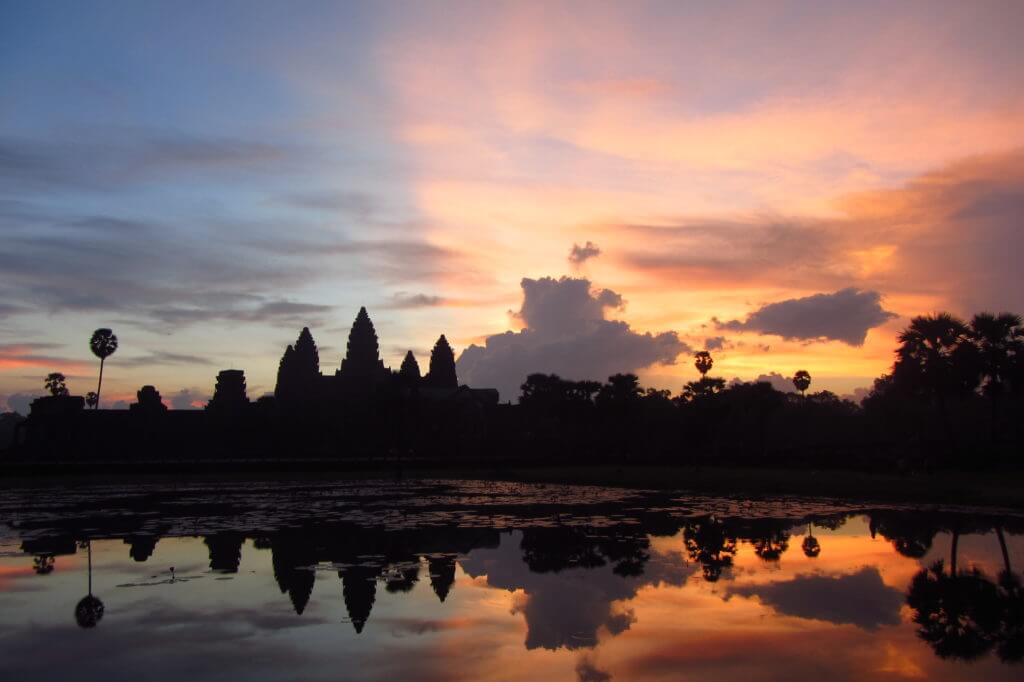 ---
2. Battambang, Cambodia
Battambang is the second largest city in Cambodia (after Phnom Penh) and has a rich, interesting history. It is also one of the cleanest cities in Cambodia due to local cleaning initiatives.
There are lots of things to see and do in Battambang. You'll want to hire a tuk-tuk to bring you around to different places.
The most well known Battambang activity is to speed through villages and the countryside on the Battambang bamboo train. Note that the location of the bamboo train changed in 2018 and it is a bit further out of town now. The scenery at the new location in the countryside is still stunning, and the new ride takes you past an Angkor era temple! Check out our video of riding the bamboo train in Battambang. 
In town, you can walk around and see the French Colonial architecture in Battambang, much of which has been lost to development in Phnom Penh, but remains intact here.
Parts of the Netflix movie First They Killed My Father, directed by Angelina Jolie, were filmed in Battambang because the French-colonial architecture resembles 1970s Phnom Penh.
The film is based on the book of the same name by Loung Ung, which we highly recommend reading before your trip. You can find First They Killed My Father on Amazon. 
More ideas for things to do in Battambang:
Cycle through the countryside on a guided tour and learn about traditional life in Cambodia.

Visit Phnom Sampeau, one of the killing sites of the Khmer Rouge.

Stop at the unfinished Buddha's head on the side of the mountain with breathtaking views of the countryside.

Watch hundreds of thousands of bats streaming out of the Bat Cave at dusk for their nightly feast. (check out our video!)

Visit Wat Ek Phnom, older than some of the temples of Angkor.

Rent a bicycle or motorbike and explore the town and surrounding villages.

Take an architecture tour.
Check CamboTicket to book these activities and more in Battambang. 
---
Battambang hotel recommendations: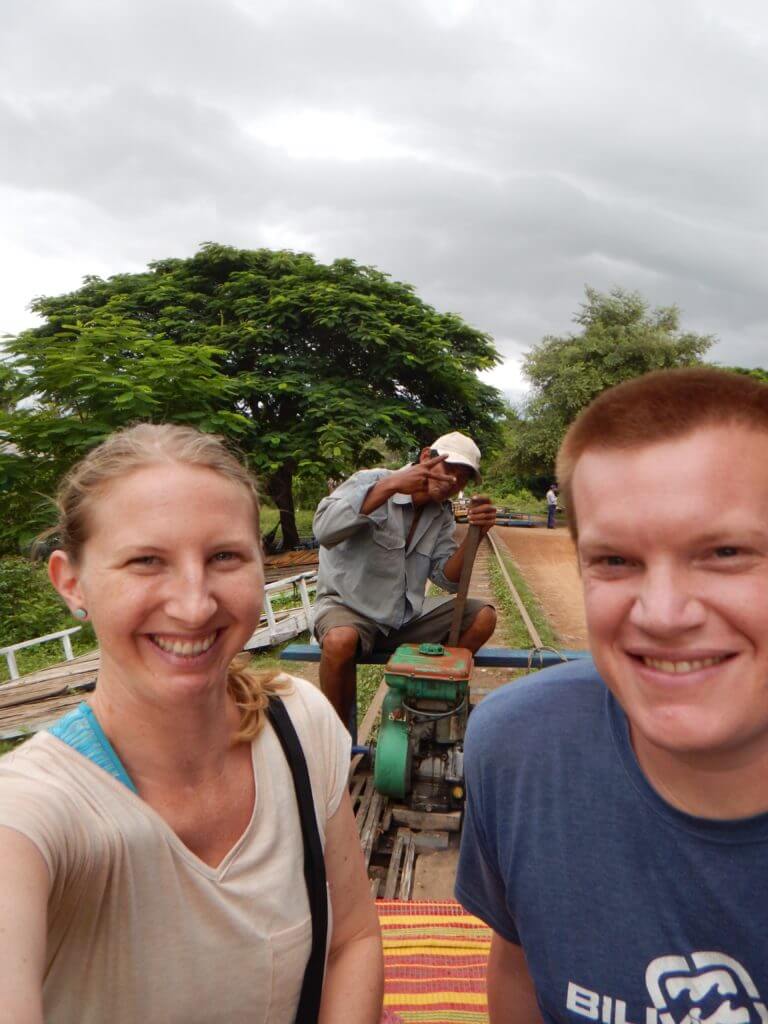 ---
3. Phnom Penh, Cambodia
Cambodia's capital is a vibrant, quickly emerging city in Asia. In Phnom Penh, you can visit significant historical sites like the Royal Palace, Wat Phnom, the Central Market, Independence Monument, and the National Museum.
Check out pagodas along the Mekong Riverside dating back to the 15th century. Be sure your knees and shoulders are covered before you enter any temples in Cambodia! A full-day tuk-tuk or SUV tour is a perfect way to help you see the main attractions in Phnom Penh if you have limited time in the city. 
Although they are both very sad and difficult sites to visit, going to Tuol Sleng Genocide Museum and the Cheung Ek Killing Fields is important to do during your trip to Phnom Penh. Both will give you a glimpse into the horrific atrocities Cambodians endured under the Khmer Rouge regime from 1975-1979, and a better understanding of Cambodia today.
There is so much more to Phnom Penh than just the tourist sites when you get off the beaten track!
More ideas for things to do in Phnom Penh:
Take a sunset cruise or dinner cruise on the Mekong River.
Go on a bike trip to Silk Island and learn about the origins of silk production in Cambodia. Vespa Adventures also runs a fun tour of Silk Island. Spot Jen in their promo video!
Take a Khmer cooking class
If you like architecture, go on a heritage tour to learn more about the history and buildings of Phnom Penh.
Take a Phnom Penh food tour with Lost Plate Cambodia. Get 20% off with the discount code LostPlateFriend when you book through their website.
Our friend Ducky runs a Phnom Penh food tour called Urban Forage. She's lots of fun and will show you some of the best local spots in town!
If you're interested in any of these activities you can check CamboTicket, an online experience booking platform in Cambodia. 
Stevo and I lived and worked in Phnom Penh from 2015-2018. Let us know if you have any questions about expat life there!
---
Phnom Penh hotel recommendations: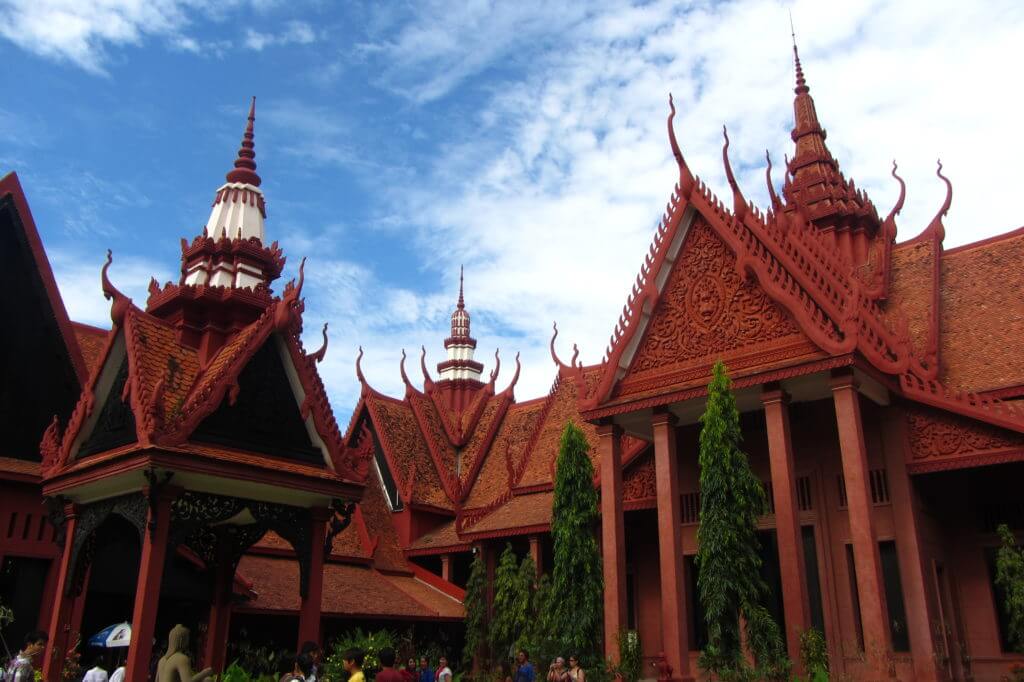 4. Oudong Mountain in Kampong Speu Province, Cambodia
Oudong Mountain, in Kampong Speu Province, is a great day trip from Phnom Penh.
From 1618 until 1866, Oudong was the capital of Cambodia and served as the Royal residence for the kings and their families. The stupas atop the hill house the remains of kings from across centuries.
There are stunning views of the surrounding countryside from the top of the mountain. The climb up is not too strenuous, and there are ancient pools and lookout points along the way, and plenty of monkeys to spot.
Be sure to bring some small change in Riel to donate at the temples or to monks along the way if you wish. 
The easiest way to visit Oudong Mountain is on a full-day guided tour, which is very reasonable when split between a group.
Accommodation: This is best as a day trip from Phnom Penh. See the hotels listed above.
5. Otres Beach in Sihanoukville, Cambodia (Update 2019**)
**We are very sad to report that Sihanoukville has been taken over by Chinese development and Otres Beach is no longer the beautiful, peaceful place it once was, as we described below. We now recommend spending as little time as possible in Sihanoukville and heading straight to Koh Rong or Koh Rong Samloem island. You can book a ferry to the islands online so you don't have to wait around on the pier for too long once you arrive in Sihanoukville.
This beautiful, long 7km stretch of beach outside of Sihanoukville has everything you need for an amazing time.
Bungalows, restaurants and sun beds are just meters from the ocean. Cambodian women walk the beach offering manicures and pedicures, massage, threading, even natural aloe to soothe a sunburn.
Other sellers offer fresh fruit, BBQ seafood (they are carrying the grill!), sunglasses, and island tours.
In our opinion, Otres Beach is the best beach on the mainland in Cambodia. Our second favorite mainland beach is Independence Beach. 
More ideas for things to do in Sihanoukville:
Rent kayaks
Take a stand-up paddleboard yoga class
Go on a snorkeling trip of the surrounding smaller islands
Go on a day-trip to the islands of Koh Rong and Koh Rong Samloem
Rent a catamaran
Go on a fishing trip
If you're interested in any of these activities you can check CamboTicket, an online experience booking platform in Cambodia. 
---
Otres Beach hotel recommendations:
Independence Beach hotel recommendation:
---
Check out our Youtube channel with more videos about living and traveling in Cambodia. 
---
6. Koh Rong Samloem Island, Cambodia
This picture perfect island, about 45 minutes by speedboat from the Sihanoukville Tourist Beach Pier, is positively stunning. 
Things to do on Koh Rong Samloem:
Snorkel offshore
Go Diving
Kayak
Visit the fishing village
Learn to SCUBA dive
Take a hike across the center of the island
Swim with the phosphorescent plankton
Eat delicious, freshly caught seafood
If you're interested in any of these activities you can check CamboTicket, an online experience booking platform in Cambodia. 
---
Koh Rong Samloem hotel recommendations: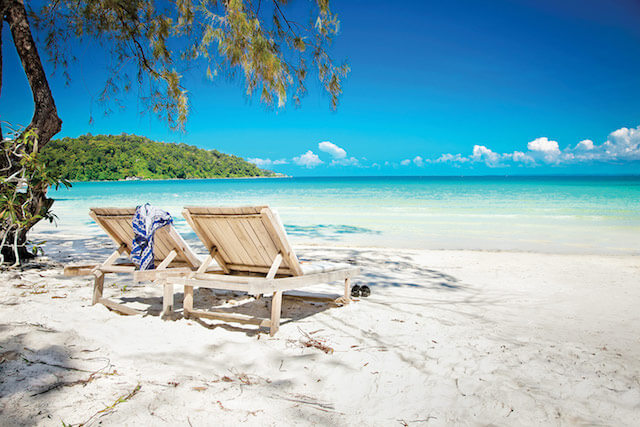 ---
Editor's Note:  Make sure you have travel insurance when traveling around Cambodia! We recommend

World Nomads

. You can even purchase their insurance while you're already traveling, and extend it from the road.
---
7. Kampot, Cambodia
The vibes in Kampot are relaxed, the scenery is stunning, and there is so much to do! In our opinion, Kampot is one of the best places in Cambodia to visit.

There is always something to do, and it's just as wonderful to do nothing at all.
Many expats have made Kampot their home and opened businesses there, so there are great international restaurants in the city. We highly recommend Baraca tapas restaurant, the Fish Market on the river, and the Portuguese restaurant called Tertúlia. The former street-side authentic Italian food restaurant, Ciao, has moved out of town to their own space, close to the entrance to Bokor Mountain. Epic Arts Cafe and Cafe Espresso are great spots for breakfast.
The expat community in Kampot is active and there are events on each week and weekend such as festivals, live music, trivia nights and more. When you get into town ask around for what's going on in the city!
Ladies, I highly recommend going to Banteay Srey Women's Spa for an incredible and affordable day of pampering. They also have yoga classes in the mornings (also open to men) and evenings (women only).
More ideas for things to do in Kampot:
Visit Bokor Mountain to see the famous abandoned casino and church.

 Ride a bicycle through the countryside, visiting villages, temples, and a lotus farm. 

Rent motorbikes and explore off the beaten path temples, caves, and waterfalls.

Go k

ayaking through the green cathedral.

Visit a pepper or durian farm near the Secret Lake.

Take a half-day motorbike or tuk-tuk tour of Kampot's salt farms, rice fields, and pepper farms.
Take a Khmer cooking class.
Go rock climbing with CLIMBODIA Kampot.
Relax by the river with a book and a coconut (or a cocktail 😃🍹).

If you're interested in any of these activities you can check CamboTicket, an online experience booking platform in Cambodia. 
---
Kampot hotel recommendations:
We've been to Kampot A LOT. Check out our full article: Where to Stay in Kampot 
---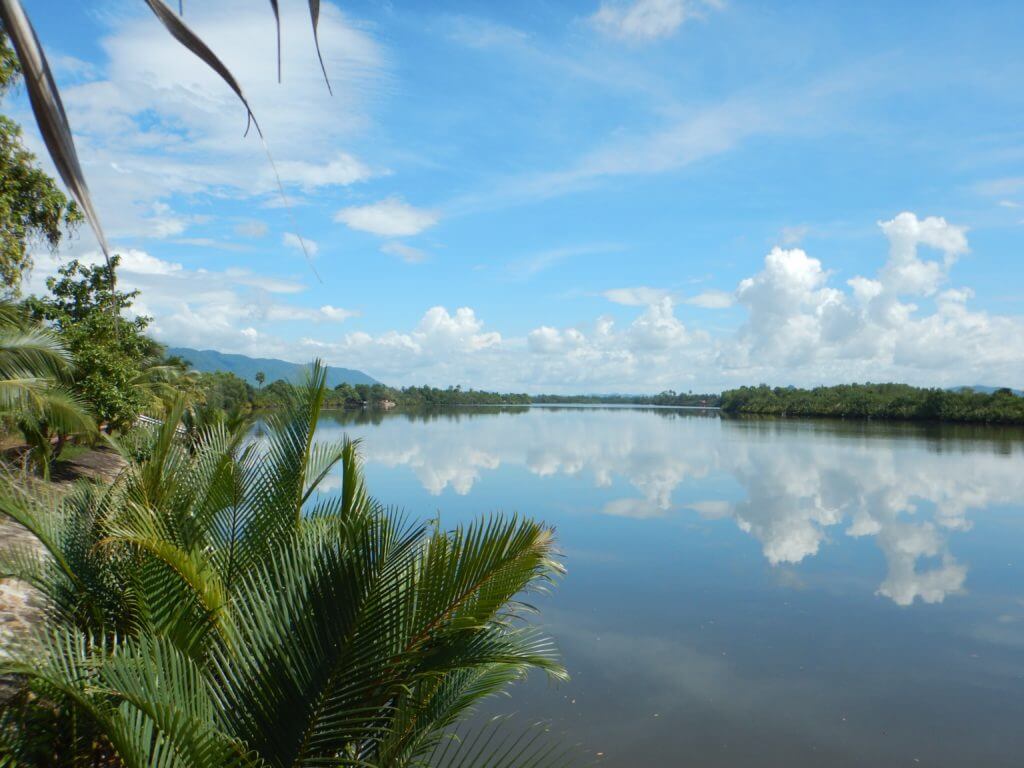 8. Kep
Famous for crab and the popular Kep Crab Market. This small beachside town has a beautiful strip of beach to swim at, lush green mountains, the Kep National Forest, and delicious seafood restaurants. 
Kep is the southernmost province in Cambodia, and you can see several islands, including Phu Quoc in Vietnam, off the coast.
There are also dozens of abandoned mansions along the coast and in the hills dating back to the 1960s. At that time the city was a popular weekend retreat for elite Cambodians, French and other foreigners, and the Cambodian Royal family. The mansions are a future UNESCO heritage site.
You can visit nearby Rabbit Island 30 away minutes by boat and even stay the night there.
More ideas for things to do in Kep:
Visit the Kep Crab Market for fresh seafood
Hike in Kep National Forest
Swim at Kep Beach
Explore abandoned mansions
Go to Knai Bang Chatt Resort for sunset
Visit Rabbit Island
See the Crab statue and White Lady Statue
If you're interested in any of these activities you can check CamboTicket, an online experience booking platform in Cambodia. 
---
Editor's note: If you're short on time but want to visit both Kep and Kampot, check out this Kep & Kampot Tuk-Tuk Tour. There is also a Kep & Kampot 2-day 1 night tour that departs from Phnom Penh.
---
Related: Why You Need to Add Kep to Your Cambodia Itinerary
---
Kep hotel recommendation:
9. Kratie
Located in northeast Cambodia, Kratie is where you can see the endangered Irrawaddy dolphins in the Mekong River. There are thought to be between 78-91 Irrawaddy dolphins left in the world.
Local boatmen in Kratie make their living taking people out to view the dolphins, limiting the use of their motors so as not to disturb them. You can also take a kayak trip to see the dolphins. 
The town of Kratie is right along the river. Koh Trong island is in the center of the river and can be accessed by local ferry. You can rent a bike to ride around the island.
There is accommodation available on the island if you want to stay the night. We didn't stay on the island but wish we would have and plan to next time we visit! 
More ideas for things to do in Kratie:
See the Irrawaddy river dolphins
Take the ferry to Koh Trong island
Ride a bike around Koh Trong island
Visit Phum Sambok Pagoda, a Buddhist temple on the way to the river dolphins
---
Kratie hotel recommendations:
10. Mondulkiri
Located in the northeast of Cambodia, on the border of Vietnam, Mondulkiri is seldom reached by travelers but is still one of the best places to visit in Cambodia. The landscapes and climate change as you increase in elevation on the way there, and it is a bit cooler than in other parts of Cambodia.
Rent a motorbike and go exploring along red dirt and paved roads over Mondulkiri's vast hills. Check out Mondulkiri's waterfalls and ride a 100-meter long zipline over Bousra Waterfall.
Visit a coffee bean farm and try Cambodia's most famous coffee straight from the source. Proceed to drink coffee with every meal while you are there.
Look out at views of an endless forest and Vietnam in the distance at the Forest Sea. Stumble upon animistic temples in the hills.
There are several elephant projects in Mondulkiri, but please do your research before engaging in animal tourism. The Elephant Valley Project offers a unique experience to view elephants in a natural jungle habitat and learn about the elephants, the forest, and conservation efforts. There is no elephant riding, no tricks, and no shows. 
There are also treks, wildlife viewing, and opportunities to meet people from the indigenous Bunong Tribe, a Cambodian minority ethnic group.
Mondulkiri is worth a visit for those who want to see a different side to Cambodia. 
More ideas for things to do in Mondulkiri:
Visit a coffee farm
Visit the Elephant Valley Project, an elephant sanctuary
Go to the Forest Sea lookout point
Visit the waterfalls
Go zip lining over Bousra Waterfall
Ride a motorbike through the hills
If you're interested in any of these activities you can check CamboTicket, an online experience booking platform in Cambodia. 
---
Mondulkiri hotel recommendations: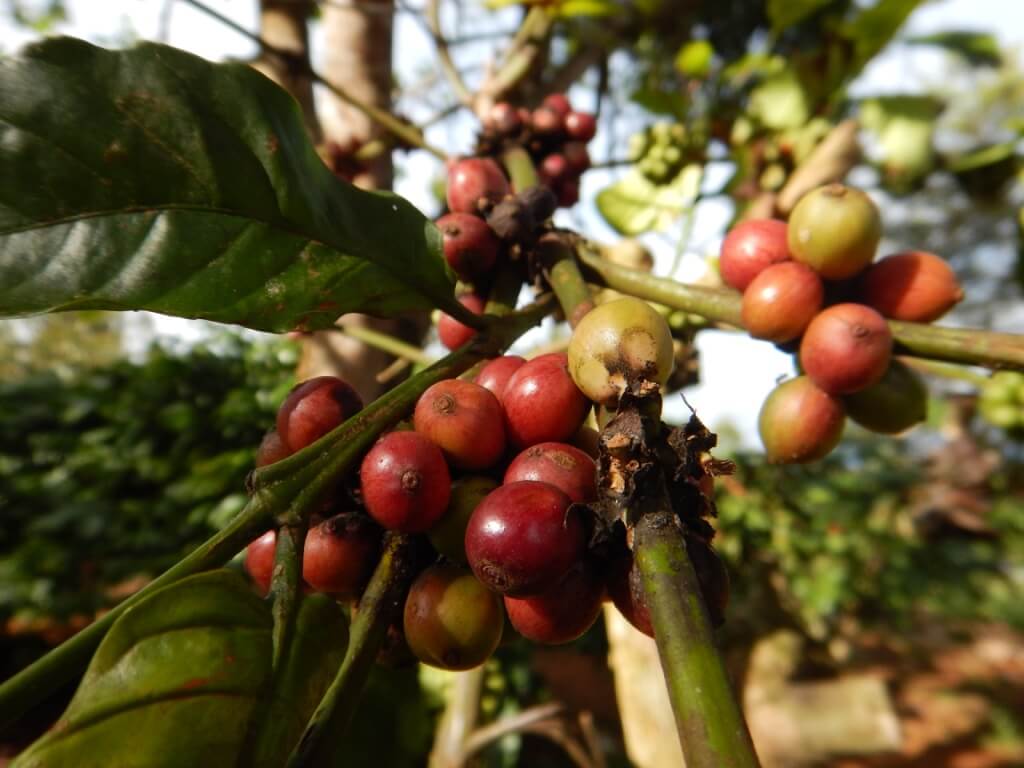 ---
Here is a Cambodia map of all of the places mentioned above!
Our Free Cambodia Map of places to visit on Google My Maps
---
More of the best places to visit in Cambodia:
Koh Kong
A coastal province with beaches, islands, and the famous Cardamon Mountains where we plan to do some trekking. –Visited in 2017, and well worth visiting! 
Preah Vihear
Located several hours north of Siem Reap on the border of Thailand. Preah Vihear is where the famous cliffside temple ruins are located that Thailand and Cambodia have been fighting over for centuries.
Ratanakiri
This northeastern province in Cambodia shares a border with Laos and Vietnam. We plan to do some jungle trekking and exploring there.
---
Editor's Note: Before we travel we usually download at least one guidebook to our Kindles. These are a few Cambodia travel books we recommend to help you find the best places in Cambodia to visit:
Lonely Planet Cambodia (Travel Guide)
The Rough Guide to Cambodia (Rough Guides)
Responsible Travel Guide Cambodia: Improving Lives Through Thoughtful Travel Choices
---
Disclaimer: This article contains some links to our affiliate partners. If you find our website useful, please consider booking through our links. It won't cost you anything extra, and sometimes our partnerships can even save you money. Thanks for supporting our site! 
---
Was this article helpful? Pin it for later!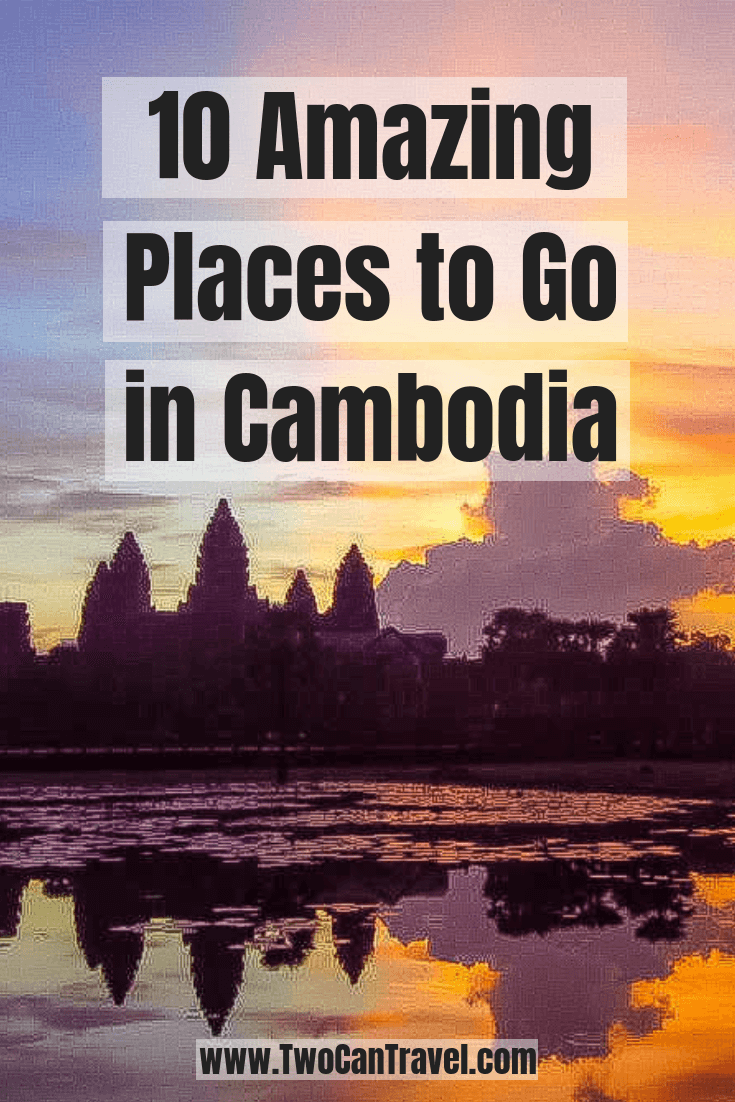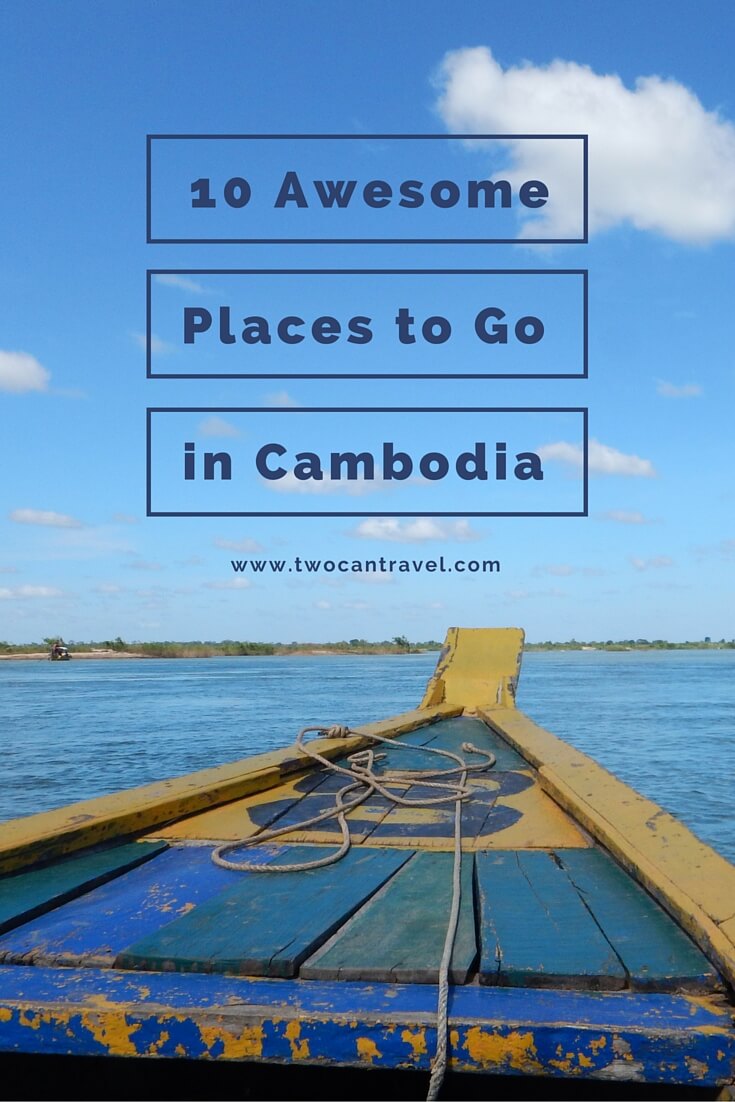 ---
Have you been to any of these places in Cambodia? Which ones do you want to visit?
---