This article may contain affiliate/compensated links. For full information, please see our disclaimer here.

Disclaimer: This post contains affiliate links to businesses and booking sites we personally use and trust. If you book through these links we receive a small commission at no extra cost to you. Thank you for your support! 
Templation Angkor in Siem Reap, Cambodia: Sustainable-Luxury at the Gates of Angkor Wat
When we travel we strive to choose hotels that are environmentally conscious and involved in the local community whenever possible. We also love a bit of luxury once in a while. Templation Angkor in Siem Reap, Cambodia is a sustainable-luxury hotel that ticks all the boxes for a relaxing, elegant experience you can feel good about. It's also the closest hotel to Angkor Wat! It is our top pick for a luxurious stay in Siem Reap, the gateway to Angkor.
---
Pin this post for later!
---
The Location
Templation Angkor was built on four acres of untamed jungle that was previously a plantation, in a quiet residential neighborhood in Siem Reap. It is only a five minute drive to Angkor Wat, a 20 minute drive from the Siem Reap International Airport, a five minute drive to the National Museum, and less than 10 minutes into the center of Siem Reap where you can shop, eat at a variety of excellent Siem Reap restaurants and explore more of the modern elements that the city has to offer.
Getting up for the famous Angkor Wat sunrise is much easier when you're so close by. You'll be able to bypass the traffic getting into the temple complex, and arrive in time to claim a coveted spot at the front of the reflecting pond.
We recommend getting your temple pass between 4:30-5: 30pm the day before your temple visit. You'll be able to go into the temple complex for sunset that evening, without it counting toward your total number of days on your pass. Bonus sunset!
A majority of travelers visit Angkor Wat and do the big circuit or small circuit to visit some of the best-maintained temples inside the complex, but there are many temples to explore beyond these. You can easily spend many days going around to various sites.
The prices (in USD) for the Angkor Temple pass as of March 2018 are:
1-day       $37
3-days     $62
7-days     $72
History of Templation Angkor
Templation Angkor was built in 2016. It is a gem among the hundreds of hotels scattered around Siem Reap, many of which look a lot nicer in their photos online than they do in person.
Templation Angkor is a part of the MAADS group of hotels, which focus on sustainable and responsible practices while incorporating Cambodian flora and water beautifully into their designs. We have been fortunate to stay at many of their unique properties throughout Cambodia.
Architects Ivan Tizianel and Lisa Ros designed Templation Angkor to compliment the natural beauty of the land where it was built. A majority of the native trees and plants were preserved, and the villas were built to blend in with the land. Throughout the property, they created echoes of the ancient waterways and reservoirs that nourished the Angkor civilization.
After a busy day exploring the temples of Angkor and all that Siem Reap has to offer, Templation Angkor offers luxury and serenity. With the beautiful pools, facilities, spa, and restaurant, you may want to plan for a full day of your trip where you don't even leave the property!
Check out room rates for Templation Angkor. 
Things we love about Temptation
Helping the Community
Temptation regularly hosts fundraising events and exhibitions. They support social causes, health initiatives, environmental causes and the arts in Siem Reap, Cambodia.
Environmentally Conscious
Aside from being stunningly beautiful, Templation Angkor was designed with environmentally conscious facilities as a top priority. The vegetal roofs provide optimal airflow into the buildings to cut down on using air conditioning. Solar panels on the grounds are connected to an electric grid to partially power the hotel. Rainwater is collected seasonally to use where possible throughout the grounds. These choices are part of the Templation's alignment with nature and respect for the historic Angkor temples nearby.
Getting to and from Siem Reap, Cambodia
Arrival and Check-in
I arrived at Templation Angkor via taxi from the Siem Reap International Airport (a $10 ride booked just outside of Arrivals). Stevo was set to join me the next afternoon. Templation Angkor also offers pick-up service in their air-conditioned Jaguar. Just email reception ahead of your stay to book it.
When I rolled up to the hotel, two friendly staff members met me out front with wide smiles, palms joined in the traditional Cambodian greeting.
My bag was immediately whisked away and I was led to a comfortable couch in the restaurant lounge. A cold, refreshing drink and cool towel were brought over, which were very welcome in the humid Cambodia heat. The check-in process was quick and easy. I filled out a quick piece of paper with my information, and a staff member took my passport and credit card to be copied for their file, which took all of five minutes. Then we were off to the Private Pool Suite!
The Rooms
Templation Angkor has 33 rooms with three different options, depending on your needs. Check the latest rates.
The Junior Suite

Sleeps up to 3 people

Large bedroom

King size or two twin beds

Open sky bathroom with rain shower and super-sized bathtub

The terrace opens to the garden with trees and flowers

View of the main swimming pool
Check room rates for the Junior Suite.

Private Pool Suite (where we stayed)
Sleeps up to 4 people

Two structures (bedroom and living room)

Large king size bed in the bedroom

Open sky bathroom with rain shower and super-sized bathtub

Large living room with couches and TV

Second bathroom with rain shower and toilet

Big picture windows open out to your private pool

Tile slated pool with jet streams (4X7 Meters)

Private garden
Check room rates for the Private Pool Suite.
Private Pool Villa
Sleeps up to 6 people

Two separate bedrooms with king size beds

Large living room

Open sky bathroom with rain shower and super-sized bathtub

Large living room with couches and TV

Big picture windows open out to your private pool

Tile slated pool with jet streams (4X7 Meters)

Private garden
Check room rates for Private Pool Villa.
The Grounds
As mentioned before, Templation Angkor was built on four acres of jungle that is well maintained all throughout the property. There are a variety of fruit trees, flowers and green everywhere you look. In order to water all of these plants, Templation Angkor collects rainwater during the rainy season and also utilizes a groundwater pump and filtration system. This water also feeds into the main pool and the private pool villas, so they do not need to bring in any water from outside the property.
The main pool is absolutely stunning. 
Immersed in Nature
Walking along the winding pathways around the property you can see that many birds enjoy the grounds too. We also saw butterflies and beautiful bright colored dragonflies flying around the flowers and above the pools. The sound of bird songs and chirping insects was relaxing and refreshing, especially after coming from the hectic city life in Phnom Penh. Strolling around the property, you truly feel immersed in nature everywhere you go.
Eco-Friendly Design
The restaurant and bar open out to the main pool and gardens. The architects designed the buildings around the existing flora, and there are trees growing inside the restaurant and bar, up through holes in the roof, which also let in beautiful streams of natural light. The building was designed for natural air flow, with solar panels covering the rooftop. These panels help to offset the power needed around the property and to maintain the pools.
Angkorian and Local Art
Along with the tasteful Cambodian decor around the grounds, which incorporates Angkorian elements and bright pops of color, there are also rotating art exhibits inside the restaurant and bar to showcase work done by people in the local community.
The Templation Spa
The Templation Spa uses products from Bodia, made from high quality local, natural ingredients. Although we didn't get the chance to visit the spa during our visit, the menu of scrubs, massages and beauty care treatments are no doubt amazing.
Bodia products are also provided in the rooms. We loved knowing that by using these natural products that the water running from our outdoor rain shower could flow straight to the plants in the bathroom garden. A bottle of Bodia's natural mosquito repellent was also in our room, a thoughtful addition to the collection of toiletries.

The Restaurants, Food, and Drinks
The food at Templation's restaurant is excellent. There is a wide range of options, including local Khmer food, Asian and western choices. A majority of ingredients are sourced locally, some even coming from the hotel grounds! The Templation restaurant is spacious and beautifully decorated. It is open to the main pool, which is lit up with lights and sparkles in the evening, making for a romantic setting.
The Templation bar has both indoor and outdoor seating in a beautiful and comfortable environment. Happy Hour is every afternoon with buy 1, get 1 free on cocktails. They have some really delicious drinks!
Breakfast Buffet (included daily)
The included breakfast is phenomenal. You can choose from several set options (Jen loved the Asian Set and Stevo was into the American Set), as well as choose from several a la carte menu options. We also loved both salmon dishes, the pancakes, and the Eggs Benedict. There are bottomless seasonal fresh juices, coffee, and tea. You can even get breakfast delivered straight to your pool! Of course, we had to try that out. Although it made no practical sense to eat in the pool, the novelty was too fun to pass up!

Beyond the Temples: Activities in Siem Reap 
Templation Angkor offers activities to discover Cambodia's arts and culture, always conscious of their impact on the wider community and environment. From cooking classes to tours of the Tonle Sap Lake, visiting lesser known temples, outdoor adventures, and chances to see daily life in the countryside outside the city, there is something for everyone. 
Kid-friendly
Templation Angkor is a great place for families. Kids, of course, love the pools and exploring the grounds, and the menus have plenty of kid-friendly options. We saw a couple of young families there during our trip. The grounds are so large that there is plenty of space for everyone. The hotel staff is happy to recommend kid-friendly activities around the city and assist in booking transport or anything your family may need during your stay.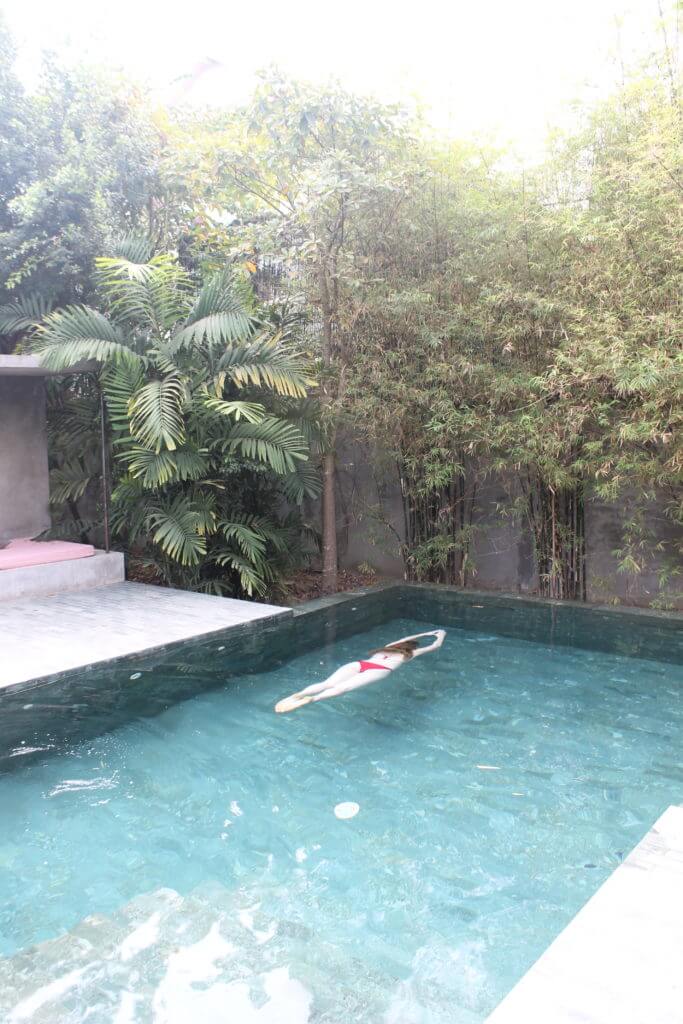 The Service
The concierge at Temptation is happy to assist in booking tours to visit the temples of Angkor. Whether you are interested in exploring the temples for several days, or simply seeing Angkor Wat at sunrise, they can help to arrange a driver and guide in the vehicle of your choosing.
Templation Angkor's staff were extremely professional, friendly and helpful throughout our stay. We were in town for a wedding, and they helped us with directions to the various venues throughout the weekend by setting up tuk-tuks for us and helping to negotiate fair prices with the drivers.  Everyone on site, from the front desk managers to the restaurant and bar staff, gardeners, cleaning staff, and tuk-tuk drivers were so friendly and kind. At one point I accidentally locked my keys inside my room (don't ask!), and within minutes of realizing it, a woman from the cleaning staff was able to come and unlock it for me. She acted like it was no big deal at all, which was kind of her.
Above and Beyond
We accidentally left a charger behind in our room, and unfortunately didn't realize it until we were back in Phnom Penh. We chalked it up to a loss, but within hours I had an email from the manager informing us that we left it behind and asking how they could send it to get to us. They sent it down on a bus from Siem Reap to Phnom Penh and had it delivered to my workplace within 48 hours, and the delivery fee was only $1.50! It was such a nice gesture, and we appreciated the effort they went to return it to us.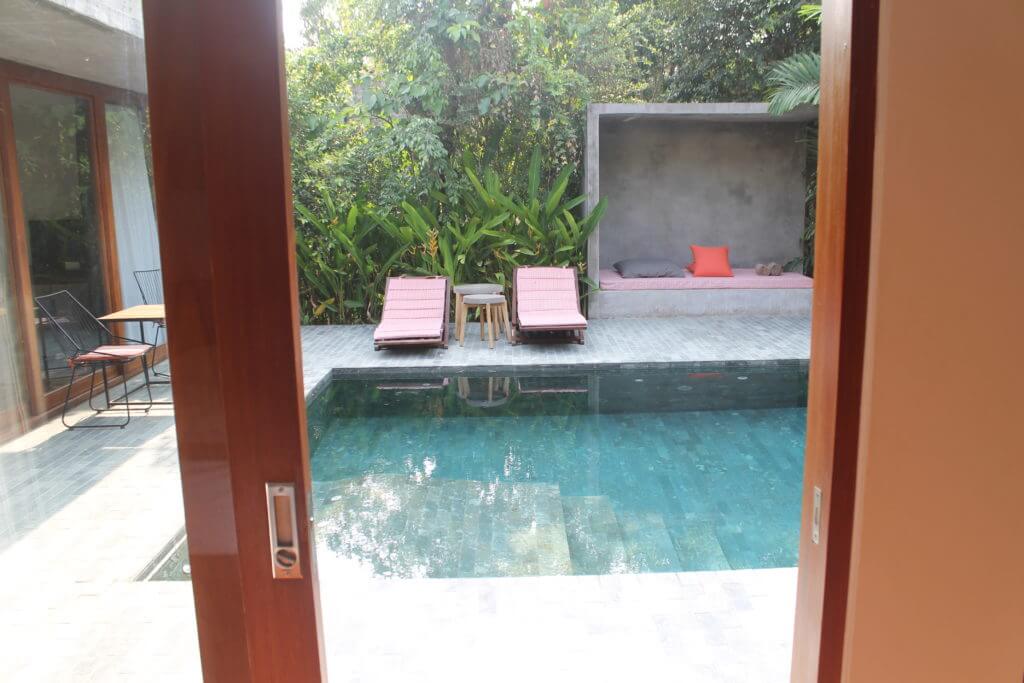 The Verdict
Templation Angkor is a relaxing, luxurious place to return to after a long day of exploring the Angkor temples and Siem Reap. We also love their commitment to sustainable practices. We would highly recommend staying at Templation Angkor on your trip to Siem Reap!
Book a Room
You can book a room at Templation Angkor directly through their website, or check for the latest deals on Agoda, a hotel search engine where we usually find the best deals on hotels in Asia.
---
Traveling to Siem Reap, Cambodia? Pin this post for later! 
---
We were invited as guests of Templation Angkor and our stay was complimentary. As always, we do not recommend anything we do not truly love and all opinions and photos are our own.
---
 Have you been to Siem Reap, Cambodia? Would you stay at Templation Angkor?