This article may contain affiliate/compensated links. For full information, please see our disclaimer here.
I (Jen) had the opportunity to visit Nakhon Phanom, Thailand in June 2018 while attending the Mekong Tourism Forum 2018 as part of the Hosted Blogger Program. This annual conference aims to promote destinations in the six countries the Mekong river runs through (China, Laos, Myanmar, Thailand, Cambodia and Vietnam). 
This years' conference focused on ways the tourism industry can help reduce single-use plastics and improve the environment throughout the region. Leading by example, the entire conference was plastic-free, and provided actionable solutions for individuals and businesses.
A big thank you to the Tourism Authority of Thailand (TAT) and the Thai Ecotourism and Adventure Travel Association (TEATA) who did an amazing job showing our blogger group the best that Nakhon Phanom has to offer, so that we can in turn share it with you.
15 Awesome Things to Do in Nakhon Phanom, Thailand
Nahkhon Phanom, known as the 'City of Mountains', is a small city in northeastern Thailand with a history dating back over 2000 years. It is located in Nakhon Phanom Province on the border of Laos, divided by the mighty Mekong River.
Despite its nickname, Nakhon Phanom is completely flat! The name comes from its view of the mountains on the Laos side of the Mekong river. There is a saying you will hear over and over while in Nakhon Phnom that Laos has beautiful mountains, but Thailand has the beautiful view.
The pace of life in Nakhon Phanom is slower than in many parts of Thailand. With stunning views along the Mekong river, beautiful nature, delicious food, and charming architecture, it's easy to see why more and more people are moving to Nakhon Phanom for retirement or traveling there to get away from the hustle and bustle of city life.
That said, Nakhon Phanom is not on the radar of most foreign visitors, making it one of Thailand's off the beaten path destinations, at least for now.
Getting to Nakhon Phanom
Fly
There are currently five flights per day direct from Bangkok to Nakhon Phanom. Flights leave out of Don Muaeng Airport (DMK) in Bangkok. The flight time is approximately 1 hour 20 minutes.
Bus
Buses from Bangkok to Nakhon Phanom leave from the Mo Chit Bus Terminal in Bangkok and take approximately 10-12 hours. There are also buses from Chiang Mai to Nakhon Phanom, which take about 16 hours.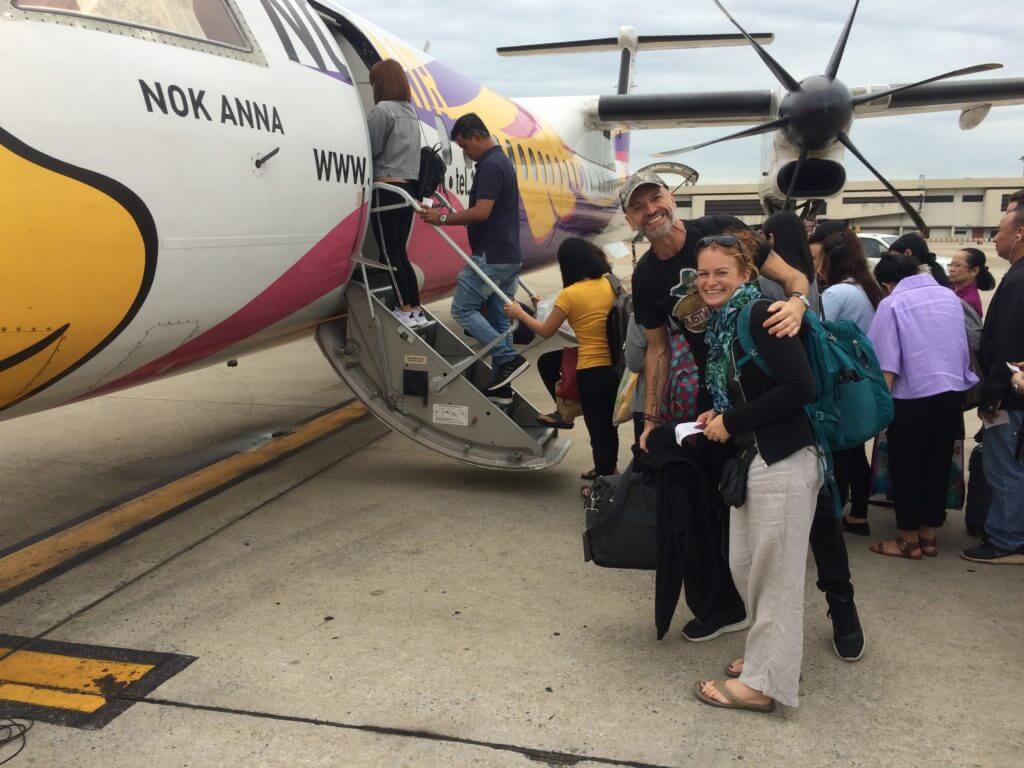 Things to Do in Nakhon Phanom, Thailand
There is no shortage of activities to enjoy in this laid back city on the Mekong, so you'll want at least 2-3 days to cover everything on this list.
You may be tempted to add a few more days on to your trip too, as there are even more adventurous and interesting experiences to be had by venturing out of Nakhon Phanom city and into other areas of Nakhon Phanom Province. (Article coming soon!)
1. Check out the Naga Monument
The Naga Monument is the central landmark for Nakhon Phanom city, located right on the Mekong river. Every day locals visit the monument to pray and make offerings. There is also a small museum in the base of the monument.
If you need a break from the heat, check out Cafe Le Landmark, a cute little coffee shop with tasty cakes and delicious coffees located across the street from the Naga Monument.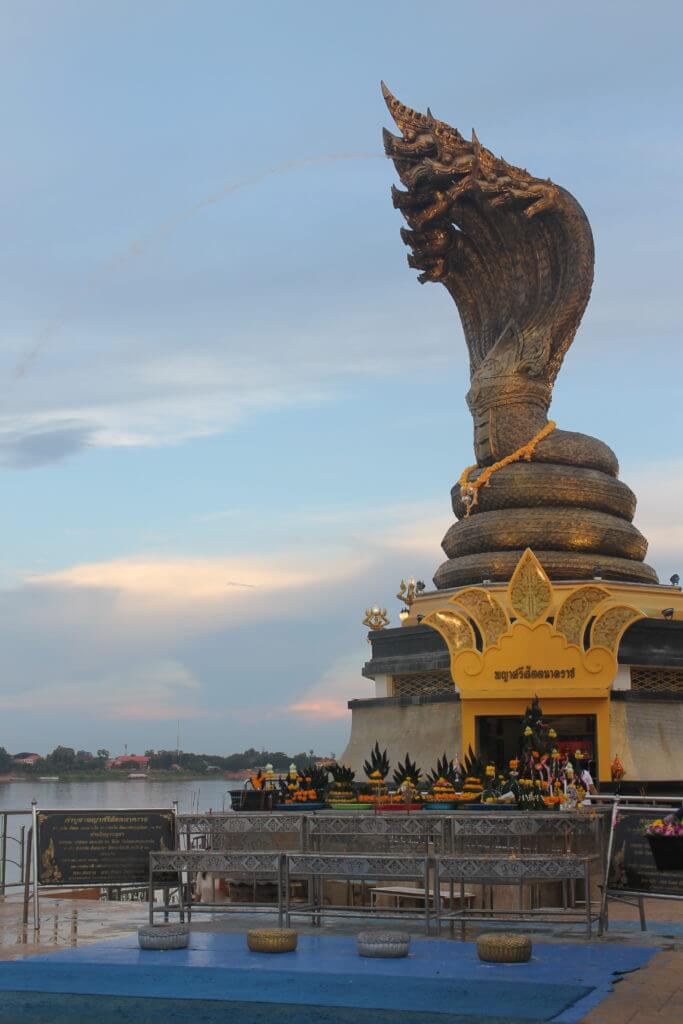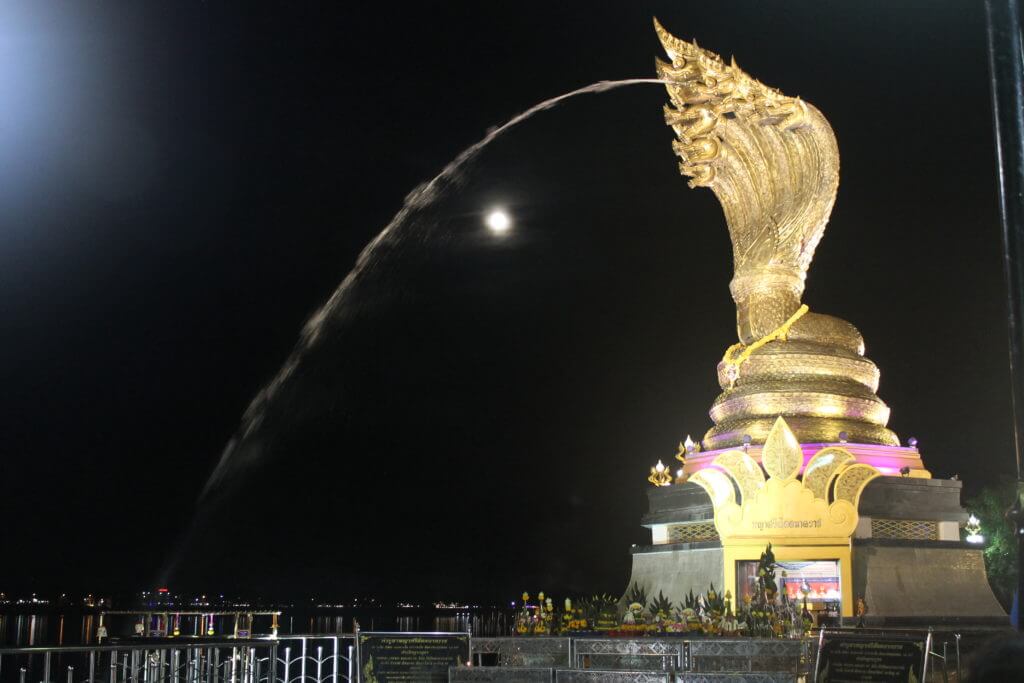 There is even a mini Naga statue nearby, which people cover in small pieces of gold leaf.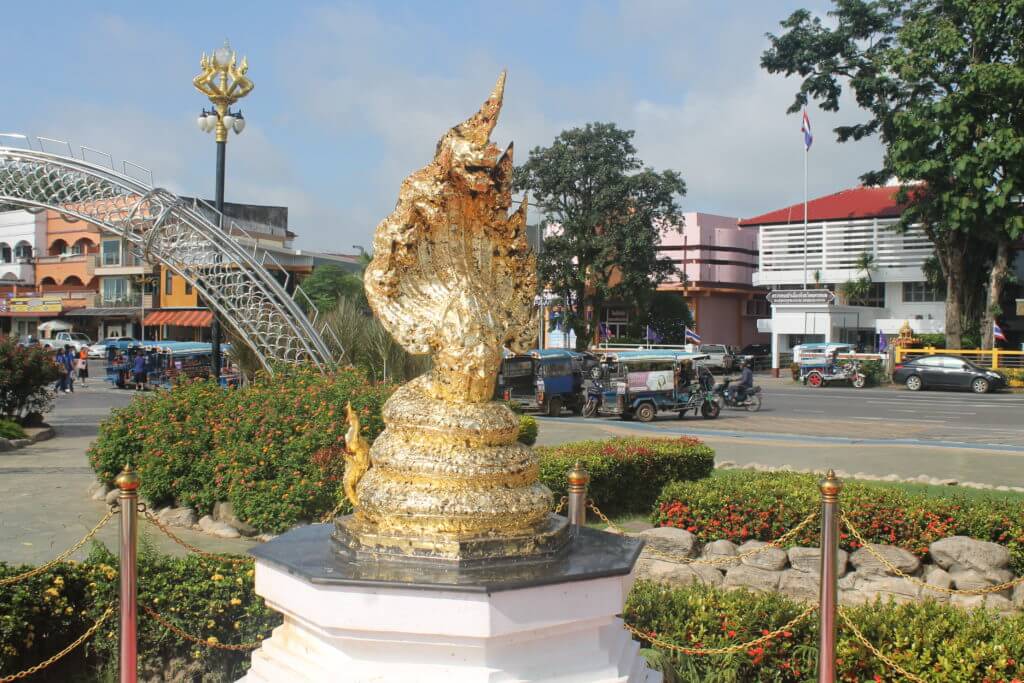 Fun fact: Nagas are often associated with water, and all the Naga statues in Nakhon Phanom face towards the Mekong river.
2. Take Pictures on the 3D Sidewalk Art
Nearby the Naga Monument there are large, colorful murals painted on the ground. There are markings showing you where to stand to view them as 3D. It's super fun to play around and take pictures!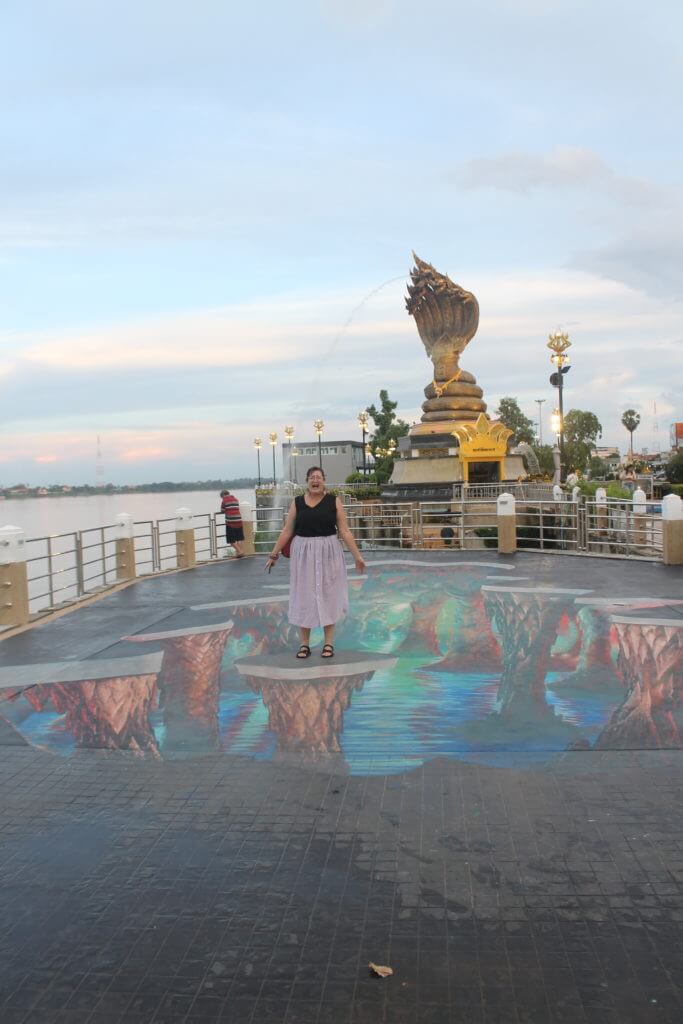 3. Walk, Run or Bike Along the River
One thing I loved about Nakhon Phanom is that it is an exercise friendly city. In the early mornings and evenings when the weather is cooler you'll see people walking, running or biking along the Mekong riverfront. There are well-maintained pathways with separate paths for cyclists and walkers/runners.
The bike path runs along the river, taking you through the city past many temples, buildings, and landmarks.
One early morning our group rode from the Naga Monument to the Third Thai-Laos Friendship bridge, which is about 12km each way. We made many stops along the way to take pictures and admire the views, so it took us a fair bit of time, but you could probably make the round trip in about 2-3 hours, depending on your speed.
You can rent bicycles from some hotels or from rental shops near the Naga Monument.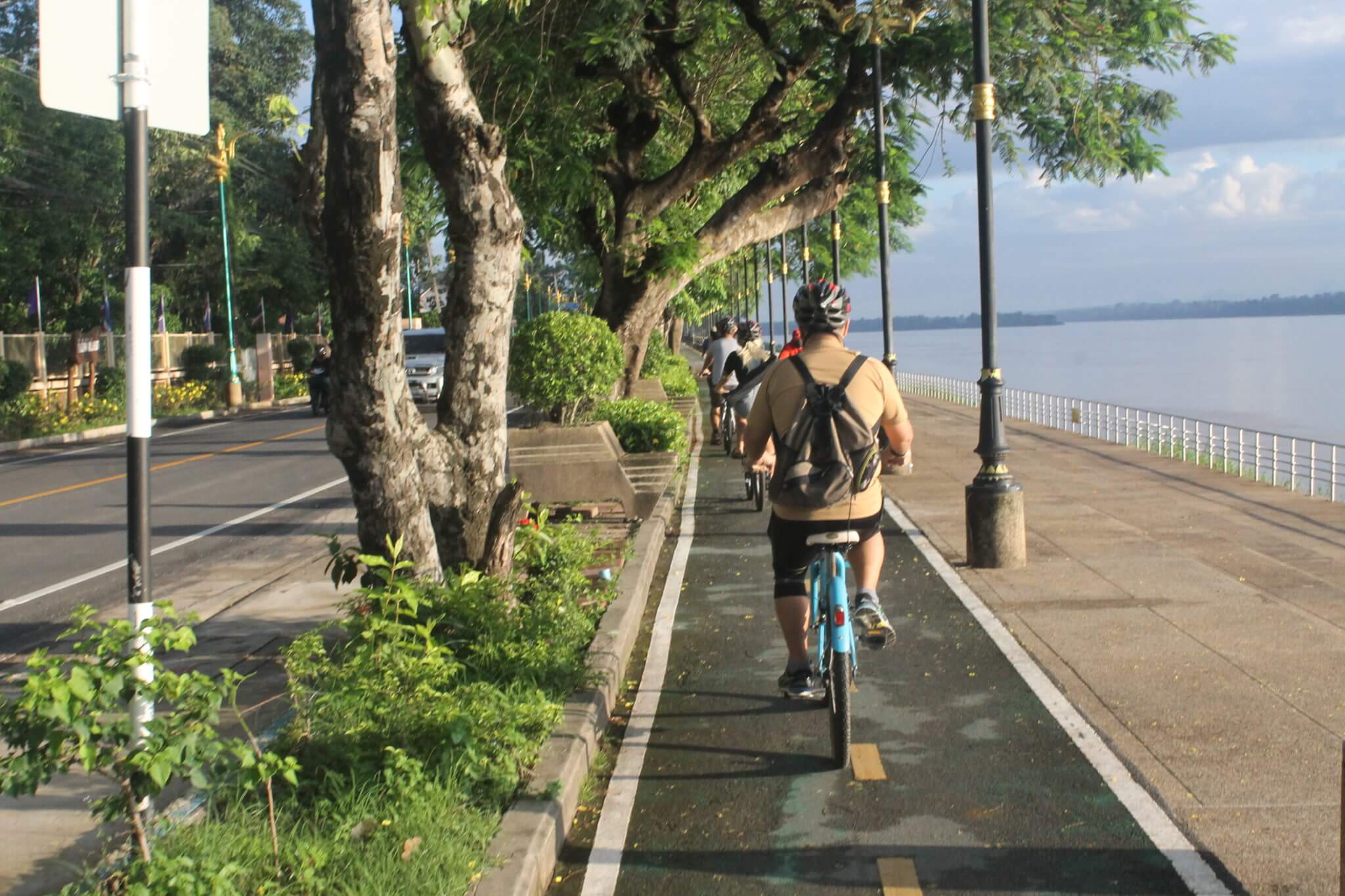 You can also find exercise equipment along the river that is free for anyone to use.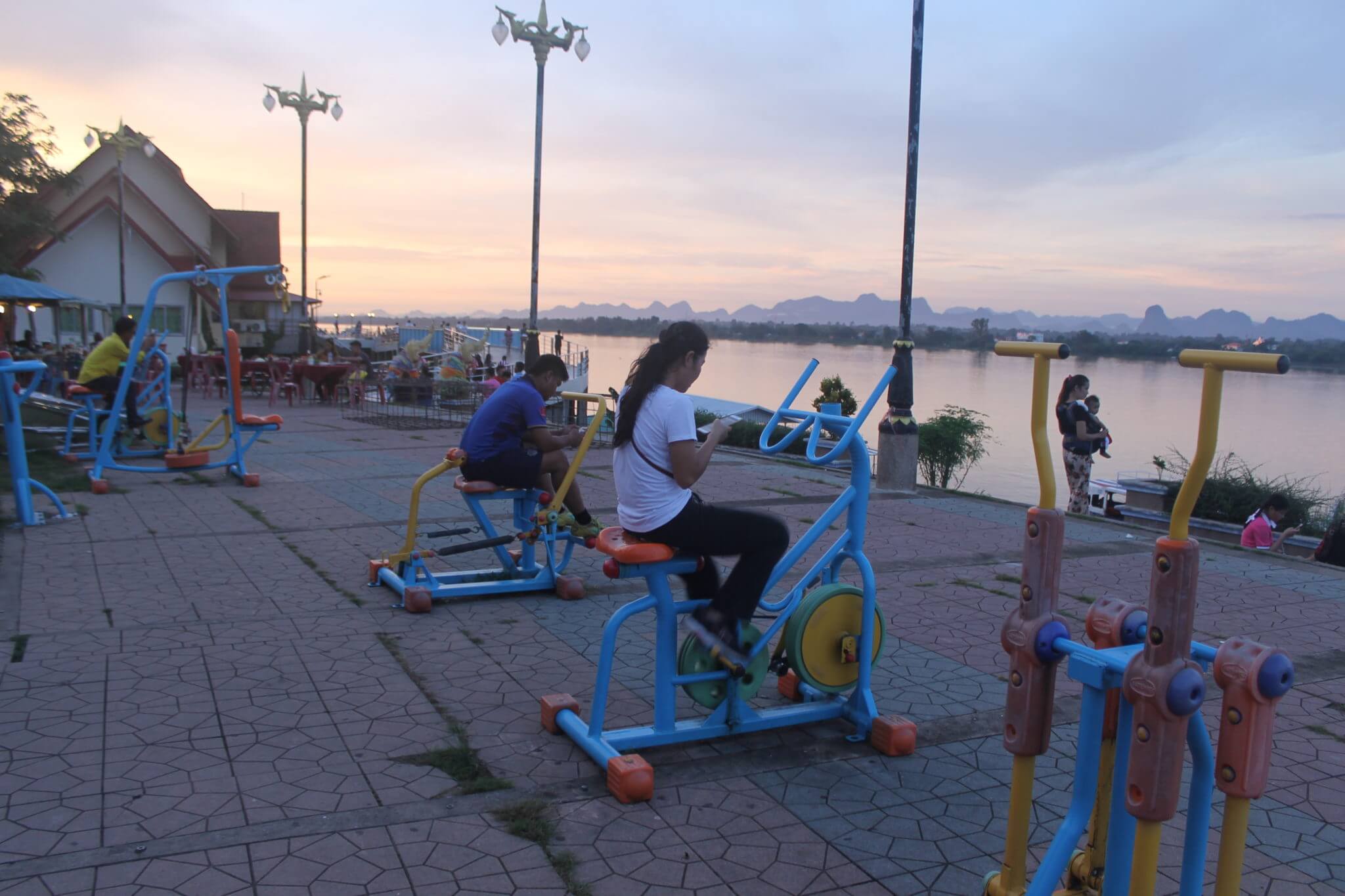 4. Watch the Sunrise Over the Mekong River
The sun rises across the Mekong river behind the dramatic limestone karsts on the Laos side. Early morning is a perfect time to stroll along the river or rent a bicycle to cover more ground.
If you are staying at a hotel along the river (Fortune River View, The River Hotel, or Chic Chid Kong) you can watch the sun rise from your balcony or while you're eating breakfast.
5. Ride in a Skylab
If you've been to Thailand you are likely familiar with tuk tuks. In Nakhon Phanom they call them sky labs! This is because when they are moving quickly the front of the vehicle tilts upwards like it is about to take off and fly into the sky.
Regardless of what you call them, it's worth taking a ride as they are arguably the most fun mode of transport to get around the city. You can find sky labs parked near the Naga Monument and NKP Market by the river.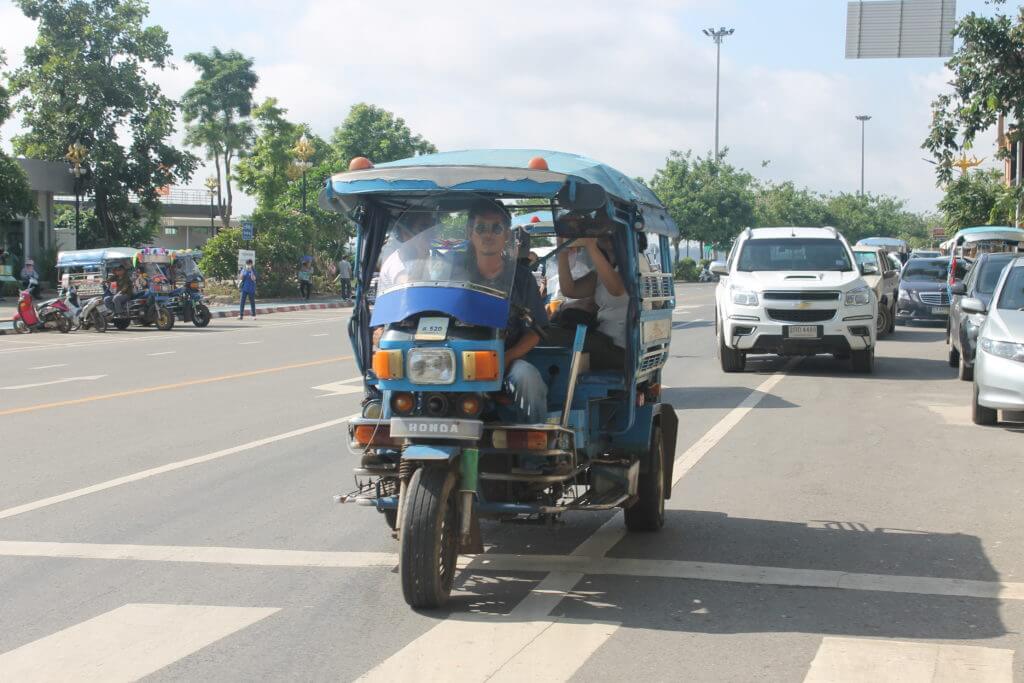 6. Visit Nakhon Phanom's Many Wats (Temples) + A Church
Nakhon Phanom has many beautiful wats located throughout the city. Some of the most beautiful wats can be found along the riverfront, including Wat Maha That, Wat Klang, Wat Pho Sri, and Wat Okat.
It is free to visit any of the wats. English signage is limited inside most of the wats. However, some have English signs across the road from them to give visitors more information.
There is one Chinese temple in town that serves the 600+ Chinese community living in Nakhon Phanom.
There is a Catholic Church in Nakhon Phanom located further down the river toward the Third Thai-Laos Friendship bridge called Saint Anna Nong Saeng Church.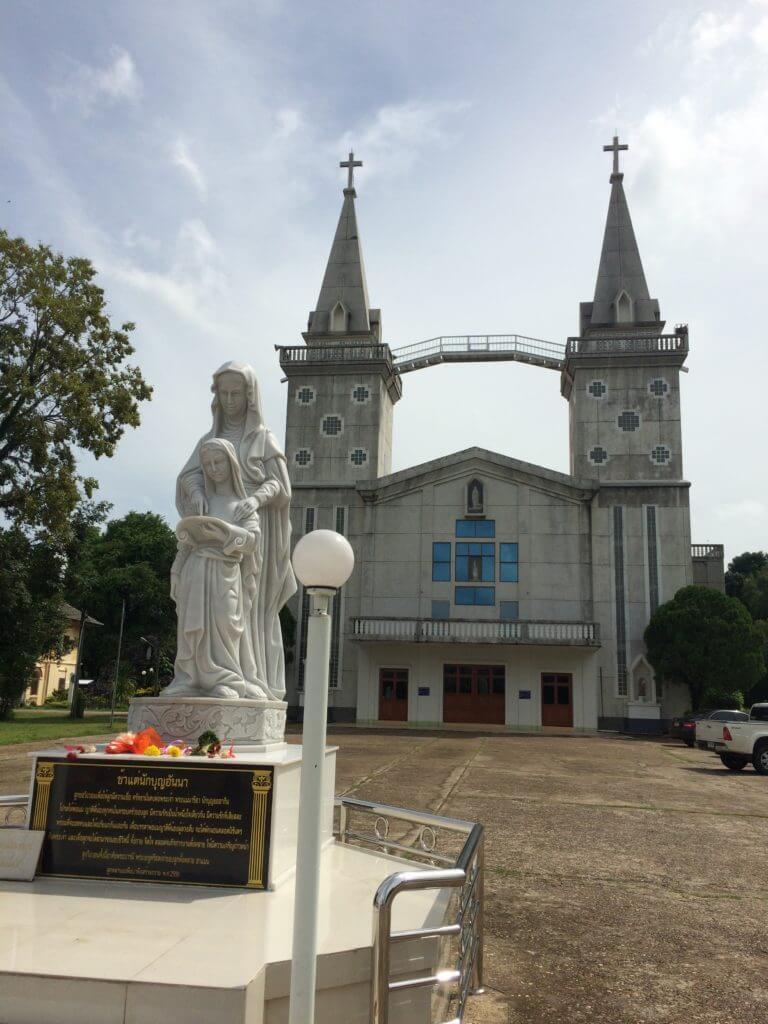 7. Participate in Alms Giving
In the early morning, local Buddhists offer sticky rice to the monks outside of some of the temples. This is a way of making merit. People line up along the road as the monks walk by and place sticky rice in their alms container, known as a 'bat'.
In the Buddhist tradition, monks do not eat after noon, so the food that is offered to them during the morning alms giving is generally all that they will eat for the day. Almsgiving is practiced in many Buddhist countries including Cambodia, Laos, and Myanmar.
If you are interested in joining in the morning alms giving you can speak to your hotel to arrange fresh sticky rice and transportation to a wat. There are a few things you should be aware of beforehand to ensure you are respectful of local customs.
8. Sun Tree Art & Culture Organic Market
The Sun Tree Art & Culture Organic Market was created in 2018 to teach about organic farming and highlight products in the Nakhon Phanom region. It provides an opportunity for local artisans and farmers to promote their work and sell their products without a stall fee and is a unique experience for guests to shop and learn.
Fun fact: "Sun" sounds similar to the Thai word for fun, so the name is a play on words!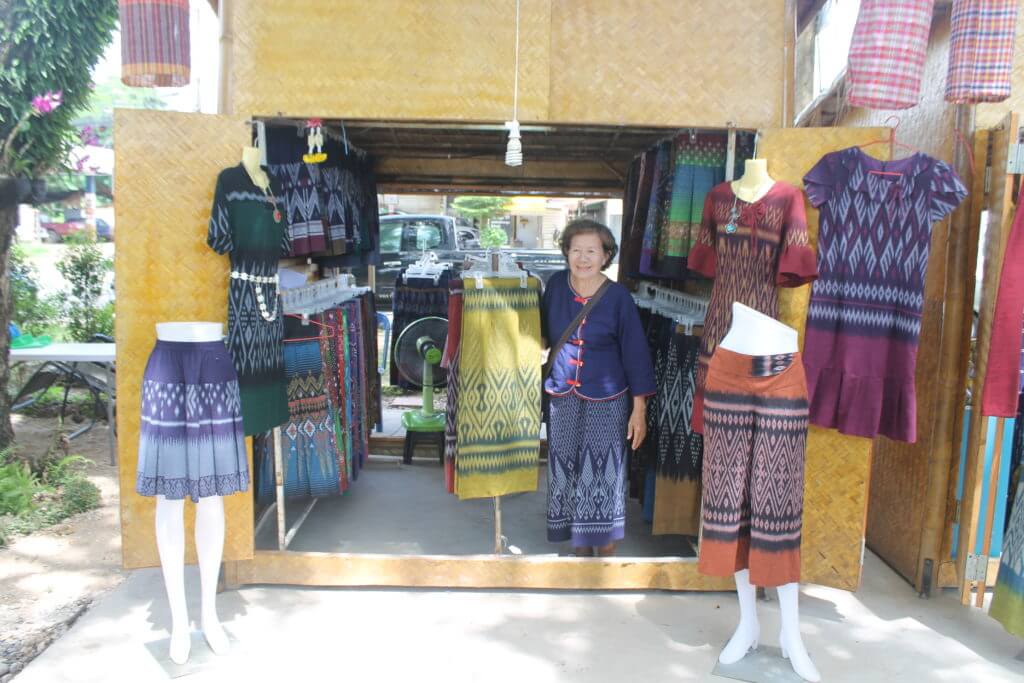 The market stalls are all built from natural materials and there are several sustainable projects going on throughout the grounds.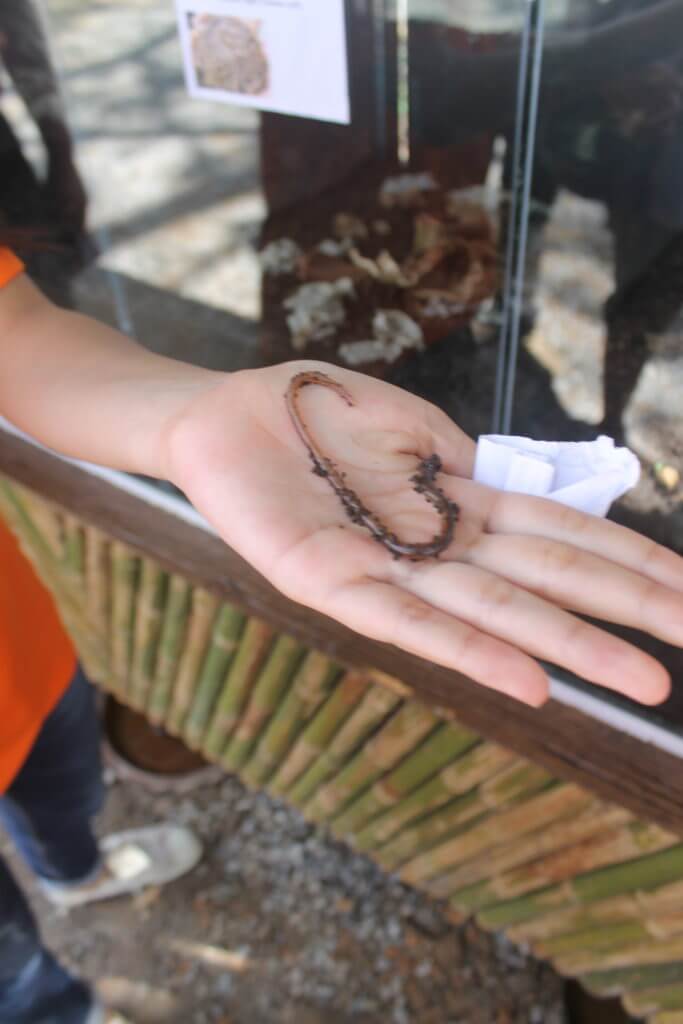 There are farming projects focused on healthy water and soil and natural fertilizers are made on site from charcoal using wood and bones. There are small earthworm enclosures showing guests the five types of earthworms that thrive in Thailand's hot climate to produce optimal soil for growing crops. 
The market has lots of delicious food options like traditional ice cream on wooden sticks, pork sausage, crispy pork skin, crispy fish, and coconut banana desserts. You can even learn how to make some regional foods such as this colorful sweet potato and coconut milk dessert.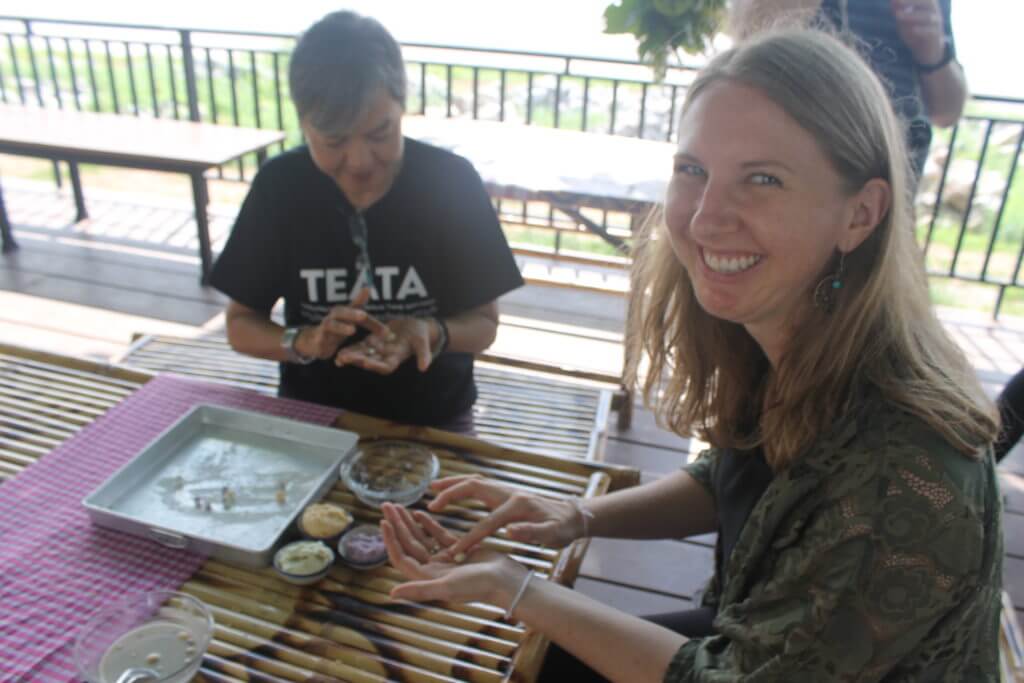 The Sun Tree Art & Culture Organic Market is a great place to eat, shop and learn something new while knowing your purchases will benefit the local community.
9. Morning Market
The Tha Uthen morning market is a great place to learn more about local life in Nahkon Phanom. People from Laos come across the river each morning to sell their products, and local sellers from Nakhon Phanom join as well.
You can find fresh fish from the Mekong river, traditional clothing from both Laos and Thailand, and produce specific to the region. If you plan to shop, remember to bring along a reusable bag
to avoid taking several plastic bags.
10. Night Market
The Night Market in Nakhon Phnom is open from 5pm-10pm. You can find lots of inexpensive clothing and there is no shortage of delicious food.
There are many restaurants lining the road if you want somewhere comfortable (with air-con) to sit and enjoy a meal. There are also lots of bars along the road where you can sit inside or outside and listen to live music. Otherwise, just walk and snack as you soak in the fun atmosphere!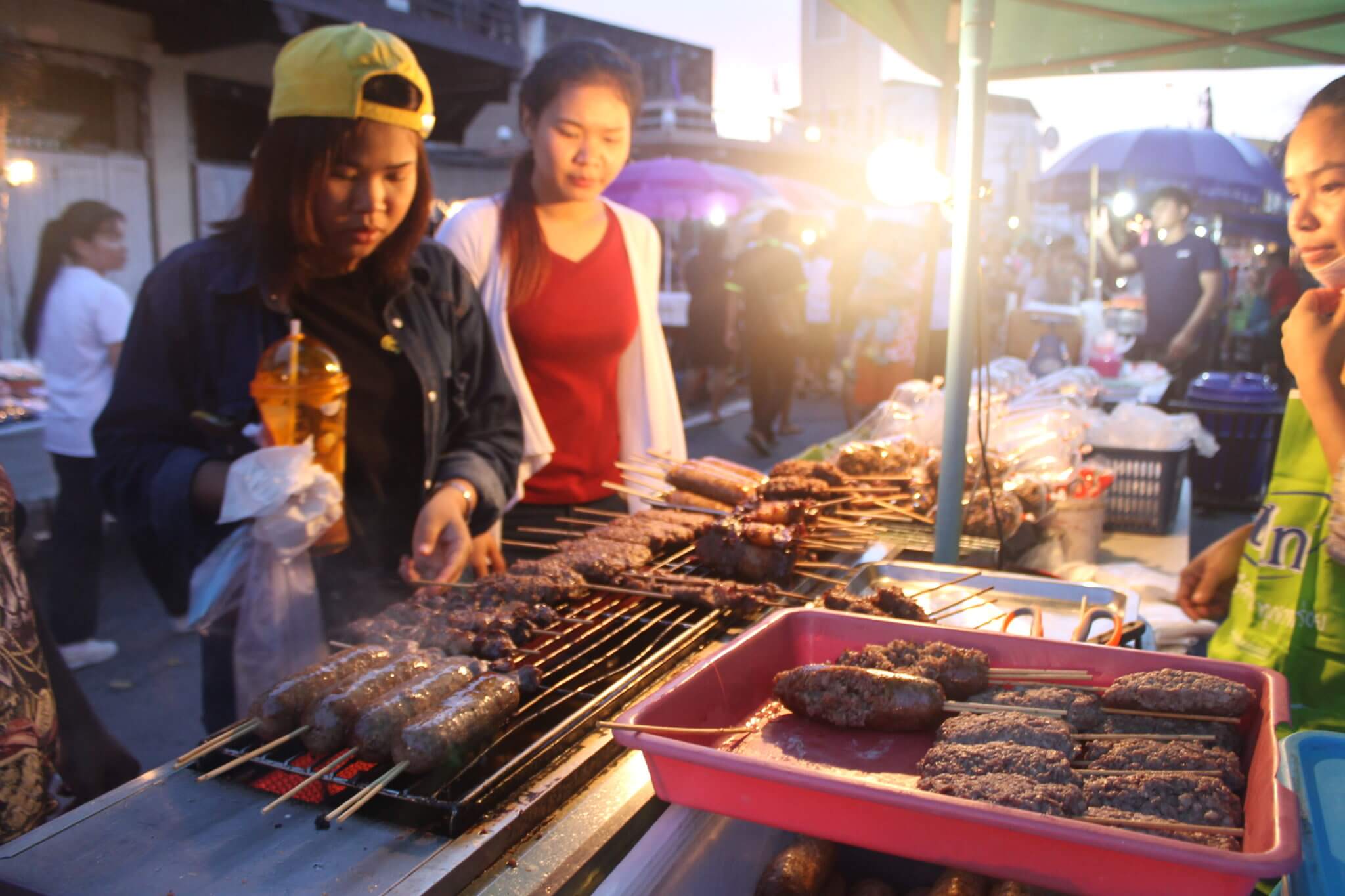 Again, if you plan to shop be sure to bring along a reusable bag
to cut down on single use plastics.
11. NKP Indoor Market
This two-story indoor market is located on the riverside. You can find clothes, jewelry, household items, sunglasses, and lots of other trinkets inside. Upstairs, there is a restaurant on the balcony with views of the river and mountains where you can enjoy a cold drink and food and watch the world go by below.
12. Check out the Vietnamese Memorial Clock Tower
The Vietnamese memorial clock tower is located in the center of Nakhon Phanom on the same street as the Night Market. It was built in the 1960s by Vietnamese people who had been living in Nakhon Phanom before they moved back to Vietnam as a symbol of thanks to the city.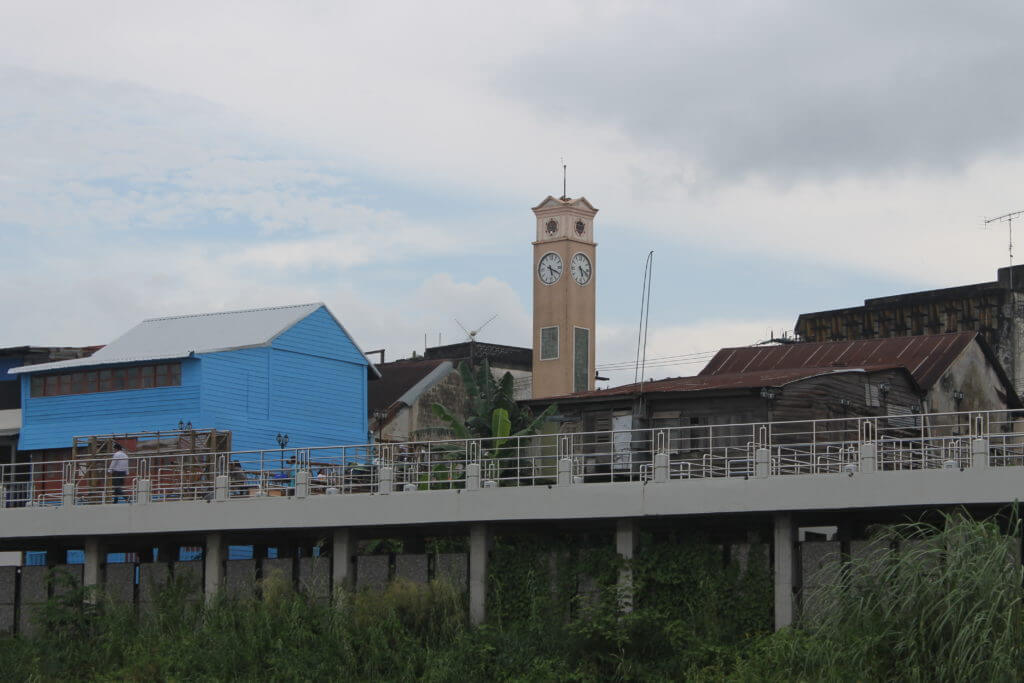 13. Take a Riverboat Cruise
Cruising along the Mekong river is a peaceful and fun way to take in both the Thai and Laos sides of the river from a unique vantage point.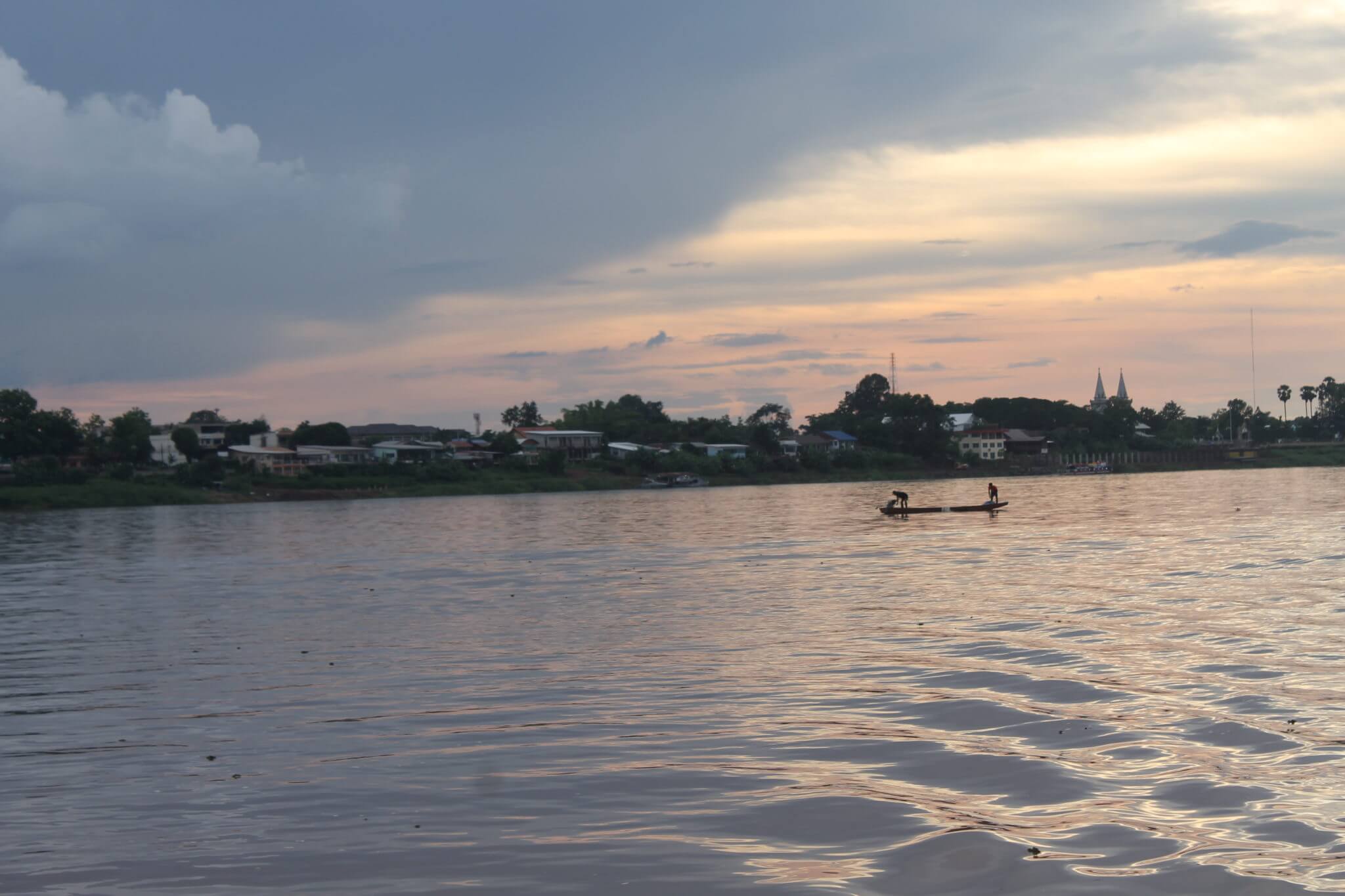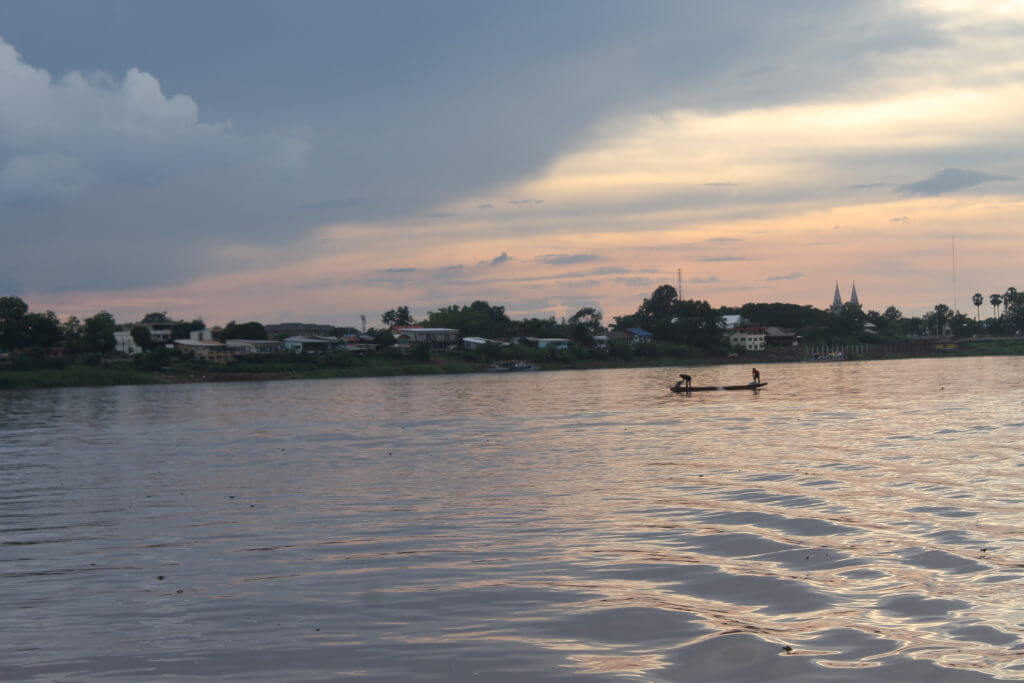 Out on the water, you can see local fishermen from both Thailand and Laos casting their nets or working in the many fisheries located along the riverbanks. You can view the temples along the riverside, and further up the river you'll spot the Saint Anna Nong Saeng Catholic Church.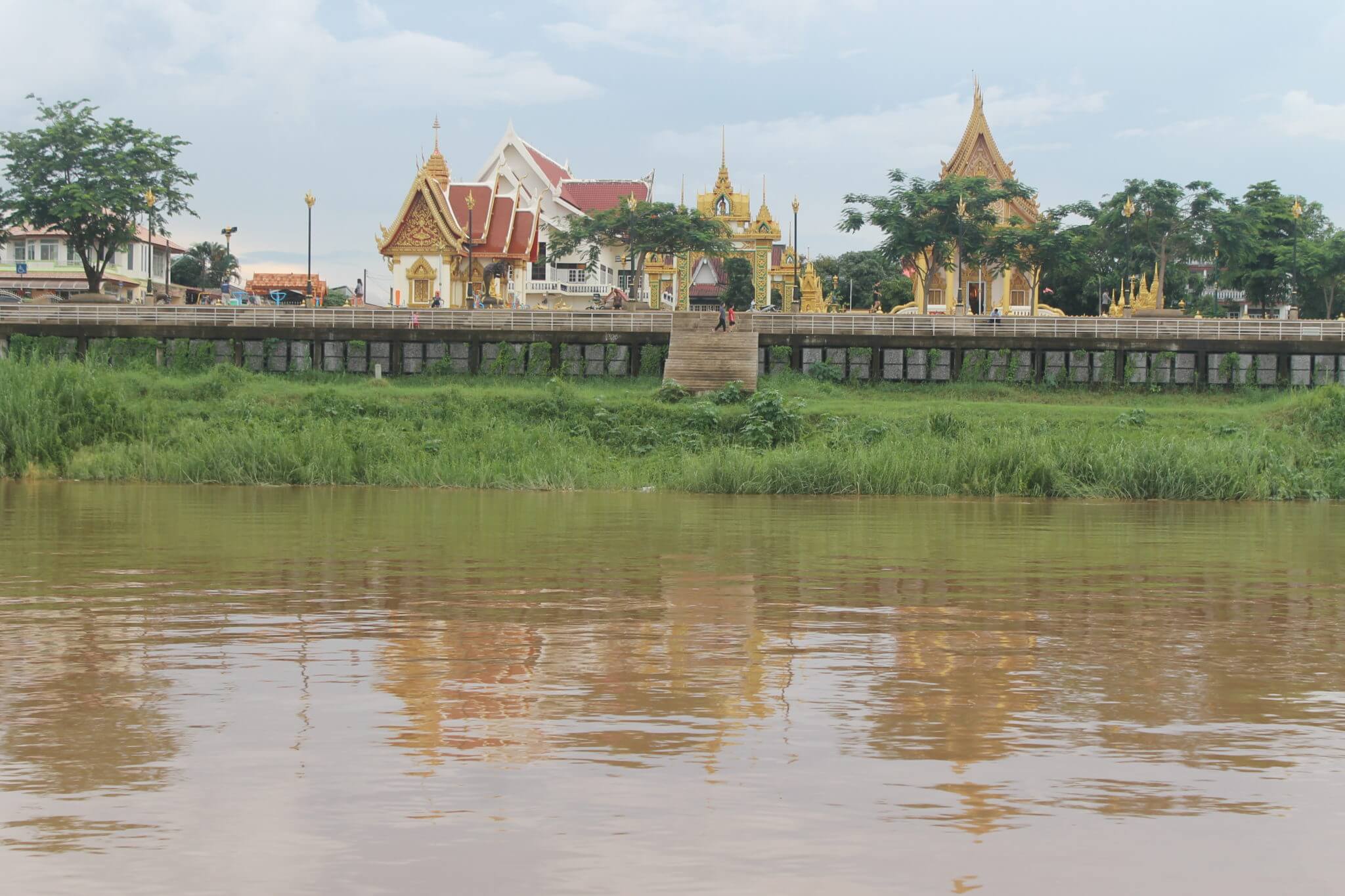 There is a fairly striking contrast between the development of the Thai side versus the Laos side. Especially in the evenings when the lights are coming on you can see that the Thai side is much more developed.
14. Ban Than Ho Chi Minh (Ho Chi Minh's House)
Former Vietnamese President Ho Chi Mihn lived in Nakhon Phanom from 1928-1929. During his time there he worked with friends making plans to liberate Vietnam from French rule. This is an important historical place for both Vietnamese and Thai people who come far and wide to visit each year.
Along with Ho Chi Minh's residence, there is a history museum and beautiful gardens on the grounds. Unfortunately, I couldn't fit a visit in during our time there, so will have to save it for next time. You can read more about Ho Chi Minh's house here.
15. Cross the Third Thai-Laos Friendship Bridge
The Third Thai-Laos Friendship bridge connects Nakhon Phanom Province in Thailand and Khammouane Province in Laos and is one of the most important bridges in Northeastern Thailand. The bridge is an important link for trade, transportation, and tourism between the two countries.
Travelers with Laos visas can cross the bridge from Nakhon Phanom into Laos.
Fun fact: The bridge first opened on November 11, 2011, at 11:11 AM!
---
Where to Stay in Nakhon Phanom
There are many great hotel options in Nakhon Phanom at very affordable prices. These are the hotels I had a chance to see in person throughout the conference that seemed worth recommending. The hotels are listed in order from closest to the Naga Monument and out.
Chic Chid Kong
Excellent location
This family owned boutique hotel is located on the riverfront across the street from the Naga Monument. The hotel is walking distance from most activities in town, including the Night Market and temples.

Fortune View Kong Hotel
Convenient location overlooking the river
The Fortune View Kong Hotel is a five-minute walk from the Naga Statue, and nearby several local restaurants and street food. There is a 7-11 below the hotel.

Fortune River View
River views and a pool
This grand hotel has rooms boasting Mekong river views, and a pool overlooking the river. 
The River Hotel
Beautiful River Views
The River Hotel is located, as you may have guessed, right on the Mekong River. Be sure and book a room with a river view to catch Nakhon Phanom's gorgeous sunrises and sunsets from the comfort of your room.
R Photo Hotel
Fun and funky new hotel
R Photo Hotel has a vintage camera theme, and you will find camera parts located throughout the property. There is an outdoor restaurant and bar decorated with faux grass and a repurposed VW bus. There is a giant outdoor TV screen showing sports and a stage with live music several nights a week. The hotel is becoming a popular hangout for young Thais. It's a bit far out, but R Photo has their own tuk-tuk to drive guests into town. This is where I stayed!
---
I want to extend a huge thank you to the Thai Ecotourism and Adventure Travel Association (TEATA) and the Tourism Authority of Thailand (TAT) for organizing our trip and making it so memorable. A big thank you also to all of the awesome bloggers I had the chance to spend time with throughout the week. Be sure to check out their blogs too!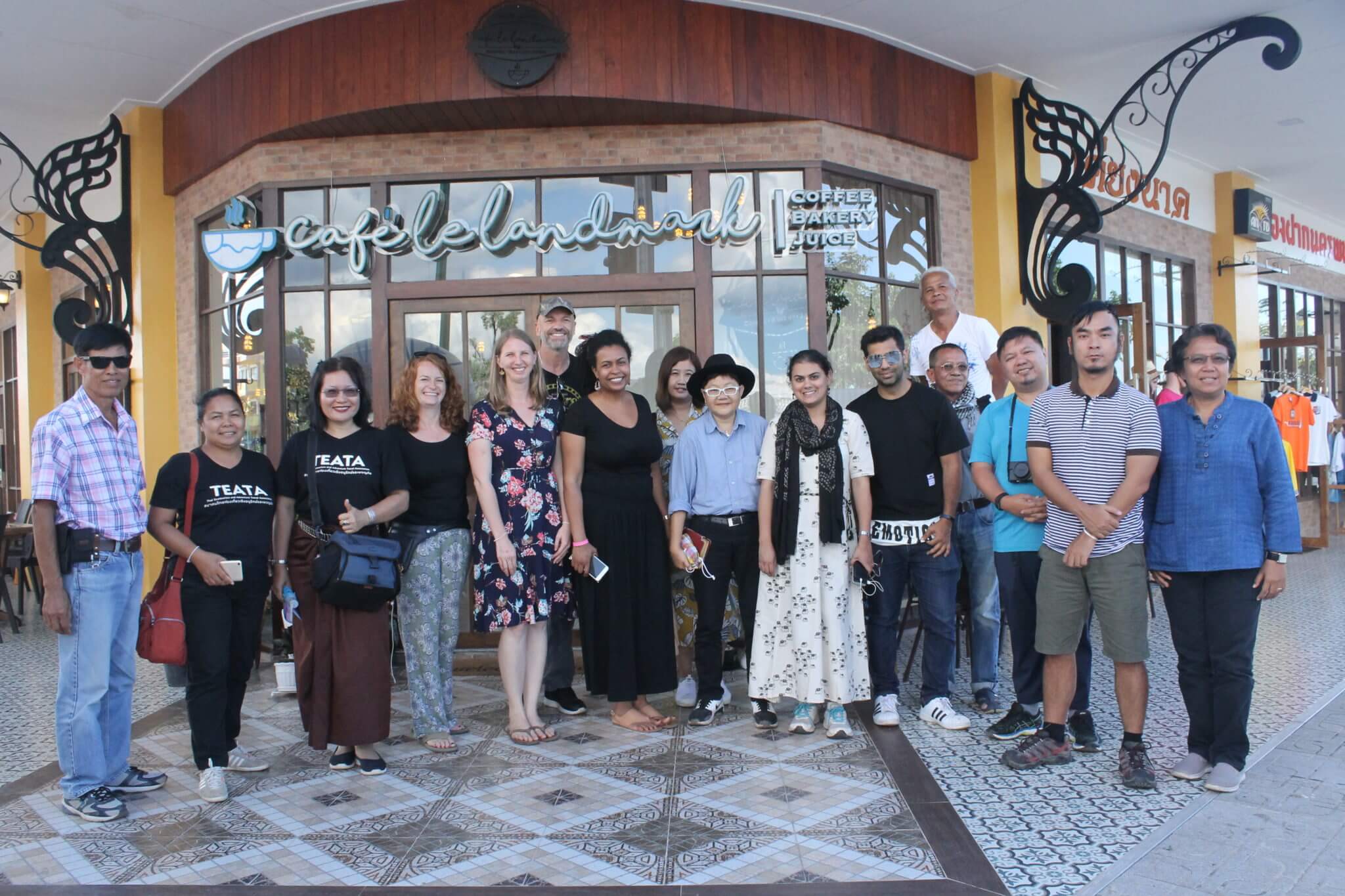 ---
Disclaimer: This post may contain affiliate links. If you click through these links to make a purchase we receive a small commission. It doesn't cost you anything extra, and sometimes you may even save money through our partners. 
---
Like this post? Pin it for later!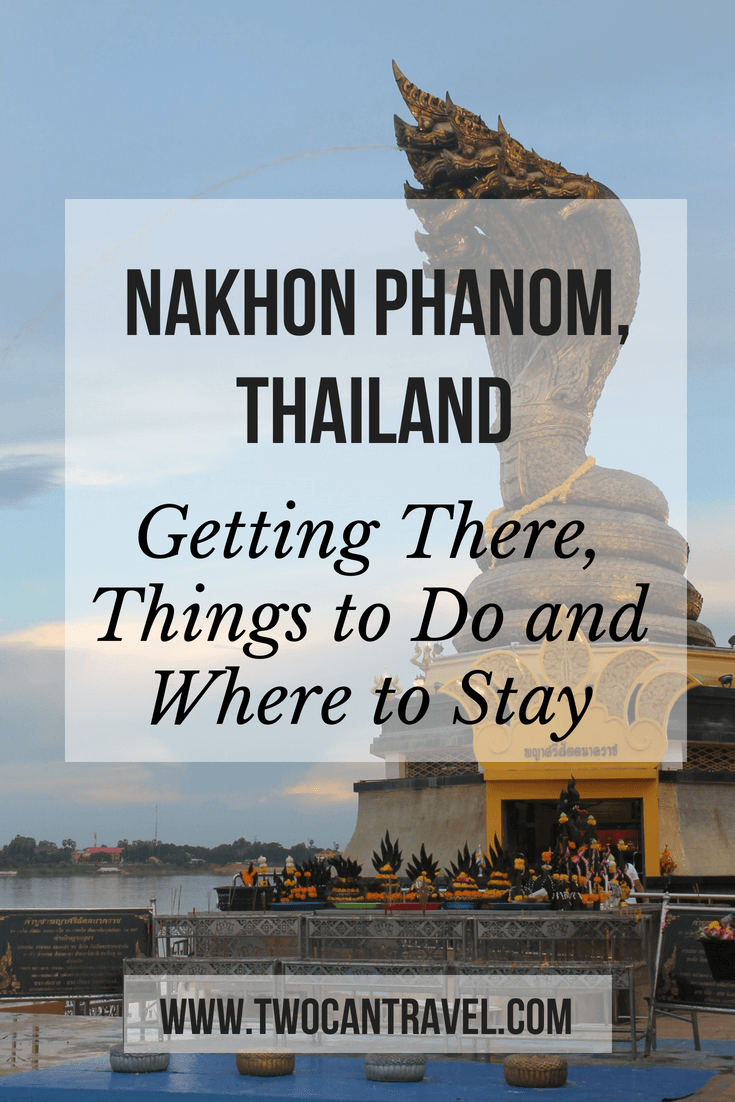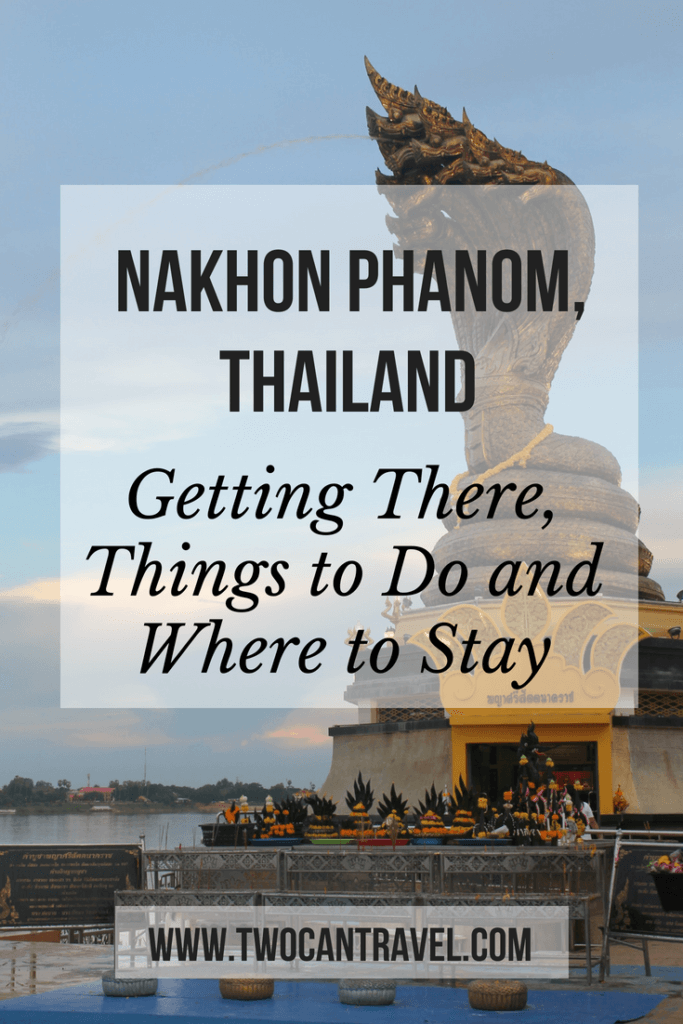 ---
Do you enjoy visiting lesser known places when you travel? Does Nakhon Phanom, Thailand look interesting to you? Let us know in the comments! 
---