This article may contain affiliate/compensated links. For full information, please see our disclaimer here.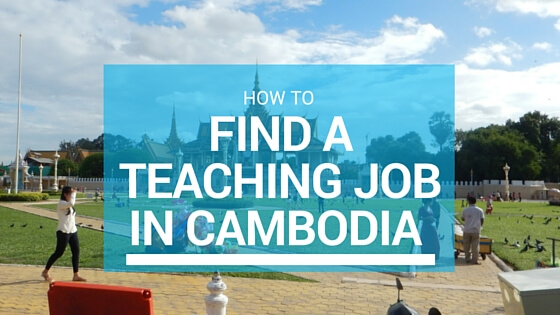 We receive emails every week asking how to find a job teaching in Cambodia.
Becoming an international school teacher is a fulfilling experience that can take you around the world!  We are happy to share our personal experience finding work teaching in Cambodia. The information here is what we know based on our experience, from talking to fellow educators, and from the people in our networks who work in education in Phnom Penh. 
---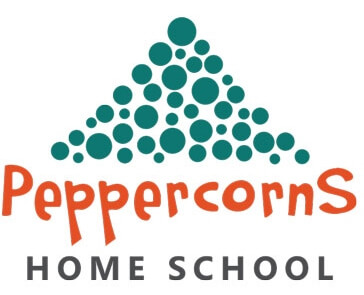 Job Advertisement!
Looking for qualified early years and primary school teachers for a small school in Kampot. 
Peppercorns Home School is located in the beautiful town of Kampot in the South of Cambodia. It is a small early years and primary school run by 2 mothers – a Canadian and an Australian. Peppercorns follows an international curriculum and employs early childhood and primary qualified teachers.
The school's philosophy is based on learning through creativity, play, and engaging activities. We have a wonderful team atmosphere here at the school and it is really a great place to work.
Our Facebook page is Peppercorns Home School and our email address is peppercornsschool@gmail.com. Get in touch for more information.
---
If your school would like to advertise teaching positions send a message to Jen (at) twocantravel.com.
---
Pin this article for later!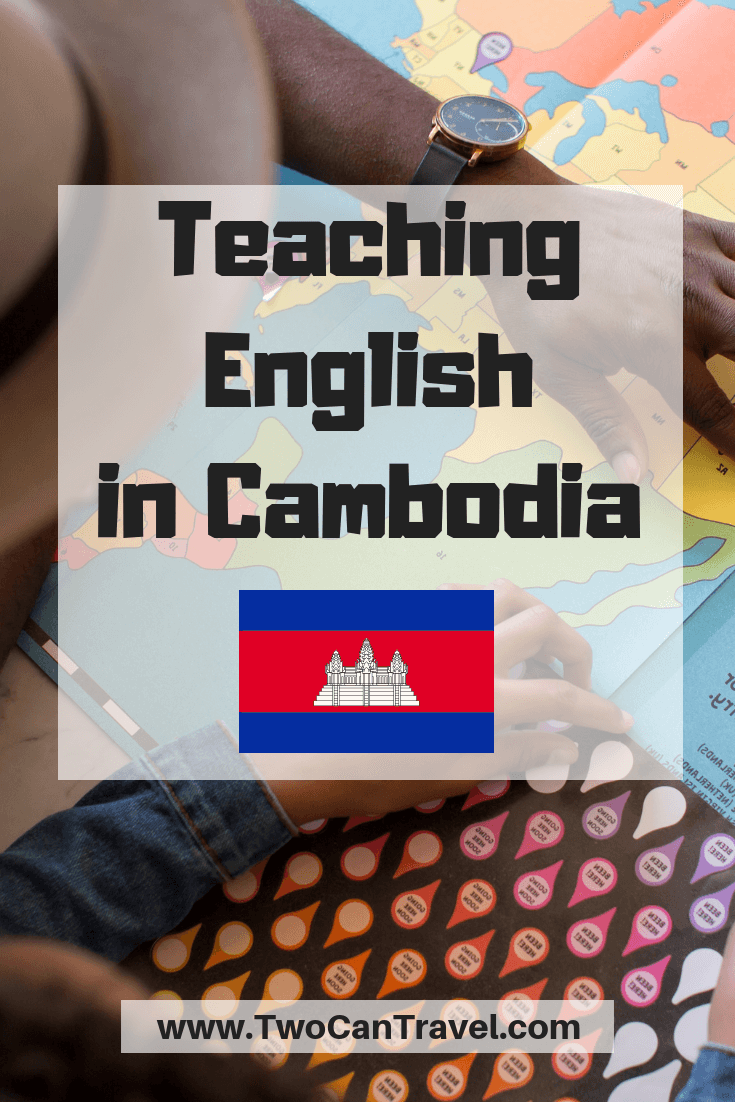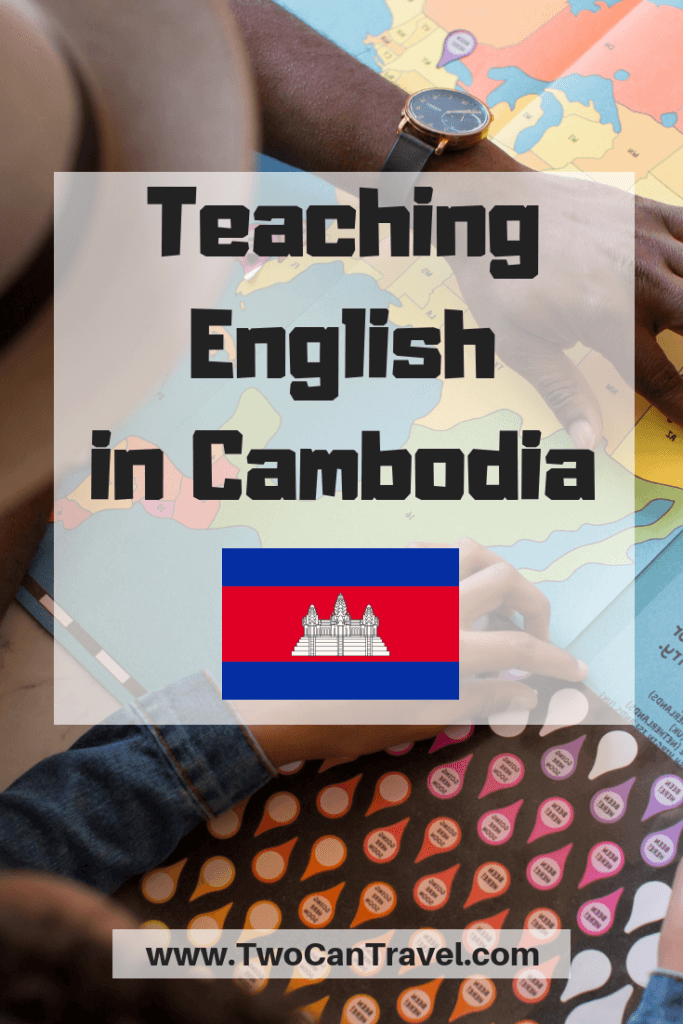 In this article, we answer frequently asked questions from our readers on finding a job teaching in Cambodia.
If you're wondering what schools to apply to in Phnom Penh, these are schools we suggest based on our personal experience and people we know.
---
More useful articles about Cambodia:
---
What degrees or certifications are required for teaching in Cambodia?
A university degree is usually required to teach in Cambodia. Degrees in English, Teaching or Early Childhood Education are best. However, a degree in any subject is usually acceptable. It can be challenging to find a job teaching in Cambodia without a university degree.
Having a certificate in TEFL, TESOL or CELTA will help put you ahead of the competition when looking for teaching jobs in Cambodia.
TEFL (Teaching English as a Foreign Language) is a course focused on teaching abroad.
TESOL (Teaching English to Speakers of Other Languages) focuses more on teaching English to second language learners in an English speaking country. This is what Stevo and I have, and it has served us well to find jobs teaching English in Cambodia and in China.
CELTA (Certificate in English Language Teaching to Adults) is the most preferred certificate by schools as it is known to be the most strenuous course and is certified by Cambridge.
Having any of these certificates will provide more opportunities when looking for a job teaching English in Cambodia.
We have partnered with MyTEFL, a reputable leader in TEFL/TESOL training programs, to bring you a discount on their courses. Use our code TWOCAN35 when you checkout for a 35% discount. View MyTEFL's course options.
Note: The majority of schools in Asia want to see that you have completed, at a minimum, a 120-hour TEFL or TOEFL course. 
Who are schools looking for?
The average English school in Cambodia want to hire teachers with a passport from Canada, the U.S.A., Australia, New Zealand, the U.K. or South Africa. Teachers from non-native English speaking countries will have a more difficult time finding a job teaching English in Cambodia. However, it is possible.
The sad reality is that some schools in Asia are prejudiced against Black and Asian applicants. Black and Asian applicants will have an easier time finding work at foreign-owned and run schools. 
From our experience applying for jobs, schools with young learners tend to prefer female candidates. We found this to be especially true when we were applying for teaching jobs in primary schools. Stevo received countless emails stating that schools were only seeking female teachers for those positions. 
Are there positions available other than teaching English in Cambodia?
Aside from just teaching English in Cambodia, we have had opportunities to work in school administration and leadership positions. We've worked as curriculum consultants for a new primary school in Phnom Penh. Stevo worked in a management position and IT for an early childhood school.
Jen worked as the head teacher for her school campus. While we both had some leadership experience prior to taking these positions, Cambodia can definitely be a place to grow your skills and take on additional professional responsibilities.
If you are a Speech Therapist or Occupational Therapist or have experience working with students with special needs, there are many job opportunities opening up in Cambodia. We are putting together a more comprehensive resource for people looking for work in these areas, but feel free to email Jen in the meantime for more info at Jen (at) twocantravel (dot) com.
There are also opportunities to teach different subjects at schools such as athletics, computers, art, and more. If you have a specialty in a certain area, be sure to bring that up in your interview as those types of jobs aren't always advertised.
What if I am a recent university graduate?
It is possible to find a job teaching English in Cambodia if you are a recent university graduate with no experience. Generally pay will be lower for these positions.
However, once you gain more training and experience you can negotiate for a higher salary. Some schools offer on the job training to new teachers. If you're looking for your first TEFL job, Cambodia is a great place to start.
What are the salaries and benefits for teaching in Cambodia?
Salaries are lower for teaching in Cambodia than in other Asian countries. However, the cost of living in Cambodia  tends to be lower as well. Typically salaries range from $800-$2,000 per month for full-time teachers. Part-time positions range from $250-$1000 per month. 
Some schools also provide housing or housing stipends, medical insurance or reimbursement, and flight reimbursement. All of these can be negotiated in your contract.
Getting these benefits is usually only possible if you have applied from outside Cambodia and are coming over specifically for the position. 
Pay can be higher in some schools for more qualified teachers based on teaching experience and relevant degrees. When Jen worked at the international school in Phnom Penh she had seven years of teaching experience and a degree in Speech and Language Pathology and was earning over $1,600 per month.
Stevo worked in management and handled IT for an international school. He also taught swimming lessons as he was a certified lifeguard and swimming coach in the US. We both negotiated our benefits such as paid time off and medical coverage in our contracts with our employers.
Should I apply for teaching jobs before coming to Cambodia?
We recommend applying for a job teaching English in Cambodia before you arrive. That way you can maximize on benefits and moving assistance from schools.
You can also move to Cambodia and apply for teaching jobs once you are there. This is what Stevo and I did when we moved to Phnom Penh in 2015. Once we arrived we utilized contacts we had made on previous trips to the city.  
We also went to as many events as possible around town to meet people and learn about different schools and teaching jobs through word of mouth. We went this route because we prefer to see a school in person and meet teachers working there before accepting a job, due to bad past experiences.
What information do I need to apply for a job teaching in Cambodia?
To apply for a teaching job in Cambodia you generally need the following documentation:
Updated CV (one page with relevant information including education, teaching certificates, experience working with children or relevant work experience, where you are currently based and when you can start work in Cambodia)
Cover letter
Passport pictures (it is standard practice to include a photo with your CV)
Two reference letters (character-based and/or work related)
Copy of your university degree
Copy of passport
Copies of any relevant certificates
Some schools also require a police report. It is better to get this in your home country, but one can also be obtained in Cambodia.
How often will I be paid?
Most schools pay salaries once per month. Schools offering hourly pay often pay every two weeks. 
How do I know what schools I should work with?
There is a school on every corner in Phnom Penh, but very little government regulation on how schools are run. 
We recommend looking at these standards in schools:
Salary for full-time employees

An hourly rate or salary for part-time employees

Pay on time

Honor contracts

Have a curriculum
Offer work permits
We recommend asking to speak with current teachers about the above requirements to ensure you are entering into a trustworthy school. These are the schools we recommend checking out first based on our personal experience and what we've heard from people working at these schools. 
Will I enjoy teaching English in Cambodia?
Teaching English in Cambodia is not for everyone! People joke that Phnom Penh is like the wild west, with few rules or regulations, and for the most part that is true. 
Speaking frankly, Phnom Penh may not be a great place for people with addictive personalities as many vices are readily available. 
A good measure of flexibility is necessary to work and live in the city. Life in Cambodia is much different from life in most teachers' home countries, and things are not always done the way people are used to. Teachers need to remember "this is Cambodia" and adjust their expectations accordingly. 
What about teaching in other counties in Asia?
If you have a TEFL, TESOL or CELTA you will have opportunities to teach in many countries throughout Asia such as Vietnam and South Korea.
Stevo and I have also taught in China and are happy to connect you with recruiters we have personally worked with to find jobs there. Send Jen an email at Jen (at) twocantravel (dot) com.
Volunteer Teaching Positions
There are some volunteer teaching positions available with Cambodian public schools. There are fewer requirements to work in these schools than with paid positions. However, police checks are still required. 
Please think before volunteering in orphanages in Cambodia. Many orphanages are operating under false pretenses for profit. If a volunteer organization does not require background checks from volunteers who will work with children, they likely do not have the children's best interest at heart.
Please refer to the Child Safe website for more information on working in orphanages and volunteering in Cambodia.
Move to Cambodia also provides valuable insight into the voluntourism industry in Cambodia.
---
If you have any questions about teaching in Cambodia, China, or elsewhere in Asia, email Jen at Jen (at) twocantravel (dot) com.
---
Was this info useful? Pin it!
  
---
Have you thought about teaching in Cambodia? Have you taught abroad before? Please share your experience or feel free to ask any questions in the comments!
---