This article may contain affiliate/compensated links. For full information, please see our disclaimer here.

Working as a Tarot Card reader in Phnom Penh, Cambodia.
Heavy rain pours on the tin roofs of Boeung Keng Kang market, splashes into buckets, and overflows onto the dirty terracotta-tiled ground. Eileen sits cross-legged two feet off the floor inside her modestly decorated stall. A Cambodian woman from a neighboring salon, hair still greased and smeared with dye, sits across from Eileen and watches her shuffle tarot cards as the two women chat in Khmer. The woman asks a question. Eileen tells her to shuffle the deck, then lays out the cards based on what she wants to know. The woman nods along as Eileen interprets them.
Eileen is like dozens of other fortune tellers in this crowded Phnom Penh market, save for one marked difference: she is an American.
In a country deeply plagued with emotional trauma, where psychology and psychologists are as common as toucans in the arctic, some Cambodians turn to the spiritual world for guidance. Many seek answers through fortune tellers, and in more rural areas, boramei, a kind of medium, who purport to channel the ghosts of the dead to share their messages. Although Cambodia is predominantly Buddhist, many Cambodians's religious and spiritual beliefs are animistic; the belief that all things have spirits – ancestors, animals, plants, hills, stones, buildings – everything. This belief in the spiritual makes things like fortune telling and tarot card reading socially acceptable.
Eileen has had a fascination with mysticism and wicca since she was a pre-teen. She considers herself to be a "universalist", open to many concepts and beliefs. She is also a proponent of ayahuasca, a hallucinogenic plant from Central America which can produce vivid inquests into the self and spiritual revelations. It also tends to make one vomit, although sometimes the vomit looks like rainbows. And sometimes it can look like blood. It depends on the trip.
During one particular ayahuasca experience in February of 2015, Eileen says praying mantis people, her spirit animal, spoke to her. She says she can relate to them in many ways, especially their use of vibrations for communication and sensitivity to color, which she likens to her innate connection to people's energies and her high empathetic IQ.  The praying mantis people encouraged her to open up her own business at the market. She rented a stall in Boeung Keng Kang and set up shop the following month.
Eileen has developed a regular following of Cambodians and foreigners, and her customers are all based on referrals. One thing she loves is that people from all different classes come to her, from lawyers to housewives, karaoke girls to high government officials. She has been told that her readings are 70-80% accurate, however she can't always be right if people aren't honest with her.
Eileen explained that tarot card reading is different from fortune telling in that it isn't necessarily meant to predict the future. Instead, the customer asks her three questions, the more specific the better, and the cards provide answers which she interprets. Eileen thinks of tarot as more of a cathartic experience, a chance for people to express their worries and fears, to gain direction and see possibilities.
She has been told that Cambodian people visit her because they feel that as a foreigner she is more open and less judgmental than Cambodian fortune tellers might be. That, and she is much less likely to know anyone who she could spread their secrets to. Her friendly, calm nature, and fluency in Khmer make customers feel comfortable opening up to her.
She feels like she is able to help people through her readings, enabling them to ask difficult questions and gain a different perspective on their issues. She charges the same amount as her Cambodian fortune telling counterparts, 10,000 Riel ($2.50), for both locals and foreigners.
Eileen has always had the intention of helping people through her work in Cambodia. She originally came to the country as a Peace Corps volunteer in 2010. She lived in a village in Kampong Chhang province teaching rural health education. Her work included weekly workshops on topics such as nutrition, gender, breast cancer, diabetes, vaccinations and sex education.
For 28 months she lived in the village with a host family. The conditions weren't always easy, with only six hours of electricity a day, bucket showers outdoors, and a lack of running water. She says she remained relatively healthy during her time there, other than a bout of Dengue. She admits that her time in the village may not have had a lasting impact as there was no one to continue the education projects after she left. However, she still holds on to many of the relationships she fostered there. In fact, Eileen and her host sister from the village now live together in Phnom Penh.
After her Peace Corps service, Eileen stayed in Cambodia and volunteered for an NGO called Cambodian Women for Peace and Development. The work was interesting but she needed to earn money to live, so she got a paying job with an NGO called the Learning Institute as a Research Mobilization Officer. At the same time, she enrolled in a Masters program in Development at the Royal University of Phnom Penh.
Her job gave her experience in the behind-the-scenes world of NGOs, working with donors and writing reports. However, she missed the freedom she felt working directly with people. The for-profit NGO world also proved more corrupt than expected and she felt her efforts and the intentions of the NGO weren't always effective. When the organization lost its funding in early 2015, she saw it was time to move on. It would be several months until her official graduate school graduation and she wanted to stay in Cambodia, so she needed a plan.
Having found working for someone else at a 9-5 job too restrictive, Eileen decided to strike out on her own. Tarot card reading was one option she had considered. The praying mantis people confirmed that opening up her own business was what she needed to do.
Although she isn't earning much more than the $250 monthly rent for her stall and enough to eat and pay her rent, she says she feels empowered by her work and by starting her own business. She is helping people and making a difference in their lives in a way that she feels is effective.
Moving forward, Eileen wants to start new businesses and increase her income to save money and pay down her student loans. She and her Cambodian host sister are starting their own coconut oil business. She is also consulting part-time with an NGO. She plans to combine multiple streams of income to earn her living.
Eileen is certainly proof that moving to Asia, gaining experience, and following your passion can lead to endless opportunities.
---
If you're in Phnom Penh and want to visit Eileen for a reading, her stall can be found on the northwest side of the Boeung Keng Kang market in BKK1 district. Come prepared with three specific questions about your life and 10,000 Riel ($2.50). It's definitely a unique experience!
---
 Did you enjoy this interview? Pin it for later!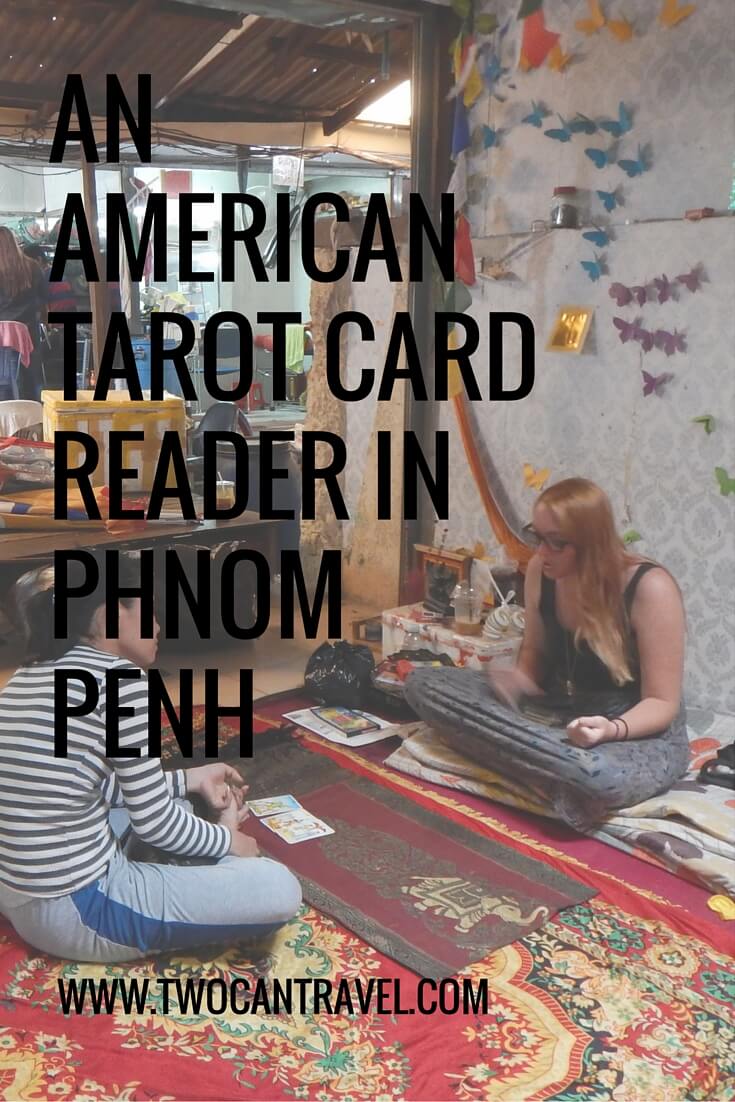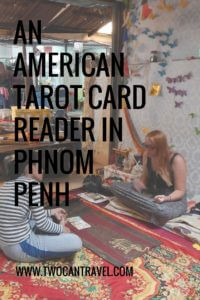 ---
Want to catch up on the other parts of this interview series? Check out Brewmaster Fraser, Burlesque dancing Alice Teacake, Mar at Google, and Tour Guide Andy.
---
 Have you ever been to a tarot card reader or fortune teller? What was your experience like?
---