This article may contain affiliate/compensated links. For full information, please see our disclaimer here.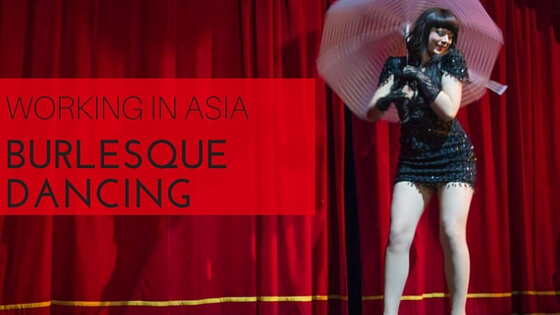 Welcome to Working in Asia, a series featuring people doing all types of interesting jobs throughout Asia. Some people work as English teachers, tour guides, masseurs, or run their own companies. The opportunities and options are endless in this part of the world! If you work in Asia and would like to be featured in this series, please contact us. 
We are crazy excited about this interview with Alice Teacake, the kickass chick from Teacake Travels, about her experience working as a burlesque dancer in Asia! 
Hello! I'm Alice! I'm a British chick from London who has been slowly travelling around Asia for the last five years. I've had amazing life changing experiences in South Korea, Japan, Thailand, Cambodia, Vietnam, China and the Philippines and now it's all happening in Taiwan!
Among the things travelers do to earn money, burlesque dancing has got to be one of the most unique ways we've heard of! How did you first get into it?
I'm a strong believer in women feeling proud of their bodies and enjoying their beauty. I was always interested in Burlesque but stumbled upon it directly at a Feminist Festival in Shanghai. The wonderful and professional Anna Fur Laxis was giving a taster class there and I was instantly hooked. I joined the Shanghai School of Burlesque and have been enjoying this magical world ever since.
For those who don't know, (myself included!), what exactly is burlesque dancing?
Burlesque dancing has an incredibly rich and interesting history starting from the 17th century. It comes from the Italian word 'burlesco' meaning joke or mockery. In Victorian England, female performers would poke fun at society through comedy sketches, singing and dancing. They would take an original piece of work and make a parody of it. Slowly but surely, nudity started to become more popular within the acts and in today's world, there are so many types of burlesque it's impossible to talk about all of them here. For me, burlesque is a performance art which tells a story and has a lovely sprinkling of striptease within it.
Are you an outgoing personality already, or was doing burlesque out of your comfort zone?
I feel a person has many layers to their personality. In some ways, I am very confident. My blog is all about pushing your boundaries and achieving things you never thought possible within yourself. I love putting myself to the test and seeing if I can walk the walk rather than talk the talk. I walked into my first Burlesque class thinking I would be fine but in all honesty, I was terrified. Before any performance I'm bricking it but as soon as the curtain opens, I'm not Alice anymore but the burlesque performer 'Bonnie May'. Bonnie May is the sexy vixen you just don't see when I'm covered in mud biking through the mountains in Asia. 
I love your stage name! How did you choose it?
I wish I could give you an extravagant story on this one! Alas, when I was trying to come up with a name, my friend told me her brother's wife had just given birth to a baby named Bonnie May. I loved the cuteness of it and the hidden saucy suggestion that I may do something. What that is, remains to be seen by the audience. 
Did you have any experience in performance arts before you tried burlesque?
I've been drumming since the age of 10 in lots of different rock bands. Travelling means I get to be in different bands for a while but then I unfortunately have to take off again. A big reason that I wanted to do burlesque was to be at the front of the stage for a change, all by myself!
What was your first performance like? Were you nervous to dance and strip down in front of a crowd?
I certainly was not cool as a cucumber! Before the show, I was that person that just had to be left alone in the corner of the dressing room with my headphones in. My first performance was actually a Gay Pride Talent Show. The organiser wanted some burlesque in there so I stepped up to the plate. The house was packed and the crowd were raring to go. It still is my most favourite performance to date. As soon as the music started, I was in my element.
Where have you performed since then?
All of my work has been in Shanghai so far and the Talent Show opened paid opportunities for me. You can see all of the varied and fun work I have done here. Being a solo female traveller in Asia isn't the best place for burlesque unfortunately. It is definitely up and coming here but not as established as other continents yet. Regardless, I'm trying to unearth all the opportunities I can!
Are you able to sustain your traveling through burlesque dancing in Asia? 
I can't just travel off the money I make from burlesque. If travel wasn't my top priority and I really put my heart and soul into burlesque, things may be different. There are certainly ladies out there making a full-time career from it. As I'm moving around a lot, I truly hope to keep performing when and where I can but Asia is still developing their interest. I hope things will continue to change and more places open up to it.
What else do you do to earn money? 
Teaching English has actually been my main income these last five years! Since I have started my blog, I am hoping to focus on travel writing as a source of income. In today's world, I like how people adapt and try many different ways to earn their money. I'll be keeping my fingers in different pies to pay the bills.
Aside from helping to further fund your travels, what have you gained from doing burlesque?
What I have gained from Burlesque is priceless: feminine power, inner strength and confidence, a deeper appreciation of my body and the skill to give anyone the tingles down their spine if I give them the 'Bonnie May' look with my eyes!
Who would you recommend burlesque dancing to?
Everyone! Boy Burlesque is becoming very popular, it's not just for the ladies you know! The women who go to the Shanghai School of Burlesque all have their own reasons. Some want to feel sexy, some want to test themselves, some want to strengthen their confidence and connect more with others around them. The important thing is that if you have a little itch to try this type of performance yourself, go to a class and see what it is like! There's only one way to find out.
How can someone who wants to try burlesque dancing get started?
Going to Burlesque school did wonders for me! Search online and see if there is one near you. There are some great videos on YouTube to give you a taste of what is possible and some amazing performers who you can follow and learn from. Make sure to do your research and get good guidance. There is unfortunately a lot of rubbish and bad talk on Burlesque out there so speak to the professionals and be the best burlesque dancer you can be!
---
About the author
Alice Teacake is a British chick traveling solo around Asia for as long as she can get away with it. It's been five years so far and she is still going strong! Teacake wants to empower women to get out of their comfort zone and see what they are fully capable of through travel.
Connect with Teacake on social media 
---
Did you enjoy this interview? Pin it!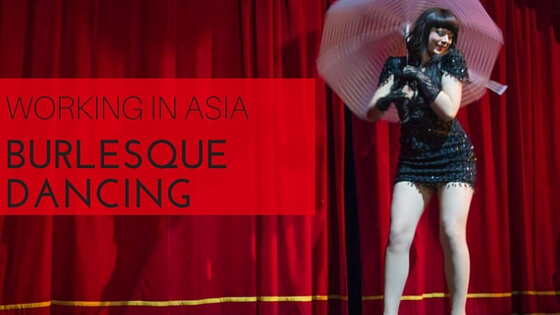 ---
Want to catch up on the other parts of this interview series? Check out Brewmaster Fraser, Mar at Google, Tarot card reader Eileen, and Tour Guide Andy.
---
Feeling inspired? Have you or would you try burlesque dancing?