This article may contain affiliate/compensated links. For full information, please see our disclaimer here.
Welcome to Working in Asia, a series featuring people doing all types of interesting jobs throughout Asia. Some people work as English teachers, tour guides, masseurs, or run their own companies. The opportunities and options are endless in this part of the world! If you work in Asia and would like to be featured in this series, please contact us. 
Working as a Brewmaster in Shanghai, China.
Tell us a bit about yourself. 
I was born in Scotland, but moved to New Zealand when I was five where I grew up. After University I traveled to Shanghai, China, where I now live. I work as the Head Brewer for Dr. Beer, a craft brewpub in downtown Shanghai.
Why did you first move to China? Where did you live and what did you do there? 
I first moved to China seeking some adventure and a distinctly different environment than that which had been surrounding me while I studied at university in New Zealand. I found an English teaching job in Yangzhou, a city about 200km north of Shanghai, and was on a plane 6 weeks later.
How did you go from being a teacher in Yangzhou to working as a Brewmaster in Shanghai? 
Brewing has always been my passion, ever since I was a kid. Before leaving New Zealand I tracked down a fellow Kiwi, Leon, working as a Brewer in Shanghai. Soon after I arrived I went down to meet with him. Six Months after being in Yangzhou, a position opened at Dr. Beer. Through a solid recommendation from Leon I landed the gig!
What skills do you have that helped you get the job?
Brewing is two parts creativity, four parts science and process and 10 parts cleaning! I honed my knowledge and passion for crafting different beer styles as a home brewer during university. I took a three month intensive course from the Siebel Institute of Technology based in Chicago, USA, which imparted the technical skills needed to produce on a world class level. And I love getting my hands dirty scrubbing stainless! That combined with a lot of patience, good management skills, and a love of all things beer go a long way!
What is best thing about being a brewmaster in Shanghai?
Shanghai has the largest and fastest growing craft beer scene in China. It's nearly 8 years since the first craft brewery opened here, but boy things have changed since then. Take the incredible fast pace of life here, and throw in some malt, hops and yeast and churn out some of the best beer in Asia. Who wouldn't want to be here? We are growing an industry and a culture from the ground up, it's early days, and it's amazing to be shaping a city's palate.
What are the downsides of your job (if any)?
Long hours in a dank brewhouse, calls to fix issues with the beer at 11pm, fighting tooth and nail against Chinese government regulations, and some pretty gnarly workplace injuries! All of which is instantly forgotten when you see the smile on someones face when they are drinking the beer made with your blood, sweat and tears.
Can you tell us about some interesting/fun/amazing experiences you've had on or off the job?
A massive highlight for me in this job is getting to collaborate with other brewers in Shanghai. We often work on joint beers for special occasions/festivals etc. It's such a cool time to learn and share with some incredibly talented guys and girls, and always a damn good night of drinking afterwards!
What are your benefits, holidays, and pay like? Are you able to save money? 
My company looks after me really well. Good insurance, housing and a decent salary has allowed me to save quite a lot while I've been here. It is hard to get time away from the brewery as it's such a labor intensive role, however I do manage to get away at least once or twice a year for some R&R.
Do you think you would have these kinds of opportunities if you were back in New Zealand?
Part of my leaving New Zealand was rooted in the state of the job market there. I could have landed a pretty average, low paying brewery job there for sure, but would have had no opportunity for progression like I did in Shanghai. Here I have jumped three career steps in one go, dealt with the massive learning curve involved and taken up the challenge with everything I have!
Describe a typical day on the job.
8:30- Open the brewery and get our equipment fired up for the day.
9:00- Organize and weigh malt for the mash.
9:15- Mash in (mill the malt, and mix with hot water in the mash tun for starch conversion to sugars).
10:30- Mash out, run the sweet liquid called 'wort' into the boil kettle.
12:30- Bring the wort to a boil for an hour, adding hops for bitterness, flavor and aroma.
13:00- Lunch!

14:00- Transfer the wort to fermenter via a heat exchange to drop the temp from 100*-20*C.
14:30- Pitch yeast and let the fermentation begin.
15:00 to 17:30- Cleaning.

18:00- Gym or beer, depending on how the day went!
Is beer popular in China? Who are your main customers?
China is the world's largest consumer of beer by volume. The Chinese brand Snow beer is the world's largest selling beer brand (even more than Bud Light!). That said, 99% of the beer consumed in China looks, smells and tastes the same (terrible). What we are doing is trying to introduce Chinese drinkers to the idea that beer can have flavor, it can be bitter, and it can have some awesome aromas. At Dr. Beer we keep it local; 80-90% of our customers are Chinese nationals. I base recipes as much on feedback from customers as I do on my own opinion of what we should be brewing. In this way I can create a 'gateway' for those new to craft beer to enjoy something completely different, and hopefully fall in love with it!

Is being a brewmaster in Asia a sustainable career? Do you see yourself doing it long-term?
The industry in China will only continue to expand, especially as domestic craft beers take back their share of the market from macro-breweries and imports. It's going to be boomtown here for a long time to come!
What's next for you?
I'm setting up a professional consulting business for people interested in buying Chinese made brewing equipment. It's a hard market to navigate (so many dodgy salesmen, language barriers, etc.). I'm looking to help people get a full turn key project off the ground and also providing technical consulting for brewery construction and start-up. 
Despite the awesome times over the last two years with Dr. Beer, I'll be leaving at the end of September. I'll be spending some more time in Shanghai to help grow an up-and-coming cider brand I have been involved with and put more energy into my consulting venture. 

Are you nervous about going off on your own venture?
I used to be if I thought about it too much, so I gave up thinking about it! Now it feels natural, and I really feel like I'm following my heart. It's time to stop working on someone else's project and start working on my own! It will be tough, but the rewards will be immeasurable.
Do you have recommendations for anyone who wants to pursue the type of work you are doing?
Breaking into the brewing industry can be tough for some people. It's a lot about who you know, so hanging around local brewpubs, breweries and volunteering is always a great foot in the door to meet some key folks. Breweries always need volunteers and are usually more than happy to pay in free beer! Having a can-do attitude is required, if someone asks you to help, just say yes! Developing some passion and experience on a home brew system is great, but education will make you stand out from the rest. Have a look on the American Brewers Association or Brewers Guild websites for lists of good brewing schools around the world. Probrewer is a really amazing resource for finding a job, as they have constant job posts for breweries in the US and abroad.
---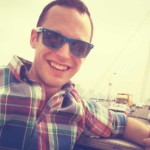 Fraser Kennedy is a New Zealand brewer living and working in Shanghai. He is the current Brewmaster for Dr. Beer, a downtown craft brewpub. Fraser studied Brewing through the Siebel Institute of Technology and the Institute of Brewing and Distilling. He has worked for 4 years both in New Zealand and China as a brewer. Throughout his time in China he has been involved in judging for several major beer competitions. Most recently he has worked on the design and construction of two new breweries for Dr. Beer in Shanghai.
---
Big thanks to Fraser for an interesting interview!
---
Want to catch up on the other parts of this interview series? Check out  Burlesque dancing Alice Teacake, Tarot card reader Eileen, Mar at Google, and Tour Guide Andy.
---
Did you enjoy this article? Let us know in the comments!