This article may contain affiliate/compensated links. For full information, please see our disclaimer here.
Welcome to Working in Asia, a series featuring people doing all types of interesting jobs throughout Asia. Some people work as English teachers, tour guides, masseurs, or run their own companies. The opportunities and options are endless in this part of the world! If you work in Asia and would like to be featured in this series, please contact us. 
We are so excited to share this interview with Mar from Once in a Lifetime Journey. Mar has combined her corporate working life with her love of luxury travel in unusual destinations. She works for one of the most interesting companies out there, Google, at their Singapore office and loves it! She is proof that you can make both the corporate life and travel life you want happen.
Working for Google in Singapore.
Please introduce yourself. What was your career path to end up working at Google in Singapore?
I was born and raised in a small town south of Barcelona. Before 2006, my job was focused on Europe, the Middle East and Africa, and I was traveling every week while still living in Barcelona. I realized I really loved traveling so when the offer to move to Dubai came through near Christmas in 2005, I decided to take the plunge. I spent five years in Dubai working for a telecoms consulting company. Every week I took a plane to a destination in the Middle East or Africa, wherever my clients were. After five years I moved to Johannesburg when my company opened an office there, and I spent one and a half years living there. My company opened an office in Singapore and, after eight months, I moved to the little red dot city where I still reside. A sabbatical in 2012 showed me that there was more to life than work so I left my well-paid but very stressful job in consulting and tried out a few things including opening a cafe and starting my blog. After a year of pondering about life and trying out different things, I joined Google in Singapore.
What were some of your challenges when you first moved to Singapore?
Singapore is a very easy place to live and to move into. The city is predictable, it is clean, it is very well organized and it is structured. I was also a very experienced expat back then having moved houses several times and lived in six countries. I would honestly admit that there were no real challenges moving here.
What do you love about living and working in Singapore?
I love the multiculturality of the country the most. The fact that we are celebrating Diwali and will be enjoying a Christmas break in a month, Chinese New Year in two months and a few other different religious holidays during the year is something that I appreciate. You can find a thriving Little India neighbourhood, an authentic Chinatown and a very real Malay part of the city with the corresponding cultural and religious sights, markets and food outlets. It is a lesson in conviviality. What I appreciate and sometimes loath is the perfect predictability of the city. The Government is efficient and everything will always churn out the expected outcome. But that also means that, oftentimes, I feel that creativity is limited by the structure and the restrictions set.
When did you first start working for Google? 
I joined Google a year ago after taking a year off to try out different things including starting my blog and opening and selling a take-away coffee place. I was a telecommunications management consultant before that, a job that was extremely demanding so when I left, I took some time to think about what I wanted to do. I decided that I wanted to work for a company that I could share the values with. Google is a company I admire and respect and which has a great reputation for valuing employee's personal life and balance which is something I was looking for. I wanted a job that would not eat into my personal life and time so Google was perfect.
How did you get the job with Google?
I had a friend who was working there so I reached out to him to refer me for two positions that I had seen on the Google Jobs site. Google believes referrals are the best way to hire great employees so there is a great internal referral system. I was contacted for both positions and started and ended the recruitment process end to end for both. Eventually I got an offer for my current job in the Customer Care team.
What are some of your favorite places you have traveled in the region?
I have lived in Asia for almost five years and have enjoyed many trips. One of my favorites one took me to Pakistan where a few of my colleagues put me in touch with a local ex-Googler who took care of me. I found Lahore to be fascinating. I have also enjoyed several long weekends trips to Thailand, Malaysia or even Myanmar. The Philippines continues to be my favorite country in the region, but I am missing Papua New Guinea so who knows, I may change my mind then!
How does working for a large company in Singapore differ from working for one back at home?
I worked in Spain for very few years, only being there for the first two years of my professional life. The biggest difference though is that, in Spain, most of my colleagues were local whereas in Singapore they are from everywhere and I truly enjoy being surrounded by people from other countries which adds different points of view and ways to see the same problem or situation, often times from a point of view I would never think off. I thoroughly enjoy this part of being an  expat and working for a company that prides itself on being diverse.
Are the expat packages working for a large company abroad similar to what you would receive working for that company back at home? 
Actually, I don't have an expat package, everyone at Google, as far as I know, has a local package. We don't have any different benefits than locals do.
Are there many foreign employees working for Google and other companies in Singapore?
Singapore is a melting pot. About 10-20% of the population are expats working for the multi national companies. Because Google Singapore is a hub for the region there are lots of people working for the various countries in APAC based here.
Do you have any suggestions or tips for someone interested in transitioning to a corporate position abroad?
Obviously, language is a minimum requirement and I know that this is an issue for many of my friends in Spain. Applying for multi-nationals is a good option but you could also start by working for them in your home country and then apply for a transfer. If your company has offices abroad the best suggestion is to talk to your boss and explore if that is a possibility.
---
About the Author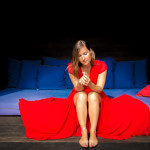 Mar is an ultra-frequent traveler and serial expat. She used to take a flight to an exotic destination every week for ten years until she realized that she wanted to go on last minute Tuesday night drinks with friends and sleep on her bed more than three nights a week. She quit her management consultant job and joined Google in Singapore. She started her blog, Once in a lifetime journey, almost two years ago focusing on the type of travel that she loves doing: luxury and out of the ordinary. You will find her equally at a high-end resort and somewhere you have never heard of. She has visited almost 90 countries and is a member of the Traveler's Century Club.
Connect with Mar on her blog, Facebook, Twitter and Instagram.
---
Want to catch up on the other parts of this interview series? Check out Brewmaster Fraser, Burlesque dancing Alice Teacake, Tarot card reader Eileen, and Tour Guide Andy.
---